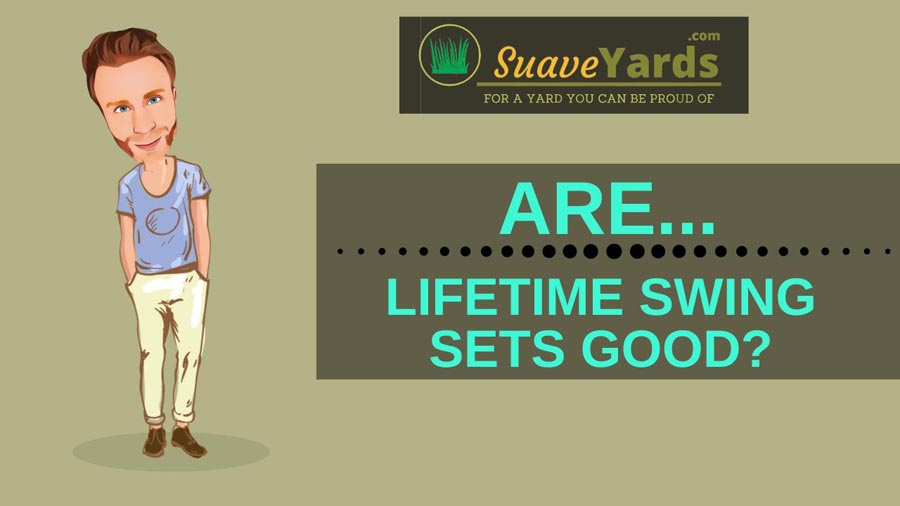 Few things are as joyous as hearing your kids shrieking with delight as they play on a swing set in the summer sun.
But you want that swing set to last, and to be safe.
There are a few reputable swing set brands around, and we are focusing on one of the biggest in this blog.
So without further ado, let's find out if Lifetime swing sets are any good.
Are Lifetime Swing Sets Good?
Lifetime swing sets build high-end swing sets at a mid-range price point. Its American-built swing sets are made of metal so there is less maintenance, and they are very sturdy with clever, well-thought-out designs so your kids get the most out of them. They are also very reasonably priced.
About Lifetime
Lifetime was founded in 1986, and at the time its founder, Barry Mower, had one simple goal in mind, he wanted to create a better basketball hoop so he could enjoy the game with his family.
The company took its name from its philosophy, to build durable products that would last a lifetime.
Lifetime expanded from producing basketball hoops to picnic tables, folding tables and chairs, swing sets and more!
The company has grown from 15 employees in a shared warehouse to over 1,500 employees, selling products in 58 countries around the world.
Lifetime's headquarters are in Clearfield, Utah and its products are made in America, it opened a 700,000-square-foot manufacturing and distribution facility in Mascot, Tennessee in 2017.
Mower is still the owner of Lifetime and the company is now the largest manufacturer of basketball hoops in the world!
RELATED ===> Buyers Guide: The Best Swing Sets on the Market
Lifetime Swing Sets: An In-Depth Analysis
Price
If you visit the swing set section of the Lifetime website you can see its products range from $599 for its most basic Lifetime Kids Swing Set up to $3,499.99 for its Lifetime Big Stuff Delux Swing Set. The mean point of its product range is around $2,000.
Or if you visit Lifetime's Amazon store, its range starts with the same Lifetime Kids Swing Set mentioned above for $599 and goes up to the Lifetime Double Adventure Tower with Monkey Bars for $4,657.99.
The table below summarises how Lifetime compares to selected other swing set manufacturers:
| | | | |
| --- | --- | --- | --- |
| | Lowest Price | Highest Price | Average Price |
| Lifetime | $599.99 | $3,499.99 | Around $2,000 |
| KidKraft | $649.99 | $3,499.99 | Around $1,000 |
| Gorilla | $369 | $7,999 | Around $2,750 |
| Rainbow | $2,150 | $30,000+ | Around $6,000 |
You can see it sits alongside Gorilla as a middle-of-the-range manufacturer of swing sets, with a variety of designs at a reasonable cost.
But how well made are they? Let's find out…
*Prices correct at the time of writing.
Build Quality
Lifetime's swing sets are made of metal, so that means no maintenance or wood deterioration.
It also means they are particularly sturdy, and on Lifetime swing sets everything from the swings to the slide tends to feel solid and well put together.
During my research for this article, I read numerous comments from parents saying they used a Lifetime swing set with their kids and it didn't feel like it was going to break.
And the company's name hints at the longevity of its swing sets, it is part of its ethos that its products stand the test of time!
I did read a couple of disgruntled reviews from customers saying they had had an issue with rust, but these comments were relatively few and far between.
Applying a rust preventative such as POR 15 should be standard practice if you live in an area that has quite a lot of moisture.
Generally, Lifetime swing sets have a well-thought-out design, with plenty of features for your kids to enjoy.
Installation
Metal swing sets tend to be easier to put together than wood swing sets, so Lifetime's swing sets will always have an advantage in that respect.
Its parts are well labeled and directions are clear.
If you download the BILT app, then you can follow a step-by-step animation of the assembly process for Lifetime products.
Alternatively Lifetime has a playlist on its YouTube channel with videos showing you how to install each of its swing sets.
The videos are comprehensively detailed and extremely helpful.
Putting together a swing set is never easy, however Lifetime have done everything it can to make it as painless as possible.
Warranty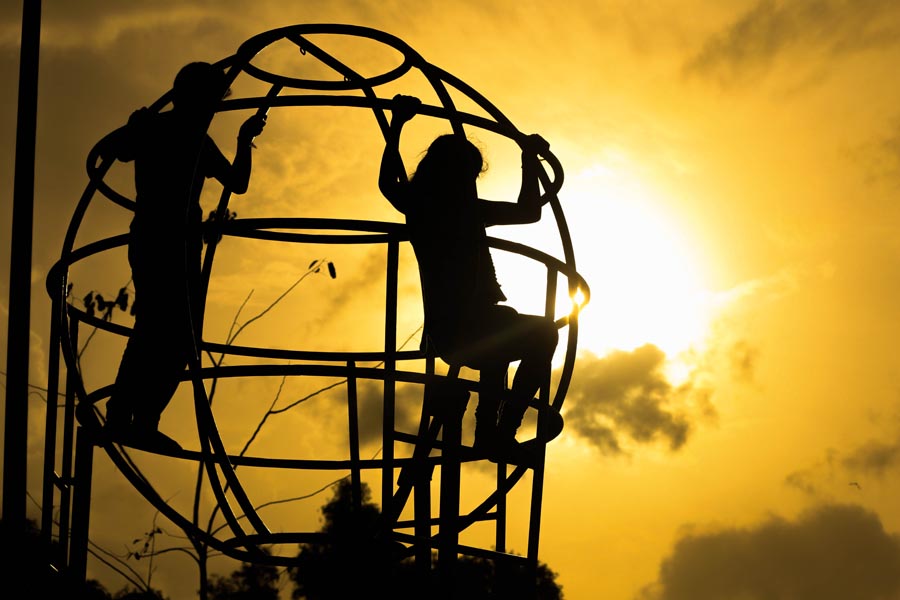 Lifetime's warranty unfortunately doesn't quite stretch to a lifetime…
The swing sets have a five-year limited warranty. The warranty doesn't cover rust/weather damage, however any parts damaged or faulty for any other reason within that five-year period will be replaced.
It's support generally is very good and accommodating and will do whatever they can to help you should you have any problems with your swing set.
Full details can be found on the Lifetime warranty page.
Returns
If you cancel your order before it has been released to the warehouse for shipment you will be eligible for a full refund.
If you return your product in 'new condition' within 15 days of making the order you will get a full refund less a 15% restocking fee and the price of shipping.
For full details view the Lifetime returns page.
Value For Money
There is a lot to like about Lifetime swing sets.
They are very sturdy and well-made in America. They are nicely designed with plenty of features and they are reasonably easy to install (well as far as swing sets go!).
But best of all they won't break the bank.
Metal swing sets do tend to be slightly cheaper anyway, but Lifetime's metal swing sets offer even better for money as a lot of care and attention does go into their design and build.
They are durable and will last a long time, all at a good price.
So yes they offer excellent value for money.
Final Thoughts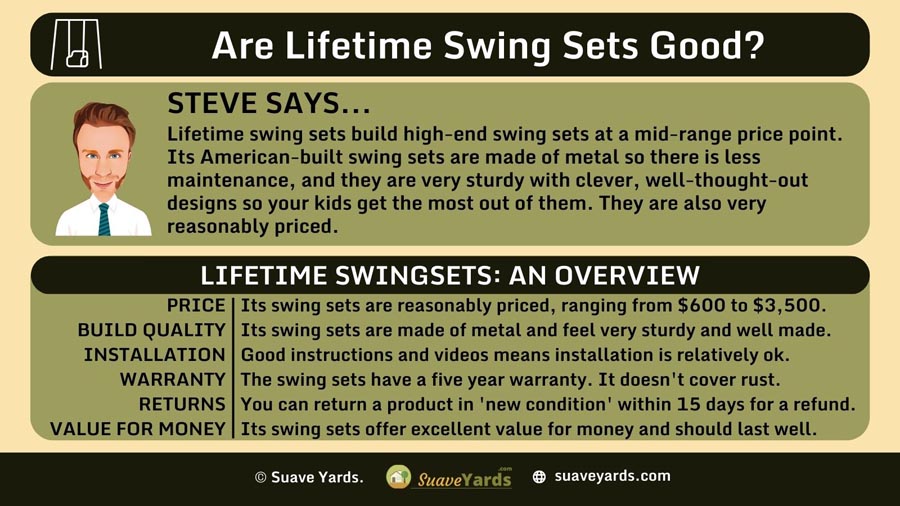 Lifetime swing sets are better than good, they are very good.
They are a traditional American company, that is still based in the area they were founded despite growing exponentially over the years.
Its metal swing sets are extremely popular, and that is because of their build quality and durability. The company is called Lifetime for a reason!
But aside from just my personal opinion, its many customers paint an almost completely positive picture of the company from the support team in the offices to the delivery team who bring the swing set to you.
They come highly recommended.
For a range of other highly recommended swing sets you can also view our list of the best swing sets for older kids.
---
---