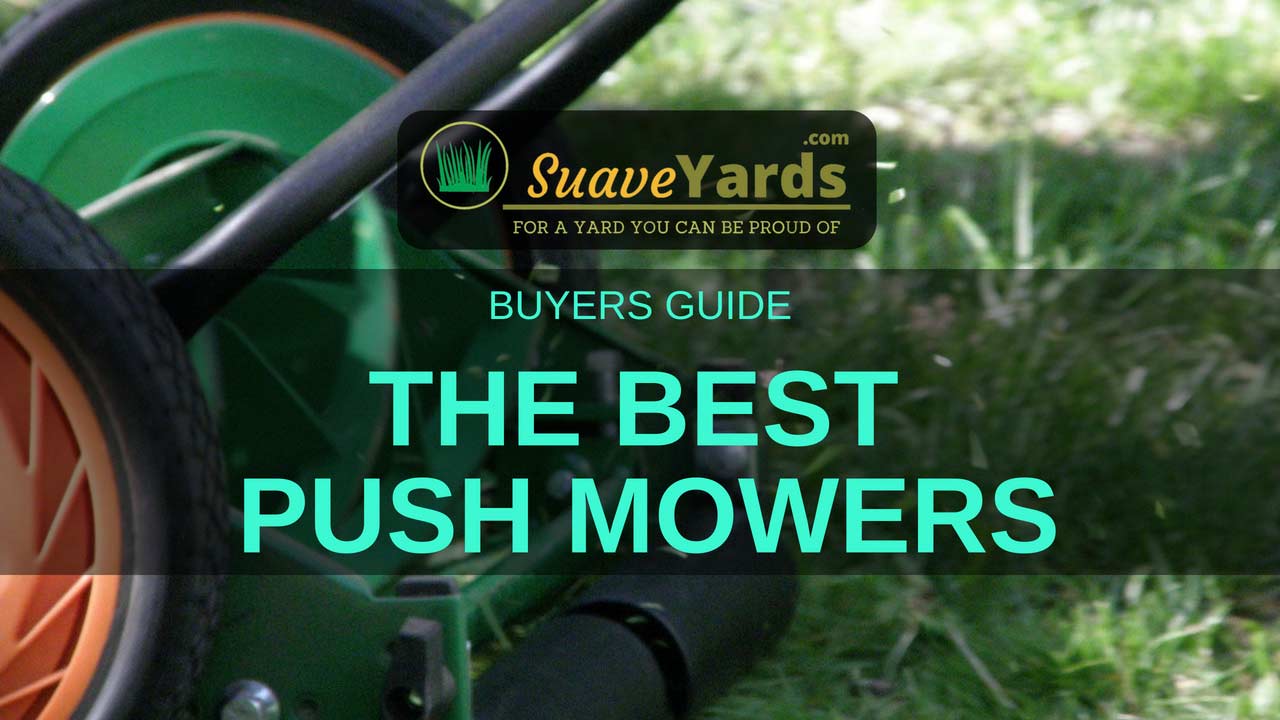 A small yard and a good push mower are a match made in heaven.
The trouble is picking a good push mower isn't as easy as it seems.
Luckily for you, I have put together my guide to the best push lawn mowers of 2023. Enjoy!
---
Best Push Mowers Of 2023 – At A Glance List
---
Below is a quick view of my favorite push mowers of 2023. To find out more about them click on the link to take you to the full review.
Best Small Push Mowers
Best Medium Push Mowers
Best Large Push Mowers
---
The Benefits Of Push Lawn Mowers
---
Know about push mowers?
>> Jump to my reviews <<
The simple truth is:
A good push mower is worth its weight in gold.
First off:
They are cheaper – with no gas, oil or electricity costs. They are powered by you.
Let's dig a little deeper:
The only thing you are likely to have to do is to sharpen the blades every six months to a year and this is something you would have to do with a gas or electric mower anyway.
There is no engine to go wrong, no wires to mess about with or gas to drain. So there are minimal maintenance costs.
And another thing:
No traipsing a cord around and plugging it in, no waiting for a battery to charge, no running out of gas – they are so much easier – simply get your mower and start mowing!
Here's the kicker:
They are better for you and the environment. Push mowers give off no exhaust stench or fumes and are much much quieter, often nearly silent, when compared to other types of mowers.
There is much less vibration so they are easier on your hands and also they take a little effort to push so you get a workout!
And what is even more astonishing:
Push lawn mowers use a scissor cutting action to gently cut the grass, compared to power mowers which shred grass blades. This cause less damage to the grass and makes it less susceptible to disease. So they are better for your lawn too.
But a word or two of caution:
They are slower

– If you have a larger yard then you won't want a push mower as it will take much longer to cut your grass than a gas, electric or battery mower.

They hate sticks

– Pretty much all push mowers will be jammed by the smallest of twigs, you will have to unjam the mower before you can carry on.

They have tires

– Which sometimes make it difficult to get right up to the edge of fences, walls or flower beds so you will have to go back with an edger and do parts of your lawn separately.
---
How To Choose A Push Lawn Mower
---
Know about push mowers?
>> Jump to my reviews <<
Newsflash:
If you get the right push lawn mower you might actually find yourself enjoying mowing the lawn. It is worth considering these factors:
Size matters!
For a push mower your lawn needs to be quite small, anything more than a quarter of an acre will almost certainly be too much.
Make no mistake about it:
If you lawn has a lot of weeds a push mower might not be for you as a they are designed to cut the grass, not tear it in the way power mowers do.
This means if push mowers encounter weeds they usually just go straight over them not tearing them out of the ground. Of course you can always manually pull out weeds as you go.
Are you a wideboy?
As with other types of mowers you can get varying cutting widths. The larger your lot the wider mower you will probably want, but bear in mind it will make it harder to get into those tight corners.
Remember:
The cutting width and weight of a push mower generally go hand in hand. The wider the cutting width generally the heavier the mower. So you will need to think about this.
This is important:
Push mowers generally have one of two types of blade.
Either tempered alloy blades that cut with a contact or friction method. With these type of blades you will hear a soft ticking sound as you mow. And they will need to be sharpened annually.
Then there are some with hardened steel blades that have no contact as they cut and can go for much longer without needing sharpening.
Get high!
Take a look at how many cutting heights a mower has, and especially the lowest and highest settings if you like your lawn particularly long or short.
And one more thing:
As with anything else you will always want to consider the price as there can be a big range.
Some other things to consider when you buy a lawn mower are covered in the video below:
The Best Small Push Mowers 2023
---
Small Mower #1:
American Lawn Mower 1204-14, 14 Inch Push Mower
---
BEST FOR…
Those with small lawns wanting a great budget option.
---
This American Lawn Mower scores big points for being the cheapest mower in my list, but it wouldn't be here if it didn't do a good job and that it certainly does!
So let's fire away:
This mower is, as the name suggests, made in the USA, and has a 14 inch cutting width. The four blades can be adjusted in height from 0.5 inches to 1.75 inches and it has two 8.5 inch diameter wheels.
When it is put together (tool free construction!) it weighs in at 19 lbs and has a one year warranty.
The simple truth is:
This really is an ideal tool for small, flat lawns. As mentioned it is pretty cheap and offers fantastic value for money. I say fantastic value for money as it gives a really nice cut.
It runs on two wheels and two rollers and it cuts effortlessly, needing very little momentum to get going.
It plows through grass and clover no problem and whilst it doesn't give the most even cut instantly once you have gone over your lawn a couple of times it looks really nice. Taking into account you probably will have a small yard if you buy this, then it isn't that much of a hardship.
The silver lining is:
Of all the mowers on this list it also has the smallest footprint, meaning if space is at a premium it is really easy to store.
It is also light and compact so it is really easy to carry it around from point to point and means you can start mowing your lawn immediately and with the minimum of fuss.
It is simple to put together – the only thing that needs to be attached is two parts of the handle – the reel unit is ready to go. A quick point to note, I'd advise you to change the default height the mower is set to (which is the lowest height) as it will literally scalp your lawn. Changing the height is simple.
It isn't perfect though:
I do wish this had more height options though when it comes to mowing your grass. The lowest height setting is 0.5 inches and struggle to believe anyone will want their grass cut that short! It only goes up to 1.75 inches too. I think a 2 inch option would be a good idea.
Also the wing nuts this is assembled with are plastic – they will break more easily and come loose more easily.
In a nutshell:
This is a fantastic, budget option, hence why it appeared on my list of the Best Lawn Mowers of the year as well.
It is really good on flat, small lawns, is easy to maneuver, gives a nice cut and is made in the USA!
---
MY RATING:

91%
---
---
Small Mower #2:
Great States 304-14 14-Inch Push Mower
---
BEST FOR…
Those looking for something easily maneuverable.
---
For reel mowers, maneuverability is might important and this Great States mower allows ease of use.
A major part of that is because it's easy to maneuver.
Let's check the basics
First of all, this product is light at just 22.5 pounds.
Of course, that's not enough reason to make something easy to maneuver. There are other factors as well.
Like?
The wheels. These are important factors in every reel mower.
The mower has a pair of 8.5-inch composite wheels.
On to the cutting part:
It can cut up to four inches of grass.
In every push of this product, you can mow 14 inches of grass.
Related to that
It has five blades.
That would allow you to choose the right cutting height option for your grass. You can choose between 0.5 inch to 1.75 inches.
If that isn't good enough
This is also a self-propelled mower.
But if you prefer pushing it anyway, it has a T-style handle and a cushioned grip.
In essence
You could be mowing your lawn for quite some time but your hands won't feel any pain.
It's quite comfortable.
By the way
This lawn mower is also an Amazon's Choice.
That means that many Amazon buyers highly rated this product.
It's quiet too.
That's quite important
At least, you can mow the lawn anytime you want without fear of disturbing your neighbors with the noise.
Convinced yet?
This is also easy to assemble.
A lot of people may think this is just a trivial feature but there are a lot of people out there who don't know anything about machines.
It's refreshing to have a piece of equipment that won't hurt your brain trying to figure out how to put them together.
It's worth mentioning
If you want your lawn to have really short grass like less than three quarters of an inch or so, this may not be the right product for that task.
It doesn't cut very low.
And beware:
This reel mower could easily jam when you inadvertently pass through small obstacles like rocks or some wood chips.
So make sure the lawn is clear from any objects that may jam the mower.
Here's the deal
If you have a small area and you just want to maintain a well-manicured lawn, the Great States Push Reel Lawn Mower is definitely a good buy.
---
MY RATING:
91%
---
---
The Best Medium-Sized Push Mowers 2023
---
Medium Mower #1:
Great States 415-16, 16-Inch Push Mower
---
BEST FOR…
Those looking for the best cut possible.
---
The Great States 415-16 gives, for me, the best cut of all the push mowers in this list – it looks amazing!
So let's get down to business:
It has a cutting width of 16 inches and the five blade system can be adjusted from between 0.5 inches and 2.5 inches. The wheels are 10 inches in diameter and it weighs 24.5lbs. It has a two year warranty.
What makes this so special?
So as I said, this gives a wonderful cut. The scissor cutting mechanism gives it a really clean look, far more natural than you get with some power mowers.
It is sharp and uniform even when the terrain is uneven or sloping. It seems to give this great cut on all types of surface – thick grass, thin grass, areas beset by weeds. You cannot fail to be impressed.
So what else is there?
This is incredibly nicely made. The wheels, bearings and mechanical parts of it are smooth, solid and of high quality. The design is simple, but very well executed and solid and sturdy.
Details such as the unbreakable steel side plate and the hand treated blades mean that this mower should last you a long time. It feels durable and the maintenance you will need to do on it will be minimal.
The handle is powdered coated to prevent rust and as mentioned it feels so well built you can feel confident that you will get great value for money out of this.
Overall this is just an easy mower to use. With the tempered, alloy steel reel and the 10 inch bearing wheels it feels light and smooth when you are using it.
If it does get jammed then unclogging it is super easy – use your shoe to pull the blades backwards, pick out the offending piece of material and you are good to go again.
But:
The one thing that could be improved is the handle. It is a 'Y' style handle and it simply two pieces of steel bolted together.
This means during twists and turns there is more stress placed on the middle part of the handle and it can torque out of alignment. You can get them back in position, but it is a pain.
Also it doesn't cut when moving backwards, this can be a good or bad point depending on your view, but it does make it slightly more difficult to use when you are working into corners and tight spaces.
So it all adds up to this:
But for the quality of the cut and durability of the mower the Great States 415-16 is really hard to beat – it has a classic, ageless design and works like a champ!
---
MY RATING:
93%
---
---
Medium Mower #2:
Earthwise 1715-16EW, 16-Inch Push Mower
---
BEST FOR…
Those with thick or tricky grass .
---
The Earthwise 1715-16EW should be your choice if you have thick grass, thanks to its efficient 7 blade design.

So let's get busy:

This has a 16-inch cutting width, 7 blades and 10-inch composite wheels.

The cutting height can be adjusted to anything from 0.5 to 2.5 inches. It has a one-year warranty and weighs 26lbs.

No doubt about it:

This is perfect for thick and/or uneven grass. It effortlessly slices through Zoysia, Bermuda, St. Augustine and Centipede grass.

Having 7 blades, opposed to the normal 5, you get a smoother and easier cut and can cut a single-pass effortlessly.

The reel turns very fast and this is very easy to push and maneuver.

Sound good right?

It is also light – even when it is being pushed through thicker grass, and you can cut down to 0.5 inches.

The blades are nice alloy steel and feel like they will last without needing regular sharpening, the reel is well made and the wheels are nice and big and give you plenty of traction.

I also like the rollers that are on the back – they keep the mower level when it encounters uneven areas and center the cutting bed under the wheels.

A couple of improvements:

Firstly the handles are a bit narrow – I would like them to be slightly wider as this would make using it more comfortable.

Secondly if you like to let your grass grow long before cutting it then this isn't for you – anything over 2.5 inches high and it is a more difficult and time consuming process.

In a nutshell:

Perfect for thicker grass, this 7-blade mower cuts smooth and with ease. It is light, durable and well made too.

If you want a 7 blade mower this should definitely be on your shortlist.

---
MY RATING:
90%
---
---
Medium Mower #3:
Scotts 415-16S Elite, 16-Inch Push Mower
---
BEST FOR…
Those looking for a durable and versatile mower.
---
The Scotts 415-16S is one of the best made and most versatile mowers in its price bracket.
Let's take a closer look:
Weighing in at 27 lbs it has a 16 inch cutting width. The cutting height can be adjust from 0.5 inches to 2.5 inches and it has five cutting blades. The wheels are ten inches in diameter and it has a two year warranty.
Want to know the best part?
It feels really sturdy without being overly heavy. It is nearly all metal and feels solid. The cutting blades are tempered alloy and heat-treated as is the cutter bar to provide extra durability.
You can use it and no worry about accidentally bumping it on the corner of something as it feels so tough.
As long as you lubricate this before and after each use, adjust the stationary blade every six months or yearly and sharpen the reel blades at least every two years it should last you a lifetime.
Some of the other plus points:
It is easy to remove grass cuttings and keep the mower in tip top condition.
It works well in almost every condition, whether it be dry lawn or wetter lawn, it seems to deal with most grass seeds without a problem – cutting through it all.
It is also good on uneven terrain, slight inclines and thick grass like St Augustine grass. Importantly the cut quality is really nice – even and sharp.
The 10 inch wheels, with radial tread tires, can be adjusted in any one of three positions and make this mower really easy to push and maneuver and give you maximum control.
It is easy to assemble – you just screw on the handlebars, is light enough to be carried around and has a small footprint so can be easily stored.
Don't forget:
On the flip side the handlebar grips let this down a bit – they are incredibly cheap and fall apart very quickly. You will need to spend a little more and invest in some decent grips.
Also the space between the blade and the tires is quite large, which makes it a little more awkward to get close to walls or patio areas.
All in all:
This is a really well made mower that handles everything thrown at it – something not many push mowers can say these days, it gets a big thumbs up from me.
---
MY RATING:
90%
---
---
Medium Mower #4:
Greenworks 25052, 16-Inch Push Mower
---
BEST FOR…
Those looking for a slightly larger, budget priced, push mower.
---
The Greenworks 25052 is another bargain priced push mower that performs well above its price tag.
Let's get started:
It has a cutting width of 16 inches and has five cutting blades. The cutting height can be adjust to anyone of four positions from 1 inch to 2.125 inch.
It weighs 26 lbs, has 10 inch wheels and comes with a four year warranty.
Here is the best part:
For the price I had reservations over how well this would cut, but I was surprised. The steel helical designed blades do a great job and cope surprisingly well with grass that is up to six inches high – leaving your lawn looking neat and tidy.
It gets a big, and slightly unexpected tick, on that front.
I also like:
This is another mower with contact free blades, it isn't completely silent but emits a rather pleasant (and quiet) whirring sound.
The blades also only turn when you are moving this forward, so you can get it out of storage and move it around the yard quietly without having to hear the blade.
This has been designed, very cleverly, in a way that it would be really hard to hurt yourself using it. The blades are well protected on the top and side of the mower. So if you have young children or even animals around as you cut your lawn you don't have to worry about their safety.
The 10 inch front wells and 2 inch rear rollers make this easy to maneuver and stable and it is also fairly easy to lift and move around.
For what you get the price is fantastic and what makes it even better is it comes with a four year warranty – giving you peace of mind that you can be rough with it.
But remember this:
On the downside the grass catcher bag this comes with is almost not worth it. It fills up really quickly and pops off when your mower goes over the slightest bump, making it very annoying.
Also the handle feels weak it bends easily, but I don't think it will break.
So it all adds up to this:
Overall this mower is easy! Easy to assemble, easy to clean, easy to maneuver and easy to like the price tag – it is a bargain!
---
MY RATING:
86%
---
Medium Mower #5:
Remington RM3000, 16-Inch Push Mower
---
BEST FOR…
Those with flat lawns looking for a well priced mower.
---
The Remington RM3000 is a lovely mower if you have a nice flat lawn and aren't looking to shell out too much money.
So here we go:
It has a cutting width of 16 inches and the cutting height can be adjusted to any one of nine settings from 0.75 inches to 2.5 inches. This has five cutting blades and 10 inch wheels. It weighs 25.8lbs and has a two year warranty.
Within minutes of this being delivered you will have it set up and ready to go as it is really easy to assemble – requiring no tools.
It all boils down to this:
Get it out on your lawn and you will find that the five blade reel gives a perfect even cut, doing a great job not only on normal grass, but also centipede grass and weeds.
It doesn't toss grass everywhere as you cut (even if you don't use the included collection bag) and powers through all kinds of vegetation. Do note you might want to adjust the cutting height as it comes out of the box on the very lowest height.
There is more I like:
It has nice big 10 inch wheels, which make maneuvering this really easy, and you always feel in control.
Adjusting the height of the cut is also simple, by using the lever on the resting back wheels.
It has a nicely padded and ergonomically designed foam grip which is really comfortable and it has a solid base, stabilised by two resting wheels.
There is a handy blade protector to stop you getting cut if you accidentally bump against it and it can be wheeled backwards without the cutting motion being engaged which is a useful feature.
It is also very reasonably priced.
A minor warning:
I found that, for whatever reason, it was a bit more of a struggle to cut on inclines, so if you have a hilly lawn you might want to note that.
Also the nuts that come with this are all plastic and this rubs against the washers, meaning their lifespan will be shorter than steel nuts.
The bottom line is:
All in all though this is a fairly inexpensive mower that will excel on flat lawn full of grass – it will leave them looking pristine.
---
MY RATING:
88%
---
---
The Best Large Push Mowers 2023
---
Large Mower #1:
Fiskars StaySharp Plus 6207, 17-Inch Push Mower
---
BEST FOR…
Those looking for a mower that is a dream to use.
---
The Fiskars StaySharp 6207 ranks at the top of this list for pure ease to push. It is a an absolute delight to use in that respect.
Let's go:
It has a 17 inch cutting width and the cutting height can be adjusted to anything from 1.5 inches to 4 inches. It has five cutting blades and weighs 41 lbs and has a two year warranty.
Here's something really interesting:
Fiskars make a bold claim on the box that this is 40% easier to push than other reel mowers and whilst it is difficult to judge how true this is or whether this figure is accurate it definitely feels very easy to push.
It uses Inertia Drive technology, which effectively spins up the blades very fast – whereas in other push mowers the blades spin at roughly the same speed as the wheels – which isn't the case here. It also utilises a flywheel to further enhance the push action of the mower.
And this links to another claim Fiskars make, that is delivers 75% more cutting power. The Inertia Drive, in combination with the hardened steel blades, means this really cuts through tall grass with the minimum of problem.
And there is more I like:
Sometimes you find a push mower might push tall grass over, rather than cutting through – not with the Fiskars 6207 – even tough southern varieties of grass like Bermuda, Bahia, Zoysia and St. Augustine are not a problem.
This mower also utilises Fiskars own StaySharp™ Cutting System. The hardened steel blades don't touch when they turn, unlike many other mowers.
This reduces friction and blade wear, so whilst you will still have to sharpen them, they should degrade at a much slower rate meaning this tedious job is not required as frequently. Because the blades don't touch it is silent as well.
This also uses a front discharge when it comes to getting rid of the grass, which is good as it throws the clippings forward away from your feet and the cut grass is then cut again, effectively mulching it, which is good for your lawn.
Ergonomically it is well made, in particular the handle bar, which is adjustable and also designed for a more natural angle on the forearm, reducing strain on your wrists and elbows. It also allows you to re-adjust your grip and wrist angle when you need a bit more leverage.
Be warned:
So I've already mentioned the front discharge – however this does come with a downside.
If your yard is thick and long what effectively happens is the grass piles up and mowing becomes more difficult.
The mower becomes more difficult to push and you might have to clear the grass manually (there are some good leaf blowersthat will do that job for you).
Let's recap:
Fiskars are a hugely respected brand name, they specialise in scissors and gardening equipment and I love this mower. It is so nice to use and cuts really well – to the point you might actually look forward to mowing your lawn!
---
MY RATING:
93%
---
---
Larger Mower #2:
Fiskars StaySharp 6208, 17-Inch Push Mower
---
BEST FOR…
Those looking for a cheaper version of the excellent StaySharp Plus.
---
Much like its counterpart the StaySharp Plus (6207), this Fiskars model is delightfully easy to use and cuts well.
Let's jump right in:
It has a cutting width of 17 inches and six adjustable cutting heights, ranging from 1.5inches to 3.5inches.
There are five cutting blades, it weighs 43.5lbs and it has a two year warranty.
Before we go any further:
Just to clear up the difference between the StaySharp (6208 – this model) and StaySharp Plus (6207 – reviewed above).
This model has a slightly lower maximum cutting height of 3.5inches as opposed to 4 inches for the StaySharp Plus, weighs a couple of pounds more and has a rear grass discharge as opposed to a front discharge. It is also slightly cheaper.
Again this is one easy to push mower, 30% easier to push is the claim made by Fiskars (as opposed to 40% for the 6207.
What else is there?
You can certainly feel that and pushing this around your yard should not be a problem regardless of age or physical strength. It almost feels like you are gliding over the surface!
It also cuts really well (50% more cutting power compared to 75% for the 6207!). It has the same large-diameter InertiaDrive Reel and thick blades which means it powers through all types of residential grasses – even those that other mowers will struggle on. The cut is sharp and clean and looks lovely.
It has the same nice adjustable features. The handle height and angle can be adjusted to help you get the leverage you need and switching between the six mower height settings is really easy.
This also uses the StaySharp Cutting System, the blades don't touch, friction and wear is reduced and they should stay sharp much longer and save you the inconvenience of sharpening them as often.
Note:
One thing that is different is the pins used to hold the handle to the mower seem more flimsy and made out of cheaper metal – which is out of kilter with the rest of this mower which is very well made.
They feel like they will easily break or come out. Also for some reason it doesn't do as well as the StaySharp Plus on uneven ground – the cut seems a lot more uneven.
In essence:
Overall it is almost as good as the StaySharp Plus but not quite. That is not a massive criticism though as the StaySharp Plus really is excellent and this is a little cheaper as well and still will do a fantastic job.
---
MY RATING:
91%
---
---
Large Mower #3:
Remington RM3100, 18-Inch Push Mower
---
BEST FOR…
Those with small flat lawns.
---
Got a small flat lawn? Then the Remington RM3100 could be just what you are after.
So let's get to it:
It has an 18 inch cutting width and 10 inch rear wheels. The five cutting blades can be adjusted to any of nine height settings from 0.75inches to 2.5inches. It weighs 28 lbs and has a two year warranty.
The cool thing is:
This Remington mower mulches whilst it cuts, which is quite nice. So if you go over the cut grass it will cut it up again into smaller and smaller pieces, returning their nutrients back into the soil.
It also comes with a grass catcher, this is great for bagging your grass clippings and preventing thatch build up (this generally starts when turf produces organic debris quicker that it can be broken down). A combination of these two features can really enhance the health of your yard.
I also like:
As with all of the mowers on the list it cuts well. The five-blade alloy steel reel has a cutting action that slices through grass like a pair of scissors and is also durable and long lasting. It leaves your lawn looking nice and healthy.
The height adjuster is excellent and super simple to use – located near the rear wheels you can quickly and easily raise or lower the cutting height from 0.75 inches to 2.5 inches.
It also has nine cutting heights – more than most push mowers, making it easier to find that ideal cut for your grass.
Overall it is a nice design, it is made of good quality materials, and has a nice padded handle with foam grips. Everything is ergonomically very pleasant and sturdy and it feels like it will last you a long time.
Be warned:
The grass catcher is a nice touch, but it comes off easily. It attaches by resting two half hooks on a bar that goes across the back of the RM3100. It doesn't actually grab onto the bar and comes off at the slightest bump.
This is another mower that suffers from edging issues.
The wheels are on the outside of the blades and the blades don't go up to the inside of the wheels which essentially leaves a 4 inch gap of unmowed grass when you are next to a fence or wall.
All in all:
It is ergonomically nice, well priced, cuts well and has some nice touches that make this good for smaller lawns, that are flat. It won't let you down.
---
MY RATING:
86%
---
---
Large Mower #4:
Sun Joe MJ501M Mow Joe, 18-Inch Push Mower
---
BEST FOR…
Those looking for a large mower that is still light.
---
In amongst the litany of larger push mowers the Sun Joe MJ501M deserve a place in this list purely for the fact it is exceptionally light for such a large mower.
Let's get things underway:
It weighs 28 lbs and has a cutting width of 18 inches. The five blades can be adjusted to any one of 9 heights from 1.63inches to 2.63inches. The wheels are 10 inches in diameter and it has a two year warranty.
Here's the deal:
So as mentioned this is nice and light for a big mower and as such is easy to push, meaning it is accessible to anyone really, regardless of their age or strength. If you have a small lawn you can get it cut in no time.
That isn't to mention:
It comes with a reasonably sized grass catcher, which you can attach and remove from the mower fairly easily. It holds up to 6.6 gallons of grass and of course prevents it from falling on your yard, keeping it tidier and smoother.
This actually has more height adjustments than most of its competitors as well – rather than the standard 4 or 6, this has 9 height ranges that are easy to set to help you get the perfect length for your grass.
The cut is nice, helped by the mower's dual wheel design and the steel blades and it has a lovely handle nicely padded making it really comfortable to use the MJ501M.
Warning:
This does lose marks for its cutting range.
Whilst it has a number of heights you can set it to, the maximum is only 2.63 inches, most mowers go a lot higher so if you like leaving your grass higher this isn't for you.
Also the wheels are pretty wide and, because they sit away from the blade quite a bit, the cut isn't as close to walls/objects as I would really like.
It all adds up to this:
If you have a yard with soft grass this will do the job. It is light and easy to push, but just be aware of the height limitations.
---
MY RATING:
83%
---
---
In Summary
---
Best Push Lawn Mower For Small Yards
With its 14-inch cutting width the American Lawn Mower 1204-14 is perfect for smaller yards. It is really easy to maneuver and owing to its small size will fit easily into tight corners.
Best Push Lawn Mower For Hills
Easy to use and extremely maneuverable the Great States 304-13 really excels on hills – thanks to the combination of its light weight and good wheels that give it excellent grip and make it easy to propel.
Best Lightweight Push Mower
At only 28lbs the SunJoe MJ501M is very light considering it has a relatively large cutting width of 18-inches. It is easy to push and has a lot of cutting heights to boot.
Best Push Lawn Mower Under $200
It is the Great States 415-16 is fantastic. It gives a wonderful, natural cut, is very well made and excels on all terrains from flat to uneven to sloping.
Best Push Lawn Mower For The Money
The Great States 415-16 takes it again – not only does it get the best rating on my list it is also pretty much the cheapest – you won't beat it!
---
I hope you have found this rundown of some of the best push lawn mowers of use.
If you do have any questions or are uncertain about anything please feel free to drop me an email and I will do my best to help you. You can also check out my Reviews Section for individual product reviews.
Or if you want to weigh up your options there are a host of fantastic gas, electric and cordless mowers on the market. If you have a large lawn and want to keep it in check you should consider getting a riding mower.
Don't forget it is equally important to try and keep your garden healthy and to keep it free of weeds as well.
Enjoy!