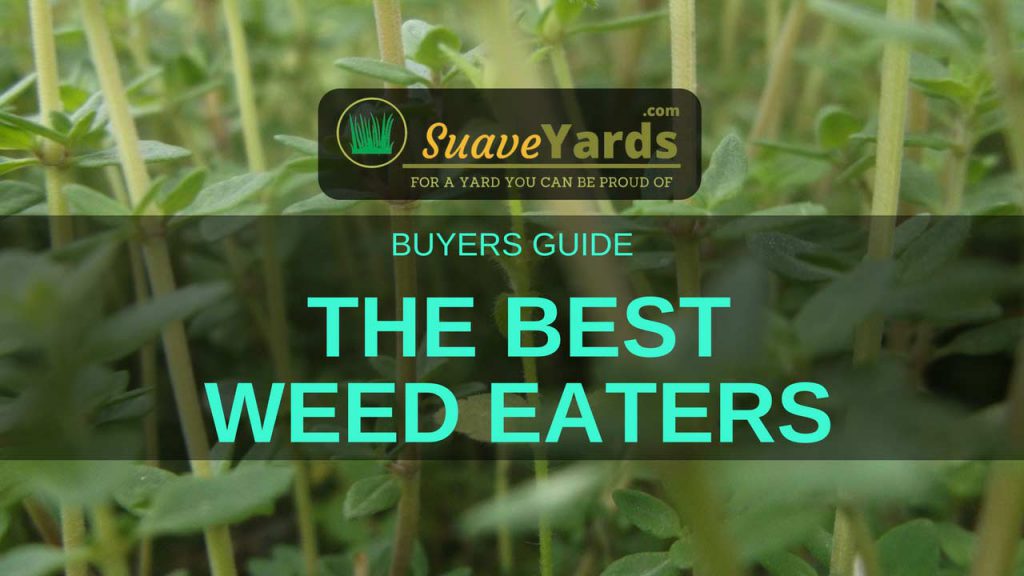 Weeds, weeds, weeds – the bane of my life, or they used to be until I discovered the wonderful world of string trimmers – also known as weed eaters.
Want something to help you control those unruly invaders in your yard? Take a look at our list of the best weed eaters of 2023.
>>> Jump me straight to the reviews – I already know all about weed eaters <<<
---
Best Weed Eaters 2023 – At A Glance List
---
Below is a quick view of my favorite weed eaters of 2023. To find out more about them click on the link to take you to the full review.
My Top Choice
Best Electric Weed Eaters
Best Battery Powered
Weed Eaters
Best Gas Weed Eaters
---
The Details…
---
Weeds!
For something so small they are surprisingly stubborn and there is nothing more annoying than going over your lawn with your mower, thinking it is looking nice and smart and then looking back and noticing a weed or two protruding!
---
How To Choose A Weed Eater
---
Electric, Battery or Gas?
So you are considering buying a weed eater?
Well you need to first consider how you want it to be powered and there are three choices:
Electric weed eaters are generally lighter than gas weed eaters and much cleaner as you have no engine and no exhaust fumes to worry about.
Let's face it…
You don't have to worry about them starting – you just plug them in and they are good to go – no thinking about if the battery is charged or if there is enough gas. There is also minimal maintenance and they are generally quiet.
However:
The fact you have a lead attached means you are restricted in your mobility. You can get a decent amount of power, but never as much as a gas weed eater.
A battery powered weed eater gives you the ultimate in mobility!
Fact:
They are fairly light, certainly lighter than gas powered weed eaters, although heavier than electric weed eaters as they carry a battery.
Pricewise they fall between gas models (which are more expensive) and electric models (which are generally cheaper).
By contrast:
Of course the batteries only last a certain time and then you either have to have a spare battery on hand or wait for your battery to recharge.
Powerwise they are not as powerful as gas weed eaters.
Gas powered weed eaters are the most powerful weed eaters you can get and you have the benefit of no cord, giving you unlimited mobility.
The cool thing is:
They can deal with heavy duty jobs that would be beyond electric and battery powered weed eaters.
They require gas, but you will get more use out of a gas weed eater before the gas needs topping up than you will with a battery powered before the battery need charging.
Then again:
They are at the top of the price bracket – more expensive than battery or electric weed eaters and heavier too.
Plus there is more to consider in terms of upkeep, maintenance and general running costs.
---
What Else Do You Need To Consider?
---
How Big Is Your Lawn?
If you have a large yard a gas weed eater will probably be best for you. For smaller yards an electric or battery powered unit should do.
Consider how long it would take you to trim your yard and look at whether a battery powered unit would give you enough run time or an electric powered unit would be convenient enough.
Weight
If you have mobility issues or struggle with heavy weights look at the weight of the weed eater and how well balanced it is.
Gas weed eaters are the heaviest, but if they are well designed they can often feel lighter than their battery or electric counterparts.
Edging Functionality
Most weed eaters, or string trimmers as they are also known, can be converted to edgers, but some are easier to convert than others and some edge better than others.
If this is important to you do some in-depth research on the product you are intending to buy.
Vibration
The best weed eaters have anti-vibration technology that makes them much more comfortable to use and saves you getting fatigue and discomfort in your arms and hands. Check this out when researching your products.
Feed System
Some weed eaters use bump feed systems where you have to tap the head to release line feed and others have automatic feeds that release line as soon as it is needed.
No one system is better than the other, it is more about how the manufacturer executes their choice of line feed. The best weed eaters have a spool that is easy to reload though.
Shaft Adjustability
Check the length of the shaft on the weed eater you are thinking about buying and how much it can be adjusted up and down – this may be especially pertinent if you are particularly tall!
Battery Performance
If you are going for a battery powered weed eater take a look at how long the battery lasts on a full charge, how long it takes to recharge and the price of buying a replacement battery.
The video below should give you a few more tips when it comes to selecting a weed eater (or string trimmer as they are also known).
The Best Weed Eater Of 2023 – My Choice
---
My Top Choice #1:
EGO Power+ ST1500
---
BEST FOR…
Those wanting a top class weed eater with the best battery in the business.
---
EGO Power+ have done it again. In the EGO Power+ ST1500 they have come up with an unbelievable battery powered trimmer that is top class combining quality performance and an amazing battery.
Let's dive in:
It uses a 56-volt Lithium Ion battery and has a brushless motor that has variable speed. The cutting swatch is 15 inches and the shaft is made of aluminium and is easily extendable. It has a 0.95 dual line bump feed and weighs 6.70lbs without the battery.
This is HUGE:
There is a lot to like about this, but I will start with the battery which really is head and shoulders above the competition.
The 2Ah battery charges in around 30 minutes, which is pretty unbelievable and much better than all of its competitors. Depending on how hard you work the battery you can get get 20 to 60 minutes use out of it – with around 30 minutes being average I would say.
Beyond that:
The power is great too. It is probably on a par with a 28cc gas trimmer, that is to say it is powerful enough to breeze through heavy weeds and tall grass with minimum effort. Even when you flip it on the end to use as an edger it works excellently.
The power is variable too, and this is really nice feature. The trigger allows you to chose the right speed for the job you are doing – why have it on full power when you are only trimming grass? Not only that it saves the battery, giving you a longer run time before needing to recharge it.
And you know what?
This is really well balanced, thanks mainly to the battery being at one end and the motor at the other. Combined with the straight shaft handle, this gives it a really nice feel. With the motor on the head it is minimal vibration too and as a result less fatigue for you!
In fact the handle is another nice feature – it is easily adjust by unlocking a lever and without the need to remove the battery and the it has padding on it which further absorbs the vibration. It is so comfortable to use.
At 0.095 inches the line is thick and durable and the bump head feed works great.
It isn't perfect:
I don't like the fact there is no edger guide – given the quality of this unit it is a surprise that feature has been overlooked and also the guard isn't great, so make sure you are wearing something to give you protection from the debris you may get sprayed with.
To cut a long story short:
Look at any of my other Buyers Guides and you will see that EGO Power+ nearly always feature in them. This weed eater upholds their fine reputation. It has power in spades, has been exceptionally well made and the battery and charger is so far ahead of its competition it is unreal. The best battery powered trimmer on the market.
---
MY RATING: 95%
---
The Best Electric Weed Eaters 2023
---
Best Electric #1:
Black & Decker BESTA510
---
BEST FOR…
Those wanting a powerful, lightweight weed eater.
---
The Black & Decker BESTA510 has a surprising amount of power for such a small and well priced string trimmer and really handles nicely.

So let's take a closer look:

This weighs 3.19lbs and has a 6.5amp engine. It has an auto-feed spool, using 0.065″ line.
It has a 14-inch cutting swath, weighs 5.3lbs and has a two-year warranty.

What makes this so special?

This is only a 6.5amp motor but it is more than powerful enough to slice through thick weeds as if they are not there. You get an instant response as you click the tricker.

It short it trims well, very well.

I like the edging wheel attachment – it is much more preferable than having a wire guard to keep you from getting close to whatever it is that you are trimming next to.

It is simple too, just rotate the head and then adjust the shaft length if you need to – then run it along your sidewalk and the string will do the work and leave you with a neatly edged path/driveway/walk.

Even better:

This is very lightweight at 3.19lbs, but despite this and despite it being reasonably powerful it is easy to handle and keep control of.

The autofeed head works nicely and line cartridges are easy to change, literally clip off and clip on and you are going again in seconds. Replacement string is also very cheap.

It is super easy to set up – the handle snaps on, insert one screw to attach the guard and you are good to go.

The shaft is adjustable and to top it all off the price won't put too much strain on your pocket.

But:

I mentioned the adjustable shaft above – this is great, but unfortunately even at its longest if you are above 5'10 you will be hunched over using this trimmer.

And whilst the spools of string are easy to change be warned this does get through a lot of string! Good thing replacement packs are cheap!

In short:

For small to medium jobs this is perfect – small, lightweight but still powerful, it cuts and edges better than it should at the price you will pay.

---
MY RATING: 93%
---
---
Best Electric #2:
Black & Decker GH900
---
BEST FOR…
Those looking for great performance and value for money (and something that is light).
---
In terms of all around performance and value for money – the Black & Decker GH900 is, in my opinion, the best electric weed whacker on the market.
Let's dig a little deeper:
It has a 6.5amp motor and automatic feed spool that feeds the 0.065inch line without having to bump the head. It is a trimmer and an edger, and the edger has a wheel to help guide you.
The handle can be adjusted and pivoted and the cutting area is 14 inches.
This is a really solid performer but is very lightweight at 5.5lbs. This is an ideal choice if you maybe are physically slightly weaker but still want something that does a good job and has a considerable amount of power.
The good news is:
The trimming power is good. It gets through all kinds of grass – thick St. Augustine, crabgrass, wiregrass and heavy weeds – from shorter grass to huge weeds with a diameter of up to an inch it will do a good job.
As mentioned it is a trimmer and edger and switching modes is really straight forward – you just simply rotate the head. In edging mode the motor runs at around 60% speed and does a good job.
Even better:
The edger also has a wheel to give it stability and this makes it a lot easier for you to quickly, easily and accurately edge borders, sidewalks and flower beds.
I like the adjustable shaft, so if someone else uses it they can quickly and easily adapt it to their height. It also means you can adjust the handle when you are using it on a hill or incline and it will help you level the cut with the ground.
You should know:
It is a single line trimmer, which some people might not like, but I do. The GH900 doesn't really need a dual feed line as it has pretty amazing RPM rate.
It also means if it jams you can quickly disassemble and re-feed it, whereas a re-feeding a dual feed line would be much more complicated.
The spool life itself is pretty good and replacement spools are easy to get hold off. The auto-feed works well and saves you the hassle of manually pulling the line and the line is easy to reload if needed.
But remember this:
On the downside the black handle that connects to the orange shaft can snap loose, which causes the trimmer to drop and even rough up your lawn a bit.
Finally whilst I like the wheel to help you edge, it is a bit of double edged sword (no pun intended!) as it does make it more difficult to get into tighter spaces.
So it all adds up to this:
This is so light that anyone can use it and the telescopic shaft also means it is accessible to all. The single line feed system works well and it has plenty of power for small to medium sized lawns.
All of this and at a price that won't hurt your wallet – what more can you ask for!
---
MY RATING: 92%
---
---
Best Electric #3:
Greenworks 21212
---
BEST FOR…
Those looking for a superb budget weed eater.
---
The Greenworks 21212 is possibly the cheapest electric string trimmer on the market, which probably goes some way to explaining why it is so popular.
But of course this thing wouldn't be a top seller if it didn't do a good job – and thankfully its performance far outweighs its price tag.
Ok let's get down to business:
It has a 4 amp motor and a 13 inch cutting path. It has a telescopic shaft and the 0.065 inch dual line is auto-fed.
The head can be rotated 180 degrees so you can edge if needed and the whole thing weighs 5.2lbs. It is worth noting that the power cord is not included, so you will need to provide that yourself.
And the best part?
As mentioned what might attract you to this weed eater first of all is the price – it really is exceptional value. However if you look beyond this there is plenty to like about it.
It only has a 4 amp engine, but this is still plenty of power to hack down foot long weeds. It is also really light so you will feel not fatigue on your arms and it is easy to maneuver and transport.
The automatic feed line advance here actually works really well! All you have to do is release the 'On' trigger for a couple of second and you will hear a click as the line advances. It also comes with a replacement string.
That is how easy it is.
This is a dual line, which means the head is not as stressed during use, so the device should last longer (this is as there is less pressure on the ball bearings). All in all it is well made and should last.
Also it has a four year warranty – pretty amazing for a piece of machinery at this price!
The 180 degree head rotation is a smart feature, just adjust a sleeve on the shaft and then you can quickly and easily rotate the head 180 degree to convert it into an edger.
Of course it does have its faults.
The shaft isn't long enough, so you do have to stoop over a little when you trim, so if you are over say 6'3" this might not be for you, as it could give you backache.
Also the trigger is on the handle and there is no safety lock. It is easy to start it up by accident as you grab it, so you need to be careful of this.
The bottom line is this:
For the price you pay you cannot complain about this string trimmer. If you need a lightweight, powerful, durable and extremely cheap weed eater then this comes extremely highly recommended – it is amazing value.
---
MY RATING: 91%
---
---
Best Electric #4:
Toro 51480
---
BEST FOR…
Those with larger yards who want a well made weed eater.
---
The Toro 51480 is a really comfortable and nice to use weed eater – that is particularly well built.
Let's get to it:
The cutting width is 14 inches and it has a telescopic shaft and adjustable handle and 5 amp motor.
It can be converted from trimmer to edger at the push of a button – there is a guide wheel to help you edge your borders. The trimmer is a 0.065 dual line auto feed and it weighs 6.3lbs.
Most importantly:
You will notice the build quality straight away as it is definitely above average and feels sturdy and well made. For instance the shaft is made of aluminium and is definitely pretty tough and rust free to boot.
It is also really well balanced so it is easier for you to maneuver.
As a trimmer the 120v electric motor provides sufficient power to cut through notoriously tricky plants such as English Boxwood and Forsythia.
Best of all:
It doesn't bog down even with heavy plants and grass and comes as close as most electric trimmers will to replicating the power of a gas unit.
Switching to the edger is done at a press of a button and is as simple as possible. As an edger this thing is great – and with the assistance of the guide well it is easy to get a professional looking result.
The telescopic shaft is surprisingly effective and makes it comfortable for all statures to use and I like the cord retainer that is found on the trimmer's handle – it works really well at locking the cord onto the handle and preventing it from coming unplugged.
Just beware:
What I am not so keen on is the single speed motor.
It does have lots of power – but for the extra price you pay it would be nice to have a variable speed function, because trying to trim light vegetation or around plants whilst the engine rattles frantically at 10,000 rpm is not great as you have less control.
Also the auto line feed is questionable, you have to pause your trimming and press a button to advance the line – this is not ideal.
So what does it all mean?
Overall, this is really well-built, resilient, rugged and well made. It has plenty of power and will be perfect for slightly larger yard owners who don't mind dealing with a cord.
---
MY RATING: 88%
---
The Best Battery Powered Weed Eaters 2023
---
Best Battery #1:
WORX WG154
---
BEST FOR…
Those looking for a lightweight, budget priced, but excellent string trimmer
---
The WORX WG154 isn't the most heavy duty weed eater around, but it is exceptional value for money and great for smaller jobs.
So let's get busy:
It takes a 20V Lithium battery, which is included, and has an adjustable cutting swath – at the flip of a switch you can choose whether to use the 12 inch setting or the 10 inch setting.
It is an automatic 0.065 inch single line feed and you can flip between trimming and edging in a matter of seconds. It weighs 4.2lbs and you get a three year warranty with it.
I can't stress this enough:
What struck me first about this was how, despite the budget price tag, it has been designed really well and ergonomically is lovely to use.
The handle is really easy to adjust and feels good, switching the cutting length is easy and going from trimming to edging couldn't be simpler.
What's more:
It is really light and this, combined with the adjustability, means that it is the perfect tool to get to more awkward areas – ie if you have a bench or two in your yard you can easily get in and around them and under them.
It is surprisingly powerful – and will deal with thick weeds easily – and the trimmer cord is really durable and cuts well and shouldn't need to be changed too much.
And it turns out:
Assembling it is simple, it is a push button start and inserting and removing the battery is easy. I also like the option to change the cutting diameter from 12 inches to 10 inches as this makes it easier to get into tight corners or trim around flower beds, etc.
Also it is worth mentioning WORX will provide you with free spools for the life of this unit, all you need to do is pay for post and packaging – so this is a really good bonus.
Finally this is cheap! Really cheap – it is great value for money.
A word of caution:
On the downside the auto feed line releases too much and also cuts off some of the line every time you start and stop the trimmer – even if it is of an adequate length already.
The battery life is so so, you get around 30 minutes use, and it takes around five hours to fully recharge, so it is best if you either have a small yard or get a second battery.
To sum up:
I don't think you could ask for much more for the price. It is not a heavy duty trimmer, but for smaller yards and if you struggle with heavier trimmers this is top of the class!
It is an excellent weed whacker at an excellent price.
---
MY RATING: 92%
---
---
Best Battery #2:
Black & Decker LSTE523
---
BEST FOR…
Those looking for a good weed eater with an excellent line feeding system.
---
In a field that is often beset by line feeding issues the Black & Decker LSTE523 manages something quite unique amongst weed eaters – a line feed system that works well and with the minimum of problems!
Let's get to work:
It uses an EASYFEED system which allows you to advance the 0.065inch line at the push of a button and it has a two speed setting for the trimmer – operating at either 5,200rpm or 7,500rpm. It also switches from trimmer to a wheeled edger.
The height and handle can be adjusted and the cutting swath is 12 inches. It uses a 20V MAX battery.
So as mentioned the EASYFEED system that Black & Decker have patented works really well.
Think I am exaggerating?
It is almost a cross between self-feed and auto-feed as the unit seems to auto-feed most of the time, but if you do find yourself needing some more line there is a button you press and it pushes more cord down to the head of the weed eater.
It is easy to use, doesn't get tangled and you are never short of line, so a big thumbs up on this.
Next:
The two speed settings are great. High speed (7,500rpm) gives you more power, but this will deplete the battery life quicker and medium (5,200rpm) might not tackle thick weeds as well – but it won't rundown the battery so quickly.
The option to choose your speed when you are in more delicate areas and don't want to risk damaging your prized plants, etc, is nice and switching between the two modes is simple.
I guess it all boils down to this:
Power wise it has enough power for all but the thickest of grass, and handles thick weeds, long overgrown grass and delicate grass nicely. And it edges quickly and accurately thanks to the guide wheel.
It is nicely made and feels sturdy, there are plenty of plastic pieces but they are solid plastic – that don't feel flimsy. Adjusting the height of the unit is simple, twist the lock, shorten or lengthen and twist the lock back into place.
There is a safety button on the handle that you need to push down before you can pull the trigger, but it is handily placed and easy to press.
Be warned:
My main complaint about this is the battery and specifically the charger. The charger takes about four hours to charge a 1.5Ah battery and probably about ten hours to charge a 4Ah battery.
The charger and battery are not great compared to the lithium ion charging technology used by other brands. So you might want to upgrade this part.
Secondly the trimmer is a little on the small size, even when the shaft is fully extended – so if you are particularly tall you will have to be prepared to stoop a bit.
Ok let's recap:
Those grumbles aside for suburban use this is great. It is nicely made, relatively light, well priced, works well and the EASYFEED line system is a breath of fresh air compared to a lot of weed eaters.
That alone makes it worth the investment!
---
MY RATING: 91%
---
---
Best Battery #3:
Makita XRU02Z
---
BEST FOR…
Those looking for comfort and easy of use.
---
There is something about Makita brands for me that are synonymous with quality construction and intelligent design.
The Makita XRU02Z ticks both of those boxes and more.
Right let's fire away:
The motor delivers 7,800RPM and you get up to 45 minutes of runtime on a charge of the 18V Lithium-Ion 3.0Ah battery (which is sold separately by the way).
It has an adjustable head that can be pivoted into five positions and a 180º rotating head.
It has a cutting width of 10.25 inches and a single line bump feed trimmer head – the line diameter is 0.065inches.
To begin with:
This has lots of nice features that make it comfortable and easy to use. The telescopic wand makes it easy for you to find the optimum height and you can also adjust the shaft angle for extra comfort.
The trigger is easy to pull and the interlock is comfortable.
It is lightweight – weighing just over 6lbs and easy to handle. The rotating head makes switching from trimming to edging super easy and it is very easy to operate.
Personally I think:
The bump line feed works better than most of its competitors and whilst the single cord feed might be a concern, the high rpms (7,800) allow the trimmer to slice through most grass and weeds.
Onto the power and this can cut through light to medium thick grass and weeds ultra quick, and it has a strong motor to boot.
Lastly:
It comes without a battery but will work with any existing Makita 18v battery, or you can buy the Makita BL1840BDC1 LXT Lithium-Ion Battery and Charger Starter Pack, 18V.
Makita batteries have some of the fastest charging times in their categories though – it takes just 30 minutes to charge one of their 3.0Ah batteries and it will last 30 to 40 minutes depending upon how much stress you put it under.
But now a warning:
The head is slightly difficult to open to refill or refeed the cord. It could do with something to grab as you open it.
Also I think the motor is too near to the feed, when i'd like it to be nearer to the handle to act as more of a fulcrum and to add slightly more balance.
Let's rewind and:
Makita are a great brand – their products work well and usually have minimal issues. This is lightwright, flexible and has lots of great features.
I'd say if you have anything less that 3 acres or a job that takes an hour to do this is perfect for you.
You can judge battery powered units on two elements – their power and their battery life/charging time and this performs excellently on both.
---
MY RATING: 91%
---
---
The Best Gas Weed Eaters 2023
---
Best Gas #1:
Husqvarna 128LD
---
BEST FOR…
Those looking for amazing performance and comfort without breaking the bank.
---
In terms of price and all round performance the Husqvarna 128LD ticks every box and more and the icing on the cake is you can remove the head attach several other tools to it so it is amazingly versatile.
Let's get things underway:
This has a 28cc engine and a 17-inch cutting width. It has a dual feed tap advance trimmer head that uses 0.095inch diameter line and weighs 10.8lbs. As mentioned the T25 automatic trimmer head can be removed and any one of 11 attachments fitted.
The fact this can double up as a number of additional yard care tools thanks to the removable head is a real bonus.
Here's the deal:
Removing the head and fitting the new attachment is simple and you can quickly and easily transform it into a pole saw, brush cutter, leaf blower, sweeper, tree pruner, chainsaw, edger or tiller.
It accepts any MTD brand such as Ryobi, Troy-Bilt, Poulan and Sears and buying an attachment is much cheaper than buying a whole new piece of kit so this saves you money.
And the best part?
This really is of a standout quality in pretty much every aspect. It is really smooth and well balanced and you notice that there is practically no vibration so you will feel next to no fatigue no matter how long you use it. It is definitely built to last.
It has a straight shaft which makes it easier to get under bushes, etc and it does seem to eat up the line like lots of weed eaters do.
Even better:
Also Husqvarna have developed a Smart Start system, designed to ensure their devices start with the minimum of fuss. This one does, it is really easy to start and nearly always starts on the first pull.
Powerwise this is a real weed slayer! The 28cc engine and dual heavy duty strings mean it slices through even the toughest and most stubborn vegetation with no problem at all.
The titanium string it comes pre-wound with really packs a punch.
But you should know:
I don't like that the female slug inside the attachment joint is plastic – this means that if you use an attachment that uses a lot of force the slug spins on the square shaft of the attachment and sees you lose power.
Also the choke switch is on the inside of the unit, so it is easy to accidentally turn it off, which can be annoying.
In essence:
If you have tough weeds and want something that will cut them down fast and without missing a beat, and can be transformed into a whole number of yard care tools and all at a reasonable price to boot then the Husqvarna 128LD will exceed all of your expectations.
It is top quality.
---
MY RATING: 94%
---
---
Best Gas #2:
Echo GT-225
---
BEST FOR…
Those wanting a two-stroke model that is very easy to start and reliable.
---
The Echo GT-225 seems to have achieved the almost impossible – it is a two-stroke engine that is easy to start!

Let's take a closer look:

This has a 21.2 cc engine and a 16-inch cutting swath. It uses 0.08 inch line.

It weighs 10.1lbs and comes with a five-year consumer warranty.
Fact:
Pull start garden tools are notorious for being tricky to start, especially those with two-stroke engines, but thanks to a top quality carburetor – the GT-225 starts like a dream every time.

The engine is so smooth that when you do start this there is no fighting against the momentum of the engine – it is just goes!

In all honesty:

Echo has a great reputation and during my research for this string trimmer I came across many Echo users extolling the virtues of their Echo tools saying how reliable they have been and how much work they have got out of them.

And that can only be a good thing right?

You are dead right!

This has a two-string loading mechanism that is simple to use, simply slip the replacement line into the holes on the trimmer head and you will be good to go in less than a minute.

It is very light, but has an impressive amount of power, replacement parts are reasonably cheap and the price of this is a steal!

A word or two of warning though:

You cannot load several feet of string onto this and use it until it runs out – you have to add pre-cut string, that means you might be adding new string quite frequently if you are using this on a large yard.

Also it is a matter of preference, but many people, having read the above might prefer a bump feed head, to make feeding the string easier.

In summary:

Got half an acre or so to strim? Want something that is incredibly easy to start, reliable and trims well – the Echo GT-225 is all of these and more.

---
MY RATING: 92%
---
---
Best Gas #3:
Remington RM25
---
BEST FOR…
Those who want something they can easily maneuver.
---
The Remington RM25C Gas String Trimmer is not the lightest product in the market, but when it comes to maneuverability, it's at the top.
Let me elaborate
The product weighs 16.12 pounds. It's not light but it's not terribly heavy either. But what sets it apart is how easy to use it is.
It's also easy to start with its Quick Start Technology 25cc engine. When it comes to gas equipment, it's the start that is usually the problem because you have to pull the string multiple times before it will start.
That is not the case here.
What about the cut?
It cuts beautifully, let's start with that.
The product has a cutting swath of 16 inches with a line of 0.95 inch. It has the ability to trim a wider segment of grass without wasting much time.
Moreover, it has a curved shaft that makes trimming and cutting actually more comfortable even if this is not a task that you enjoy. It also provides a more balanced cut.
Now
As soon as the trimmer line is wearing down, you just need to tap the dual line bump head on the ground so that you will have more available.
The best part is that this trimmer is quite affordable.
So, what's the problem?
If you are on the tall side, maybe at least 5'8", this might become uncomfortable for you. You have to hold it way down for a nice trim.
In other words, it's quite small. It's not just a problem of not being able to trim comfortably, the engine is also quite close to the arm.
Also, this trimmer vibrates too much. You could feel the strain in your arms after use.
In a nutshell:
This is an appropriate product for light to medium trimming. It's not that heavy but there is a lot of vibration, which could take a toll on your arms. But if you can handle weight, then you won't have a problem with the Remington.
It's affordable and it's really easy to maneuver.
---
MY RATING: 91%
---
---
Best Gas #4:
Husqvarna 967055801
---
BEST FOR…
Those wanting a hugely powerful trimmer and no mixing gas and oil.
---
This is far and away the most powerful weed eater in my list, so if you can afford to spend a little more and want the piece of mind that this will clear absolutely everything put in front of it the Husqvarna 967055801 is for you.
Let's get things underway:
It has a 25cc 4-stroke engine that runs on pure gas and has a bump feed line. It weighs 11.24lbs.
The 4-stroke engine is a big plus. As I mentioned it is extremely powerful and you will be able to clear acres of land in no time at all. It cuts perennials, thick grass and all kinds of weeds with no problem at all. It is very powerful.
The best part is:
The benefit of a 4-stroke engine is that it requires four steps to create power in each cycle. Each step is more concentrated, compared to only two steps.
This means 4-stroke engines end up being quieter and give off less gas fumes than two strokes, and it will definitely make trimming your yard a nicer experience.
Beyond that:
Additionally it runs on pure gas, so you don't have to mix gas and oil as you do with a two stroke engine. It makes the whole process easier and quicker.
The bump feed works nicely, it is really easy to handle and it has a nice long straight shaft that can be adjusted and will suit even the tallest user.
The handle is also adjustable and it is easy to find a nice comfortable grip to lessen fatigue.
Where it could be better is:
The guard does need improvement, it doesn't do a particularly good job of blocking grass so be prepared that you might get a showering!
Also the string is quite close to the top of the head, which means you have to be a bit more careful in tight spots.
The bottom line is:
This really is an awesome weed eater. It is powerful but quiet, eats through weeds but is easy to handle, is easy to start and use but durable.
If you have thick weeds you need to get rid of then this is the trimmer for you.
---
MY RATING: 90%
---
---
In Summary
---
Best Gas Weed Eater 2023
You will see above I love the Husqvarna 128LD. Fantastic peformance, minimal vibration and lots of power all at a budget price.
Best Cordless Weed Eater 2023
Battery powered weed eaters are justifiably becoming more popular. The WORX WG154 is another that is at a great price, very light and incredibly comfortable to use. I love it.
Best Lightweight Weed Eater 2023
As technology advances weed eaters are becoming lighter and lighter. But they don't come much lighter than the Black & Decker BESTA510. It weighs just 5.3
5lbs but there is certainly no compromise in power or performance.
Best Weed Eater For The Money
I struggled here as there are quite a few weed eaters that offer great value for money. In the end I have plumped for the Black & Decker LSTE523 – for its great line feed system and powerful two speed system.
Best Weed Eater For Under $100
The Greenworks 21212 is one of the cheapest electric weed eaters available, but with a dual line feed that works well and a well built body you wouldn't know it.
---
I hope you have found this rundown of some of the best weed eaters of use.
If you do have any questions or are uncertain about anything please feel free to drop me an email and I will do my best to help you.
There are many ways to kill weeds and keep your garden in tip top condition, but weed eaters are certainly the easiest, most convenient and most effective.
Enjoy!