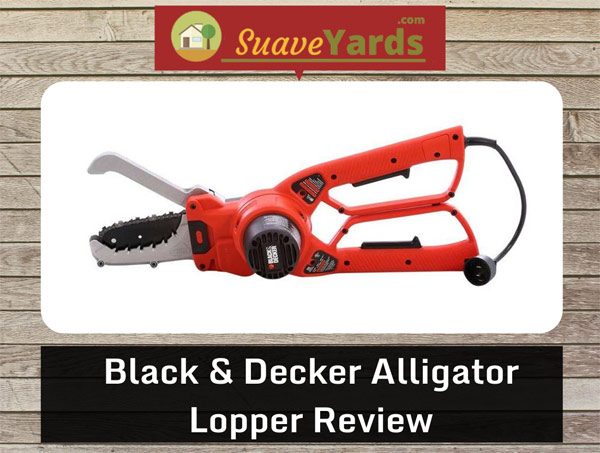 ---
Review At A Glance
---
The Black & Decker Alligator Lopper is an ideal alternative to a chainsaw if you have smaller duty jobs to do. Efficient and a great price too.
MY RATING: 95%

---
Editor's Note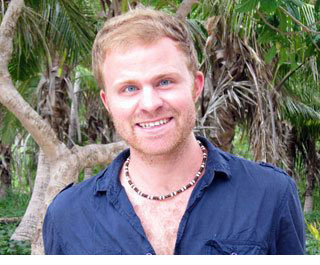 I hope you love the products that I recommend here! Just so you know, I work with Amazon and other affiliate partners and may be compensated from the links below.
---
---
Specifications
---
Power Source – Electric
Model – LP1000
Cutting Capacity – 4 inches
Bar Length – 6 inches
Two Year Warranty
Dimensions (in inches) – 9.37 x 8.12 x 25.2
Weight – 6.5lbs
Voltage – 120V
Amps – 4.5
PRICE – $
---
About The Black & Decker Alligator Lopper
The Black and Decker story started back in 1910 when S. Duncan Black and Alonzo G. Decker, two entrepreneurs with $1,200 between them opened a small shop in Baltimore, Maryland.
After early products included machines for making milk bottle caps and candy dipping they set about making the world's first portable power tool and in 1916 Black & Decker filed a application to patent a half inch portable electric drill.
A year later, in 1917, they opened their first large scale manufacturing base in Towson, also in Maryland. By 1919 the company was already making annual sales exceeding $1 million.
But enough of that.
The Black and Decker LP1000 Alligator Lopper is a chainsaw with a difference and I guess the hint is in the name. It is an electric lopper that acts almost as a giant pair of scissors that you clamp on a branch, limb or log and cut through.
The jaws clamp down and cut through limbs up to 4 inches thick. It has a 6 inch bar and metal guards cover the jaws of the chain and the blades when a cut is made. It has a 4.5amp, 120V motor.
Ok so you want to know how it works right?
Simply pull the jaws apart, then squeeze two switches on the handle and cut! The jaws are spring loaded so they stay closed and give you some momentum when you are cutting.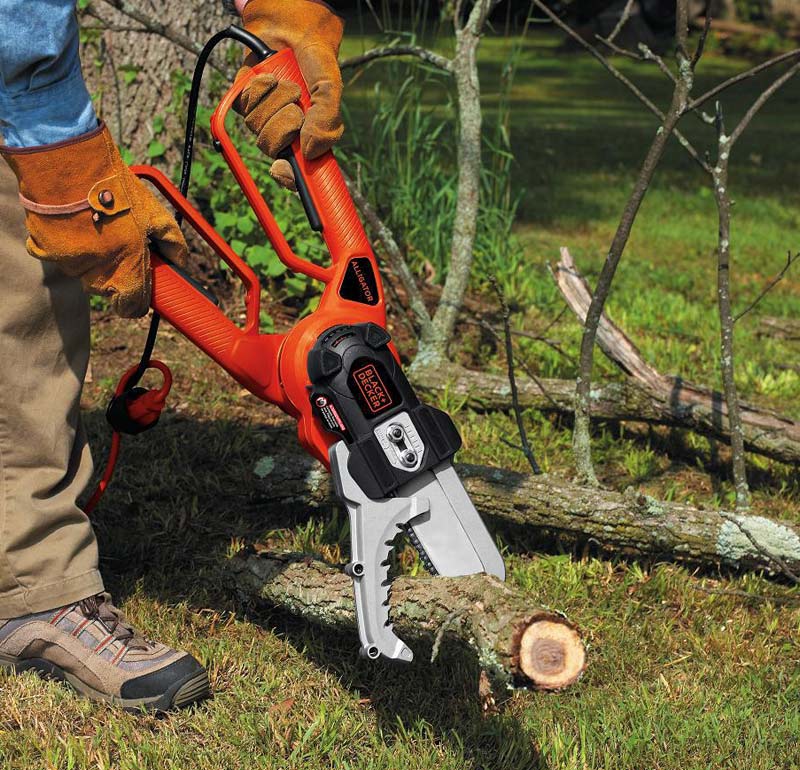 Above: The Alligator Lopper has a 6 inch bar and can cut limbs up to 4 inches thick
It comes assembled, you just need to add chain lubricant to load it and it stays closed when you shut it up to store it away.
It is worth knowing…
That you will probably want a heavy duty extension cord. For an extension cord between 51 and 100 feet it should be 16 gauge, up to 150 feet it should use 14 gauge wire.
The Good
In many ways the Black & Decker Alligator Lopper is a much better tool than a chainsaw IF you don't have a huge yards with lots of large trees to deal with.
Why do I say this?
Because when it comes to smaller limbs the LP1000 Lopper is just so much more efficient and quicker than even a small chainsaw.
In these cases it has many of the advantages of a chainsaw without the disadvantage of having a lightweight branch bounce all over the place as you try to cut through it with a big chain.
The clamping jaws literally scythe throw the limb in seconds – and it feels much steadier and stable to use.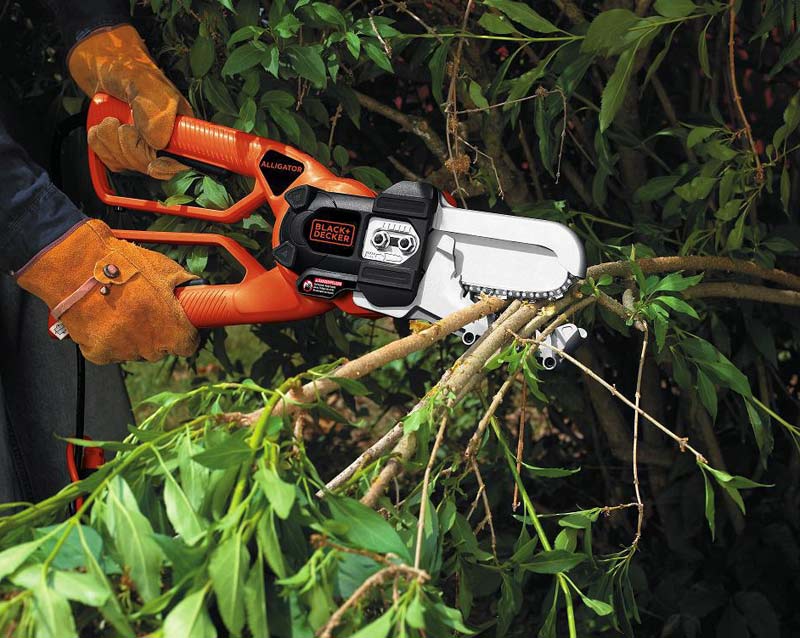 And what does this mean for you?
It reduces the time you will spend out in your yard trimming and cutting. Grab a branch, cut through, done, grab a branch, cut through, done…
I think you get what I am saying here.
It makes those smaller jobs much quicker for you.
A lot of that is down to some really nice design work by Black & Decker. The lopper has a slight closing force which gives you momentum as you clench the blades, but then as soon as you stop using them they naturally and easily close so you can carry them around.
You can also essentially place the limb you are cutting in the jaws of the lopper and then turn it on and it literally self feeds and cuts for you.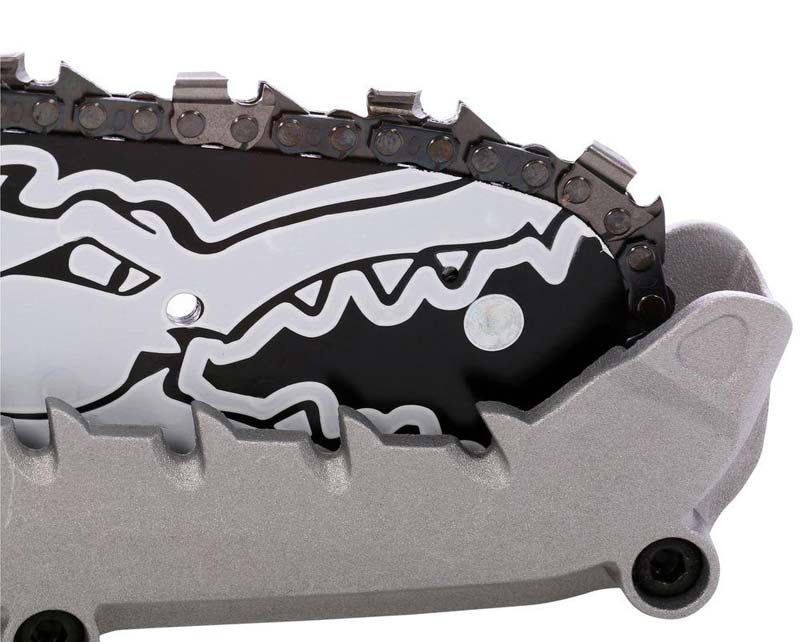 Above: The Lopper makes it much easier to cut quickly through small limbs thanks to some clever design work.
And what makes this even more impressive?
This thing is safe, safe, safe. There are triggers on both handles and you need to have them both pressed down simultaneously for it to work. It means it is pretty much impossible to accidentally start it whilst you clear the jaws, etc, etc.
The chain itself is nice and well enclosed by safety guards so it touches nothing but the branch. But these safety guards fold back considerably to give unhampered access to the chain for cutting large branches or limbs
So I know what you really want to know…
All of this is good, but what kind of size branches can it deal with?
Now obviously the Alligator Lopper isn't like a chainsaw in the stuff it can tackle, however I think you might be pleasantly surprised by its capabilities.
Officially according to the spec, it can deal with branches up to 4 inches in diameter, but I think you can even push it further than that and deal with things 6 inches and maybe even 8 inches in diameter although you will have to work on them a bit more.
It can certainly cut quickly through branches 4 inches thick.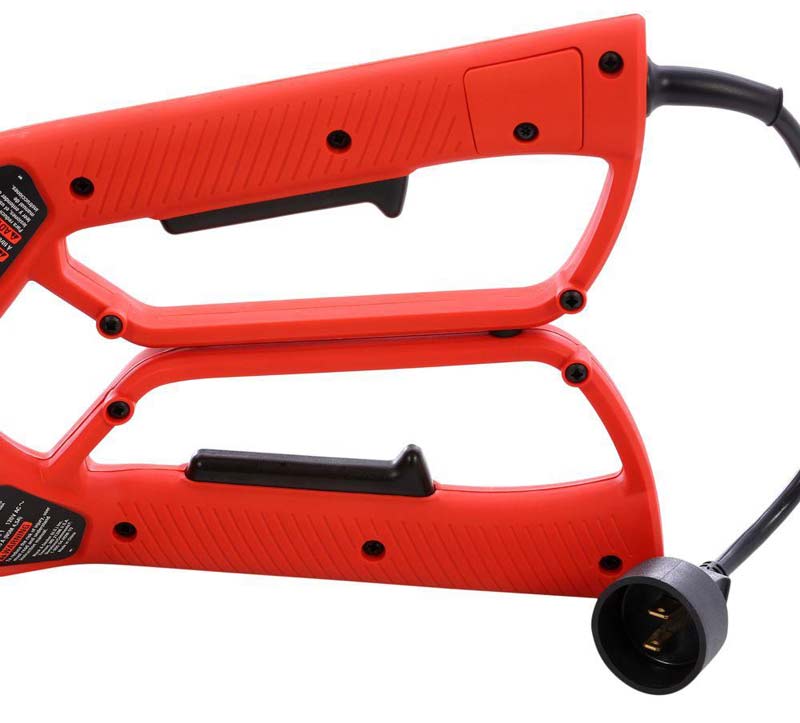 Not bad huh?
If the thought of using a chainsaw intimidates you somewhat then you really shouldn't have any fears when it comes to the Alligator Lopper.
It is so easy and relatively effortless to use. It is a bit like using a big, and more powerful, pair of scissors with no need to worry about the dangers a standard chainsaw presents.
And it goes without saying:
This is much lighter and quieter than even an electric chainsaw. And it feels like it will last – the life of the bar tip is extended by a rotating nose, it feels sturdy and well made and it is very low maintenance – again in comparison to a chainsaw. It offers excellent value for money.
Above: The Lopper can deal with surprisingly large limbs and is very safe as you have to depress both triggers on the handle for it to work.
Speaking of which…
I think the price is great. For the use you can get out of it, the quality of design and build and the time it can save you it is really cheap.
All in all
This is ideal for smaller, less intensive jobs. It works wonders on cutting smaller limbs, small trees, small logs.
So if you have a tree full of smaller, awkward limbs, there is no need to struggle up a ladder with a chainsaw, you can simply use this and get the job done much quicker.
For older people, those with limited strength or conditions like arthritis it could be a godsend. It also does an amazing job on bamboo and palm fronds.
Anyway I will stop now, I think you get how much I like this!

The Not So Good
There is one main problem with this.
And it centers around the oiling mechanism. There is no reservoir for oil, so to oil the chain you need to squirt oil in from a can.
This is an issue for two reasons:
One – the tab that you need to lift so you can insert the oil is very fiddly and difficult to open and, two, the bottle of oil this comes with is pretty much useless.
The bottle has a pop out nozzle you are supposed to insert into the hole on the lopper, but it is almost impossible as the quality of the bottle is so poor that as you try and insert it the nozzle pretty much retracts.
Thankfully this isn't disastrous as you can just get a can of spray oil and spray the chain frequently saving time and frustration.
Still it is a pretty big oversight from Black & Decker.
Also you find that wood chips tend to get clogged in the hole at the base of the chain. It isn't a huge issue, but you do need to remember to deal with them fairly frequently. They are quite easy to dislodge.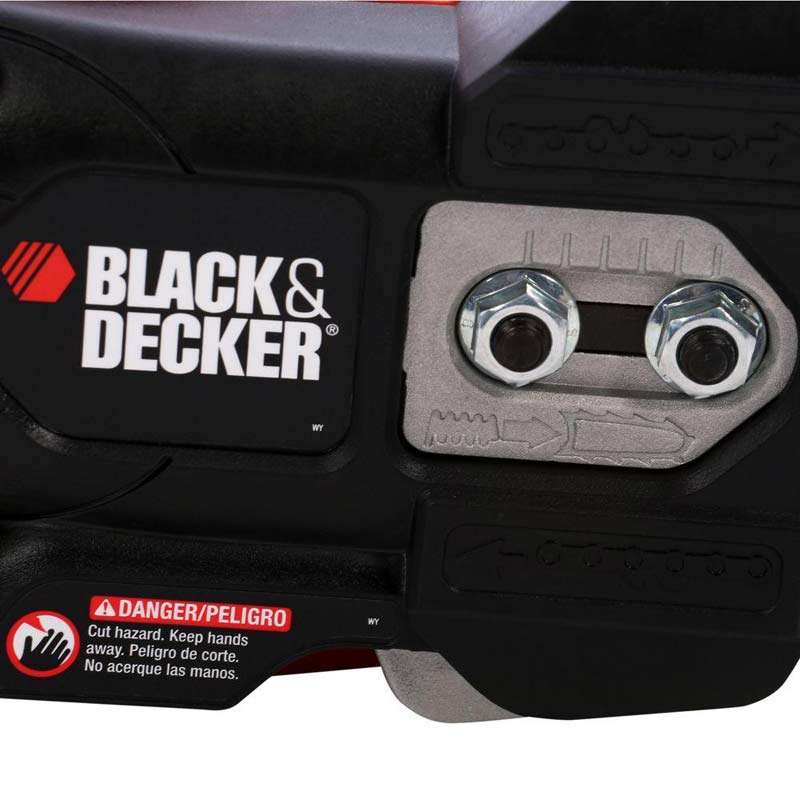 And you may well find yourself struggling with the weight of this after a while.
But I thought you said this was light?!
It is! At 6.5lbs it is light and providing you take breaks and don't go at it with this for a prolonged period of time you should be fine.
But…
You must remember that for all the advantages this has over a conventional chainsaw there is a disadvantage.
With a chainsaw the weight is generally below your left hand – however with the lopper the weight is always well forward of both of your hands.
This means you are constantly working to hold the lopper up.
Like I say generally this won't be too much of a big deal unless you planning on using this continuously for a long time. If you do just take regular breaks.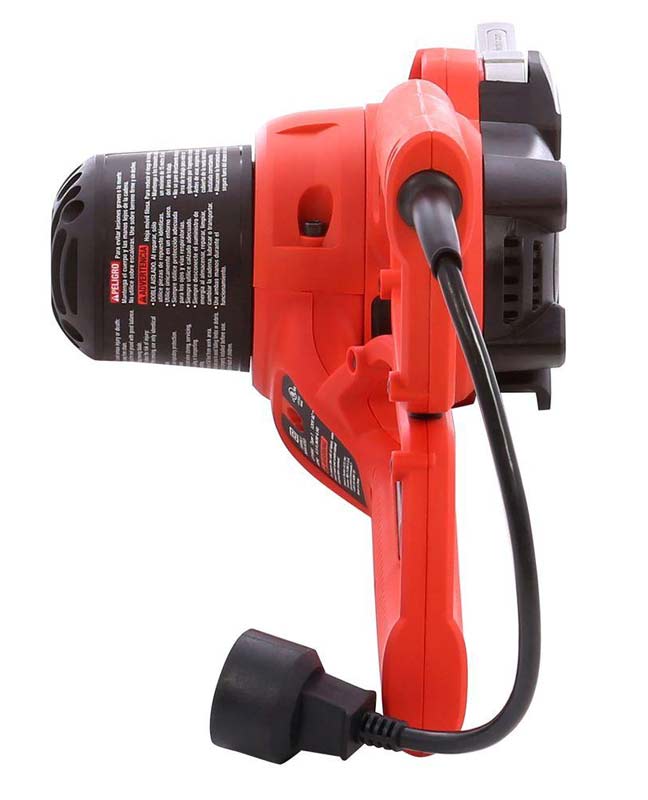 Above: The oil mechanism could be much better on the Alligator Lopper and the motor does protrude a somewhat.
And one last thing:
The motor does poke out from the right hand side of this somewhat. That means that occasionally jobs where you need to get close to a wall or fence are a little more difficult than they should be.
It is worth bearing in mind.
At A Glance
✔ Pros
Very efficient
Quicker than a chainsaw for smaller jobs
Intelligent design
Ultra-safe
Can deal with reasonable size limbs
Light
Quiet
Built to last
Great value
Ideal for smaller jobs, palm fronds, bamboo, etc
✘ Cons
Oiling mechanism is not great
Wood chips can get clogged in this
Weight distribution can be an issue for prolonged use
Protruding motor – can inhibit jobs near fences or walls
---
Conclusion
My Verdict
Design - 94%
Performance - 96%
Price - 95%
The Black & Decker Alligator Lopper is ideal for a number of scenarios:
1) Anyone who has a smaller backyard that needs occasional or regular trimming or lopping of smaller limbs, or items like palm fronds or bamboo.
2) People with limited strength or conditions like arthritis
3) Those who have a chainsaw for dealing with big jobs and want a smaller tool to make quick work of getting branches off those trees they have cut down or lopping them up into small pieces of firewood.
In essence I think pretty much anyone would benefit from this!
It is a wonderful tool at a great price and if you can ignore the issue with the oil mechanism (just get some spray oil and spray it onto the chain directly) this is pretty much perfect.
Easier than a chainsaw, quicker than a pair of loppers and ideal for dealing with branches up to 4 inches (and maybe even a bit bigger) in diameter, I challenge you not to be impressed by this!

READ ME NEXT ===> Check out our roundup of the best chainsaws on the market
---
FAQs
Can this cut palm fronds?
Yes and it does it very well!
Can this cut through bamboo?
Yes – without a problem.
Do I need safety equipment when I use this?
Not necessarily, however I think it would be prudent to wear protective glasses, but not necessarily gloves.
Does this come assembled?
Yes – completely assembled and ready to use.
What size branches or limbs can this cut?
Officially up to 4 inches in diameter, although with a little more work and persistence you might be able to work your way through something up to double that size.
What does this come with?
You get the Black & Decker LP1000 Alligator Lopper, an oil bottle and a wrench.
Do you need a lot of strength to squeeze the handles?
No you don't – the chain cutter inside the jaws of the lopper does most of the work – you just need to apply pressure gently to keep it in contact with the limb.
You Might Also Like
This is pretty unique in its field – however if you decide you want something with a little more capacity or power you might want to get a normal chainsaw.
There are also some great 40cc chainsaws on the market which are smaller and lighter. If you do decide to with the ultimate in power then you will want to check out my guide to gas chainsaws.
It is very important to know how to use a chainsaw and how to keep a chainsaw sharp.
Finally to see a summary of everything on my site on one page then check out my site index.
Useful Resources