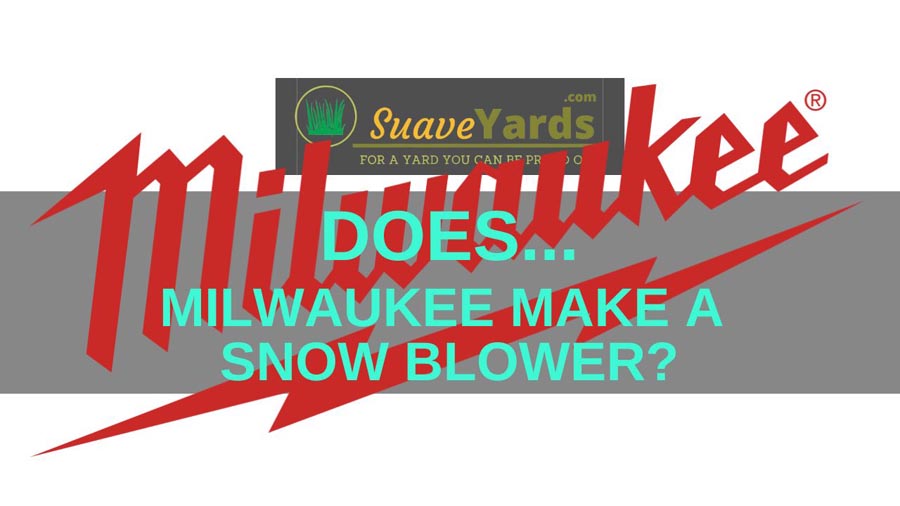 Every company has its own devoted set of customers, but Milwaukee definitely would rank right up there with the most ardent fanbases.
For a variety of reasons many people swear by its tools, and it is at this time of year that one question begins to pop up more and more…
Does Milwaukee make a snow blower?
Because if they do, you can be sure it will be pretty good.
So let's find out…
Does Milwaukee Make A Snow Blower?
Milwaukee doesn't make a dedicated snow blower at present. However in July 2022, Milwaukee Tool President Steven Richman confirmed the company is working on a snow blower that is earmarked to be released at some point 2023. Until then, if you live somewhere that gets the occasional light dusting of snow, the Milwaukee M18 Blower has enough power to deal with that.
Yes, But No, But… The Milwaukee M18 Blower
Milwaukee has always been pretty good at branding and marketing and its M18 Blower is further evidence of this.
Unlike products from competing manufacturers, it isn't branded as a 'leaf blower' simply a 'blower', so it is left up to your interpretation what you can use it for.
Let's take a quick look at the spec first.
It uses Milwaukee's M18 battery pack, and as a very minimum you will want at least a 5aH battery for it, although due to its power it will blow through that pretty quickly, so a 9aH or 12aH battery might be a better bet depending upon how long you plan to use it for.
There are two models of this. The 2824-20 has an air volume of 600 CFM at 145 MPH and the 2724-20 has an air volume of 450 CFM at 120 MPH.
The 2724 model is lighter at 4.9 lbs, in comparison the 2824 which weighs 6lbs. But both are pretty powerful, and reach full speed impressively quickly.
But can the M18 Blower be used as a snow blower or as a snow shovel?
Yes it can, within reason.
It will clear maybe up to 6 inches of dry powdery snow from your car or drive, but it simply doesn't have the power for larger jobs or dealing with wet or semi-wet snow.
RELATED ===> Buyers Guide: The Best Snow Blowers on the Market
If you browse through some of the hundreds of reviews on Amazon about the product they will confirm this.
If it is just a dusting it will do a nice job. Anything more, then no
I can clear the deck of snow without breaking a sweat.
It acts as the perfect snow blower for our sidewalks.
This is a very portable and powerful blower. So far I have used it to clear light snow off the sidewalks, driveway and cars.
Then if you head over to Reddit this view is verified by a few people who echo the experiences of Amazon users:
After I got the uber expensive 12AH battery I can now blow that light fluffy stuff for all of these property front walks in 30 mins
The M18 Blower works great as a snow blower too!
We use a couple at work for cleaning off sidewalks when we have a dusting of dry snow.
A couple of light inches it would definitely clear but nothing wet and heavy.
The M18 Fuel is just okay for snow. Up to 6″ of dry powder on cars, sure. A few inches of wet stuff though, forget about it.
In short, if you live somewhere that gets the odd light dusting of snow and want something that can double up in the fall to clear leaves, the Milwaukee M18 Blower is a great choice.
I know sometimes it isn't the best way to judge the quality of a product, but it has A LOT of reviews on Amazon and they are almost all very favorable.
But if you live somewhere where you get regular and moderate to heavy snowfalls you will want to buy a dedicated snow blower.
So you can see from this that Milwaukee doesn't make a dedicated snow blower, (and neither is there a Milwaukee snow shovel at present), but that might be about to change…
Is A Dedicated Milwaukee Snow Blower in the Pipeline?
Well if Milwaukee Tool President Steven Richman is to be believed (and there is no reason why he shouldn't be!), then we might be seeing a dedicated Milwaukee snow blower in stores in the very near future…
At one of the company's Pipeline events in July 2022, Richman was asked by ToolGuyD, of the eponymously named blog, if the company had any plans to expand the company's portfolio of tools.
His response was an enthusiastic yes, and he went on to confirm that he had found out that one of his Research and Development teams had been working on a new project.
"I found out they were working on this pet project and I went ballistic," Richman said. "And that was a snow blower. And we will be – you know, in the not-too-distant future, the OPE team will be introducing a snow blower."
Shane Moll, Milwaukee's President of Power Tools, pushed Richman for an idea of when the product might launch, to which Richman replied "Next year, 2023".
So there you have it, a Milwaukee Snow Blower could be here sooner than you might imagine.
We expect further details to be released in the forthcoming 12 months.
Milwaukee: What Makes Them So Popular?
Milwaukee will soon be celebrating its centenary, having been formed by Albert Siebert way back in 1924.
They are undoubtedly one of the most well-respected tool manufacturers in the US, and since 2016 they have been the largest supplier by volume of cordless power tools in North America.
But what makes them so popular?
Milwaukee undeniably makes fantastic tools, but so do a number of other manufacturers.
I think where the company really excels is in its marketing and branding.
We talked at the start of this article about how its M18 tool is just called a blower, not a leaf blower. Additionally, its brushless tools aren't 'brushless tools' like every other company, they are 'Fuel' with a 'power state' motor, etc.
They market their tools more than any other company, and they are very good at it.
They also have a very close relationship with Home Depot, and you will notice that in-store Milwaukee tools are nearly always given prime positions. They also seem to get better ad placement too.
But obviously, you can't get by on marketing alone.
Their cordless tools have a superb battery system, they are durable, perform well and have some of the best warranties in the business.
That means, when the Milwaukee snow blower does see the light of day, you can expect two things.
One it will be very popular and two, it will be very good.
Final Thoughts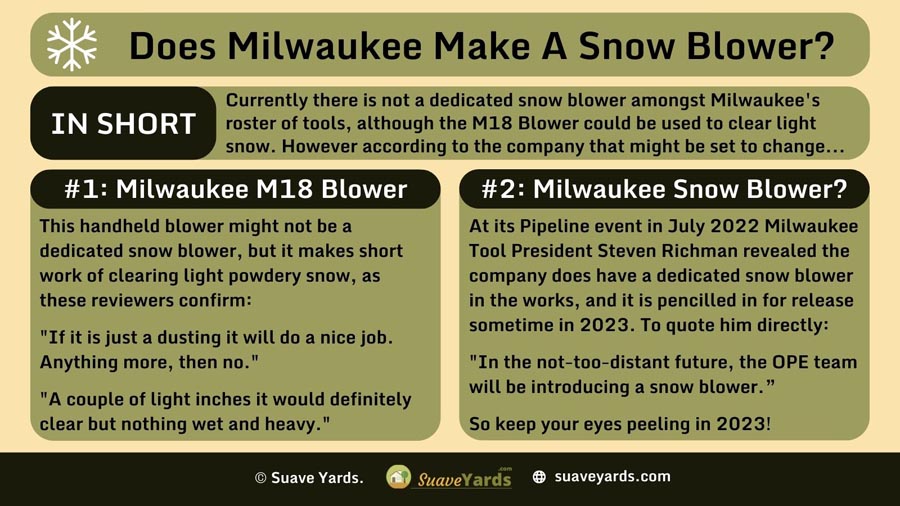 Milwaukee doesn't make a dedicated snow blower, but it looks like that is all about to change after the company President Steven Richman confirmed such a product is planned for release in 2023.
They do make an excellent blower though, and the M18 blower will do a good job of clearing light coverings of powdery dry snow.
Just don't expect it to handle heavier, wet snow.
For that, you will have to use a dedicated snow blower, or wait until Milwaukee releases its own snow blower!
---