---
Review At A Glance
---
The OASE PondoVac 5 Pond Vacuum provides powerful suction that goes on uninterrupted. Hey, everybody's time is precious. With equipment like this, you will have more time to do other stuff!
MY RATING: 92%

---
Editor's Note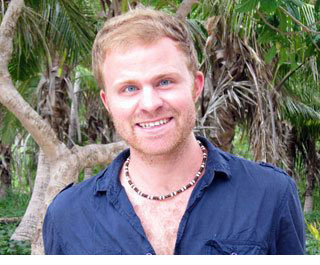 I hope you love the products that I recommend here! Just so you know, I work with Amazon and other affiliate partners and may be compensated from the links below.
---
---
Specifications
---
Power: 1800W
Suction depth: 7.5 ft
Suction hose length: 16 ft
Power cable length: 25 ft
Dimensions: 17.2 x 16.7 x 28.2 in
Weight: 53.6 lbs
Warranty: 2 years
PRICE GUIDE: $$
---
About the OASE Pondovac 5
---
Cleaning the pond is one of the more taxing activities at home. However, it's also a necessary one.
But it's definitely going to take some time.
That's why
It's quite necessary that you find the right product that could help you clean the pond fast.
But it's not just about the speed, it's also about the efficiency in doing the task. With that in mind, let's talk about the OASE PondoVac 5 Pond Vacuum.
Here we go!
We might as well start with the dimensions so that you will have an idea on how much space you would be dealing with in terms of storage. This pond vacuum has the following dimensions: 17.2 by 16.7 by 28.2 inches.
It weighs over 53 pounds.
Don't worry
You don't have to carry the vacuum in and out of storage as it comes with six-inch wheels for easy movement from storage to pond and vice versa.
There are a few lengths that you need to know of:
25-foot power cable length
16-foot hose length
32.8-foot discharge hose length
Next
The product has a suction depth of feet.
The power consumption is up to 1,800 watts with an operating voltage of 120 volts and 60 Hertz.
Lastly
OASE provides a two-year warranty for the PondoVac 5.
---
The Good
---
The OASE PondoVac 5 has a great suction function. For one, you get to do continuous suction because the suction and drainage pumps run simultaneously.
In other words
You get to do more with less time. That will allow you a very productive day.
As you know, if you have a pond, it's great but the upkeep is also quite taxing. Good thing you don't really need to do it regularly.
In this case
You only need to vacuum at least once a year. But when you do, it's a lot of work.
That's why the advantage of having a vacuum that allows continuous suction is very important. It lessens the workload as well as the time needed to accomplish the task.
The work is completed with the use of the four suction tubes that are all made of aluminum.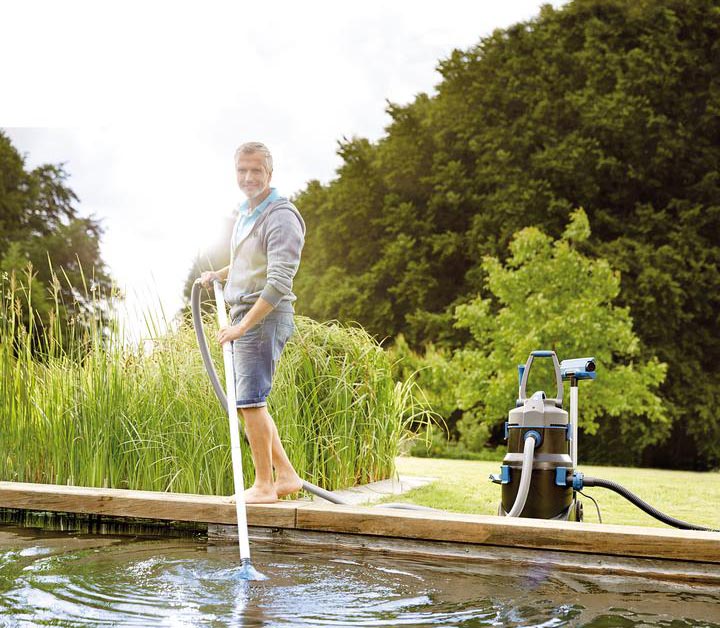 To emphasize
Before this pond vacuum, cleaning the pond or pool could take four to six hours. With the OASE PondoVac 5, you could be done in less than two hours. It's really fantastic!
Of course, the length of time would be dependent on how large your pond is. At least, you will get an idea on how much time this vacuum could cut because of its efficiency and engineering.
The motor is really strong, too.
Let's talk about the numbers:
The product has a maximum suction flow rate of 2,100 gallons per hour and a maximum suction depth of 7.5 feet.
There's a regulator on the handle that allows you to adjust the flow of the vacuumed materials.
Further
This pond vacuum comes with four nozzles so that you can choose the right one for a particular task. The nozzles are the following:
Adjustable floor nozzle
Brush nozzle
String algae nozzle
Wet suction nozzle
Wide nozzle
Each of these is appropriate for a specific vacuuming task.
Check these out:
Adjustable floor nozzle: removes floor debris.
Brush nozzle: brushing the floor.
String algae nozzle: the right head to easily remove strings of algae.
Wet suction nozzle: also known as the crevice nozzle, it can suck out pollutants between crevices or stones and plants.
Wide nozzle: perfect for residual water.
By the way
The wide nozzle can also be used indoors as a dry vacuum.
As for the outlet
There is a quick-connect plastic that can provide watertight seal to ensure that no muck will leak out during the vacuum process.
The same could be easily removed once you're done, so it's really quite convenient.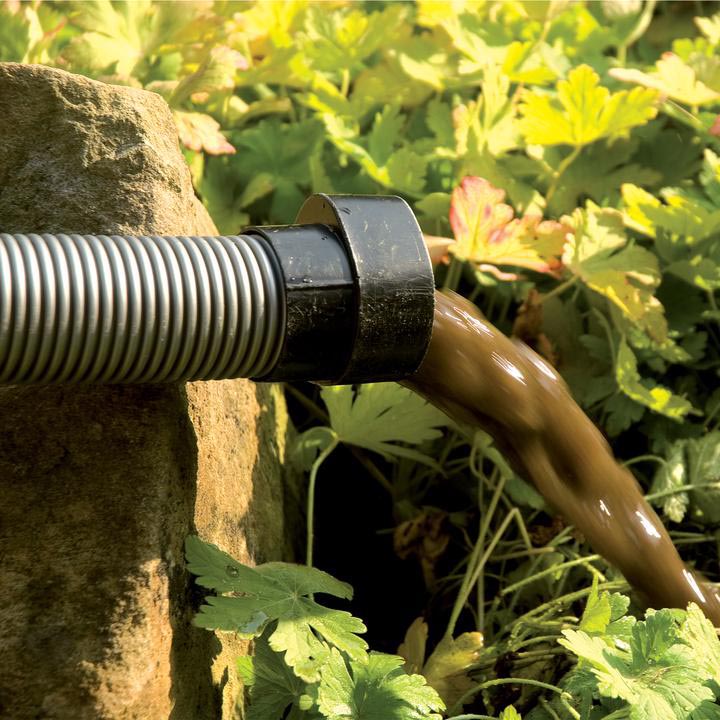 Moving on
This is a heavy product, just as most pond vacuums are, at over 50 pounds. But that's complemented with the presence of six-inch wheels that are great at handling uneven terrain.
OASE really brought out the best of its PondoVac lineup in the #5. The brand has thought of everything including the movement of the vacuum to and from storage.

---
The Not So Good
---
It's understandable that this product will have a couple of not-so-good qualities.
The first thing I want to point out is the extension tubes. In some cases, the 16-foot suction hose is not enough. That's why some will need extension tubes.
What's the problem?
The tubes don't have a locking system in place.
It's not like it comes off all the time, but it doesn't give you quite the security you need when doing this type of cleaning.
So, you just have to really attach it tightly and watch out for it every now and then.
Another thing
The instructions weren't all that clear. It may sound minor to some, but there are people who are not very savvy with electrical equipment especially something as complicated as the pond vacuum.
The instructions will bring out the sweat.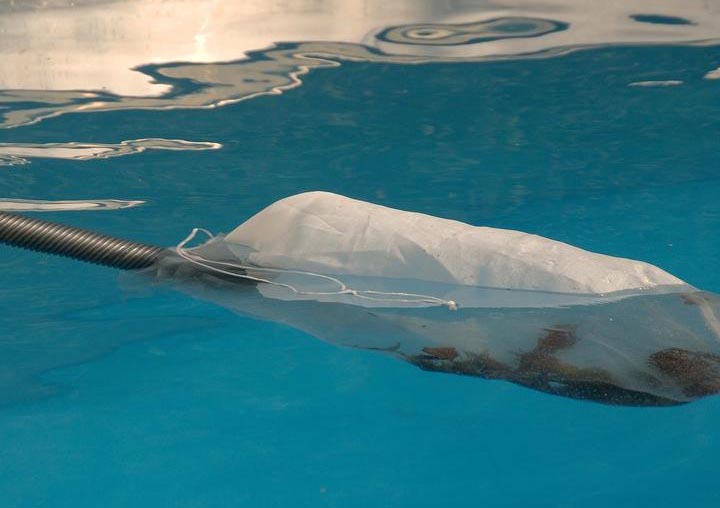 ---
Conclusion
---
My Verdict
Design - 92%
Performance - 94%
Price - 90%
When it comes to suction power and efficiency, the OASE PondoVac 5 Pond Vacuum is truly one of the best. Imagine this, the PondoVac 4 is 20% better than its previous model. Well, #5 is even better than #4.
The double-pump system is really outstanding. You have the suction and waste pumps working in tandem so that your task will not be interrupted by the need to drain the waste. You get a lot of work done in less time.
Here are a few important things to note: The product has a suction depth of 7.5 feet and a suction hose that reaches 16 feet. It consumes up to 1,800 watts of power. The discharge hose is also over 32 feet and the product comes with a sturdy collection bag for coarse debris.

---
At A Glance
---
✔ Pros
Provides continuous suction
5 nozzles
Flow adjustment on handle
Wheels provide smooth movement even in uneven terrain
Powerful motor
Wide vacuum can be used indoors
✘ Cons
Extension tubes don't have locks
Instructions weren't clear enough
---
FAQs
---
How good is this in vacuuming silt?
It's quite good! Suction is really one of its best features. Just be patient with it because it will take a bit of time.
Can the discharge hose be replaced?
Yes! There is a replacement for it as well as an extension.
How does this compare with the other OASE PondoVacs?
For starters, the OASE PondoVac 5 is more powerful with a maximum 1,800 watts of power. It is the strongest one in the lineup. Between the 3 and the 5 in the lineup, the latter has a second pump with a discharge function.
---
You Might Also Like…
---
The OASE PondoVac 5 is an upgraded version of the OASE PondoVac 4 Pond Vacuum. If you want to know more about the other product, read our expansive OASE PondoVac 4 Pond Vacuum review.
I've also created a list of the Best Pond Vacuum Cleaners. The article also enumerates the features that you should be looking for in a pond cleaner.
Useful Resources