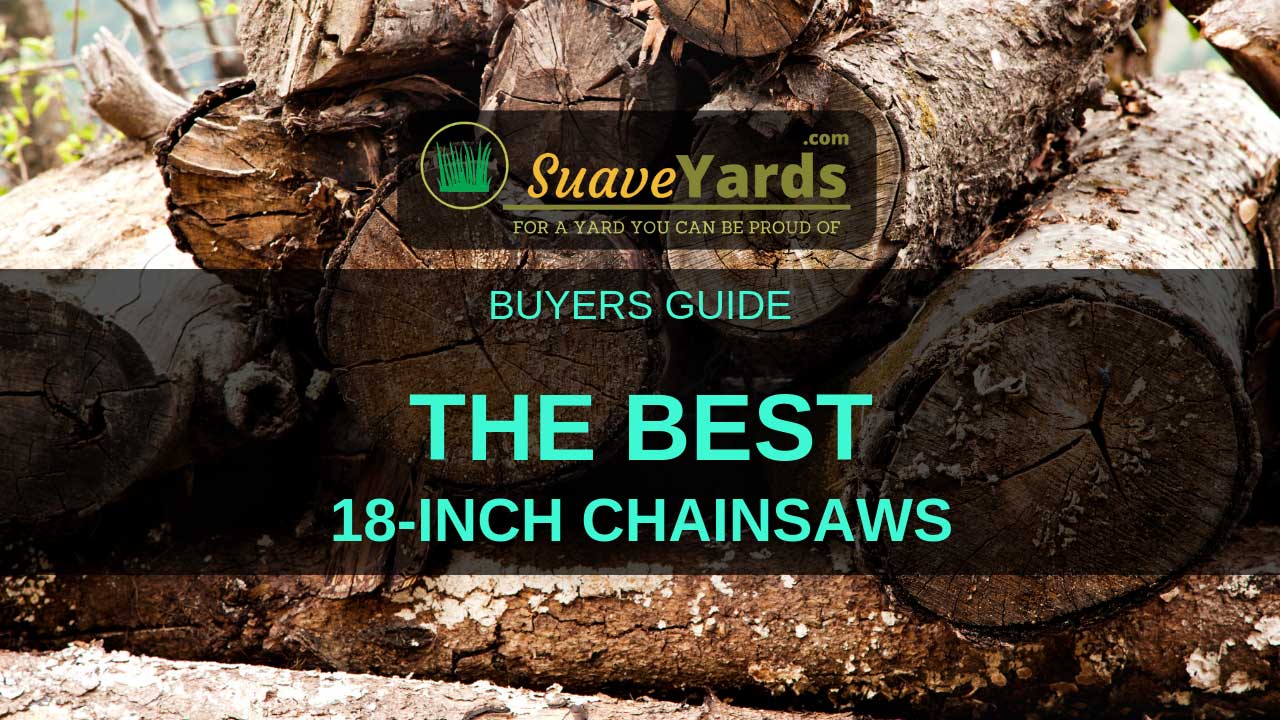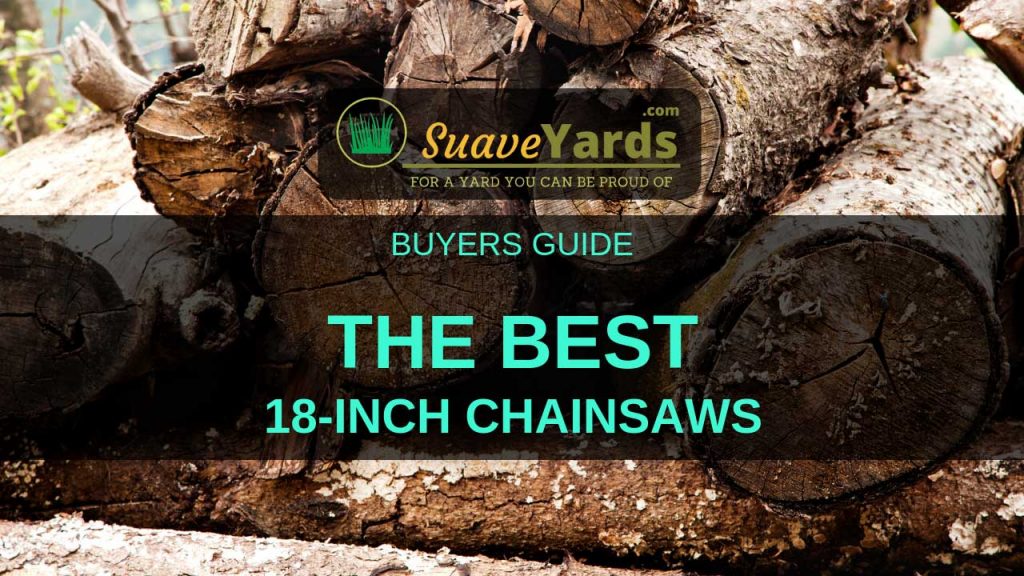 A chainsaw doesn't have to be huge to do a good job.
In fact if you have a smaller yard a large chainsaw can be more of a hindrance than a help.
Luckily for you I've put together a list of the best 18-inch chainsaws on the market to help you pick the best saw for you.
>>> I know about chainsaws already, jump me straight to the reviews <<<
---
Best 18-Inch Chainsaw:
At A Glance List
---
Below is a quick view of my favorite 18-inch chainsaws of the year. To find out more about them click on the link to take you to the full review.
---
Why Do I Need An 18-Inch Chainsaw?
---
Know about chainsaws?
>> Jump to my reviews <<
I would describe an 18-inch chainsaw as the all rounder of the chainsaw world and something that would be suitable for most homeowners.
I say most…
Because if you had a heavily wooded and/or large lot that requires a regular attention then you will most probably want something larger – 20 inches or above.
But:
If you want to cut down moderate sized trees, clear shrubs, lop off limbs and branches, cut up firewood and generally keep things need and tidy then an 18-inch chainsaw will be perfect for your needs.
Generally it will have the benefit of still having a significant amount of power and cutting ability, without being as difficult to handle and expensive as a larger saw.
---
What Do I Need To Consider When I Buy A Chainsaw?
---
If you are thinking about buying an 18-inch chainsaw then you need to consider the same factors you would consider when buying any chainsaw.
Electric, Battery or Gas?
I've selected at least one of each of these power sources in my list, as they all have their advantages and disadvantages:
Electric
Pros – Lighter, low maintenance, no fumes, easy to start

Cons – Restricted mobility, reliant on having power source nearby
Battery
Pros – Unlimited mobility, no fumes, low maintenance

Cons – Restricted by battery life, can be bulky
Gas
Pros – most power, unlimited mobility, good for heavy duty jobs

Cons – most expensive, more maintenance
As you can see a lot of the pros and cons overlap. But if you want the most power go for a gas chainsaw, if you don't want the trouble of maintenance or the fumes gas chainsaws produce, but still want the freedom they offer then go for a battery powered chainsaw. If you don't mind having a cord trailing around but want something easier to maintain and start go electric.
What Else?
Think about the features the saw offers and look to see if it has tool-free chain tensioning, an automatic oiler, an anti-vibration system (especially if you are using a gas chainsaw), and consider how heavy it is, how ergonomic the handles are and how comfortable it is.
If you are going for a battery powered unit – look at how long the battery lasts and how long it takes to recharge.
And don't forget:
Safety features! It is important you at least know how to use a chainsaw before you start chopping down trees. Look for a chain brake and/or chain catcher.
The video below gives you a few more tips and hints on how to choose the right chainsaw for your needs:
---
Editor's Note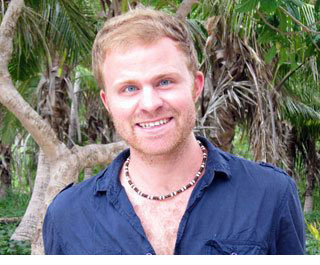 I hope you love the products that I recommend here! Just so you know, I work with Amazon and other affiliate partners and may be compensated from the links below.
---
The Best 18-Inch Chainsaw
---
#1 Husqvarna Rancher 455
---
BEST FOR…
Those wanting something for regular medium to heavy duty use.
Product Spec
Power – Gas

Engine Displacement – 55.5cc

Chain Pitch – ⅜"

Chain Gauge – 0.058"

Weight – 16.8lbs

Two Year Warranty
PRICE GUIDE: $$$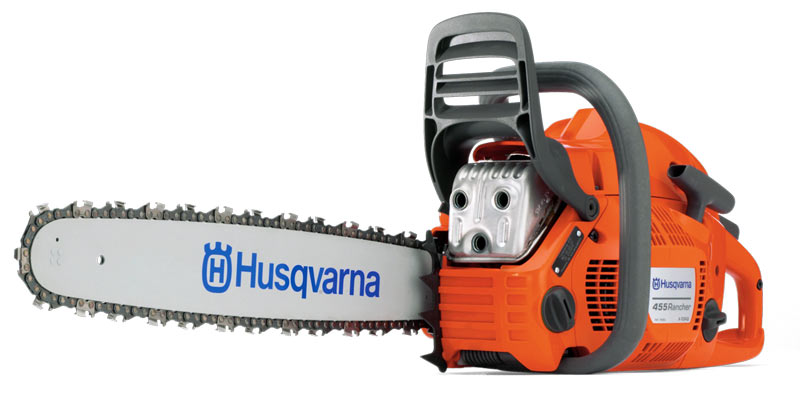 ---
Every single one of these chainsaws in this list is a good saw, it goes without saying, but the Husqvarna Rancher 455 is without a doubt the most powerful.
Let's take a closer look:
Primarily used with a 20-inch bar this is also suitable for an 18-inch bar, hence its place on this list. It has a 55cc engine, giving 3.49hp.
It has a maximum power speed of 9000 rpm, and is able to run a .050" and a .058" chain. This gas powered saw's fuel tank is 14.9 fl. Ozs and it comes with a two year warranty.
Needless to say:
The power generated by Husqvarna's engine means this is a hugely consistent and reliable 18-inch chainsaw that is ideal for those with large duty jobs that need doing on a regular basis.
It can easily deal with 30" or 40" stumps. It utilises what Husqvarna calls X-Torq technology, in short this means it rarely wavers even when you use it on dry and hard wood that other 18-inch bars might struggle with.
You might need to stop occasionally to fill up on fuel and top up bar oil, but this will just keep going and going and going.
Aside from that:
I am sure you will agree there is nothing more annoying than a hard to start chainsaw – thankfully this is nothing of the sort! The two-stroke engine is a joy to start, nearly always doing so on the first or second pull. Maybe it is the Husqvarna smart-start system – but whatever it is it works.

I love the side mounted chain tensioner – makes it easy to adjust the tension of the chain without play around in front of the saw.

Yet another Husky trademarked system – LowVib – sees vibration dampening running all the way through the saw – as a result it feels so smooth, no tingly arms or hands after using this.

It has a wonderful chain brake that snaps in with the merest hint of kickback, meaning you feel safe at all times when you use this.

I do love the Husqvarna brand. They are always well made, reliable and easy to find spare parts for if you need them.
But:
As with any piece of machinery this isn't perfect. It weighs around 17 lbs so can feel heavy with prolonged use. Also I don't like the rounded base of the 455 – it means it rocks and doesn't feel stable when you are servicing it.
In short:
In terms of 18-inch chainsaws, this is all about the power! It is a step above most homeowner style chainsaws, but not quite on the professional level.
It is strong, powerful, easy to start and comfortable to use.
---
MY RATING:

94%
---
Pros
Lots of power
Easy to start
Easy to adjust chain
Comfortable to use
Feels very safe
Cons
Heavy
Rounded base makes it difficult to service

---
#2 Greenworks Pro GCS80420
---
BEST FOR…
Those wanting the best cordless saw.
Product Spec
Power – Battery
Volts – 80
Chain Pitch – 0.375″
Chain Gauge – 0.050"
Weight – 13.7lbs
Four Year Warranty
PRICE GUIDE: $$$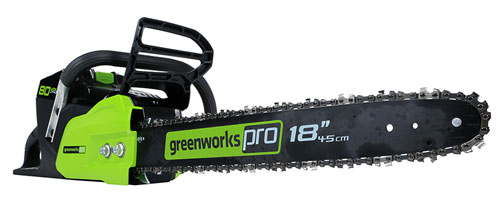 ---
What separates the Greenworks Pro GCS80420 from many other good battery powered 18-inch chainsaws is an intelligent, rugged and clever design. Oh and it cuts well too!
Let's dive in:
This comes with an 80V, 2Ah battery and charger, which can make up to 150 cuts and delivers the equivalent performance of a 45cc gas engine.
It runs a 0.050" chain, with a 0.375" chain pitch. It weighs 13.7 lbs and has a four year warranty.
Let's lay it bare:
I am really impressed with the thought and detail Greenworks have put into their design of this.
It has metal bucking spikes, nice bar oil application, a really well worked trigger lock, and a sturdy and durable metal wrap around bar. It has an automatic oiler and a tool-less chain tensioner.
The battery drops in easily and the whole thing feels substantial, well balanced and built to last.
And there is more:
It chews through dense hardwood as well as any comparable gas chainsaw would – going in nice straight lines and excelling at bucking and felling.

This is in no small part to the chain speed that the 80v power system gives. The digital controlled brushless motor definitely delivers great torque.

The battery is good. I am not sure if it matches up to the 150 cuts Greenworks claim, but I'd say it lasts about as long as a tank and a half full of gas. It also fully charges within 30 minutes too which is great.

The warranty is rea;;y good – fours years on the saw and two years on the battery.

You have the many other benefits associated with a battery powered tool – it starts easy, it is very quiet, it requires minimal maintenance and you don't have a cord in the way or get any noxious fumes.
Of course it isn't perfect:
The small reservoir of chain fluid does seem to leak somewhat from the bottom of the saw. And at just under 15 lbs this is again rather heavy – on par with a gas chainsaw.
All in all:
If you are a standard homeowner, and you don't want the trouble of gas or electric, then this is great and definitely powerful for using on limbs and small to medium sized trees.
In my opinion this is the best 18-inch battery chainsaw on the market.
---
MY RATING:

92%
---
Pros
Very well designed
Nice straight and easy cutting
Quick charging battery
Great warranty
Quiet, easy to start and next to no maintenance

---
#3 Black And Decker CS1518
---
BEST FOR…
Those wanting a budget 18-inch chainsaw (go for this or the WORX!)
Product Spec
Power – Electric
Amps – 15
Weight – 14.5lbs
Two Year Warranty
PRICE GUIDE: $
---
Along with the WORX WG304.1 this is far and away the cheapest 18-inch chainsaw on my list. And for those of you with a smaller yard, looking for something for occasional around the home use then the Black & Decker CS1518 is fantastic value for money.
Let's get started:
So this is an electric chainsaw with a 15 Amp motor. It weighs 14.55lbs and has a two year warranty. It has an automatic chain oiler and tool-less chain tensioner.
The simple truth is:
This offers way more than you might expect for something in the sub $100 price bracket. Probably best suited to a lot of one acre or smaller – if you are looking for a quality saw for landscaping, trimming branches or cutting down smaller trees of under a foot in diameter – then you can't go wrong with the CS1518.
It is smooth and fast, as long as you remember its limitations. And you know what? With a bit of planning and sensible usage this has enough power to deal with 16 to 18 inch trees – I just wouldn't make a regular thing of it.
And you know what else:
The self lubricating oiling system works really well – the bar and chain are constantly lubricated and it has a clear window so you can quickly see how much oil you have left.

The tool-free chain tensioning is one of the best I have seen. It has an outer wheel that moves the arm in or out and then there is an inner wheel you rotate to tighten the or loosen the cover. It means you can adjust the bar without it being fastened – it is a really clever design

With a well-designed kick-back guard and a responsive chain break it feels really safe.

It is really light!

It is as close to silent as a chainsaw of this power can get.
You should know though:
The bar does seem a little thin, and that is why you need to take larger jobs more slowly and make sure you don't push this too far.
Also it could do with some kind of cord retainer to stop the extension cord from coming unplugged. You will end up having to rig up your own homemade cord cage to keep this thing together.
In summary:
For general, smaller, around the home/yard jobs this is perfect. It is light, quick and easy and cuts really, really well.
It won't take down redwoods, but it is the perfect tool for those jobs you need doing quickly and the price is fantastic.
---
MY RATING:

90%
---
Pros
Fantastic price
Cuts well
Automatic oiler works really well
Very clever tool-free chain tensioning
Feels very safe
Cons
Bar is slightly thin
Could do with a cord retainer

---
#4 WORX WG304.1
---
BEST FOR…
Those wanting a budget 18-inch chainsaw (go for this or the Black & Decker!)
Product Spec
Power – Electric
Amps – 15
Chain Pitch – ⅜"
Chain Gauge – 0.050"
Weight – 11.3lbs
Three Year Warranty
PRICE GUIDE: $

---
Much of what I said about the Black & Decker CS1518 you can apply to the WORX WG304.1 chainsaw. They are both fantastically priced saws that are fantastic for trimming and moderate to heavy use around your property.
Let's get down to business:
This is an electric chainsaw, with a 15 Amp motor. It weighs 11.3lbs and is able to run a .050" gauge chain and the chain pitch is ⅜". It has tool-less chain tensioning, automatic oiling and comes with a three year warranty.
Perhaps unsurprisingly:
As with the CS1518 I am going to point to the price of this 18-inch chainsaw as its main selling point.
Depending up where, and when, you buy it it should come in at around the same price market as the CS1518 – maybe with a couple of dollars difference.
And this too has good power – maybe even outperforming the CS1518, it's lightweight means it is easy to maneuver but you still have enough power and torque to bring down some large trees – up to 22".
It doesn't seem to bog down, it just seems to eat through the wood with ease.
To top it off:
As I alluded to above the 15 amp motor does deliver a serious amount of power over a prolonged period.

This has a fantastic auto-tension chain system. It is very easy and very well designed. There is a chain tensioning knob on the side you need to adjust when the chain feels a bit sloppy, but in all honesty those occasions will be few and far in between as the chain seems to stay nice and tight nearly all the time.

It has a generously sized oil reservoir (with a visible oil level indicator) and the auto-oiling system keeps the chain and bar lubricated flawlessly.

The design is sleek and stylish and whilst it is not made of metal it uses nylon-like thick plastic and it feels very sturdy.

This is really easy to take apart and put back together to clean and maintain – it doesn't even require any wrenches or tools.
Be warned:
I feel the chain brake is almost too sensitive and the handguard is undoubtedly too close to the handle, so you can easily find your hand hitting it and activating the brake.
Also whilst I didn't experience there does seem to be an overall feeling that it is difficult to get replacement parts and chain blades for this.
Let's rewind and…
This is another excellent budget option if you are looking for an 18-inch chainsaw. With a serious amount of torque and a surprising amount of power it is a great choice for around the yard trimming and moderate to above moderate outdoor use.
---
MY RATING:

90%
---
Pros
Great price
Surprising amount of power and torque
Auto-tensioning system that really works
Sturdy and durable
Easy to take apart and put back together
Cons
Chain handguard too close to handle
Difficult to get replacement parts

---
#5 Oregon CS1500
---
Price Guide: $$$
BEST FOR…
Those looking for a chain that sharpens itself!
Product Spec
Power – Electric
Amps – 15
Chain Pitch – ⅜"
Chain Gauge – 0.050"
Weight – 12.9lbs
Two Year Warranty
PRICE GUIDE: $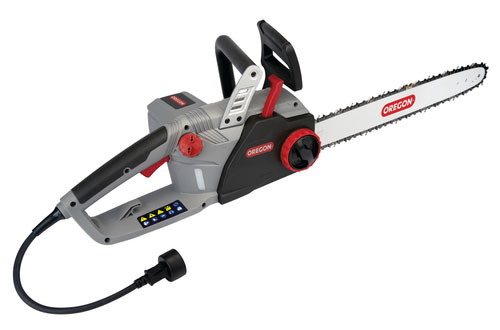 ---
The Oregon CS1500 is an 18-inch chainsaw with a difference – it utilises an exclusive self-sharpening system called Power Sharp – that means less maintenance for you and a continually sharp chain.
Let's dig a little deeper:
This is another electric chainsaw with a 15 amp motor. It weighs 12.9lbs and runs a .050 gauge chain with a ⅜" chain pitch.
Aside from the Power Sharp self-sharpening system it has tool-less chain tensioning, an automatic oiler and comes with a two year warranty.
This is an act of genius:
The CS1500 is the only chainsaw on the market that can self-sharpen itself. Essentially there is a red lever that sticks up outside of the handle. All you do is hold the saw in the air and push the lever.
The lever will press a curved sharpening stone into the chain and within five seconds the chain is sharpened.
Best thing is it actually works – no chain removal or disassembling the saw – it is a huge time saver for you.
But that is not all:
This is VERY well designed. The tool-less chain tensioning works, the side cover can be easily removed and the chain and bar can easily be removed too should you need to. It is lightweight and balanced and has a nice comfortable handle.

Additionally it is very sturdily built – with all the parts feeling well made and strong.

You would kind expect it from a chainsaw made by Oregon but the chain is really good quality – it is thin but very very sharp with the metal cutting teeth well pitched.

Because of this it cuts well. It seems to rip through all kind of wood and deals with trees up to 18" in diameter comfortably.

Considering the innovations and build quality I mention above the price point is truly excellent.
But also a warning or two:
It has a side mounted motor that does get in the way sometime and can make it awkward to hold or get at limbs on certain occasions. It also uses lots of bar chain oil.
All things considered:
This would be worth it for the Power Sharp system alone, but on top of that it is a really well made chainsaw, with a top quality chain and lots of cutting power. The price is really good too!
---
MY RATING:

90%
---
Pros
Great self sharpening system
Quality design
Sturdily built
Great chain
Great price
Cons
Side mounted motor can be awkward
Uses lots of bar chain oil

---
#6 Remington RM4618
---
BEST FOR…
Those wanting a maneuverable 18-inch chainsaw.
Product Spec
Power – Gas
Engine Displacement – 46cc
Chain Pitch – 0.325"
Chain Gauge – 0.050"
Weight – 16.4lbs
Two Year Warranty
PRICE GUIDE: $$
---
The Remington RM4618 is an ultra light maneuverable gas chainsaw that still retains a level of power not found in many 18-inch chainsaws
So let's take a closer look:
This gas powered saw weighs 16.4lbs and fits a 0.050" gauge chain, with a .325" chain pitch. You get 46cc from the engine and it comes with a two year warranty.
It also has an anti-vibration handle, tool-less chain tensioning and an automatic oiler.
The fact of the matter is:
For a gas chainsaw this has a small frame. Now combine that with no electrical cord and it means it is ultra easy to maneuver around trees and into awkward spots to cut or till.
This mix of power and ease of maneuverability is rare to find in a gas chainsaw – as often they are heavier and require more effort to use.
Beyond that:
The isolated grip and nicely cushioned wrap handle means vibration is at a minimum and your hands are kept steady and comfortable

It has a professional standard, die cast chassis that will stand up to the harshest cutting tasks and should last a long time.

The bar and chain are very powerful and slide through even tough wood without a problem.

The whole thing, from the die cast chassis, to the 46cc chrome bore engine and the side access chain tensioner, is exceptionally well made.

The price mark for a gas chainsaw is absolutely great.
It does have its faults:
Adjusting the carburettor could be easier as it requires a specialised tool as opposed to a standard screwdriver – so this is a pain. And when you have it completely open, at full throttle, it does lack a bit of torque in comparison to the Husqvarna Rancher which is also on this list.
But the bottom line is:
This cuts really well, is made to last and is that gem of a gas chainsaw – one that is fairly light and easy to maneuver when you are in those awkward spots.
---
MY RATING:

88%
---
Pros
Exceptionally easy to maneuver
Cushioned and comfortable grip
Durable die cast chassis
Lots of power
Good price
Cons
Adjusting carburettor could be easier
Lacks a bit of torque at full throttle

---
In Summary
---
Looking outside of this list here I've rounded up some of my favorite chainsaws:
Best Chainsaw
I do love the Husqvarna 455 Rancher which I have on this list. With a 20 inch bar it is even more powerful and literally glides through wood.
Best Gas Chainsaw
Again it is the Husqvarna 455 Rancher – the ideal saw for homeowners with larger yards and more trees to deal with.
Best Electric Chainsaw
There are a number of competitors here but the Makita UC4051A is almost as powerful as a gas chainsaw – really well made too.
Best Battery Powered Chainsaw
EGO Power+ are a fantastic company and make some great battery powered tools. Their chainsaw is no different and has a fantastic battery life.
Best Chainsaw For The Money
There are a few options here but I've always liked the WORX WG303.1 – light weight, light price and great for smaller home owners.
I hope you have found this rundown of the best 18-inch chainsaws of use.
---
If you do have any questions or are uncertain about anything please feel free to drop me an email and I will do my best to help you.
If you want a more extensive round up – I've also put together a list of the best chainsaws of the year – gas, electric and battery powered. Or if you are certain you want a gas chainsaw I've focused in on them in my round up of the best gas chainsaws.
Finally, whilst we are on the gas theme, I've also looked at the best 40cc chainsaws around.
What is also essential is you know how to use a chainsaw and also how to keep a chainsaw sharp.
Don't forget you can also check out my Reviews Section for individual product reviews. Or you can visit my Site Index for everything on my site on one page.
---
Useful Resources