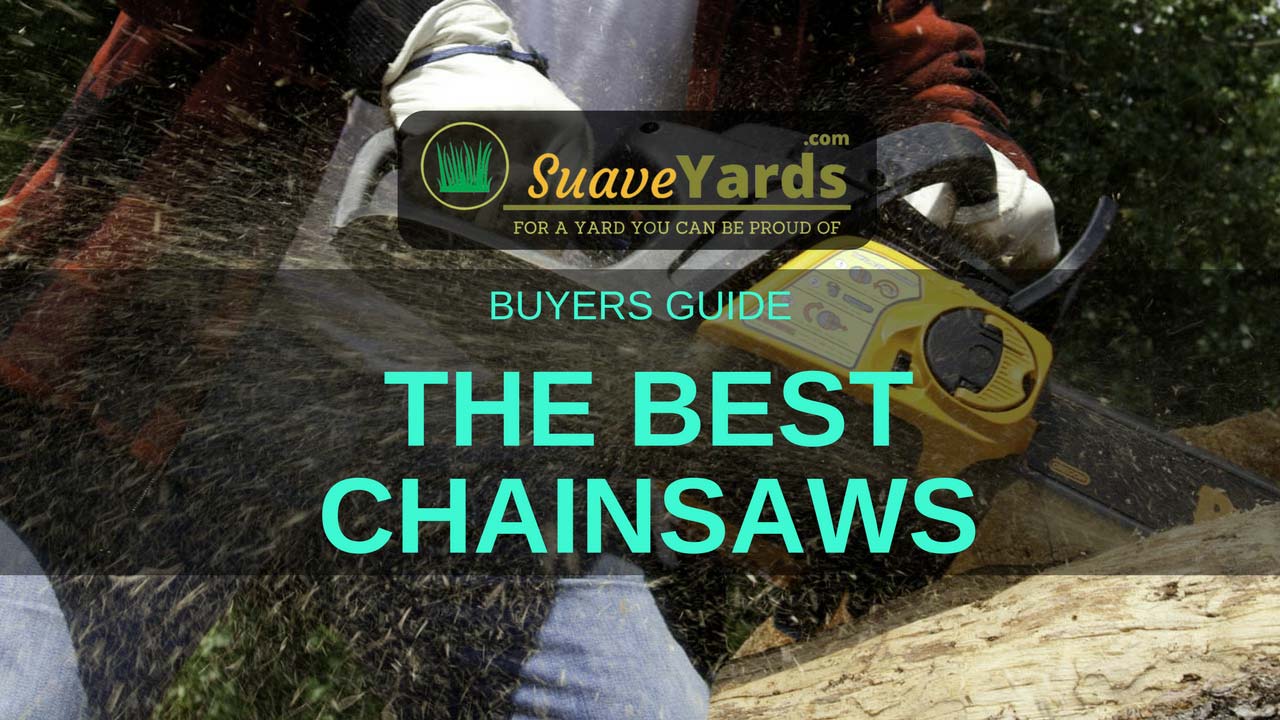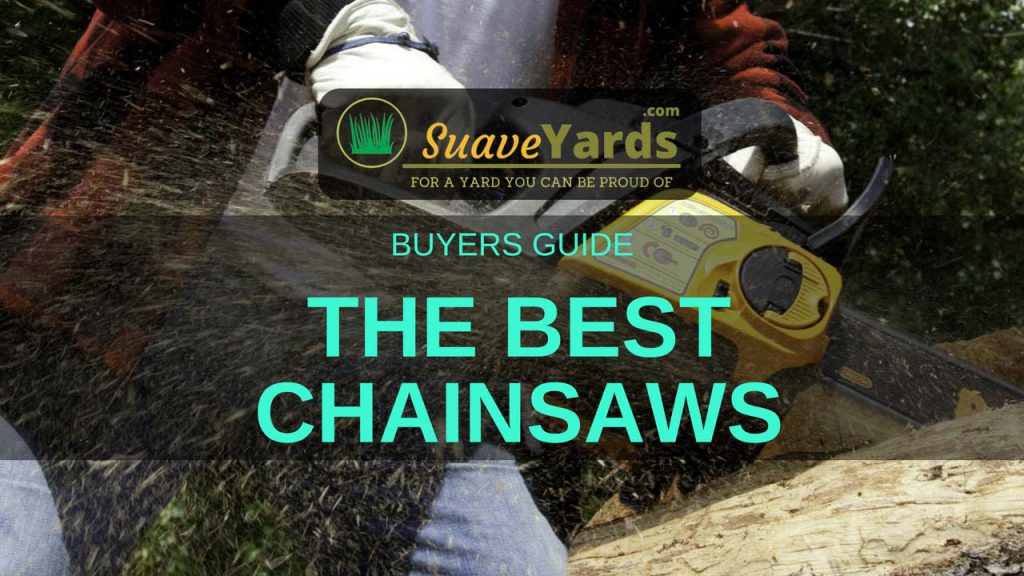 A chainsaw can be a wonderful tool in any homeowner's arsenal.
In fact if you have a reasonable sized, wooded lot they can be a godsend.
But what do you want? Gas, electric or battery powered? To help you we have selected the best chainsaws of 2023.
>>> I know about chainsaws already, jump me straight to the reviews <<<
Best Chainsaws of 2023 – At A Glance List
Below is a quick view of my favorite chainsaws of 2023. To find out more about them click on the link to take you to the full review.
Best Electric Chainsaws
Best Battery Powered Chainsaws
Best Gas Chainsaws
Best Bonus Choice
---
How to Choose a Chainsaw
---
A chainsaw isn't necessarily a must have tool for your yard, but if you have a yard with a number of trees that need to be kept under control and/or need to chop firewood then they are a very useful addition to your armoury of yard tools.
It will save you time and effort and allow you to keep your yard in top condition.
Electric, Battery or Gas?
So the first thing you will need to consider when you think about buying a chainsaw is what source of power you want?
Electric
Electric chainsaws are generally lighter than gas chainsaws as there is no combustion engine, you have no dirty exhaust fumes to deal with, they are lower maintenance, you don't have to worry about whether they will start or if the battery will last and they can be powerful.
However you are restricted in your mobility as you obviously have a lead to contend with and whilst they are powerful, as a rule they will never be as powerful as a gas chainsaw.
Battery
A battery powered chainsaw gives you unlimited mobility and there is no cord to worry about. They are generally lighter than gas powered chainsaws, but heavier than electric chainsaws but they are low maintenance.
They are cheaper than gas chainsaws and are comparable to electric chainsaws in terms of power.
However you are of course limited by the battery life, and you have to wait for the battery to recharge. Again they are not as powerful as gas powered chainsaws.
Gas
Gas powered chainsaws are the most powerful chainsaws you can get. You have unlimited mobility and a longer life than a battery powered machine.
They can tackle heavy duty jobs that electric and battery power chainsaws can't.
However they are more expensive than battery or electric saws and heavier too. Plus you have more to worry about in terms of maintenance.
---
What Else Do You Need To Consider?
---
Know about Chainsaws?
>> Jump to my reviews <<
Bar Length
The size of a chainsaw bar can vary from anything between 8 and 42 inches, and a bar will generally cut twice its length. Bigger isn't always better!
Think about the job you want and remember larger saws are generally more powerful and cut more, but they are also heavier and harder to control and more expensive.
Safety
Safety features like an inertia chain break, a chain catcher and side chain tensioning make a chainsaw ultra safe to use. Modern chainsaws are a whole league above their predecessors in terms of safety though!
Reliability
Most of the chainsaws I've recommended are major brands which are backed up with good warranties and parts that are easy to replace.
Be sure to keep your saw well maintain – regularly cleaning it and using high quality oil to ensure it lasts.
Ease Of Use
If you are getting a gas powered chainsaw this is especially important – check to see how easy and reliable it is to start.
Also look at the controls to see if they are easy to use and accessible.
Features
There are certain features which can make a chainsaw much nicer to use, things like tool-free tensioning, where the handles are located, automatic oilers and anti-vibration systems. See what the chainsaw you are considering offers.
Initially using a chainsaw can take some getting used to, be soon it will become second nature.
For some more practical hints and tips or check out the below video:
The Best Electric Chainsaws 2023
---
Best Electric #1:
Makita UC4051A 16-Inch
---
BEST FOR…
Those who want an electric chainsaw that is as powerful as a gas chainsaw.
---
The Makita UC4051A is more than twice the price of some of the competing electric chainsaws, but I think it has more than twice the quality. The old adage – 'you get what you pay for' is definitely apt in this case.
Now get this:
It has a 16 inch bar and weighs in at a touch over 15 lbs. The grip handles are rubberized and it has a built in current limiter to protect the motor from burnout when it is overloaded, by reducing the power.
The oil reservoir has a view window so you can easily check the oil level, and it has an automatic chain oiler and electric chain break.
Here's the key:
Putting it together is easy and no tools are needed at all. Once it is together it does feel heavy, but this is a sign of how well made it is. Everything the chain touches is metal and anything that is plastic is made of really high quality plastic that is flexible.
Want more? You got it:
It is rugged and durable, it actually looks like a commercial chainsaw, and you can tell it is going to last.
This thing cuts like a knife – a very sharp knife! It has plenty of power and you can cut through 12 inch limbs without a problem. It has a great balance of raw power, but you always feel you have it under control unlike some chainsaws.
The

chain is low kick back

and it is a semi-chisel chain design, that stays sharp much longer than full chisel chain designs.
The chain tensioner is great – it is all metal and works really well. It is amazingly simple and you can tighten the chain without any tools. The auto oiling is perfect too and works well and it has a soft start and stop which is good to prolong the life of the mechanical parts of the saw.
I like the fact that the motor housing is inline with the saw, rather than out to the side as it keeps it well balanced and it has a separate extension cable attachment which really keeps the cable secure, is safer and really easy to use.
On the other hand:
On the downside the chain tensioner is a little awkward in how it assembles with the bar. The pin for the bar is in the tensioner cover and a little awkward to put together.
The oiling system is a little bit of a mess as it is in a fairly awkward place and no matter whether you hang it vertically or horizontally is does leak oil. Makita actually recommend emptying the oil reservoir between uses to combat this.
It all adds up to this:
These are minor gripes though, this is one of the most powerful electric chainsaws out there and the chain speed is similar to that of a gas chainsaw, but of course with no pollution or noise.
Bottom line is, if you want a top class electric chainsaw and can afford to push the boat out a bit on price this should be top of your list.
---
MY RATING: 93%
---
---
Best Electric #2:
WEN 4017 16-Inch
---
BEST FOR…
Those looking for a whole lot of bang for their buck!
---
Chicago based WEN have been making quite a name for themselves over the past few years, and it is products like the WEN 4017 that exemplify everything that is good about the company.
So let's dive in:
This has a 16-inch Oregon bar and 12 amps of power. It runs at up to 44 feet per second, and comes with an auto oiling system and a tool free chain changing system.
It weighs 10lbs and comes with a cover for the chain. It also has a two year warranty.
First things first:
The fact this uses 12 amps is quite a bonus. Obviously less amperage means less power and of course more amperage means more power.
The thing is as you get above 12 amps you really need a 12-gauge extension cord, and a 12-gauge, 100 feet extension cord would cost as much as this chainsaw!
However the WEN 4017 uses 14-gauge for a 100 feet cord, which is much cheaper than a 12-gauge, so it is win-win all round.
And you know what else?
At only 10lbs that is very light and nicely compact and balanced.
This has one of the most appealing price tags of any electric chainsaw, offering fantastic value for money.
I like the fact the cursing is flat enough that you can get down to ground level to finish cutting off a stump
The whole saw is easy to assemble and comes with refreshingly well written and illustrated instructions in fluent English!
The oil level is visible so you can quickly and easily see if it needs topping up
But…
As this is a more budget level electric chainsaw there are a couple of concessions. A lot of the parts are made of plastic, so it might not stand up to daily use.
Also there is no chain brake, so it toes take a second or two to wind down after releasing the power button.
All-in-all:
This is a solid, well priced electric chainsaw. For small jobs, and even some reasonably sized branches up to 8 inches, it does a good job.
It won't stand up to prolonged use but for occasional use after storms, or the odd weekend job you can't go far wrong.
---
MY RATING: 92%
---
---
Best Electric #3:
WORX WG303.1 16-Inch
---
BEST FOR…
Those who want a light duty chainsaw at a great price.
---
The WORX WG303.1 is light in weight and light in price – but heavy in performance – it is easy to see why it is so popular amongst smaller home owners.
So let's find out more:
It has a 14.5amp motor and a 16 inch bar as well as an auto-tension chain system to stop over-tightening.
There is a built in chain brake to make it extra safe and automatic chain lubrication. It is pretty light – weighing only 11 lbs and you get a three year warranty.
The WG303.1 arrives completely assembled. It comes with a small container of oil, just enough for a small amount of cutting, add the bar oil and chain oil and you are good to go.
It is also worth following the instructions regarding the extension cord you need to use with this chainsaw, the manual recommends it has a diameter of 14 AWG (American Wire Gauge).
Here's the key:
This is a really light and well balanced chainsaw. As it is only 11lbs it will put minimal strain on you as you work your way through the wood that needs sawing and is comfortable to hold for hold over long periods of time.
There is a lot more to like though:
The chain tensioning adjustment knob is great too – making it simple to tighten the chain without tools and the automatic oiling feature saves you the hassle of manual oiling if it is something you hate as much as I do.

For a budget price saw it cuts really well. It deals with thicker branches/trees surprisingly well, handling limbs up to 12 inches and can manage to get through a lot before you need to sharpen the bar.

There are leverage style claws next to the bar that you can use to apply pressure when you are cutting that make it really easy.

Aas long as you keep the chain sharp, don't bind the bar and cut slowly and steadily the power is more than sufficient for most small to mid sized yards.
Just be warned:
The chain brake, which sounds great in principle is a source of some consternation. It is designed to automatically brake to protect you from kickback – but it is really sensitive and it is all too easy for it to be triggered when it doesn't need to be.
Also sharpening the chain by hand is difficult because the electric motor does not have a release feature which would allow you to move the chain along the bar to sharpen it.
Let's rewind though:
If you are after a good quality chainsaw, that is light duty and great value and you don't mind using an extension cord, this is for you. For the price it is strong, easy to use and has some great features.
---
MY RATING: 91%
---
---
The Best Battery Powered Chainsaws 2023
---
Best Battery #1:
EGO Power+ 14-Inch
---
BEST FOR…
Those looking for the best battery life and top quality performance.
---
I love EGO Power+ products, they are usually of a really good quality standard, well made and do an excellent job. If you look at my Buyers Guides, you will see they usually feature in the lists. This EGO Power + 14 inch chainsaw upholds their excellent reputation!
So:
It has a 14-inch Oregon bar and chain and a 56V battery. You adjust the chain tension using a plastic gear like dial rather than an allen wrench and it has a brushless motor with 6300RPM. It weighs in at 13.4lbs.
First of all:
One of the reasons they generally excel is they have fantastic batteries. This 56V battery comes with a charging station a fan to keep it cool. It has a handy push button on it to find out how much charge is left is well.
A full charge lasts a little over an hour and you can swap batteries with other EGO Power+ devices. The real plus though is that the battery is fully charged in about 30 minutes allowing you to get your jobs down much more quickly.
And check all this out:
The 56V battery is also responsible for the huge amount of power this thing generates! It really is amazing in that respect. It is really solid and this combined with the staying power of the battery means you an tackle all kinds of jobs with confidence that the EGO Power+ can deal with them.

It makes easy work of 12 inch diameter trees and can even deal with 16 inch trunks. The 6300RPM engine is faster that most other battery units, meaning this operates likes a gas powered chainsaw.

It has a really great design. Ergonomics is such an important factor when using a chainsaw as you want to feel safe and comfortable when you are gripping it and you certainly do with this.

It has a safety guard , which doubles as a safety off switch, right next to where you right hand goes, and it is so easy to handle.

You also get brand confidence. As I mentioned before EGO products are top notch, they are reliable and powerful and outperform most other brands. They are always well priced and well built. This epitomises all of those qualities.
But it isn't perfect:
The oil hole is very small and has a tiny filter which makes it very difficult and time consuming to pour oil in.
This is also prone to the chain jumping off if you are cutting at an old angle and don't keep a close eye on the chain tension. Make sure you do and you will be fine.
In short:
In all honestly I love this chainsaw. It has a lovely design, a great battery that charges quickly and cuts really well. EGO Power have exceeded expectations again!
---
MY RATING: 94%
---
---
Best Battery #2:
DeWalt DCCS620P1 12-Inch
---
BEST FOR…
Those casual users looking for a light chainsaw for small to medium chores.
---
The Dewalt DCCS620P1 only has a 12 inch bar, but it is really light and incredibly well balanced and easy for anyone to operate.
So let's get to work:
It has a brushless motor and a 20V battery. According to the spec you will get 90 cuts per charge when used on a 4×4 piece of pressure treated wood. It has a tool free chain tensioning system and also a bar tightening knob.
It weighs in at 8.8lbs, including the battery, and comes with a three year warranty. DeWalt are a great brand and featured strongly in my guide looking at some of the top leaf blowers of the year.
Here's the deal:
For those of you umming and erring between a gas saw and a battery powered saw – this is a great example of how much battery powered saws have come on in the last few years. A full charge of the 5Ah battery will last roughly as long as a tank of gas.
What is more the battery is interchangeable with any other Dewalt battery that operates on the same platform. Most people who buy this will probably have a small to mid-sized yard and the battery life will certainly be sufficient to deal with that.
There is also all of this:
Although small in stature, with the bar only being 12 inches, I was surprised at how well this dealt with what are generally considered more durable types of wood.

It goes through citrus trees without a problem and even sliced through saw palmetto, a notoriously fibrous and stringy type of wood, easily.

The real advantage of the DCCS620P1 is the fact, as it is so little and well balanced, it can be easily operated with one hand. So you can hold foliage out of the way, whilst you deal with the main job (obviously please be very careful if you do this!).

It is ideal for older people or those with limited physical strength.

It also has several additional functions such as a chain oiler, chain-break and a tool-free chain tension mechanism that work very well indeed and add a touch of quality to the product.
A couple of things to note:
It does seem to go through chain oil at quite a rate, which is more of an annoyance than a real problem.
Also the safety button is rather awkwardly position, as you have to use your thumb to press it. It cannot be engaged from either side, only the one side as you hold the chainsaw. It is only a minor thing, but it does get quite frustrating.
So it all adds up to this:
If you are going to have cut down large trees on a regular basis, or looking for something to replace a gas chainsaw then this won't be for you.
However if you deal regularly with small to medium chores or just want something to deal with light trimming and pruning, that has a good battery life, then this is a great little chainsaw and will probably be ideal for you.
---
MY RATING: 93%
---
---
Best Battery #3:
Black & Decker LCS1240B 12-Inch
---
BEST FOR…
Those wanting a durable chainsaw for camping trips or light jobs.
---
The Black & Decker LCS1240B is a surprisingly durable battery powered chainsaw, that is ideal for small jobs or camping trips.
So let's check it out:
It operates with a 40V Lithium Ion battery and has a 12 inch Oregon low-kickback bar. As many chainsaws do it has an automatic oiling system and tool-less chain tensioning.
The battery also has a charge indicator and you can swap batteries between any other Black & Decker product using a 40V battery. It weighs 8.3lbs and has a full wrap around handle.
This is HUGE:
This has a really good chain and bar life, mainly as the chain turns slower that a gas powered chain saw. This means it does not build as much heat and the chain and bar last longer.
You get a good life out of the battery – you can cut around thirty 8-inch logs on a full battery – and the charge meter on the battery shows you how much charge is left.
It doesn't stop there:
Depending upon the size of logs you tackle you can get between and hour and two hours of cutting out of the LCS1240B, which is really good return and probably all you need.

Whilst it doesn't have as much torque as a gas powered saw it cuts really well. You can get through trees and limbs 10 to 12 inches in diameter as long as you take it slow and steady! It works it way through most types of wood without an issue.

The tool-less chain tensioner is a boon, as is the automatic chain oiling feature. It is really easy to take apart so you can clean and maintain it to keep it running and prolong its life.

It also has a see-through gauge, so you can easily see the chain lubricant level, which makes it really easy to see when it needs to be topped up.

It is also very light and really well priced, so it is the ideal choice if you like to go camping and want to take something to cut up firewood.
But beware:
I don't like the fact that the battery charger you get with it is pretty weak – it takes five hours to get the battery fully charged!
You can upgrade to a faster charger, but this costs $75. This really means you can only use it once a day. Luckily the battery life, as mentioned above is pretty good!
This is another saw that goes through a lot of oil. On just over one battery charge it ate a full quart of bar oil for me – it was quite galling to watch the it almost running down the bar!
The bottom line?
This is light enough to carry easily, but powerful enough to do an excellent job on smaller limbs. It has a good battery life and is durable and all of this comes at a great price.
---
MY RATING: 91%
---
---
Best Battery #4:
Greenworks 12-Inch 20262
---
BEST FOR…
Those wanting something that is really easy to maneuver.
---
The Greenworks 12-inch 20262 is the perfect choice if you need to clear the occasional downed tree limb, or need something very portable for above ground work.

So let's take a closer look:

This is compatible with either a 2.0Ah or a 4.0Ah battery – note that it only works with G-Max batteries. It uses a 12-inch chain and it is estimated you will get 75 cuts per charge of the battery. It has tool free chain tensioning system and an auto oiler.

The tool itself weighs 6.27lbs and the 2.0Ah battery a further 1.5lbs. The chain itself has a 0.375" pitch and a 0.05" gauge. It comes with a four-year warranty.

No doubt about it:

This portable, light and so easy to use that it is ideal for novice chainsaw users.

If you are limited in strength, and/or want something for light duty work, ie 2" to 8" limbs, then there is no reason to choose anything else. You can use it at shoulder height with maximum ease and minimal discomfort.

Not only that:

The battery life is really good. The 2.0Ah battery charges in around 50 minutes and you will get near to 90 minutes run time out of it.
It has tool-less chain tensioning which makes adjust the chain so much easier. Simply loosen the bolt, adjust the tensioner and retighten the bolt and you are good to go.
The self-oiling function works nicely and reduces mess.
It is really light, and you can easily use it one handed without losing any stability.
It is really quiet – you don't need ear protection.
It isn't perfect:

There are a couple of areas where it could be better. It is slightly slow, especially when it comes to hard wood – this is a trade-off with the fact the saw is lighter, you need to let the saw go through the wood at its own pace – rather than try and exert force.

The oil cap is also at an awkward angle – so it is easy for spillages to occur when you are trying to top the oil up.

But all-in-all:

It is light weight, maneuverable, has a good battery, tool-less chain tensioning, a nice auto-oiler and its wonderfully adequate for smaller limbs.

Great battery powered chainsaw!

---
MY RATING: 91%
---
---
The Best Gas Chainsaws 2023
---
Best Gas #1
Husqvarna 455 Rancher 20-Inch
---
BEST FOR…
Those looking for a powerful saw that glides through wood easily.
---
If you want a heavy duty, top quality gas chainsaw but don't want to pay out the top line prices then the Husqvarna 455 Rancher is a great option.
First off:
It has a 20 inch bar and a maximum power speed of 9000RPM. The chain tensioner is mounted on the side for easy access and it has a patented LowVib system designed reduce vibrations and make it easy on the user. It weighs in at 16.7lbs.
This is by no means a budget option, but it certainly is nowhere near as pricey as some of the Stihl models (which I must say are generally really good).
What makes this so special?
This thing just cuts and cuts and cuts though, it doesn't falter, spit or stutter it just keeps going. It has lots of power and cuts fast meaning you get your job done quicker! At a push it can deal with 40 to 50 inch limbs as long as you take it slowly.
It is easy to get running, put fuel and oil in it and it is good to go. I'd advise avoiding regular fuel containing ethanol and go for premium fuel to prolong the engine life.
It has a compression release, but honestly you will rarely need to use this as it nearly always starts first time – minimal mucking around to get it started most of the time which is great!

I love the chain break, which gives you an extra sense of security when you are using it. It can lock either via the handle or with inertia. A tiny kick can lock the chain, which makes this an extra safe unit.

The chain adjust is manual but really easy to use – another bonus.

A

lso the spring mounted bar/chain means next to no vibration, so it is really smooth to use.

There is no doubt in my mind that Husqvarna are a good brand and, as long as they are used properly, they will rarely need repair. However if you do need a repair parts are plentiful and easy to find and Husqvarna are very good at honouring warranties.
Of course this isn't perfect:
What I find annoying is that the bottom of the saw is not flat, but it is slightly rounded – this makes the saw rock and feel unsteady at times.
Also the instructions are really poor and there is no troubleshooting section – so you might have to get onto YouTube if you buy this.
The bottom line:
This might not be a very top end professional saw, but this is definitely worth the price if you want an excellent saw that can deal with pretty much any job most homeowners will have. It starts easily, runs smoothly and simply glides through wood.
---
MY RATING: 94%
---
---
Best Gas #2:
Tanaka TCS33EDTP 12-Inch or 14-Inch
---
BEST FOR…
Those looking for a powerful but lightweight saw with an amazing warranty.
---
The Tanaka TCS33EDTP has too major things going for it – its ability to be powerful but really lightweight and the fact it has the best warranty in the business!
There are two version of this – one with a 12-inch bar and one with a 14-inch bar – the price difference is negligible so I'd say you are better off going with the larger bar.
Let's dive in:
It is powered by a 32.2cc two-stroke engine and has a half throttle choke and a purge primer bulb. It has an automatic gear driven oiler and chain adjust is side mounted. To top it all of you get a whopping seven year warranty!
You know what is amazing?
Weight wise it is only 12.4lbs, which is light by any means for a gas chainsaw, but when you consider the power it is remarkable how little this weighs. It goes through 20 inch trees as if they were styrofoam!
The 12 or 14 inch sprocket nose bar slices through maple, oak, walnut… in fact any surface with no issues. You won't quite believe the power this thing has until you see it for yourself.
Beyond that this is much more:
Its weight and the top handle means it can easily be operated with one hand to prune and cut smaller limbs. Please be careful though if you use this one handed! It is really well balanced and is a joy to use.

All in all this is a quality build. It has a good quality Oregon chain, scrench and bar cover.

The ergonomics are good and you feel like you always have it under control.

The fuel and oil capacity is good for a saw of this size, it starts easily and the emission control is really good evidently as I didn't smell any exhaust.

The real icing on the cake is the excellent seven year consumer warranty, which, as I mentioned is the best in the business. This shows a really confidence from Tanaka in their product and it is easy to see why.
A small word of caution:
If I had to pick out things it could do better I would say the chain break is in a really awkward position.
It is integrated into the ride side cover, so if you have to change loops or remove the bar to clean ports or change rails, etc, etc, it makes it very difficult to do so.
Also the chain catcher, under the side cover, is pretty flimsy. If your chain comes off the bar (which could happen if you don't pay enough attention to the chain tension) it will go through the side cover almost instantly!
So it all adds up to this:
This might not be your chainsaw if you want to prepare your years supply of firewood, but if you want something for more light work and for pruning and tidying your yard then this is just perfect.
It is so light, packs a lot of power, cuts fast and is strong and reliable. It is a wonderful saw!
---
MY RATING: 92%
---
---
Best Gas #3:
Craftsman S165 16-Inch
---
BEST FOR…
Those wanting a good all round chainsaw.
---
The Craftsman S165, is very much in the tradition of most Craftsman products – solid, reliable and does a good job. It is easy to see why it is so popular
Let's get things underway:
The 165C features a 42cc engine and a 16-inch low kickback bar. It has an automatic oiler, an inertia activated chain brake and tool-less access to the air filt.
It comes complete with a carry case and 2-cycle oil. Weight 12.5lbs it comes with a two-year warranty.
So what makes this so special?
It is difficult to pinpoint one specific factor as it is a good all round chainsaw. That performs well on nearly all fronts without excelling one in particular.
Perhaps my favourite feature is the polymer chassis, which is lighter in weight but still durable and makes this Craftsman easier to handle whilst still providing a good amount of power.
And also:
The chain is great, minimal kick back and it glides through tough wood easily.
It is really comfortable thanks to a well designed handle and a 3-point anti-vibration system, meaning minimal user fatigue.
It seems very fuel efficient, with a tank lasting a long time.
The filter and spark plug are really easy to access, requiring no tools, so cleaning them and maintaining them is a cinch.
It cuts well, from one-inch limbs to trunks more than a foot it can do a good job for most regular yards.
But…
There are some issues with the chain tensioner, there is very much a sweet spot with this chain when you tighten it where it will not jump off the bar and the chain runs really smoothly, however it can be tricky to get it tightened to this optimal point.
Starting this saw can sometimes be tricky, the fuel draw might be slightly weak. It isn't a massive problem, but if you let it sit and cool down for a while it can be a slight issue.
All-in-all:
For a home and a small property this ticks all the boxes. Cuts well, is comfortable to use and easy to maintain. A great option.
---
MY RATING: 91%
---
---
And My Bonus Choice…
---
Bonus #1:
Black & Decker Alligator Lopper
---
BEST FOR…
Those looking for an innovative tool for smaller tasks.
---
If you have a chainsaw already and just need something for smaller tasks the Black & Decker Alligator Lopper could well be one of the most handy tools you will ever buy!
Let's dig a little deeper:
It is like a cross between a huge pair of scissors and a chainsaw. Essentially you pull the jaws apart, squeeze the two switches and it goes through branches up to 4 inches wide.
It has a heavy duty six-inch cutting bar and chain and you can get an electric version or a battery version of this.
Here's the kicker:
This is a really innovative idea. As I said it is a great complementary tool to a chainsaw as you might not necessarily want to get your saw out for lopping smaller branches. What is more it is really effortless to use.
Any branch that fits in its jaw it will cut through easily and quickly – it will reduce the time it would take to do it manually tenfold meaning you can be back in your house relaxing when otherwise you might still be working hard in your yard.
But wait, there is more:
It is very sturdy! The bar tip has a rotating nose, which should extend the bar life and I'd bet my last dollar on the fact this thing will last you a long time before you need to replace it.

You seem to be able to do a lot of cutting without dulling the blade.

This is also really safe. The chain is very enclosed thanks to the safety guards around it.

You feel safe putting this down whilst it is coasting to a stop and you need hands on two separate triggers to fire it up, so you always feel completely in control of it.

It is a good price too, is light at just 6.5lbs, very quiet and really easy to maintain.
Note:
The main drawback is the oiling system – the is no reservoir for oil, instead it has a small tab that must be lifted and oil squirted in from a can.
You will have frequent stops for oiling be warned! Your best bet is probably to get a can of spray lube and cover the chain regularly with it.
Whilst the tool is light, as mentioned above, the weight is distributed different compared to a chainsaw.
With a chainsaw the weight is placed below your left hand usually, whereas with this lopper the weight is forward of both of your hands. This creates a leverage against you and makes it feel somewhat heavy.
But:
But as mentioned I really think this is an essential tool for any keen gardener. If you regularly have smaller limbs to cut down this will be a lot easier than using a chainsaw and a lot quicker than a standard pair of loppers.
For branches up to 3 or 4 inches in diameter it is absolutely perfect and at a fantastic price as well!

---
MY RATING: 95%
---
---
In Summary
---
Best Gas Chainsaw 2023
This is a close call between the Husqvarna 455 Rancher and the Husqvarna 460 Rancher. I think the 455 just wins it as it is slightly cheaper and more suitable for general home use. Either are great and you can also check out my dedicated look at the best gas chainsaws.
Best Electric Chainsaw For The Money
It has to be the WORX WG303 – a bargain priced chainsaw that is really well balanced and very light.
Best Chainsaw For Milling
I'd go for the Husqvarna 460 Rancher here – it has a lot of power and a big 24″ bar. It will plough through anything.
Best Chainsaw For Home Use
For the average homeowner I am going to go for the Makita UC4051A. It is ruggedly made and durable, but kicks out a lot of power despite not being oversized.
Best Chainsaw For The Price
The WEN 4017 really takes some beating. I struggle to think you could get a better priced chainsaw when it comes to power and performance.
Best Chainsaw For Cutting Firewood
I am going to pick the Black & Decker LCS1240B. It is battery powered but surprisingly powerful and really easily maneuverable and has a great price tag.
---
I hope you have found this rundown of some of the best chainsaws of use.
If you do have any questions or are uncertain about anything please feel free to drop me an email and I will do my best to help you.
If you are looking for the utmost power then I have reviewed both the best gas chainsaws on the market and the best 40cc chainsaws around. In my eyes the most popular bar size for a homeowner when buying a chainsaw is an 18-inch chainsaw and I have rounded up the top 18-inch chainsaws of the year as well.
My Reviews Section has individual product reviews and for everything on one page check out my Site Index.
Enjoy!
---
Useful Resources
---