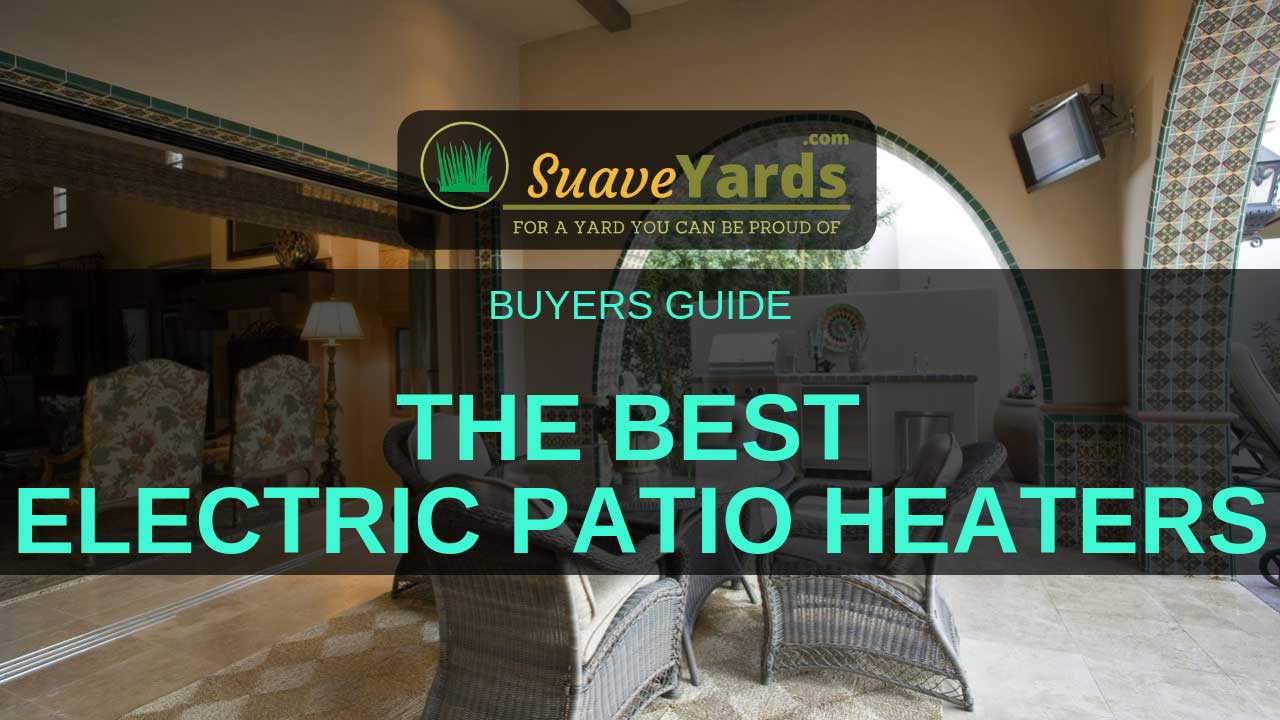 You don't have to let a little chill in the air stop you from enjoying some outside time.
Want to know the secret? Patio heaters!
Have a look at the best electric patio heaters of 2022 and you can make the most of the colder months.
>>> Jump me straight to the reviews – I know about patio heaters already <<<
---
Best Electric Patio Heaters Of 2022:
At A Glance List
---
Below is a quick view of my favorite electric patio heaters of 2022. To find out more about them click on the link to take you to the full review.
Best Wall Mounted Electric Heater
Best Hanging and Freestanding Electric Heater
Best Portable Electric Heater
---
Why An Electric Patio Heater?
---
Know about patio heaters?
>> Jump to my reviews <<
Unless you are one of the lucky ones who lives in the tropics of the world once it gets into October you can no longer enjoy a nice beer/glass of wine on the patio right?
Wrong.
I'll give you two words that sum up why there is no reason you can't still be sat outside in January drinking that beer (or maybe a cup of coffee):
⇒ Patio Heater
In fact I am going to add one extra word to that:
⇒ Electric Patio Heater
Electric patio heaters have significant advantages over their gas counterparts.
Lots of electric heaters are infrared – they heat what is directly in their path.
Why is this so good you might wonder:
Put simply using an electric heater you are more likely to feel instant heat. Other types of heaters warm up the cold air, and then the air heats the room – with an infrared electric heater you will feel warm right away.
They are also way more versatile by virtue of the fact they don't require any ventilation so you can use them inside and outside.
In this day of climate change we are all care for the environment right? Well maybe with the exception of one of two people (and a certain very powerful world leader…)
So here's the deal:
Electric Patio Heaters are way better for the environment. They don't use an open flame and don't give off any carbon dioxide or harmful emissions.
Not just better for the environment, but better for you as an individual.
Not only that:
They are safer. As there is no open flame or use of fossils fuels you can use them in enclosed areas without worrying.
Generally they are cheaper to buy and, as they are more energy efficient, cheaper to operate too.
And the bottom line?
They are just easier! Just plug them in and turn them on and you are good to go.
---
So What Should You Look For?
---
Know about patio heaters?
>> Jump to my reviews <<
Choosing an electric patio heater is pretty straightforward and I am going to help you by outlining the key things to consider.
So:
Think about what kind of heater you want.
Do you want one that you mount onto your wall? Do you want one that can be clipped on an umbrella pole? Do you want one that acts as a table and a heater? Or do you just want one that is just easy to move around?
Think about what suits YOUR needs.
Take a look at the area it heats and the power it generates. Don't just take the manufacturers word that it heats 30 square feet though – check out what people who have actually bought it say.
Be safe:
Electric heaters are generally the safest type but make sure there are no safety risks – ie buying a freestanding heater that might be blown over if you live in a windy area.
And best of all:
Price. Electric heaters are generally cheaper anyway, but pick wisely. Sometimes spending a few extra dollars at the outset can save you money in the long run.
For more help watch the video below which is one of the better looks at choosing a patio heater I have seen:
The Best Wall Mounted Electric Heater 2022
---
#1 Dr. Infrared Carbon Infrared Heater
---
BEST FOR…
Those who are always moving things around.
---
Is it an indoor or outdoor heater? Does it matter? Because the Dr. Infrared Carbon Infrared Heater is great either way.
You might say
That's not necessarily a great thing since there are a number of heaters that can be used for either or indoor or outdoor.
Well, the difference is that the Dr. Infrared heater thrives in both settings.
So
For those who love to rearrange things, this is the right heater for them.
Let's talk about it more
It's just eight pounds, which means that it's not really a hassle if you do intend to transfer it from one place to another.
As for its dimensions, they are: 35 inches by eight inches by four inches.
It has a radiant heating method and comes with a cord. It also comes with a bracket so that you can easily attach it on a wall or ceiling.
Related to that
This model can be easily mounted, which means you can easily place it in various locations.
The aluminum housing is also durable and weather-proof.
This is necessary if you intend to put the heater in the patio. You don't want rain showers or moisture to damage the heating system inside.
There's more!
This heater has three heating modes:
If you are indoors, you might want a lower setting, which will then be adjusted if the heater is used outdoors.
It also gives instant heat.
That's what we're talking about!
There is also a LED display on the heater that tells you what setting you turned it on. Don't worry, there is a remote if you wish to change the setting.
By the way, you can also purchase a tripod where you can mount this heater.
But here are some issues
One, the remote doesn't really work that well from afar.
It sorts of defeat the purpose of a remote when you have to go near the heater to change its setting.
Another thing
There's a lot of juice that comes out of this heater. It's best that it will have its own circuit.
It's a negative for me because the circuit could have been shared with another appliance.
All in all
This is a really good heater either for indoor or outdoor use.
The price isn't all that bad either.
---
MY RATING:

91%
---
---
#2 Comfort Zone CZQTV5M Quartz Heater
---
BEST FOR…
Those looking for the best value electric heater on the market.
---
The Comfort Zone Ceiling Mounted Quartz Heater is the cheapest standard electric heater on the list (the e-joy further down the list is cheaper but it is more of a portable heater) and is another fantastic budget option if you don't want to splash out a lot of money.
First off:
It has two heat settings – 750 watts and 1500 watts and has a light that you don't have to have turned on when operating. It weighs 8.63lbs and the power cord is 78 inches.
It measures 26.5 inches wide, 5.25 inches deep and 14.25 inches high. It comes with a one-year warranty.
The price for this is the big plus point – it is just cheaper than the Optimus H-9010 mentioned above but as with the Optimus it gives you great bang for the buck. Buying two of these is still cheaper (and probably more effective) than buying a industrial grade unit!.
It is an infrared heater rather than a convection heater, this means there is no fan to move the heat around the room/area you have it – instead it heats the area directly in front of it.
It gives out a good amount of heat for a budget heater and will work well as long as you have it within a reasonable range (4 to 5 feet way and you can really feel it).
And there is all this:
You have a choice of two heating options – 750 watts and 1,500 watts.
Really easy to mount – also being mounted on the ceiling reduces the risks associated with fall or wall heaters (ie they might fall over or you might accidentally touch them).
The heater is adjustable to 90 degrees so you can direct the heat where you want.
I am surprised by how well made this is – the metal housing seems sturdy and the cord is strong – doesn't feel like a budget heater.
Has a heat protection sensor and a metal grille over the bars and uses a quartz heating element which makes this ultra safe.
But hang on a minute:
The pull cord for this is a bit of a pain, it has 5 settings. Pull 1 – One bar on without light; Pull 2 – Two bars on without light; Pull 3 – One bar with light on; Pull 4 – Two bars with light on; Pull 5 – off.
It would be much easier if there was one switch for the light and then the cord operated only the heating element.
The mounting bracket is a maybe not sturdy enough either – you can fix this by drilling a couple of extra holes in addition to the pre-drilled slots and that should sort it out for you.
In a nutshell:
The hallmark of this is you would never guess it is a budget heater! It gives out a good amount of heat and is well made and easy to adjust – you can't go wrong at this price.
---
MY RATING:

88%
---
---
#3 Patioboss Electric Patio Heater
---
BEST FOR…
Those who want quick warmth.
---
Are you easily cold? Or maybe you just transferred to a colder region? Then the Patioboss Electric Patio Heater is just right for you.
Let me elaborate
The first thing you should know is that you can feel the heat in three seconds.
That's important because you'll sometimes find that heaters will take their time providing warmth.
There are also three thermostat settings to choose from:
It comes with a remote control to make setting change easier for you.
Then, there's this
The light is powered by advanced infrared technology. You get warm with the lighting shining at you or at your direction.
It's easy for the body to absorb. Not only that, it's also good for your health.
How?
It can promote a person's metabolism.
The infrared light can also reduce your electric bills. The reduction can be around 30% to 40%.
You'd also like to know that this product is user-friendly. You don't have to keep up with maintenance hassles. It's also easy to mount.
Here's more!
It is weather-proof and dust-proof. This is why it's an ideal heater for the patio.
But you can also use this thing indoors.
The carbon fire tube can last around 5,500 hours of use.
By the way
This Patioboss heater comes with a 30-day money-back guarantee. Doesn't that show how confident the brand is with its product?
The product also comes with a one-year warranty.
However
This heater is more appropriate for smaller spaces. So, if you have a big patio, you should have a couple or more of these.
You should also know that this isn't a cheap sort of heater.
To conclude
It's a really good heater that is great for your health, too. That's because of the infrared technology.
But perhaps also due to that technology, this heater is more appropriate for smaller spaces.
---
MY RATING:

88%
---
---
#4 Bromic Tungsten Smart-Heat Heater
---
BEST FOR…
Those looking for a functional and attractive heater.
---
The Bromic Tungsten Smart-Heat is a powerful heater that looks stunning.
Really
Heaters are not known for their looks, but this heater looks absolutely sophisticated. It must be because of the mesh design.
Of course, looks are not the priority here. It's just nice to mention an appliance that is actually aesthetically pleasing.
Aside from the mesh look, the outer layer is stainless steel coated with ceramic.
As for the heat
The heat is through a frosted infrared tube. The light emitted is of low intensity so as not to be distracting.
This particular model comes from a series of really powerful heaters. This 3,000-watt heater is really made for larger areas.
Now
This is called smart heat because of its power switch. You see, it is comfortable with smart control systems.
That's quite nice, actually, as it makes your life easier.
The product also comes with a spectral reflector. What this does is allow the heater to spread out evenly so that the entire space will be warm.
Moreover
This is a versatile heater. Versatile in the sense that there are multiple installation options. This way, you can choose the best one for your home.
The brackets are already included in the purchase.
On the downside:
The product doesn't really have a manual that tells you how the on-and-off switch works. It would take a lot of research to get this right. Either that or you should just hire an expert electrician to install this heater.
Plus, this product is really quite pricey. However, for that price, a remote control has to be purchased separately.
So
This is a really powerful product that is not only highly functional, but it's pretty too.
There are just a few complications that you have to deal with especially if you are not really quite adept with electrical stuff.
---
MY RATING:

83%
---
---
#5 Fire Sense Infrared Heater
---
BEST FOR…
Those wanting a well made heater.
---
Bringing up the rear of my list (but hey, it is still in the top 10!) is the solidly made Fire Sense Wall-Mount Infrared Heater.
For starters:
This uses 1500 watts and the halogen bulb has a 5,000 hour life. It measures 22 inches x 8 inches by 5 inches and weighs 8.75lbs. It comes with a mounting bracket and a one year warranty.
With its protective aluminium cover shield and stainless steel construction this is durable and solid and should undoubtedly last pretty much indefinitely once it is fixed to your ceiling/wall.
The cover of the unit has a tendency to get hot, but the base, the part that touches the mounted area stays nice and cool.
But there is more:
It is pretty versatile – it is good for indoors or outdoors usage and the mounting bracket can be swivelled up and down. It also has a pole mount bracket that can attach to a pole and swivel from side to side.
Talking of the bracket – it is easy to assemble and mount.
It won't heat up a room, but it does direct heat quite nicely
It is absolutely silent
It is very energy efficient and costs next to nothing to run.
A word of warning:
There is no on/off switch! You have to plug it in/take the plug out to turn it on or off – very strange and a real shortcoming.
If you need to get a replacement bulb they are expensive – just shy of $70. Hopefully you won't need to, but if you do you will be paying out the cost of a decent electric heater in its own right.
But:
It is well made. It is easy to install. It is pretty unobtrusive and it creates heat, just not quite as well as some others on this list.
---
MY RATING:

78%
---
---
The Best Hanging and Freestanding Electric Heater 2022
---
#1 Womir Home Outdoor Electric Patio Heater
---
BEST FOR…
Those who prefer not to deal with installation of heaters.
---
Is it a lamp? Or is it a heater? Well, the Womir Home Outdoor Electric Patio Heater certainly looks like a lamp. It makes our list as the best freestanding heater.
Let's take a closer look
The main advantage of the freestanding heater is that you don't have to install or mount it. This is particularly convenient for people who are not handy with tools.
It's just very convenient to buy something and have it functioning within five minutes.
No kidding!
There is a partial assembly needed and once you have put the elements together–in five minutes or less–you can already use the heater.
A second after you turn it on, you get heat!
There are three halogen tubes in this heater. There are also three heating modes:
Look
While it's called an outdoor heater, this is also suitable for indoor spaces like the bedroom or living room.
Whether you put this indoors or outdoors, its beautiful lamp-like structure will easily blend in with your decor or furniture.
It has a stable round base, which is common in electric fans, to prevent it from toppling over. Even if it does topple over, there is an automatic system that will shut off power. This automatic system also works when it overheats.
If you're wary about children and pets
The heater comes with a protective sheath so that children or your pets will not get burned just in case they ever reach the heater.
The pole is adjustable after all. It can be as low as 5'9" and as high as 6'6". At its shortest, children and pets will not be able to reach it. But just in case their curiosity will get the better of them, they won't directly touch the heat.
Plus
Assembly angles can be moved from zero to 45-degree angle.
On the downside
This is more appropriate for smaller spaces. If you have a large garage, for example, this may not be enough.
If you have a large deck or patio and you would be entertaining multiple people, you might need another one of this.
In a nutshell:
This works well and it's quite beautiful. But if you have a large space, you will need at least a couple of this.
Don't worry, the price of the Womir heater will not break the bank.
---
MY RATING:

92%
---
---
#2 Donyer Power Portable Electric Heater
---
BEST FOR…
Those looking for an all-weather heater.
The Donyer Power Portable Electric Heater is our best hanging heater.
Let me tell you why
First of all, it looks good hanging on the ceiling. It looks just like a hanging lamp or light except that it provides heat and warmth.
You can choose from two settings: 750W and 1500W.
While this product does look good on your ceiling, it's actually quite versatile. You can use it for whatever purpose.
For example:
You might want to use this heater to provide warmth for your greenhouse garden. That's totally fine.
It could also be that you want to take the heater with you in the office because you usually get cold feet–literal cold feet. So you can put this under the desk.
It's so versatile that there are just so many uses for this hanging heater.
More importantly
You could use this heater for your deck or patio or any outdoor spaces. It's actually designed for outdoor use.
You see, the sloping design was so the heating mechanism will not be drenched by rain or snow. It is also coated with waterproof material.
Speaking of mechanism
High-quality copper wire is used so that you could prevent wire heating. It's quite safe.
As for the actual heat, you need only wait three seconds before you can enjoy the warmth provided by Donyer Power.
Moreover
The process of heating is done by a circular halogen tube. What this does is send heat in all directions.
It also comes with an adjustable chain at 8.2 inches. This way, you can adjust the height that you prefer.
This product has a lifespan of 6,000 hours.
On the downside
This product doesn't really have power. It has weak heat. This would best be used in small spaces indoors.
In other words
As long as you just need this for smaller spaces like a bathroom or small bedroom, then this is quite a great heater. It looks lovely, too.
But you also have to consider that it's built for the outdoors. As such, you could use it as a complementary heater outside.
---
MY RATING:

88%
---
---
The Best Portable Electric Heater 2022
---
#1 Ener-G+ Freestanding Electric Patio Heater
---
BEST FOR…
Those looking for a stylish table that doubles up as a heater.
---
If you are looking for a sleek looking electric patio heater that fits nicely in with your surroundings then the Ener-G+ Freestanding Electric Patio Heater might be right up your street.
Let's get started:
Measuring 29.5 inches high and weighing 36 lbs that has a one year warranty. It works off of 120 volts and uses 1400 watts of energy. It has a carbon filament lamp with an infrared bulb that lasts around 5,000 hours.
The beauty of this is in the stylish design that means it will fit right in with the decor in most backyards. It looks like a standard table, with the heater acting as the base for the table.
It is a nice height and size and comes with an LED light sitting beneath the glass top which is a useful addition as well.
And there's more:
You might be worrying that such a design means the table top itself will get hot. Well it doesn't. It might get warm, but you can leave your phone/book/glass of wine on the top without worrying.
This is really sturdy, the base is heavy which is a real plus as you don't have to worry about it getting blown over if it is a windy day.
When this is delivered it comes in two boxes and it might seem quite daunting to put together but don't fear, it is actually very intuitive and straightforward.
This is good for outdoor use, but actually doubles up as a really nice table you can use indoors as well.
Unlike some electrical units of this size it makes no noise and is completely silent when you have it on.
Unfortunately:
It is a good thing this is so intuitive to put together though as the instructions are really terrible! Be prepared.
Also this is particularly good in smaller spaces, but if you have a large open area it probably won't work as well and you won't feel the benefit of the heat.
In a nutshell:
This is a really nice looking table and an ingenious idea to use the base as a heater. It will fit in most surroundings really well and does a thoroughly good job.
---
MY RATING:

91%
---
---
#2 AZ Patio Heaters HIL-1821 Tabletop Heater
---
BEST FOR…
Those looking for a nice tabletop heater.
---
The AZ Patio Heater HIL-1821 is a convenient table top heater that has the added benefit of kicking out a fair bit of light.
Check it out:
It is 38 inches tall and heats up to 15 square feet. It generates 1500 watts and has a 8 feet power cord. The base is 12 inches in diameter and it weighs 25 lbs and has a one year warranty.
This is certainly a nice looking unit. It's stainless steel design is sleek and smooth looking, it has a nice weighted base that stabilises it and it generally will fit in any decor or setting.
But hang on a minute – there is more:
This might be the simplest of all the heaters to assemble here – intuitive and straightforward even I could put it together without a problem!
It is large, but can be placed on a table top and can still be easily moved from one place to another and stored away in the summer without too much of a problem.
It has two levels of heat to suit your needs.
You get a good amount of light to illuminate your outdoor area.
The heating elements are well protected and it has a nice anti-tilt switch to stop you accidentally turning it on.
Be warned:
The problem is this gives out more light than heat! The light is very bright and if you have it on a tabletop it can be uncomfortably close to eye level.
And linked in with this, the heat isn't enough to keep you warm in cold evenings – if it is in the 40s or so or there is a breeze you can't feel the heat enough to keep you warm.
But the truth:
It looks really nice in any yard and if you live in a mild climate it could be perfect you!
---
MY RATING:

83%
---
---
#3 Pro Breeze Mini Ceramic Space Heater
---
BEST FOR…
Those who are looking for a value-for-money heater.
The Pro Breeze Mini Ceramic Space Heater is affordable and efficient. What more could you ask for?
Look
If you want a portable heater, it should be light, right? It wouldn't be as portable as you want it to be if it's heavy.
This space heater is just 2.86 pounds. It's so easy to transfer it from one room to another or even take it with you on vacations.
It's unique
The ceramic technology makes it unique and efficient. This mechanism uses ceramic heating discs to provide the warmth that will be emitted to small spaces.
The technology allows for faster and safer use of energy. This is a technology that is really appropriate for small areas.
Let's go to specifics
This product is small: only 6.5 by 5 by 9 inches. There are three operation modes from low at 750W and high at 1500W.
It comes with a cable cord that is 1.83 meters (a little over six feet) long.
For safety purposes, it has an overheat protection system. It will automatically shut off when deemed unsafe.
On the other hand, if you have children or pets, this heater also has an anti-tip benefit in case the little ones become too rambunctious.
There's a but…
It's quite noisy. So, it's definitely not a heater that will be appropriate for the bedroom.
It's portable so you should be able to bring it in your office to place under your desk. However, if you work at a very quiet office, then this will definitely not work.
In conclusion
This is one of the most portable heaters out there but you would have to contend with a little bit of noise.
But if you could get over the noise, this actually works really well and it won't hurt your pockets.
---
MY RATING:

82%
---
---
#4 Vornado TAVH10 Electric Space Heater
---
BEST FOR…
Those who need gradual heat.
The Vornado TAVH10 Electric Space Heater has the ability to slowly heat the room. It's different from others that would either instantly heat the room or it would take at least 10 minutes to start giving off heat.
Let's talk more about it
This heater is ideal for small to medium areas. There is a benefit to getting instant heat from a heater, but there is also a nuanced advantage to having gradual heat.
That's typically how a furnace works anyway.
The best thing about it is the auto climate control.
What is it?
It's a smart mechanism where the heater adjusts its heat based on what the environment needs. This way, you don't have to make adjustments yourself.
But if you do, it comes with a remote.
There are two heat settings: 750W and 1500W with an additional fan setting. There is also a 12-hour timer so you don't have to waste energy.
It may be a heater…
But you don't have to worry about burning your hand when you touch this because of its cool-touch exterior.
There is also a tip-over protection in case you just put it on the floor and you have pets and children that run around the house.
Just in case it tips over, the heater has a two-stage automatic safety shut-off system. It senses trouble and so the heater will immediately turn itself off.
The best part?
It comes with a five-year warranty.
We're talking about a portable heater here, so it makes sense that this is quite light at less than six pounds. It may not be the lightest portable heater but it comes with a conveniently located handle to make transfers easy.
As for the cord, it's six feet and it can be hidden through a cord storage. This way, if you don't need to use all six feet of cord, you can keep part of it to prevent accidents.
It's not all roses, of course
For one, the control panel is too bright. It's quite annoying sometimes especially if you're trying to sleep and you just happen to glance by it at one point. Or perhaps you were trying to get up in the middle of the night and see that bright spot–it's quite jarring at times.
Also, the remote doesn't work unless you are about two feet away. That makes the remote quite inconvenient, right? When it should actually be a tool for convenience.
---
MY RATING:

80%
---
---
I hope you have found this rundown of some of the best electric patio heaters of use.
If you do have any questions or are uncertain about anything please feel free to drop me an email and I will do my best to help you.
I have also included, to the right, the links to some websites that may be of use to you. Don't forget you can also check out my Reviews Section for individual product reviews.
Enjoy!
Useful Resources