Gorilla is a pretty good name for a company that makes swing sets don't you think?
After all, these majestic animals swing around the forests of Africa, whilst your kids swing around on a mini playground in your backyard.
But are Gorilla swing sets worthy of their primate influence name?
In fact, are Gorilla swing sets any good? Would the world's largest living primate be at home on them?
Well most probably not as they would likely be too heavy, but still what about your kids? Would it be a good investment for them?
Without further ado, let's find out…
Are Gorilla Swing Sets Good?
Gorilla makes sturdy cedar swing sets, with good warranties, plenty of features and innovative design that makes excellent use of space. They are in the mid-range price point and are definitely good swings sets. There is a large range to choose from too as Gorilla has such an extensive catalog of products.
About Gorilla
Based in Canton, Georgia, Gorilla was founded in 1993 and is devoted entirely to building high-quality, durable, wood swing sets.
It has developed from a simple brand producing three basic designs of swing set to one that has a catalog of almost 100 varieties of playsets and employs around 50 people.
Such was its development that just over a decade on from its foundation it was acquired by Backyard Buildings and More of which it still remains a part.
RELATED ===> Buyers Guide: The Best Swing Sets on the Market
Gorilla Swing Sets: An In-Depth Analysis
Price
As we have mentioned Gorilla has a wide variety of sturdy wooden swing sets.
If you visit the swing set section of its website, you can see its products range from a basic swing set that retails at $369 up to $7,999 for its Empire Extreme Swing Set.
Gorilla's Amazon store is similarly comprehensive. Its range there starts with its Ozark II Wood Swing Set for $1,229.99 and goes up to the $7,520.26 Treasure Trove II Swing Set.
The table below summarises how Gorilla compares to selected other swing set manufacturers:
| | | | |
| --- | --- | --- | --- |
| | Lowest Price | Highest Price | Average Price |
| Gorilla | $369 | $7,999 | Around $2,750 |
| Lifetime | $599.99 | $3,499.99 | Around $2,000 |
| KidKraft | $649.99 | $3,499.99 | Around $1,000 |
| Rainbow | $2,150 | $30,000+ | Around $6,000 |
From the manufacturers listed above Gorilla sits alongside Lifetime at mid-price point.
But how does that cost translate into build quality, value for money and more?
Let's look a bit more closely.
*Prices correct at the time of writing.
Build Quality
Gorilla's swing sets are all made of wood, mainly cedar.
It takes great pride in the quality of its lumber and all swing sets are stained/sealed in the workshop to protect the wood.
Gorilla's main competitor in the market, Lifetime, makes metal swing sets and both have their plusses and negatives.
Wood undoubtedly (in my opinion) looks better and is very durable and sturdy, but requires more maintenance than metal.
Either way, you can tell Gorilla's swing sets are of good quality by the weight of the wood itself. It isn't light and flimsy, it is heavy and substantial.
Gorilla's swing sets have strong beams and A-frame legs and thick metal brackets.
They also tend to be extremely well-designed and make excellent use of space.
Its budget-friendly models have fewer features, but still pack a lot into a compact footprint.
And its designers obviously put a lot of thought into how the swing sets will be used and what children want.
For instance, Gorilla is unusual in that a number of its swing sets have dual slides, right next to each other.
A strange idea right?
Not if you are a kid who loves to have sliding races against your friends.
I really like the variety of themes that gives you so much choice.
Installation
Swing sets are notoriously difficult to build and wooden swing sets are usually more difficult to put together than their metal counterparts.
They lag a bit behind their competitors Lifetime though when it comes to installation.
When you put together a Lifetime swing set you can follow step-by-step instructions on the Bilt App. Unfortunately, Gorilla's swing sets are not on Bilt.
Also Lifetime has installation videos for each of its swing sets on its YouTube channel, and Gorilla doesn't.
But…
The instructions you do get when you buy a Gorilla swing set are excellent.
They are very detailed, clear and well-illustrated, the parts are well labelled and it makes putting together their swing sets as straightforward as it possibly could be.
Gorilla also has every single one of its manuals online. It also has an archive of manuals for those models that are no longer in production.
Warranty
Gorilla's warranty varies depending upon whether you buy and install the swing set yourself, or if you get it through, and installed by, an authorized Gorilla dealer showroom.
If you buy your Gorilla swing set through one of its authorized dealers and get it installed by them then the warranty is for:
The lifetime of the product on all above-ground wood components.
Two years on all non-wood components (plastic slides, swings, ropes etc).
If you buy a Gorilla swing set anywhere else, the warranty is for:
Ten years on all above-ground wood components.
One year on all non-wood components (plastic slides, swings, ropes etc).
A list of all authorized Gorilla dealer showrooms can be found on its website.
Or you can visit the warranty page of the Gorilla website for full details of its warranty.
Returns
Gorilla will refund you the price of your swing set, minus shipping costs if it is returned in the original packaging and in a good condition within 30 days.
You can cancel an order and receive a full refund at any time if it has not been processed.
For full details visit Gorilla's returns and cancellations page.
Value For Money
The warranty conditions are always a good sign of how much a company stands behind its product, and a lifetime or ten-year warranty shows that Gorilla truly believes in its swing sets.
Its products are slightly more expensive on average than its main competitor, Lifetime, but a large part of that is because they are made of wood not metal.
They are made of quality cedar and provided you reseal/stain your swing set within 90 days of purchase to preserve the quality of the wood and retain its water resistance, they should last you and your children a very long time.
Part of the reasons it is able to keep its prices reasonable however is because it imports much of its hardware from China, notably the lumber, whereas slides and other parts are made in the US.
For some, this will be a turn-off, but on the whole a Gorilla playset offers great value for money.
Final Thoughts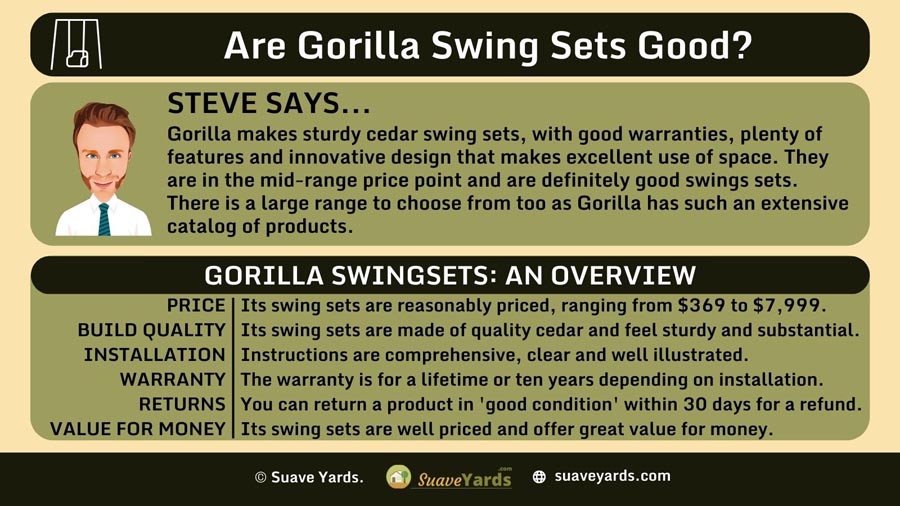 Gorilla's swing sets are cleverly designed, durable, well made and provide an array of activities to keep your kids entertained all summer long.
They are reasonably straightforward to put together and have a solid warranty too.
They have a whole variety of swing sets to suit your needs, from basic swing sets to deluxe feature-laden play spaces.
Your kids should love it, and most of Gorilla's swing sets will be sturdy enough that you might even be able to join them on occasion!
For some more excellent swing set options take a look at our post outlining the best swing sets for older kids.
---
---