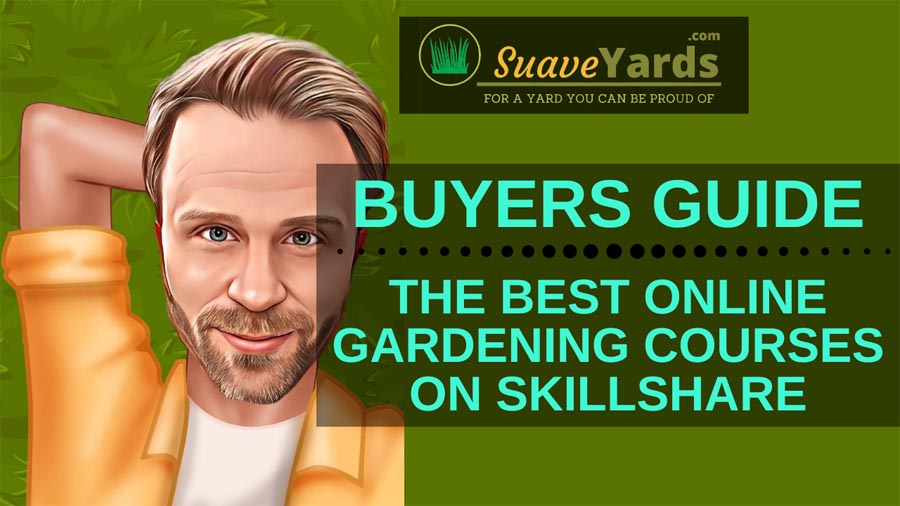 Gardening is big business.
Apparently over half of all American households garden, which means there are around 72 million gardening households in the States.
And that is a number that escalated during COVID lockdowns.
And according to Thumbtack, the average time spent per week tending to a garden is five hours.
So 72 million households gardening, on average, five hours per week, is a lot of people and a lot of gardening.
It is no surprise then that more and more people are learning how to garden online. And one of the most popular platforms for doing so is Skillshare.
So in today's post we are going to look at the best gardening courses on Skillshare.
So let's get started…
---
| | | |
| --- | --- | --- |
| Course Name | SR | Length |
| #1: Indoor Gardening: Grow Houseplants, Veggies, and Herbs | 96% | 50 mins |
| #2: Gardening 101: A Guide For Growing & Caring For Plants | 91% | 46 mins |
| #3: Indoor Happy Houseplants: Caring For Your Plants | 88% | 28 mins |
| #4: How To Grow a Succulent Garden From Leaves | 97% | 14 mins |
| #5: Gardening For Beginners | 80% | 2hr 46m |
| #6: Caring for Your Houseplants | 85% | 46 mins |
| #7: How to Grow Herbs in Containers | 80% | 10 mins |
SR= Skillshare Satisfaction Rate amongst students.
How Much Does Skillshare Cost?
In September 2021 Skillshare introduced a new membership model.
To access its course now you must sign up to be a Skillshare member.
You get one month's membership entirely for free, and then your membership will revert to Skillshare's standard pricing package:
Month subscription: $32 a month.
Annual subscription: $168 a year (the equivalent of $14 a month).
So you could sign up and access as many courses as you want during the free month trial, but you must give your credit card details.
So if you forget to cancel your subscription before the month is up you will be charged the relevant amount.
You can join Skillshare here.
* Note: All listed prices correct as of January 2023.
---
The start of the 2010s seems to have been an important decade for online training websites.
In fact 2010 was the year both Udemy and Skillshare were founded.
Skillshare was founded by Michael Karnjanaprakorn and Malcolm Ong, two men who already had a pedigree for online ventures.
Karnjanaprakorn had led the product team at Hot Potato, a social media product bought by Facebook and Ong was the product manager at OMGPop a flash game studio that was bought by Zynga Inc for $180million in 2012.
Skillshare went from hosting 15 online courses in August 2012 to over 250 by November 2013.
Over the ensuing decade, the company has continued to grow and adapt its business model.
It now offers 35,000 courses, with members now required to have a paid membership, after an initial one-month trial offered for free.
---
#1 Indoor Gardening: Grow Houseplants, Veggies, and Herbs

Satisfaction Rate: 96%
Instructor: Ekta Chaudhary
Course Content: Eight lessons, 50 minutes course time
Course Overview: Learn how to grow almost anything in a small space, for beginners and more educated gardeners alike!
Who is Your Instructor?
Ekta Chaudhary is a Mumbai-based teacher, gardener and entrepreneur.
She runs her own YouTube channel, which has over 200k subscribers and founded the popular GardenUp website.
Ekta spent a decade studying Ecology and sustainable farming practices before moving into the gardening arena and recently became a bonafide author when her book "Garden Up: Your One-Stop Guide to Growing Plants at Home", was published by Penguin Books.
What Do You Learn?
This class takes inspiration from Ekta's own journey into the world of gardening.
What began with a few plants in her room as she studied for her PhD in Ecology, soon became a mini jungle of over 50 plants all vying for time and space.
This is one of Skillshare's most popular gardening courses and for good reason.
The course covers every aspect of growing a variety of plants in limited spaces.
You will learn how to create a soil blend best suited to what you want to grow, selecting the best location for your plants, establishing a suitable watering schedule and how to give your herbs, vegetables and plants the best chance of success.
The course is broken down into manageable segments, guiding you from start to finish on how to grow almost anything in a limited space.
Why We Like It
Ekta's scientific background shines through with a balanced approach to gardening at home, which makes just about anything seem possible.
It is ideal for complete beginners and also more experienced gardeners as it covers both basic plantcare, and how to troubleshoot common issues many gardeners face.
She applies some of the principles she learned while gaining her PhD in Ecology to growing plants, which makes for interesting, informative and different (in a good way!) viewing.
It is also very obvious just how much passion Ekta has for the subject!
---
#2 Gardening 101: A Guide For Growing & Caring For Plants

Satisfaction Rate: 91%
Instructor: Geraldine Lavin
Course Content: Ten lessons, 46 minutes course time.
Course Overview: Learn all about different types of propagation, how to plant from seed and divisions.
Who is Your Instructor?
Geraldine Lavin is a clinically trained herbalist, lifelong gardener, botanical dyer and founder of Suntrap Botanical, a gardening website with a focus on organic and sustainable methods.
Geraldine studied herbalism for over a decade and has taught classes on herbal medicine making and theory at Yale University.
She has also been strongly involved in many other conferences, food coops, farms and even music festivals, spreading the word of herbalism!
What Do You Learn?
This course is billed as a 'gardening class for everyone', and it teaches you a series of techniques that can be adapted anywhere from small containers in apartments to rural backyards.
The class focuses strongly on propagating cuttings, giving you all the skills you need to do it properly and effectively.
You will learn about seed starting, divisions, cuttings, how to plan and maintain your garden and plant harvesting and storage.
You also are given an indication of what are the best herbs to grow for your home garden if you are a complete beginner.
The principles you learn can be applied to a wide variety of plant species.
Why We Like It
This is a course that really makes you think about gardening, and which plants are best for the environment you live in.
The emphasis of the course is on different types of propagation, but generally, this is a great course to learn how to quickly grow plants from cuttings and how to plant from seed and divisions.
It is most definitely a confidence-building course, that makes even the scariest task seem doable!
---
#3 Indoor Happy Houseplants: Caring For Your Plants

Satisfaction Rate: 88%
Instructor: Christopher Satch
Course Content: Six lessons, 28 minutes course time.
Course Overview: The basics of how to get the most from your houseplants.
Who is Your Instructor?
Christopher Satch is a botanist and horticultural expert, based in New York.
He has a BSc in Biology and an MSc in Plant Biology and Pathology, and sits as the Chair of the Board of Trustees of the Manhattan Orchid Society.
He is a regular participant in Rutgers Alumni Growers and Exhibitors flower shows and is the resident botanist for The Sill a New York-based company famed for plant design, installation and more.
What Do You Learn?
This course is full of tips and tricks to get the most from your houseplants.
It teaches you the basics of potting and repotting plants, watering and general care routines and how to troubleshoot potential issues before they become too serious.
It also has a good section on growing succulents, a skill that can be tricky to master.
Why We Like It
This class is ideal for beginners who want to grow happy houseplants (as the title suggests), or who have had problems growing houseplants and want to know where they have been going wrong.
The course is relatively concise, but well-organized and to the point.
Christopher is a very likable character and his passion and love for gardening come through in the videos.
There is a reason this is the most popular online gardening course on Skillshare.
---
#4 How To Grow a Succulent Garden From Leaves

Satisfaction Rate: 97%
Instructor: Kelly Newbery
Course Content: Seven lessons, 14 minutes course time.
Course Overview: Create your own succulent garden from scratch and in a small space.
Who is Your Instructor?
Kelly Newbery is a Brisbane-based plant enthusiast with a passion for creating stunning displays in small spaces.
She has spent almost the past two decades living in apartments, and is something of an expert are creating terrariums, succulent wreaths, herb gardens and more.
She has seven courses on Skillshare and runs her own Instagram page PetitePlant, promoting 'Cute Plants For Small Spaces'.
What Do You Learn?
This really is the definition of short and sweet, with seven lessons and just 14 minutes of course time.
This course is geared up for complete beginners and will explain to you all of the ins and outs of propagating succulents
It takes you logically through the process from preparing your leaves to setting up a propagation station and then what you need to make sure you do so your succulents grow.
It is suitable for anyone with limited space in which to grow a succulent garden.
Why We Like It
Courses on growing succulents are fairly hard to come by, so the course would almost be worthy of its place on the list for that alone.
But to make it worthwhile it also has to be informative and of value, and it is definitely both of those.
It is short and to the point, there is no meaningless fluff, and it breaks what can be a tricky task into manageable steps.
---
#5 Gardening For Beginners

Satisfaction Rate: 80%
Instructor: Mark Shorter
Course Content: 26 lessons, 2hrs 46mins course time.
Course Overview: Want a detailed guide on how to grow a particular plant? You can probably find it somewhere in this course.
Who is Your Instructor?
Mark Shorter has gone from developing houses to developing gardens in recent years.
His background is in house development, but it was whilst he was renovating houses that he realised he got as much enjoyment from sprucing up their respective gardens.
He is now an expert on both home and garden renovation and has several courses online on both.
What Do You Learn?
If there is a plant you want help growing, then there is a good chance it will be covered in this course.
There are videos explaining how to grow 24 different types of plants including pansies, marigolds, lupins, hostas, monkey puzzle trees and conifer trees.
The videos simply and clearly go through the process of growing and caring for the plant in question. Each video has a checklist of tips and solutions should you run into common problems.
It helps you create a low-maintenance, beautiful garden step-by-step teaching you some basic principles of gardening that can be applied to a number of plants.
Why We Like It
First of all the range of plants it covers is extensive, so you can quickly and easily work your way through a few videos and quickly give your garden some color and some life.
It is good for beginners, and provides an effective knowledge base to work from.
---
#6 Caring for Your Houseplants
Satisfaction Rate: 85%
Instructor: Spencer Falls
Course Content: Eight lessons, 46 minutes course time.
Course Overview: A slightly irreverent, but very practical take on how to care for your house plants.
Who is Your Instructor?
New Zealand-born, but America-based, Spencer Falls is the son of an orchardist and a fine artist.
Spencer moved to the US in search of adventure and following spells skiing in Lake Tahoe and working as a lobster fisherman in Maine he wound up on the West Coast, where his career did a U-Turn and he became interested in floristry.
Under the pseudonym of The Unlikely Florist, and with his vintage VW campervan as his studio Spencer is now a renowned florist based in Los Angeles.
What Do You Learn?
This course offers a hands-on experience on how Spencer works, including some of his less-than-conventional, but highly successful methods.
The course begins with a general overview of houseplants and then dives straight into some top tips to help a plant that is struggling, by troubleshooting what is wrong and how to correct it.
Spencer goes into detail on how to repot plants that are outgrowing their current homes, and how to make sure you don't drop the ball on healthy plants so they continue to thrive.
Why We Like It
Spencer is someone who isn't afraid to take risks and do things a different way.
The good thing here is he shows us all the risks he has taken that work, which gives us a sometimes different approach to caring for houseplants, but one that is effective.
He is called the 'unlikely' florist for a reason!
---
#7 How to Grow Herbs in Containers

Satisfaction Rate: 80%
Instructor: Kelly Newbery
Course Content: Six lessons, 10 minutes course time.
Course Overview: Learn the basics of creating your own herb garden.
Who is Your Instructor?
This is Kelly Newbery's second appearance in this list, as I have also recommended her course on How to Grow A Succulent Garden From Leaves.
This is one of seven courses she has on Skillshare, with many based around micro-gardening or gardening in small spaces, which is Brisbane-based Kelly's area of expertise.
What Do You Learn?
This is a micro course about micro gardening!
There are only six lessons and ten minutes of learning, but it covers everything you need to get your herb garden up and running.
Learn how to create the perfect environment for your herbs, select the best herbs for what you want to achieve, how to plant them and then how to grow them successfully.
Why We Like It
This course is perfect for anyone who wants to learn how to grow herbs, but doesn't have much time to do so!
It covers all the basic steps and is illustrated with clear visual examples, that make it easy to understand what you are being taught.
---
Final Thoughts
Skillshare has a wide range of gardening courses in its portfolio, and they are extremely well vetted, and all offer some value to the viewer.
The great thing about Skillshare is that when you are a premium member you can enjoy as many of its courses as you want for a monthly fee.
Or you could even sign up, use your one-month free trial to view the courses you are interested in, then cancel your membership before the month expires.
The instructors are all experts in their respective fields and you will definitely get some real insights into gardening you might not get elsewhere.
You can also view all of the gardening courses on Skillshare.
---