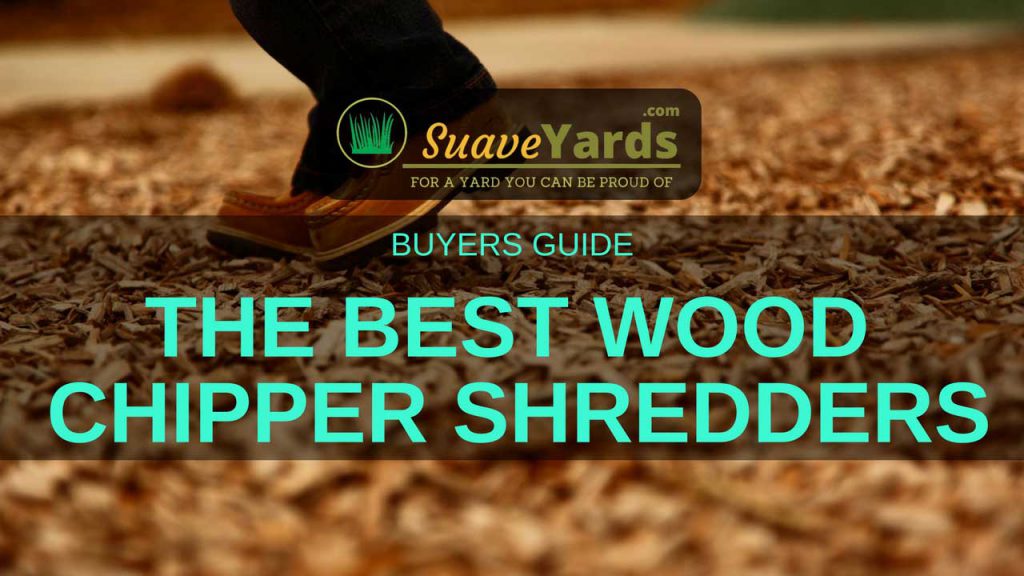 Wood Chipper Shredders are wonder tools that not enough homeowners use.
They can turn unwanted branches, leaves, twigs, etc, etc into delicious, nutritious feed for your yard that will help it blossom.
Problem is deciding what to buy, so to help you I've put together my round up of the Best Wood Chipper Shredders of 2023 – check it out!
>>> Jump me straight to the reviews – I already know all about wood chipper shredders <<<
---
Best Wood Chipper Shredders Of 2023:
At A Glance List
---
Below is a quick view of my favorite wood chipper shredders of 2023. To find out more about them click on the link to take you to the full review.
Best Electric Chipper Shredders
Best Gas Chipper Shredders
---
How to Choose a Chipper Shredder
---
So let's get down to business:
When you are considering what type of chipper shredder you want the first factor you need to decide upon is whether you want a gas powered chipper shredder or an electric powered chipper shredder.
Gas or Electric?
Essentially the bottom line is if you have a smaller sized yard an electric chipper shredder will probably do for you, if your yard is medium/large a gas powered one may be better.
Put it this way:
Electric chipper shredders are smaller, lighter and cheaper than their gas counterparts, but they are a lot less powerful, can't handle branches over 1.5 inches in diameter and you are constrained by needing to be near a power point.
Gas chipper shredders cost more, but allow you much more flexibility as you can take them anywhere. They are more powerful and the top end machines can chip their way through branches up to 3 inches in diameter without a problem.
In short:
Think about the size of your yard and the size of wood that you need to chipping before you make a decision.
Chipper Capacity
Tied into the above look at the maximum cutting capacity before you make a purchase.
What it all boils down to is:
Think about the size of the wood you intend to chip – there is no point buying a small electric chipper if most of the debris is over 1.5inches in diameter as electric chippers won't be powerful enough to chip it.
Likewise you have no need to spend lots of money out on a powerful gas chipper if your yard needs to be cleared of tiny branches and twigs.
Engine Size
It's not rocket science:
A powerful engine makes wood chipping much easier.
For yards which require a large amount of seasonal work and have sizeable branches, a 6.5hp (horsepower) engine will probably be needed.
Basically:
The more powerful the engine the less it will bog as you feed the debris in. For smaller yards a 14 or 15 amp engine should be just fine.
Mulch Ratio
Most chipper shredders will reduce waste to a ratio of at least 10:1, with many going up to 20:1.
This means ten (or twenty depending up on the ratio) bags of debris will be reduced to a single back of mulch or chips which you can then use on your garden.
Size and Weight
The size and weight of a chipper shredder is always worth bearing in mind as well.
Naturally:
As mentioned gas powered units weigh more – but most come on wheels these days so can be dragged around.
Warning:
Some are easier to transport than others though and you also need to think about where you intend to store your chipper shredder as you don't want to buy something too big and have nowhere to put it!
The Best Electric Chipper Shredders 2023
---
Electric Chipper #1:
Power Smart PS10
---
BEST FOR…
Those looking for a cheap but good performing chipper to clear up smaller sized yards.
---
If you have a smaller sized yard and are looking for a budget priced chipper that performs far better than the price suggests then look no further than the Power Smart PS10.
So let's take a closer look:
From the off you are onto a winner as it is incredibly easy to assemble. What I particularly liked was all the tools to put it together are supplied, so you don't have the frustration of searching around for a wrench or screwdriver to do the job.
It deals with shrubs and small branches up to an inch and a half in diameter flawlessly, eating through such branches and leaves without a problem.
Standing at 37 inches high and weighing only 33lbs, it is light as a feather (almost!) and its 6 inch wheels mean you can move it around your yard without a problem.
Here's the point:
It rarely jams, but if it does you can easily remove the cover and open it up to take out the offending pieces and get back to chipping again asap.
It also has a multitude of safety features – it automatically shuts off when overloaded to protect the motor and has a safety locking knob which prevents the blades from spinning, when the casing is opened or if it comes loose.
All of this means you don't have to worry if it is the first time you have used a chipper shredder – it is as safe as it can be.
Be warned:
The only downsides are the opening to feed the branches in is quite small, so you really can't put anything in over 1.5inches maximum and it is so light that really you need it to be on a flat surface when you use it as it may tip over.
But for the price you really won't get much better.
---
MY RATING: 93%
---
---
Electric Chipper #2:
Sun Joe CJ602E
---
BEST FOR…
Those who want a lower priced chipper to deal with date or bamboo palms on their land.
---
If you are prepared to spend a little bit more and want a step up from the Sun Joe CJ601E (mentioned below), then look no further than its big brother the CJ602E.
Let's dig a little deeper:
It is marginally more expensive but has a more powerful motor, an increased cutting capacity and an improved mulch ratio.
Where the CJ602E thrives in comparison to many other electric chipper shredders is that it can handle bamboo and date palm fronds.
This is HUGE.
Whilst others struggle to deal with such material the CJ602E gets through it with comparative ease as long as you keep the blades sharp. So if you have date or bamboo palms on your land this is ideal for you.
It is a surprisingly solid machine, whilst a lot of it is plastic – the most important parts are steel and nice and robust.
It can be put together easily, and all you need is a Philips head screwdriver to attach the metal base to the main body and a wrench (which is supplied) to attach the wheels.
It does a lovely job of chipping smaller branches and also shreds leaves that remain on the branches and shrubs as well as dry vines – all in a quiet and efficient manner.
But you need to know:
The only real gripes with it are that it struggles with wet materials, a common factor among budget chipper shredders and the pusher for this Sun Joe does have a tendency to come out of the snap on clip when pushing it over bumpy ground.
In short:
It is a step up on the already very good CJ601E.
---
MY RATING: 91%
>>> READ MY FULL REVIEW <<<
---
---
Electric Chipper #3:
Landworks Mini Wood Chipper Shredder
---
BEST FOR…
Those wanting good value for money.
---
The Landworks Wood Mini Chipper Shredder is a simple, no frills chipper shredder that performs very well at a good price.

So let's delve a little deeper…

This has a 15-amp motor and a maximum cutting capacity of 1.57 inches. It has a mulch ratio of 17:1.

It measures, in inches, 20 by 15.67 by 38, weighs 25.30lbs and comes with a two-year warranty.

Ok so first off:

There isn't anything fancy about this chipper shredder – instead it is a well made unit that does what it says.

It deals with anything that fits through the feeding chute – slicing through wood up to 1.5 inches in diameter without bogging down thanks to a powerful 15-Amp, 1800 watt, electric belt driven motor.

It also deals with leaves, pine needles and twigs efficiently and kicks out some nice, very fine mulch.

This is a bonus:

For a reasonable price it is also nicely made – with a durable Polypropylene body that shouldn't rust and two reversible dual edged cutting blades – so you can swap them over – giving you maximum life out of them when using this chipper shredder.

With a sturdy push paddle and an overload protector button that controls the current and pops out to show the electrical current has been cut if this does become overloaded, it also feels ultra safe.

Just to top it off this is incredibly simple to set up and has two solid six-inch wheels that make it easy to move around as well.

A word of warning:

You will notice that clearing debris from this is a bit of a pain – leaves do have a tendency to clog around the chip/mulch exit port and you will have to spend a fair bit of time cleaning it out.

This is also very loud! Whilst it has a powerful motor it is louder that it should be and you will need earplugs.

To cut a long story short:

Inexpensive, efficient and good mulch and chipping output – the Landworks Wood Chipper Shredder is a good budget option.
---
MY RATING: 88%
---
---
Electric Chipper #4:
Sun Joe CJ601E
---
BEST FOR…
Those who want piece of mind if something goes wrong with their chipper but still at a great price.
---
The Sun Joe CJ601E is one of the most popular electric wood chippers on the market. It is made of lightweight soft plastic, yet is durable and robust and does a great job of chipping smaller branches.
So let's get down to business.
What I particularly like about this Sun Joe is just how easy it is to replace the blades.
What is common with the more budget priced chippers is that the blades are prone to losing their sharpness. That means you will occasionally have to remove them to sharpen or replace them.
With some cheaper chippers that can be a pain but with the Sun Joe it is a cinch!
Here's how ridiculously easy it is:
Take two screws out, remove the blades, but the new blades in and replace the screws and you are done. This will save you a lot of time and frustration!
In keeping with this theme – it can be ready to run just minutes after you get it – it only has four bolts and two wheels you need to fit and at 26 lbs it is light enough to move around with one hand.
Sun Joe also have a reputation for excellent customer service and are incredibly responsive to questions and very good about the two year warranty.
Note:
The only downsides to this device is it suggests on the box it produces four types of output (chipping, shredding, mulching and composting), this is misleading – it just chips are one sizes (of a good quality though!).
Also it can be a pain to open it up when it jams as there is a locking bolt that takes a number of revolutions to unscrew – so you just need a bit of patience.
All in all:
Those minor quibbles aside this does a great job.
---
MY RATING: 86%
---
---
Electric Chipper #5:
Patriot Products CSV-2515
---
BEST FOR…
Those with larger yards and a bigger need for chipping and shredding, but who don't want to get a gas powered machine.
---
The Patriot CSV-2515 is the beast of electric chipper shredders!
Unlike the lighter duty electric chipper shredders this can handle large branches that are up to 2.5 inches diameter.
Let's dig a little deeper:
I can't reiterate how strong this thing is and it is surprisingly powerful for an electric chipper/shredder – you won't find any other electric units as strong as this, it is built like a tank!
Note that you will need a heavy duty 12 gauge extension cord and three wire system for this as it draws 14 amps of electricity.
Not only can it handle larger branches than any other chipper shredder on the market the hopper for leaves and other vegetation is also really big – 16 inches long and 14 inches wide.
This makes it easy for you to dump the debris in it to be shredded.
Make no mistake about it:
You will get the benefit of a top quality chipper shredder, but with no gas to run out of, oil to change, etc. It makes clearing your yard very easy.
The power is evident as you feed branches into the chipper – it cuts through them like a knife through butter.
What is more it produces probably the best quality mulch of any electric shredder, with a 20:1 mulch ratio, so you get a nice fine product to spread on your dressing beds and composting, etc.
It comes with a handy collection bag, as well as safety goggles.
But:
There is very little to complain about with the CSV-2515, but in the interests of fairness I will point out this is another product with a poor instruction manual, and it could probably do with a heavier flywheel to keep it balanced a little better.
In a nutshell:
This is a really great electric chipper shredder and whilst it may be more expensive than others, there is a reason for that – top quality performance!
---
MY RATING: 85%
---
---
Electric Chipper #6:
Earthwise GS70015
---
BEST FOR…
Those who want a product that is easy to assemble.
---
The Earthwise GS70017 Electric Garden Chipper is just easy. It is easy to assemble and it's definitely easy to use.
You can figure out how it works even without reading the manual, although, it's always safer to go over the instructions.
But there's more to it than that
This is a powerful chipper with a 15-amp motor. It could shred branches up to 1.75 inches thick. Imagine what it can do with leaves and other fine organic debris.
The product comes with dependable steel blades to complement the 4,500 revolutions per minute speed of the chipper.
At 31 pounds, this is not the lightest product in the market. It's still on the light side though. Besides, the product has a pair of wheels–a pair of durable rear wheels.
There's more!
This mulcher has a 40-liter collection bin so you can process a lot of organic debris efficiently saving you time and energy.
Of course, as an electric-powered tool, the Earthwise mulcher and chipper is environment-friendly and maintenance-free.
Important notice:
There will be a lot of smaller debris flying out of the machine. That's why you need to wear safety glasses when you are operating this machine. Thick gloves are advisable, too.
It's pretty loud, too. Ear muffs are not necessary, but if you want to wear them, that's good protection anyway.
All in all
This is a pretty straightforward and ideal chipper for small to medium areas. Just make sure to wear protection during clearing.
---
MY RATING: 85%
---
---
Electric Chipper #7:
WEN 41121
---
BEST FOR…
Those looking for a fine shred.
---
A chipper is important in trying to reduce debris in your backyard. But if you are trying to make mulch or compost, then you need one that makes a fine shred like the Wen 41121 Rolling Electric Wood Chipper and Shredder.
Look
This lightweight chipper could make fine nutrient-rich mulch from the organic debris of your yard like lawn clippings and twigs. With its 15-amp motor, you get great output.
You see, this powerful product does 8,000 cuts per minute. That's around 130 cuts per second using the two seven-inch blades of this tool.
What's really surprising is that this powerful tool is only 23.1 pounds. That's very light considering what it does and when you compare it with its counterpart. It may be light but you also get help from a pair of six-inch wheels.
It's safe too
You see, it has an internal safety mechanism so that it will automatically shut off or it won't operate when the hopper is open.
Not only that, it's great at reducing waste with its 17:1 mulch ratio.
As always, it carries with it the usual benefits of an electric-powered machine. There is no maintenance needed and it's great for the environment. Also, you only need to flip the switch to start this.
On the downside
The product comes with a push stick so you could thrust the organic debris to the blade area. However, it's quite useless. It's not as efficient as it should be.
It's a good thing the self-feed mechanism is efficient.
Also, while it works really well with fairly thick branches, just a little bit of curving and the machine gets jammed easily. It's really quite annoying.
All in all
This is a wonderful product that works really well and provides very neat and fine shred. You just need to make sure you only feed straight branches. It's all a matter of optimizing what works for this product.
---
MY RATING: 84%
---
The Best Gas Chipper Shredders 2023
---
Gas Chipper #1:
Patriot Products CSV-3065B
---
BEST FOR…
Those who want an excellent all rounder that can deal with anything at a reasonable cost.
---
We are stepping up into a higher price bracket here but the Patriot CSV-3065 is a joy to use from start to finish.
Why do I say this?
I love the design of this machine. The chute to deposit material in is straight, but the cutting rotors are quite far down.
The rotors create a vacuum which sucks the material that is being shredded into them.
The benefits of this for you are threefold – one it is ultra safe, two it handles branches that are curved well and three material is reduced to mulch in no time at all.
Sounds impressive right?
In fact this really does seem to deal with everything easily. The chipper even handles smaller Cedar branches despite the hardness of the wood and the shredder deals with palm fronds and larger leaves.
It is built to last and has some nifty features – for instance it has a sensor that will not allow it start with no or low oil and it comes with a gas shutoff valve and drain valve for the carburettor.
By contrast:
Minor dislikes again center around the gas tank.
It requires oil that is not included and filling it could be easier – you will need to have a long funnel handy.
Slightly surprisingly for something SO well made, there is no off switch. You have to either pull the plug or shut off the fuel feed.
So what does all this mean?
It is on wheels so portable, starts easily and can handle just about everything – what more could you ask for!
---
MY RATING: 95%
---
---
Gas Chipper #2:
Tazz K33
---
BEST FOR…
Those who an easy life when it comes to collecting mulch (and a good chipper shredder I hasten to add!).
---
Where the Yard Machines outstanding feature is its tip down hopper the Tazz K33 has its own unique selling point – its very efficient and easy to use mulch bag.
What is the magic formula?
The bag has a dock lock system that connects it easily to the output chute so everything that is produced whizzes straight into the bag.
The bag can then be removed from the dock and has a bottom out zipper that makes it a cinch to spread mulch over your garden.
Of course this feature wouldn't be enough to warrant the K33 mention in this list but fortunately the actual performance of this chipper shredder is very good.
It all boils down to this:
It has a has a very powerful 301 cc engine that makes it easy to chew through branches up to 3 inches in diameter and it is well designed.
It is quite tall at 51 inches, but this means it is easy to drop leaves and debris into the hopper without stooping.
It actually has a small footprint as well which means you can store it easily as it takes up minimal room.
Warning:
On the downside it does clog if you put in too many damp leaves or small twigs, but is fine as long as you pace yourself.
Also the oil isn't the easy to change due to the position of the drain plug.
In essence:
A low priced, well designed and efficient gas chipper shredder.
---
MY RATING: 93%
---
---
Gas Chipper #3:
SuperHandy Wood Chipper Shredder Mulcher
---
BEST FOR…
Those wanting great value for money.
---
The SuperHandy Wood Chipper Shredder is rather aptly named, this thing will come in very useful indeed if you have branches up to 3 inches in diameter you want to chip.

Let's take a closer look:

This chipper shredder has a 7HP, 212cc, 4-stroke single cylinder engine. It weighs 130lbs and comes with a three-year warranty.

As mentioned it has a 3-inch chipping capacity, via the side shute, and it also has a half-inch shredding capacity for twigs and brush, via the top hopper.

I am not going to lie…

You will be hard pushed to find a gas powered chipper shredder that does as good a job as this in the same price bracket.

It chews through limbs up to 2.5inches in diameter without faltering, the limit is 3 inches and it does branches that size too, you just have to take it a bit more slowly.

It shreds smaller limbs easily and the chips it puts out are of great quality and a nice size.

Make no mistake about it – this is top notch chipper shredder.

It doesn't bog or stall, as long as you are sensible, the single cylinder OHV gas powered engine has a lot of power.

It has been well designed too. It has a nicely shaped side chute for the branches – its generous width makes it easier to feed in irregular shaped branches which is a bonus.

Add to that a large top chute as well with a quality feeding chute guard that stops the debris from the wood coming back out and all in all this is a clean and efficient chipper shredder that is so easy to load.
Continuing on that theme.

It is made of heavy gauge steel, with a nice powder coating finish, it is easy to put together, and nearly always cranks on the first pull.

Of course it isn't perfect:

Filling the oil up on this is a pain, it is tucked away and difficult to access – you will need to get a long neck filter.

Also this does vibrate a lot when you use it, so you will want to be aware of that.

In a nutshell…

This thing is a winner! Lots of power, shreds and chips exceptionally well, starts easily and is built to last.

There isn't much to not like about it,

---
MY RATING: 92%
---
---
Gas Chipper #4:
Patriot Products CSV-3100B
---
BEST FOR…
Those with wooded lots up to five or so acres who are looking to chip up larger volumes of branches.
---
I take your Patriot Products CSV-3065B and raise you – I present to you the Patriot Products CSV-3100B!
The silver lining is:
Essentially Patriot have taken the excellence of the CSV-3065B and added a bigger engine, replacing the 6.5hp engine with a commercial 10hp engine.
If you have mostly softwood and want to do mulching of leaves and so on, you will probably be fine to stick with the 3065B but if you have more land and a lot of hardwood trees then the extra horsepower of the 3100B really makes a difference.
This is crazy:
You can feed 3 inch branches and it doesn't labour in the slightest because of its long stroke and high RPM.
The hopper is large, at 16 inches by 14 inches, so you can easily dump leaves and vegetation in there and it has the same 7" chipper the CSV-3065 has meaning even branches with offshoots are effortlessly chipped.
It is easy to assemble and reliably starts with just one or two pulls.
Just a note though:
This thing is big and powerful and that means it is heavy! Dragging it uphill is tough, so if you can I'd recommend you get the tow bar accessory so you can attach it to a tractor or ATV.
Similarly because of the size it is loud, so you will need hearing protection.
Let's recap:
This is worth the money and there is a reason Patriot are in this list three times – they make quality products and really know what they are doing when it comes to chipper shredders.
---
MY RATING: 90%
---
---
Gas Chipper #5:
YARDMAX YW7565
---
BEST FOR…
Those looking for a lower priced gas chipper that can still handle larger branches.
---
Although the YARDMAX YW7565 is at the cheaper end of the spectrum in terms of gas chippers, it can handle branches up to 3 inches in diameter, something some of the more expensive gas chippers struggle with.
For starters:
It is easy to put together, the main thing you need to do is bolt on the two piece feed hopper.
When you have constructed it you will see a lot of thought has been put into the design and construction.
Check this out:
It has heavy gauge steel housing and a belt drive that runs to a heavy cutting disk. Greasable bearings support the cutting disk.
The feeding chute, at 21 inches by 14 inches, will be large enough for most homeowners, and it has durable all terrain tires, so it can be moved around easily.
Anything you throw into the chipper is dealt with pretty easily and dry branches especially fly through it.
You might want to know this:
The one thing it does seem to struggle a bit with though are palm branches.
The other minor gripe is the muffler cover needs a safety guard or a cage over it. It does get hot fast and it is easy to accidentally burn yourself on it
To cut a long story short:
This well constructed and high performing chipper shredder should last you many years!
---
MY RATING: 89%
---
---
Gas Chipper #6:
GreatCircleUSA Universal Wood Chipper
---
BEST FOR…
Those who have to deal with a lot of thick branches and limbs in the yard.
---
Running on a seven-horsepower motor, you can expect that the GreatCircle USA Universal Wood Chipper is really powerful.
Let's talk about its power
This multi-function machine, which is a chipper, shredder and mulcher in one, can process tree limbs or branches that have a diameter of three inches. It has a wide opening for precisely those larger limbs.
It has a reduction ratio of 15:1. It also works at a speed of 3,600 revolutions per minute and a torque of 8.1 ft-lbs.
The chips produced are also really good. It was very efficient in reducing the volume of the waste in the yard.
Moving on
It's safe, too. It has a safety mechanism in place: the fuel shutoff.
Also, with a machine this heavy, it's important that it's easy to maneuver–and it is! It's quite simple to just attach wheels on a product, but to make sure the wheels and the heavy body can work seamlessly together is another story.
Good thing that is exactly the case in this wood chipper.
You know what else?
This is relatively not noisy. Gas-powered products are always noisy, that's a given. But considering the power in this equipment and what it does, the noise really isn't all that bad.
You still need to protect your ears with ear muffs, though, but at least you won't be disturbing the neighbors all that much.
There's more!
It's quite easy to start as well. It's a common problem among gas products that you have to pull the start cord multiple times before it starts.
With this product, you barely pull it and it starts quite well.
On to the not so pretty parts
The collection bag is pretty flimsy. It's quite surprising knowing that with a chipper this powerful, it is pretty clear that the purpose is to reduce wood–tree branches and limbs.
They should have thought about a better material for the bag. You are better off buying another bag for this machine.
Another thing
I've raved about how this reduces wood, but when it comes to the softer material like bush or wet grass, it's not that great.
You see, wet grass could easily jam this machine.
To conclude
This is a powerful product that goes through thicker branches and limbs without a problem.
---
MY RATING: 89%
---
---
Gas Chipper #7

: Earthquake K33 Chipper Shredder
---
BEST FOR…
Those looking for a machine that is easy to maneuver.
---
Gas-powered chipper shredders are understandably heavy, which is why it would really help if you have one that is quite easy to maneuver.
Look no further than the Earthquake Chipper Shredder.
Let me elaborate
This product comes with a pair of 11-inch wheels that will never go flat as they are not the regular inflatable tires. It's actually quite amazing.
It makes it easier to transport and your movement will always be stable. This is a really well-thought-out model as the center of the gravity is aligned to the wheels, which only makes movement more convenient for you.
It's powerful, too
Your three-inch branch or limb will be processed in no time.
That has to do with its powerful 212cc four-cycle viper engine. That is also coupled with the chipping mechanism that uses a series of tri-hammers and J-hammers.
Listen
This is a brand that certainly knows what a homeowner needs. When you have a chipper shredder, it is a given that you will be working with twigs, branches and possibly tree limbs. A flimsy collection bag just won't do.
The Earthquake's debris bag is sturdy and just appropriate for possibly sharp wooden chips.
However
The product has some kick back. When you feed it really dry and small wood like twigs and the like, chances are it will be thrown back at your face. Make sure you wear protection when you are operating this chipper.
A go-around for that is to feed the machine slowly with the twigs.
Another thing
When you feed it limbs with leaves on them, the chipper is prone to clogging. Make sure you remove the leaves and feed them separately.
In a nutshell
This is an adequate machine that will become great as soon as you figure out its deficiencies since they all have a workaround.
---
MY RATING: 88%
---
---
In Summary
---
Best Chipper Shredder For Composting
I have to go for the Patriot CSV-2515. It is incredibly strong and has a fantastic 20:1 mulch ratio which gives an amazing quality of mulch that is fine and perfect to spread on your dressing beds and compost.
Best Commercial Wood Chipper
Again it is a Patriot, but this time it is the CSV3100B. The 10hp engine is commercial size and deals with even the hardest of wood effortlessly. It is a beast.
Best Chipper Shredder For Home Use
For standard homes you can't beat the Power Smart PS10. It eats through shrubs and small branches up to 1.5 inches without a second though.
Best Wood Chipper Under $1000
It is hard to look beyond the YARDMAX TW7565 here. It is easy to assemble, handles decent sized limbs and easy to shift around your yard. It is a bargain.
Best Wood Chipper Under $500
Once again the Power Smart PS10 comes up trumps. This budget priced chipper shredder is a delight to use from start to finish and it is hard to find anything to complain about at this price.
---
I hope you have found this rundown of some of the best chipper shredders of use.
If you do have any questions or are uncertain about anything please feel free to drop me an email and I will do my best to help you.
Get one of these if you want wonderful mulch that will benefit your yard and breath fresh life into your soil.
Enjoy!