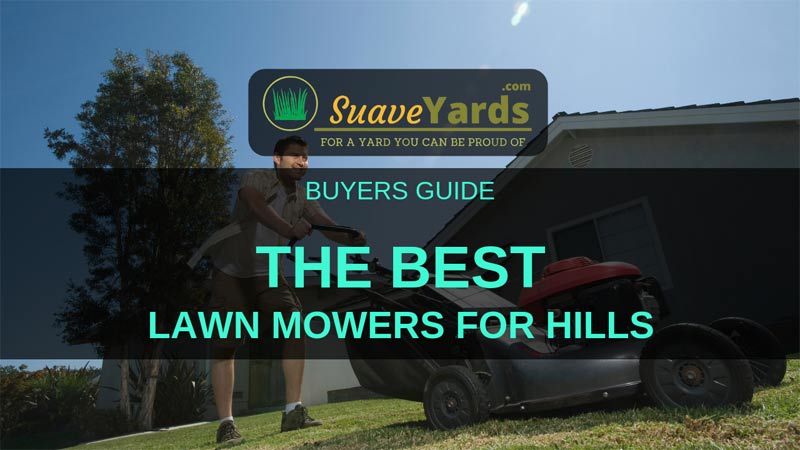 Do you have a lumpy lawn or an undulating yard? I feel your pain.
Keeping on top of of sloping patch of grass can be a lot of work.
But to help you we have outlined the best lawn mowers for hills. Take a look and make your life much easier.
>>> I know about lawn mowers already, jump me straight to the reviews <<<
---
Best Lawn Mowers For Hills
---
Below is a quick view of my favorite lawn mowers for hills of the year. To find out more about them click on the link to take you to the full review.
At A Glance List
Name
Price
Rating
#1 – Honda HRX217K5VKA


>>> BEST FOR:

♦ Best Buy ♦
$
97%

Read Review
#2 – Snapper XD 82V MAX


>>> BEST FOR:

Cordless Use
$$$
95%

Read Review
#3 – Murray 38″ 11.5 HP


>>> BEST FOR:

Riding Mower
$
93%

Read Review
#4 – Greenworks 25142


>>> BEST FOR:

Corded Use
$
92%

Read Review
#5 – American Lawn Mower 1304-14


>>> BEST FOR:

Manual Use
$$
91%

Read Review
#6 – Earthwise 50214


>>> BEST FOR:

Small Yards
$
90%

Read Review
---
So You Have Some Hills To Tackle?
---
Know about mowers?
>> Jump to my reviews <<
Hilly yards can throw up all kinds of problems, but perhaps the biggest and most annoying is choosing a mower that can keep the grass looking nice.
There are some fantastic mowers on the market, that work like a dream on a flat surface, but as soon as you try and mow a hill with them it is a different story.
Now you don't need a special mower as such to deal with hills, but there are a number of features you can look for that can make the job A LOT easier.
Without further ado let's dive in…
---
What Makes A Good Mower For Hills?
---
Have you got the right drive?
For hilly or uneven terrain a rear wheel drive mower can make things a lot easier.
Rear wheel drive means the traction is at the center of the mower – with the rear wheels turning and pushing the mower ahead, taking a lot of the effort away from the user (ie you!). The major downside is that, as the wheels are always engaged in a forward motion, then pulling the mower back is more difficult.
All wheel drive mowers can also be good on hills as they distribute the power evenly between all four wheels, but lack some of the maneuverability and traction a rear wheel drive provides on a hill.
Front wheel drive mowers on the other hand are best for level terrain and not particular suited to hills
Make sure it is 'wheely' good (sorry)!
For the ultimate performance on a hilly terrain you want rear wheels that are taller than the front wheels.
This will ensure the ultimate in traction and maneuverability, distributing the weight more towards the back for stability and making the mower easier to push.
(Deck) size is important
The deck is the part of the mower that houses the blades. So this effectively tells you how wide the cutting path is.
So the size of the deck you want will depend on the size of your lawn. If you have a smaller lawn then a cutting width of as small as 14 inches will be fine.
However if you have a larger lawn you will want a much wider deck otherwise it will take you an age to mow your lawn.
'Weight' for it…
A lighter mower is usually easier to propel up a hill. However if it is too light it might be unstable when going up a slope.
Heavier mowers will obviously be harder to push, but will likely be more powerful. Also manual mowers will always be the lightest, then electric mowers, then cordless and gas mowers.
You will need to strike the right balance between maneuverability, power and weight.
Get a handle on things
You will want your mower to have a comfortable, stable and sturdy handle. You don't want to be left with aching or tingling hands right?
Also a good handle can absorb the stresses and strains of pushing a mower up a hill and make it easier for you.
The below video will give you a few tips that should help you when it comes to mowing a hill:
---
Editor's Note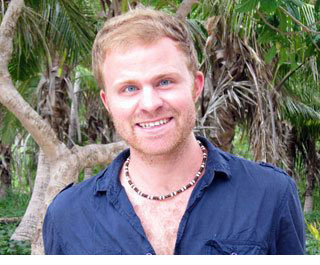 I hope you love the products that I recommend here! Just so you know, I work with Amazon and other affiliate partners and may be compensated from the links below.
---
The Best Lawn Mowers For Hills
---
#1 Honda HRX217K5VKA Gas Mower
---
BEST FOR…
Those looking for a gas mower that pulls you up hills.
Product Spec
Power

– Gas

Cutting Width

– 21″

Cutting Height

– 0.75″ to 4″

Wheels

– 8″

Weight

– 83 lb

Three Year Warranty

PRICE GUIDE

: $$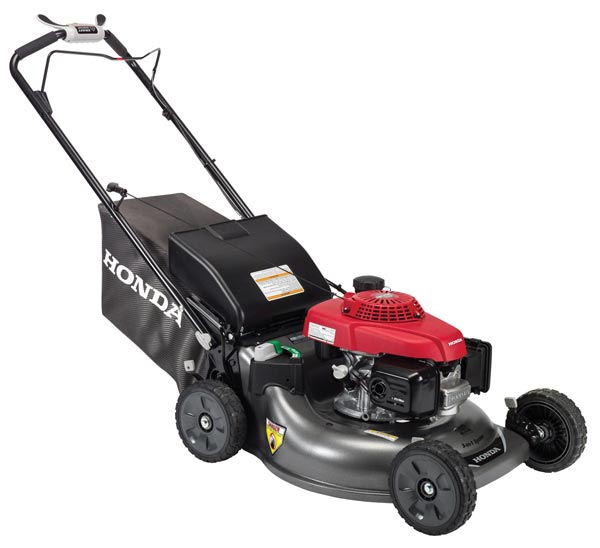 ---
Is the Honda HRX217K5VKA the best mower ever? It is certainly a very strong contender and part of its charm is it delights in tackling hills.
Let's get started:
This gas powered mower has a 21 inch cutting width and seven mowing height adjustments from 0.75 inches to 4 inches.
It is self-propelled and has 9 inch wheels, weighs 90 lbs and comes with a five year warranty.
So what is the secret?
Why is this so good on hills? There are a number of reasons.
It has a a fantastic variable speed drive. You use a dial to set the speed and push down on the bar if you want it to go faster.
It works really well to the point that if you have the dial turned right up you are almost jogging behind it! It is invaluable when you are on an incline as the mower almost drags you up the hill.
It has rear wheel drive, which ensures you don't lose traction when you are on inclines. Tackling hills really is a snap.
On top of that:
The mower deck is incredibly good. It is polymer-based which means it won't dent, rust or corrode and you can wipe grass so easily off it, so keeping it clean is a simple. What is more the deck comes with a lifetime warranty.

Aside from the deck, the rest of the build quality is top notch – very solidly made. The 190cc engine has lots of power and that means;

It cuts to laser precision – through pretty much anything, no matter how thick and long the grass is, it runs like glass and doesn't bog down.

It is very easy to switch from bagging, rear discharge or mulching – you just use a handle at the rear of the mower. What is a bigger bonus is the double blades mulch phenomenally well – really pulverising the clippings.

This is the cheapest of Honda's top line mowers and the price is amazing for what you get.
It is worth knowing:
That there really isn't too much to moan about with this mower! But if I was being really picky the air filters comes off too easily and removing the bag, if you chose to bag the clippings, is a slight pain – and could be simpler.
In summary:
I really love this mower. Everything about it screams pure quality. It devours hills with no problems and the cut is beautiful.
The best consumer mower on the market – very possibly!
---
MY RATING: 97%
---
Pros
Variable speed drive makes cutting on hills simple
Mower deck is excellent
Powerful engine
Laser like cut
Mulches fantastically
Cons
Air filter tends to pop off
Removing bag after bagging could be easier

---
#2 Snapper XD SXDWM82K Cordless Mower
---
BEST FOR…
Those wanting the best cordless mower for hills.
Product Spec
Power

– Battery

Cutting Width

– 21″

Battery Run Time (2Ah)

– 45 minutes

Wheels

– 8″ front, 10″ rear

Weight

– 74 lbs

Five Year Warranty

PRICE GUIDE: $$$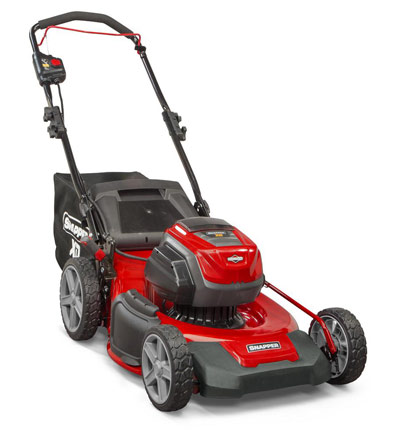 ---
If you want a battery powered mower that has enough power to comfortably tackle even the steepest of hills then there is no other choice than the Snapper XD SXDWM82K – a fantastic mower by any standards.
Let's dive in:
This is a 82V battery powered mower. It has a 21 inch cutting width and a 7 position cutting height adjustment.
You will get up to 45 minutes run time from a fully charged 2Ah battery and it takes around 30 minutes to fully charge the battery. It weighs 74 lbs, has 8 inch front wheels and 10 inch rear wheels and comes with a five year product warranty and a two year battery warranty.
Bottom line:
This thing eats hills for breakfast. There is both a self-propelled and non-self propelled version of this mower and both of them literally glide up hills.
Mainly that is down to the 82V brushless motor which gives it a huge amount of power. I can safely say that this has as much power, if not more than, most gas mowers. Thick grass or long grass is no problem for it – it eats through it easily.
Because of some clever design work it feels lighter than its 74 lbs. Whether you are using the self-propelled or non self-propelled version is very easy to push, so tackling those hills is simple!
It doesn't end there:
The batteries are truly fantastic on this. They charge quickly and hold their charge well. They have a handy LED meter that shows how much battery life is left and what is extra nice is that you don't feel the power draining as the battery runs out – it will work at full power and then when the battery goes cut out completely.

The build is fantastic. It just feels like a premium piece of kit, really solid, sturdy, made mainly of metal and built to last.

The cut is top notch – it cuts like a champ and will leave barely a blade of grass, or a weed for that matter, standing.

Considering how powerful this is it is surprisingly quiet.

You can mulch, bag or side discharge and changing between these options is so simple and takes no time. What is more it mulches really well.
A word of caution:
The batteries are high quality, but they are expensive – if you need a replacement you will need to fork out a lot of cash.
This has a handy power saving feature – so it powers down slightly when it senses it needs to and then kicks back up when it senses it is encountering thicker grass, etc. This is in theory great, but on occasions it can be a slight pain as you wait momentarily for it to happen.
All in all:
It is easy to push,and really well built. It is has the power of a gas mower without the fumes, noise, problems, etc, etc. This is absolutely quality and one of the best lawn mowers for hills you will ever see.
---
MY RATING: 95%
---
Pros
Brushless motor means it powers up hills
Great batteries
Top notch build
Cuts beautifully
Really quiet
Cons
Replacement batteries are expensive
Power save feature can annoy

---
#3 Murray 38" 11.5 HP Riding Mower
---
BEST FOR…
Those wanting a riding mower that is good on inclines.
Product Spec
Power

– Gas

Cutting Width

– 38″

Turning Radius

– 18″

Wheels

– 15″ front, 20″ rear

Engine (cc)

– 344

Three Year Warranty

PRICE GUIDE: $
---
Often it can be hard finding a riding mower that really excels on hills and doesn't feel unstable as it climbs upwards – the Murray 38" 11.5 HP Riding Mower though is somewhat different.
Let's take a closer look:
So as mentioned this is a riding mower with a 11.5 HP Briggs & Stratton engine. It has six speed, shift on the go, transmission and a 38 inch cutting width.
The front tires are 15 inches and the rear tires are 20 inches, it has an 18-inch turning radius, a 1.5 gallon fuel tank and comes with a two year warranty and is great on hills.
Why is this so?
It is a combination of things. For a fairly small riding mower the 11.5 HP Briggs & Stratton Power Built Engine has a serious amount of power. This really drives it up even steep hills and the six speed shift on the go transmission adds extra umph.
Allied to that it has wonderful tires, that add real traction so you always feel in control even on inclines, and a nice low centre of gravity to enhance stability even more.
But more than that:
The prices is really good for a riding mower – it is fantastic value for money.

Whilst it isn't zero turn (and at this price you can't really expect it) the 18 inch turning radius is pretty darn good, so it is great in tight spaces and easy to maneuver.

The build quality is great. It feels solid, has a nice deck, the front axle is steel and inspires confidence that this should last you a long time and the parking brake feels reliable and easy to engage.

The cut is nice and smooth and even, and has enough power for thicker grass and weeds.

The seat is well cushioned, adjustable and literally wraps around your body!
But note:
It can't mow in reverse – so if you try and put it into reverse with the blade engage it stalls. So whenever you want to do this you have to disengage the blades, put it in reverse and back it up and then put in forward, engage the blades and cut again. It is not a huge deal, but might be a bit of a pain.
And changing oil in this thing is a nightmare – due to the positioning of the oil drain plug, which is hard to get to behind the frame. It makes it very difficult.
But in short:
If you are looking for the best riding mower for hills then this is what you want. It performs well and comes at a fantastic price. What is more it is large enough to be able to deal with a large lawn, but small enough for anyone with a medium sized lawn upwards to use.
---
MY RATING: 93%
---
Pros
Engine and tires make it great for hills
Fantastic value for money
Great turning radius
Nice build quality
Smooth and even cut
Cons
Can't mow in reverse
Oil plug is located in an awkward position

---
#4 Greenworks 25142 10 Amp Corded Mower
---
BEST FOR…
Those with small to medium sized hilly yards wanting a corded mower.
Product Spec
Power

– Electric

Cutting Width

– 16″

Cutting Height

– 0.625″ to 2.625″

Wheels

– 6″ front, 7″ rear

Weight

– 33 lbs

Four Year Warranty

PRICE GUIDE: $$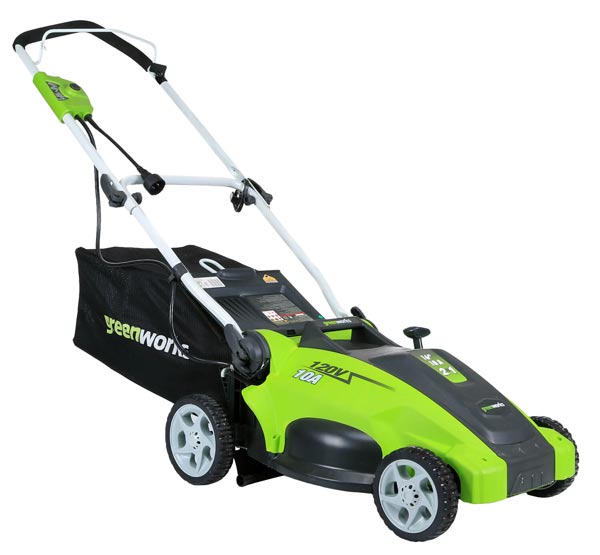 ---
For those with small-to-medium sized undulating lawns the Greenworks 25142 10 Amp Corded Mower is hard to beat.
Let's get things underway:
This electric mower is powered by a 10 amp motor and has a 16-inch cutting width. It has 5 cutting heighs from 5/8th of an inch to 2 & 5/8ths of an inch.
The rear wheels are 7 inches in diameter and the front wheels 6 inches. It weighs 33.3lbs and has a four year warranty.
Here is what I love:
Everything about this points to it being a great hill mower.
It is light, so is easy to lift but still heavy enough to stay on the ground, so naturally it is no problem pushing it up a hill.
The 7 inch rear wheels and 6 inch front wheels are the perfect dimension, giving the right amount of grip to stop it from sliding as you push it up a hill.
In addition to that:
The five positioned height adjustment offers the perfect scope of cutting ranges. It also works very well – as it can be adjust easily with just one hand.

Talking of cutting it does give a good even cut, whether your grass is short or longer.

I love the handle – it can easily be folded down for storage and it is also well balanced and has a comfy padded grip.

Because of the size and light weight of this – not only is it good for hills it is also really good for getting into small and awkward spaces a larger mower wouldn't be able to.

The grass catcher is great and works well. Catching your clippings precisely and without fail. It is really easy to attach it to, or remove it from the mower.
But what could be better?
Compared to some of the other mowers on this list – at 10 amp this probably is slightly underpowered and struggles more on taller or thicker grass – you have to take more time over it.
And the width of the cut is fairly narrow. Perfect as I mentioned for those smaller areas, but probably not ideal if you have a large yard.
But the bottom line is this:
This rightly earns its place on my list of the best lawn mower for hills as it is so light, stable and easy to move.
If your lawn is small to medium size and you want a good lightweight mower that is corded and can tackle hills easily you can't go far wrong with this.
---
MY RATING: 92%
---
Pros
Light and easy to maneuver on hills
Great height adjustment
Nice cut
Great handle
Perfect for awkward spaces
Cons
Struggles slightly with taller, thicker grass
Narrower cutting width

---
#5 American Lawn Mower Company 1304-14
---
BEST FOR…
Those with small, hilly yards wanting a push mower.
Product Spec
Power

– Manual

Cutting Width

– 14″

Cutting Height

– 1″ to 1.75″

Wheels

– 10″

Weight

– 19 lbs

One Year Warranty

PRICE GUIDE: $$
---
There is no doubt that push lawn mowers are a happier, healthier way to keep your lawn in good condition and the American Lawn Mower Company 1304-14 is probably the best on hilly surfaces.
So let's get to work:
This manual mower has a 14-inch cutting width and an adjustable cutting height from 1 inch to 1.75 inches. It weighs 19 lbs and comes with a one year warranty.
The meat and bones of it is…
For smaller, bumpier and hilly yards this is as good as you can get if you are buying a push mower.
Weighing in at just under 20lbs and with a narrow wheel setup you certainly won't struggle pushing this up a hill.
The lack of an engine and the simple but elegant design means it is very easy to maneuver on any surface and the five blade reels are pitched close to the ground to for a clean and precise cut.
Above and beyond that:
As alluded to above it cuts really nicely and the cut a push mower gives is much healthier for grass than that given by a power mower. The scissor cutting action causes less damage than power mowers which literally rip grass.

It is so light – light enough for most people to be able to carry it and push it with one arm. It takes minimal effort.

It is very well made – the blades turn easily and are made of heat-treated alloy steel, which should help them stay sharp longer. They are also pre-sharpened. The reel moves smoothly and efficiently.

Some push mowers are complicated to assemble. This most definitely isn't. All you have to do is put the handle together and attach it to the blades. It is extremely easy.

There are the numerous other benefits a push mower has – less maintenance, no additional costs for fuel or electricity, no fuel, much quieter, better for the environment, etc, etc.
Of course it isn't perfect:
Twigs are the mortal enemy of any push mower and this is no different! The smallest twig will jam it and you will have to turn the reel backward to free it. Make sure you rake your lawn before you cut it.
When it comes to thicker and taller grass (say 4 inches and above) this will struggle. That isn't to say it can't manage it, but it will take a few mows and a bit of effort before you get it under control
Let's rewind and:
It wouldn't be fair to have a best lawn mowers for hills list and not have a push mower on it, hence the inclusion of the American Lawn Mower 1304-14.
But it is not just here to complete the set – it is here because it is extremely lightweight, easy to push and maneuver and a lovely little mower that deals with hills really well. If you have your heart set on a push mower – it is the way to go.
---
MY RATING: 91%
---
Pros
Light and easy to maneuver
Healthy scissor like cut
Very well made with nice blades
Easy to assemble
Low maintenance, hence low costs
Cons
Twigs will jam it
Struggles on longer grass

---
#6 Earthwise 50214 8 Amp Corded Mower
---
BEST FOR…
Those with small hilly lawns wanting a corded mower.
Product Spec
Power

– Electric

Cutting Width

– 14″

Cutting Height

– 1..5″ to 4″

Wheels

– 5.5″ front, 6.5″ rear

Weight

– 32 lbs

Two Year Warranty

PRICE GUIDE: $$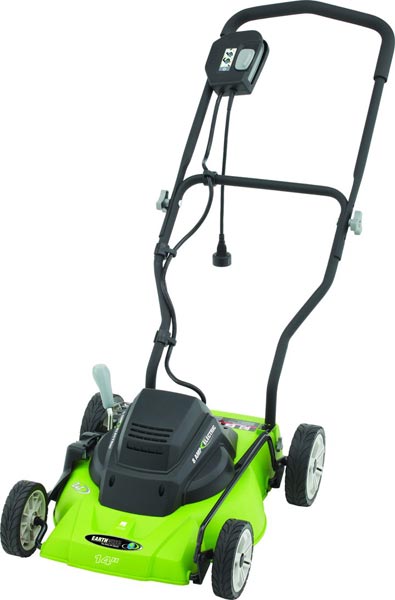 ---
It can be hard to get a corded mower that strikes the right balance between being very light but still being stable enough to keep the blade to the lawn – the Earthwise 50214 corded mower succeeds on this front though.
Let's get this show on the road:
This mower has a 14 inch cutting width and an 8 amp engine. It has five cutting heights, ranging from 1.5 inches to 4 inches and weighs 32lbs.
It 6.5 inch rear wheels and 5.5 inch front wheels and has two year warranty.
Let's make no bones about it:
This thing feels light – really light. Obviously due to this it is extremely easy to push or pull up and down hills.
It retains a surprising degree of stability considering its diminutive size and it is extremely easy to maneuver and manipulate around trickier parts of your lawn.
Looking beyond that:
This has a nice range of cutting heights – from 1.5 inch to 4 inch and the single lever adjustment tool is easy to use.

For the price this is solidly made with a nice polymer deck and the majority of the parts made of heavily powder coated metal. Where there is plastic it is tough plastic. The cutting blades are metal not plastic too.

It is really comfortable and easy to use. The V handle has a nicely cushioned grip, the height adjustment, as I mentioned, is easy to use and the deck is really easy to clean.

This mulches and the mulching ability is really good – it really pulverises the grass down to very fine particles.

This is quiet! I mean I know electric mowers are generally quieter anyway, but this thing is really quiet!
A word of caution:
I don't like the cord holder. It really doesn't retain the extension cord very well and you will probably end up having to find a way of rigging it up yourself.
The rear wheels are set quite far apart from the cutting deck. It means it is impossible if you want to mow close to a fence as the wide wheels prevent it.
So it all adds up to this:
This is a good, ultra lightweight electric mower that is, along with the Greenworks 25142, one of the best electric lawn mower for hills.
It is very well made and comfortable to use, perfect for yards around 15 x 25 feet that have a few hills.
---
MY RATING: 90%
---
Pros
Very light
Nice range of cutting heights
Well made
Comfortable to use
Mulches very well
Cons
Cord holder isn't very good
Wheels prevent you cutting close to fences/walls

---
In Summary
---
Here is a quick summary of some great options when it comes to mowing hills:
Best Lawn Mower For Steep Hills
It has to be the Honda HRX21759VKA. It is as if this self-propelled, variable speed has been built for hills! It is almost faultless.
Best Self Propelled Mower For Hills
Again the Honda HRX21759VKA wins here. Want a mower that drags you up a hill? This is it!
Best Push Mower For Hills
Hello the American Lawn Mower Company 1304-14. Comfort, quality, a delicious scissor like cut all wrapped up in a lightweight ultra maneuverable mower.
Best Riding Mower For Hills
The Murray 38" 11.5 HP Riding Mower may be small – but what it lacks in size it makes up for in style. With great tires and a low centre of gravity this is the best riding mower for hills.
---
I hope you have found my round up of the best lawn mowers for hills of use.
If you do have any questions or are uncertain about anything please feel free to drop me an email and I will do my best to help you.
I have also rounded up my favorite lawn mowers of the year, as well as what I consider the best push lawn mowers and the best riding lawn mowers if you are looking for something a bit more specific.
Buying a lawn mower does require a lot of thought and taking a number of factors into consideration. Also remember aside from having a good mower there are also a number of other factors to keeping your lawn healthy.
Don't forget you can also check out my Reviews Section for individual product reviews. Or you can visit my Site Index for everything on my site on one page.
Useful Resources