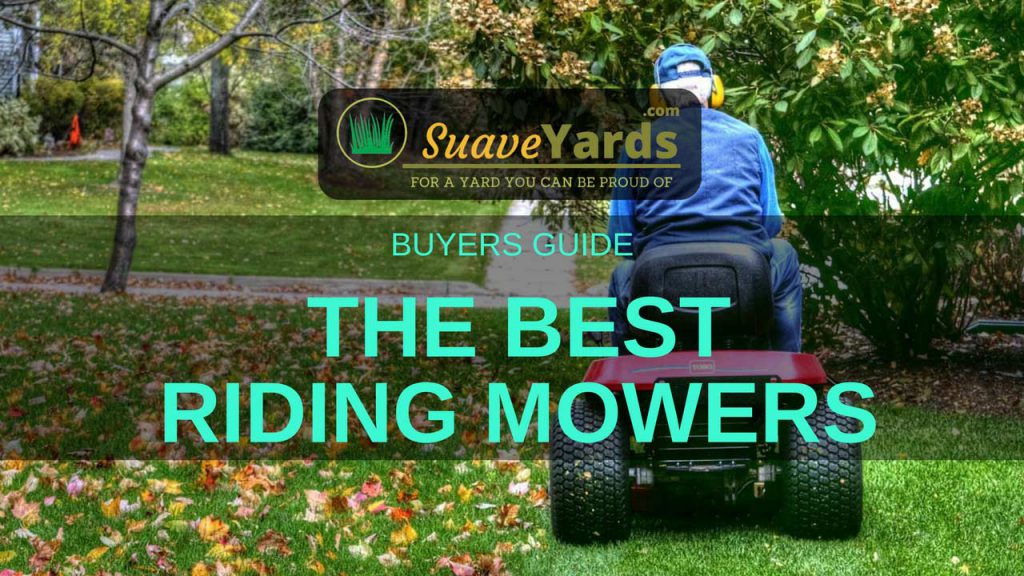 Bored with battery? Glum about gas? Exhausted with electric? A riding lawn mower could be what you need!
Check out my list of the best riding lawn mowers of 2023 and get the perfect mower for your lawn.
>>> Jump me straight to the reviews – I already know all about riding lawn mowers <<<
---
Best Riding Lawn Mowers 2023 – At A Glance List
---
Below is a quick view of my favorite riding lawn mowers of 2023. To find out more about them click on the link to take you to the full review.
Best Large Riding Mowers
Best Medium Riding Mowers
Best Small Riding Mowers
---
How To Choose A Riding Mower
---
If you have decided you want a riding lawn mower then you have already done a lot of the hard work in ruling out a standard push lawn mower or a mower powered by gas, electricity or batteries.
However there are still things you need to consider as outlined below.
The Size Of Your Yard
Generally, as a rule of thumb, if your yard is under half an acre in size you won't want or need a riding lawn mower, in fact a standard push mower would probably be as quick or quicker than trying to navigate a riding mower around a small lawn.
Theoretically…
The larger your lawn the larger cutting width you want to look for in a riding mower. A rough estimate with regards to cutting width is below:
For yards up to 1 acre – Cutting width of 42 inches max
For yards between 1 acre and 2 acres – Cutting width of 42 to 50 inches
For yards over 2 acres – Cutting width of 50 inches and above
The Terrain
Consider how flat your lawn is. Whereas most riding mowers should perform really well on flat terrain, some struggle more on slopes. So if your lawn has lots of ups and downs you may want to be extra careful in the choice you make.
The bottom line:
If your lawn is quite steep look for a riding mower that has a strong engine, is well balanced and has a low centre of gravity.
What Obstacles Might You Encounter
Do you have a lawn with a pond in the middle? A fountain? A vegetable garden?
Most of us have areas in and around our lawn we need to be careful around, you don't want your riding mower to start chopping through those prize winning flowers in your carefully manicured flower bed do you?
You are dead right!
If you do have obstacles on your lawn then make sure you look at the turning radius of riding mowers. At the top of the list are zero-turn mowers, which have a turning radius that is zero (surprisingly!).
They pivot around the rear wheels and are designed to cut so closely around obstacles you don't need to go back and trim.
Mower Transmission
There are three times of transmission riding mowers use.
Hydrostatic transmission is the easiest to operate as it means you can shift gears whilst you are driving in the same way you would in a car. Generally it ensures a smoother ride and less maintenance.
With a manual transmission you have often have to stop the mower every time you change gears. You might want to check this for a mower you are intending buying as it makes things a bit of a pain.
An automatic transmission works in much the same way as a hydrostatic transmission, except it uses belts to transfer power from the engine to the wheels, whereas a hydrostatic transmission uses fluid.
You control the speed with a pedal and it is useful when you encounter areas where you need to slow down to take care.
Other Features
There are many other things you will want to consider, including:
Engine Horsepower – the higher the horsepower the easier it will be to deal with tall, dense grass for instance.
Wheel Size – Larger wheels will usually increase traction, but can also make marks on your grass.
Speed – Most mowers offer speeds of up to 6 mph
Cutting Heights – check the number of different cutting heights a mower offers and also the minimum and maximum heights it cuts at.
Comfort features – you might end up spending a fair bit of time in your new mower so look at the seat and how comfortable it is, the leg room available and little extras like armrests and a cup holder.
Accessories – Lots of mowers allow accessories to be added so you can mulch grass, attach a trailer, fit a snow plower or even add on a spreader. These are worth considering as well.
The video below gives you a bit more guidance on what to consider when choosing a mower:
The Best Large Riding Mowers 2023
---
Large #1:
Toro Time Cutter HD with MyRIDE, 60-Inch Riding Mower
---
BEST FOR…
Those wanting outstanding comfort and cutting quality.
---
For anyone with a large property to mow the Toro Time Cutter HD, with its high strength steel 60 inch deck and out of this world comfort is a godsend!

Let's take a closer look:

Powered by a 24.5hp Toro V-Twin engine, with a 5 gallon fuel tank, this has a 60 inch cutting width, and can cut from 1.5 inches to 4.5 inches with 13 cutting positions in all.

It has a maximum forward speed of 8.5mph and a maximum speed in reverse of 3mph. It also has 22 inch rear wheels and 10 inch front wheels.

What is the secret?

Toro's MyRIDE suspension system certainly comes up trumps here. Essentially your body is isolated from the rest of the mower with a suspended platform, adjustable rear shocks and an 18 inch seat that is padded so well that you feel like you could be sitting in a top quality EZ chair!

The large 22 inch rear tires add to the luxury feeling and give an enormously smooth ride.

With a 18,908 fpm blade speed – which is the same as Toro's commercial mowers – you also get a beautiful, even cut.

There is more:

With a cast iron front axle and engine guard and a fully welded high-strength steel deck, every inch of this is premium quality and built to last.
The 24.5HP, 708cc Toro V-Twin engine has so much power and torque even taller grass doesn't present a problem. It is nicely protected by a heavy-duty rear engine guard too.
This has a nice large, 5 gallon, fuel tank so you get lots of work done on a single fill.
I like Toro's Smart Speed control system. You can choose from three speeds – to give you precise control over your trim – the low TRIM setting trims closer but gives you maximum time savings, if you are towing attachments select TOW or if you have a large open area you want to get done choose the MOW range.
It has a handy 12v accessory port so you can plug in an mp3 player, your smartphone or even a fan if it is particularly warm!
What could be better:

The fuel gauge is hard to see when you are mowing and generally extra parts do have to come from Toro – and they are more expensive.

But really there isn't too much else to complain about.

All-in-all:

This is almost worth the price alone just to feel how comfortable it is! It also gives a wonderful cut and if you have a large property it will make mowing it quicker and more enjoyable.

To give you an idea I read an account of someone who used this to mow their 80,000 square feet lawn and it cut the mowing time to 68 minutes in comparison to 150 minutes with the previous riding mower.

It is a great purchase.
---
MY RATING: 94%
---
---
Large #2:
Cub Cadet Ultima ZT1, 50-Inch Riding Mower
---
BEST FOR…
Those with large, hilly yards.
---
Solid, user friendly and very well designed the Cub Cadet Ultima ZT1 is the ideal riding mower if you have a larger property and rolling hills.

But first:

This has a 50 inch deck, and the cutting height ranges from 1 inch to 4.5 inches. It is powered by a 23hp, 726cc Kawasaki V-Twin engine and has a 3.5 gallon fuel tank.

It has 20 inch rear tires and 11 inch front tires and a maximum forward speed of 7.5mph and a speed in reverse of 3.5mph.

The fact of the matter is…

Cub Cadet claim in their promotional information that this is ideal for mowing slight hills and round several obstacles in a yard up to four acres.

That is most definitely true and if you read a number of the reviews of this great riding lawn mower you will see lots of customers attest to this.

Because it is so sturdy and really well balanced you get the same even cut wherever you use it – be it on a hill or on the flat.

There is more than that:

It is nicely designed – with a larger square tube used in the frame than other comparable ride on mowers, no plastic cladding, easy access under the footplate to belts and pulleys, a nice sized gas tank and more.
The fully adjustable 18-inch seat and polymer seat suspension system, along with adjustable lap bars and well designed hand grips make mowing on even the bumpiest of lawns feel comfortable.
The wheels and the tires are incredibly yard friendly. They offer great traction and no need to worry about lawn burns.
Effortless hydrostatic transmission – make it quick and easy to cut your lawn and go backwards or forwards, especially as this is zero turn which works wonderfully.
I love how the offset front casters align with the edge of the blade for ultra precise trimming – but still allow you to see what you are cutting.
Of course it isn't perfect:

I think very tall people, say 6'3 and over might struggle with the seat a little as I am dubious as to whether it will go back far enough for people with very long legs!

Also note that some areas – on the underside of this mower for example – have no or very thin paint, so unless you buy a can of touch up paint you are at risk of it rusting.

To sum up:

If you have a larger, undulating yard, this should be your mower of choice. Good Kawasaki engine, solid tires, a great cut and lots of extra little features.

It is fun to ride and will leave your lawn looking immaculate.

---
MY RATING: 93%
---
---
Large #3:
Ariens 25HP ZTR Tractor, 60-Inch Riding Mower
---
BEST FOR…
Those who want a good all round riding lawn mower for large yards.
---
In terms of all round performance, power and longevity this Ariens is the best large riding lawn mower on the market.
Let's get started:
It has a 60 inch triple cutting blade, a heavy gauge welded reinforced deck and a welded steel frame. There are nine cutting heights and it has a top speed of 8 mph. It is stabilised by six deck wheels and has a six gallon fuel capacity.
It uses a 25 HP Kohler 7000 series pro V-Twin engine, with a 725 cc Hydro-Gear ZT 3100 transaxle transmission. It has a three year consumer warranty and a one year commercial warranty.
So what is the magic formula?
Well the 25 HP Kohler engine runs like a dream and cuts through the toughest and tallest of grass, over huge yards, with ease and without bogging down. Essentially it is as heavily built as a full contractor grade mower and it leaves your lawn with a beautiful finish.
It gives a lovely even cut on any of the nine cutting heights – someone likened the finished appearance to a golf course and that is correct. Not only that the engine has so much power it actually blows the clippings across the lawn so they don't pile up.
The key is:
A huge amount of care and attention has gone into putting this thing together. The deck is solidly constructed – heavy gauge and welded – and a step above all other residential riding mowers.
It has a really strong frame and I love the reinforced mowing blade casing, which gives it so much protection if you have stone walls or the like on your property that you might accidentally knock against. Take care of this thing and it will last you a long time.
That isn't all:
The build quality goes further than the durability of the Ariens mower though. It is so incredibly comfortable to ride too.
The seat is high so you get a good view as you use it and the design of the seat, which incorporates armrests mean you probably won't want to get out when you have finished!
It is zero turn, which saves you mowing time, the oil is easy to change and it is really economic on gas. After around 50 hours of cutting time only half a tank of gas had been used!
You should know:
A couple of little improvements would maybe be for the front tires to be foam filled.
This would help with two things – one issues with tire pressure and secondly it would give it a little more traction, as when there is moisture on the grass the weight of the strong mower gas makes it a little more difficult to turn.
In short:
I you have a large lawn and want a powerful, rugged and incredibly well built riding lawn mower then this is the best mower on the market. It should last a long time too!
---
MY RATING: 89%
---
---
Large #4:
Husqvarna MZ61 27HP, 61-Inch Riding Mower
---
BEST FOR…
Those who want a brilliant durable mower for largely flat lawns.
---
Husqvarna are a very trusted name in the yard care industry. A colleague of mine who works at a lawn care company says that Husqvarna products are very rarely returned as they generally are so reliable and this riding mower embodies that quality.
It is an extremely solid and thoroughly reliable riding mower.
Ok let's get this show on the road:
The MZ61 is powered by a 27 HP Briggs and Stratton Endurance V-Twin engine and has a hydrostatic gear transmission. There are 12 cutting heights ranging from 1.5 inches to 4.5 inches in quarter of an inch increments and it is zero turn.
It has a 61 inch fully fabricated, 11 gauge, steel deck – the biggest deck Husqvarna offer on a consumer mower. It has a hardback seat with armrests.
The control panel is directly to your right with a key switch, choke control, throttle control and PTO switch and on the back is a hitch kit.
There is no doubt about it:
The build quality on this is top notch – the deck is really sturdy and very well built, the deck release likewise and it can take a lot of abuse. Everything has been reinforced to give extra protection and the frame is thick and strong.
The six inch wide front caster wheels and the 12 inch wide back wheels really give this a sense of stability and control, keeping the mower well balanced. The caster is durable and like everything else on the mower it seems like it will last a long time.
In fact the whole design is spot on. The control panel is easily accessible, the deck height is controlled through a foot pedal and is easy to use and works well and it has a chokeless start that doesn't fail, so getting this thing going is never an issue.
Be warned:
This has fantastic traction on a level surface and uphills, but it is not so good going downhill. The weight shifts a little and you lose directional control.
Also even though the blades are adjustable up to 4.5 inches they still could be better on really tall grass as it usually takes a couple of cuts to get a nice clean finish.
In all:
But all in all you get a hugely impressive piece of machinery if you get this Husqvarna. It is so well made and so durable and sturdy that you can't fail to be impressed and it would be perfect for largely flat lawns.
---
MY RATING: 86%
---
---
The Best Medium Riding Mowers 2023
---
Medium #1:
Ryobi 42-Inch, 75 Ah Battery, Riding Mower
---
BEST FOR…
Those with 1.5 to 2.5 acre lots with a few obstacles.
---
Well made, nicely engineered, great cut, good battery life, it is easy to see why the Ryobi 42 inch 75 Ah Battery Ride On Mower has been getting such rave reviews.

Let's take a closer look:

This has a 42-inch deck and a cutting height that ranges from 1.5 inches to 4.5 inches. It uses a 75Ah battery that can cut up to 2.25 acres on a single charge.

It has 18-inch rear tires and 13-inch front tires with a maximum speed of 7 mph and 4 mph in reverse.

So here's the deal:

There is a lot to like about this mower, so let's start with the battery.

Ryobi claims you can get 2.25 acres of continuous mowing on a single charge and that seems accurate. Depending on the severity of the job and the speed you go at you should be able to cut for 90 minutes to two hours on a full charge.

As it is zero turn it should reduce your cutting time as well – making it much easier to navigate around obstacles, etc.

The cut is great – it slices through tall weeds as if you are driving a 25 hp gas mower, leaving your lawn looking beautiful. Clippings are scattered across the garden too, not left in clumps.
If you are used to gas or electric mowers you will be astounded how quiet this is! More akin to a vacuum cleaner than a lawn mower, the sound level is minimum.
Ergonomically it is well designed, with a seat that is really comfortable with lots of scope to move forward or backward, and a big foot rest area and next to no vibration.
There are two drive modes and two blade speeds. Using the slow speed with the fast cut is ideal for tall grass situated around trees, whilst the slow speed also makes maneuvering around delicate obstacles really easy.
Of course there is no gas, no oil, no grimy filters, no tune-ups or smelly fumes!
What could be better though:

The rear tires do have poor traction – they struggle to handle the incredible torque of the machine, especially on sloping areas.

I also find it strange that, of the two, the default speed is high speed. It would make more sense to me for the machine to start at a low speed, especially if you are in a tight space etc.

In a nutshell:

A great option for a 1.5 to 2.5 acre lot that has moderate obstacles. It is quiet, has lots of power, is easy to maneuver and gives a great cut.

Best of all you have much less to worry about than with a gas mower!

---
MY RATING: 94%
---
---
Medium #2:
Troy Bilt Mustang Z42 Zero-Turn Riding Mower
---
BEST FOR…
Those who have lawns with hilly areas.
---
When you look at this thing, you know that it's built to last for years.
That's right!
This thing is really durable.
It is a fully welded tubular frame. It's made for strength.
You know what that means?
This mower is great for large areas.
No matter how long you have been mowing, this mower is going to last for years.
That's how sturdy and durable it is.
Good news
This isn't just a reliable product for large lawns or yards. You can also efficiently use it on some hilly parts of the yard.
You know how rough that can be.
Usually
There is more wear and tear when the ground is not flat.
The mower is also packed with power.
Let's talk more about that
It is powered by a 679cc twin cylinder engine.
This allows the mower to do its job for a long time.
You know what else?
This is a zero-turn mower. 
That means there will be space wasted when you turn your mower. That would be annoying in terms of the task at hand.
It's like this:
Mowing with the Mustang Z42, it's like you are not working at all.
It's such a breeze.
Aptly named, right?
It's pretty comfortable too with its relaxing seat.
It has a high back so you can properly lean on it.
There is also less vibration.
Now, let's talk about the cut
It cuts really well, that's the first thing you should know.
You are also given a number of options with its nine cutting heights ranging from 1.25 to 3.75 inches.
It's also safe
The lap bar controls have a parking brake integrated into it.
This will make you stop quickly and safely.
Honestly
There aren't a lot of bad things with this riding mower.
If I have to think about something, it might be on the operational side.
To specify
You might need some time getting used to riding the mower.
It's really not that bad, right?
In other words
The Mustang Z42 Zero-Turn Rider is just amazing.
It's a Mustang!
---
MY RATING: 93%
---
---
Medium #3:
Poulan Pro PP155H42 15.5HP, 42-Inch Riding Mower
---
BEST FOR…
Those looking for a mower that is good on slopes.
---
The Poulan Pro 42 inch 15.5HP is an absolute gem of a riding lawn mower if you are looking for something that deals with hills well.
A big part of this is due to the Briggs & Stratton Engine and the automatic hydrostatic transmission which gives the mower a lot of torque.
Let's get down to it:
It has a 42 inch cutting diameter and a 6 inch turning radius. You don't have to stop to change direction or speed and you can mow in reverse.
It has a spring assisted deck lift and six cutting heights ranging from 1.5 inches to 4 inches. It can reach a top speed of 6.2 mph going forward and has a 1.5 gallon gas tank.
I really love how this works on hills, it handles them without a problem and, despite the fact it can reach a reasonable speed, it is lovely and stable.
What is the magic formula?
Well it is mainly down to the automatic hydrostatic transmission – you don't have to keep the pedal pushed down, which is great and it has a tonne of torque and really delivers this to the rear wheels making it very powerful.
It is lovely and simple to put it in gear and have both your legs free – something not many brands offer.
The transmission and engine give this mower a lot of power. It is loud, but it doesn't bog down and deals with mostly anything.
It really hits the sweet spot in that respect.
It is well built, with a thicker neck around the deck and heavy gauge metal throughout, so it feels nice and sturdy. It has thick wheels, which only add to the solid feel.
This Poulan Pro is also really maneuverable, aided by the transmission mentioned above. It has a tight 6 inch turning radius and can get around obstacles, trees, obstructions very well.
Even better:
The steering is some of the best I have experienced – it feels like power steering and is super easy to use.
You can engage the blades in reverse – great if you have some nooks and crannies in your yard and you can also adjust the cutting height on the go, and it is easy to do so.
Mowing really is a pleasurable experience with this mower. It is also nice and roomie and great for taller guys (or girls!).
Let's not forget:
One downside with this is that it doesn't come with deck wheels, you either have to go up to the next model or install them separately. Without them you can sometimes inadvertently scalp your lawn!
I also noticed that the clutch grabs a little and doesn't not always engage smoothly – which can be a bit of an annoyance.
In truth:
This comes at a pretty good price – has lots of power, works on slopes really well, is well built and comfortable to use. For the average homeowner it is a good choice!
---
MY RATING: 91%
---
---
The Best Small Riding Mowers 2023
---
Small #1:
Ryobi 38-Inch, 75 Ah Battery Riding Mower
---
BEST FOR…
Those wanting a maneuverable mow with a free trimmer and leaf blower!
---
Another excellent Ryobi battery powered riding lawn mower this is packed full of things to like from an impressive build to a wonderful cut and to top it off you get a great trimmer and leaf blower included.

So here we go:

This has a 38 inch deck and a cutting height that ranges from 1.5 inches to 4.5 inches. It uses a 75Ah battery that can cut up to 2.25 acres on a single charge.

It has 16-inch rear tires and 15-inch front tires with a maximum speed of 8mph and 3mph in reverse.

Guess what?

One of the standout features of this Ryobi mower is the battery – which is handy for a battery mower!

You can mow for nearly an hour and not use more than about 20% of the battery. Recharging that 60 minutes usage takes about three hours and equates to a cost of $0.06 in electricity. Pretty impressive right?

Even better this comes with a cordless Ryobi trimmer and a cordless Ryobi leaf blower. Both tools come with the necessary 40v batteries and these aren't just fancy extras Ryobi have thrown in, but genuinely good yard tools that will do a great job.

But more than that:

This is well built. The front axle is heavy duty, the rack and pinion steering likewise. The plastic panels that cover the electronics are nice and thick and well reinforced. The steel tube frame is welded and powder coat. This is very robust.
This has a really powerful drive motor with a lot of torque. This will speed up if it encounters heavy grass which prevents it from getting bogged down.
It offers great value for money. It really is well made, will require no maintenance and is the only cordless mower for this price that will run for over an hour on a single charge.
A lot of thought has been put into the design – I love how the battery pack slides out on a tray and how responsive it is when you take your foot off the power pedal. The cruise control feature is great too.
It is very maneuverable – a push of the button and you can mow in reverse and in tight spots.
It isn't perfect though:

The mowing height lever is very easy to knock out of place and inadvertently end up cutting your grass at super short height! It is worth keeping an eye on.

For smaller, more petite people, this might not be the best choice as you might struggle to press the accelerator all the way down – even with the seat forward. Also the seat has a weight sensor and it requires a minimum weight on it to start.

But:

There is very little not to like about this Ryobi mower. It has lots of power, is very maneuverable, cuts really well and is very well made.

Oh and you get a top quality leaf blower and trimmer thrown in – what more could you want!

---
MY RATING: 94%
---
---
Small #2:
Cub Cadet, 30-Inch, 382cc Auto Choke Riding Mower
---
BEST FOR…
Those with flat yards an acre or so in size.
---
With its 30 inch deck this Cub Cadet Riding Mower is compact enough to be perfect for any reasonably flat yard around an acre or under in size.

First things first:

This has a 30-inch deck and the cutting height ranges from 1.5 inches to 4 inches. It is powered by a 382cc Cub Cadet engine and has a 1.3 gallon fuel tank.

It has 16-inch rear tires and 13-inch front tires and has a maximum forward speed of 4mph and a speed in reverse of 2mph.

The good news is:

If you include its mulcher cover this Cub Cadet mower will fit through a 36-inch fence gate so it is pretty compact.

The great thing though is, despite being smaller, it delivers the same excellent cut, along with build quality as the larger Cub Cadet models.

As you expect from Cub Cadet it has a wonderfully smooth hydrostatic transmission. It has a smaller reverse pedal behind the forward pedal that makes backing up really easy – then simply press a button and you can operate it and mow in reverse.

Beyond that:

The engine is very good quality with a pressurized oil system and a handy removable oil filter. The 382cc works out to around 12hp, so it has a lot of power.
This mulches really well – leaving no clumps behind – just fine mulch.
The controls are all really well positioned – so you can fiddle quickly and easily with the blades, gas and the deck height.
The fuel tank is only 1.3 gallons but as this is for smaller jobs it should last you a while. It also has an easy fuel sight window to check the fuel level.
This isn't zero turn, but with a turning radius of 18-inches it means it still does a good job of trimming around trees and bushes.
Note:

The mower deck is solidly supported to the mower – it isn't a floating deck. What this does mean is you have to be careful going over large bumps, as if you have the mowing height set low it might scalp them.

Changing oil is an issue. The oil drain plug is near the bottom of the engine, just above the deck. An oil drain chute is included, but it doesn't work with the plug – it is slightly poor engineering.

So let's rewind and:

With a small footprint, a smooth transmission going forward or in reverse, no gears to shift and lots of power even in denser grass this is a wonderful small riding mower.

Another excellent Cub Cadet product.

---
MY RATING: 92%
---
---
Small #3:
Weibang WB76E E-Rider Riding Mower
---
BEST FOR…
Those wanting a peaceful mowing experience.
---
If you are getting a rider then you most likely have a large area.
My point is
It's more likely that you don't live close to your neighbors.
But if you do, it's not a problem at all!
Let's talk about that
This is a battery-powered mower. As such, you won't expect it to be loud.
You won't be waking up those neighbors just in case you prefer mowing early in the morning or even late at night.
Yep! You can mow at night
There are LED lights on the front bumper to make it easier for you to work at night.
It's actually quite convenient.
Moving on
Since the mower doesn't use gas or oil, it's not going to be messy to use.
It's also environment-friendly.
Who doesn't want that?
It is powered by a 72-volt battery.
Now, most people would fear that a battery-powered machine isn't as powerful as the gas-powered ones.
Not to worry
The Weibang E-rider is capable enough.
In fact, one charging of the battery allows you to mow for two hours.
Worried about overheating?
You would like to know that there is a detection system in the product that will make the e-rider stop automatically when it is overheating.
It does the same when blades are stuck.
Here's the advantage:
If your mower is already in trouble and you force it to operate, the damage will be bigger.
The detection system is really a big deal.
There's more!
There is a central control panel for all functions. This way, you won't get confused when in operation.
That's quite necessary because there are 10 cutting height options.
You read that right!
10. 10 options that range from an inch to four inches.
The mechanism is a two-blade cutting system.
Good news:
You can use this e-rider for various types of lawns.
The option and the system make this machine a really versatile one.
The seat is also quite comfortable. Adjustable, too.
However
As comfortable as the actual seat is, there is actually nowhere you can rest your arms when you intend to.
This happens when you want to drive with one hand, for example.
To conclude
If you care for the environment, this is a wonderful option for you.
---
MY RATING: 92%
---
---
Small #4:
Murray 13BC76LF058 11.5 HP, 38-Inch Riding Mower
---
BEST FOR…
Those looking for a mower that strikes a perfect balance sizewise.
---
I'd say dollar for dollar this is the best buy on this list – not only that it is large enough to mow a pretty big yard, but small enough for anyone to use. It really strikes a great balance.
Let's take a closer look:
It has a 344cc Briggs & Stratton Power Built Engine, which produce 11.5 HP.
It starts with a simple on and off switch and has a 6-speed shift-on-the-go transmission and an 18 inch turning radius.
The cutting width is 38 inches and it has an adjustable cutting height from 1.5 inches to 4 inches and front tires that are 15 inches in diameter and 20 inches diameter rear tires.
So:
As mentioned this treads the perfect line sizewise. If you have a large yard the 38 inch cutting width means you can get through overgrown grass pretty quickly, but it isn't so large that it is too big for smaller yards.
Even though the turning radius is 18 inches, because it is smaller it is easier to maneuver and easier to turn as well.
There is no doubt about it:
The Briggs & Stratton engine is, as usual, fantastic and gives lots of power and is very economical. It helps give a really smooth and even cut – and it deals with long grass and tall weeds very well indeed, it looks so neat when you are done it is hard to believe.
It does well on hills as well, and as the seat is so high you get a great view across your lawn making it easier to get a good cut.
To top it all off:
This feels really solid to use. It has a durable steel front axle, a nice steel deck that doesn't accumulate lots of grass and is easy to wash, a reliable and easy to engage parking brake and a nicely designed and cushioned seat that is comfortable.
Murray have a good reputation of building durable and long last mowers and this is no different.
Finally it is a fantastic price.
A word of caution:
This cannot mow in reverse though, so remember that. Essentially if you put it in reverse gear with the blade engaged it kills the engine.
It means if you want to back up to get a better angle at a patch of grass, you have to disengage the mowing blades, put it in reverse, back up, put it in forward, then engage the blades. It is all a bit of a palava!
Also the oil drain plug is in the most awkward place, it is partially obscured by the frame and gravity prevents the oil draining out – you cannot change the oil without making a real mess.
So what does this all mean?
But as long as you can put up with this little problems this is a fantastic unit, both in terms of price and performance.
It is ideal for all yard sizes, is easy to handle and built to the highest quality. I love it!
---
MY RATING: 91%
---
---
Small #5:
Troy-Bilt 382cc Premium Neighborhood, 30-Inch, Riding Mower
---
BEST FOR…
Those with a flat lawn, looking for something light, powerful and great fun to use!
---
Have a relatively flat lawn and want something light but very powerful, choose this Troy-Bilt riding mower and you definitely won't be disappointed!
Let's take a closer look:
It has a 30 inch cutting deck and a 382cc OV Briggs & Stratton engine, with a 1.3 gallon capacity fuel tank.
There are five cutting heights from 1.5 inches to 4 inches and it has an 18 inch turning radius.
It has six speed transmission, weighs 340lbs and comes with a two year limited warranty.
Fact:
As I mention this is really light for a riding mower, which is a big plus. It means it is so easy to maneuver around your lawn, avoid those prized flower beds, etc.
It has an 18 inch turning radius, but due to it being so light – it turns on a dime, making dealing with those tight corners a cinch.
A lot of this is down to the fact that its intelligent design means it has a really low center of gravity, somewhat akin to a little go-cart!
Just imagine that!
For a small riding mower you have no need to worry about power – it handles long wet grass even at a lower speed – the engine is estimated at 10.5HP – easily enough considering its size.
It is especially good on nice, straight, flat runs and gives a really good cut.
The build is economic but good. Everything that needs to be made out of steel is, everything else is made out of durable plastic.
Beyond that:
The crankshaft is made out of forged steel which is a big plus and gives you the sense that the mower will stand the test of time.
It has a nice adjustable seat, a good fuel shut off solenoid that activates as soon as you turn off the engine, you can mow in reverse by disconnecting a safety switch under the seat compartment, it uses very little gas and is great fun to use!
What could be better:
Going from forward to reverse is more difficult than it needs to be. The shift lever is an an awkward position under the seat, rather than to the side (which seems a more logical place for it!) and you have to stop the cutting blade before you go into reverse.
Because this is so light and quite quick, with the bulk of the weight in the rear, it isn't so good going up hills. It isn't impossible, but it just takes a bit more caution and time.
To sum up:
Overall it is well priced, powerful, maneuverable, great fun to drive and for flat landscapes it is absolutely perfect!
---
MY RATING: 89%
---
---
In Summary
---
Best Riding Lawn Mower Under $1500
The Cub Cadet 382cc is a real bargain. It has an amazing transmission and delivers a wonderful cut and it mulches well.
Best Riding Lawn Mower For The Money
There are a few contenders here but the Ryobi 38-Inch Battery Mower just takes it. It has a lot of power and torque and is a lovely smooth ride. You might not want to get off!
Best Riding Lawn Mower For Hills
It has to be the Cub Cadet Ultima ZT1. Its powerful Kawasaki V-Twin engine and great wheels and tires means this has wonderful traction for those slopes.
Best Riding Lawn Mower For Small Yards
There are a couple of choices here, but I am going for the Cub Cadet 30-Inch Riding Mower. It is a smaller riding mower, with a miniscule turning radius. As a bonus it mulches really well and comes at a fantastic price.
Best Battery Powered Riding Lawn Mower
Ryobi are the masters of battery powered riding mowers! Both of their options on the list are absolutely superb and whether you go for the 42-inch mower or the 38-inch mower you won't be disappointed.
Best Zero Turn Riding Mower
I love the Toro Time Cutter 60-Inch Ride On Mower. Not only is it zero turn it is insanely comfortable, gives a laser like cut and is tremendously well made.
---
I hope you have found this rundown of some of the best riding lawn mowers of use.
If you do have any questions or are uncertain about anything please feel free to drop me an email and I will do my best to help you.
Don't forget you can also check out my Reviews Section for individual product reviews.
There are some fantastic lawn mowers out there, whether they are gas, electric, cordless or push mowers.
Don't forget it is also important to keep your garden looking good and the lawn looking healthy before you start thinking about mowing it.
Enjoy!