December 15, 2021
Best LED Grow Lights 2022: The Definitive Guide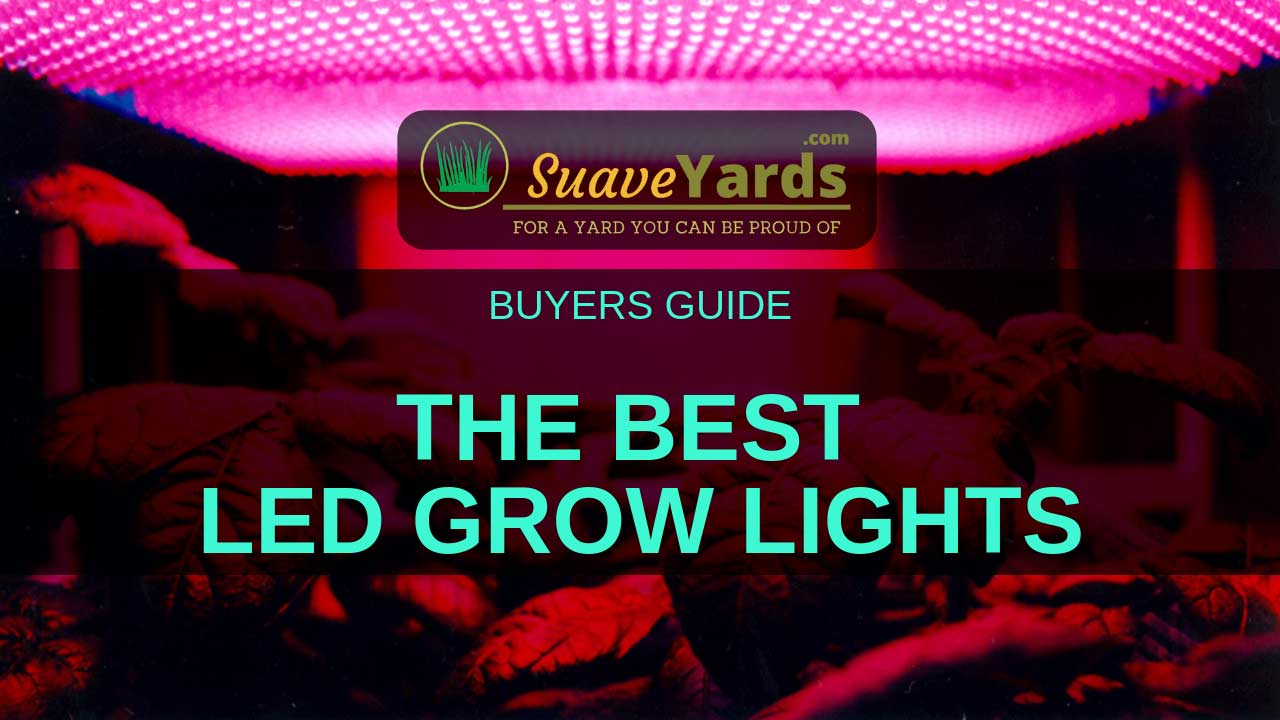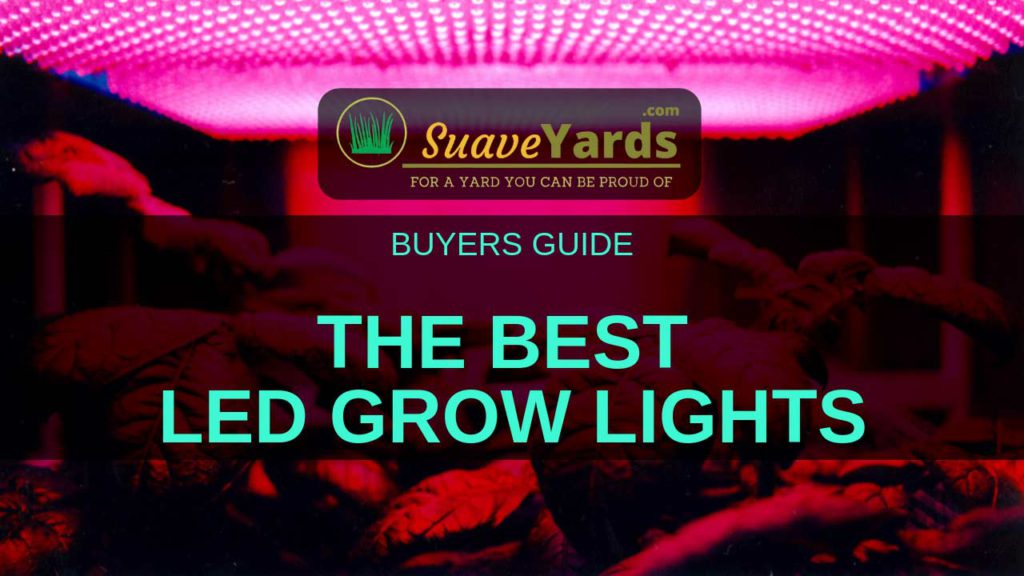 LED grow lights can be a life saver if you want to grow plants but don't have a yard.
They give you an option to grow them indoors and you will be surprised how quick plants can grow with the right grow lights.
For a better idea take a look at our best LED grow lights of 2022.
>>> I already know all about LED grow lights, jump me straight to the reviews <<<

---
Best LED Grow Lights Of 2022 – At A Glance List
---
Below is a quick view of my favorite LED grow lights of 2022. To find out more about them click on the link to take you to the full review.
My Top Choice
Name
Watts
Rating
#1 – Advanced Platinum Series P300


>>> BEST FOR:

♦ Top Choice ♦
300
97%

Read Review
Best Large LED Grow Lights
Name
Watts
Rating
#1 – King Plus


>>> BEST FOR:

♦ Large LED ♦
1200
95%

Read Review
#2 – Bloomspect


>>> BEST FOR:

Smaller Plants
300
95%

Read Review
#3 – VIPARSPECTRA V1200


>>> BEST FOR:

Larger Plants
1200
93%

Read Review
#4 – Spider Farmer SF1000


>>> BEST FOR:

Internodal Spacing
1000
91%

Read Review
#5 – VIPARSPECTRA V600


>>> BEST FOR:

Light Penetration
600
91%

Read Review
#6 – iPower 600W


>>> BEST FOR:

Ease of Use
600
88%

Read Review
Best Budget LED Grow Lights
Name
Watts
Rating
#1 – ACKE Grow Light


>>> BEST FOR:

House Plants
12
90%

Read Review
#2 – KINGBO


>>> BEST FOR:

Supplementary Light
45
89%

Read Review
#3 – SOLOFISH Dual Head


>>> BEST FOR:

Awkward Areas
36
88%

Read Review

---
All About LED Lights
---
Know about grow lights?
>> Jump to my reviews <<
What Are LED Lights?
LED stands for light emitting diode. They are different from traditional light bulbs in that they are powered by an electrical current – this current passes through a microchip which illuminates the LED light.
Why Should You Use LED Lights?
There are a huge number of reasons to use LED lights.
Bear with me and I will take you through some of them:
They are environmentally friendly – substances such as mercury, that is harmful to the environment is not used in the production of LED lights
Efficient – They save up to 90% in energy compared to conventional lights
Long Life – they generally last between 35,000 and 50,000 hours
Light tailored to your plants needs – LEDs emit a full spectrum of light. The light wavelength is usually tailored to remove those wavelengths (such as green and yellow) which plants don't use.
Quicker Growth – because of this your plants will grow quicker and be healthier
They are like Fonzie – and we all know what Fonzie was – he was cool. They do not give off much heat and this means you don't need to install cooling systems in your grow area
What Watts?
The size of the area you are growing in will dictate how many watts you need.
The fact of the matter is though:
That this can vary depending upon other factors, such as what you are growing and the efficiency of the LED light you are using. Take the chart below as a rough guide.
Grow Space Wattage
2 sq ft (2×1) ~60
4 sq ft (2×2) ~120
6 sq ft (2×3) ~200
9 sq ft (3×3) ~300
12 sq ft (3×4) ~400
16 sq ft (4×4) ~500
20 sq ft (4×5) ~640
25 sq ft (5×5) ~800
30 sq ft (5×6) ~960
36 sq ft (6×6) ~1150
40 sq ft (6×7) ~1280
It is that simple.
Light Spectrum
Light spectrum essentially refers to the different colors in the light that is being given out. LED lights will have a broad spectrum of colors and different colors have different benefits
What is the magic formula?
Blue light stimulates the formation of chlorophyll. Plenty of blue light will help a plant grow with strong healthy stems and leaves.
Red light is more important in a plant's early life. It contributes to the germination of the seed, root growth and the development of the bulb.
In essence:
Plants need blue light during the vegetative phase and red light during the blooming phase.
What's more:
Infrared light and UV have both also been shown to benefit growth.
Using Light Cycles
It stands to reason that if you can replicate the natural conditions plants flourish in when you are using an LED light then you will good results, right?
Boom! You are there:
That is all you need to do. Copy the light cycles Earth provides them with so:
Seedling Phase: 16 hours under light, 8 hours off
Vegetative Phase: 18 hours under light, 6 hours off
Flowering Phase: 12 hours under light, 12 hours off
Sticking to this should ensure the plant moves from phase to phase efficiently.
How Much Light Do You Need?
The bottom line is this:
You want around 25 watts for low light plants – ie lettuce and spinach and 50 watts for high light plants – ie peppers, cucumbers and tomatoes.
It is easier than you think in that respect.
---
Buying An LED Grow Light: What To Consider
---
Know about grow lights?
>> Jump to my reviews <<
There is no need to make buying a grow light a complicated process. By considering a few factors you can get the perfect light for your needs.
Let me show you how:
Think about the space you have available and where and how the light will fit.
Also think about how much you intend to grow and the wattage of the grow light you need to purchase (you can use the grow space chart listed above to work out roughly how many watts you need).
Then you need to consider the light spectrum.
Think about it this way:
If you want to grow your plant right through from seedling to flower you will need a full spectrum light.
But if your plant has already germinated you might just need the blue or red spectrum – to help with growing and flowering respectively.
You might also want to check the PAR output.
This is where things can get a little confusing.
PAR is one of the biggest factors on the yield you might get from your grow light. It stands for Photosynthetic Active Radiation.
In simple terms:
It is the amount of light produced that is usable to plants, ie light wavelengths that can be used for photosynthesis (ie within the range of 400-700nm). Try and look for a light with high PAR readings.
And remember:
You are likely going to have your grow light on for a long period of time so you might want to consider how much energy it uses.
LED lights use less energy than traditional lights but it is always worth checking the energy consumption of the light you intend to buy.
Soon you will have your plants growing like never before!
What to find out more about LED Grow Lights? Check the video below:
---
Editor's Note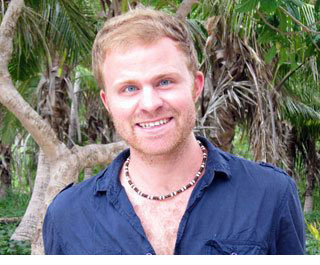 I hope you love the products that I recommend here! Just so you know, I work with Amazon and other affiliate partners and may be compensated from the links below.
---

Best LED Grow Lights 2022 – My Top Choice

---
#1 Advanced Platinum Series P300
---
BEST FOR…
Those wanting the best grow light on the market.
Product Spec
Size (W x L x H in inches)

– 9 x 19 x 3

Weight

– 13 lbs

12-Band LED Spectrum

LED Quantity

– 100 x 3W

Bloom Power

– 180W / Veg Power – 93W

Coverage

at 18″ Height – Max: 4.5″ x 3.8″. Core: 3″ x 2″

Five Year Warranty

PRICE GUIDE: $$$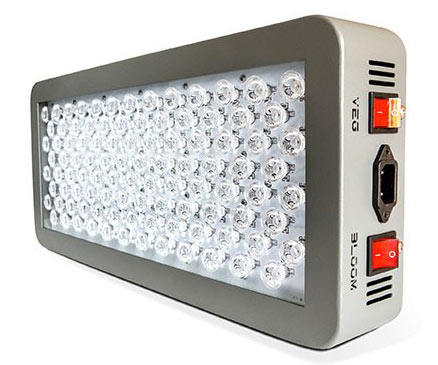 ---
The Advanced Platinum Series P300 is the most expensive light on my list, but when you delve a little deeper you realise why – everything about this is absolutely top quality.
It uses three x 100W lights to give you 300W and has a 12 band LED spectrum.It has dual bloom and veg settings drawing 180W in bloom mode and 93W in veg mode.
It measures 9 inches by 19 inches by 3 inches and weighs 13lbs. It comes with a five year warranty.
Without further ado let's dive in:
With a grow light like this it is difficult to know where to start as there is so much to like about it, but I guess we should go with the quality of the light itself – which is startlingly good.
Twelve different bands of light spectrum are combined – ranging from the depths of UV to the higher level IR. The spectrum is designed to match the rate of absorption by various types of chlorophyll as closely as possible.
The result? Your plants will absolutely love this light and should explode with growth.
It doesn't stop there:
Top quality craftsmanship. Well built, solid, and fantastic Bridgelux and CREE LEDs that run clear, clean and reliably.
Dual light spectrums. Use the veg setting, bloom setting or both together depending upon what you are growing. Light conditions are finely tuned for both.
Highest PAR per watt of pretty much any LED light
Draws only 180W – incredibly energy efficient considering the strength of the light
The true test of how confident the company are of their product – a five year warranty!
Note:
The fans blow into the unit against a very close heat sink, the air bounces back into the fan so is quite noisy.
Being really picky here there is a slightly drop off at the edges of the light, but that is probably only noticeable as the light is of such a high quality.
Let's rewind and…
This is a masterpiece of a LED grow light – right from unpacking it you can tell the build quality is top notch. Then you turn the light on and the quality of the light will just blow you away.
The best grow light out there? Probably.
---
MY RATING:

97%
---
Pros
Fantastic spectrum of light
Your plants will love it!
Quality build
Dual light spectrums – bloom and veg
Amazing five year warranty
Cons
Fan design could be improved
Light drops off slightly at the edges



The Best Large LED Grow Lights 2022

---
Large #1

: King Plus 1200w
---
BEST FOR…
Those wanting great vegetative growth.
Product Spec
Size (W x L x H in inches)

– 13.1 x 13.1 x 2.37

Weight

– 6.61 lbs

Full Spectrum

LED Quantity

– 120 x 10W

Consumes 220W

Coverage

at 24″ Height – Max: 4″ x 4″

Three Year Warranty

PRICE GUIDE: $$
---
The King Plus 1200W Grow Light might have the best quality LEDs here and that means the light penetrates your plants particularly well.
The Epistar LEDs are 1200w (made up of 120 pieces at 10W) and full spectrum. They light gives around 4 feet x 4 feet of coverage.
The power cord is around 5 feet and the light comes with a three year warranty and a free hanging hook. It weighs 6.61lbs and has a three year warranty.
Let's begin:
As I said the big plus point with this grow light is the quality of the LED lights. The 120 10W bulbs produce a soft pink glow but appear lovely and natural.
The light has a decent, uniform spread – it seems to promote fantastic vegetative growth in particular – very bushy with lots of tightly space nodes. You get a very green and healthy look indeed!
You want to know what else I like?
Efficient cooling system – there are holes on the LED board that, along with the glass, form convection with the fans that help the heat dissipated effectively.
The design is small and compact
It is well made with a heavy duty/sturdy feeling.
Consumes only 220w – so don't cost much to run
Incredible price for what you get
Warning:
The power cord is annoyingly short. The footprint of this light is also smaller – if you have it higher than 24 inches it will struggle to effectively light a 3 feet by 3 feet area.
In all:
The quality of the LEDs and the depth of the penetration they produce, coupled with the bargain price means this is one of the best lights on the market for me.
Add to that it is well made, energy efficient and keeps cool and you have a winner!
---
MY RATING:

95%
---
Pros
Fantastic LED quality
Light penetrates well
Promotes fantastic vegetative growth
Sturdy and well made
Great value
Cons
Power cord is short
Footprint is slightly limited


---
Large #2:
Bloomspect BS300 300W
---
BEST FOR…
Those looking for a grow light for smaller veg or flowering areas.
Product Spec
Size (W x L x H in inches)

– 11.8 x 8.3 x 2.4

Weight

– 5 lbs

Spectrum

: 630nm-660nm, 440nm, 460nm-470nm, 3500K, 7500K

LED Quantity

– 60 x 5W

Consumes

132W

One Year Warranty

PRICE GUIDE: $$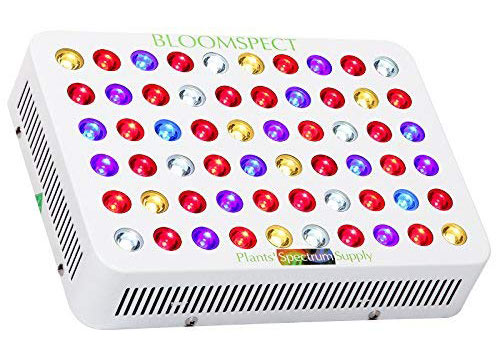 ---
The design, light quality and size of the Bloomspect BS300 make this the perfect light for smaller veg or flowering areas.
This has sixty 5W EpiLED/BridgeLux LEDs to give the 300W. It draws around 132W of power and covers around a 3 foot by 3 foot area for the veg setting or 2 foot by 2 foot when flowering.
It measures 11.8 inches by 8.3 inches by 2.4 inches, weighs 5lbs and comes with a one year warranty.
So let's get down to it:
It is small and compact – great for smaller areas – but best of all the light quality is a knockout. The light is cool and distributed uniformly.
To the naked eye the light looks white, but if you take a photo of it in use the camera picks up a pink hue that the naked eyes doesn't.
The great thing about this is when you are looking at it you can actually see the color of your plants – unlike some LED grow lights where color cast on the lights makes them look permanently purple or brown.
Beyond that:
Great PAR values which, thanks to the secondary optics, produce the equivalent output of 600W LED Panels and will result in more vigorous growth.
Exceptional build quality – materials look quality and it is solidly constructed without any corners being cut.
The built-in aluminium heatsink and cooling fans work really well at dissipating heat and maintaining a cool temperature.
It really out performs other 300W lights – for instance it has twice the PAR of the Mars Hydro 300W
You get all of this for around 60 bucks – it really is a steal for the quality and performance
But beware:
It doesn't have UV or IR spectrums – although of course you could put this right with a supplementary cheap light.
It also lacks the red spectrum which promotes flowering – but all in all you should still notice amazing growth with this light.
In essence:
This is the best grow light you will get in this price range/power bracket. The design and build is top notch and the light quality is fantastic
To put it simply if you are looking for a light for a smaller area or a grow light to get started then for functionality, cost and performance this cannot be beaten.
---
MY RATING:

95%
---
Pros
Small and compact
Fantastic light quality
Out performs all other similar lights
No corners cut in the construction
Great price
Cons
NO UV spectrum
Lacks red spectrum


---
Large #3:
VIPARSPECTRA V1200
---
BEST FOR…
Those with larger and denser plants.
Product Spec
Size

(W x L x H in inches) – 19.4 x 19.4 x 4.3

Weight

– 20 lbs

Full Spectrum

LED Quantity

– 240 x 5W

Consumes

524W

Veg Coverag

e at 32″: 4.5ft x 4.5ft /

Flowering Coverage

at 24″: 3.5ft x 3.5ft

Three Year Warranty

PRICE GUIDE: $$$
---
VIPARSPECTRA are one of the main names when it comes to LED grow lights and the VIPARSPECTRA V1200 is perfect for large plants
It uses 1200W bulbs and draws 524W. It is full spectrum and measures 19.4 inches by 19.4 inches by 4.3 inches. It weighs 20 lbs and has veg and bloom modes.
In terms of coverage – at 32 inches it will cover 4.5 feet x 4.5 feet of vegetation and at 24 inches 3.5 feet by 3.5 feet of flowers. It has a six foot power cord and comes with a three year warranty.
Let's get started:
These are wonderfully designed and work really well in making sure the light is not concentrated in the center of the growing area – it has fantastic coverage reaching up to 4.5 feet.
The even balance and spread of the light of course means that plant growth is equal and not stunted and this benefits bigger flowers tremendously
And there is more:
The full spectrum light is great – it is more white/yellow and not blue/red as some LED grow lights are. It gives out many more photons – which are the key elements in photosynthesis and really encourage plant growth.
This has four high speed fans that keep the unit very cool. Whilst the air around it gets hot, the unit can be touched at any time.
Very economical – it consumes only 524W and will be kind on your electricity bill.
It comes with rope hangers, making it easy to set up
With the nice full spectrum light, high par and lots of light coverage this will definitely increase growth and your plants will flourish.
Be warned:
It could do with some additional features to really compete with the top line LEDS – such as veg/bloom cycles and adjustable hangers.
Also it is pretty hefty. As I say it does come with rope hangers, but you might want to get your own to fully support it.
In short:
It runs cool and quiet, it has a sleek design, it gives great coverage and the bottom line is your plants will love it!
---
MY RATING:

93%
---
Pros
Great light coverage
Kicks out loads of photons
Keeps cool
Energy efficient
Will really encourage plant growth
Cons
No veg/bloom cycle
Quite hefty


---
Large #4:
Spider Farmer SF1000
---
BEST FOR…
hose looking for something that can provide great internodal spacing.
Product Spec
Size (W x L x H in inches)

– 11.8 x 10.5 x 2.3

Weight

– 6.29 lbs

Full spectrum

– 660nm, 3000K, 5000K, IR 760nm

LED quantity

– 218

Consumes

– 100W
Veg coverage at 2.5 x 2.5 ft
Flowering coverage at 2 x 2 ft
Three-year warranty
PRICE GUIDE: $$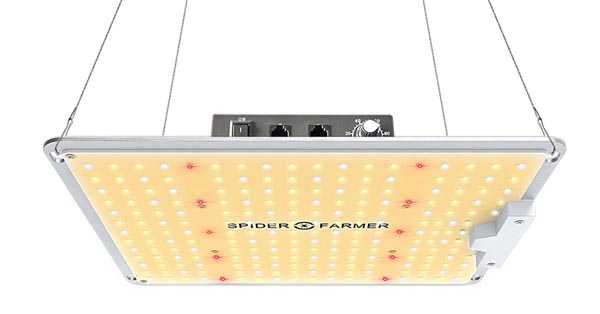 ---
You would think that a growth light that uses a Samsung LM301B LED daisy chain would be expensive but the Spider Farmer SF1000 is appropriately priced. It's not cheap but it's not pricey either considering the various benefits your plants will get from this growth light.
It's energy efficient as it only uses 100W, which is approximately 50% less than other products. The Samsung diodes, too, add to the efficiency with its 2.7 umol/J.
Using 218 pieces of LED, this product measures 11.8 by 10.5 x 2.3 inches and weighs 6.29 pounds. It comes with a three-year warranty for components.
Let's talk more about it
This is a mix full-spectrum LED grow light that comes with two stainless steel hanger hooks and two adjustable rope hangers. The power cord is two meters.
As for the coverage, you get 2.5 by 2.5 feet for veg footprint and 2 by 2 for flowering footprint.
You need to hear more?
This comes with a dimming knob and light switch so you could customize the intensity of the light needed.
Has a great full spectrum light comprising white, blue, red and infrared.
Light looks natural, which makes monitoring plants simple.
No fan noise.
Expect high yield with wonderful intermodal spacing.
Be warned:
The manual doesn't explain properly how to use the dimming knob. I did some trial and error until I got the hang of it.
Also, while growth is quite great with this product, it's not great for blooming.
That's why
If you plan on growing plants that bear fruits, then this is a great LED grow light. For flowering ones, not so much.
This product will not break your wallet for two reasons: One, it's not that expensive to buy; and two, it's energy-efficient.
---
MY RATING:

91%
---
Pros
Powerful light
High yield
Energy-efficient
Great intermodal spacing
Light looks natural
Cons
Instruction of the use of the dimming knob is unclear
Not ideal for flowering plants


---
Large #5:
VIPARSPECTRA V600
---
BEST FOR…
Those needing good light penetration.
Product Spec
Size

(W x L x H in inches) – 15.3 x 12.8 x 3

Weight

– 12.5 lbs

Full Spectrum

LED Quantity

– 120 x 5W

Consumes

269W

Veg Coverage

at 32″: 3ft x 3ft /

Flowering Coverage

at 22″: 2.5ft x 2.5ft

Three Year Warranty

PRICE GUIDE: $$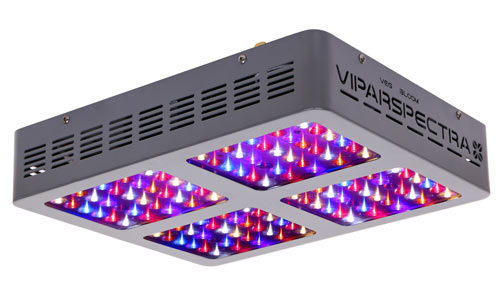 ---
Like its compatriot the V1200, the VIPARSPECTRA V600 is a top notch LED grow light that has particularly good light penetration if you have leafy plants.
It uses 120 5W Bridgelux/Epiled LED Chips and draws 269W of power. It measures 15.3 inches by 12.8 inches by 3 inches, weighs 12.5lbs and comes with a three year warranty.
So let's get this show on the road:
The design of the unit – which is well balanced and encourages a spread of light – and the use of Bridgelux/Epiled LED Chips means the penetration of the light is really good.
If you have medium sized plants with a lot of leaves it really hits the spot in terms of the light getting to the lower leaves as well as it gets to the leaves at the top of the plant.
This helps promote even and healthy plants and gives you wonderful growth.
What else makes this so special?
It has dual veg and bloom switches. The veg switch gives out more of a blue spectrum, the bloom setting has a red color and when you have them both switched on your get a purple light.
It really is a nicely built light – solid, sturdy, tidy and well designed. It really gives you a feeling of confident in the product.
The light is full spectrum and nice and warm without being overpowering, with a good PAR/Lumen Output and coverage.
You can daisy chain this – handy if you plan on growing more that just a few plants.
It is well ventilated and stays cool – consuming only 269W making it energy efficient and better for your energy bill!
But a couple of warnings:
This has two fans but they don't both run together unless you have both the Veg and Bloom switches on. This means that if you only have one switch on one side gets hotter than the other.
Also this comes with hangers, which is good, but the quality of the hangers it comes with is not great. VIPARSPECTRA actually produces some better rope hangers, but they aren't included in the box.
All in all:
This ticks all the boxes – it is well built, it stays cool, it is energy efficient, it encourages fantastic growth and it works really well when it comes to light penetration. Another big thumbs up for VIPARSPECTRA.
---
MY RATING:

91%
---
Pros
Great light penetration
Dual veg and bloom switches
Well designed and built
Good light quality
Energy efficient
Cons
Fan design could be better
Hangers it comes with are poor


---
Large #6:
iPower 600W
---
BEST FOR…
Those looking for an easy-to-use grow light.
Product Spec
Size (W x L x H in inches)

– 16.14 x 13.78 x 3.94 inches

Weight

– 3.31 lbs

Full spectrum

– 3000K, 5000K, 660, 760 nm
LED quantity 234
Consumes 90W
Veg coverage at 2 x 2 ft
Flowering coverage at 1.5 x 1.5 ft
One-year warranty
PRICE GUIDE: $$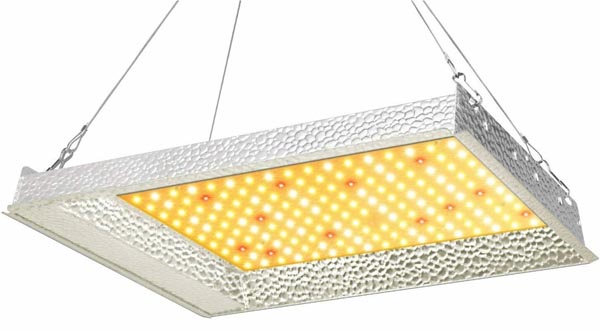 ---
Using the iPower 600W LED Grow Light is such a no-brainer. It's so easy to use and it's affordable, too.
It only consumes 90W, which is only good for your electric bill. It contains 234 LEDs that allow a coverage of 2 by 2 feet for vegetables and 1.5 by 1.5 for flowering plants.
The product weighs 3.31 pounds with the following dimensions: 16.14 by 13.78 by 3.94 inches.
Let's dig deeper
The LED light simulates natural sunlight–but maybe a tad better? At least it's closer to your growing plants. There is also higher intensity for better growth of plants.
It's the aluminum hood that provides better intensity. At least 20% more energy will be directed to your plants. This same aluminum can cool down the plants, so a fan is not necessary.
Here's more:
For those using indoor tents, the hook will fit most bars. That's quite convenient.
Reasonably priced considering the benefits of the LED grow light.
Durable because the internal parts are made of metal.
Very easy to adjust based on what you need.
It's versatile, too. You can use it for other things and not just for growing plants.
Unfortunately
The ratchet doesn't really hold to its promise. According to the manual, the ratchet is supposed to hold up to 75 pounds. However, it barely does for a 70-pound weight.
Also, the metal parts rust easily.
In conclusion
This product works really well, just adjust the weight. Don't follow the indicated 75 pounds per ratchet because that won't hold.
For those just starting to grow plants, this is the right product because it is easy to use.
---
MY RATING:

88%
---
Pros
Easy to use
Affordable
Aluminum hood provides
Universal hook to fit most bars
Versatile
Cons
Ratchet doesn't really hold 75 lbs
Metal parts rust easily



The Best Budget LED Grow Lights 2022

---
Budget #1:
ACKE 12W Grow Light
---
BEST FOR…
Those wanting to give their house plants a boost of light.
Product Spec
Size

(W x L x H in inches) – 7.7 x 5.4 x 2.1

Weight

– 1 lb

LED Emitting Color

– 2700K, 660nm, 630nm, 460nm

LED Quantity

– 40 x 0.5W

One Year Warranty

PRICE GUIDE: $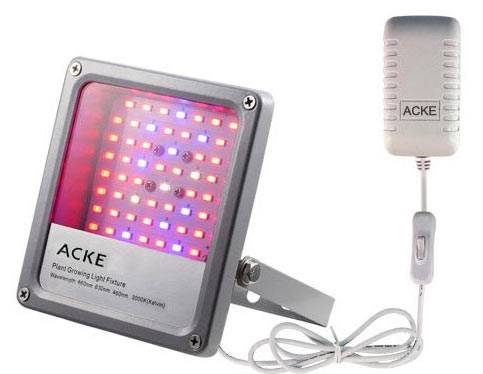 ---
This ACKE LED Grow Light is small but ideal for anyone trying to keep houseplants alive in cloudy winter months or grow plants in low light conditions.
It is made up of 40 x 0.3W LED lights and measures 7.7 inches by 5.4 inches by 2.1 inches. It weighs 1lb and comes with a one year warranty.
So let's fire away:
Thanks to the innovative design and the fact you can hang this to a bar, fasten on a wall or use the stand to prop it up on a flat surface it is incredibly versatile.
That means you can use it pretty much anywhere, especially on those plants you have in doors that need light in the colder darker months.
And check this out:
For such a low cost light the quality of the light is surprisingly good and covers a huge area considering the size of the unit and it spreads evenly.
Excellent aluminium heat sink for heat dissipation so no need to worry about damaging your flowers.
It is completely waterproof.
Incredibly simple to set up and install and comes with zip ties and a wall mounting set.
Great price!
But please note:
The cord could do with being longer and as the power point is right near the bottom left hand corner of the light it does make it more difficult to make the light stand level.
This really is for small plants or as a supplementary light – anything more than that and it won't be powerful enough.
So what does all this mean?
It means you get a well made, good quality light that will benefit house plants in a big way but at a low cost. The design, make and LED quality of this is comparable to much more expensive grow lights.
It is a winner!
---
MY RATING:

90%
---
Pros
Great small light for houseplants
Very versatile usage
Very good light spectrum
Waterproof
Great heat sink
Cons
Cord makes it difficult to stand level
Only for small plants


---
Budget #2:
KINGBO 45W
---
BEST FOR…
Those needing a side light or supplementary light.
Product Spec
Size

(W x L x H in inches) – 13.1 x 13.1 x 0.4

Weight

– 2.6 lbs

Full Spectrum

LED Quantity

– 225 x 0.2W

Consumes 35W

Coverage

at 24″ – Core: 1ft x 1ft, Max: 2ft x 2ft

One Year Warranty

PRICE GUIDE: $
---
Need a bit of side lighting to encourage lower bud growth? Look no further than this KINGBO 45W light.
It measures 13.1 inches by 13.1 inches by 0.4 inches and weighs 2.6lbs. It uses 225 0.2W LEDs to give 45W. It draws around 35W.
It has a six band spectrum and comes with a one year warranty.
Let's get things underway:
These lights won't suit larger areas or a whole room, however where they do excel is for a vertical setup.
Because these are so thin and wide you an use them to cover a shelf of small plants – they will generally be much better than using an LED lamp or a strip of cheap LEDS.
They are also great supplementary light for those lower bud areas that struggle to get light or only get reflective LED light.
Let's dig even deeper:
Consume only 35W – highly energy efficient!
The back of this is an aluminium plate that acts as a heat sink very well to keep the heat off your plants. It is warm to touch but definitely not hot.
Thin, lightweight and compact, weighing only 2.6lbs.
Nice full spectrum six band light that works equally well for veg and flowering.
It comes with an aluminium hanger and steel wire to hang it with (the hanging system is removable) – it is really easy to hang and adjust the height to get the light where you need it.
A couple of things though:
As stated this is a great supplementary or side light, perfect for starting seeds, etc, but for anything slightly larger it won't work as well.
Also the size of this does make it difficult to fit in smaller areas or areas with limited space, so just make sure you measure up the area where you intend to place it before deciding to buy or not.
To sum up:
Probably not to be used as a sole light – but an ideal supplementary or side light and if you have a vertical set up with a few shelves this could be perfect. Thin, lightweight and easy to setup too.
---
MY RATING:

89%
---
Pros
Great supplementary light
Good for promoting lower bud growth
Energy efficient
Thin, lightweight and portable
Easy to set up and hang
Cons
Not great for larger plants
Size can limit where you use it


---
Budget #3:
SOLOFISH Dual Head 36W
---
BEST FOR…
Those needing to get light to awkward areas.
Product Spec
Size

(W x L x H in inches) – 12.5 x 5.1 x 3.3

Weight

– 1.32 lbs

Wavelengths

: 400-840nm

LED Quantity

– 2 x 18W light tubes

360° adjustable neck

Brightness and timer settings

18 Month Warranty

PRICE GUIDE: $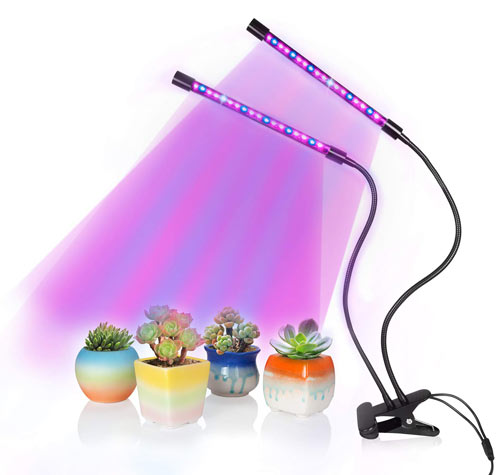 ---
Small, portable and well designed this SOLOFISH Grow Light is ideal for those really awkward to get to areas.
It is made up of two LED light tubes that are 18W each and measures 12.5 inches by 5.1 inches by 3.3 inches, weighing 1.3lbs. It comes with an 18 month warranty.
So let's get to work:
The clever design of this light means it is an ideal choice for difficult spots to get light to.
So for instance if you like to have a couple of plants on your desk at work in an area without any overhead light you can clip this on or near your desk so it shines on your plants.
Beyond that:
It is so small and portable, weighing little over a 1lb, that you can take it anywhere with you.
It has a handy padded foam clamp on each side so you can clip it to your desk or table etc with the minimum of fuss.
Ultra adjustable light – you have choose blue, red or blue and red to adapt to the individual plant and choose one of nine brightness settings. You can also set the timer to 3, 9 or 12 hours.
The 360° goose neck means you can swivel and bend this to any position you want to get light to your plants no matter where they are.
It can be powered through a wall socket or via USA
It is worth bearing in mind:
The cord is very short – just over three feet and has a power adapter at one end that takes up quite a bit of space meaning you couldn't plug anything in right next to it on a power strip.
Also it seems to be that the light is noticeably dimmer when plugged into a USB port.
But the bottom line is this:
It is a great little light for a desk or getting to awkward areas and ultra adjustable and it doesn't cost much either!
---
MY RATING:

88%
---
Pros
Great at getting light to awkward areas
Nice padded clamp
Ultra light
Ultra adjustable
Nice swivel neck to move into any position
Cons
Short cord
Using when plugged into USB dims light


---
In Summary
---
Best LED Grow Lights For Vegetables
It has to be the King Plus. Fantastic LED lights, that penetrate well and give a nice uniform spread of light. It has a really good blue spectrum that is fantastic for vegetative growth.
Best LED Grow Lights For Indoor Plants
The iPower 600W Grow Light is easy to use, affordable, convenient and has an aluminium hood that provides better intensity and more flowering for indoor plants.
Best LED Grow Lights For Flowering
I think it is the Spider Farmer SF1000. This great full spectrum light has wonderful intermodal spacing and is reasonably priced.
Best LED Grow Lights For The Money
The Bloomspect 300W is great value for money. At around 60 bucks you get a well designed grow light which is really well built and has great PAR values. It is hard to beat.
---
I hope you have found this rundown of some of the best LED grow lights of use.
If you do have any questions or are uncertain about anything please feel free to drop me an email and I will do my best to help you.
Just because you don't have a garden don't think that means you can't grow plants and vegetables. As well as using LED lights there are plenty of other alternatives such as vertical gardening.
Enjoy!