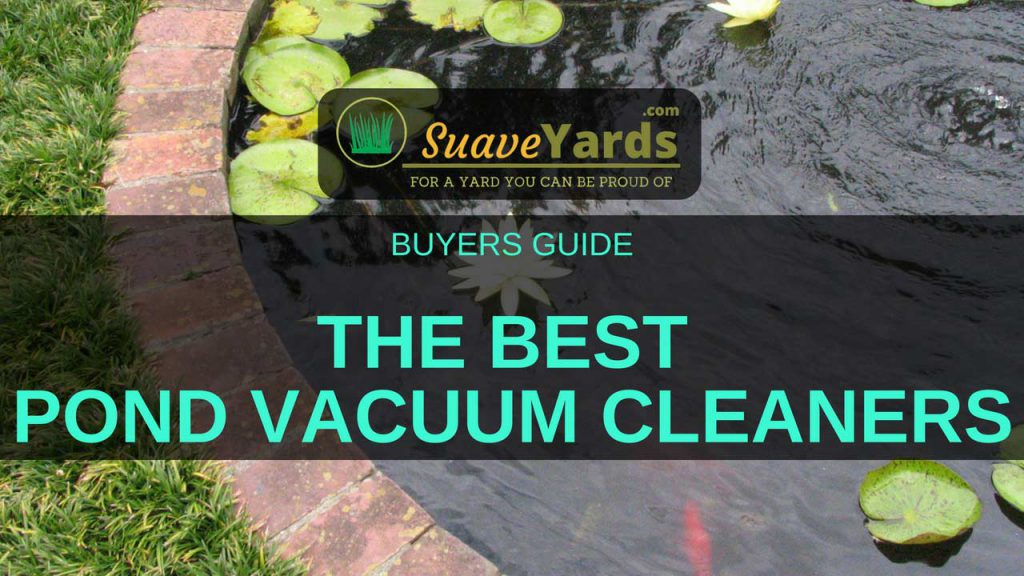 Speak to any pond owner and they will tell you a pond vacuum is a vital tool.
They are a fantastic way of keeping your pond healthy and a have for fish and aquatic life.
Save yourself some money in the long run and take a look at my run down of the best pond vacuum cleaners of 2022.
>>> Jump me straight to the reviews – I already know all about pond vacuum cleaners <<<
---
Best Pond Vacuum Cleaners of 2022:
At A Glance List
---
Below is a quick view of my favorite pond vacuum cleaners of 2022. To find out more about them click on the link to take you to the full review.
My Top Choice
Highly Recommended
Also Recommended
Other Options
---
The Benefits Of Pond Vacuum Cleaners
---
Pond vacuum cleaners are seen by many pond owners as the most important piece of hardware they own, and they have a multitude of benefits to both you and your pond.
A Healthier Pond
You've got your bottom drain, pond filter, netting and even more set up. However debris will eventually collect in certain areas.
Simple truth is:
If it isn't removed and is left to decompose it will give off harmful substances which will damage your pond and the fish in it.
A pond vacuum will remove these pollutants before they affect the water quality in your pond.
Saves You Money
I know it sounds like a bit of a contradiction, you pay out a couple of hundred dollars and save money?! How does that work! But in the long run a pond vacuum will save you money.
Fact:
If you hire someone else to clean your pool you will no longer have to pay for that if you have a pool vacuum.
But also a regular clean pond will mean you will need to change filters and netting less often and healthier plants and healthier fish should flourish!
Saves Time And Effort
No more getting into your pond to clean it, or spending time draining the water or removing fish. No more bending down to scrub muck and debris.
Instead you can stand on dry land whilst a machine does all the work for you in a fraction of the time.
Doesn't that sound much nicer?
Use The Waste Water You Collect For Your Plants
The waste water you collect when you clean your pond can be used to water your lawn, garden or flower beds and provide vital nutrients.
---
How To Choose A Pond Vacuum Cleaner
---
There are a number of factors you need to consider if you are going to buy a pond vacuum cleaner, starting with…
Single Chamber, Double Chamber or Water Pressure
The way pond vacuums operate generally fall into one of three categories:
Water Pressure
The most basic form of pond vacuum cleaner works by attaching it to a standard garden hose and switching a valve so that when you use it, rather than water coming out a vacuum is created and it operates as a vacuum cleaner you can use in your pond.
So…
These are the cheapest options, but often the less effective, particularly if you have a pond that is anything other than very small and they won't work if you don't have good water pressure.
Single Chamber
A single chamber pond vacuum has one chamber that gradually fills up with debris as you vacuum your pond. When it is full the vacuum automatically turns off and you have to wait for the chamber to discharge the waste before you can start cleaning your pond again.
Basically:
These offer much more power than pond vacuums that use water pressure so will clean more effectively. However they can be time consuming as you have to wait between cycles for the chamber to discharge before you can start vacuuming again. Generally they are mid-price range.
Double Chamber
These are the kings of the pond vacuum cleaner world! As the name suggests they have two chambers which allow for continuous operation.
When Chamber One is filled up the valve automatically switches to Chamber Two and continues to vacuum filling the second chamber whilst the first chamber empties before switching back again.
Quite simply:
These often offer more power, are quicker and better for medium or large sized ponds. However they are the most expensive options on the market.
Vacuuming Power And Suction Depth
Take a look at how powerful the vacuum is. This often depends on the motor used. The power of the motor will usually be linked to the suction depth.
Consider how deep your pond is and whether the vacuum will be able to successfully work at that depth.
And:
You will also need to look at the reach of the suction hose and pipe as well.
Attachments
Most pond vacuums come with a collection of attachable nozzles that make cleaning your pond and the surroundings much easier.
For instance:
For instance some come with brushes that help you scrub clean the sides of your pond and any decorative rocks around it, some have attachments especially for algae on the surface or nozzles with adjustable openings so you can filter out smaller stones.
Size Of Your Pond
If you have a tiny pond you can probably get away with a vacuum cleaner that operates by fixing onto a standard garden hose. Anything larger and you need to consider single or double chamber units.
Take the size of your pond into consideration before making any purchase.
The video below gives a more detailed overview of what to look for if you are buying a pond vacuum cleaner:
The Best Pond Vacuum Cleaner of 2022:




My Top Choice
---
#1 OASE Pondovac 4 Pond Vacuum Cleaner
---
BEST FOR…
Those who want the best pond vacuum cleaner
---
When OASE designed the Pondovac Classic it broke new ground in the pond vacuum cleaner field. Then the Pondovac 3 came along and it was difficult to imagine how it could be better. The OASE Pondovac 4 somehow does just that, it is very, very good indeed…
Let's get started:
It has a 1700 watt motor and a maximum suction depth of 7.8 feet. The suction hose is 16 feet long and the discharge hose 8 feet. The power cord is 13 feet and it comes with a two year warranty.
Here's the secret:
This uses a wonderful two chamber system that has been patented by OASE. Turn it on and Chamber 1 is in use. Water and debris are lifted from your pond into Chamber 1 when that is full the vacuum action stops for a few seconds and two valve switches occur.
The first switches the vacuum pump from the now full Chamber 1 to the empty Chamber 2. The second valve switch opens a port that allows the water to flow out of Chamber 1.
That means:
When the water starts draining out of Chamber 1 the vacuum pump kicks back into action and starts collecting debris into Chamber 2. When this is full the cycle repeats itself.
Aside from the dual chamber system, which works like a dream and is a fantastic timesaver.
I also like:
It has a suction depth of 7.8 feet – unparalleled in consumer grade pond vacuums
Very well designed and built – uses aluminium extension tubes which will stand the test of time and allow you to exert more pressure, and it has a VERY powerful motor
This thing is very easy to clean. After testing it for 30 minutes I looked inside to see what kind of a mess needed to be dealt with and I was surprised to see the chambers were almost perfectly clean whilst the filters just had a small amount of algae on them.
This comes with five very handy nozzles that will work on the sludge at the bottom of your pond, the algae on the surface, larger stones that might surround your pond or just the leaves and petals that fall in.
It has a handle, nice rollers and everything stores together neatly on the unit itself.
Be warned:
One thing that doesn't create a good first impression is the instructions that come with this. Most notably they don't mention how it works, so if you are using this for the first time the pause between the chamber switch might lead you to think something has gone wrong.
The discharge hose has no twist lock or clip lock to connect it to the tank either. It could do with some kind of locking tab to keep it securely attached as it very occasionally works itself loose.
In short:
Yes this is a bit more expensive, but wow is it worth it! It is sturdy and you can tell it is incredibly well made and will last, it is quiet, but most importantly it works and it works faultlessly.
You want a pond vacuum cleaner – look no further.
---
MY RATING: 95%
---
---
Highly Recommended Pond Vacuum Cleaners
---
#1 Pondleader Professional
---
BEST FOR…
Those looking for something easy to use and reliable.
---
The Pondleader Professional is a nice pond vacuum that scores high marks as it is particularly easy to use and works reliably well.
So here we go:
It powered by a 1400 watt motor and has a 27 litre holding tank. It comes with four suction nozzles – these are a crevice nozzle, an algae nozzle, a flat nozzle with rubber lip and a special sludge nozzle that is variable from 2mm to 10mm.
In contrast to many pond vacuums:
This has a shut off/discharge feature that works differenetly. It doesn't have dual chambers and it doesn't shut off after a specific time. Instead it automatically shuts off when the the holding tank is full, drains the water and then starts back up again.
It works really well and drains the water off swiftly and efficiently. A sponge filter sits inside that cleans off algae and silt and you can use the resulting water to feed back into your garden. There is no pump inside the holding tank – it works using a gravity discharge.
Beyond that:
Also the 1400 watt motor is powerful and you get good suction and the hoses are really long so you have plenty of maneuverability when cleaning your pond.
It has a nice clear tube that shows you the dirt and the muck you are clearing up and it is pretty quiet considering the power you get. You also get a nice, and effective, variety of cleaning head options.
Beware:
On the downside you do have to wait a little while when it cycles between on and off (ie emptying the water), but it isn't that bad.
The discharge bag is reasonably small too, but the vacuum does do a good job of keeping the muck under control
In essence:
It works undeniably well though – it easily picks up leaves and other debris, has lots of suction, is easy to use and the intelligent device control that automatically empties the tank when it is full works really well.
Any gripes are minor and all in all this does a good job.
---
MY RATING: 93%
---
---
#2 OASE Pondovac 5
---
BEST FOR…
Those wanting great suction power.
---
The Pondovac 5 is the latest in the OASE line of impressive pond vacuum cleaners with an improved spec on the Pondovac 4.

Let's dig a little deeper:

This has an 1800W motor and a suction depth of 7.5ft, delivering a maximum suction flow rate of 2100GPH.

The suction hose is 16 feet long and the discharge hose is 32.8 feet long. It weighs 53.6lbs and comes with a two-year warranty.

So the good news is:

OASE have made some upgrades to this that will really benefit you if you have a larger pond you want to keep in great shape.

For instance a redesigned integrated waste discharge pump means this is now able to pump waste water uphill – rather than relying on a gravity discharge as you would have to with previous models.

It also has the biggest suction depth yet of a Pondovac – 7.5 feet and a huge discharge hose length – 32.8 feet.

I also like:

This two chamber design will run continuously if you have the discharge hose in a drain or back into the pond (obviously catching debris in a bag) – so you spend no time emptying the wastewater tank.
This has a huge amount of suction power – certainly more than any Pondovac yet.
It has a translucent pipe, which is a great idea as it allows you to see if the water you are transferring is dirty or clean.
The wheels are also slightly larger at six inches – making it easier to move around your yard.
The four nozzle heads it comes with are great quality and suitable for every kind of job you would need to carry out in or around your pond.
Of course it isn't perfect:

Firstly the extensions tubes don't physically lock into place – the fit securely together, but it would be nice to have a release button on them for extra security when you fit them together.

Also whilst this is a step-up quality wise, it is also a step-up price wise – you will need to determine whether the significant extra cost is worth the benefits this provides.

All-in-all:

This will deal easily with a 4,000 gallon pond upwards. The design is solid and the performance top class with the upgrades made by Pondovac really shining through.

---
MY RATING: 92%
---
---
#3 OASE PondoVac Classic
---
BEST FOR…
Those looking for a time saving and powerful pool vacuum.
---
OASE are probably the leading name when it comes to pond vacuum cleaners and the OASE PondoVac Classic, despite being a few years old now and their original design, takes some beating!
Right let's go:
It has a 1400 watt motor and a suction depth of 6 feet. The hose itself is 13 feet long, the same length as the power cable and it comes with a two year warranty.
If you have a smaller or medium sized pond this will easily clear the debris of a pond floor that is at least 3.5 feet deep. It achieves excellent suction and will swallow up stubborn items without a problem.
Why is this so?
A lot this is down to clever design and the powerful 1400 watt motor. It gives a really good flow rate, and the gunk and dirty water simply flies from the pond floor.
It operates with a single chamber system – so this alternates between sucking and draining. It sucks up a lot of debris for about 15 to 20 seconds and then switches to discharging – which takes around 25 to 30 seconds.
It does this automatically utilising intelligent smart technology to work out when the bag is full.
Also look at this:
You get good reach from the hoses. As long as your pond isn't too large you can probably do most of your work from one spot
It has a nice design – it is compact and has a built in handle so it can easily be transported
It comes with four suction nozzles – the variable sized nozzle in particular is really useful as you can adjust it to suit the size of pebbles you have in your pond
It has a clear extension tube (1.6 feet long) so you can easily see all the sludge you are draining from your pond
Lots of other nice features – plug connections are easy, nice solid on/off switch that is illuminated and the motor unit flips open without any hassle.
A word of caution:
It is let down a bit by the bag – the mesh bag does allow silt to filter through back into the pond and this design could be improved.
As I mentioned before it cycles between around 15 to 20 sections sucking and then 25 to 30 seconds discharging, so if you have a large pond it might take longer to clean.
All in all:
It does do a really good job and is probably the best pond cleaner in its price range. If you want to spend a little more and benefit from dual chamber cleaners you can try the PondoVac 3, 4 or 5.
But if you can be patient or don't have a huge pond – then this thing will be perfect for you!
---
MY RATING: 91%
---
---
#4 Matala Power Cyclone
---
BEST FOR…
Those with large ponds looking for great power.
---
The Matala Power-Cyclone is particularly well named as this thing is incredibly strong and designed to contractor level and for large ponds in particular.
Ok let's begin:
It has a 1200 watt motor and a 13 gallon (50 litre) holding tank. It has a 32 feet exhaust hose and a secondary exhaust hose of the same length that can be added to the first to give you over 60 feet of working distance.
It has a suction flow rate of 1500 gph and weighs 70 lbs.
Here is the point:
To say this is powerful would be an understatement. It has two pumps (one for suction and one for discharge) so it works continuously without interruption.
The motors are really strong – in fact the internal discharge motor is 1hp and can discharge your dirty water up to 18 feet in elevation!
Basically water and debris is vacuumed into the holding tank, where large solids are collected into a pre-filter bag. The dirty water is then pumped out by the discharge motor.
What else do I like?
The hoses are flexible and VERY long – so you can easily move all around your yard with this.
It is well built and made of quality material – it really feels like it will last
It comes with numerous attachments and brushes
It works so smoothly, the way it sucks up debris and the way the tank empties without you even realising – it is a quality design
If you have a large pond this is probably the only option available to consumers that will effectively clean it
Warning:
Because of the extreme power and control you get with this it is expensive – but you do have to remember this is a contractor grade piece of kit.
The only other fault I can find really is the fact that due to the power of this, the motor can only run for 5 to 7 minutes before it needs to be turned off to allow the pump to cool. You can get a lot done in those 5 to 7 minutes though!
In all:
This is a beast of a machine – very strong, very well built, very effective and very good!
---
MY RATING: 90%
---
---
#5 OASE PondoVac 3
---
BEST FOR…
Those looking for a time saving and powerful pond vacuum
---
OASE step up their game by taking the PondoVac Classic up a notch and coming up with the PondoVac 3 – quicker, faster and even more efficient.
Let's get this show on the road:
This has a 1600 watt motor and a maximum suction depth of 7 feet. The power cable is 13 feet long and the suction hose is 16 feet long. It has a two year warranty.
So what is going on?
The PondoVac 3 is the first example of OASE using their patented two chamber system. This basically means two cylinders (of the same size) are filled and emptied in alternating cycles.
So unlike a lot of other pond vacuums on the market the PondoVac 3 will continuously operate. If you value your time this has a huge effect – literally cutting the time it takes you to clean your pond in half. This is a big step up on the PondoVac Classic.
Again the suction power on this is excellent and it clears up even more debris than the PondoVac Classic with a maximum suction depth of almost 7 feet (2.1metres). It is very strong indeed.
What else is there?
It is really easy to move – with two built in wheels and an adjustable, folding, handle. All the parts store neatly and efficiently onto the unit as well.
Talking of which you get four solid and nicely designed nozzles – a crevice tool, a wide nozzle, a string algae nozzle and an adjustable floor nozzle. They all serve a purpose and do their intended jobs really well
It has two filters that are really easy to clean – in fact the whole vacuum is simple to keep clean
Again this has a clear tube so you can see all the grime you are pumping out of your water
This will probably save you on pond filters too – it will keep your pond so clean the pond filters will need replacing less often.
But first a warning or two:
One thing I would like to have seen would be the discharge hose being made longer. A lot of the spec has been stepped up from the Classic but this hasn't.
Also the latches on the PondoVac 3 are plastic and probably more prone to breaking. It is a shame these have not been upgraded to metal.
In truth:
I love this! The two chamber system is tremendous and works flawlessly, saving you so much time and there is a lot of power. It is hard to think how this could be improved (Scroll up to the PondoVac 4 and Pondovac 5!)
---
MY RATING: 88%
---
---
Other Good Pond Vacuum Cleaners
---
#1 Python Ulti-Vac
---
BEST FOR…
Those looking for a cut price option.
---
Of all the low cost options out there when it comes to cleaning your pond the Python Ulti-Vac is probably the best.
Let's get down to it:
It is simply a 13 foot discharge hose with a connector and a pump and a filter tube and cap. Then there is also a body tube with a collar and four foot cleaning tube. It has a removable waste chamber and gasket.
This works by using strong water pressure from your garden hose. Hook it up to your hose and set the adapter to 'fill' and turn on the water.
So this is how it works:
When water starts coming out of the Ulti-Vac, leave it running and switch the adapter from 'fill' to 'drain'. A vacuum will start in the tube and drain your pond of sludge.
This is pretty simple to use and attaches easily to a garden hose. You also have a lot of control as the flow rate is quite low and the handles are surprisingly well designed.
What is more:
The vacuum tube is completely clear, so you can see everything that comes out of it. Also you can effectively leave this in your pond and go about your business whilst it works its magic.
As mentioned it is a great product for the price.
But remember this:
The removable waste chamber is very small and doesn't hold much.
More importantly this is dependent upon you having good water pressure, if you do it will work fine, if you don't then it will be a waste of money.
Let's recap:
If you are looking for a low cost solution and have good water pressure, then this is worth a try. Otherwise I'd advise spending a little more and going for the OASE Pondovac Classic.
---
MY RATING: 83%
---
---
#2 Pro Aquatics 1400
---
BEST FOR…
Those looking for a good selection of nozzles and attachments.
---
Another reasonable option is this Pro Aquatics 1400 Watt Pond Cleaner. Whilst it lacks the finesse and efficiency of some competing brands it does a reasonable job.
Let's jump right in:
It comes with a 13 foot suction hose and wand extensions that help it to reach spots up to six inches deep. It also comes with a 14 foot power cord and weighs 12 lbs. The tank capacity is around 7 gallons.
In short:
This works adequately well, and operates using a single chamber system that alternates between suction and discharge.
It also comes with a whole host of nozzles and attachments which give you a lot of flexibility in tailoring the job to your needs by finding the right nozzle, etc. They are easy to attach and remove and will come in handy.
Moreover:
The hose and wand extensions are pretty long and allow you to reach difficult parts of your pond and give you a good amount of portability if your pond is right at the other end of your garden.
You also have two discharge options – you can use the collector bag to sieve water to return to the pond or simply feed garden plants with the nutrient rich water.
Remember:
The collector bag is not that easy to empty, and you will inevitably end of tipping a load of water out over yourself rather than your intended target!
Also this does remove quite a lot of muck, but it is slow, it takes an eternity for the motor to cycle between suction and discharge.
Let's rewind and:
There is nothing over offensive about this. It does the job it sets out to quite well, but it just doesn't quite match up to its rival machines made by Matala or OASE. Still a good try.
---
MY RATING: 80%
---
---
#3 Matala Pond Vacuum II Muck Vac
---
---
The contrast between this, the Matala Pond Vacuum II Muck Vac, and the Matala Power-Cyclone, the other Matala product on the list is quite marked. The Power-Cyclone works really well, whereas this is a bit more of a hit and miss affair.
Let's dive in:
It has a 1.5 hp motor and a holding tank with a 4.5 gallon capacity. It comes with five extension tubes that are 15 inches long each and can reach a depth of up to six feet. The suction hose is 16 feet long and the discharge hose is 8 feet long.
Reality is:
This isn't a bad machine. The 1.5HP motor is energy efficient and made with German components, which means only one thing – it is high quality. The pump is strong too as a result.
It is also quite powerful and does a good job of getting rid of sludge, algae, leaves, dead plants and even small pebbles.
It has a nice mesh bag that does a good job of capturing coarse debris and comes with three different attachments.
It isn't too large and you can get to reasonable depths thanks to the extension tubes this comes with.
However:
It does not have a dual chamber system. Now this isn't the worst thing in the world if the single chamber works well, but it is a bit of a disappointment.
It works with an auto fill and drain cycle. So it will vacuum water up for around 40 seconds and then drain out for 20 seconds.
It shuts off automatically when the collection tank is full, but then only empties for a set amount of time and then stops so you can continue vacuuming.
This means:
Sometimes the collection tank hasn't always emptied fully when it stops, giving you only a short time vacuuming before it stops again, which is a little annoying.
Also the vacuum tube is a little narrow and clogs up on leaves fairly easily and has a tendency to come off too easily.
It also only operates well if the actual piece of machinery is at least a foot above the output level otherwise it is very sluggish.
To sum up:
It is works ok, but could be better.
---
MY RATING: 78%
---
---
Other Options
---
#1 Laguna Vacuum Kit
---
---
It is hard to be too harsh on the Laguna Vacuum Kit as it really is very cheap – far and away the cheapest option of everything listed here and to be fair even if it doesn't work for you you won't have lost out on much by giving it a try.
Let me explain how it works:
Quite simply you attach it to a garden hose turn the water on and then switch the valve to create a vacuum so you can use this to drain sludge from your pond.
It comes with a power vacuum attachment that collects dirt and debris and a brush attachment for scrubbing and cleaning. It also comes with a filter bag and extension pole.
What's more:
The filter bag is pretty good quality and this also comes with an adaptor so you can attach it to any garden hose system.
Also the brush attachment works surprisingly well to clear dirt or light build up from the sides of your pond.
Unfortunately the vacuum is underpowered and even though it is evidently designed for shallow pool there is an issue where the filter bag is attached too close to the vacuum.
This means:
In order to keep it completely submerged you need to hold it at an awkward angle.
It also means muck gets caught in the outside of the net rather than in it!
Additionally it is made of cheap plastic material and is flimsy and really won't last long. But it is ultra budget priced so that shouldn't be a surprise.
In a nutshell:
Overall I'd spend a bit more and get something that works a lot better.
---
MY RATING: 73%
---
---
#2 ODYSSEY Muck-Vac
---
---
The ODYSSEY Muck-Vac Vacuum is ok, but really pales into insignificance compared to some of the other options on this list.
Digging a bit deeper:
It is another device that works by using the water pressure from a standard garden hose to create a suction and vacuum up debris from your pond.
It is simply vacuumed up the telescopic pole and then out of the 10 foot discharge hose. This does not come with a filter bag or any tool to collect the water or debris in.
You get the Muck Vac power head, a vac head and brush, a vacuum hose and a vacuum hose adapter.
The fact of the matter is:
It is undeniably easy to assemble and pretty lightweight and easy to move around. It operates quite smoothly, but aside from these plus points there is not much to write home about.
The first thing you will notice is that the connection points are really poor. The discharge hose comes out far too easily and it is very annoying.
Not only that:
You need good water pressure for this to work (50 psi – standard household pressure) and even then the suction power is poor. It seems inefficient in its operation, using a lot of water for very little vacuuming.
The hose is also short at 10 feet in comparison to its competitors.
All in all:
It struggles with the basics so I'd advise you avoid this and scroll back to the top of the list!
---
MY RATING: 64%
---
---
Summary
---
Best Small Pond Vacuum
To be honest I could choose any of the OASE models here, but for price and original design the OASE PondoVac Classic takes some beating. What is more it is very reasonably priced.
Best Large Pond Vacuum
The Matala Power-Cyclone is an incredibly strong, contractor level pond vacuum. hugely powerful and very well built, if you have a large pond this is what you want.
Best OASE Pond Vacuum
OASE are the King's of pond vacuums, and the jewel in their crown is the OASE PondoVac4. A great two chamber design, unmatched suction depth and beautiful ease of use – it is the best pond vacuum around.
---
I hope you have found this rundown of some of the best pond vacuum cleaners of use.
If you do have any questions or are uncertain about anything please feel free to drop me an email and I will do my best to help you.
Remember if you don't have a pond now, they are pretty easy to build and then, if you get a pond vacuum, they are straightforward to maintain.
Keeping your pond clean throughout the seasons will require a bit of attention – you make sure you want to keep the water clear and don't let it get murky!
Don't forget you can also check out my Reviews Section for individual product reviews. Or you can visit my Site Index for everything on my site on one page.
Enjoy!
Useful Resources