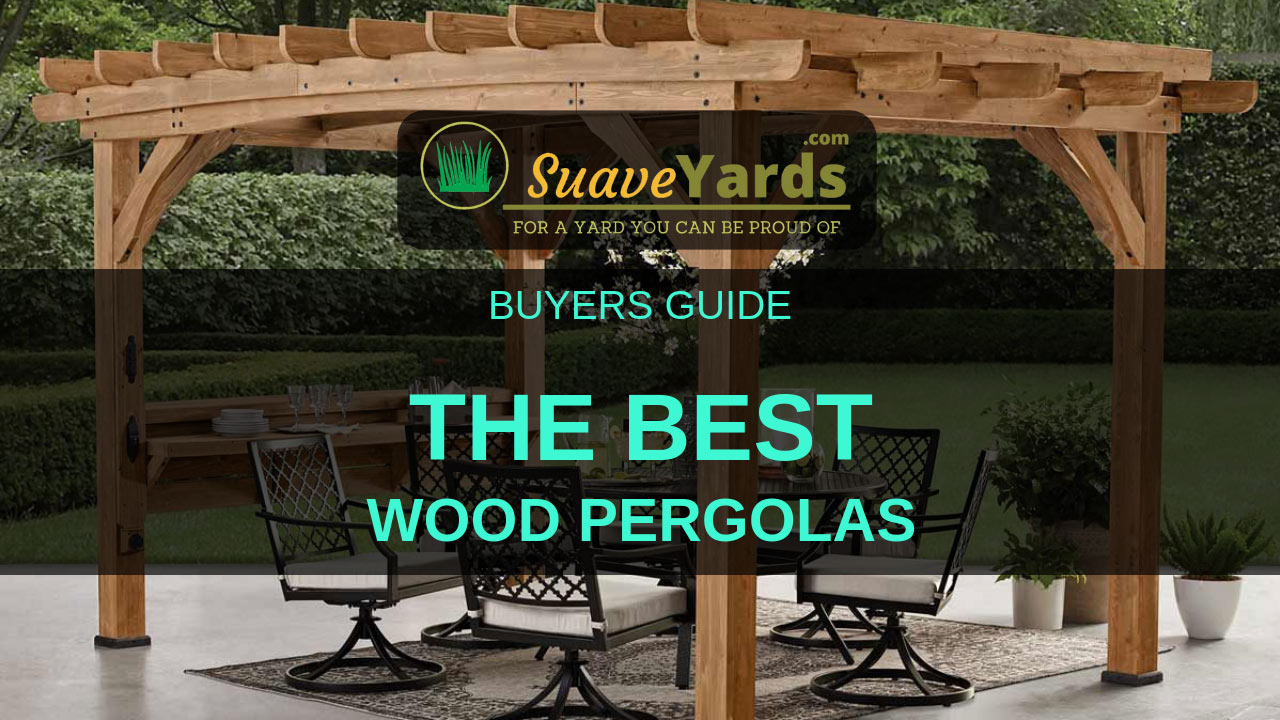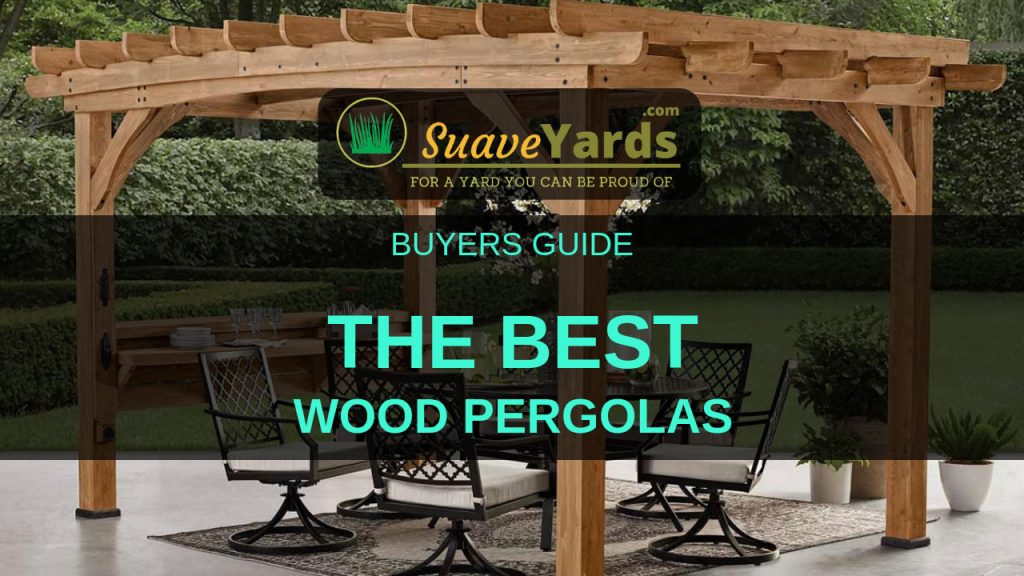 Wooden pergolas are timeless structures that will add a touch of class to any backyard.
They can add style, shade and comfort and if you make the right choice you can get all of this at a reasonable price.
Without further ado lets take a look at the best wood pergolas of 2023.
>>> I know about pergolas already, jump me straight to the reviews <<<
Best Wood Pergola 2023
The Suncast 10 x 12 wood pergola offers fantastic value for money. It is weather-resistant, looks fantastic and has a lovely open design. It is pretty easy to put together and comes with a 10-year warranty. Other good options include the Kozyard Atlantics Pergola, Backyard Discovery Cedar Pergola and the Yardistry Madison Pergola.
---
At A Glance List
---
Below is a quick view of my favorite wood pergolas of the year (along with one metal pergola and a couple of arbors).
To find out more about them click on the link to take you to the full review.
Name
Size (ft)
Rating
#1 – Suncast Pergola


>>> BEST FOR:

♦ Best Buy ♦
12 x 10
92%

Read Review
#2 – Kozyard Atlantics Pergola


>>> BEST FOR:

Canopy
13 x 10
91%

Read Review
#3 – Backyard Discovery Cedar Pergola


>>> BEST FOR:

Elegance
12 x 10
90%

Read Review
#4 – Yardistry Madison Pergola


>>> BEST FOR:

Versatility
12 x 12
89%

Read Review
Some alternative ideas (a metal pergola and two arbors):
Name
Size (ft)
Rating
#1 – Sunjoy Naples Metal Pergola


>>> BEST FOR:

Metal Pergola
10 x 8
90%

Read Review
#2 – Dura-Trel Providence Arbor


>>> BEST FOR:

Plants
7 x 5.3
93%

Read Review
#3 – Giantex Arbor


>>> BEST FOR:

Simplicity
7 x 5.3
89%

Read Review
Pergolas are a pretty easy and relatively low cost way to enhance your backyard.
The kicker is:
They give you the best of both worlds, a way to retain privacy and add shade, and you can make the most of them in the summer and, if you add a canopy, even when the weather might not be great.
But before you go ahead and buy a pergola there are a few things you will need to consider.
So without further ado let's dive in:
---
What To Consider When You Buy A Pergola
---
Ok so in this article I have selected the best wood pergolas (although I have offered one metal alternative) as it is the most traditional choice, however there are other options so lets start there:
The Material
As I mentioned wood is the most traditional choice. You also have an element of variety as different woods will have different colors and different looks. You might need to reseal or stain them, but you will never have to worry about rusting.
Now if you don't want wood you could consider a metal pergola. Metal pergolas are usually very sturdy and often easier to put together – however of course you do have the problem of rust…
Vinyl is easy to clean and pretty maintenance free – but lacks the elegant look you would get with a wood pergola and the strength and durability of a metal pergola.
Finally plastic is often a cheaper alternative, and you don't have rust or splintering to worry about. However again it won't look as sophisticated as a wooden pergola.
Size Matters
This is pretty self explanatory – the size of your yard will govern the size pergola you can get. Try and scale your pergola to the rest of your yard, if you have a reasonably small yard you don't want a huge pergola that dominates it.
You will also want a flat open space to erect it.
Define Your Style
Again style is a personal choice. There are a whole range of styles of pergola – from the traditional post and beam style pergolas to lattice panel roofed pergolas – they come in all shapes and sizes and what you choose will be down to your tastes.
Don't Get Left In The Shade
Unless you want to of course! Different pergolas will have different roofs offering differing degrees of shade. This is something you will need to think about.
You can of course add things like a fabric roof and lanterns to your pergola to give it that extra touch and if you want to enjoy it at all times.
Keep On The Right Side Of The Law
Before you start doing any of this check with your local council/city hall to make sure there are no issues with what you have planned and that you don't need any planning permissions.
---
Pergolas, Arbors and Gazebos – What Is The Difference?
---
Arbors are similar but not the same as pergolas. First of all they are generally much smaller and second of all they are commonly used as a gateway or entry point into a garden or a part of a garden.
They can be used to give shade to smaller areas or just to grow plants or vines on their lattice framework.
However:
Gazebos on the other hand are structures with a solid roof and are normally octagon or oval in shape. They are very sturdy and often have a raised floor and built in seating. They are more permanent buildings.
Finally:
Pergolas are much bigger structures than arbors but lack the permanent roof and stability you might get with a gazebo. Falling somewhere between an arbor and a gazebo (although nearer on the spectrum to a gazebo).
Often they will be the same size as, if not bigger than, a gazebo and will have a lattice style roof that you can add a fabric cover to to give you shade and protect you from rain.
The video below shows some creative pergola ideas you could implement in your yard…
---
Editor's Note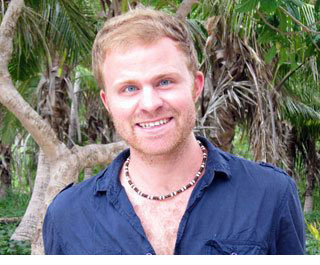 I hope you love the products that I recommend here! Just so you know, I work with Amazon and other affiliate partners and may be compensated from the links below.
---

List of the Best Wood Pergolas

For 2023

---
#1 Suncast 10 x 12 Pergola
---
BEST FOR…
Those wanting terrific value for money.
Product Spec
Overall Size (feet) – 10 H x 10 H x 12 D

Interior Space (feet) – 8 H x 8 W x 10 D
Inside Pergola Height – 85 inches
Overall Product Weight – 346 lbs
Ten Year Warranty
PRICE GUIDE: $$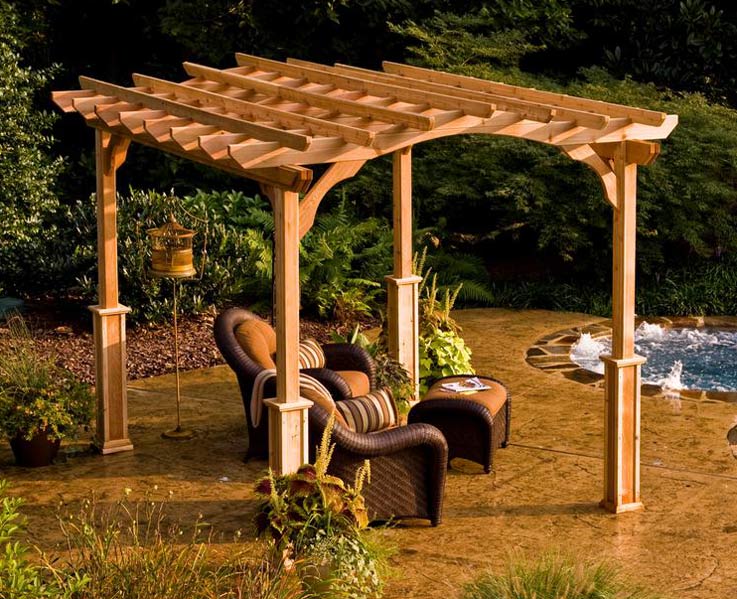 ---
Now this Suncast 10 feet x 12 feet pergola is not the cheapest wood pergola around, but in terms of what you get it may well be the best value for money.
So let's get busy:
This measures 10 feet long by 10 feet wide by 12 feet high overall. The interior space measures 8 feet by 8 feet by 10 feet – the overall product weight is 346 lbs. It is made of Cedar and comes with a ten year warranty.
No doubt about it:
Pergolas can be expensive. If you are looking to get yourself the best wood pergola on the market then the truth is you are going to have fork out a lot of money.
Now I am not claiming this is the best wood pergola, BUT at the price point for the size and quality it is fantastic.
But not just that:
This is made from a Chinese Fir that looks like North American Cedar. It has fantastic resistance to weather and has a elegant knotted look that will add value to any yard.

The design is spot on. The arched roof lets in natural light and it stains really well. It is strong but not too bulky.

Assembly is good. All hardware is included, along with brackets, the instructions are clear and easy to follow and all the holes are pre-drilled and at the right height.

It is stable, durable and should withstand pretty harsh weather.

You get a great ten-year warranty – a sign of the confidence of the manufacturer in it and rightly so.
Be aware:
There are a couple of small issues that could be ironed out. The posts could be made slightly longer so they could be set in the ground into concrete.
Also the one area aesthetically that could be improved is where the main support poles meet the decorative caps towards the base. There is a gap that looks a little out of keeping with the rest of the design so you might want to invest in some trim to cover it up.
All things considered:
This is a wonderful investment. It offers great value for money, is sturdy and made of nice wood and is easy to assemble.
It looks and feels like a pergola twice the price – it is great!
---
MY RATING: 92%
---
Pros
Great value
Nice wood
Quality design
Easy to assemble
Ten year warranty
Cons
Option to cement poles in would be good
Slight aesthetic issue with support poles


---
#2 Kozyard Atlantics 13 x 10 Pergola
---
BEST FOR…
Those wanting a quality canopy top that is easy to open and close.
Product Spec
Overall Size (feet) – 7.9 H x 13 W x 9.6 D
Footprint (feet) – 8 x 11.5
Inside Pergola Height – 7.9 feet
Weight – 106 lbs
One Year Warranty
PRICE GUIDE: $$
---
Its easy close canopy gives this Kozyard Atlantics Pergola a bit of an advantage over some of the other pergolas on the market.
But before we get into that:
This pergola measures 13 feet x 10 feet and comes with a UV and fire resistant canopy. The actual headroom under the pergola is 7'9". It weighs 106 lbs and has a one year warranty.
So I've already told you the secret sauce right?
Yep it is the canopy! It is strong, lightweight and whilst it isn't waterproof it is nicely water repellent. But with a bit of waterproofing spray you could make it totally waterproof.
It is easy to open and close, offers you total shade and fits in nicely with the overall design. It stretches nicely and doesn't feel like it will tear or fray – it just feels really good quality.
Even more than that:
It is quite a unusual and unique design as far as pergolas go with the aluminium frame and canopy, but it has a timeless look.

With the aluminium frame it is very sturdy and durable and should withstand high winds quite easily.

And on the same lines you can feel from the strength of the frame this is a heavy, well built pergola that will last.

Pergolas can sometimes be a real pain to set up. This one isn't, thanks to the intelligent, fuss free design two of you could have this up in a couple of hours.

You have a nice large area in the pergola to relax and put furniture etc.
On the downside:
It is heavy – obviously this makes it sturdy, but you will need to have a bit of strength to get it set up quickly.
As mentioned the canopy top is great, but it isn't waterproof – you can waterproof it yourself but it is a bit of a pain.
All in all:
This is a rather unusual, but good looking pergola – I love the quality canopy and it is so easy to drape it across the top when the sun is beating down.
The price is reasonable, it is easy to put and it will withstand some serious winds – what more could you ask for?
---
MY RATING: 91%
---
Pros
Great and easy to use canopy
Unusual but stunning look
Sturdy aluminium frame
Built to last
Easy to set up
Cons
Is heavy to transport
Canopy is water repellent not waterproof


---
#3 Backyard Discovery Cedar Pergola 12 x 10
---
BEST FOR…
Those wanting an elegant looking pergola.
Product Spec
Overall Size (feet) – 12 W x 10 D x 7″10 H
Interior Space (feet) – 7 x 9
Headroom (feet) – 6'7″
Weight – 383 lbs
One Year Warranty
PRICE GUIDE: $$
---
A sturdy and elegant item, the Backyard Discovery Cedar Pergola will look good in any backyard.
Let's take a closer look:
The pergola in total measures 12 feet wide by 10 feet deep by 7 feet 10 inches high. The actual headroom under the pergola is 6'7".
Measuring from post to post the dimensions inside are 7 feet by 9 feet. It weighs 383 lbs and comes with a one year defect warranty and a five year warranty on the wood for rot and decay. Note the wood is stained, but it isn't sealed.
The cool thing is:
This pergola has a really nice criss-cross style design that has the dual benefits of looking good, and also providing a strong and stable structure that should withstand inclement weather.
Aesthetically it will suit most yards and the lattice style design means you can easily hang a blind, lights or grow vines and roses on the body of the pergola.
In addition to that:
I like the cleverly designed foot covers that hide the anchors that stabilise the pergola and keep it secured to the ground.

With 63 feet of interior space – you have a good amount of room to relax and fit furniture in.

The wood is nicely sealed with a light coating of varnish.

The wood is Chinese Cedar (which does have its downsides – see below) – but it is light and easy to transport, which aids with getting it set up.

Even if you don't add blinds or some kind of covering this pergola provides a good amount of shade.
But:
As alluded to above the wood is Chinese Cedar, whilst this means it is lighter and easier to transport, it definitely isn't as sold as normal Red Cedar. It still feels sturdy, so I don't think it is too much of a concern.
And the nuts and bolts that come with this could be better. Some of them feel like they are made of poor quality steel, and you have to be careful when you are putting it together as you can quite easily damage the threads.
To cut a long story short:
With a beautiful look and clever design this is definitely one of the best wood pergolas around and will perfectly suit most backyards.
It will give you plenty of space to relax and you can easily beautify it more with lights, plants and all kind of extra things.
---
MY RATING: 90%
---
Pros
Nice criss-cross design
Feels sturdy
Foot covers are clever and keep it secure
Nice amount of space
Easy to add blinds, lights, plants, etc
Cons
Wood is Chinese Cedar
Some of the nuts and bolts could be better


---
#4 Yardistry Madison Pergola
---
BEST FOR…
Those looking for a versatile pergola where you can relax, dine, and drink.
Product Spec
Overall size (inches) – 168 L x 120 W x 98 H
Interior space (feet) – 11'6.5" x 7'6.5
Weight – 547 lbs
One-year warranty (with five-year warranty for lumber)
PRICE GUIDE: $$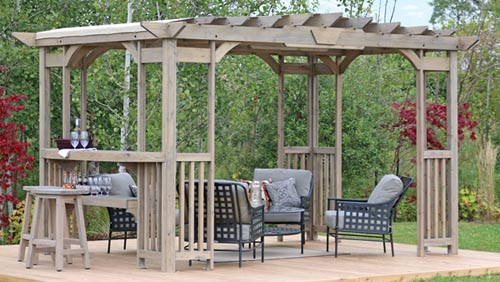 ---
Fresh air is necessary, so extend your living space with the Yardistry Madison Pergola. I say extend because that is exactly what happens when you purchase this product.
It's large enough to be your living or dining area outside the house.
I'm guessing you want to know more
The overall dimensions are 14 by 10 by 8.2 feet. The base dimensions are 12 by 8 feet. Finally, the interior dimensions are 11.6 by 7.6 feet.
Based on those dimensions, you know that this pergola is quite roomy.
That is to say
You could put a couch within the interior or an outdoor dining set, if that's what you want. Whether you prefer an outdoor living area or an outdoor dining area, just make sure to bring the drinks, too.
That's because there is an integrated bar in this pergola. There's a shelf too. Or if nobody drinks at home, it could just be where you can place your mini-buffet of food.
There are so many things you can do in this portable patio–if you may.
Furthermore
This is made with 100% natural cedar lumber with a gray stain timber finish.
It comes with a sunshade, which also doubles as rain protection. It is a snap-on that you can put on or remove anytime you want.
It's a modern design that will certainly upgrade your outdoor area.
Premium design with wooden balustrades.
Perfect place to relax with family and friends.
Worried about putting it up?
No worries. There is a helpful installation video that you can follow in order to put this thing up.
Although
You are going to need to be a bit handy if you want to put this up yourself. There will be a bit of drilling needed. The issue here is if the person is not quite good with the tool, the wood might crack.
It would have been more convenient if the necessary holes have been pre-drilled. Hopefully, Yardistry will update its new products.
To conclude
This is a beautiful pergola that is spacious. Once you have this installed, you may no longer want to leave the space where you can relax and have a drink or two.
---
MY RATING: 89%
---
Pros
Spacious
Versatile
Comes with a bar / shelf
Beautiful design
Features installation video for easy assembly
Cons
Holes are not pre-drilled



And A Good Metal Pergola…

---
#1 Sunjoy Naples 10 x 8 Pergola
---
BEST FOR…
Those who want a metal pergola.
Product Spec
Overall Size (feet) – 10 L x 8 W x 7 H
Canopy – Textilene Canvas Fabric
Weight – 135 lbs
One Year Warranty
PRICE GUIDE: $
---
If you are in two minds over getting a wood pergola than the Sunjoy Large Naples Pergola is a wonderful alternative with its nice sturdy, steel frame.
But first:
This measures 10 feet by 8 feet and comes with a retractable sling fabric top. Each leg has four holes on the base where you can anchor it down. It comes with a 12-month warranty.
Here's the deal:
This comes with a sling roof you can pull back and pull across and the roof is extremely high quality. The fabric is really thick and heavy weight.
It is also made of a textilene fabric – almost like a plastic mesh coated material that repels water really well, whilst at the same time allowing wind to pass through to retain the utmost stability even in more extreme conditions.
Beyond that:
The 'roof' is extremely easy to open and close – you literally slide it back and forward in seconds – it is a nice and intelligent design.

The steel frame has a rust-resistant, powder coated finish that should ensure it lasts for years to come.

You can easily add extras to this – for instance a roller blind on the shorted end of the frame – without interfering with the roof canopy.

The colors are really nice – the frame has a matte black finish and the canopy is a nice shade of grey, so the whole things looks really pleasant.

For a pergola this size it is fairly easy to assemble.
But be aware:
There are issues with the top trim moulding on each post acts almost like a cup, retaining rain, which won't drain unless you manually clear it out – you will need to keep an eye on this otherwise it might rust.
Again, and I am not sure what it is with pergolas, but the instructions are really poor – the drawings are bad and some of the directions are very vague at best, again it is lucky that this is fairly intuitive to put together.
In a nutshell:
This is a nice pergola, and if you don't want a wood pergola then this is a really good choice. It is solid and durable and the roof canopy is absolutely top class – as good as you will get on any pergola, and incredibly easy to open and close.
---
MY RATING: 90%
---
Pros
Fantastic roof canopy
Steel frame should last
Great colors and overall look
Easy to assemble
Easy to add extras such as a side blind
Cons
Water can accumulate in trim mouldings
Instructions are poor



And Two Good Arbors…

---
#1 Dura-Trel 11178 Providence Arbor
---
BEST FOR…
Those wanting an arbor that can support a lot of plants.
Product Spec
Outside Dimensions (inches) – 64 W x 85 H x 28 D
Inside Dimensions (inches) – 42 W x 78 H x 22 D
Post Dimensions (inches) – 2 x 2
Weight – 32 lbs
20 Year Warranty
PRICE GUIDE: $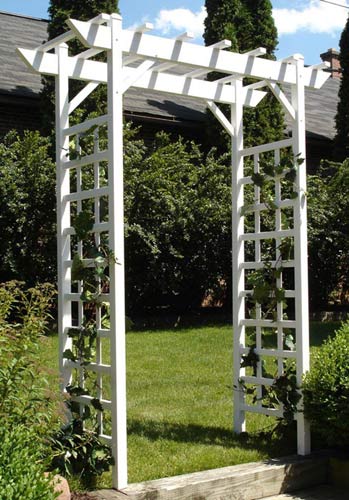 This Dura-Trel Arbor is one of my favorites – it looks very striking and would act as a wonderful decorative piece in any garden.
But before we get into that:
The inside measurements of this are 42 inches wide x 78 inches high x 22 inches deep. Outside dimensions are 64 inches wide x 85 inches high x 28 inches deep.
The posts are 2 inches by 2 inches in size and it has a pergola style top. It comes with a 20 year warranty.
The truth is:
If a pergola will be too big, but you want something beautiful looking that will support fairly heavy plants, vines and/or fruit you can't go wrong with this arbor.
The 2 inch square posts are very sturdy and it is made with PVC vinyl – all in all this is one solid, heavy duty arbor – perfect for brightening up your yard.
It doesn't stop there:
As mentioned this is made of PVC vinyl – high quality PVC vinyl and boy does it feel like it is built to last – it really should withstand even the harshest of conditions.

And you can tell how much confidence the manufacturers have as this has an amazing 20 year warranty!

To top it all off this comes with 16 inch, high quality, anchors, to stake this into the ground. Even in the strongest winds it will prevent it from moving.

It really does look beautiful – it looks like a very high quality piece of manufacturing

But, taking everything into consideration, it is really well priced! Considering the quality and the 20 year warranty I think the value is hard to beat.
That isn't to say this is perfect:
Being picky I don't like the white screws which are not that attractive when you look at the arbor close up and it comes with super glue to glue parts of it together.
Also the instructions are terrible. A couple of paragraphs and a few not very helpful photos. Luckily it isn't too hard to work out how to put it together yourself.
But to sum up:
This is a wonderful arbor for growing plants on as it is so sturdy and well built it can support a lot. To top it off it looks wonderful and will last you – I mean it comes with a 20 year warranty, that is pretty unheard of!
---
MY RATING: 93%
---
Pros
Will support heavy duty plants, vines and fruit
Built to last
20 year warranty
Looks fantastic
Great price
Cons
Screws could be better quality
Assembly instructions are very poor


---
#2 Giantex Wood Arbor
---
BEST FOR…
Those wanting a simple but elegant arbor.
Product Spec
Outside Dimensions (inches) – 63 W x 86 H x 23.6 D
Lattice Side Panel Width (inches) – 18
Distance Between Side Panels (inches) – 51.5
Weight – 32 lbs
One Year Warranty
PRICE GUIDE: $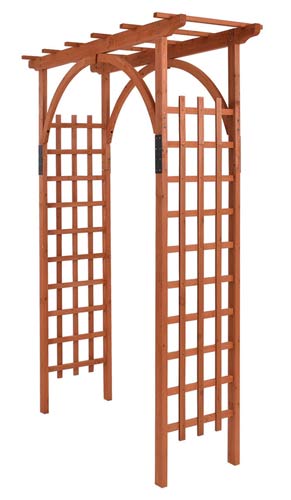 ---
Another good arbor, if a pergola is too big for you is the Giantex 85" Wood Arbor – with a simple, but eye catching design it will add a real charm to your yard.
Let's dive in:
In total this measures 63 inches wide by 23.6 inches deep and is 85 inches high. It has lattice side panels which are 18 inches wide. The distance between the side panels is 5.15 inches.
It weighs 32 lbs and is chinese fir wood that is stained. It has a one year warranty.
For starters:
It would be unfair to call this a no-frills arbor, because it is far more than that. But all in all it is simply made and put together.
That isn't to say, despite the low price tag, it is a cheap product. That would be doing a disservice to a very nice arbor.
What I really love is:
This is nicely constructed. It has well fastened side panels, is moisture resistant and delicately constructed.

It is really simple to put together – the side panels are pre-assembled, every screw and pin has its own code that corresponds to the instructions. You will have it up in no time.

Despite the wood being light it does feel sturdy and solid – you will need to secure it to an adjoining surface with L brackets, or bury it in the ground – but it should hold up to most weather conditions.

It is pretty versatile – ideal for weddings or parties, as a nice arched entrance to a garden, for growing plants and flowers on and more.

It is a really good garden product for a very good price.
A word of warning:
The wood is very light – it isn't Cedar it is Chinese Fir, so you do need to have something to anchor it to or it may blow over.
If you plan on having this out in the elements you will need to seal it otherwise it will weather rather quickly.
But the point is:
This is beautiful and affordable – the perfect combination. Whilst the wood is quite light you can't tell that by looking at – it has an elegant look and can act as a lovely natural gateway in your garden.
---
MY RATING: 89%
---
Pros
Nicely made
Easy to put together
Can withstand most conditions
Versatile
Good price
Cons
Needs to be anchored to the floor
Needs to be sealed


---
In Summary
---
I hope you have found my round-up of the best wood pergolas of use.
If you do have any questions or are uncertain about anything please feel free to drop me an email and I will do my best to help you.
Even if you decide your yard is too small for a pergola there are lots of other ways you can really make the most of it. You can even try vertical gardening or container gardening!
Don't forget you can also check out my Reviews Section for individual product reviews. Or you can visit my Site Index for everything on my site on one page.
Useful Resources