Hanging baskets are the ideal way to add some color and intensity to a small garden or to accentuate a larger garden.
No pests, fewer issues with soil and ease of maintenance are all big plus points for them.
But can you put daffodils in hanging baskets?
Will a bulb have the space and nutrients it needs to grow?
Let's take a closer look.
Can You Put Daffodils In Hanging Baskets?
Miniature daffodils are ideal for planting in hanging baskets, with the Tete-a-Tete variety, in particular, making a great centerpiece for any hanging basket. In fact there are a whole number of bulbs you can grow in a hanging basket and when you choose your plants and colors carefully the effect can be quite stunning.
Can Bulbs Be Planted in Hanging Baskets?
The good news is bulbs, like daffodils, can be planted in hanging baskets without a problem.
If you are going to plant daffodils in your hanging basket I would recommend the miniature varieties.
The Tete-a-Tete variety makes a great centerpiece for any hanging basket. Other attractive miniature narcissus options include Jack Snipe, Pipit or Carlton. All of these remain short and don't produce a lot of foliage, so are ideal for hanging baskets.
Other good bulbs for hanging baskets include:
Dwarf Iris: Miniature iris bulbs look great when combined with white flowers for a contrasting look with their violet or purple flowers.
Crocus: There are so many colors and types of crocus that there will be something to suit even the smallest hanging basket and something that works well with your other plants.
Snowdrops: Perfect if you want to give your hanging basket a new lease of life in the winter.
Hyacinths: Another great winter bloomer, the added benefit of hyacinths is their gorgeous fragrance as well as their wonderful flowers.
Muscari: More commonly known as grape hyacinths, these beautiful cobalt blue flowers grow to around 6" to 8" tall and beautifully complement any hanging basket.
RELATED ===> What To Do With Daffodils After Flowering In Pots?
How to Plant Bulbs in a Hanging Basket
Getting bulbs planted in a hanging basket is pretty simple.
Ideally, you want a hanging basket that is at least 10 inches deep. Then follow these steps:
Layer it with clay granules, as this ensures good drainage in most mediums.
Add some fresh compost until it is about a third full.
Put your daffodils, or other bulbs, on the compost so they almost touch and with the point facing upwards.
Add another layer of compost to cover the bulbs and press down firmly.
Add some perennials or annuals, and you can trail ivy over the sides of the basket to soften the edges.
Add more compost to make sure the plants are anchored in.
Water and wait for your hanging basket to flourish!
What Other Flowers Can You Plant in Hanging Baskets?
When you are choosing plants for your hanging basket I always think there are two ways to go:
Choose colors that blend well together.
For instance, the bright red of geraniums and verbenas, mixed in with lemon yellow petunias and bright yellow osteospermum.
Go for one color in varying shades.
For instance, cosmos purity, with white nemesia, white petunia and variegated cream and green ivy.
RELATED ===> Can Birds Spread Daffodils?
Popular plants for hanging baskets include:
Daisies: With their preference for moist soil and sun or partial shade, the cheery look of a daisy is great for a hanging basket.
Pansies and Violas: Pansies and violas will flower year-round, look cheery and are usually not too expensive either.
Lily of the Valley: These hardy flowers smell and look fantastic and will add a sweet charm to any hanging basket.
Heather: The upright look of heather adds real character to a hanging basket, and will attract wildlife as they are such a good source of pollen and nectar.
Primroses: Low maintenance and eye-catching color go hand in hand to make a primrose a welcome addition to any hanging basket.
Fuchsia: Fuchsias come in all shapes and sizes and bright eye-catching colors. They are easy to grow, last for seasons and are pretty hardy as well.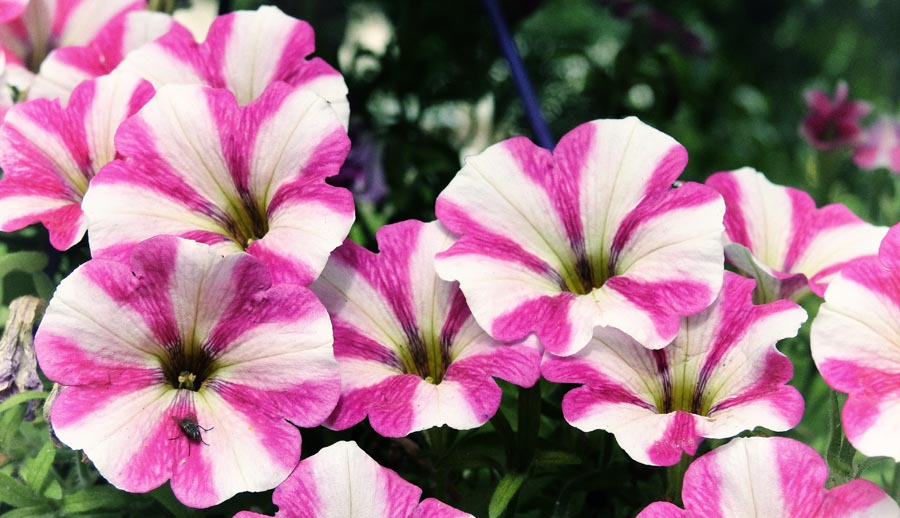 Petunia: Petunias can be found in hanging baskets everywhere. There are hundreds of varieties and they thrive in very sunny spots and tolerate serious dry spells as well.
Verbenas: These are great for hanging baskets as they produce seemingly endless flowers from early spring onwards. There are some truly noteworthy varieties as well such as Sparkle and Showboat Mango Orange.
Dianthus: The candy cane-color of the dianthus has gorgeous petals and a spicy vanilla scent, and will grace any hanging basket.
Lobelia: A lobelia will produce hundreds of tiny tubular-shaped flowers, and will look great cascading over the edge of a hanging basket.
Begonias: These enduring plants bring a bit of flamboyance to a hanging basket. Try the dragonwing with its spectacular red blooms and the pale pink of the double begonia which blooms throughout the year.
RELATED ===> Can Daffodils Be Composted?
Final Thoughts
Daffodils can add some real color and beauty to any hanging basket, their cheery, bright yellow blooms signaling spring is on its way.
If you are going to plant daffodils in your hanging basket you ideally want to go for the miniature variety, as the normal variety will most likely need more space to grow.
That said there is a whole host of miniature narcissus to pick from, so you certainly won't be lacking in choice.
Plant them alongside snowdrops, crocus and lilies and the year will get off to a bright start even if it still is winter and spring!
Just because you are limited on space doesn't mean you can't benefit from these beautiful flowers, so if you have a hanging basket make sure you plant some daffodils in them.
---