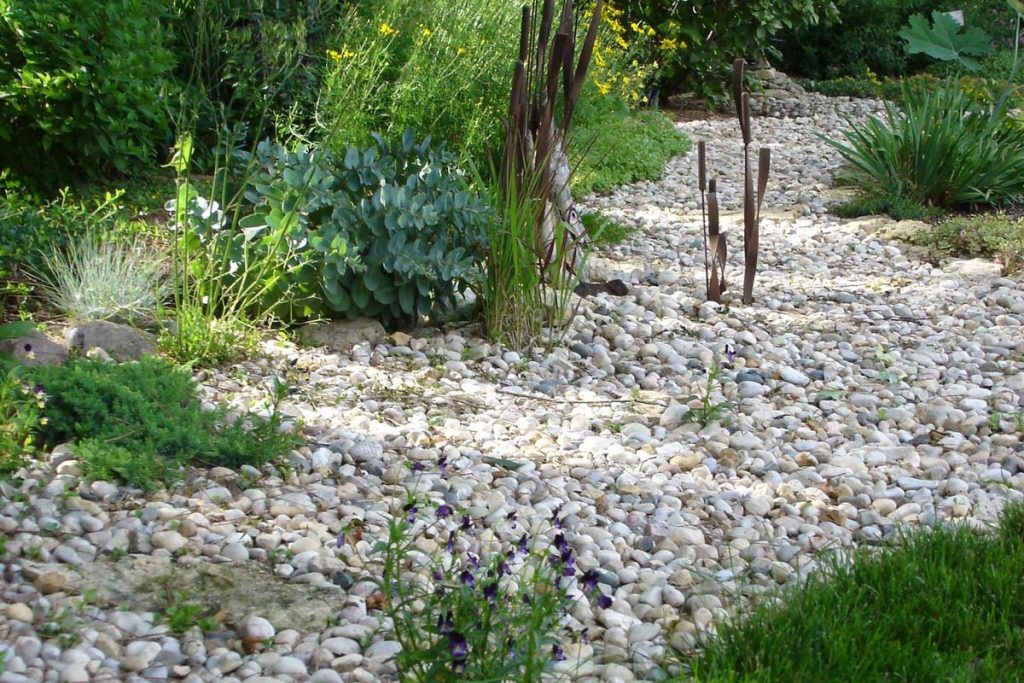 Something missing from your garden to give it that extra lift?
Can quite put your finger on what it is?
Our 8 fantastic dry creek landscaping ideas might be just what you are after!
---
A dry creek is essentially a trench that is lined with stones, sometimes with plants on its edges, that controls the drainage in a lawn and also enhances its aesthetic value.
What is even better:
By ensuring there are no unsightly puddles, you can use a dry creek to direct the water away from your garden.
---
Making A Dry Creek Bed
---
Making a dry creek bed isn't that hard. You'll need a shovel, some spray paint for marking, crushed pea gravel, cobblestones or river rocks, boulders and some plants.
You can choose a natural design for the dry creek bed which is the typical "S" pattern or a stylized streambed. The latter is more modern in design with edge restraints to hold in the river rock.
First things first:
It's best to first understand the nature of the flow of water on your land. Once you're done with planning, you can now mark the area you want to install the dry creek bed. 
RELATED ===> Best LED Landscape Lighting
Excavate 12 to 15 inches of soil using a shovel while ensuring the sides are at an angle. Lay the landscape fabric over the entire surface to prevent weeds from growing.
Next:
Use 1/2 inch crushed pea gravel to cover the bottom and sloping sides of the bed. For the edges, add river rock to create a natural look.
If you are going to go with cobblestones, place them in order of size. The smallest pieces go at the bottom or in the middle while larger ones go to the top. You can use the plans to add more character to the creek.
---
Tips for Creating a Dry Creek Landscape
---
Now that you know how to make a dry creek bed, you need to know how to make it eye catching whilst still fitting in with the overall look of your yard.
So let's look at some cool dry creek landscaping ideas that will blow your mind.
#1. A Dry Creek with a Lovely Bench
Are you one of those people who like to walk around the garden when recollecting your thoughts or just admiring your own handiwork?
You are?
Then this design is perfect for you. It works well if you went with the "S" pattern for your creek, although of course, this doesn't mean it doesn't go well with other designs.
It's really simple as you just incorporate a wooden bench into the design of the creek. You can create a round concrete floor for the bench with the creek bed winding around the edge of the floor.
Use white and grey stones for the bed for a better result. By doing this, you will have a peaceful place to rest the next time you take a stroll.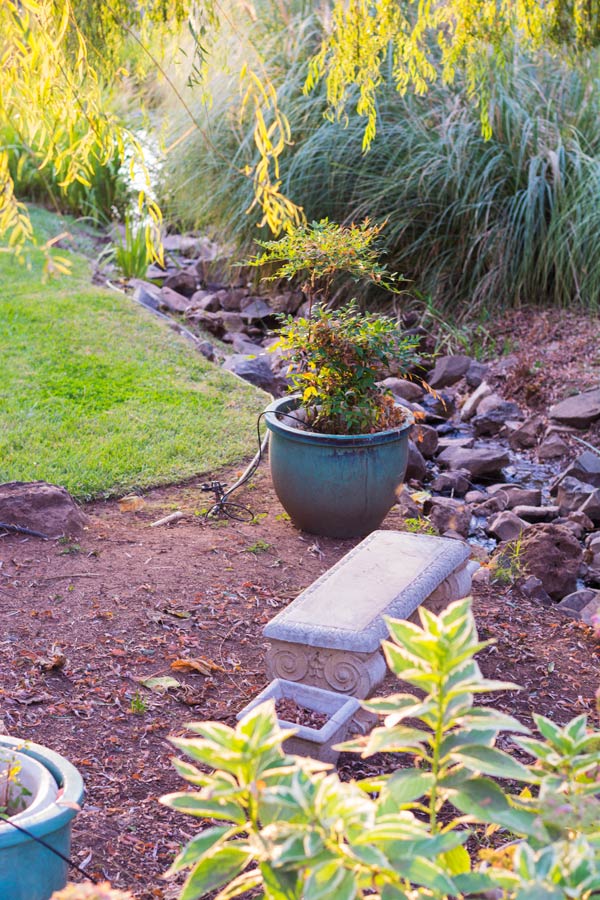 #2. A Simple Line
You can never go wrong with something simple.
If you have a small garden, having a straight dry creek bed against a background of almost black soil will make quite the impression.
Trust me here:
A few cresta boulders here and there on the creek bed can act as focal points which will give the creek an intriguing look.
This idea involves using different-sized white and grey rocks for the bed. You can have it outlined by larger, more jagged rocks in order to create an even better impression. Adding some more plants in the background will create a calming look.
RELATED ===> Amazing Landscaping Ideas For Your Front Yard
#3. Contrasting Pebbles
Contrasting colours are as outstanding as this idea.
This design allows the creek bed to be used as a path or walkway. Don't get me wrong, it will still serve its purpose.
Any time it rains, water will still be able to filter into the ground. It's perfect for those of you with a wide creek bed.
So what is the magic formula?
For this idea, you will have to use dark black pebbles when filling the creek bed. Use irregularly-shaped brown stone on top of the pebbles as path stones.
You can make it even more beautiful by having two small pathways meet and form a "Y" shape.
#4. A Stack of Stones
This is quite easy to install and will not take up much of your time nor use a lot of your garden space.
Stack a few large jagged stones underneath one of the downspouts of the roof eaves. This will allow water to be directed away from the house and makes your lawn look stylish.
#5. Japanese Styles
There are two Japanese ideas you could use for a dry creek bed.
The first is a really simple one. You only need flat rocks and time. Once you have lined the creek bed with fabric, you can use the flat rocks to fill the creek bed by placing them side by side.
In truth:
This might take some time but the stunning look at the end of it is worth it.
The other involves using light coloured gravel and some nicely shaped shrubs.
Coupled with a lush green lawn, you will be able to pull off this Japanese theme by placing some of the expertly-shaped shrubs along or on top of the dry creek bed.
You can complete the look by adding a few boulders.
#6. A More Natural Look
This design is for those of you with a larger lawn that is slightly sloping. You can use a wide variety of boulders and grey stones to mimic a creek that literally dried up. 
RELATED ===> How to Start A Landscaping Business
Since we are aiming for a natural look, you do not have to get plants from a nursery but those that are commonly found in nature. You can add a bit of flowing water to enhance the look.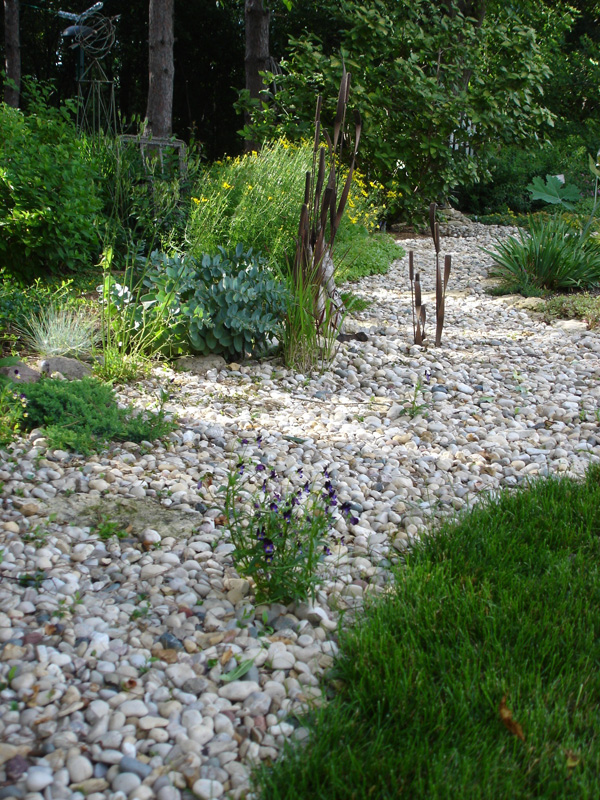 #7. More Visual Flare in the Creek Bed
You can add more than just pebbles to your dry creek bed to get more visual interest. You can use coloured glass balls to give your garden a better touch of character. These can float around when your bed fills with water.
Cool, right?
If you want to create even more contrast, try using multi coloured pebbles or glass in your bed. Make sure to outline the bed with stones or brick.
Fill the borderline with plants. Add coloured stones or glass to the creek. There's no limitation to the colours you can use. It's your garden so feel free to be a bit creative with the colours.
RELATED ===> Small Backyard Garden Ideas
#8. A Bridge or Two
A bridge can really make things interesting – a bridge over your creek bed can make it look like a tiny stream of stones.
With a lush green lawn and a wooden bridge over your bed, your garden will look like it came out of a fairy tale.
If you have a stone pathway on the creek bed, adding a tiny bridge can really enhance its character.
It's easy.
Fill your creek with small stones. Place in some flat walking stones then it's only a matter of finding the perfect spot to put a tiny bridge.
These are just some ideas that you can use to improve your landscape. Installing a dry creek bed is really fun and will give your yard a stand out look. Not only that, it also calms your worries by handling the drainage.
Trust me, with these ideas,you will be the envy of your neighbours!
---
USEFUL RESOURCES
---
Want to learn more about dry creek landscaping? You can find further information here:
---