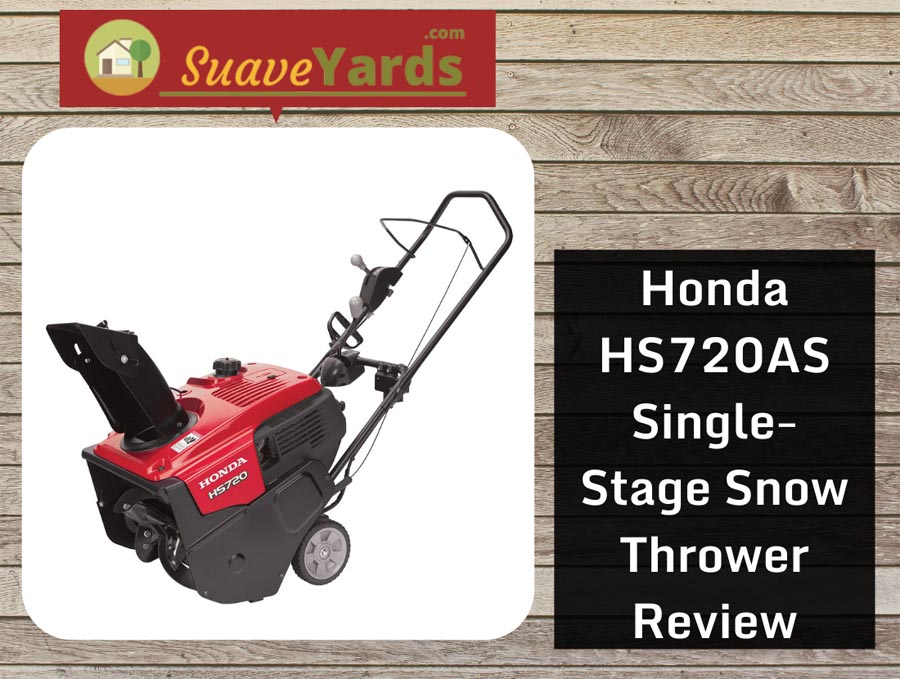 ---
Review At A Glance
---
If you have a large area and live in a region with really harsh winters, you most likely will need a two-stage snow blower. MOST being the operative word. When you have the Honda HS720AS Snow Thrower, it's like having a two-stage without the full weight.
MY RATING: 94%


---
Editor's Note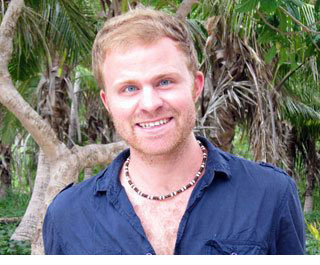 I hope you love the products that I recommend here! Just so you know, I work with Amazon and other affiliate partners and may be compensated from the links below.
---
---
Specifications
---
Model number: HS720AS
Power source: gas (with electric start)
Clearing width: 20"
Clearing depth: 12"
Throwing distance: 33'
Weight: 93 lbs
Warranty: 2 years
PRICE GUIDE: $$$
---
About the Honda HS720AS
Snow Thrower
---
This is a really powerful snow thrower, especially considering that it's just a single-stage machine.
Look
It can clear up snow at 1,800 pounds per minute.
Specifically, it can clear 20 inches of snow for every pass. As for the depth, it can clear up to 12 inches of snow.
That's really good!
The gathered snow will be propelled 33 feet out.
Just so you know
The Honda HS720AS Snow Thrower is known to work like a two-stage snow blower but without the full weight of one.
It weighs over 90 pounds, which is not bad at all especially since this is a gas-powered machine.
Don't worry
It may be powered by gas but it has an electric start.
This is important especially when it gets really cold out.
What does that mean?
When it's cold, there is a tendency that you would have a hard time using the recoil start.
In this case, the recoil start is just the backup.
Do you wanna know the warranty?
There's a two-year warranty for residential owners.
On the other hand, for commercial buyers, the warranty is three months.
---
The Good
---
There is no doubt that the Honda HS720AS Snow Thrower is one of the best single-stage snow machines out there.
It does work like a two-stage snow blower.
You see
It's a very powerful machine that can throw snow at a maximum of 1,800 pounds every minute.
When you look at the clearing width and depth, it's really similar to the two-stage snow blowers.
Also
This runs on gas, as do two-stage snow blowers.
Here's the deal:
This is light, which is something you cannot say for two-stage snow blowers.
This only weighs 93 pounds.
Don't get me wrong
That's quite heavy for single-stage snow blowers because the battery-powered and electric-powered ones are really light.
But as we keep saying, this works like a single-stage machine, yet doesn't weigh like one.
Here's one better
The chute turns 204 degrees.
That's amazing!
Most two-stage snow blowers only turn 180 degrees.
Although
I really should stop comparing this to the two-stage snow blowers because they are not supposed to be compared.
It's just worth emphasizing that this is a really powerful powerful machine, more powerful than its snow thrower counterparts.
Moving on
The HS720AS is quite easy to drive.
While it is a manual machine, it is also auger-assisted.
In other words, it's a semi-self-propelled auger drive.
Moving on
One of the negative things about gas-powered machines is the carbon footprint.
However, with this Honda machine, the carbon footprint is not as bad as you would expect.
Let me elaborate
This is a four-stroke engine. That means lower emissions, which is better for the environment.
It also means better fuel efficiency.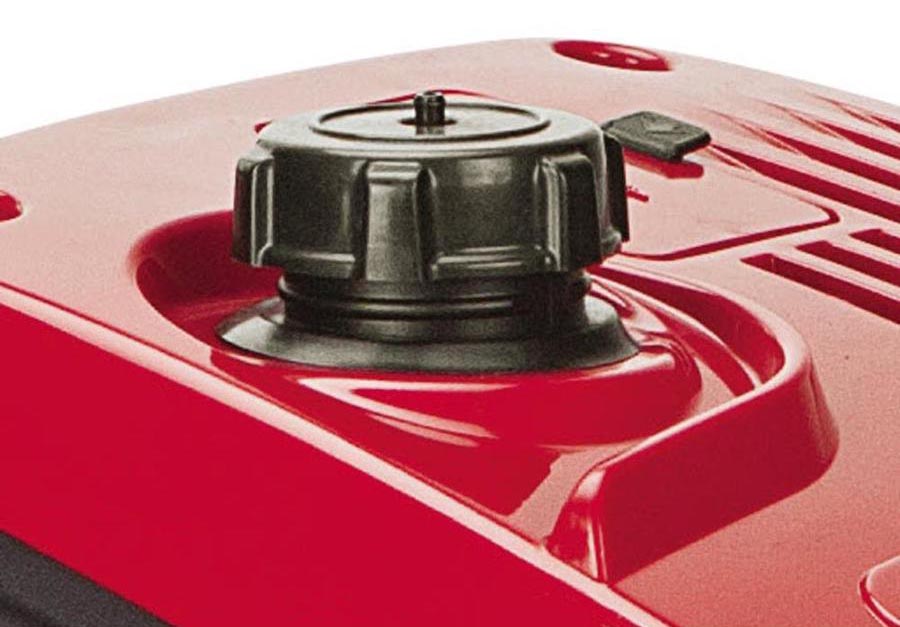 By the way
If you're wondering about the gas capacity, the tank can have .29 gallon of fuel.
It has a large fuel tank cap.
What does that matter?
Because you always wear gloves when you work in the cold. Gloves make touching and turning difficult.
Now with the HS720AS as the tank cap is glove-friendly.
Get this
This machine is quite sturdy. Honda really didn't scrimp on its materials.
The auger is made of durable metal with replaceable rubber paddles.
The housing of the auger is heavy-duty, too.
There's more!
The controls are easy to manage as well.
There's a large on and off switch. Again, this is glove-friendly.
The control for the chute is also conveniently placed to make things easier for you.
You think we're done here?
Not quite!
Let's talk about the wheels. They are quite large, which makes it easy for you to move this thing around.
Oh, here's some good news
It's easy to maintain.
Most gas-powered snow blowers or gas-powered anything are quite messy to maintain.
Not this baby!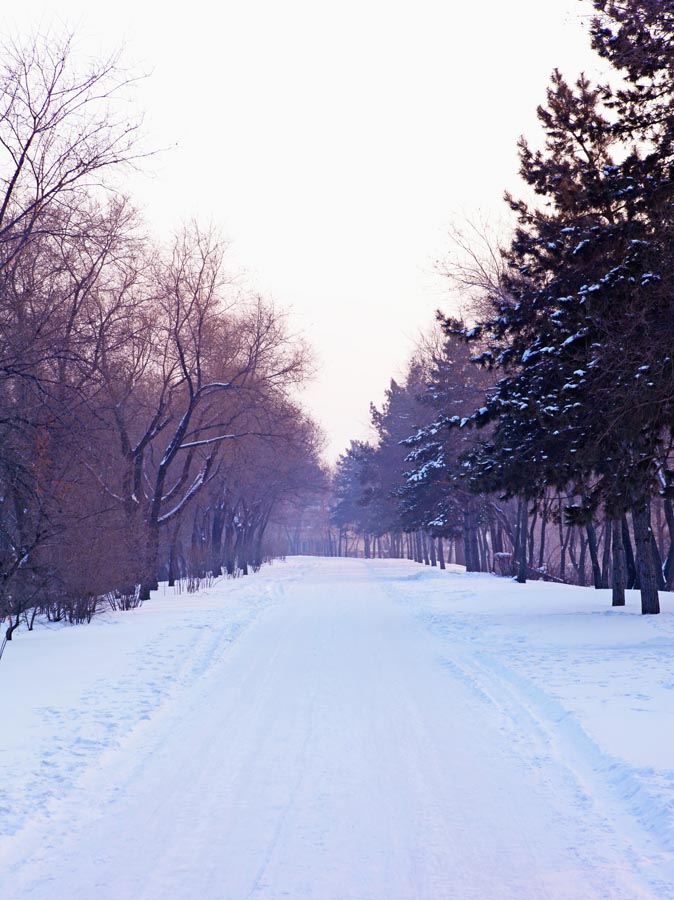 Here are the things you need to know:
Draining fuel and oil is simple
Spark plug is easy to access
Now
Don't be intimidated with snow.
The Honda HS720AS Snow Thrower will make snow removal easy for you during winter.

---
The Not So Good
---
Okay, nothing is perfect in this world.
One of the few complaints about this snow thrower is that it has difficulty moving through what the community snow plough leaves.
So, what's the problem?
The combination is usually ice, snow and salt.
Salt is usually used on the street or sidewalk for easier ploughing.
Of course
Sometimes, you have to deal with what the community snow-clearing team left behind.
Another thing
Now, this could be a deal-breaker for a lot of people: the price.
Sometimes, you have to pay for quality.
The issue here
The payment for quality is really high.
There are some two-stage snow blowers that could be of similar price range with this top-notch machine.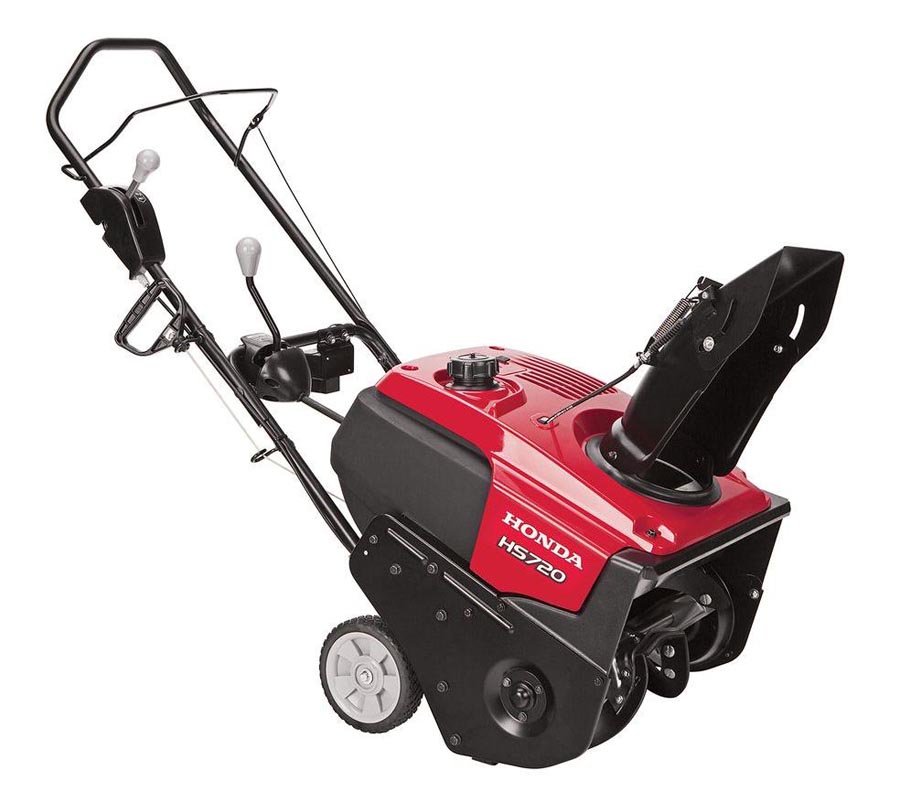 On to something that is not a deal-breaker:
Vibration.
Surprisingly, this machine has a really strong vibration. You can really feel it in your whole body.
That's why you need to wear the gloves so that it won't be too bad.
---
Conclusion
---
My Verdict
Design - 96%
Performance - 96%
Price - 90%
94
%
Works like a two-stage!
The Honda HS720AS Snow Thrower, as the name implies, is a single-stage snow machine. It works really well, just like a two-stage snow blower. It's great for medium-sized areas and more.
This snow thrower processes 1,800 pounds of snow every minute. It does that by clearing a width of 20 inches and depth of 12 inches. The snow will be thrown 33 feet away. You can choose the direction where to dump the snow within a range of 204 degrees. Most snow throwers and snow blowers only have a range of 180 degrees.
Just a warning, though, it's quite pricey. Of course, high-quality products are never free. There are so many great things about the HS720AS. It's fuel-efficient and has low emissions. It's really one of the best snow throwers in the market.

---
At A Glance
---
✔ Pros
Processes 1,800 lbs of snow per minute
204-degree chute turning radius
Electric start
Semi-self propelled auger drive
Low emissions
Fuel efficient
Large fuel tank cap
Durable
Easy-to-manage controls
Simple maintenance
✘ Cons
Has difficulty processing the ice+salt combo
Expensive
Strong vibration
---
FAQs
---
Since it's an electric start, does it come with a cable?
No, it doesn't. You have to buy your own wire for the electric start.
How do you use the electric start?
First, you need to plug the extension cord. Second, you press start. Third, you unplug and you're ready to clear snow.
Where should you store a snow thrower?
It should be stored in a cool and dry room. A well-ventilated room is ideal, too.
---
You Might Also Like…
---
If the Honda HS720AS isn't so pricey, it would have been on top of our list of the Best Single-Stage Snow Throwers. We have a list of eight of the best single-stage snow throwers in the market. Here's the complete list.
Now, if you have a large area, don't worry. We have you covered as well! Here's a list of the Best Two-Stage Snow Blowers.
On the other hand, if you are unsure which machine is right for you, find out the differences and advantages of the snow thrower and snow blower.
Useful Resources