It is amazing how something as simple as a trampoline can keep a whole load of kids amused for so long.
But it will only keep them entertained as long as it is functioning properly.
Once the frame breaks, the mat splits or the springs snap, then you either need to repair it, replace it or find something else entirely to keep your children busy.
So today we are going to look at how long you can expect a trampoline to last, and what you can do to make it last even longer.
Let's get started…
How Long Do Trampolines Last?
The lifespan of a trampoline will be influenced by many factors including the quality of the trampoline initially, how often it is used and how well it is maintained. A cheap trampoline with minimal care might not even last a year, a middle-of-the-road trampoline that is looked after reasonably well should last around five years or so, and a top-range trampoline that is maintained extremely well could last 10, 15 or even 20 years.
What Do They Manufacturers Say?
The problem with a trampoline is there are a number of parts of it that can break.
As alluded to in the introduction once the frame, mat or springs show signs of damage it can be the death knell for a trampoline.
What makes it even harder to put a timescale on the lifespan of a trampoline are the external factors that are different for everyone.
Trampolines will last different lengths of time for different people depending mainly on:
The original trampoline.
How often it is used.
How well it is maintained.
The climate where you live.
A good way of getting an idea of the potential lifespan of a trampoline is by referring directly to the manufacturers.
So that is what I have done.
I've dug into the warranties of some of the leading trampoline manufacturers in the world, to see what they reveal, so let's take a look:
Trampoline Warranties by Brand
| | | | | | |
| --- | --- | --- | --- | --- | --- |
| Name | Frame | Mat | Springs | Spring Pad | Net |
| JumpFlex | 10 years | 5 years | 5 years | 3 years | 3 years |
| JumpKing | 1 year | 1 year | 90 days | 6 months | 90 days |
| JumpSport | 10/15 years / Lifetime | 5/10 years | 5 years | 1/1.5/5 years | 1/2/10 years |
| SkyWalker | 3 years | 1 year | 1 year | 1 year | 1 year |
| SpringFree | 10 years | 10 years | 10 years | 10 years | 10 years |
A Breakdown of the Lifespan of a Trampoline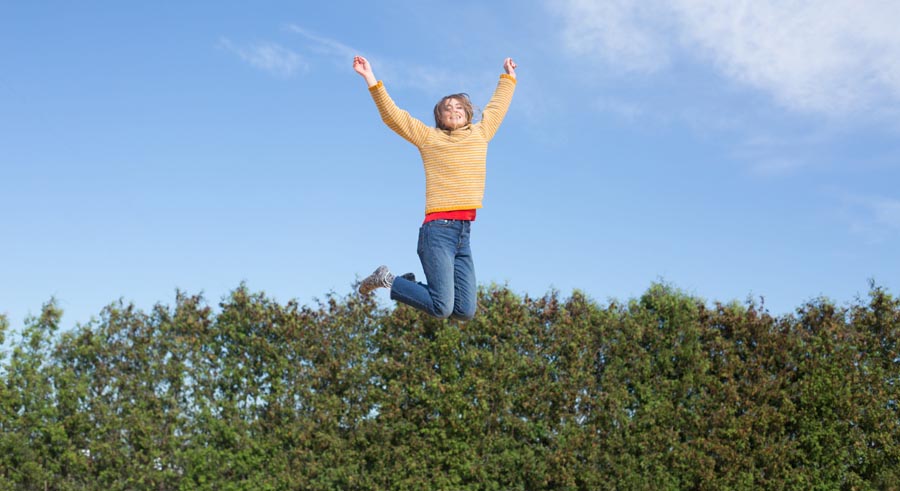 So as you can see, various manufacturers stand behind their products to different levels.
This is why it is hard to say for definite how long a trampoline will last.
Let's take a look at a trampoline part by part.
The Frame
Lifespan: Manufacturers warranty covers 1 year to lifetime. Most likely lifespan is around 6 to 8 years.
As you can see from our warranty table, the cover for the frame varies from a year up to a lifetime.
The frame is the glue that holds the trampoline together and provides the structure and stability for your children to enjoy it.
Once it breaks you can get it repaired, but the likelihood is that the repair will only be temporary.
For the optimum frame, look for:
The thickest gauge galvanized steel.
A coating (usually zinc) to protect it from rust.
Something that feels heavy.
Once you have bought your trampoline there are a few things you can do to keep the frame in tip-top condition:
Make sure anyone who uses it knows not to jump off the frame or bounce continually into it.
Make sure weight limits aren't exceeded.
Keep a regular check for rust spots and apply a substance like POR-15 if necessary.
Frequently make sure bolts and screws are not becoming loose.
Regularly clean the frame.
Consider taking action in the colder months when it isn't used by covering it with weather-resistant padding or a cover.
The Mat
Lifespan: Manufacturers warranty covers 1 year to 10 years. Most likely lifespan is around 3 to 5 years.
A high-quality mat can last up to ten years, but realistically you should expect to get upto 5 years of good use out of a mat before it needs replacing.
Most trampoline mats these days are made from polypropylene, a highly durable woven fabric made from a number of materials.
For the best quality mat look for:
Heavy stitching, with around 8 to 10 rows making it more durable.
UV protection.
Waterproof coating.
In terms of ensuring the mat last as long as possible, then you should:
Keep a close eye on the mat for holes and repair them as soon as you see one.
Cover it during extreme weather (both very hot and very cold, as well as when it is rainy).
Give the mat surface a quick hose off at regular intervals.
The Springs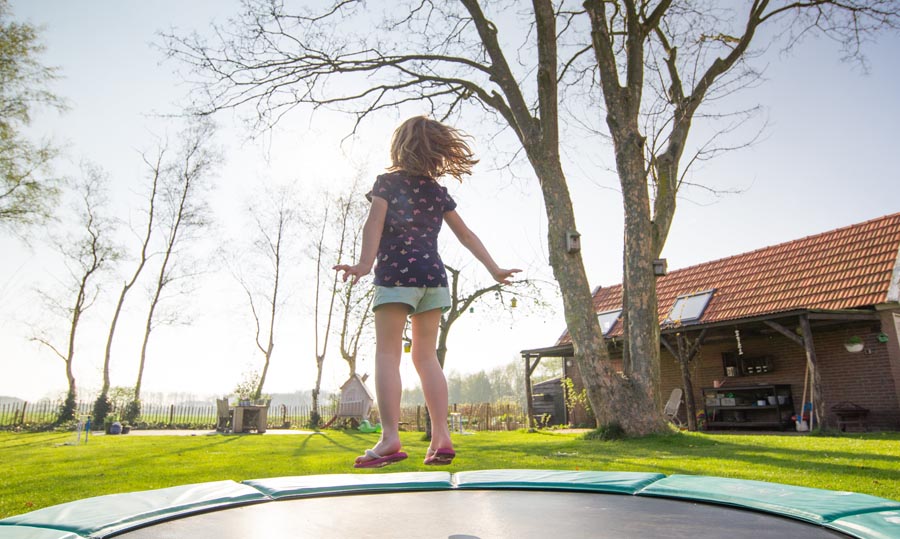 Lifespan: Manufacturers warranty covers 90 days to 10 years. Most likely lifespan is around 3 to 5 years.
The springs work in tandem with the mat to provide the bouncy surface every kid loves.
Like the mat they take a fair bit of stress and with excessive use they can stretch and lose their elasticity.
Nevertheless, you should expect the springs on your trampoline to last 3 to 5 years.
Some manufacturers, such as Springfree, have even eliminated the use of springs completely and replaced them with rods.
High-quality springs will usually share a few traits namely:
They should be made of quality galvanized steel.
They should have a protectant on to guard against rust.
Longer springs = bouncier trampoline, but lower weight limit. Shorter springs = less bounce, but a higher weight limit.
Like the frame, the springs can be prone to deteriorating if not cared for properly. A few simple maintenance tips include:
Regularly lubricate the springs with WD40 to keep them well-oiled and prevent rust.
Covering the springs with PVC padding or even something as simple as a pool noodle to keep them dry and less likely to rust.
In the off-season you can take apart the trampoline and store the springs in a dry spot in a separate bag.
The Spring Pad
Lifespan: Manufacturers warranty covers 6 months to 10 years. The most likely lifespan is around 2 to 3 years.
The spring pad is the protective padding that covers the frame and often the springs of the trampoline to protect anyone using it from coming into contact with them.
It goes without saying that the spring pad is particularly important when small children are using a trampoline.
Quality pads can last up to ten years, but more cheaper pads might only be good for a year, if that.
You want a spring pad that is UV and fade-resistant, and ideally with some kind of foam padding surrounded by PVC.
You also want to make sure it fits the trampoline properly and is easy to get on and off.
The Net
Lifespan: Manufacturers warranty covers 90 days to 10 years. The most likely lifespan is around 3 years.
Whilst it isn't illegal to have a trampoline without a net, it is most definitely recommended.
Without a net around it, you are unlikely to get insurance for your trampoline, and if there is an accident you could be held liable.
Most trampoline nets are fairly robust, and an average safety net should be good for around three years or longer.
You do want to keep an eye on the condition of your safety net and make sure it is installed properly and that there are no tears.
It needs to be able to do its job after all!
The Importance of Good Maintenance
We've gone over a number of housekeeping tips when looking at each individual part of the trampoline, but in summary:
Select a flat, open location with no obstructions when you put it up.
Wash and clean your trampoline at regular intervals.
Cover or disassemble it during the off-season.
Regularly check the frame and springs for rust damage and take preventative measures when possible.
Regularly check the mat for any holes.
Ensure all nuts and bolts are kept tight.
Anchor it down! This keeps it stable when kids are playing on it, and also might prevent it from blowing away in a gale.
Final Thoughts
From this article you can probably see how difficult it is to say how long a trampoline will last.
Looking at the manufacturer's warranty for a trampoline usually gives you a good idea of the quality of a trampoline and how long it might expect to last.
As a quick summary of what we have learned above:
Frame: Around 6 to 8 years.
Mat: Around 3 to 5 years.
Springs: Around 3 to 5 years.
The Spring Pad: Around 2 to 3 years.
The Net: Around 3 years.
Certain parts will be easier to fix or replace than others, for instance the pads and nets can be swapped in and out easily.
Replacing a spring is fairly straightforward and even patching up a tiny hole when it is first notice is easy enough.
Replacing a broken frame isn't.
If you buy a cheap trampoline and don't look after it, it might only last you a year.
If you buy a middle-of-the-road trampoline and look after it fairly well, it should last you somewhere in the region of five years.
Buy a top-quality trampoline and give it the utmost care and attention, and it could easily last you 10, 15 or even 20 years!
---