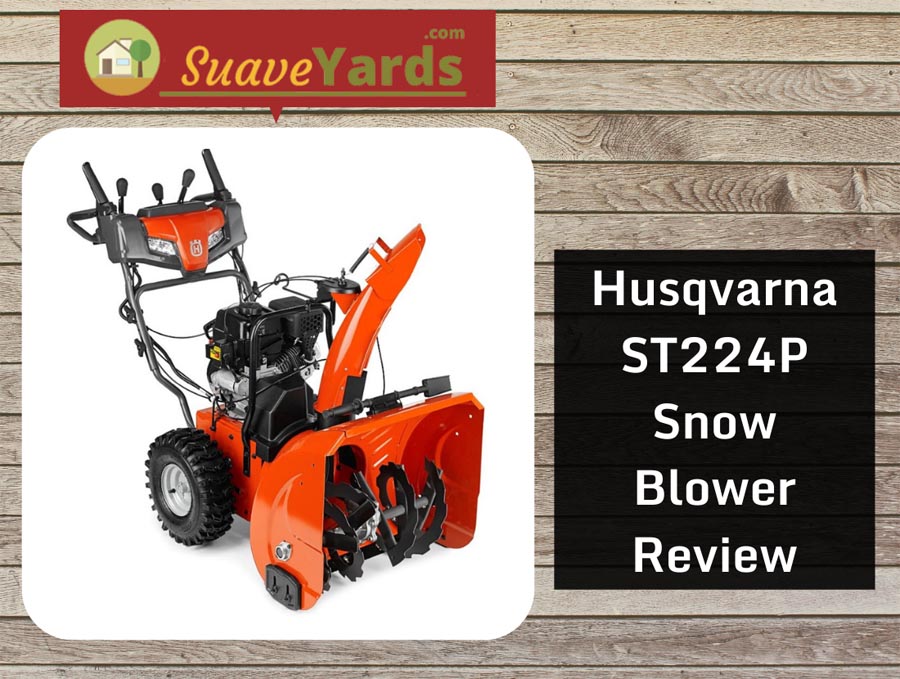 ---
Review At A Glance
---
Snow removal doesn't sound comfortable, does it? It's cold and you are basically doing clearing work in a harsh environment. The Husqvarna ST224P, though, was made for people to be comfortable. Found out how by reading this comprehensive review.
MY RATING: 91%

---
Editor's Note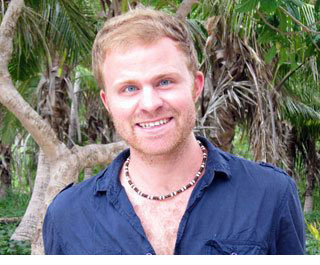 I hope you love the products that I recommend here! Just so you know, I work with Amazon and other affiliate partners and may be compensated from the links below.
---
---
Specifications
---
Power source: Gas
Clearing width: 24"
Clearing depth: 18"
Weight: 198.6 lbs.
Warranty: 3 years (limited)
PRICE GUIDE: $$
---
About the Husqvarna ST224P
Snow Blower
---
A foot of snow or more on your driveway? No problem!
Having a problem with walking out of your house because the snow is almost to your knees? Again, no problem!
Here's what you need to know:
The Husqvarna ST224P is ideal for people living in regions with very harsh cold weather.
It can clear a maximum of 18 inches of snow.
Related to that
Every pass means that a width of 24 inches will be cleared.
This is a two-stage snow blower, so you know it can clear large areas. Complement that with the ST224P's large clearing width and depth and you can finish your snow removal right away.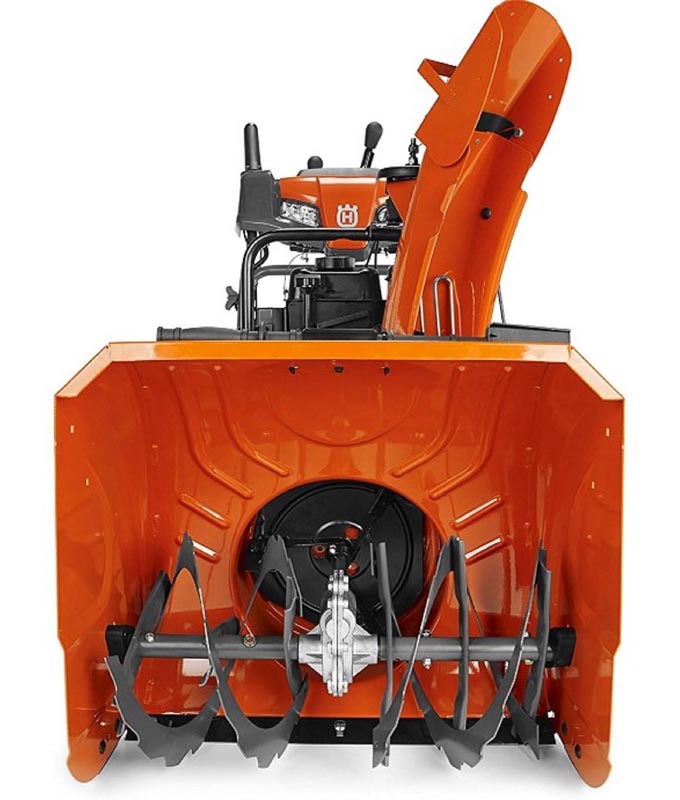 Add the fact that this is a gas-powered machine that has an auger and impeller–as two-stage snow blowers do, then you know this will allow you to clear a large area without a problem.
Moreover
This snow blower comes with a friction disc transmission with a cylinder displacement of 208 cubic centimeters.
The gross torque is 9.5 pound-feet.
As for the fuel tank
You can fill it up with 0.69 gallon of fuel.
The machine also has 6.3 horsepower. So you know it's a high-performing machine.
Also
It's heavy at close to 200 pounds.
It stands at 41.75 inches with a width of 22.75 inches. Without the handle, the machine has a height of 25.75 inches.
About that warranty
It has a three-year limited warrant and a five-year warranty for the engine.
---
The Good
---
Comfort is hard to achieve when you are working outdoors. It's even worse when the weather is extreme–either it's too hot or too cold.
And if you have inches of snow, then it's a guarantee that it's very cold out.
The Husqvarna ST224P, though, makes snow clearing more convenient and comfortable for you.
How?
The handles, for example, were made for maximum comfort.
Your hands will eventually tire out from pushing the heavy machine. Not only that, with regular handles, it could be painful to the hands.
But with this machine
The ergonomic grip won't hurt your hands even when you have a large area.
Even better, the grips are heated. This way, you won't feel the cold.
You see, even with gloves, you can feel the cold through them on regular handles. This is especially true since your hands are steady on the grips for a long time.
Then here's this:
You may also handle the height of the handle. This way, anybody in the family can use the machine, no matter the height.
This is an important feature for tall people because if the handle is too low, that means they would be bending too much while clearing snow.
Plus!
This outdoor power equipment has power steering, too.
Moving on
It doesn't matter what kind of snow you are experiencing in your region, with a heavy-duty auger, the snow will be processed with ease.
Ice and wet snow are terrible for a lot of snow blowers. The Husqvarna ST224P, though, was made for those.
Whatever, whatever
Whatever type of snow you get, this machine will breeze through it.
Whatever surface you have, this machine will function just as well.
Let me elaborate
You may live in a bit of a hilly area and snow removal is not a problem.
If the ground is slippery, the machine will just keep on breezing through.
That's also because…
The machine has a pair of really great wheels.
They are 15 inches, which means they can glide through the snowy terrain.
Further
You can adjust the chute according to your preferred throwing distance and direction.
Even better, there is a lever that will allow you to change directions and distance with ease.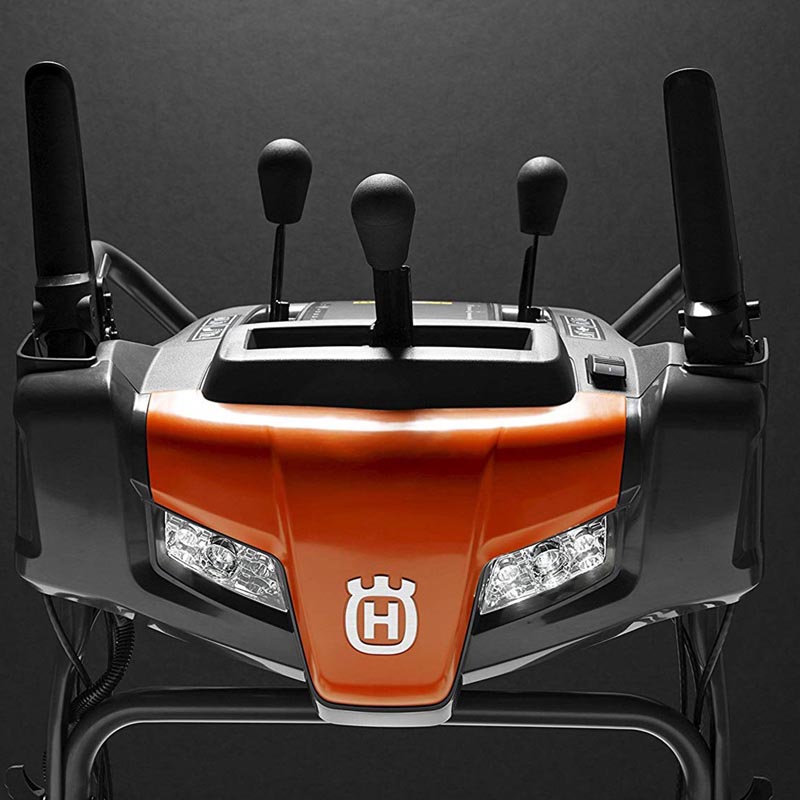 Speaking about ease
The machine also has an electric start button. This way, in case the pull cord doesn't turn the machine on after a few pulls.
And oh, you can clear snow at night. Or at dawn, whichever you prefer.
This amazing snow machine has bright LED headlights so that you can clear snow even without the sun.

---
The Not So Good
---
One of the things I didn't like about this is the instruction. It's a bit confusing.
This is a pet peeve for a lot of people, me included.
Another negative thing:
The control panel is made of plastic. It looks kind of weak.
When we are talking about outdoor equipment, it would be really good if everything on the exterior is durable.
This holds particularly true with the snow removal equipment because it has to function in terrible weather conditions.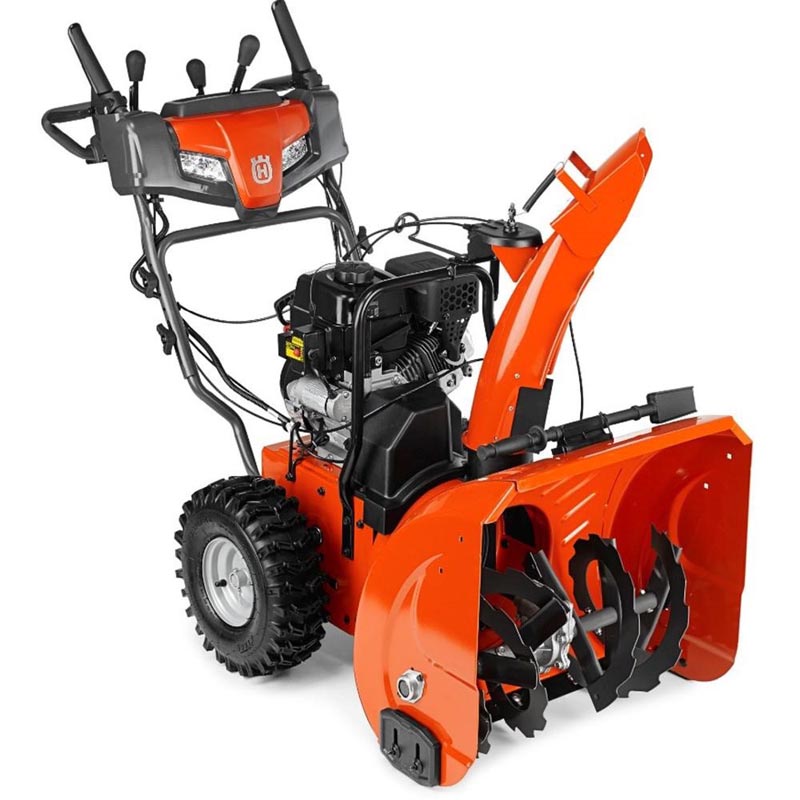 Finally
That electric really comes in handy because it's quite hard to start with the pull cord especially if it had been on standby for quite some time.
---
Conclusion
---
My Verdict
Design - 91%
Performance - 92%
Price - 90%
Working in comfort? Doesn't always seem logical, right? But there is actually a way to be comfortable even when you are working outside. However, it has something to do with the machine.
The Husqvarna ST224P, for example, is made for comfort. The handle was ergonomically designed and is adjustable, too. This way, no matter who uses the machine, it will not hurt their back. Not only that, the handle is heated. The weather may be harshly cold but your hands will be comfortable, even if you have been clearing snow for quite some time.
This is also a heavy-duty machine that can go through any type of snow and any type of surface. If you have a large area or you live in a region with really harsh winter, then this is the machine for you!

---
At A Glance
---
✔ Pros
Ergonomic and heated grips
Adjustable handle
Power steering
Heavy-duty auger
Features chute control
Electric start
LED lights
5-year engine warranty
✘ Cons
Confusing instruction
Control panel seems weak
Hard to start via pull cord
---
FAQs
---
How to drain fuel and oil?
There is a drain plug for the oil, which is actually nifty. As for the fuel, you just have to run the engine until it runs out. The good thing is, it's actually the oil that needs to be replaced or changed every now and then, which is why it has a drain plug.
Can this snow run on dirt or gravel?
Yes! This is actually the beauty of this thing. It features skid shoes that you can adjust for whatever ground you have at home.
How does the electric start work?
You need to connect the snow blower to a power outlet and then push the button and it will start immediately.
---
You Might Also Like…
---
If you are unsure if you want the Husqvarna ST224P for your home, then worry not. We actually have a list of the best two-stage snow blowers, and I've trimmed it down to what I think are the best ones in the market this year.
Now, if you have a small area, then a single-stage snow blower will suffice. The good thing about this is that you can actually choose an electric-powered one or the more powerful gas-ran snow machine. We will help you figure it out with our list of the best single-stage snow blowers in the market.
If you are a newbie to this, then you should know the difference between a single-stage and two-stage snow blower.
Useful Resources
Things to Keep in Mind When Buying a Snow Blower – Husqvarna
How to Choose a Snow Blower – Lowe's
Snow Removal Safety Tips – LoveToKnow