---
Review At A Glance
---
Everything about this John Deere E120 Riding Mower is easy to handle. From the operations to the cutting height adjustment and even up to the process of changing the mower's oil – there are convenient systems in place to make things easier for the owner.
MY RATING: 92%

---
Editor's Note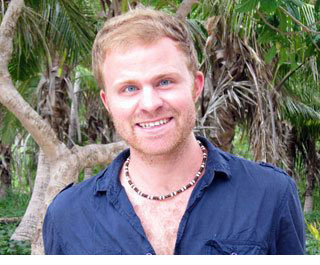 I hope you love the products that I recommend here! Just so you know, I work with Amazon and other affiliate partners and may be compensated from the links below.
---
---
Specifications
---
Model Number: 40N877 (M40)
Power Source: Gasoline
Cutting Width: 42 inches
Desk Cutting Height: 4 inches
Fuel Tank Capacity: 9.1 liters
Engine: 20 HP V-twin running engine
Transmission Type: Hydrostatic
Forward Speed: 5.5 miles per hour
Reverse Speed: 3.2 miles per hour
Front Tires: 15×6-6
Rear Tires: 20×8-8
Turning Radius: 18 inches
Limited Warranty: 2 years or 120 hours (bumper to bumper)
PRICING: $
---
About the John Deere E120 Riding Mower
---
Everything about the John Deere E120 Riding Mower is easy! It features the easy-to-handle cruise control so you can learn how to maneuver the lawn tractor right away.
The controls of the tractor are color-coded so that they can be easily identified by the owner or rider. Not only that, preferred cutting height is easily achieved with the mower's adjustment lever.
It provides superior cut because the deep deck design allows the grass to be lifted.
Even better!
Owners can now change the oil of their mowers by themselves because of its 30-second oil change system trademarked as Easy Change. And when you want to check the engine, the hood is very easy to open.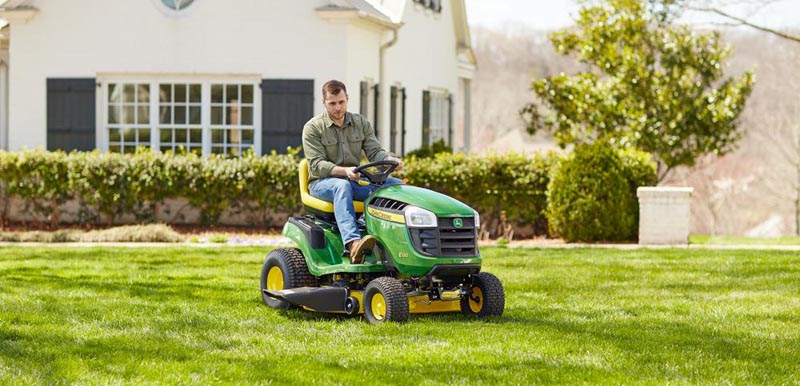 ---
The Good
---
Whether you want a lawn mower or an equipment for snow removal, the John Deere E120 Lawn Tractor is exactly what you need! It has a powerful V-twin engine for power and dependability.
There is an overhead valve and full-pressure lube.
In essence:
The 20 HP power of this tractor makes uphill work easy. It also has a tight turn at an 18-inch radius, which means more efficient work will be done.
It uses gasoline that is delivered through a pulse pump and carburetor. It can move forward at a maximum speed of 5.5 miles per hour. The reverse speed is 3.2 miles per hour, which is the maximum.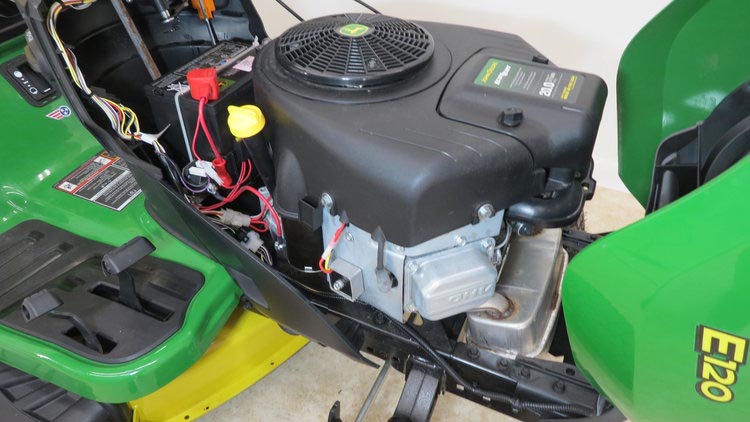 Let's continue…
The mower has a deep deck design that will help lift grass for a superior cut. After seeing the cut, you will truly understand what a well-manicured lawn will look like.
Want to know more about it?
This lawn mower has a 42-inch deck for maximum work done in less time. It also has an improved deck lift lever that allows ease in raising and lowering the deck in order to adjust cutting height from an inch to four inches with an increment of 0.25 inch.
Beyond that:
Something that is really special about this riding mower is its trademarked Easy Change, which is a 30-second oil change system that is convenient and fast. This way, you're not going to miss your mower at all!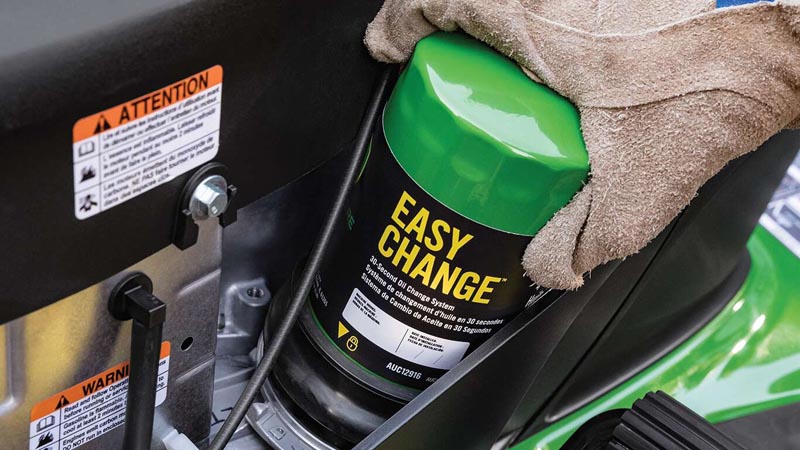 Why does this matter?
Because you won't have to experience the messiness of traditional oil change. This way, the tractor owners can do the oil change themselves!
Even better…
You don't need to wake up early to escape the heat of the sun because you can attach a sun canopy to this mower. It also features a 15-inch high-back seat for maximum comfort, plus a comfortable and wide operator station.
Or:
You can mow when it's already dark because the LED lights of this baby work quite well. Also, the engine is quiet so you won't be disturbing your neighbors.
You want more?
I'll give you more: the seat has two coil springs that allow a smoother ride for the operator. The mower also has a storage compartment so you can store some things, plus a beverage holder so you will be hydrated while doing your work.
Most importantly…
This looks really good and comes in durable primer and powder-paint finish. This means that you won't see it rust, plus the full-length welded steel frame will make the mower difficult to dent.
The hood material is JD Loy, which is ultra violet resistant. This means that you won't be seeing the color fade with time.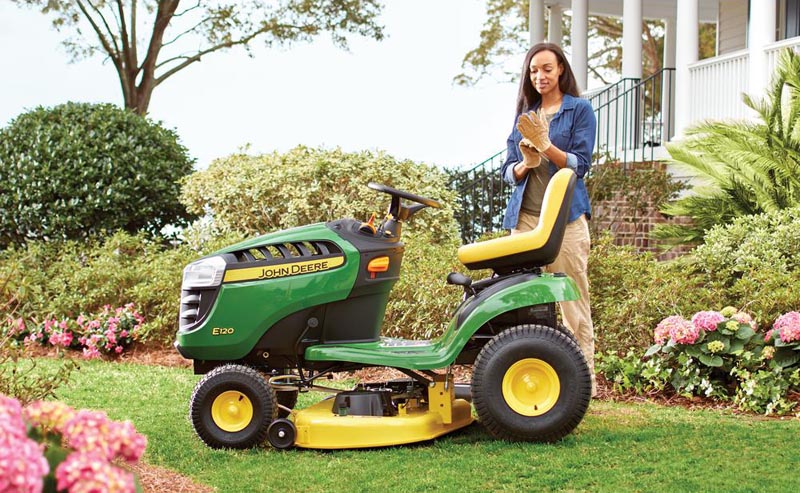 Lastly:
If you own a medium-sized lawn or something less than an acre, then this riding mower is exactly what you need. It doesn't matter if you are young or old, male or female, or if you have no mowing experience, the John Deere E120 is easy to learn and love!

---
The Not So Good
---
When it comes to the cut height for the mower, the adjustment is only by 0.25 inch increments. That may be good enough but it is still a bit limited. The mower also doesn't come with a pre-set cut height.
This just means that it lacks the versatility that other mowers possess.
Sadly…
When it comes to picking up leaves, this mower is not-so great! You can't get the leaves in just one pass, you might have to do a few in order to get them all.
Then there is also this:
The seat may be comfortable but it doesn't have armrests. It won't matter for short mowing but if you have a large lawn, it may become a bit uncomfortable after some time.
Incidentally:
You can't really mow for so long because the fuel tank is not as large as other models. The fuel capacity is only around nine liters.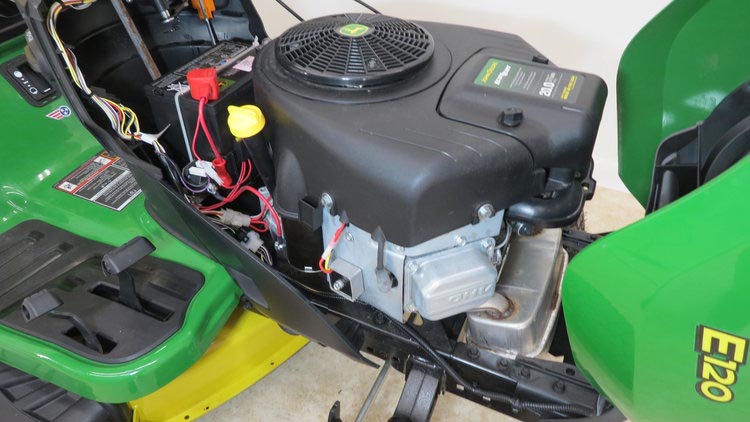 Finally:
This may not be a deal breaker but the rear grass bagger, which is actually optional, doesn't quite mount the right way. The bagger kept falling off until I modified its holder.
---
At A Glance
---
✔ Pros
Meets the ANSI standard for safety.
Meets OPEI standards for robotic lawn mower.
Affordable
Easy turn.
Easy to start and maneuver.
More quiet than most mowers.
Smooth foot drive pedals.
Easy-to-adjust lever.
Tight turning radius.
✘ Cons
Bagging system is not very reliable.
There are no armrests.
Warranty is only two years and limited.
Small fuel tank.
Adjustment lever is not very versatile.
---
Conclusion
---
My Verdict
Design - 92%
Performance - 90%
Price - 94%
92
%
Fantastic battery mower
The ease and comfort you feel when mowing your lawn hinges on your lawn mower. A riding lawn mower with a bit of learning curve could take you a few tries before you can comfortably mow your lawn. It may take longer for you to ride it with ease.
But with the John Deere E120 Riding Mower, you can learn how to maneuver it in no time. You will become an expert riding mower in just a few tries!
You know what else? You don't have to entrust the process of changing the oil of the machine to professionals. You can do it yourself because of its Easy Change system where you can change the oil in just 30 seconds.

---
FAQs
---
How easy is it to change the oil with John Deere E120?
First, you have to make sure that the engine has had enough time to cool off. Then you just lift the hood and twist to remove the Easy Change part.
Get the new Easy Change canister and lock it into place. Close the hood and you are done! It's as easy as 1-2-3!
Are there other products similar to the John Deere E120?
Yes! There are eight more lawn tractors in the John Deere E series. The higher the number, the more powerful.
So there are two models that are under the John Deere E120: E100 and E110. These are for smaller lawns and those without hilly parts.
The E130, E140, E160, E170 and E180 are more expensive and more appropriate for larger and more difficult lawns.
What are the other products sold by John Deere?
John Deere manufactures equipment for small and heavy workload. It makes lawn and garden equipment like the riding mower and those used in sports fields like the golf course.
It also makes heavy equipment for agriculture, landscaping, construction and forestry, among others.
---
You Might Also Like
---
Are you looking for a riding mower with a really tight turn? Well, how about a zero-turn radius? Then the Toro TimeCutter 32-Inch Riding Mower is your best bet.
If you have a small yard and you need a compact mower but with great power, then the Cub Cadet 30-Inch Riding Mower is what you truly need!
But if you want more options, I made a list of the Best Riding Mowers of the year.
Finally, to see everything in one page, check out my Site Index.
Useful Resources