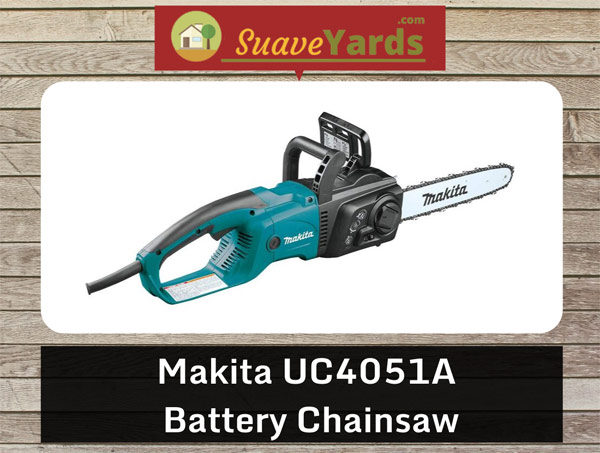 ---
Review At A Glance
---
The Makita UC4051A is the best electric chainsaw on the market in my opinion, it performs like a gas chainsaw and is exceptionally comfortable.
MY RATING: 93%

---
Editor's Note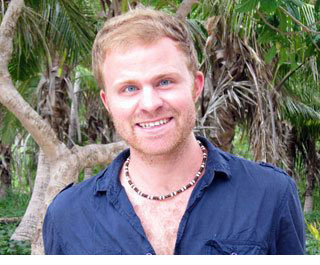 I hope you love the products that I recommend here! Just so you know, I work with Amazon and other affiliate partners and may be compensated from the links below.
---
---
Specifications
---
Power Source: Electric
Power: 14.5 Amp
Item Weight: 12.3 lbs
Guide Bar Length: 16 inches
One Year Warranty
Chain Speed: 2,900 FPM
Chain Pitch: 3/8 of an inch
Chain Gauge: .050 inches
Oil Tank Capacity: 6.8 oz
30 Day Money Back Guarantee
PRICE: $$$
---
About the Makita UC4051A Electric Chainsaw
---
Founded in 1915, the Makita Corporation have a strong reputation as a manufaturer of powers tools.
The Makita UC4051A is an electric chainsaw with a 16 inch bar and a chain speed of 2,900 feet per minute.
Let's take a closer look:
It measures 10" x 24.2" x 10.5" and weighs around 15lbs. It comes with a 16" saw chain, a 16" guide bar and an 18" chain cover.
It features tool-less blade and chain adjustments and has a current limiter built in which is designed to protect the motor from burnout by reducing the power when it is overloaded.
Amongst other features it has an automatic chain oiler and an electric chain brake.

Above: The Makita UC4051A has a 16″ guide bar.
But remember:
This uses 14.5 amps and one thing to ensure is that you have an extension cord that can handle the amperage. So if you are looking at a 100 feet extension cord then I would recommend 12 gauge or if you are going to use a 50 feet extension cord then go for 14 gauge.
It comes with a one year warranty and a 30 day money back guarantee if you are not satisfied with it.
---
The Good
---
When you buy a chainsaw what is your main concern? You want it to cut well right? Well this thing cuts well and then some!
Think I am exaggerating?
This has enough power to put many more expensive gas powered chainsaws to shame. The 16 inch bar deals with 12 to 14 inch limbs without a problem.
The chain that comes with it (from Oregon) is actually extremely good – not always the case when you buy a chainsaw. It's semi-chisel design means that it stays sharper for longer when compared to full chisel designs.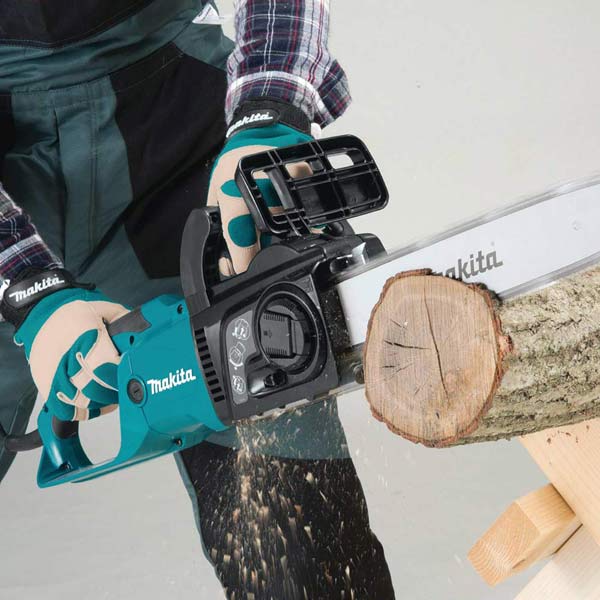 And you know the icing on the cake?
Despite the power this thing kicks out you always feel like you are in control of it, it is extremely well balanced and very easy to handle.
One of the reasons it is so easy to handle is that motor is slap bang in the middle of the unit – in line with the bar and handle. Lots of chainsaws have their motor out to the side making it off balance. Not this Makita though and it benefits enormously from it and so will you!
Another reason is a lot of thought has been put into the design of the handles, which are ergonomically very comfortable and covered in grippy type rubber so you always feel like you have a firm hold on it.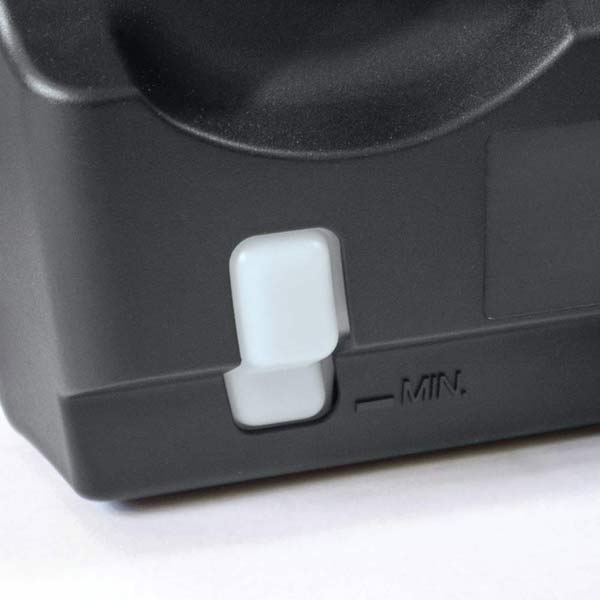 Above: The Makita UC4051A has a lot of power and also a visible oil level (above right)
Now here is the kicker.
This is SO well built. As soon as you get it out of the box you just know it is going to do a good job. It is very well built indeed and feels strong and rugged.
Have you ever bought a cheap plasticky feeling chainsaw before? This thing feels the exact opposite – it just oozes quality and has a nice sleek design.
So what else is going on?
There are definitely no safety fears with this thing. I love the soft start feature, so when you hit the trigger the speed ramps up over a couple of seconds rather than going straight into full RPM.
And the electric chain brake works exceptionally well – bring the speed of the saw down to zero within a second of you letting go off the trigger.
This is important:
The motor is cleverly designed – with the intake air at the back of the handle, which is a clever move as the air there will be free of dust, keeping everything cleaner.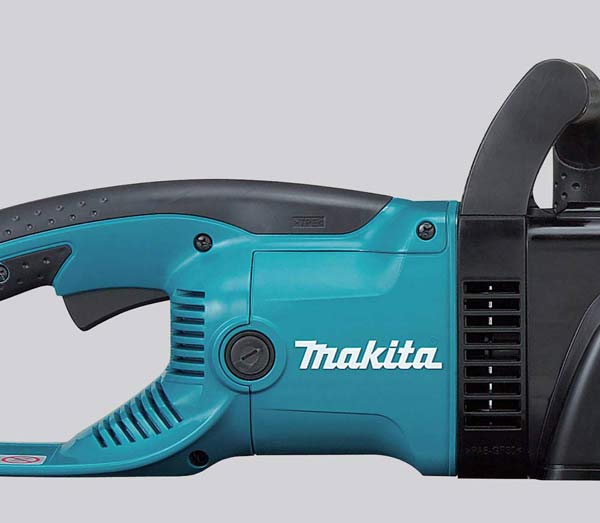 The fan cooling system works well and the motor has an overload system which means it won't start if you try and turn it on whilst it is in wood – this stops it overheating and burning out – prolonging the life of the motor.
There is much more I love:
The auto-oiling feature is spot on and works flawlessly and the brushes are easily interchangeable.
The power cord that comes with this is very high quality – protected and sturdy with a nice chunky power point.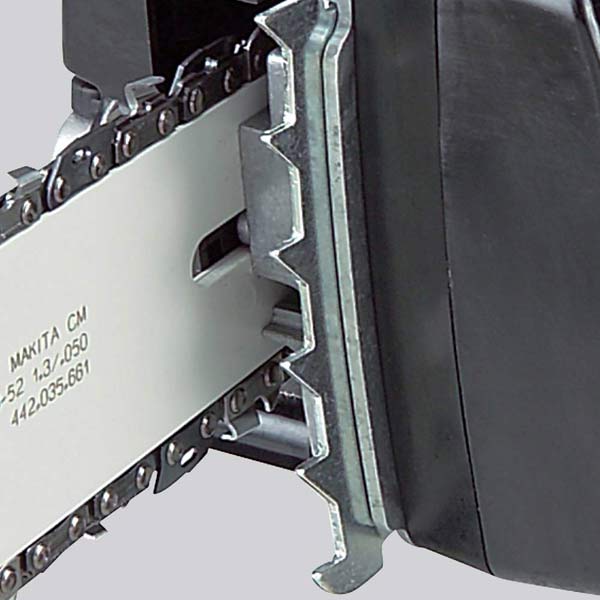 Above: The UC4051A has a great chain and a cleverly designed air intake
Also the attachment that stops the extension cable from detaching is much better than you will find on a lot of electric power tools. There is a hole to loop the cable through and a tab you can secure the cord around – it is really locked in place well.
The chain brake is exceptionally well done. With positive locking positions and it is very easy to distinguish if it is engaged or disengaged.
Finally the trigger safety lock mechanism is well positioned.
Good job Makita!

---
The Not So Good
---
My main issues with this are around the oil and the oiler.
There are no two ways about this:
This thing leaks! Not only that the oil reservoir is in an awkward place to access and subsequently it is awkward to fill.
If you set it down anywhere after use make sure you put something under it to absorb the oil that leaks out.
Also I am not a great lover of the blade and chain tightening system. True it is tool-less, so it does make it relatively quick and easy…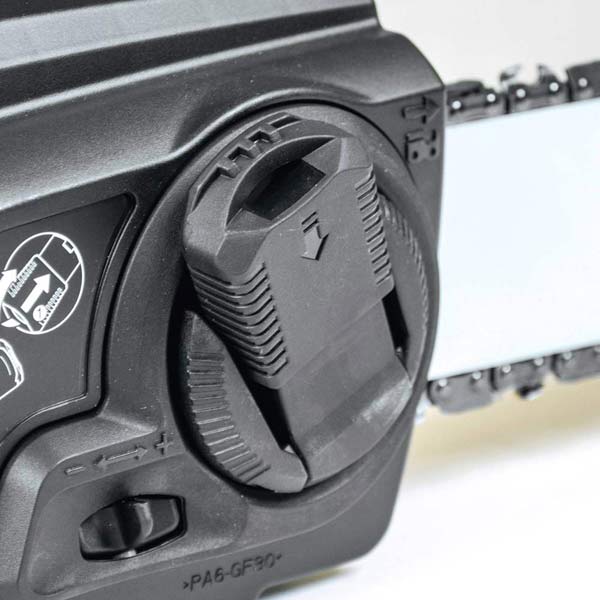 Above: The blade and chain tightening system could be better on the Makita UC4051A
But:
Whereas with brands like Husqvarna and Stihl the tensioning system is built into the metal body of the bar the tensioning system on this chainsaw is in plastic casing that is attached to the main body.
That means if you take the tensioning system off the main body and accidental adjust it it is very difficult to get it back on.
The tensioning is also done by a plastic pin – which doesn't inspire confidence as much as a metal pin would and again is weaker than its competitors.
It isn't the end of the world, you just need to be a bit more careful.
Finally when it comes to electric chainsaws this is at the higher end of the price bracket (but it is well worth it!)
---
At A Glance
---
✔ Pros
Power in spades
Great chain that stays sharp
Very well balanced
Easy to hold
Solidly made
Great soft start feature
Great electric chain break
Motor well designed
Auto-oiling works flawlessly
Very good quality power cord
Well made chain brake
Handy trigger safety lock
✘ Cons
Leaks oil
Oil reservoir in awkward position
Chain tensioning system could be better
Higher price tag
---
Conclusion
---
My Verdict
Design - 95%
Performance - 96%
Price - 88%
93
%
Best battery chainsaw around
If you are tired of using $70 electric chainsaws that break frequently and want something that will last then you should get this.
If you are looking for an electric chainsaw that is on par with a reasonable gas chainsaw then you should get this.
If you want a solid, reliable, extremely well made, well balanced and powerful chainsaw then you should get this!
There are definitely cheaper electric chainsaws out there, but there aren't better electric chainsaws out there.
Pretty much everything about the Makita UC4051A screams class - the design, the ergonomics, the safety features and the power. It is also incredibly comfortable to use.
My favorite battery powered chainsaw on the market.

---
FAQs
---
Does this have a vacuum function?
No it is just a blower and it is not vacuum capable either
Can this be used as a mulcher?
No it is just a leaf blower.
Does it require assembly?
No simply slide the relevant blower tube on and lock into place.
Does it come with a shoulder strap?
No, no strap is include – it would need to be bought separately.
How long will the engine run on a full tank of gas?
At a guess, based upon my own usage – maybe around an hour and a half of constant usage.
---
You Might Also Like…
---
This features very highly on my list of the best chainsaws of the year, but there are a few alternatives there you can check out.
Or if you are torn between an electric chainsaw and a gas chainsaw you can check out my list of the best gas chainsaws of the year as well.
Powerwise this is similar to a 40cc gas chainsaw – my post outlining the best 40cc chainsaws might be a useful comparison point.
Is this going to be your first chainsaw? It is important you know how to use it properly and understand how to sharpen the chain to make sure it lasts you a long time.
Finally you can also view my Site Index, which shows everything on my site on one page.
Useful Resources