---
Review At A Glance
---
This EGO Power+ Chainsaw is as good as a battery powered chainsaw can get. Lots of power and a fantastic battery.
MY RATING: 94%

---
Editor's Note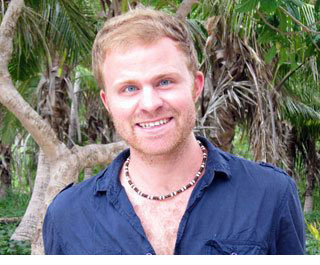 I hope you love the products that I recommend here! Just so you know, I work with Amazon and other affiliate partners and may be compensated from the links below.
---
---
Specifications
---
Power Type – Battery
Battery Type – 2.0Ah Battery (other options available)
Battery Life – 100 cuts
Battery Charge Time – 40 minutes
Charger Included – 56 V Charger
Guide Bar Length – 14 in.
Chain Gauge – 0.043 in.
Chain Pitch – ⅜"
Weight – 11.6lbs
Speed – 6800 RPM
Five Year Warranty
PRICE GUIDE: $$
---
About The EGO Power+ 14 Inch Battery Chainsaw
---
Ego Power+ are a relatively new company (well in comparison to someone like Husqvarna!). They were established in 1993 and are dedicated to manufacturing cordless technology, producing battery powered lawn mowers, leaf blowers, weed eaters, hedge trimmers and more.
Each year they produce over 10 million units, and retail in 65 countries across the world.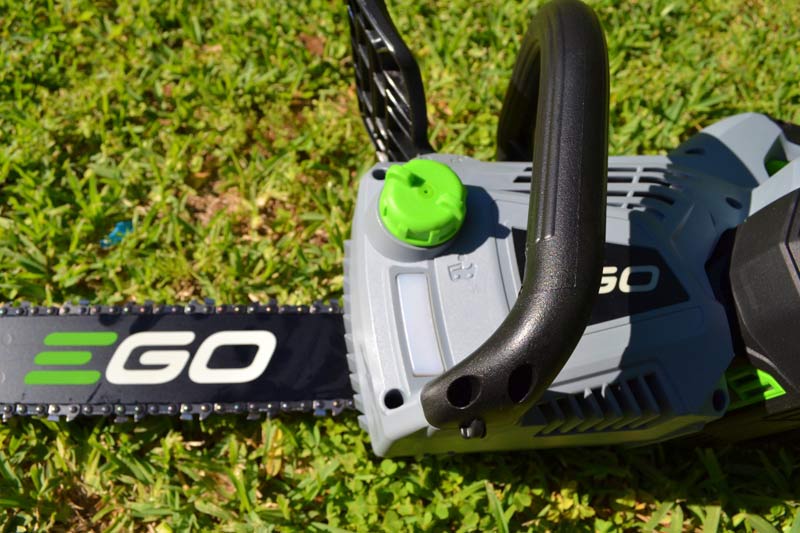 Let's take a closer look at this:
This has a 14 inch Oregon bar and chain, and a 56V brushless motor. It is powered by an EGO Power+ Lithium-ion battery that can be interchanged between any EGO Power+ tool.
It as a .043 inch gauge chain with ⅜ inch low pro pitch. It weighs 11.6lbs and comes with a five year warranty on the tool and a three year warranty on the battery.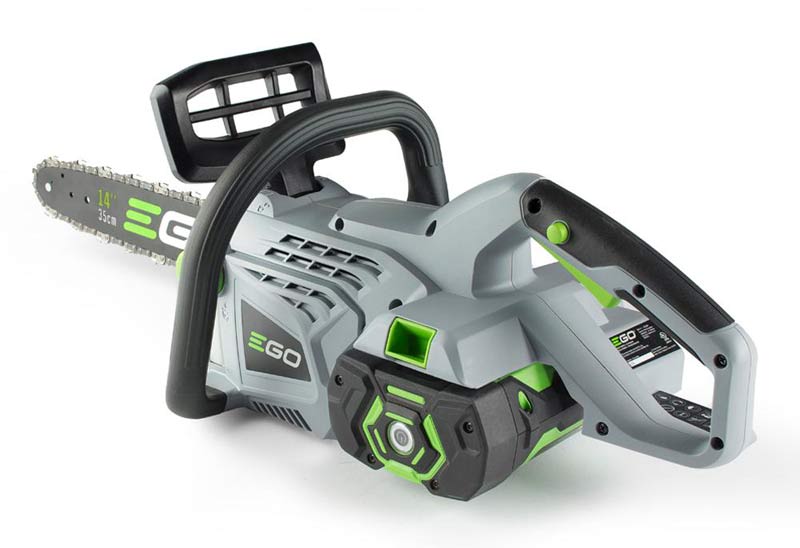 Above: The EGO Power+ Chainsaw uses a Lithium Ion Battery
Delving deeper:
The chain speed is 6800 RPM, it has a chain kickback brake and the run time with the 2.0AH battery is approximately 100 cuts. You can buy this with a battery and charger and the 2.0AH battery takes around 40 minutes to fully charge.
---
The Good
---
Big news:
This EGO Power+ Chainsaw is a battery powered chainsaw, that cuts well and has a good battery.
It is that simple!
Let's start with the battery. This uses one of the EGO Power+ 56v batteries, of which there are different strengths. The batteries are truly excellent.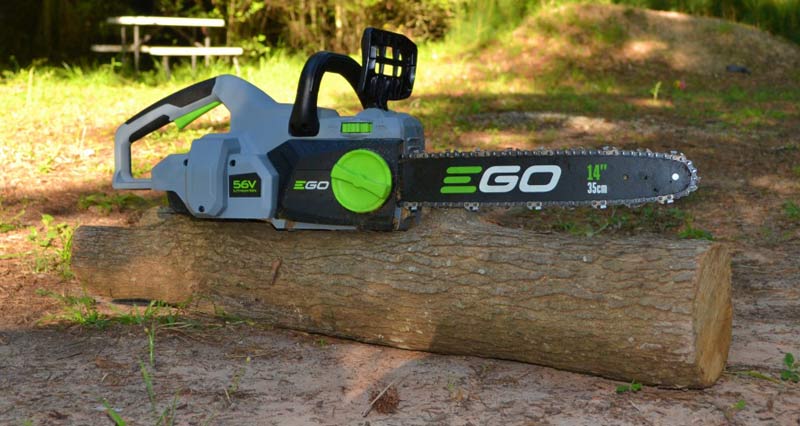 Even the 'weakest' of the batteries, the 2Ah, gives you a great run time. It is estimated at 100 cuts and you genuinely get a good hour out of it before it shows any signs of flagging.
Even better – it will fully recharge in 40 minutes.
And this is huge:
The EGO Power+ batteries are fully interchangeable with other EGO Power+ products, these include leaf blowers, hedge trimmers, weed eaters and lawn mowers, so you can swap the battery between products – saving you money as you don't have to buy multiple batteries.
There are numerous other little things I love about the battery.
The light on it flashes red when the battery is running low – so you know it needs recharging

The battery slides in sideways to the chainsaw, which distributes the weight and means it isn't rear end heavy

The battery stays nice and cool due to what EGO Power+ call Arc Lithium technology – meaning the cells are arranged in an arc pattern so the heat from the battery cells dissipates more easily.
Above: This chainsaw has a terrific battery, with a good run life.
And here's the kicker:
This cuts powerfully and quickly. It will cut through 9 inch to 12 inch trees without a problem. And it can cut through trees up to 16 inches in diameter (as demonstrated by this video).
Thanks to the battery mentioned above you should be able to cut down small trees, de-limb then and buck them without needing to recharge. It also has a highly efficient, brushless motor, which gives it a real kick too.
All in all I am sure you will be surprised how powerful this is.
Now:
It is evident a lot of thought has been put into the design and this has really paid off for the user.
The chain break paddle is snug next to where your right hand goes, so it doubles up as an effective safety switch – working quickly and effectively.
Thanks to nicely designed forward and AFT handles it is exceptionally well balanced and easy to handle and ergonomically everything feels great.
Ever struggled with tightening or loosening the chain on a chainsaw?
We all have right?
This has a really interesting tool free tensioning adjustment system. You don't need an allen wrench, instead you loosened the main nob on the right hand side of the unit and then you simply turn the plastic dial above it left or right and it loosens or tightens the chain.
It works really well too!
I love how the oil reservoir has a filter and the automatic oiling system oils the chain as you use it. It also has a handy oil level window so you can quickly and easily check the oil level.
And, I touched on this before, the chain brake works exceptionally well – making you feel very safe when you use this – it literally cuts the power to the chain and stops it instantly in the event of kickback
And of course:
This has all the other benefits you might expect of a cordless power tool. Notably it is incredibly easy to start – release the chain brake and pull on the trigger and it starts – no chokes, no hard starts, it starts flawlessly.
It is exceptionally quiet – especially in comparison to gas chainsaws, it is very light weight and compact, but feels tough and sturdy.
Above: The tool free tensioning system works well and the chain break safety paddle is nicely positioned (above).
Aside from refilling the chain bar oil this requires pretty much no other maintenance and of course you have no fumes or cord getting in the way.
The bottom line is:
I am a big fan of EGO Power+ Products (check out my review of their weed eater for example). Their products are generally exceptionally well made, comfortable to use and perform very well.
This is no exception. An absolutely delightful cordless chainsaw.

---
The Not So Good
---
I feel like I am being picky here, but there are a couple of issues around the oiling system.
The actual hole where the oil goes is VERY small and combined with the filter it does mean you need to work very slowly when you put the oil in.
Also it does get through bar oil pretty quickly. It is recommended you drain excess oil after you use it (to avoid leaking) but it seems that a full tank of oil is used during one battery charge.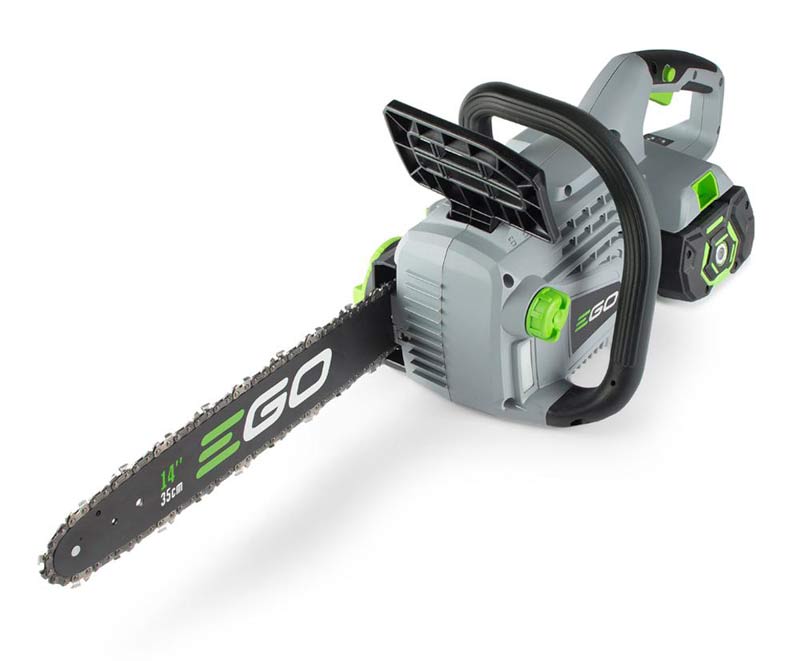 There is also an issue with oil seeping out when you have this stored between uses (probably why it is recommended you drain excess oil after use).
Beyond that:
There isn't too much to complain about, however very infrequently the chain just come off the bar when you are cutting an acute angle.
It does take a little while to get the chain tensioned correctly, but once that is done it should be less of an issue.
Above: You have to pour oil into this very slowly!
And remember:
You have the normal cons associated with battery powered tools. You are tied down to the battery life and whilst this is powerful it doesn't have the power of a strong gas chainsaw.
---
At A Glance
---
✔ Pros
Great run time on battery
Battery recharges quickly
Battery interchangeable in all EGO products
Surprising amount of power
Nicely designed
Well balanced and comfortable
Great tool free chain tensioner
Automatic oiling system
Nice oil level window
Great chain brake
Easy to start
Very quiet
No maintenance
✘ Cons
Easy to spill oil when filling it
Gets through a lot of bar oil
Oil seems out when in storage
Takes a while to get used to chain tensioning system
---
Conclusion
---
My Verdict
Design - 95%
Performance - 97%
Price - 90%
94
%
Lightweight, powerful, excellent
In short this is a fantastic chainsaw that combines the benefits of a cordless tool without losing any of the power a gas chainsaw can provide.
The 56v battery itself is as good as you could wish for - providing good cutting times and recharging quickly.
And for a lightweight tool, boy can this open up and cut. Wood up to 12 inches in diameter can be dealt with quickly and efficiently - with a sharp blade it can do almost anything.
If you are an arborist who regularly works on big properties with lots of trees to cut down then it might not be for you.
But if you want something for working on up to 12 inch limbs (or maybe even bigger) in your backyard, for quickly and efficiently cutting firewood, for clearing brush, cutting palm fronds, going camping… in fact for pretty much anything else this won't let you down.
This is another excellent EGO Power+ product.

---
FAQs
---
What is the difference between a 5.0Ah battery and a 2.0Ah or 2.5Ah battery?
The 5.0Ah is heavier but will provide a longer run time than either the 2.0Ah or 2.5Ah battery. The 2.0Ah is estimated at 100 cuts, the 2.5Ah at 130 cuts and the 5.0AH at 260 cuts.
Can you use the battery from the EGO Power+ Weed Trimmer with this?
Yes. You can swap batteries between any EGO Power+ Products. They are all totally interchangeable.
Does this come with a carry case?
No there is no carry case, but it does come with a chain cover.
Does it come with oil?
No it doesn't, but any bar chain oil should do the job.
---
You Might Also Like
---
This is one of my favorite chainsaws – although there are a number of other excellent electric, battery and gas powered chainsaws on the market.
In fact if you are looking for the ultimate power then check out my list of gas powered chainsaws, or my favorite 40 cc chainsaws.
As a note my favorite gas chainsaw is the Husqvarna 455 Rancher and my favorite electric chainsaw is the Makita UC4051A. If you want something different the Black & Decker Alligator Lopper is well worth a look too.
Remember you need to be very careful when using a chainsaw, so stay safe and keep the chain sharp as well.
To see everything on my site on one page check out my Site Index.
Useful Resources

Conclusion