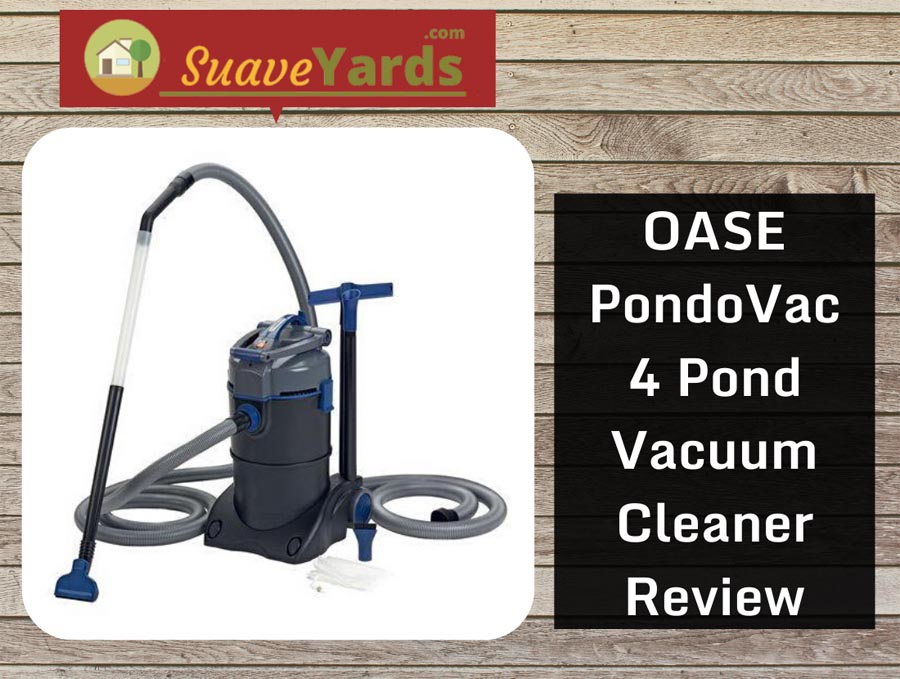 ---
Review At A Glance
---
Here is an outdoor vacuum that gives you the 1-2 punch! The OASE PondoVac 4 is basically made for the pond. But it does wonders for the pool as well. It has patented dual chambers that allow non-stop vacuuming.
MY RATING: 95%

---
Editor's Note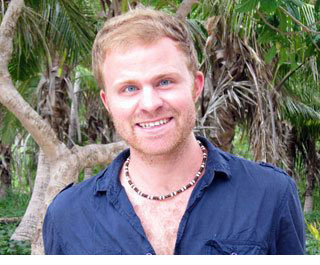 I hope you love the products that I recommend here! Just so you know, I work with Amazon and other affiliate partners and may be compensated from the links below.
---
---
Specifications
---
Engine Power: 1800 watts
Suction Depth: 7 feet
Suction Hose Length: 16 feet
Weight: 37 lbs
Warranty: 2 years
PRICE GUIDE: $$
---
About the OASE PondoVac 4
---
You would think that having a pond at home would mean living in luxury. It's not that cheap to have a pond made after all.
However
Maintaining one actually entails hard work. That pond won't clean by itself!
Thank goodness for OASE PondoVac 4! It makes your job more convenient.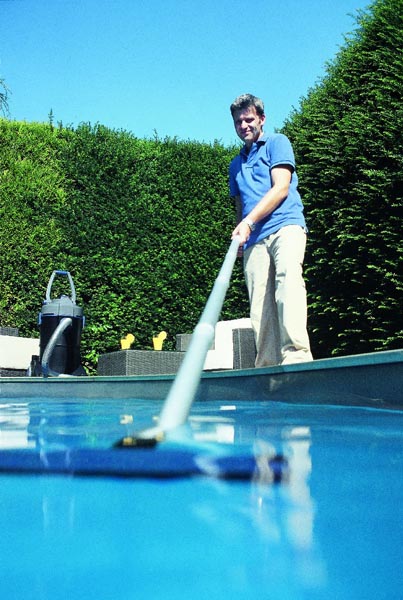 Let's get to it
What really makes this product special is its patented dual chambers that alternately fill and empty. This means that you can do non-stop vacuuming, which makes for a more effective pond maintenance.
It is also worth noting that the PondoVac can be used in cleaning pools as well.
You want to know more about the brand?
OASE has been passionate about water since 1949. German engineering is the backbone of this innovative brand.
The goal of OASE is to provide healthy water since water is life. This is why it manufactures highly innovative aquatic products that make your life easier.
In fact
For OASE, providing products that promote natural and healthy water is more than just business. It is an obligation.
Let's get to know OASE PondoVac 4 a little better.
---
The Good
---
There are so many great things about this product. Let's start with the basics: It can be used for ponds and pools.
There are different water quality in ponds and pools so it is quite convenient to have a product that can be used for both.
Let's get technical!
Probably the most important characteristic of the PondoVac 4 is that it has dual chambers that fill and empty in alternating cycles. This allows for non-stop vacuuming.
So?
That means maximizing the time in cleaning the pond (or pool). It also implies effective pond maintenance.
This will make your life more convenient.
That's right!
You would also like to know that it runs on an 1800-watt motor. That's a lot of power, which means more work in a shorter amount of time.
Boom!
With that kind of power, you can remove debris and decaying matter in your pond in no time. The best part is that you don't have to drain the pond.
Here's another reason why this is a great product:
It is equipped with powerful turbines.
This is 20% more powerful than the PondoVac 3.
You know what else?
OASE doesn't just provide ease in cleaning, it is also easy to clean! You need to keep your vacuum clean in order for it to function well for a very long time.
The PondoVac 4 has quick-release clamps that will make it easier for you to remove the motor unit. This way, you can meticulously clean it.
This is important
If debris or dirt get stuck on the motor, chances are it won't be able to function well in the future. Worse, your vacuum might actually get damaged before its expected end of life.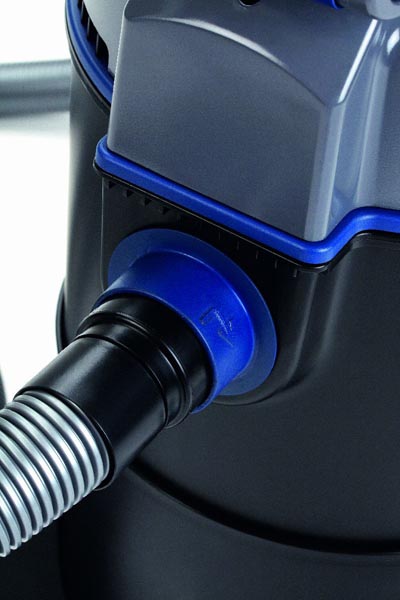 You'd also like to know:
There are a variety of accessories that you can attach to the PondoVac for easy cleaning.
There are at least four nozzle head options:
Adjustable floor nozzle
Crevice nozzle
String algae nozzle
Wide nozzle
Let's elaborate
A certain nozzle works better with certain tasks. The adjustable floor nozzle, for example, can remove pond floor debris without taking up gravel.
You can adjust the nozzle from 2 to 10 millimeters.
Then
There is the crevice nozzle, which vacuums pollutants hiding between plants and stones. The string algae nozzle, as the name suggests, removes strings of algae with ease.
The wide nozzle, for its part, can suction residual water with ease through its rubber lips
What more?
The wide nozzle can actually be used as a dry vacuum for the household.
Yep! The PondoVac is that versatile!
If it can conveniently clean the more complex pond, your pool is no bother at all.
Let's talk about the discharge
The vacuum comes with an eight-feet hose to allow mobility for the cleaner. There is also a collection bag appropriate for debris that is coarse.
As for the wastewater, you can simply pour it on to a garden because it is a good fertilizer. Just make sure there is no debris included.
If you don't have a home garden or you just don't feel comfortable with the wastewater as a form of organic fertilizer, you can dispose of it into a sewer.
What else?
There is a hand regulator that could adjust the vacuum power.
This way, you can find the speed that is just right for you.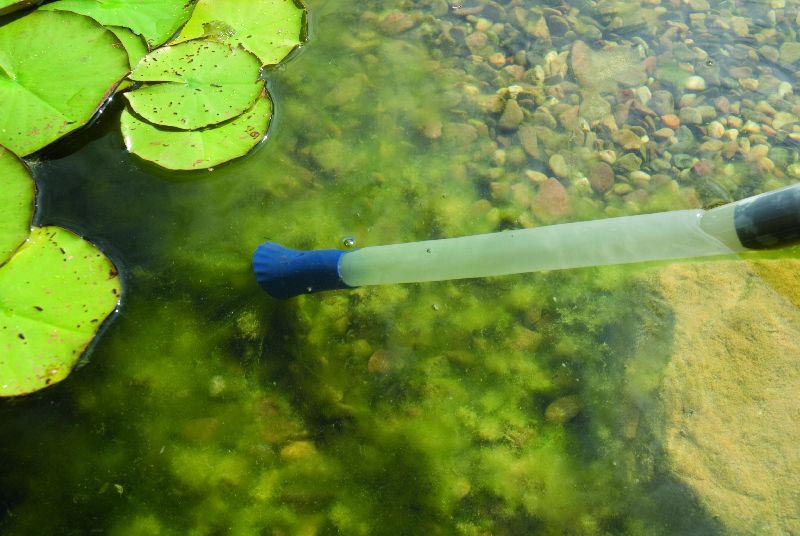 Also
It has wheels!
This is very important because you don't want to break your back lugging the PondoVac 4 from the storage area to your pond and back again.
And if a neighbor wants to borrow your equipment–it's not a problem at all! The wheels provide easy mobility for anybody who wants to use this vacuum.

---
The Not So Good
---
There aren't a lot of bad things to say about the PondoVac 4. It is actually one of the best pond and pool cleaners out there.
However
When it comes to ponds, stones are inevitable. There will always be small pebbles that will be sucked into the vacuum.
Just be careful with those as it would clog the PondoVac 4. This is why it would be a good idea to be knowledgeable about which attachment to use for proper cleaning.
Caution:
Mud, too, can really slow this vacuum down. Just be mindful about what is being vacuumed so you would know that you need to discharge even if it isn't full capacity yet.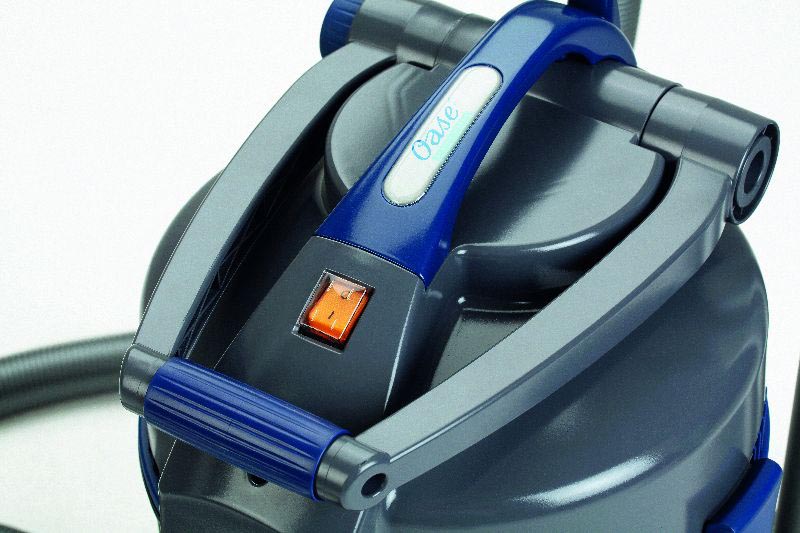 Here's another caution:
Instructions may be a bit complicated. You are better off learning how to use this thing through YouTube tutorials.
There isn't any detailed narration on how this thing works in the instructions.
---
Conclusion
---
My Verdict
Design - 97%
Performance - 95%
Price - 93%
95
%
Convenience and versatility in one cleaner!
If you enjoyed the PondoVac 3, then you definitely want this model. The OASE PondoVac 4 is 20% times better than the previous one, which was already a good deal.
This product is the face of versatility! You can use it for the more complex pond, and so cleaning the pool is quite a breeze. With the right nozzle, you can transform it into a regular household vacuum. Although, regular is the last adjective you can use on the PondoVac 4.
The best part about this is the dual chambers. No wonder OASE had this feature patented. This way, you don't have to stop vacuuming every now and then because you have to empty the full chamber. Non-stop vacuuming makes for a convenient spring cleaning!

---
At A Glance
---
✔ Pros
Dual chambers that allow non-stop vacuuming
7 feet suction depth
Powerful 1800-watt motor
Attached wheels for mobility
Four different nozzle heads
✘ Cons
Clogging may occur when stones and mud are sucked
Instructions need to be more detailed
---
FAQs
---
What other products does OASE manufacture?
OASE is a brand that manufactures products that are related to water. Aside from pond or pool cleaners, OASE also produces aquarium and terrarium cleaners and accessories, as well as the actual aquarium and terrarium.
Water gardening essentials are also among the brand's innovative lineup of products.
How often should you clean the pond?
You should remove floating unwanted elements in the pond once or twice a week.
When you can't see the fish anymore or the water starts to become murky, that's a great indication that you should drain your pond for a more thorough cleaning session.
The best time to do this is during spring, hence, the term spring cleaning–it is applicable to almost any kind of cleaning.
How do you know that the pond is healthy?
If the inhabitants of the pond look healthy then that is a pretty clear indicator that the pond is healthy. Speaking of clear, clear water is one way to keep the pond healthy.
---
You Might Also Like…
---
If you want more alternatives for pond vacuum cleaners, check out our list of the best pond vacuum cleaners of the year.
How do you keep your pond healthy? Here are some amazing tips!
If you still don't have a fish pond, you might be interested in building one. Here is a step-by-step guide.
Useful Resources