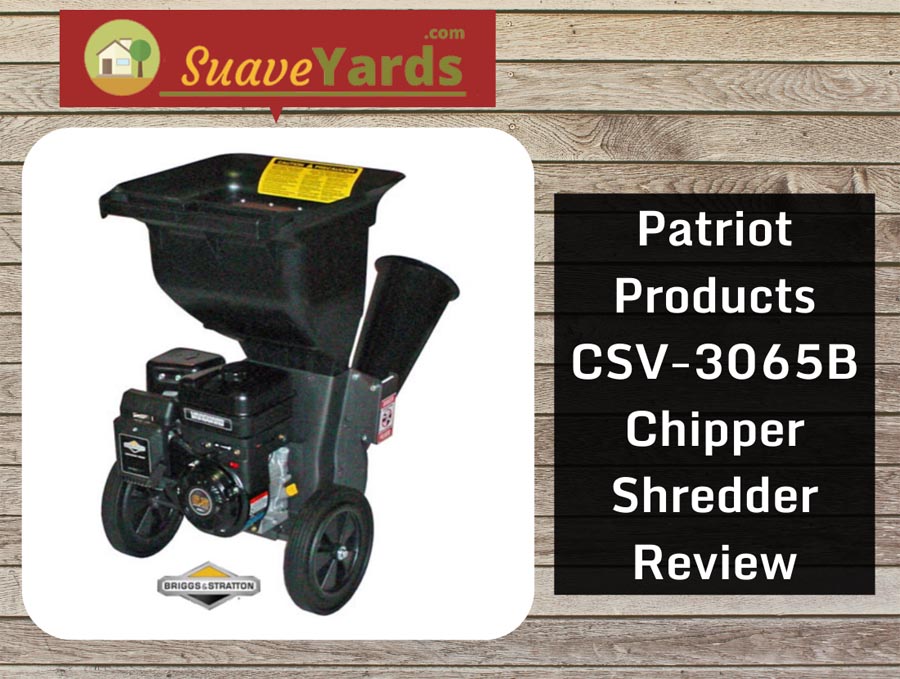 ---
Review At A Glance
---
Do you need heavy-duty chipping? Then the Patriot Products CSV-3065B Wood Chipper Shredder is exactly what you need. It can handle larger branches and can reduce 20 bags of waste to just one. If you need more reason to pick this product up then read on…
MY RATING: 95%

---
Editor's Note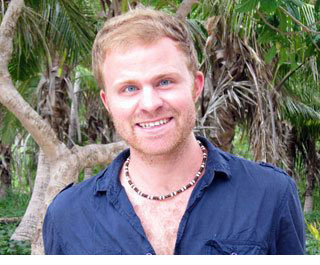 I hope you love the products that I recommend here! Just so you know, I work with Amazon and other affiliate partners and may be compensated from the links below.
---
---
Specifications
---
Model Number – CSV-3065B
Power – Gasoline
Maximum Cutting Diameter – 3 inches
Mulch Ratio – 20:1
Engine – 6.5 hp Briggs & Stratton
Weight – 120 lbs
Warranty – 3 years
PRICE GUIDE: $$
---
About the Patriot Products CSV-3065B Wood Chipper Shredder
---
With a 6.5 horsepower Briggs & Stratton Vanguard commercial grade gas engine, you know that the Patriot Products CSV-3065B Wood Chipper Shredder means business.
Briggs & Stratton has been in the business for over 100 years manufacturing engines for outdoor products.
What does this mean?
It means that the product is definitely efficient based on the maker of its engine. It is so efficient it could chip a wood at up to three inches in diameter.
Think about it this way:
If it could go through thick branches skillfully, imagine what it could do with leaves and other softer organic debris.
The mulching rate is also astonishing. The machine could reduce 20 bags of organic waste to just one.
That's quite powerful!
This wood chipper runs on gasoline, which is not always the most environment-friendly product. At least, the fact that it could reduce so much waste also helps the environment in its own way.
Let's get technical
The CSV-3065B has a low oil shutdown plus a premium muffler.
It also has a one-pull start carburetor.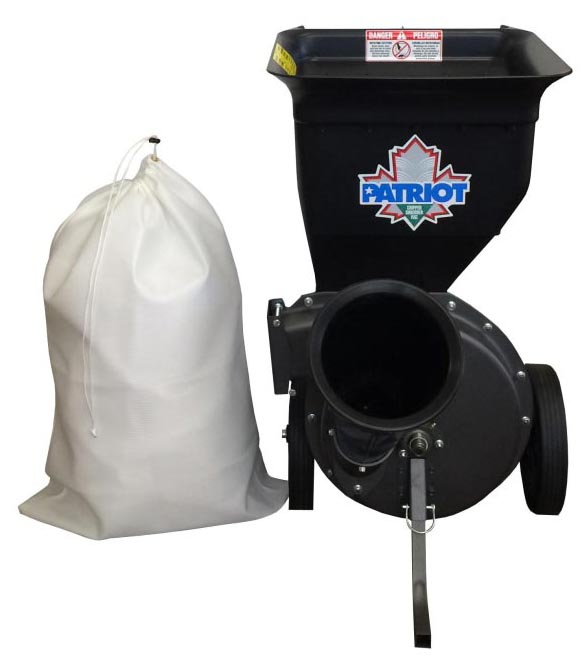 Is that important?
Yes! Because one of the biggest issues against gas-powered wood chipper shredders is the start.
Many similar machines are harder to start. It could take at least three pulls for the machine to start working.
Plus
The wood chipper also has a high RPM or revolutions per minute. This means that it works fast.
Finally
The product has a side discharge that makes it easier for you to collect the chips or mulch. The output can be directly discharged to the collection bag.
---
The Good
---
Not a lot of machines could have this much reduction rate. It really has among the best mulch ratios in the market at 20:1.
Of course, it means there is so much power behind the engine.
Let's move on
The design of this product is also fascinating and not just aesthetically.
The chute is straight down but the cutting rotors are even farther down.
Let me explain
The rotors prompt a vacuum so that the material can be shredded into them.
First, this is a safe way to go. Secondly, it makes chipping and mulching so much more efficient.
Speaking of the rotor
Here is another reason for that chipping and shredding power: the rotor is over 20 pounds and measures 14 inches in diameter.
It has two chipping knives that efficiently do the work. These are made of high-quality steel.
The effect?
You can have amazing chips as big as coins. That is the perfect size for mulching!
Here's more!
For this kind of power, the product is really quite compact. It measures 24 by 35 by 37 inches (W x L x H).
This means you can easily store it in your garage or in a tool shed. It won't take up so much space.
Also
If you intend to take it with you to do yard work in another property, it's not a problem. If you have a van or an SUV, the wood chipper shredder can fit it snugly.
It also only weighs 120 pounds. It's quite easy to move around. Don't worry about the weight, though, because the product has wheels for mobility.
You know what else?
The product has no problem processing irregularly shaped branches. Curved branches are the bane of many wood chipper shredders.
You will have chips and mulch in no time at all!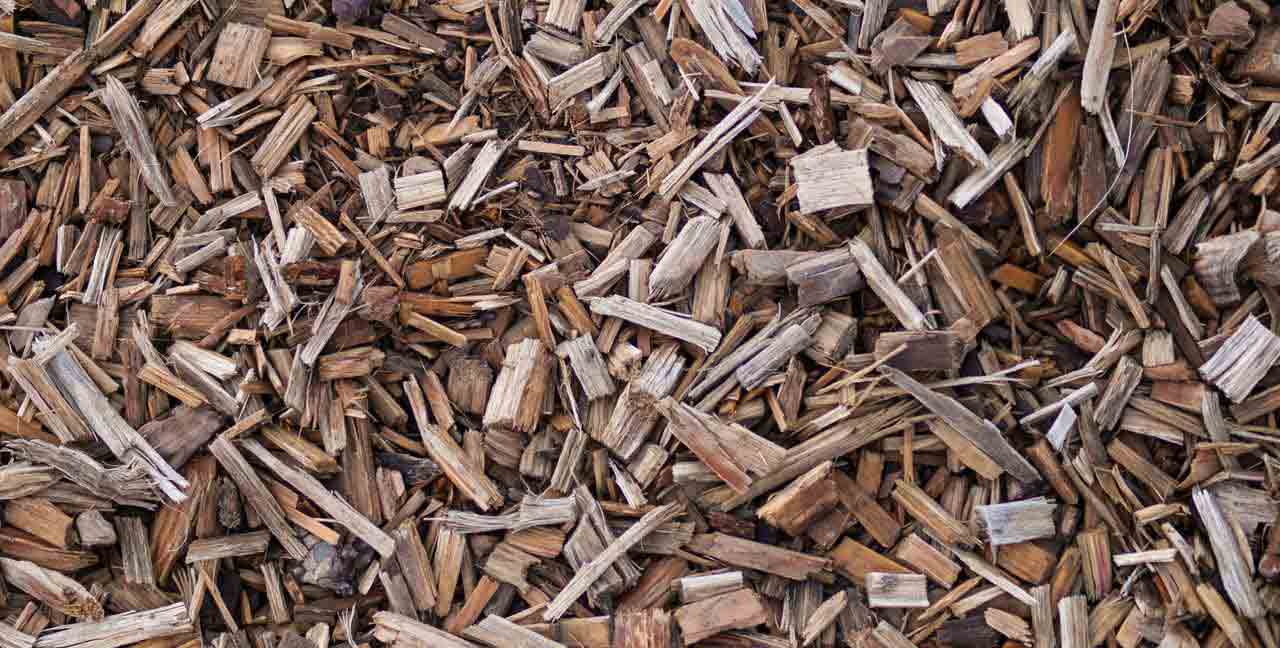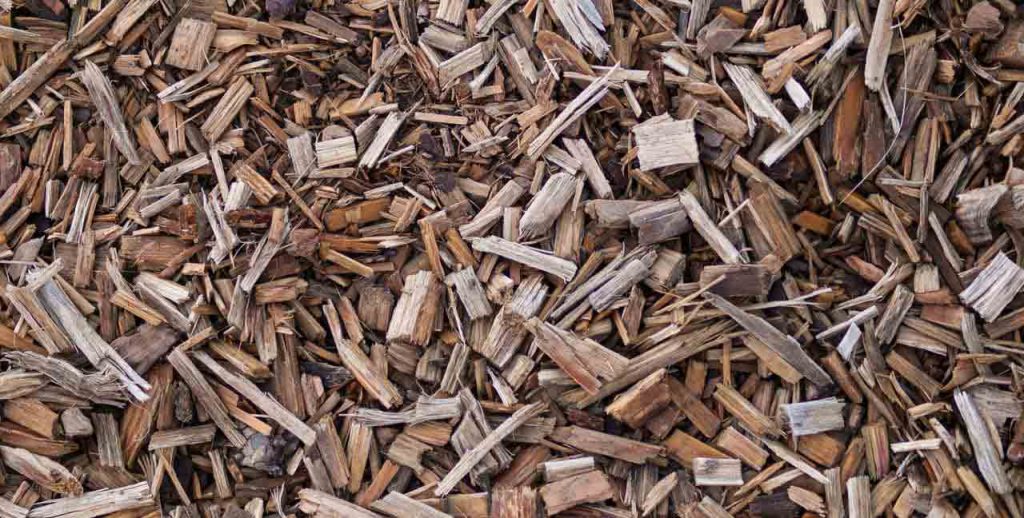 Here's the deal
Even cedar wood, which is known as hard, has no problem being processed with the CSV-3065B.
The same goes with palm fronds–they go through the machine quite easily.
In relation to that
This product really has a nice large hopper. So you don't need to break apart larger branches or the wide palm frond.
The six of the hopper is 16 by 14 inches.
Now that is for the shredding part.
How about the chipping?
The CSV-3065B has a tapered chipping cone. This is great for rigid branches so you don't need to break them apart.
This is particularly an important feature if you are planning on chipping sunflower or corn stalk.
The opening is seven inches in diameter.
Other astonishing features:
The product has a sensor that knows if it has little oil or no oil at all. The machine won't start in this case.
It would have been a disaster if that happened.
It's just like a car. You would never start a car when it is out of oil.
In addition
The machine also has a gas shutoff valve and a drain valve.
Lastly
Minimal assembly is required.
That is amazing news for me. And it's safe to say a lot of people feel the same way. Assembling a machine is one of the most intimidating things about buying an outdoor power equipment like the Patriot Products CSV-3065B Wood Chipper Shredder.

---
The Not So Good
---
There aren't a lot of negative things to say about this product. And for the downsides, there are solutions available.
Let's start
Oil was not included in the purchase and it is not quite easy to put the liquid into the machine. You need a funnel–a long one.
While it is a problem with a solution, it is just a bit annoying to find out about it just as you are about to use it.
You know what else?
There is no off switch! It's quite astonishing to discover that.
So what do you do?
You pull the plug!
Either that or you just shut off the fuel feed.
---
Conclusion
---
My Verdict
Design - 96%
Performance - 95%
Price - 95%
If you have a mini forest at home or just a yard with a lot of trees, then the Patriot Products CSV-3065B Wood Chipper Shredder is the best machine for you. It is powerful and efficient!
Part of its power comes from the 6.5 hp Briggs & Stratton engine. When it's from Briggs & Stratton, you know it's good! The brand has over 100 years of history after all.
You want proof of this machine's power? It can handle irregularly shaped branches and those with a diameter of three inches. Plus, it could reduce organic waste fed into the machine so efficiently with a mulch ratio of 20:1.

---
At A Glance
---
✔ Pros
Amazing 20:1 mulch ratio
3-year warranty (90 days for commercial use)
1-pull start
Can process irregularly shaped branches
Can easily chip branches with a diameter of 3 inches
Large hopper
Tapered chipping cone for easy chipping
✘ Cons
There was no oil in the machine
No off switch
---
FAQs
---
Why do you need a wood chipper shredder?
It is actually an important machine that can keep your yard neat. It can process your branches, twigs and leaves and make the volume smaller. These can then be made into mulch or compost, which means you are not leaving any waste behind.
What kind of chipper shredder should you use?
If you have a smaller yard, then the electric-powered shredder is good for you. It is environmentally friendly, too, because of the low carbon footprint. But if you have a medium- to large-size yard, then the gas-powered wood chipper is better for you.
Would the number of blades matter?
The more blades you have, the more efficient the machine is.
---
You Might Also Like…
---
Are you looking for more gas-powered options? You might want to check out the Yardmax YW7565 or the SuperHandy Wood Chipper Shredder.
They make wonderful wood chips, which can then be used as mulch. So what are the benefits of using wood chips as mulch?
If you have a smaller yard, though, an electric chipper can do the trick. Here are some alternatives: Sun Joe Chipper CJ601E and CJ602E or the Power Smart PS10 Chipper Shredder. They are generally smaller and are environmentally friendly, too.
Useful Resources