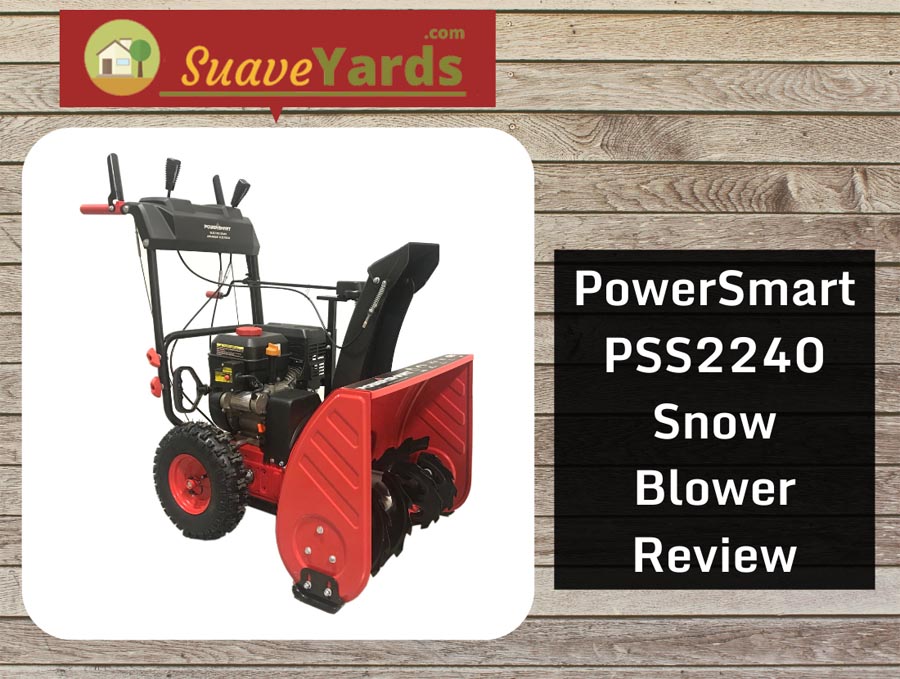 ---
Review At A Glance
---
Do you live in a region that experiences heavy snowfall? Then the PowerSmart PSS2240 Two-Stage Snow Blower is the right one for you. It can work even in the harshest of winters with more than a foot of snow.
MY RATING: 95%


---
Editor's Note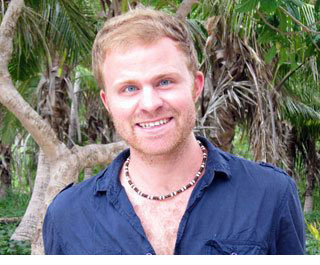 I hope you love the products that I recommend here! Just so you know, I work with Amazon and other affiliate partners and may be compensated from the links below.
---
---
Specifications
---
Model number: PSS2240
Power source: gas
Clearing width: 24"
Clearing depth: 20"
Throwing distance: 40"
Weight: 160 lbs.
Warranty: 2 years
PRICE GUIDE: $
---
About the PowerSmart PSS2240
---
The PowerSmart PSS2240 Two-Stage Snow Blower has a 212cc engine, which explains the power that this machine has.
No matter how harsh the winter is, you won't be having problems clearing the snow on your driveway and even the rest of your area.
Display of power
Just to show how powerful this machine is, it can clear a width of 24 inches. That's why it's perfect for large areas.
You can be done in no time.
In relation to that
In every pass, the PSS2240 can clear 20 inches of snow. That's almost two feet of snow.
A foot of snow is common in regions that experience heavy winter.
What happens to the cleared snow?
It will be thrown 40 feet away.
The chute can also be adjusted within 180 degrees, so you can choose the direction where you want the snow to be dumped.
Now
This is a gas-powered snow blower. However, it also has an electric start.
This makes it easier to start even when the weather is around -20℉.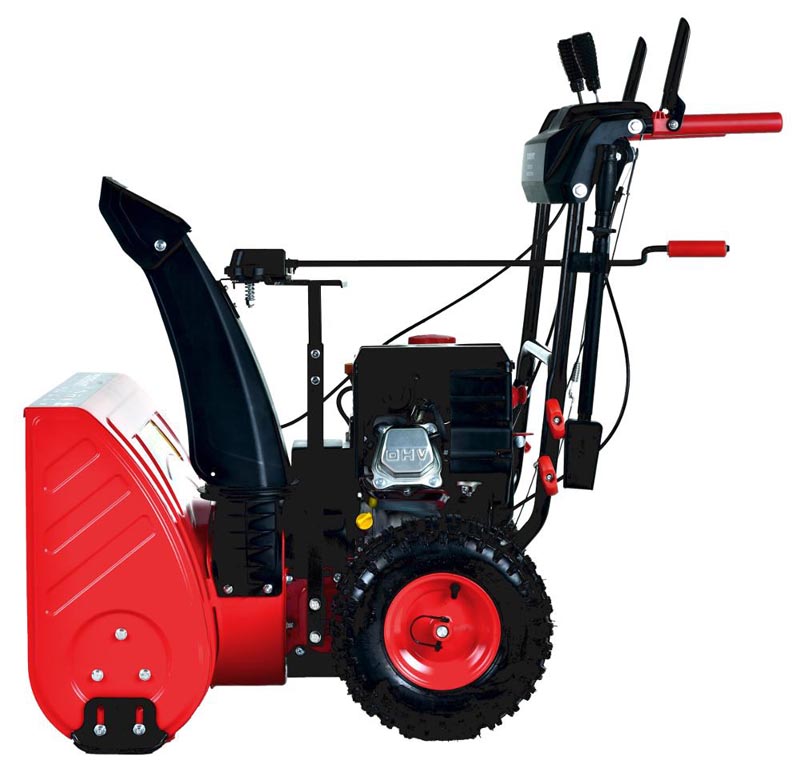 Astonishing, right?
That means you can start snow removal right away.
This also comes with 13-inch tires.
Finally
This product has a two-year warranty.
---
The Good
---
This is a superior machine without the complexity of working one.
Let's start with it's amazing ability to work even in the harshest conditions.
Imagine
You live in a really cold region where winter with negative zero degrees or less is quite normal.
It is normal for a gas-powered machine to have a pull cord to start. However, this pull cord doesn't always start in the first pull.
That's right
You have to pull it at least twice in regular winter, and many times when it's freezing.
The manual start is very easy. You just push the button and the machine is ready to go.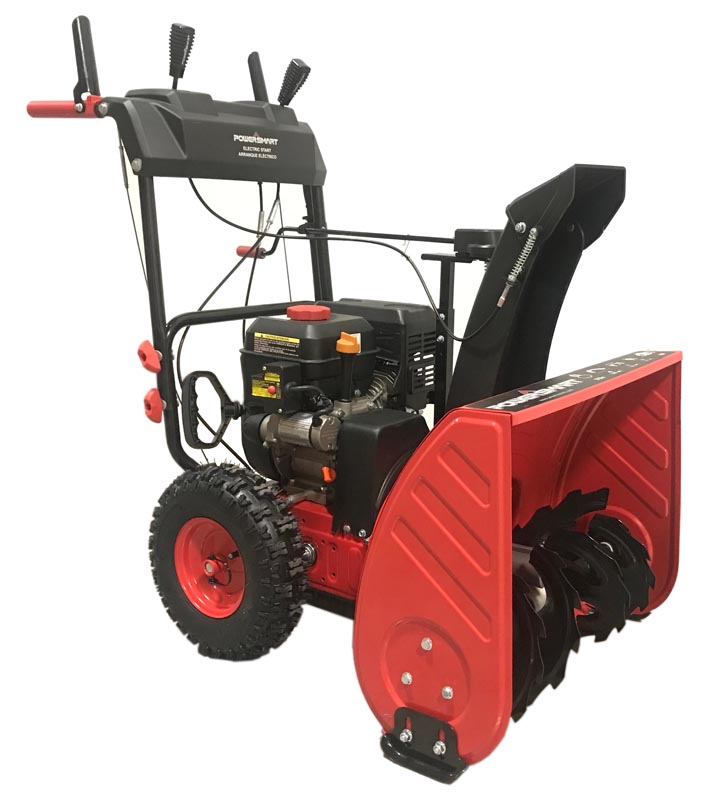 Another thing about the gas-powered machine:
It's really powerful. However, it is also known as a large contributor of pollution in the world.
However, the PSS2240 has a four-cycle engine.
What does this mean?
Primarily, it means that it doesn't use up a lot of fuel. This way, you don't have to buy gas as often as you used to.
More importantly, a four-cycle engine has cleaner emissions.
That should convince you!
All manufacturers should really think about creating equipment that won't damage the environment more.
Moving on
There is nothing too challenging for this machine.
Another thing that's really great about this is the control that you can have over it.
Look
This is a heavy machine. It weighs 160 pounds.
However, it's very easy to control. It has six forward speeds and two backward speeds.
So?
This means that you can move according to your comfort. If you're in a hurry, then you want to go faster.
On the other hand, if you just want to chill out while working, then you got it!
Backward speed?
This is in case you get stuck. With this machine, that doesn't happen often.
If you do get stuck, you need to go backwards a little bit to power through.
That's not all, when you do need to make a turn, backing the machine up will be easier.
You know what else?
The dual-trigger steering makes it easier for you to change speeds.
Not only that, you can also control the direction of the chute, as long as it is within 180 degrees.
Plus
This machine is designed for maximum performance. You can just look at it and you'll know.
Those 12-inch steel augers look like they mean business!
Boom!
The wheels–they are 13 inches and have eight movement variations.
The variations are important especially with the different speeds that you have to deal with.
Speaking of
The tires also have deep snow tread bites in case you have to deal with slippery terrain.
Clearing snow when the ground is slippery is very dangerous.
Finally
The machine is CARB compliant. CARB means California Air Resources Board.
Compliance entails that the machine passed the air pollution standards set by the board.
Not a lot of companies even try to get this kind of certification.

---
The Not So Good
---
It's not all rosy up in there. This machine also has some of its faults.
For one
The reverse speed doesn't always work. As a result, I would just have to pull it myself.
That's a lot of energy needed considering this is quite heavy. It is a two-stage snow blower after all.
Another downside
It might be straining for tall people. The machine is built for individuals with average height.
Shaquille O'Neal might have a hard time with this machine. Lol
Not too bad, right?
I mean, the disadvantages are not really deal-breakers, unless you are a really tall person.
Besides, you won't have to be doing snow removal for long because this is a really powerful machine.
---
Conclusion
---
My Verdict
Design - 95%
Performance - 96%
Price - 95%
Inches deep in snow? No problem! Negative-degree temperature? No problem! When you have the Power Smart PSS2240 Snow Blower, there is no weather too bad and no insurmountable snow.
This is just a powerful machine that can clear 24 inches of snow, width-wise. As far as depth goes, it can clear as much as 20 inches of snow. Those are quite common in some regions that have really harsh winters.
There's no reason for the earth to bleed, though. Running on a 212cc engine with four cycles, the PSS2240 has cleaner emissions. Just because this is a gas-powered machine doesn't mean that it is immediately bad for the environment.

---
At A Glance
---
✔ Pros
Powerful
Works even in negative temperature
Electric start
Cleaner emissions
Variety in speed
Dual-trigger control
CARB compliant
✘ Cons
Reverse speed doesn't always work
A bit straining for tall people
---
FAQs
---
What is the size of this snow blower?
The dimensions are 33 x 26 x 26 inches.
What kind of oil is needed in the machine?
Just regular motor oil (5w30) at 16oz.
How do you maintain gas-powered snow blowers?
The most important is the regular changing of engine oil. Let the machine warm up first so that it will be easier for the oil to drain. It flows easier when it's warm. Anyway, after the machine has warmed a little, turn it off. Pull the drain plug and rainer the oil. Use a container so the oil won't stain your ground. Put back the plug and fill the engine container with oil.
---
You Might Also Like…
---
For me, the PowerSmart PSS2240 is one of the best snow blowers. In fact, I rated this as my top choice in my list of the Best Two-Stage Snow Blowers of the year.
For smaller areas, you don't have to buy the larger two-stage snow blowers. The single-stage snow blower is good enough, unless you live in areas with really harsh winters with really deep snows. To know if the snow-blower is right for you, you can check out our list of the Best Single-Stage Snow Blowers of the year. 
It is also handy to know the differences between single-stage and two-stage snow blowers.
Useful Resources