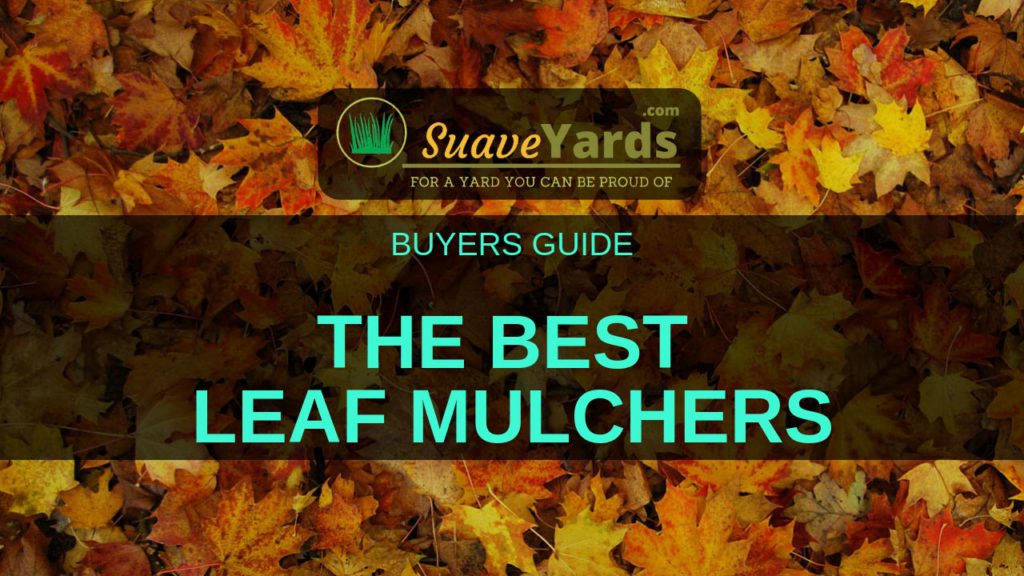 A good mulcher can be a wonderful way of converting those annoying fallen leaves into delicious and nutritious feed that will benefit your yard.
Not only that it can make that tiresome job of clearing your yard of leaves quick and easy.
Lets take a look at the best leaf mulchers of 2023.
>>> Jump me straight to the reviews – I know all about leaf mulchers already <<<
---
Best Leaf Mulchers 2023 – At A Glance List
---
Below is a quick view of my favorite leaf mulchers of 2023. To find out more about them click on the link to take you to the full review.
---
How to Choose a Leaf Mulcher
---
As is the case with any piece of electrical equipment these days, there are so many options, features and variables that it is easy to get confused over what you actually want and need and end up going round in circles.
So stick with me here as…
I've tried my best to summarise below what you should think about if you are looking at buying a leaf mulcher:
The Blower Function
There are a handful of specialist leaf mulchers that do nothing else aside from mulch leaves, but the vast majority of leaf mulchers these days are leaf blowers with a vacuum and mulching functionality.
Think about it this way:
It is important to consider what you want out of the blower.
Look at the maximum blowing speed that can be achieved. Many blowers can reach speeds of up to 250mph or more.
The higher the speed the easier it should be to dislodge stubborn leaves or debris.
It is simple:
Machines with narrow nozzles often make it easier to direct the air flow and arrange leaves into piles for easier access for vacuuming and mulching.
A variable speed control is always important as well as it means you have more control over the leaves and don't run the risk of your carefully arrange piles of leaves getting blown everywhere as your leaf blower only has one speed!
Weight
Depending upon the size of your yard you will probably be carrying your blower/mulcher for a sizeable amount of time.
Put it this way:
A couple of pounds of difference in weight can make a lot of difference to the strain on your arms/shoulders/back over a period of say 30 minutes to an hour working with it in your yard.
If you are older this is something you might want to give more weight to (no pun intended!) when making a decision.
Handle and Shoulder Straps
However, I am going to slightly contradict what I have just said above now! Sometimes a heavier leaf mulcher/blower, if well made, can feel a lot lighter.
What is the magic formula?
Well designed carrying handles and the use of a shoulder strap to support the machine, can make a lot of difference.
Mulching Ratio
The mulching ratio is the rate the leaves and debris are reduced at. So a 10:1 ratio means ten bags of leaves are reduced to one bag of mulch.
A higher mulch ratio means a finer and better quality of mulch, that will be better for your garden correct?
You are dead right.
Plastic or Metal Blade
When looking at the leaf mulcher part, the main part is the impeller, which is the part that actually cuts and shreds the leaves. The impeller will either be metal or plastic.
So here it is:
Metal impellers are more durable, less easily damaged and more capable of cutting and shredding leaves well.
Plastic impellers are more likely to break and need replacement, but often will be found in leaf mulchers that cost slightly less.
Easy Access
Inevitably, no matter which leaf mulcher you choose, due to the nature of the job and the fact you will be vacuuming and mulching lots of leaves that at times will be damp there will be occasions when the machine will become clogged.
In short:
To be able to get to the impeller easily and safely is important.
Changing Functions
Some leaf blower mulchers can change from blower to mulcher more easily than others. In fact for some it can be done at the flip of a switch. Make sure you investigate how easy it is to change functionality.
The moral of the story?
There is no point have a device that is a fantastic leaf blower and an excellent leaf mulcher if switching between the functions takes half an hour and causes you lots of stress!
The Best Leaf Mulchers 2023
---
#1 WORX WG518
---
BEST FOR…
Those who want an excellent and very easily interchangeable blower and mulcher.
---
Sometimes combination leaf blowers/mulchers/vacuums can perform adequately in all three functions without excelling in one in particular, that isn't the case with the Worx WG518.
The mulching function is excellent and works really well – it pulverizes twigs, acorns, leaves and even wetlands and its 16:1 mulch ratio means the mulch that comes out is very fine and of a great quality.
This is important:
What is more the mulching blade is metal, not plastic – this ensures it will last longer and you won't need to replace it and the conversion from leaf blower to vacuum/mulcher is literally as simple as it gets.
You just change nozzles and clip on the bag – it'll take you no more than five seconds once you have done it a couple of times.
To top it all off:
The mulch bag, which is included and can hold nine gallons, has a shoulder strap attached that will also help support the unit and the whole thing has been well designed and has a nice, ergonomic handle that makes it easy to hold.
The blower function is great, it has two speeds and the top speed is 250 mph, so it has some power. It is fairly light and easy to maneuver as well.
But first a warning:
There isn't too much to complain about, but the vacuum tube decreases in size and can tend to clog, almost as if it is too wide at the end for the air flow.
Also when you are vacuuming wet leaves mud does tend to get stuck around the chamber where the mulching blades which can be a pain.
All in all:
For the price, which is very reasonable, the power of the blower and the quality of the mulching function is very hard to beat and the fact you can switch between blower and vacuum/mulcher so easily is great!
---
MY RATING: 94%
---
---
#2 Toro 51621 UltraPlus
---
BEST FOR…
Those looking for a solid, well designed product that blows and mulches equally well
---
Despite mulching at a meagre (in comparison to some) 10:1 ratio the Toro 51621 Ultra Plus is actually a really good mulcher that outperforms most other mulchers. And the mulch created seems smaller than 10:1.
Let's take a closer look:
It has been really well designed and is very comfortable, the strap that holds the bag has plenty of space for adjustment depending on your height, which a few other manufacturers could learn from.
It also has a cord retainer that works well and keeps the cord untangled and out of the way and despite being relatively weighty, you don't notice it.
To top it off:
This comes with three blower tubes – the main tube to move leaves as normal, a power insert to move debris into rows and piles and a concentrator nozzle to move more stubborn debris out of cracks, etc.
This means you should really be able to do any job you want it to. It also has an oscillating nozzle which works really well and makes cleaning your yard easier and faster.
It has a completely variable speed control that you can adjust to up to 250 mph and the blower is powerful and will shift most debris.
But beware:
This could really do with an on/off switch though, in addition to the speed dial, so it could be shut off quickly on case of an emergency and it is a little cumbersome to switch between blower and vacuum/mulcher.
In essence:
You certainly won't be disappointed if you purchase this, it does an excellent job mulching and has plenty of flexibility as a blower.
---
MY RATING: 93%
---
---
#3 Sun Joe SBJ606E
---
BEST FOR…
Those wanting power!
---
The Sun Joe SBJ606E is a step up on the already very good Sun JoeSBJ605E, the design is more efficient and as a result so is the mulching performance.

So let's dig in:

This has a maximum air volume of 440cfm and a maximum air speed of 250mph. It has a mulch ratio of 16:1.

It has six speed settings when blowing and two when vacuuming, an 18 gallon collection bag, weighs 8.6lbs and comes with a two year warranty.

Wham!

At 440cfm, this is the most powerful blower/mulcher on my list. This means it can collect leaves, big and small, wet and dry and just shred them into small and perfect mulch quickly and easily.

It is so powerful it can pick up small twigs and pine needles and does a good job of mulching them too.

To aid the impressive mulching performance this has a solid metal impeller – more durable and less likely to chip or crack over time and it means you get very fine mulch.

In fact:

The entire design of this Sun Joe is good. It has wheels on the vacuum tube – these take the strain off of the user and make using it much more comfortable.

The rest of the unit is plastic, but strong plastic that can take the impact of flying debris, whilst at the same time keeping the weight down.

And the 14-amp motor is powerful, but quiet and can deal with pretty much anything.

Not only that:

Switching between leaf blower and leaf vacuum/mulcher is easy and literally takes seconds. The 18 gallon collection bag is big enough for you to not to have to worry about emptying the mulch continually and it has six wind speeds and two suction speeds when you are mulching.

But:

When you are using this to vacuum it is fine as the wheel on the tube takes the strain, but when you are leaf blowing it can feel heavy after extended use.

A dedicated shoulder strap could help take some of the weight and I think it is a slight oversight one is not included.

To cut a long story short:

Little touches like the wheels on the blower tube show a lot of thought has gone into the design of this. It is a powerful and well design leaf blower/vacuum/mulcher.

---
MY RATING: 92%
>>> READ MY FULL REVIEW <<<
---
---
#4 Black & Decker BV6600
---
BEST FOR…
Those looking for an exceptional mulcher.
---
The Black & Decker BV6600 is definitely one of the best mulchers on the list.
It is a leaf mulcher with metal blades, which is always a good start as it is less likely to be broken.
Here's the kicker:
It mulches to a 16:1 ratio and the mulcher has no problem dealing with pretty much any type of leaf and small twigs as well.
The 16:1 mulch ratio mean it shreds the debris into a very fine powder and produces a really top quality mulch.
Moreover:
Whereas some mulchers need to be cleaned a few times before tackling a significant amount of mulching this one doesn't.
You obviously need to take care of it, but it has no problems mulching a lot of material over a short period of time. It is an exceptional mulcher.
Changing functions from vacuum to blower/mulcher is easy as well – a simple snap on and snap off and you are done.
In truth:
The vacuum function doesn't quite match the standards of the mulching function, but it is still very good.
The unit has a concentrator nozzle which makes it easier to move those leaves which are stuck to the ground and overall it is durable, well designed and as a result feels fairly light.
You can also get the Black & Decker BV-006 Leaf Collection System and connect it to this so all leaves are collected into a bin – meaning less trips to and fro emptying the collection bag.
Be warned:
There are a couple of minor faults – my main one is around how the bag detaches to empty the mulch.
It can't be done gradually and has no zips – so you have to be very careful as it is easy to spill the mulch everywhere.
The bag also shreds a little and catches leaves on it, it could do with a better finished edge to prevent that happening.
In short:
These are minor bugbears though – this is small, powerful and very high performing mulcher indeed.
---
MY RATING: 91%
---
---
#5 Black & Decker BV5600
---
BEST FOR…
Those looking for a great value blower/vac/mulcher that is impressive in everything it does.
---
I think the Black & Decker BV5600 is a really fantastic piece of kit that has a lot going for it at a bargain price.
Focusing first on the mulcher – it has a thick metal mulching blade which mulches really well down to a 16:1 ratio which is great.
Beyond that:
This is very inexpensive and if you spend a little more you can buy the BV-006 Leaf Collection System which allows you to connect the unit to a hose which connects to the top of a garbage can for more efficient mulching.
It is simple to go from blower to vacuum/mulcher.
Attach the mulcher bag to the nozzle where the blower tube was and then simply put the vacuum tube where the cover was and you are good to go. It takes about 30 seconds.
Stick with me here, as this isn't all:
It has also been built well and is easy to set up, if there is a blockage you can easily take it apart, unblock it and get going again.
It has been well designed, with the handles in the right place, so you don't really feel any strain on your back, shoulders or arms when you use this and the cord can be hooked in so it doesn't fall out.
In terms of a leaf blower it works well and I put a lot of that down to nozzle, which is on a swizzle and makes it easier to get at those leaves that you wouldn't normally be able to.
A warning:
Of course like any unit it has faults – it is quite loud and due to the suction tube being wider at the bottom than the middle it does clog up occasionally.
In all:
For the price you get more than you could wish for – it is a fabulous tool for any garden to have.
---
MY RATING: 90%
---
---
#6 LawnMaster BV1210
---
BEST FOR…
Those looking for comfort in handling
---
The main thing about leaf blowers, especially the 3-in-1 kind like the LawnMaster, which is a leaf blower, vacuum and mulcher, is that it can be quite taxing on your hands.
Understandably
You have to carry the thing the entire yard.
At just 8.8 pounds, this 3-in-1 tool is certainly lightweight.
But that's not all
Just because it is lightweight it doesn't automatically mean that it's comfortable.
The LawnMaster has an ergonomic design so that you won't feel the fatigue when you have to clear your yard for quite some time.
This means
Even if you work for quite some time, you won't feel the pangs of the task–at least not as much as other products.
But with a maximum air speed of 240 miles per hour, you also know that you won't be working for a long time.
Speaking of speed
There are two speeds to choose from.
It's quite simple actually. You just press a button for one speed and attach a concentration nozzle.
Moving on
This is an electric tool, which means that it doesn't need maintenance.
Of course, you have to battle with the cord.
Don't worry
The tool comes with a cord retainer so that the cord will remain secure no matter the movement during clearing.
It also comes with a big bag.
How large?
It has a 14-gallon capacity.
A large bag means that you can do continuous work. It's more practical this way.
Couple that with a mulch ratio of 14:1 and you know that you have a great blower / vacuum / mulcher in your hand.
Even better
It mulches really well. The mulch that comes is so fine, which just makes it perfect for compost.
Another advantage of that is you can put more waste in the bag than when the leaves weren't mulched.
By the way
The motor is 12 amperes.
That's a good power for a tool like this.
On the downside
This is quite loud.
You have to be conscious about when you clear your yard so that you don't have to bother the neighbors.
Don't get me wrong, it's not THAT loud. But it's louder than a lot of its counterparts.
Also
The bag's zipper gets stuck a lot of times. It's quite irritating.
You have to admit
The disadvantages of the LawnMaster product doesn't really outweigh the advantages.
This is an efficient product that is quite comfortable to use.
---
MY RATING: 90%
---
---
#7 Sun Joe SBJ605E
---
BEST FOR…
Those who want a mulcher with a large capacity bag and less strain on the body!
---
The Sun Joe SBJ605E is a good mulcher. One of its big advantages is the 18.5 gallon bag it comes with to collect the mulched material.
This is bigger than all of its competitors and means less trips back and forth for you to deposit the mulched material.
Boom!
The mulching bag itself attaches directly to the unit – it is attached to the end of the blower and kept in place with a clip that fixes round the tube of the mulcher. This means you don't have to carry it over your shoulder.
I think it depends on personal preference whether this is a good thing or a bad thing but I think the design of the bag makes vacuuming leaves much easier.
And this is another leaf mulcher with metal blades – which I always prefer.
But you know what else?
Ergonomically it is well designed – the blower assembles in seconds, you just clip the blower tube to the main unit and plug it in and everything is done.
The process of switching from blower to vacuum is really simple too and it has six speed settings.
It mulches well and handily has wheels on the end of the vacuum tube when helps stabilize it, ensures there is less stress on your back and means you can just push and pull it using minimal effort.
Sounds good?
It is also powerful, with a 14 amp motor and pumping out 440 CFM of air per minute. The manufacturing is sound and despite it being on the slightly heavier side it doesn't feel so.
And good thinking, Sun Joe have included a wall hanger – so it is really easy to store!
A word of caution:
The only issues are that the stitching around the leaf bag looks a little flaky and might come undone after prolonged use.
It could really do with being double stitched. Also possible the power cord could be slightly longer.
In truth:
A great blower and a fantastic mulcher with some really good design points and a solid build.
---
MY RATING: 90%
---
---
#8 WORX WG509 Trivac
---
BEST FOR…
Those who want the minimal of fuss when switching from blower to mulcher (and great mulch)!
---
The WORK WG509 Trivac has two major things going for it – it has a fantastic 18:1 mulch ratio, so the mulch you get is really fine and of a really good quality so it is great for your garden.
Secondly the functionality in switching from blower to vac/mulcher is beyond simple!
Think I am exaggerating?
It is literally a flick of a switch. No wasting time changing parts of the unit or fiddling around, in a split second you go from blowing leaves to vacuuming and mulching them, saving you a lot of time and hassle.
The fact it mulches down the leaves and stems so small means less trips for you to empty the (provided) mulching bag as well.
It also has a metal mulching blade, which I prefer to the plastic blades as I think it mulches better and will last longer.
The silver lining is:
It actually has seven different speeds, which exceeds almost every other unit in this list and the blower itself works really well with a lot of power.
Furthermore it is easy to disassemble and easy to clean out and then put back together again.
But you need to know this:
However the design of the Trivac could be better. It is not that easy to hold the Trivac and deal with the over the shoulder strap.
The bag needs a longer strap as you find yourself having to stoop down whilst you use it so you can get the mulching/blowing tube to the ground.
On top of this the on/off switch is black, which is the same color as the panel it is located on so it makes it difficult to see.
But the bottom line is:
As a mulcher this is great and really shreds down the leaves to give you lovely mulch for your garden.
---
MY RATING: 89%
---
---
#9 WORX WG430
---
BEST FOR…
Those who don't need a blower and just want a dedicated mulcher that does a good job.
---
The Worx WG430 is not a blower with a mulcher function. It is designed purely for mulching leaves and nothing else.
But if you are looking for a dedicated leaf mulcher and already have a leaf blower or are not worried about getting one it could be just what you are after.
Most importantly:
It produces a really lovely mulch, the mulch ratio is said to be 11:1 but it actually feels more than that such is the fine, powdery consistency of the mulch.
Unlike handheld blowers/mulchers this deals with large, thick and wet leaves with minimal fuss and you don't have the hassle of lugging around the device whilst it does its mulching.
What is more:
It is easy to set up and made up of a number of small parts so it is easy to store in the off season.
It is also pretty light and uses heavy duty grass trimmer lines that make it very safe.
It isn't all positives though:
On the downside these trimmer lines do break every now and then, but you get 24 replacement lines supplied and they are very easy to replace. It is also reasonably loud for an electric mulcher.
So it all adds up to this:
There is a reason it is the most popular dedicated leaf mulcher on the market and that is because it does the job it is designed for very well.
---
MY RATING: 88%
---
---
#10 Black & Decker BV3100
---
BEST FOR…
Those who want a really low cost unit that does all the basics really well.
---
Even by budget blower/vacuum/mulcher standards the Black & Decker BV3100 is cheap! But that should not make you think it can't do a good job – in fact quite the opposite.
How?
It mulches perfectly adequate, producing a fine mulch you can spread on your garden, some whole leaves make it to the collection bag but the majority get shredded.
The collection bag also has a zipper at the end which makes emptying it really easy – you don't even have to take it off your shoulder.
Even better:
It is easy to assemble, and although it is made of durable plastic, it is well designed and intuitive to use.
It is also really light, so easy for you to carry around, and the carrying handles are well positioned.
The blower is surprisingly powerful as well and will shift even the hardiest of debris. It works really well on dry material.
Note:
Where it does struggle is on wet leaves which tend to clog it up and the power cord connection to the extension cord you will need is flimsy – they pull apart too easily.
The simple truth is:
This thing isn't going to change your world, it might not even perform as well as most of blowers/mulchers on this list, but if you remember how much you are paying for it you will not be disappointed – it does what it needs to do well all for an extremely cheap price.
---
MY RATING: 86%
---
---
#11 Black & Decker BV6000
---
BEST FOR…
Those looking for a bargain blower/mulcher that produces very fine mulch.
---
The Black & Decker BV6000 is a fine mulcher. By that I mean it really mulches down the leaves until they are literally mere dust – its 16:1 mulch ratio is incredibly efficient.
Want to see what makes it worth a place on the list right?
The collection bag slides on and off very easily and is surprisingly durable.
It also works well on wet leaves which sometimes can be troublesome so that is a real bonus and it even picks up and deals with small twigs.
The collection bag has been well designed, it unzips on two of its four sides, which means when you empty the mulched material it will be really straight forward.
And another thing (or two):
The vacuum tube is quite square, so it is more level to the ground when you use it, making it easier to suck up leaves.
Finally you can also access the mulching blades (which are metal) really easily by removing the safety guard so you can sharpen them.
Talking of safety, this won't work if any part isn't on properly, which is a nifty feature too.
The blower function is good and powerful and the whole device seems well made for the price it comes in at.
But:
This does come with a detachable shoulder strap, but it is difficult to find a comfortable way of wearing it between the strap and the power cord – so some tinkering with the design is needed there.
Also switching between blower and vac/mulcher isn't as easy as some other models on the market.
Here's the deal:
But it is really well priced and does things many others in the same price bracket don't – ie works well on wet leaves and grass clippings and mulches down material to a very fine consistency. It is a bargain!
---
MY RATING: 85%
---
---
#12 Toro 51617 Rake and Vac
---
BEST FOR…
Those looking for a lightweight and small blower/mulcher.
---
The Toro 51617 Rake and Vac has actually been superseded by the Toro Super Blower, Ultra Blower and Ultra Blower Plus but it earns its place in this list for me as it is actually one of the lightest and smallest blower mulchers on the market and still does a good job.
So let's find out more:
It weighs just 6.5lbs, which means you can do more mulching and leaf blowing without feeling the strain in your arms and it is so small it will take up virtually no space in your garage.
Even better:
The nozzle is quite narrow, which means when it comes to leaf blowing it pushes leaves easily along the ground and it works equally well on wet or dry leaves.
It is pretty much ready to use when you get it, you just clip the nozzle on the motor and it is ready to go. The bag attachment holds a good amount – 14 gallons – and is easy to attach ready for you to start mulching.
Of course it isn't perfect:
Being at the cheaper end of the spectrum it has its faults – it uses plastic blades rather than metal and most annoyingly the power cable is difficult to secure and can get pulled out rather easily whilst you are mulching/blowing.
To cut a long story short:
If you remember the limitations that often come with a slightly cheaper price tag – this does a fantastic job.
---
MY RATING: 83%
>>> READ MY FULL REVIEW HERE <<<
---
---
#13 WORX WG507
---
BEST FOR…
Those looking for a reliable mulcher that works well on everything.
---
The WORX WG507 is one of their older models but a very reliable one indeed if you are looking for a good mulcher.
Here's the deal:
It is is particularly good at sucking up and mulching dry leaves and will do a great job on smaller twigs and acorns as well.
It struggles slightly more on wet leaves if you try and collect and mulch too many at once – but as long as you are sensible, or let them dry out you will be fine.
The mulch that is produced is nice as well. The mulching ratio is 10:1.
Want to know a sneaky tip?
You can also get the LeafPro Universal Leaf Collection System which allows you to mulch directly into a waste can that can hold up to 96 gallons.
The collection bag you get with the WG507 can hold up to 9 gallons of mulch, so this is a significant increase!
It also means less work for you, as obviously you can mulch everything into one can rather than multiply trips to the can to empty the mulch bag.
Makes thing easier? You bet!
Note that it is recommended you fill the mulching bag that is included to only three quarters full to avoid pulling.
Aside from the mulching capabilities, it is simple to set up and although it is slightly heavier than other blowers/mulchers, weighing in at 8.8lbs, it is well balanced and is easier to carry.
It has two speeds – the higher speed is 220 mph and packs quite a punch, also switching from blower to vacuum and back again is very easy.
My gripes are:
My main issue with this is the mulching blade is made of plastic not metal.
This means it is more likely to break somewhere down the line and it is interesting that the replacement blade you can get is metal. So this could be a deal breaker for some.
Basically:
The bottom line is this is a well designed, powerful tool, that will be really good for the average homeowner with the average yard.
---
MY RATING: 82%
---
---
#14 Sun Joe SBJ603E
---
BEST FOR…
Those looking for a reliable and comfortable blower/mulcher.
---
The Sun Joe SBJ603E is a nice lightweight and comfortable mulcher, that puts minimal strain on your back/shoulders/arms whilst you go about your gardening duties, all the time still packing a fair bit of power.
The best part?
It has a good mulching ratio of 17:1 – so your debris will be mulched down to minimal size and be better for your garden and it has a one touch conversion from vacuum to blower/mulcher, that literally takes seconds. The mulching bag is well designed too and easy to empty.
In addition to that:
It has wheels on the front which make it much easier to clear flat surfaces and the blower has six speeds.
The handle has been well designed and has two grips that make it comfortable to hold and easy to grab.
The blower has good velocity and the tip funnels the air nicely. There is also a cord holder that is a nice touch as well.
But first a word of warning:
One thing to note, you may see that the CFM for this is advertised as 421 – however this is actually for the vacuum airflow, the blower airflow is 300 CFM – which is misleading.
And the blower nozzle that fits onto the vacuum tube is an incredibly snug fit, almost too much as it makes it very hard to disassemble.
Also the mulching blades are plastic rather than metal.
In short:
This is a reliable blower/vacuum/mulcher that performs soundly.
---
MY RATING: 81%
---
---
In Summary
---
Best Leaf Mulcher Shredder
The WORX WG509 Trivac has a fantastic 18:1 mulching ratio and really shreds leaves down to incredibly small mulch.
Best Leaf Mulcher Vacuum
In terms of design and power I think the Sun Joe SBJ606E just comes out on top. The vacuum has six speeds and is nice and powerful – it also has wheels that stabilise it and the bag is well designed and makes vacuuming easier.
Best Leaf Shredder For Compost
The Black & Decker BV6000 produces lovely mulch that has a fine and dust like quality and works well on wet leaves and grass clippings as well.
Best Leaf Mulcher With Metal Blades
No doubt it is the Black & Decker BV6600 – not only is it the best leaf mulcher with metal blades it is also one of the best leaf mulchers full stop. Small, powerful and a delight to use.
---
I hope you have found this rundown of some of the best leaf mulchers of use. If you specifically want an electric leaf mulcher I have rounded up my top choices in that field as well.
There is no doubt about it that using good quality mulch is a fantastic way to improve your garden soil.
If you do have any questions or are uncertain about anything please feel free to drop me an email and I will do my best to help you.
Enjoy!