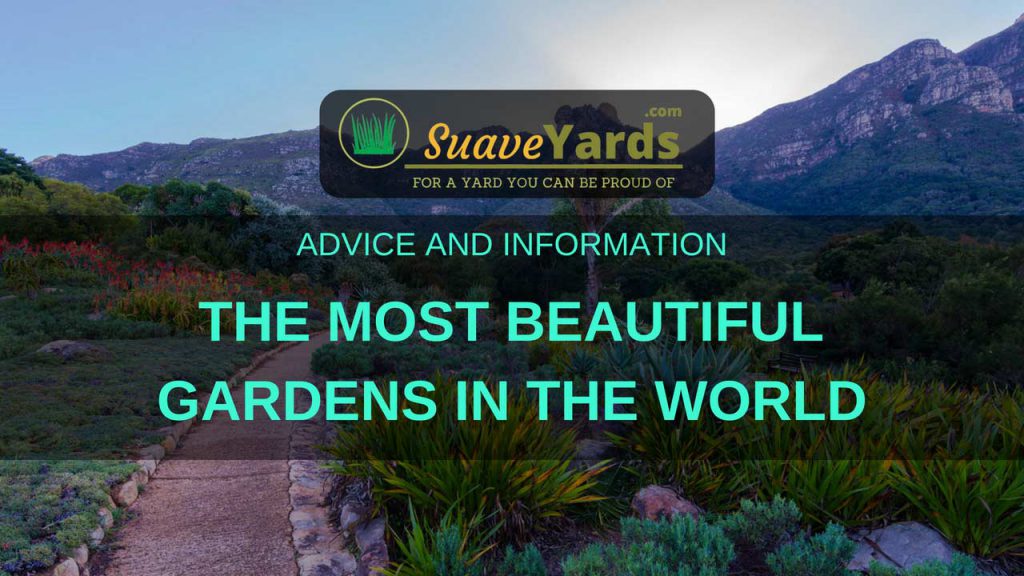 We all aspire to have the perfect garden.
Take a look at some of the most beautiful gardens in the world and prepare to have your mind blown!
Just don't get garden envy!
---

Keukenhof, Lisse, Netherlands
Known as the Garden of Europe, Keukenhof is in South Holland and is one of the world's largest flower gardens. Over a million people visit it each year, attracted by the 7 million flower bulbs planted annually in the park.
---


Gardens of Versailles, Versailles, France
Listed on the UNESCO World Heritage List and one of the most visited sites in France the Gardens of Versaille cover 800 hectares of land in Versaille. They are a collection of meticulously sculpted lawns, flowers and fountains. Over six million people a year visit them.
---


Kew Royal Botanic Gardens, Kew, United Kingdom
Situated in the London Borough of Richmond upon Thames and at Wakehurst Place in South-East England, the Royal Botanic Gardens attract over a million paying visitors a year. Wakehurst Place is also home to the largest growing Christmas Tree in England and the Millennium Seed Bank which aims to collect seeds from all of the UK's native flora.
---

Villa d'Este, Tivoli, Italy
The Villa d'Este, in Tivoli, is an Italian state musuem and a UNESCO World Heritage Site. It is famous for its terraced hillside Italian Renaissance garden.
---

Powerscourt Estate, Co. Wicklow, Ireland
Voted number 3 garden in the world by National Geographic, the Powerscourt Gardens stretch over 47 acres of land in County Wicklow. These gorgeous gardens include a whole range of features, hollows and walks and also Ireland's highest waterfall.
---
National Gardens, Athens, Greece
This public park is right in the middle of the capital of Greece – Athens. Created in 1838 by Queen Amalia it covers 15.5 hectares and was given by the Greek state to the city of Athens for 90 years in 2004.
---


Queluz National Palace, Queluz, Portugal
Originally an 18th-century palace conceived as a summer retreat for Dom Pedro of Braganza, the Palace became the property of the state in 1908. A serious fire in 1934 gutted a third of the interior leading to the Palace being restored and then opened to the public. Today it is a major tourist attraction.
---

Akureyri Botanical Garden, Akureyri, Iceland
The Akureyri Botanical Garden was the first public park in Iceland, founded by women from Akureyri. It has been an important place for scientific research as it has proved that trees and shrubs can survive in colder, harsher conditions. in total there are over 7,000 species in the garden.
---
Monet's Garden, Giverny, France
500,000 people visit the garden of the famous artist Claude Monet in Giverny each year. It was where Monet painted some of his most famous paintings and lived from 1883 until his death in 1926. As well as the gardens you can also visit Monet's equally attractive house.
---
Schönbrunn Palace, Vienna, Austria
This huge Baroque palace has 1,441 rooms and is one of the most important monuments in Austria. The Palace and its equally vast gardens have long been a major tourist attraction. 3.8million people visited Schonbrunn in 2017.
---


San Grato Park, Lugano, Switzerland
Situated in an incredibly picturesque location above Lake Lugano the San Grato Park hosts a hugely diverse collection of azaleas, rhododendrons and conifers – which are particularly attractive in April and May when they form a very fragrant carpet.
---
Gothenburg Botanical Garden, Gothenburg, Sweden
Covering 430 acres of land the Gothenburg Botanical Garden is one of the largest of its kind in Europe. It has more that 20,000 plant species within its grounds. The park was inaugurated in 1923.
---


Schloss Schwerin, Schwerin, Germany
Schloss Schwerin is a palatial castle situated on an island in the main lake of the city of Schwerin. Surrounded by wonderful gardens the castle is said to be haunted by a ghost called 'Little Peterman'. The castle is regarded as an important work of romantic Historicism.
---

Brooklyn Botanic Garden, New York, USA
Founded in 1910 this Garden has over 14,000 plants and attracts almost a million visitors a year. It is well known for its speciality gardens – including the Cranford Rose Garden, Native Flora Garden, Shakespeare Garden and the Japanese Hill-and-Pond Garden.
---

Butchart Gardens, Vancouver Island, Canada
The Butchart Gardens are on Vancouver Island and have been designated as a National Historic Site of Canada. They receive over a million visitors a year and have been owned and managed by the Butchart family since they made their home on Vancouver Island in 1904.
---

Stan Hywet Hall and Gardens, Akron (Ohio), USA
The Stan Hywet Hall and Garden is one of the largest homes in the USA and significant as the home of Frank Seiberling – the founder of the Goodyear Tire and Rubber Company. Built in 1911, it covers 70 acres of land. The estate grounds are made up of a series of vistas relating the home to the environment around it. The houses itself is 64,500 square feet and set over four floors.
---


Asticou Azalea Garden, Maine, USA
Located in Maine this park was created in 1956 by a lifelong resident of the area. It features a selection of rhododendrons and azaleas and covers 2.3 acres. It is open to the public from 1 May to 31 October, during daylight hours.
---


Devon House, Kingston, Jamaica
Devon House in Jamaica was built in 1881 and is the former residence of George Stiebel – Jamaica's first black millionaire. It is now a museum and a National Heritage Site.
---


Andromeda Botanic Gardens, Bathsheba, Barbados
First opened to the public in the 1970s, Andromeda was so well received it has remained open every since. The garden was founded in 1954 by Itis Bannochie who was a leading expert of horticulture. It is a scenic park with flowering plants, tropical trees and a Flower Forest.
---

Kenrokuen, Kanazawa, Japan
Kenrokuen is an old private garden located in Kanazawa in Japan. Dating back to the 1620s it contains around 8,750 trees and 183 species of plants. It also is home to the oldest fountain in Japan and is widely admired for its beauty in all seasons.
---
Nong Nooch Tropical Botanical Garden, Pattaya, Thailand
Both a botanical garden and a major scientific centre dedicated to cycads, Thailand's Nong Nooch Tropical Botanical Garden was initially purchased in 1954 with the intention of developing the land as a fruit plantation. The owners, Pisit and Nongnooch Tansacha, later changed their mind and decided to plant tropical flowers and plants instead.
---

Garden of Dreams, Kathmandu, Nepal
Located in Kathmandu the Garden of Dreams, also known as the Garden of Six Seasons, was built in 1920 and is a collection of ponds, pergolas and urns scattered over 6,895 square metres and three pavilions.
---
The Shrine of the Bab, Haifa, Israel
The Shrine of the Bab is a hugely popular tourist attraction in Israel that is on the UNESCO World Heritage List. It is surrounded by 19 stunning garden terraces that stretch from the base of Mount Carmel, where the Shrine of the Bab is located, to its summit.
---

Summer Palace, Beijing, China
A huge expanse of lakes, gardens and palaces in Beijing the Summer Palace and surrounding Kunming Lake covers 1.1 square miles. The centerpiece is Longevity Hill – the front of which is abundant in stunning halls and pavilions and the back is a complete contrast – a large area of natural beauty.
---

Gardens By the Bay, Singapore
Dominating a large part of Central Singapore the Gardens By the Bay's East Garden opened in October 2011 and the South Garden in June 2012. It is a 1.9 mile waterfront promenade that has became an immediate hit – it celebrated its 20 millionth visitor in November 2015.
---

Bogor Botanical Gardens, Bogor, Indonesia
The Bogor Botanical Gardens are in the centre of Bogor (surprisingly!) and their position means they get rain daily – even in the dry season. Because of this is a great location for growing tropical plants. It contains 13,983 specimens and trees and plants and is the oldest botanical garden in South-East Asia.
---

Royal Botanical Gardens, Punakha, Bhutan
The first botanical park in Bhutan spans a massive 47 square miles and was formally opened in 2008. It was planted with 46 species of rhododendron, consists of 115 species of fern, has 21 animal species in the park and is a popular bird watching area.
---


Royal Botanic Gardens, Sydney, Australia
Situated in the heart of Sydney, the Royal Botanic Gardens, is the old scientific institution in Australia and occupies one of the most enviable positions in the world – on Sydney Harbour and adjacent to the CBD and Sydney Opera House. Open all year round and completely free it attracts around 3.5 million visitors a year.
---

Ayrlies Garden, Auckland, New Zealand
Ayrlies Garden is on the outskirts of New Zealand's most populated city, Auckland. It was created by Beverly McConnell and her late husband Malcome when they moved to the site in 1964. It covers 12 acres and it a ensemble of beautiful lawns, ponds and waterways.
---

Jardin Majorelle, Marrakech, Morocco
The Majorelle Garden and property was the residence of French Orientalist artist Jacques Majorelle and his wife for almost forty years from 1923. Although his art has been forgotten by most the Garden which bears his name stands as his creative masterpiece. Majorelle used bold cobalt blue in many of his watercolors and it is used extensively in the gardens. The gardens are a big tourist attraction in Marrakech – getting around 700,000 visitors annually.
---

Kirstenbosch National Botanical Garden, Cape Town, South Africa
Nestled in an incredibly picturesque location at the foot of Table Mountain, Kirstenbosch was founded in 1913 with the aim of preserving South Africa's unique flora – in fact it was the first botanical garden in the world with this aim. Unsurprisingly it is hugely popular with residents and visitors and was named International Garden of the Year in the 2015 International Garden Tourism Awards.
---

Orman Garden, Cairo, Egypt
The Orman Garden is one of the most famous Botanical gardens in Egypt. It was built back in 1875 and covers 28 acres. It consists of a number of features such as a rose garden, cactus garden and rocks garden. It is famous in Egypt for the Orman's Flowers Festival which runs from late March to early May each year and is unusual in Egypt – a country not necessarily synonymous with flowers and vegetation!
---


Inhotim, Brumadinho, Brazil
Inhotim is a sprawling 5,000 acre botanical garden and museum in Brazil. It is one the newest botanical gardens in the world – established only in 2006 and posts two dozen art pavilions. It has 4,500 plant species, which include 1,300 types of palm alone. Over 1,000 employees deal with the running of the park.
---
So there you go, these are some of the most stunning gardens in the world – give it a decade or two and maybe you could transform your garden into something comparable!
If you know of any other gardens that should be on this list but aren't please let me know.