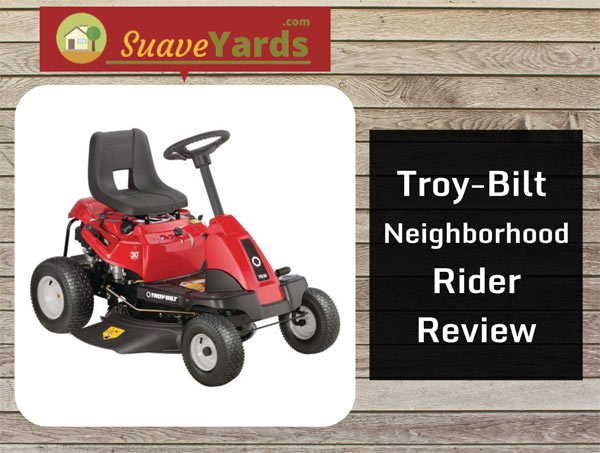 Review At A Glance
The Troy Bilt Neighborhood Rider is the perfect riding mower for smaller, flat lawns. Light, easy to maneuver, cuts well and a total bargain price!
MY RATING: 89%

---
Editor's Note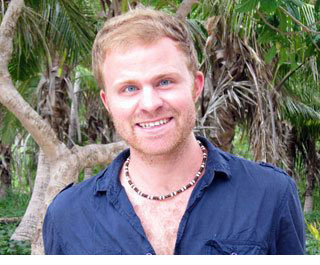 I hope you love the products that I recommend here! Just so you know, I work with Amazon and other affiliate partners and may be compensated from the links below.
---
---
Specifications
---
Mower Type – Gas Riding Mower
Model – TB30
Deck – 30 Inch Side Discharge
Deck Height Adjustments – 5 positions
Engine – 382cc Single Troy-Bilt Powermore
Transmission – 6-Speed
Deck Engagement – (PTO) Manual
Fuel Tank Capacity – 1.3 Gallon
Speed Range – 0 to 4.25 MPH
Turning Radius – 18 Inches
Wheels – 13″ x 5″ front / 16″ x 6.5″ rear
Shipping Weight – 340 lbs
Shipping Dimensions – 64″ (L) x 34″ (W) x 26″ (H)
Two Year Warranty
PRICE: $
---
About the Troy-Bilt Neighborhood Rider
---
Back in 1937 Troy-Bilt revolutionised the lawn care industry when they introduced the first rototiller to the market.
Since their humble beginnings with that first tiller the company has flourished and gone on to become a byword for quality when it comes to all kinds of mowers, cultivators, log splitters, edgers and much more.
Without further ado…
The Troy-Bilt Neighbourhood Rider TB30 is a budget entry on the riding lawn mower market. It has a 30 inch 14-gauge steel mower deck with side discharge.
It has a 382cc overhead valve (OHV) engine and a 1.3 gallon fuel tank, with a visible fuel level. The front wheels measure 13 inches by 5 inches and the rear wheels 16 inches by 6.5 inches.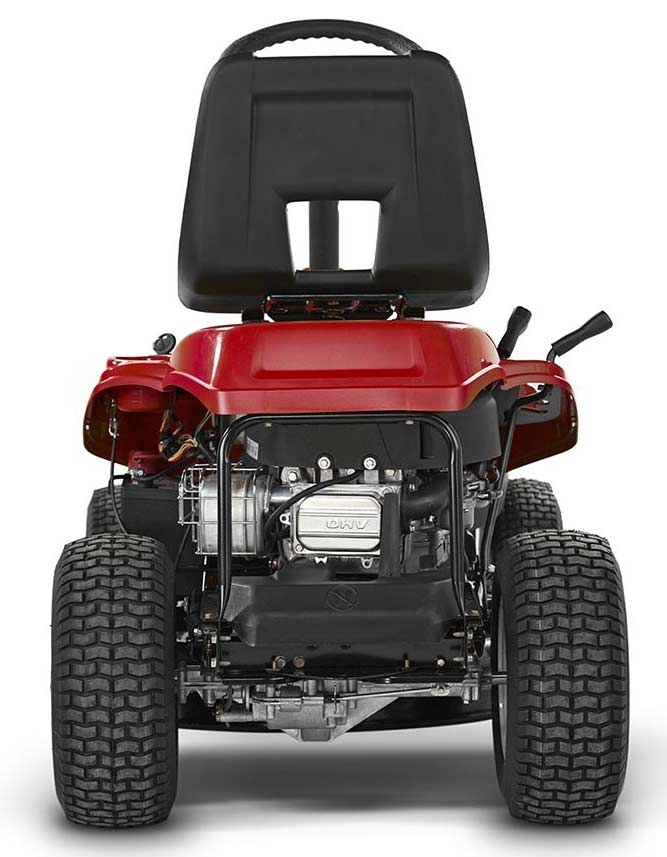 Above: The Troy-Bilt Neighborhood Rider has chunky rear wheels and a side discharge.
And…
The deck height can be adjusted to any one of five cutting positions, the lowest height is just under 1.5 inches and the highest is 4.5 inches.
It also has a six speed transmission – starting at around 1 mph and going up to a fairly nippy 4.25 mph. Note it is not equipped with hydrostatic transmission so you have to brake to change speed – you can't do it on the fly.
It has an 18 inch turning radius.
Please note:
The version I am linking you to buy is at Amazon. You might see this for sale cheaper at Lowes, but please note that it isn't the same version on offer at Amazon. The model Lowes have on offer is much less powerful (a 344cc engine) has no OHV.
---
The Good
---
First things first.
You get off to a good start with the Troy-Bilt TB30 as it is exceptionally easy to assemble, needing the minimum of tools. It comes with good instructions too, which is always a bonus.
Now onto the good stuff.
The 382cc engine will immediately allay any fears you might have about lack of power. It starts easily, runs well and is pretty quiet. An overhead-valve design with a cast-iron cylinder liner – this is a great little engine.
It works out at around 10.5 HP which is perfect for such a small mower, easily zipping over long wet grass and cutting through it effortlessly.
And that is where things get even more interesting.
The 30 inch mower deck cuts really well. On nice straight and flat runs in particular it really excels.
The height adjustments work and give a nice clean cut. I used level 3 and it was spot on – levels 4 and 5 would probably also be suitable for when the grass is longer and needs a trim.
You will be left with a nice smooth and level lawn when you are done with this and that is as much as you can ask for.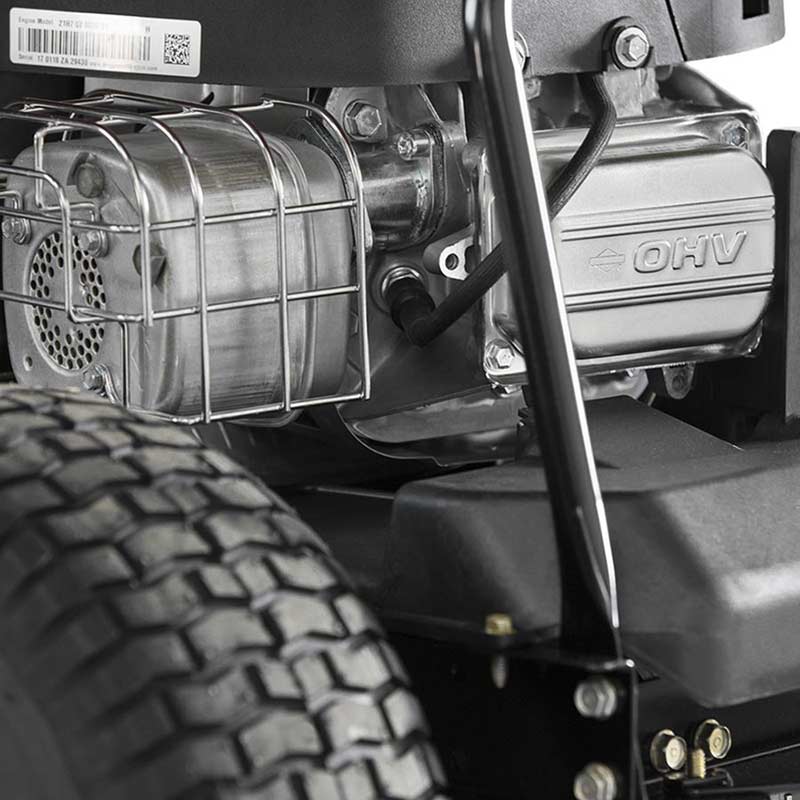 Above: The 382cc engine is surprisingly powerful and the mower gives a really nice clean cut.
Ok so here's the deal:
The size of this mower has PLENTY of advantages for you. At a touch over 34 inches wide it will be able to fit through the gate to most backyards but, thanks to the 30 inch deck, still be able to mow a small lot in a timely manner (certainly much quicker than a push mower!).
And as it is reasonably small you shouldn't have too much trouble storing it either!
So when you think about it this part is obvious:
Because of the size of this Troy-Bilt riding mower it is incredibly easy to maneuver and handle. It isn't a zero turn mower – the turning radius is 18 inches but to quote a phrase – it does turn on a dime.
This thing is light too – it weighs around 340 lbs and it also has a very low center of gravity.
And this is really handy as it makes cutting around trees, shrubs, plants and other delicate areas where you need to be careful really easy.
And the best part?
The price! This is right at the budget end when it comes to riding lawn mowers, but it is far from being a budget mower.
Everything that needs to be made of metal is – the frame is metal, the blade deck is metal and the crankshaft is made of forged steel. The rest is plastic.
You can tell it isn't a top spec mower, but for lighter duty/smaller yards that need a riding mower it fits the bill perfectly and should certainly last well.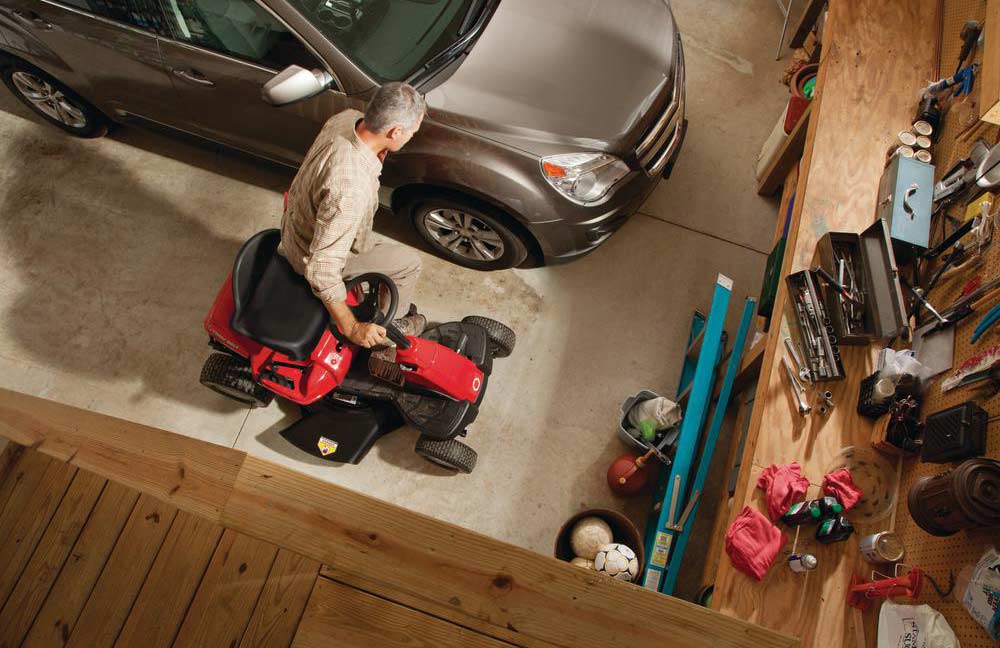 Above: The Troy-Bilt is very small and can fit through small gates and doesn't take up much storage room.
And you want to know a sneaky little secret?
This can mow in reverse too! All you need to do is disconnect a safety switch that can be found beneath the seat compartment.
Then just turn the key anti-clockwise – into the 'mow in reverse' position, press the reverse button and move it into reverse and you are good to go. This further reduces the time it will take to mow your lawn.
Just note that the mower cuts out when getting off the seat normal, but once you disconnect the safety switch it will run continuously.
It doesn't end there.
There are lots of other things to like about the Neighborhood Rider. The seat is adjustable – so you can move it back or forward to suit the size of your legs!
It is fantastically economically when it comes to gas usage. The battery doesn't lose power and it has some handy accessories you can buy to help bag your clippings and/or mulch them.
In short – it is very good indeed!

---
The Not So Good
---
Now of course as good a riding mower as this is – it isn't perfect.
For starters…
This shouldn't be your go to mower if you have a hilly lawn. In the instructions you get with it it clearly tells you that it is not recommended to be operated on slopes in excess of 12 degrees.
The fact is:
As this is so light and small that when you use it on any kind of incline it does feel unstable and on particularly steep inclines it feels as though it may tip over.
It can feel uncomfortable if you have a bumpy lawn and as the deck is not on wheels if you do have lots of uneven terrain you will have to lift or lower it regularly.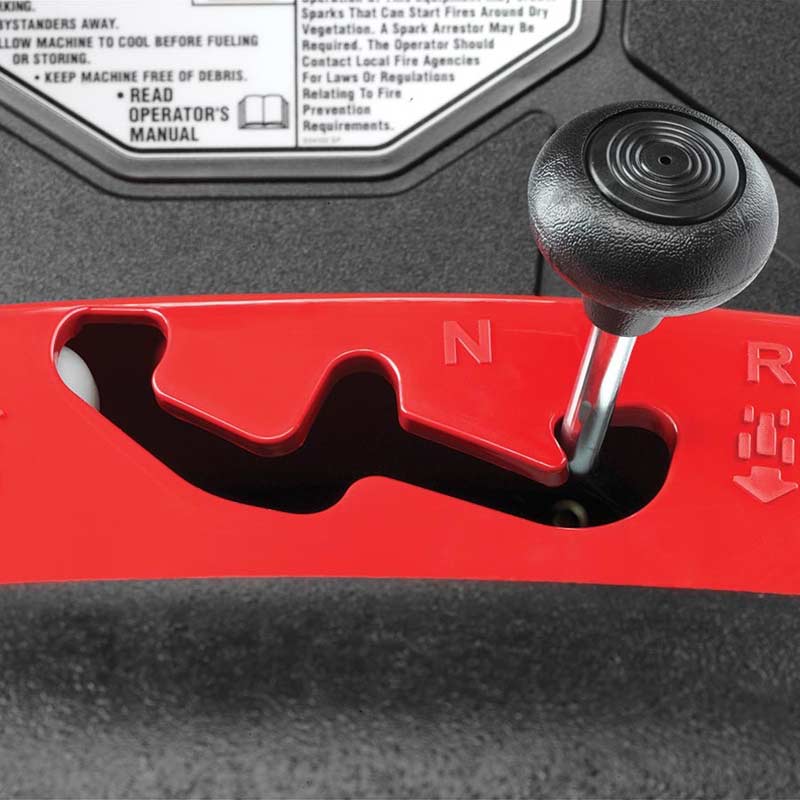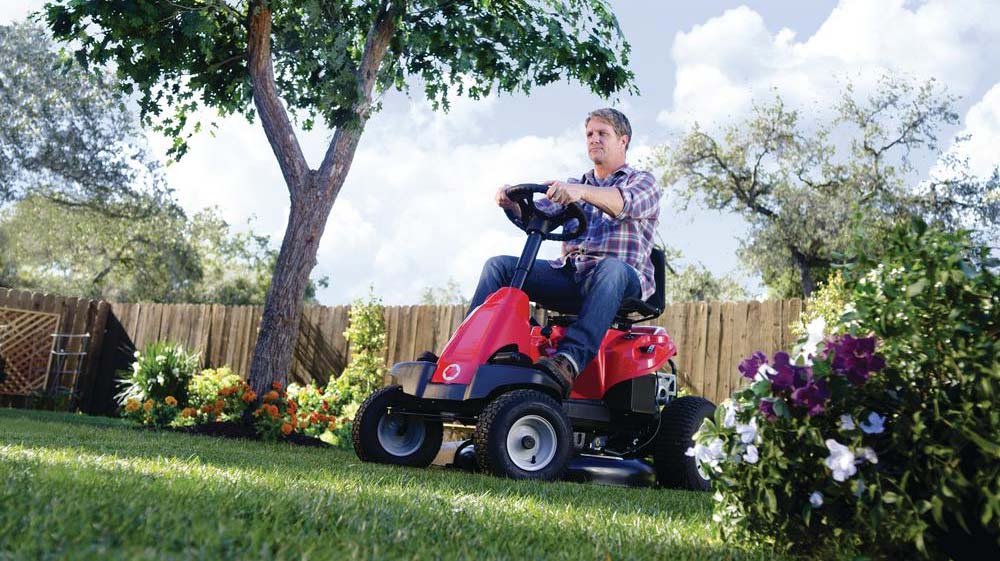 Above: The shift lever is in an awkward position and this might struggle on significantly sloped lawns.
And beyond that:
The Forward/Neutral/Reverse lever is in possibly the most awkward position it could be – slap bang in the middle of, and below, the seat, so it is actually behind your knees.
I can't understand why it hasn't been located to the side in the same way the blade height and engagement levers are.
Annoying right? You bet it is.
If you are used to having hydrostatic transmissions this might take you by surprise – you can't change gear as you drive – you have to brake to do so.
At first the brake and clutch will no doubt appear jerky, but you can get used to it. And the lack of hydrostatic transmission is what keep the price really low on this.
And really that is about the sum of it.
If I was being ultra picky I'd say this won't be comfortable for prolonged use as the seat is a bit uncomfortable and there is minimal suspension. However I suspect most people who buy this will have smaller yards and won't be on it for too long.
And that as they say, is that.
---
At A Glance
---
✔ Pros
Easy to assemble
Surprisingly powerful engine
Nice smooth level cut
Small – so easy to store and get in/out of your yard
Easy to maneuver
Fantastic price
Solid build
Can cut in reverse
Good battery
Economical with fuel
Nice additional accessories you can buy
✘ Cons
Not great for inclines or uneven surfaces
Can feel slightly unstable
Shift lever in awkward position
No hydrostatic transmission
Not ideal for prolonged use
---
Conclusion
---
My Verdict
Design - 87%
Performance - 87%
Price - 93%
89%
Great value for money
In terms of value for money riding lawn mowers this Troy-Bilt Neighborhood Rider really does take some beating.

In fact I would say if you have a yard of around one to two acres that is fairly flat then you can't go wrong if you buy this.

It is surprisingly powerful, cuts well, is easy to maneuver and can cut in reverse. What is more, as it is so small you will be able to fit it through your gate with ease and then store it away without it clogging up vital storage space.

Ok so I wouldn't want to mow five acres worth of grass with this thing, but for an acre or two it is pretty much perfect.

It is one of my favorite small riding lawn mowers.

User Rating:

4.5 ( 1 votes)

---
FAQs
---
Can you fit a bagging attachment to this mower?
Yes – Troy Bilt sell bagging attachments for the mower.
Can this mow in reverse?
Yes – but you need to disconnect a safety switch under the seat, then turn the ignition key anti-clockwise and you are good to go.
Does this have hydrostatic transmission?
No it doesn't, it has manual gear transmission – you need to brake to change gear.
What is the difference between the 2016 edition and the 2017 edition?
The main thing is the engine. The 2016 model is 420cc, the 2017 model is 382cc and has an auto-choke feature.
How wide is it in total?
It is 34 inches wide.
What is the range of cutting heights?
There are five cutting heights, starting at 1.5 inches and going up to 4.5 inches
Why is this mower so much cheaper at Lowes?
Mainly because it isn't the same mower! The model Lowes are selling has no OHV and a 344cc engine – just note it isn't as powerful as the one sold by Amazon.
---
You Might Also Like
---
You might want to check out my roundup of the best riding lawn mowers as there are some other options on there that might be more suitable if you have a larger yard.
Or on the contrary if you think maybe a ride on lawn mower might be too much then my round up of the top lawn mowers includes gas, battery, powered and electric lawn mowers (and ride on mowers as well). A little hint… I love the Honda HRX217K5VKA gas mower!
There are a number of factors you should consider when you are buying a lawn mower and of course it is important you know how to keep your mower blades sharp.
If you want to see a summary of what is on my site all on one page just jump over to my Site Index.
Useful Resources
What To Look For In A Riding Lawn Mower – Best Of Machinery
How To Choose The Right Riding Lawn Mower For Your Land – Husqvarna
How To Drive A Riding Lawn Mower – Hunker