January 9, 2020
Husqvarna 580BTS Backpack Blower Review: Major Power!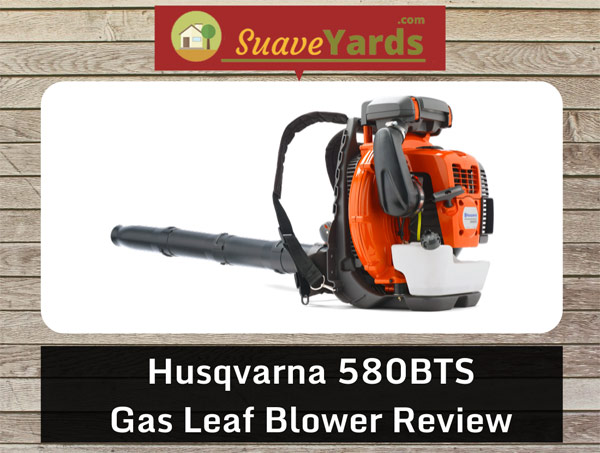 Review At A Glance

The Husqvarna 580BTS is a near faultless backpack blower. If you have a large lot with plenty of trees then you need this tool in your arsenal!
MY RATING: 98%


---
Editor's Note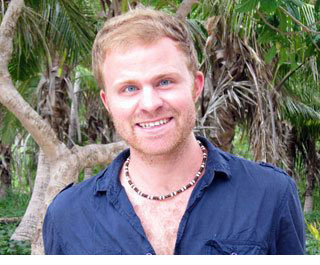 I hope you love the products that I recommend here! Just so you know, I work with Amazon and other affiliate partners and may be compensated from the links below.
---
---
Specifications
---
Model – 580BTS
Power Type – Gas
Power Output – 4.3hp
Engine Power – 75.6 cc
Fuel tank volume – 87.9 fl oz
Fuel consumption – 440g/kwh
Air Speed – 206mph
Air Volume – 908CFM
Max Power Speed – 7200rpm
Weight – 25.8lbs
Two Year Warranty
PRICE – $$$

---
About The Husqvarna 455 Rancher Chainsaw
---
Husqvarna are a massive name in the outdoor power products world, manufacturing chainsaws, trimmers, blowers, lawn mowers and much much more.
And of all the companies in this field Husqvarna have perhaps the longest history, effectively being founded in 1689 when Sweden began building up their army at a place called Huskvarna and a weapons foundry was established.
Over the centuries the company continued to grow – leading the field in many areas and being responsible for the first Swedish typewriter (in 1895). the first motorized lawnmower for commercial use (1947),the Husqvarna 140 chainsaw – the first ever chainsaw with an automatic chainbreak (1973) and the first full robotic lawnmower (1995).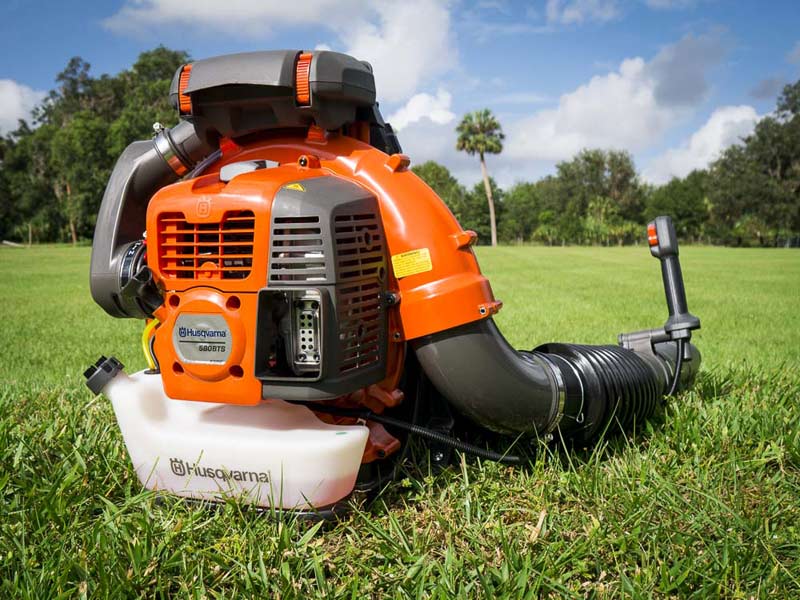 Above: The Husqvarna 580BTS is a commercial grade, backpack leaf blower
But enough of all that!
The Husqvarna 580BTS is a commercial grade leaf blower with an air volume of 908CFM and an air speed of 206mph.
It uses Husqvarna's patented X-Torq engine – this 75.6cc engine kicking out 4.3hp. It has an 87.9 fl oz fuel tank and weighs 25.8lbs. The leaf blower tube measures 1197mm.
It has a 2-stage intake air filter, fully adjustable handle and a load reducing hip-belt and shoulder straps.
What is more:
There are dampeners between the engine and the chassis to reduce vibrations and the fan speed can be set with a cruise control feature.
It comes with a two year warranty.
---
The Good
---
If you want power from your leaf blower then the Husqvarna 580BTS is what you are after.
It really is that simple.
The 908 CFM moves knee high, and waist deep, piles of leaves as if they were not there. It will blow rocks, wood, yard debris… In fact if you have a dog you better make sure that isn't in the back yard as that might get blown away!
You think I am joking here? I am not!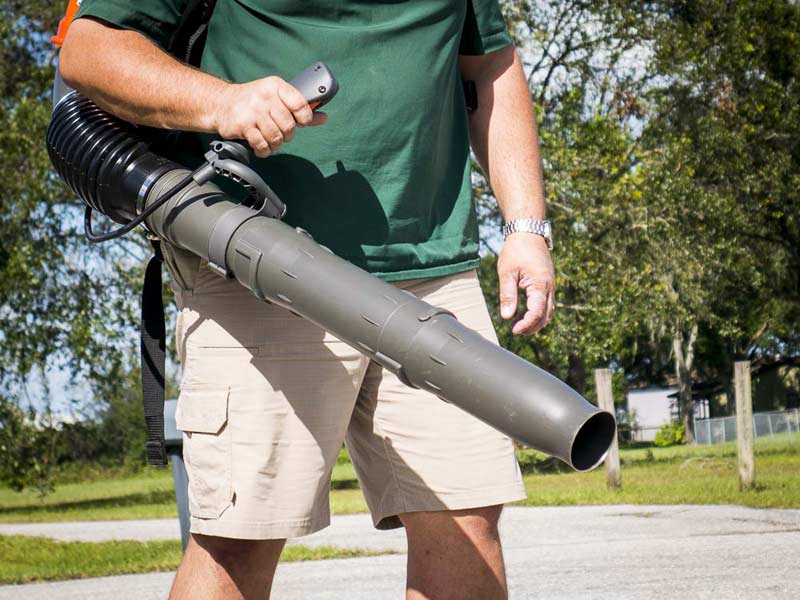 The extreme air flow and air speed come courtesy of a fan working in tandem with the Husqvarna patented X-Torq engine.
This is a commercial grade leaf blower that delivers the kind of CFM other blowers in the field can't (the only one that comes close is the Redmax 8500 and that is essentially this blower in a Redmax skin).
In short:
This will blast away even the most stubborn and embedded clippings, leaves, dirt, etc, etc.
Think about it this way:
If you have a large lot, or a heavily treed yard, that requires lots of clearing in the Fall this will be a HUGE time saver for you.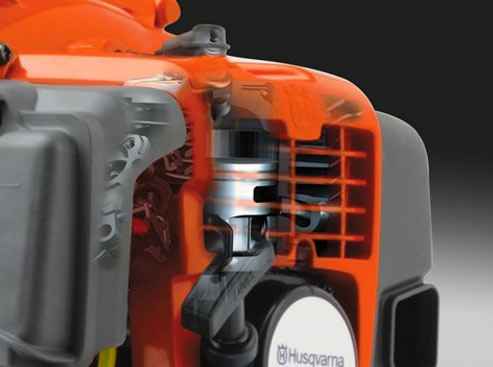 Above: The 580BTS has a huge 908CFM and uses Husqvarna's X-Torq Engine technology
What may have taken you a couple of hours before could well be reduced to mere minutes with this Husky.
I am being totally serious.
As is common with most Husqvarna products – the build quality and durability is top notch.
It can certainly stand being accidentally dropped, the tubing is strong and doesn't crack, the straps are well made and comfortable. It feels solid and inspires confidence.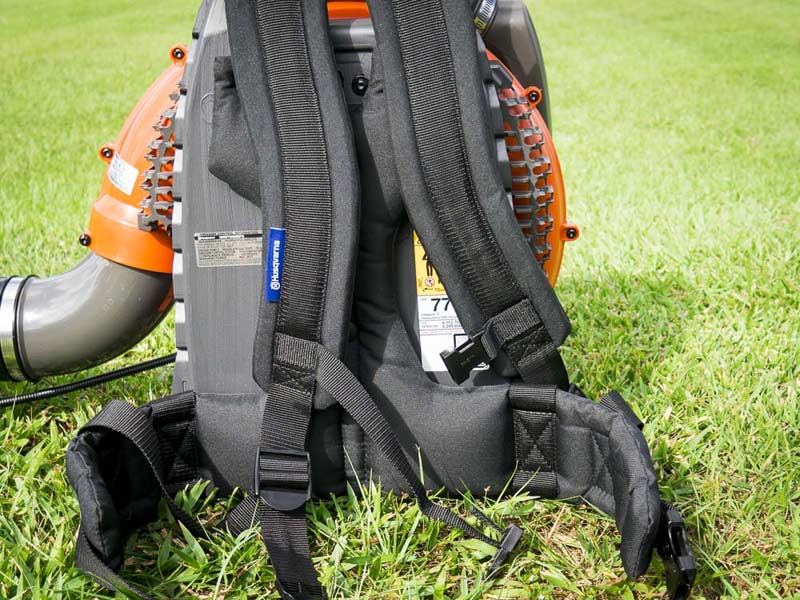 The ergonomics of the whole thing are great. I love the fact the prime bulb and the choke are close enough together that you can fit them both in the palm of your hand – there is no need to use two hands as you can prime it and start it together which is so convenient.
And the nozzle is easy to turn and the handle sits on the right hand side of the blower tube, so this means you can easily adjust it for your own comfort.
And the best part?
This has to be one of the best backpack blowers on the market for the straps and overall comfort.
The chest and the waist strap do a fantastic job of ensuring the weight is evenly distributed. This isn't light, but the padded straps are wide and it sits really comfortably on your back – it feels like it hugs onto you.
It even has a nice vent system on the back so you don't sweat and that really works.
So, what else?
Well it has a nice big gas tank – which holds almost 90 fl. Oz of fuel. This is great for bigger properties as it keeps it going longer – and if you buy this thing I am presuming you are going to be using it on bigger properties, such is its power!
The tank is also see-through, so you can easily work out how much fuel you have left.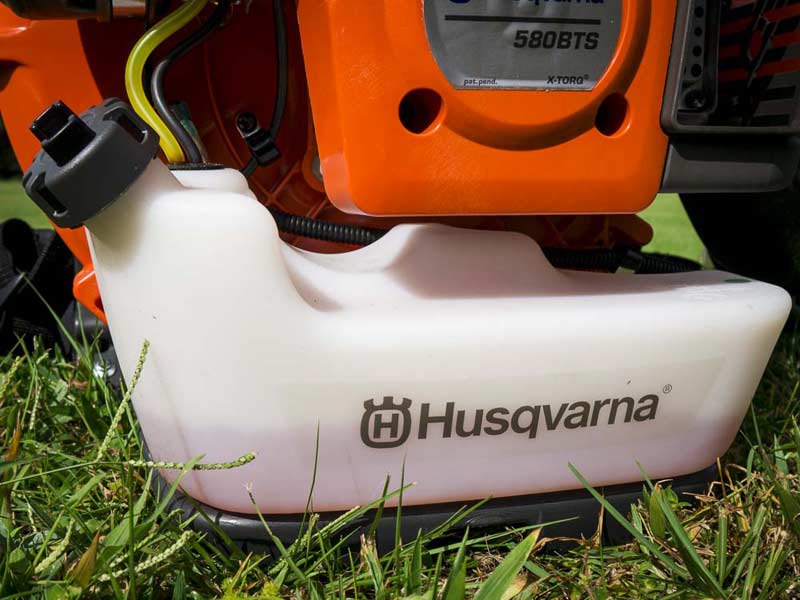 Above: The chest and waist straps really distribute the weight well and it has a handy see through gas tank.
Now get this:
This has a wonderful 2-stroke engine and you will be pleased to hear it is a dream to start – starting on the first or second pull consistently. Cold or warm it fires right up.
That really is a bonus.
A nice little touch is the way the air filter sits on top of the blower. This means it is away from dust and will have a longer life and will need cleaning less regularly.
In fact the whole thing is easy to maintain, easy to start and easy to use. It is just easy! Also being a Husqvarna it is much easier to get replacement parts if you ever need them.
This is just a fantastic leaf blower full stop.

---
The Not So Good
---
There really isn't too much to complain about here, but you should know that you do pay a price for the huge airflow – that is it does burn through a lot of gas.
However for such a powerful blower, with a 4.3hp engine I guess that is to be expected.
Another warning:
I don't like the fact that the kill switch isn't spring loaded (as Stihl's are). So if you click it up to turn if off you will then need to click it down again when you next start it up.
This is an extra step that isn't needed and you could easily forget to click it down when you start it. A spring loaded switch that flips back to neutral after you have turned it off would be a welcome addition.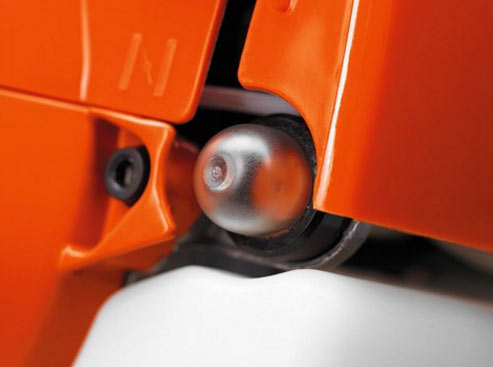 Above: Expect high gas consumption from the Husqvarna 580BTS
And you know what else?
This could really do with a step plate, as it would make it easier to start. As it is you need to hold down the whole machine when you crank it.
Also bear in mind that as this is so powerful, when you use it with the throttle wide open it will pull you around somewhat.
In truth
You will have a bit more weight and size on your back with this, but thankfully due to the clever design, it isn't that noticeable and there is no denying it is loud.
But apart from that you are all good!
---
At A Glance
---
✔ Pros
908 CFM – insane power
So will shift anything
Will save you time
Top class build
Very durable
Ergonomically very well designed
Very comfortable
Chest and waist straps distribute weight
Vented back
Large gas tank
See through gas tank
Starts on first or second pull
Easy to maintain and get parts for
✘ Cons
Burns through gas
Kill switch design
No step plate
Power might pull you around!
Loud
---
Conclusion
---
My Verdict
Design - 98%
Performance - 98%
Price - 97%
If you are a commercial landscaper or have a large lot with plenty of trees and want a powerful, reliable leaf blower then this is pretty much perfect.
It literally will move mountains of leaves without a problem and thanks to the clever design from Husqvarna it feels incredibly comfortable to wear.
If you have a smaller yard it will be too much for you as the power you get from this is insane. It will reduce the time you spend clearing leaves tenfold that is for sure.
I make no secret of the fact that I love Husqvarna products as they are solid and reliably made and work well. But they have really excelled themselves with this.
The Husqvarna 580BTS is the benchmark when it comes to backpack blowers.

---
FAQs
---
How many tubes come with this and how are they fixed?
There are three long tubes. There is a a plastic elbow that comes out of the blower housing, and then two more tubes held on by a twist lock system.
What gas does it need?
It needs a 50:1 gas ratio – any regular gas mixed with two stroke oil should do a good job.
Can you adjust the airspeed if you don't need full power?
Yes it is a trigger throttle, so you can adjust the airspeed manually and there is a cruise control to lock a speed in place.
---
You Might Also Like
---
You will struggle to find a better leaf blower than this one – although if you want something electric the WORX WG520 is absolutely top notch as well.
You can also get some really good leaf blower mulchers if that is what you are looking for. There are a number of factors you should consider though if you buy a leaf blower.
Mulching the leaves you collect is a great way of ensuring you have a healthy and happy lawn.
Finally if you want to see all of my reviews, buyers guides and information articles on one page, just visit my Site Index.
Useful Resources