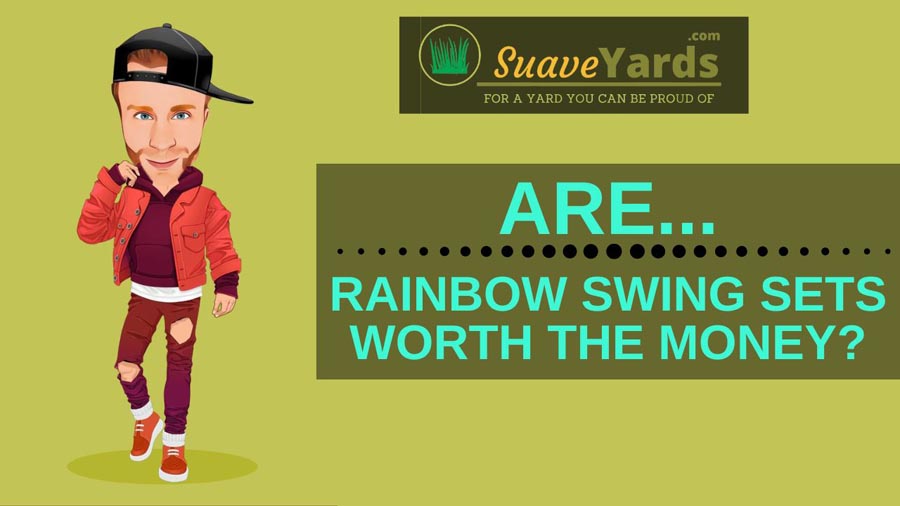 There are swing sets, and then there are Rainbow swing sets!
They have a reputation for being the Rolls Royce of the swing set world.
But we all know what Rolls Royce is right? Yep, expensive.
And there is no denying Rainbow swing sets are pretty pricey.
But are Rainbow swing sets worth the money?
Let's find out…
Are Rainbow Swing Sets Worth The Money?
Rainbow swing sets are expensive, there are no two ways about it. But they have a lifetime guarantee and will last throughout your children's childhoods. They are incredibly well-built and will hold the weight of even a few fully-grown teenagers (and adults!). In short, if you can afford it and your children use it, they will be worth the money.
About Rainbow
Back in 1985 a young Minnesotan man build his first swing set in his parent's garage.
That man was Greg Foster, the CEO of Rainbow Play Systems, and that playset was the first of many that would be built by the company he created.
In fact there are estimated to be over a million Rainbow Play Systems in backyards across the world today.
Foster wanted to move away from the A-frame metal swings sets that were popular to sturdy wood versions, with multiple play options.
His vision proved so popular that by the late 1980s, Rainbow's limited workforce was literally working around the clock to keep up with demand.
In the 1990s Rainbow moved to its current headquarters at Brookings in South Dakota, a huge 675,000 sq ft facility complete with its own rail spur for lumber shipments.
As of today, it has over 150 employees, over 200 showrooms and an almost countless list of impressive swing set options!
RELATED ===> Buyers Guide: The Best Swing Sets on the Market
Rainbow Swing Sets: An In-Depth Analysis
Price
As we mentioned in the introduction Rainbow is really the Crème de la Crème of the swing set world.
And this is reflected in its pricing.
A basic free-standing swing set will set you back somewhere in the region of $2,150.
Its entry-level Super Funhouse or Fiesta Series swing set lines both start in excess of $2,500.
When you get to its King Kong series, most are around the $10,000 mark, and by the time you get to the top end of its catalog, the Ship and Commercial series, you could be spending over $30,000 for a Rainbow swing set!
The table below summarises how Rainbow compares to selected other swing set manufacturers:
| | | | |
| --- | --- | --- | --- |
| | Lowest | Highest | Average |
| Rainbow | $2,150 | $30,000+ | Around $6,000 |
| Gorilla | $369 | $7,999 | Around $2,750 |
| Lifetime | $599.99 | $3,499.99 | Around $2,000 |
| KidKraft | $649.99 | $3,499.99 | Around $1,000 |
You can view its entire range on the Rainbow website, although you will have to request a price for each item.
So evidently its swing sets cost A LOT of money, but are they worth it?
Let's look a bit more closely.
*Prices correct at the time of writing.
Build Quality
Rainbow swing sets are expensive for a reason, they are extremely well made.
They are made of very durable hardwood, namely Douglar fir, red cedar and redwood.
If you were to spec the materials Rainbow uses in its swing sets and try and put a similar swing set together yourself it certainly wouldn't be cheap.
And Rainbow's swing sets are huge and hefty, very hefty.
Most do not need to be anchored to the ground due to their weight, and nearly all can support adults as well as children, so you get to enjoy the swing set as well!
Its swings have a weight limit of 200lbs, but Rainbow itself says they have tested them to 450lbs.
In fact they say they "weight test all of our accessories to make sure they are safe for your kiddos and you!".
I challenge you to find a first-hand report of anyone using a Rainbow swing set, and saying it felt flimsy or like it might break.
When I was researching this post I did a lot of digging around on forums to hear other people's experiences, and not once did this issue come up.
In fact it was quite the opposite, there are plenty of stories of literally whole neighborhoods of kids playing on Rainbow swing sets or kids and their parents playing on them without any problems.
In short, if you do buy a Rainbow swing set it will certainly last throughout your kid's childhood.
Installation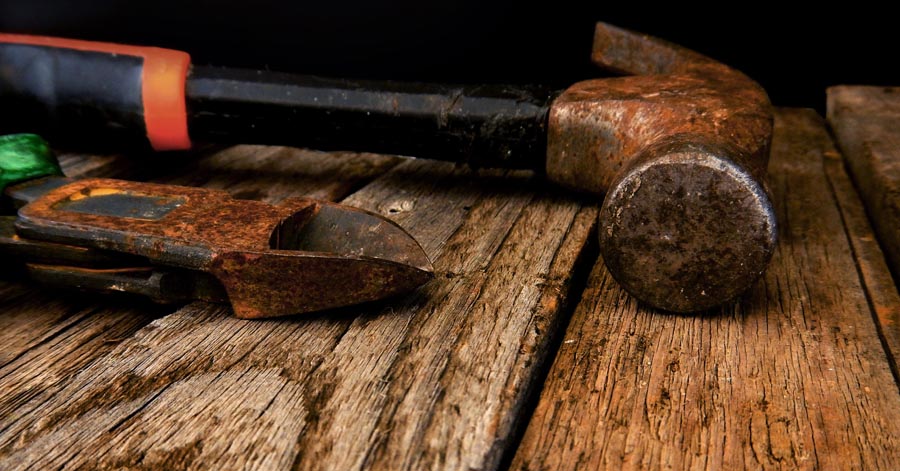 As you can imagine Rainbow's swing sets are complicated to install.
Primarily because of their size and the sheer number of pieces there are to put together.
With the right kind of power tools, a couple of days for assembly and a helping hand or two you can install most systems yourself.
Or Rainbow's own authorized installer can take care of everything for you.
The instructions with Rainbow's swing sets are of a similar quality to the swing set and are clearly laid out and well illustrated.
However because they are so big, if you do it yourself you can expect numerous frustrations along the way.
A good tip is to keep an eye on the Rainbow website as often they have sales and/or offers that include free delivery and installation if you buy a swing set in the off-season.
And that will save you a lot of hassle!
Warranty
As you might expect, Rainbow's warranty is also top-notch.
The lumber and many of the main parts (slides, swings, panel mounts, etc) are guaranteed for the lifetime of the set.
Other parts such as bucket swings, chain ladders, monkey bars have a five-year warranty.
Note that wood damage is covered under the lifetime warranty and will be replaced, but you do have to pay for the labor.
It is a warranty that pretty much says, 'we know our products are good so if anything goes wrong we will take care of it for you'.
For full details view the Rainbow warranty page.
Returns
Note that as per its terms and conditions, Rainbow does not offer returns or refunds on its products.
Value For Money
This is quite a hard one to answer because Rainbow's swing sets are undoubtedly very expensive, BUT they will last the entire childhood of your children.
And this is backed up by its lifetime warranty.
Also its swing sets are fully customizable so you can add to them over time. sO you can start out with one of Rainbow's basic swing sets and then add parts on as and if you want.
But even its most basic lines are expensive.
Another option is to buy one second-hand on Craigslist or something similar.
Similarly Rainbow has such a good reputation, and its swing sets are so sought after, you could also sell a Rainbow swing set when it has reached the end of its life for your children and you will be able to recoup some of your initial outlay.
So really it depends upon what you view as value for money.
We can say it will last throughout your kid's childhood, so if they use it regularly then it probably is value for money.
After all these days it is becoming increasingly difficult to find things genuinely built to last!
Final Thoughts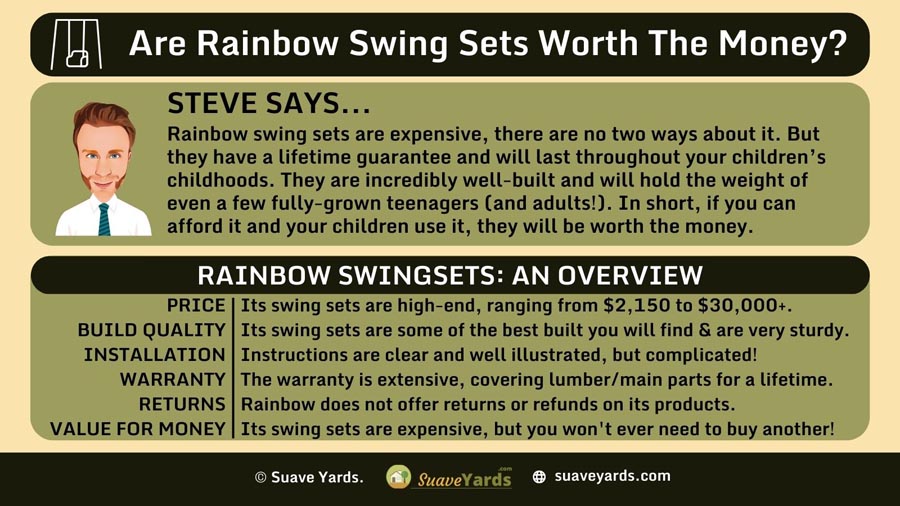 Incredibly solid construction, a lifetime guarantee and higher-end prices are three hallmarks of Rainbow's swing sets.
The swing sets themselves are very sturdy and will provide years of fun for your children (and you!).
The issue with other swing sets is once your children get to 9 or 10 years old or older, they will begin to outgrow most play sets.
With Rainbow swing sets they can continue playing on them for years to come.
So are they worth the money?
They are definitely some of the best swing sets you can buy, so if you can afford a Rainbow swing set and want to create lots of memories then they probably they are worth it.
For a range of other options you can also view our list of the best swing sets for older kids.
---