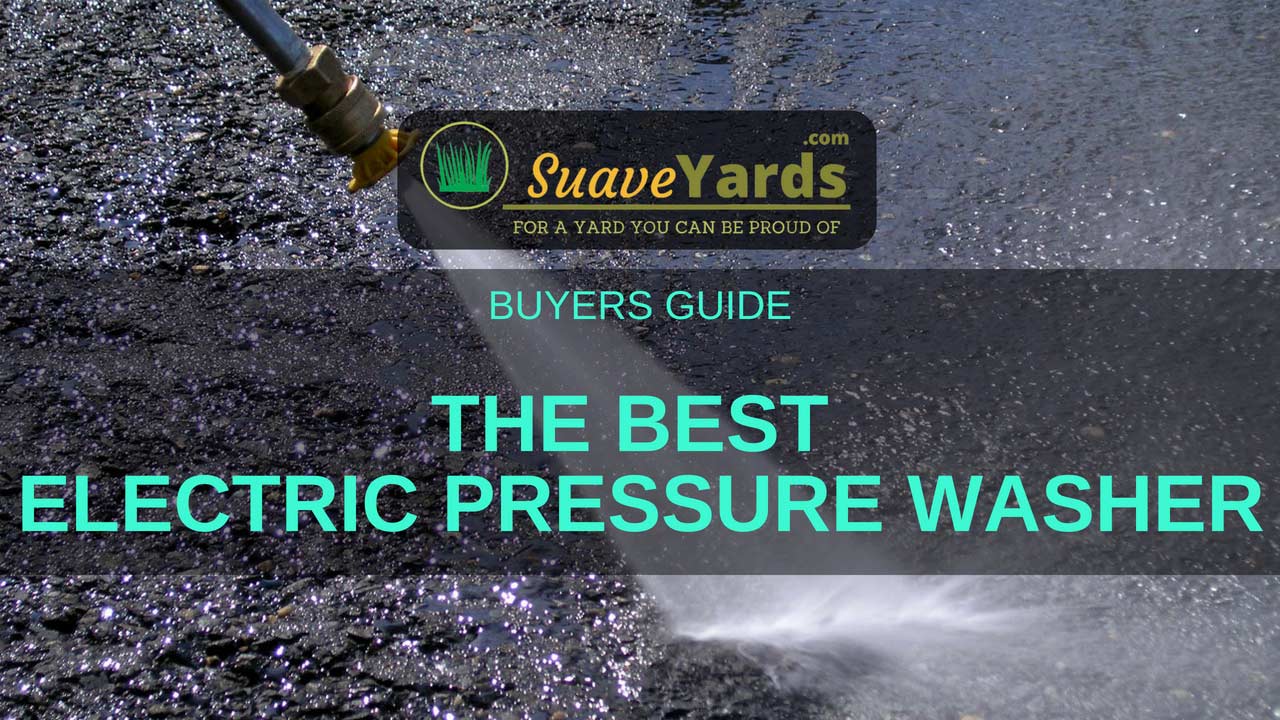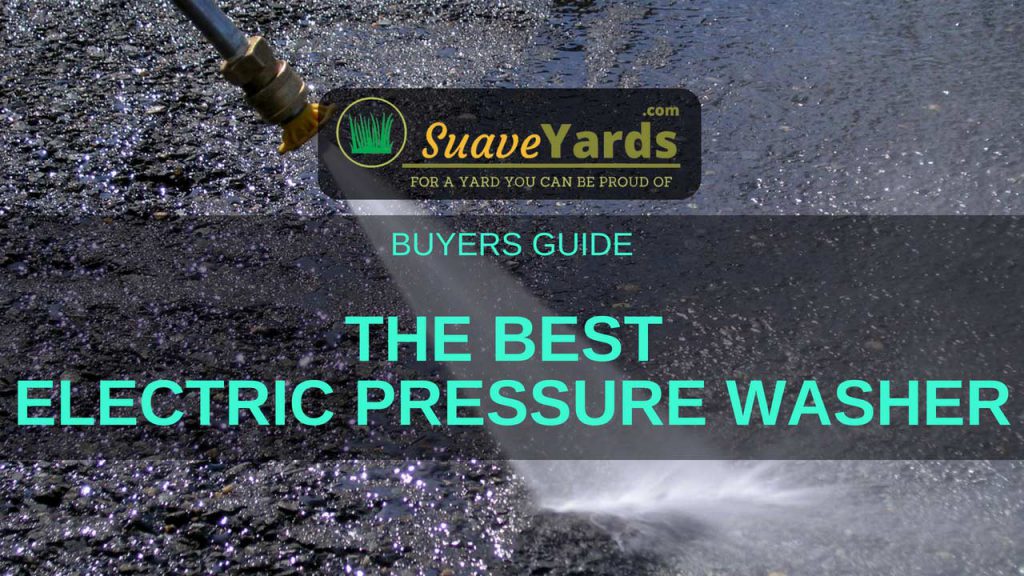 Do you have a deck covered in grime or a patio smothered in dirt?
Want something that will clean it in a matter of minutes?
Take a look at our roundup of the best electric pressure washers of 2023 for the answer!
>>> Jump me straight to the reviews. I know all about electric pressure washers <<<
---
Best Electric Pressure Washers 2023:
At A Glance List
---
Below is a quick view of my favorite electric pressure washers of 2023. To find out more about them click on the link to take you to the full review.
Best High Duty Electric Pressure Washer
Best Medium Duty Electric Pressure Washer
Best Light Duty Electric Pressure Washer
---
The Benefits Of Electric Pressure Washers
---
Electric pressure washers have the advantage over their gas or cordless counterparts in a number of ways:
They are cheaper – gas pressure washers usually retail at between $200 and $500. Electric pressure washers at $90 to $180.
No maintenance or fuel costs, so not only are they cheaper to buy, they are cheaper to operate.
Weight – they are lighter and easy to move around
They give off no exhaust emissions so they are better for the environment
They are much quieter – with an average noise level of 78 decibels compared to a minimum of 88 decibels for gas powered models.
Easy of use – there is no need to prime them or warm them up, simply start and stop with a button.
They are usually smaller and easier to store.
---
How To Choose An Electric Pressure Washer
---
If you research your choice properly and get a good electric pressure washer you will have what is effectively the equivalent of a professional cleaning level at a fraction of the cost.
However there are a number of factors you want to take into consideration, including:
Cleaning Power
The power of a pressure washer obviously determines what kind of jobs it can handle. The more powerful the output the quicker and more effectively it will clean.
You can get an indication of cleaning power by looking at two measurements:
PSI – Pounds per square inch – the amount of cleaning pressure the machine can produce. It is effectively the cleaning force of the water.
GPM – Gallons per minute – this is the amount of water that is coming from the machine.
I am jumping ahead…
Sometimes it can be a bit confusing to get a grasp of the difference between PSI and GPM, so imagine this:
A baseball and a tennis ball are both projected towards a surface and are travelling at 100 mph. When they hit the surface which has more impact? Obviously it is the bowling ball.
In the example above think of the 100 mph speed as the PSI and the object (bowling ball and tennis ball) as the GPM.
Either way the higher the numbers the greater the area you can clean in less time.
Power Cord Length
Take a look at the length of the power cord for any electric pressure washer, as they will often vary. The longer the cord the easier it will be for you to get around your yard with it and use it in those faraway corners!
Hose Length
In a similar way to the length of the power cord, the length of the hose gives you much more flexibility when using your pressure washer.
Basically:
A longer hose will give you additional reach and allow you to get into all those nooks and crannies or under tables, in gutters, etc, etc.
Nozzles
Generally a pressure washer will have two types of nozzle:
Adjustable nozzles are really convenient – simple twist the head of the wand and the spray width or pressure will be changed – ie from a pinpointed spray of water to a wide fan spray of water.
Interchangeable nozzles, also known as quick connect spray tips, have preset spray angles giving you much more specific control over the job you are doing. They might take a little while longer to change though.
The Pump
The pump is the most important part of your pressure washer and the most worked part of it! Most pressure washers use axial pumps, they are simple and maintenance free.
But also:
The higher spec pressure washers have triplex pumps. These require maintenance and are often found in machines intended for commercial. However they certainly pump up performance (pun intended).
Weight
If you are older or not as physically strong then consider how much the pressure washer weighs and how it is supported. Generally the can be dragged around, however there will be occasions when you need to lift it.
Price
Whilst more expensive doesn't necessarily mean better, the old adage you get what you pay for is usually fairly accurate. However if you only need a pressure washer for very occasional use there is no need to splash out big bucks.
Finally:
Also worth checking out is if there is an onboard detergent tank – this makes using chemicals in your wash easier, and if there is tool and cord storage to save you space and making storing and using your pressure washer easier.
The video below gives a more detailed overview of what to look for if you are buying a pressure washer:
The Best High Duty Electric Pressure Washer 2023
---
#1 Powerhouse International
---
BEST FOR…
Those wanting an outstanding electric pressure washer.
---
The Powerhouse International is quite simply a wonderful electric pressure washer with outstanding design and top quality attachments, not to mention they have superb customer service.

So let's dig a little deeper:

This has a flow rate of 2.2GPM and a maximum pressure rate of 3000PSI. It weighs 32lbs and has a one-year warranty.

It comes with five spray tips – 0º, 15º, 25º, 40º and watering. They are: turbo nozzle, angle nozzle (for cleaning gutters), patio cleaning attachment, soap/foam attachment and a scrub brush.

What makes this so special?

Well where do I start?

I love the attention detail on the design – everything is well thought out and has its place. The attachments all fit easily onto the body and can be quickly connected and disconnected and also the power cord and water hose fit snugly on the body.

The body itself feels durable and is made of rugged composite material – that should last a long time and it has a telescopic handle, much like you get on a pull along suitcase, that keeps the frame of this small when it is not extended.

But there is much more:

This has a low centre of gravity and feels very stable. It has four casters that you can lock in place to keep it stable, unlock and roll it behind you, or take off completely so you can carry it around.
This has two strong steel lances – one of which has five interchangeable tips. They are all color coded and the instructions clearly explain what each does. They work on a diverse range of tasks and are so easy to click on and click off.
At 3000 PSI and 2.2GPM this has a lot of power – enough for nearly all domestic jobs.
The hose is flexible, maneuvers well and coils into place well.
I have never seen a company have so much praise for their customer service – by all accounts they are outstanding – efficient, attentive, quick to respond and stand behind their product.
A couple of things could be improved:

I do feel that the hose to the gun could be a little longer, however Powerhouse International do sell 20 foot extensions if needed.

The plug is pretty bulky – it is is a GCFI style plug and takes up a fair bit of space when plug it into an outlet.

But the bottom line is this:

This is a truly excellent heavy duty electric pressure washer – it has everything you could want.

Extremely well designed, portable, lots and lots of power and a family owned business that truly cares about their customers. I love it.

---
MY RATING: 95%
---
---
#2 mrliance 3500PSI
---
BEST FOR…
Those looking for something lightweight.
---
With 3500PSI and 2.0GPM the mrliance Electric Pressure Washer delivers impressive cleaning power and good overall performance.

Taking a closer look:

As mentioned this has a flow rate of 2.0GPM and a maximum pressure rate of 3500PSI. It weighs 22 lbs and has a two year warranty.

It comes with four spray tips – 0º, 15º, 25º, 40º and a gardening connector. It also comes with a detergent bottle..

What is the secret?

This scores lots of bonus points for providing such power, but being so lightweight and easy to use.

It has a very small footprint and at 22lbs can be easily moved around and used for a prolonged time without any fatigue setting in.

With a pressure rate of 3500PSI and a flow rate of 2.0GPM this will clean most surfaces – bricks, concrete, lumber, vinyl, cars.

There is more though:

This is well made – with a nice brass garden hose connector and a sturdy upright design with ergonomic handles and large wheels that make moving it easy.
The four spray tips really are quick connect and give you a variety of cleaning strengths.
Everything stores nicely onto the body of the mrliance itself – the hose, the gun, the nozzles.
The added detergent bottle is a good idea and gives you an alternative to just using water for your power washing.
Assembly is minimal and no tools are needed – this will be ready to use in a minute or two.
What could be better though:

This could do with an onboard storage area for the plug, as opposed to a hook that is actually has, as it doesn't secure it very well.

Also the spool for the pressure hose could be improved – the handle feels tight and a little frustrating when you try and wind in the hose.

In summary:

Small and lightweight the mrlinance Electric Pressure Washer is deceptively powerful and with multiple nozzle options and a clever design it is great option if you want a heavy duty electric pressure washer.

---
MY RATING: 90%
---
The Best Medium Duty Electric Pressure Washer 20

23
---
#1 Ford FPWEF2.1-1800
---
BEST FOR…
Those looking top quality design and attention to detail.
---
I saw the Ford FPWEF2.1-1800 referred to by someone as like a power washer Apple would make and I think that is quite an apt comparison – it just looks so good!
Let's jump right in:
Weighing 26 lbs, this has 1800PSI and a 1.5GPM flow rate. The power cord is 35 feet long and the hose 25 feet long.
It has an adjustable wand, onboard soap tank and comes with a wedge and rotary brush to remove more stubborn debris and dirt.
Quite simply:
The design of this really is very nice and sleek. It has front dual tanks, which are well thought out and compliment the washer well.
It has a fantastic braided hose and a heavy duty aluminium wand – the wrapping of the hose and connection to the handle are first class.
Of course the main things you would be concerned with are the motor and the pump and they are also top quality and work beautifully, giving you really concentrated pressure that eats through dirt and grime.
If that wasn't enough, then there is much more, including:
A 25 foot hose and onboard hose reel for easy retraction and storage
I love the 4 position selectable nozzle – simply turn the nozzle head to alter the spray pattern. You get a high pressure jet stream, a high oscillating fanned turbo stream, a high pressure wide fan spray or low pressure soap. It is so easy to get the best stream for the job.
The onboard soap tank can be removed for easy cleaning and easy filling.
Rubber body tires with a foam inside – don't get flat and make this really easy to maneuver
Comes with a wedge and rotary brush which are really good for getting at very stubborn debris.
But beware:
The wheels are great, but as they are so buoyant it does make it more difficult to navigate the pressure washer over rougher terrain however.
Also the holder for the power tip is held to the body with plastic rivets that aren't very secure.
In truth:
The fact I can only find such minor faults with the Ford FPWEF2.1 shows just how good this is!
Fantastic attention to detail, nice expense spared, starts easily and works very well. This thing is a gem of an electric pressure washer. I love it.
---
MY RATING: 93%
---
---
#2 Sun Joe SPX4000
---
BEST FOR…
Those looking for an extremely well designed pressure washer.
---
In terms of sleekness, pure good looks and design quality the Sun Joe SPX4000 takes some beating. What is more it is an extremely good pressure washer.
Let's get things underway:
It has a maximum pressure of 2030PSI and a flow rate of 1.76GPM, generated by the 14.5 amp motor. It comes with five quick-connect spray tips (0º, 15º, 25º, 40º and soap).
The power cord is 35 feet long and the hose is 20 feet long. It weighs 31 lbs and comes with a two year warranty.
I guess it all boils down to this:
This really is a nice looking, well designed machine. It has a solid feel to it that inspire confidence and gives the impression it will last a long time. It has nice storage spaces for the cord and hose and a storage slot for the wand.
They all work well and give the impression this has been designed with the consumer utmost in mind.
The five quick connect tips that come with this allow you to get just the right power, from an intense jet of water to a gently spray, for your cleaning task. The nozzles are easily stored in the machine and a cinch to switch between, taking no time at all to change.
There is much more I like including:
The 14.5 amp motor generates a surprising amount of power and you can also choose between two pressure levels – the low setting of 1450PSI or the high setting of 2030PSI.
It is a compact size and weighs only 31lbs. The wheels are sleek and nicely made and all in all this is really easy to move around.
The Total Stop System, which is designed to shut of the motor when the trigger isn't engaged, works well and will prolong the life of the pump.
It has a large (54.1oz) detergent tank that takes less refilling, so you can get more cleaning done.
It has a nice onboard hose reel.
But:
Of course, as with any product it isn't all sweetness and light. The wand connection to the main unit is less than ideal.
It is at a low point on the back of the unit and when the unit is tipped back to roll on the wheels, it very close to the ground and could easily snap off.
Also at 20 feet long, the hose is a little shorter than its competitors in the same price bracket.
In essence:
But overall this is a fantastic mid-range machine. It is intuitive to use, really well designed, durable and does a stellar job on sidings, patios, stone pavers, driveways, gutters… pretty much anything you want it to.
---
MY RATING: 91%
---
---
#3 Sun Joe SPX3001
---
BEST FOR…
Those looking for solid build quality and good performance.
---
The Sun Joe SPX3001 combines good performance, solid design and quiet operation into a really nice mid-price electric pressure washer.
So let's get busy:
The 14.5amp motor generates 2030 PSI and a 1.76 GPM flow rate. It has a 20 ft hose, with an onboard reel, and a 35 ft power cord.
It comes with five spray tips (0º, 15º, 25º, 40º and soap) and has a onboard detergent tank that holds 40.6 fl oz of liquid. It weighs 36 lbs and comes with a two year warranty.
The bottom line is:
It is really nicely made all round. Whilst there is a lot of plastic in the housing it is good quality, sturdy plastic. The wand is surprisingly good – it is metal, substantial and has nice brass threading for the hose.
It has a wand holster, which is really useful, and a nice quality hose reel which seems less likely to kink and easier to store.
The 40.6 fl oz detergent tank is large, easy to use and works well also.
Also ticking the right boxes are:
It is light and easy to maneuver – thanks to the spray wand, which has a 34 inch extension, and the ergonomically designed rear wheels
Five different nozzle heads give you control over your cleaning power and snap on and off easily.
It is really quiet
The Total Stop System means it temporarily powers off when you release the trigger – this saves the pump motor from pressure build up within the unit as it is not constantly running (and it saves on electricity costs too)
The 2030 PSI pressure is great and the water flow is good – easily enough for deck cleaning, furniture or BBQ cleaning or moss removal.
However:
My main quibbles center around the hose – it is fairly lightweight – as a hose is usually the first thing to go it could do with being more reinforced.
Also the water hose connection is plastic, the connection is ok, but it is plastic and if you are not careful you could break the thread – brass threading would be more suitable.
So let's rewind and…
A great build quality, good power, easy to use, quiet, from pump to wand this is good quality and for most household tasks it will do a great job.
This is the next in the line after the SPX3000 – read my review of that and see the differences between the two here.
---
MY RATING: 90%
---
---
#4 Stanley SLP2050
---
BEST FOR…
Those looking for a fantastically portable pressure washer.
---
The Stanley SLP2050 is the ultimate in versatility and mobility thanks to its innovative design – something that sets it apart from every other pressure washer on this list.
Right then lets get to work:
Powered by a 13 amp motor it has a maximum pressure of 2050 PSI and a flow rate of 1.4GPM. The power cord is 35 feet long and the hose is ten feet shorter at 25 feet.
It weighs 36 lbs and comes with five different tips and has a two year warranty.
The secret is:
This has a really intelligent build that makes it, in equal measures, both easy and enjoyable to use. It comes with a mobile cart and can be neatly pushed anywhere thanks to have duty rugged wheels. But also you can quickly and easily detach it from the cart and use it as a stand alone pressure washer.
It gives you maximum portability and makes it easy to move around and then, as it is so light, you can remove it from the cart and carry it around to use as you want – even climbing up a ladder without is not a problem.
Even better:
Stanley have thought about the design even further, as the cart handles unsnap, so it essentially comes apart in two pieces, which makes it even easier to store or put in your car if you need to transport it somewhere.
Aside from the wonderful portability there are a number of other things I love about this washer, namely:
It has a nice long hose, 25 feet long, attached to the sprayer. Makes it really easy to use on a ladder for instance. At 35 feet long the power cord is pretty long as well.
It comes with five nozzles for different forces and they all change pretty easily and can be conveniently stored in the washer itself. The turbo nozzle offers a real step up in power and it also comes with a nozzle cleaning tool.
I like the yellow plastic locking knob that, when turned, prevents you from squeezing the trigger accidentally.
According to the stats from Stanley it saves up to 80% water when compared to a standard garden hose and has 40% more water pressure.
It is very nicely made with brass connections and a stainless steel sprayer hose, you get the impression it will last.
First a warning:
On the downside the holster for the sprayer wand is poor designed and placed, as the spray head drags on the ground if you aren't careful.
Also Stanley use a non-standard connection for their pressure hose ( a .587" diameter plug), so you cannot use pressure hose you already own.
Let's recap:
This is the one of the most cleverly designed pressure washers on the market – so easy to transport and store, extremely easy to use and it does a fantastic job. For light to medium duties it is ideal.
---
MY RATING: 90%
---
---
#5 Sun Joe SPX3000
---
BEST FOR…
Those looking for the convenience of dual detergent tanks
---
The Sun Joe SPX3000 is (surprisingly enough) the predecessor to the SPX3001 – it is also one of the most popular electric pressure washers on the market – with good reason.
Digging a little deeper:
A lot of the spec is the same as its younger brother. It produces 2030PSI pressure, and generates a flow rate of 1.76GPM. It weighs 31 lbs and has a 35 ft power cord and a 20 ft hose.
It comes with five spray tips (0º, 15º, 25º, 40º and soap) and a two year warranty.
A quick summary of how it differs from the SPX 3001:
Storage for nozzles:

This model (SPX3000) – back of handle. SPX3001 – front of handle

Detergent tanks

: This model (SPX3000) – two x 30.4 fl oz tanks. SPX3001 – one x 40.6 fl oz tank

Hose reel:

This model (SPX3000) – no hose reel – wrap around holder. SPX3001 – hose reel incorporated
The thing is:
The dual detergent tank is actually preferable to the single tank used on the SPX3001, as you can vary the soap you use depending upon how stubborn the mess you are trying to clean is. It is also super easy to switch between the two.
Aside from the things mentioned above though it has all the features which I like about the SPX3001.
Namely:
Good build quality – plastic is sturdy where it is used, high quality spray gun with metal barrel, spray nozzles snap on and off easily and had a high quality pull down collar.
Extremely quiet
Five nozzles to tailor the power to the job.
Light and portable with 34 inch spray wand and nice sturdy rear wheels.
Power to cut through mildew, mud, grease, clear patios, driveways – pretty much whatever you need it to
The downsides:
One is the lack of the hose reel compared to the SPX3001, as it means you are managing the power cord, wand cord and water hose at the same time, so this is a bit of a pain.
Also the brackets that hold the wand seem a little more flimsy that the SPX3001.
To sum up:
It is easy to see why this is one of the most popular pressure washers on the market, I'd say the SPX3001 just has the edge on it, but if you buy this one you certainly won't be disappointed.
---
MY RATING: 88%
---
---
#6 Greenworks GPW1950
---
BEST FOR…
Those looking for a stable unit with a long hose.
The Greenworks 1950 is one of the less common pressure washers on this list as it sits flat on the ground rather than being upright – more stability and easier to pull around!
Right, lets get to it:
It has a power cord that is 35 feet long and a 25 feet long hose. The 13A engine puts out 1950 PSI of pressure and a flow rate of 1.2 GPM.
It comes with four nozzles (0°, 25°, 40° and soap) and has a built in soap tank. It weighs 47 lbs and has a two year warranty.
This is pretty unique:
As unlike most pressure washers this sits flat on the floor and can easily be pulled around thanks to two sturdy wheels.
At 47lbs, it is heavier than its competitors, but as it is used horizontally it doesn't feel it, it is light and easy to roll around and because it is flat on the floor it always feels stable, which isn't always the case for upright models.
And there is much, much more:
Sturdy handle (that folds for easy storage) and durable brass fittings – give you confidence this is well made and will last.
Good amount of pressure, especially for every day jobs
Nice long hose, so easier to get to awkward spots, under tables, etc, etc
Hose reel – so easy to wind and unwind hose during use.
Nice variety of nozzles and in particular the 0° turbo nozzle is just that – turbo powered!
But you should know:
There are a couple of downsides. First this is a little more expensive than some of the medium duty pressure washers.
Also this really gets through soap solution like crazy, especially when you use the turbo nozzle. It can empty the tank within a minute.
So what does this all mean?
Well you get a nice long hose and a lovely stable unit that works well and will last – it is from Greenworks who are a trusted brand name. If you can see this for a reasonable price, snap it up!
---
MY RATING: 86%
---
---
The Best Light Duty Electric Pressure Washer 20

23
---
#1 Realm BY01-HBE
---
BEST FOR…
Those looking for a low cost pressure washer with a high quality pump.
---
I have to say I was totally blown away (pun intended) by the quality of the pump on what is ostensibly a budget machine – the Realm BY01-HBE is fantastic in that respect.
So let's get down to business:
The 11-amp electric engine generates 1500 PSI and produces a 1.5 GPM flow rate. The power cord is 35 foot long and the hose 19 foot long.
It has an adjustable nozzle and a garden hose adapter and weighs 18.5lbs. It has a one year warranty.
Here's the kicker:
The price is great – it is right at the bottom of the price list of the pressure washers here, but the pump quality is nearer the top!
It is made from alloy steel and is made up of a turbine cooling fan, a nice high pressure water outflow port and an inflow filtering port. It is double sealed and really well made.
As a result this has surprisingly good pressure and really good cleaning power. You can wash away most dirt, grime, oil, sand, etc, etc without any issues.
And what else?
The gun is really well designed and comfortable to use. It has an automatic safety lock which, aside from making it safer also saves energy (and it works well I must say)

It has an auto-stop function that shuts off the pump when the trigger isn't engaged. This makes the pump last longer and again is environmentally friendly.

There are a host of optional accessories that are very well priced you can add to this such as a turbo nozzle, brush and a patio cleaner and i

t is so quick and easy to assemble and install the attachments. Less fiddling around = the job is done quicker!

You can use it vertically or horizontally for greater stability

It is compact and everything can be stored easily.

You can adjust the spray pattern by twisting the nozzle
But be aware:
At 19 feet long, the hose is quite short, making it more difficult to get to awkward areas.
This also has no pressure regulator, so you do have times when it might be too strong and others when it might be too weak.
But the bottom line is this:
I am totally prepared to overlook those factors purely as you get such a great quality pump at such a low price!
This is a really good small pressure washer that does a really good job.
---
MY RATING: 92%
---
---
#2 Greenworks GPW1501
---
BEST FOR…
Those looking for a light, efficient and compact pressure washer.
---
The Greenworks GPW 1501 can easily be summed up in three words – light, efficient and compact.
So let's explore it further:
Weighing 19 lbs, this has a 35 foot power cord and a 25 foot hose. The 13 amp motor generates 1500 PSI and a flow rate of 1.2 GPM.
It comes with an adjustable wand and two nozzles – 25º and 40º. It has a one year warranty.
You have to say:
This is small, easy to carry and fit into the smallest of storage spaces. It is so easy to carry up stairs or just move around your yard.
The build quality doesn't appear to have been compromised either. The cord and plug are thick but also pliable. The attachment hose seems well made enough that it won't crack or puncture easily.
Beyond that:
There are two house attachment areas at the side and lower front of the unit, that take a little persistence to tighten, but you can do so and they don't leak which is the main thing.
The spray gun and two nozzles work really well for short jobs. This won't do a heavy duty job, but for clearing dirt, debris, mold, etc, etc it is more than good enough.
Other things you might like include:
It can be used vertically or horizontally for greater stability
This is quiet, even by electric pressure washer standards
It is so easy to assemble
Nice long power cord
It is a great price
Please note:
One thing I don't like is my finger kept getting pinched in the gap between the green trigger and the black handle. When I looked online at reviews, it seemed a few people had this issue.
Quite often when you start using this the motor changes the pressure without warning – from low pressure to high pressure of vice-versa. Once it has been running for a minute or two it is fine, but this is worth remembering.
It all adds up to this:
If you have small jobs you need doing and doing well, this little gem of a pressure washer will do a great job for you. It is especially good if you are older or have limited strength as it is easy to move and also easy on the wallet!
---
MY RATING: 90%
---
---
#3 Karcher K2 Plus
---
BEST FOR…
Those looking for an incredibly light and compact pressure washer.
---
The Karcher K2, being the lightest pressure washer on this list packs a lot of punch for its weight and price tag.
Let's cast a closer eye over it:
It has a 13amp motor that generates 1600 PSI and 1.25 GPM flow rate. It weighs 16 lbs and has a 35 foot power cord and a 25 foot hose.
It comes with a Dirtbuster spray wand and has a two year warranty.
First things first:
This really is incredibly light and compact. If your key concern is something easy to maneuver and store then this would be a fantastic choice.
It takes up next to no space when you put it away and can be hauled around without a problem as it weighs only 16lbs. It has a nice sturdy, robust handle that makes it easy to carry around.
And another thing:
The two wands are a nice deal as well. The Vario Spray Wand you can just twist to switch from high to low pressure or you can swap it out and put in the Dirtbuster Spray which is for dealing with more stubborn stains.
The Dirtbuster Spray generates more pressure, Karcher say it increases pressure by 50% and generates up to 30 times the pressure of a normal garden hose – this seems quite true as it is very powerful.
And bam – there is more!
The storage hook works well and makes it easy to store the cord
The N-COR pump is durable and won't corrode
The motor will shut off automatically when the water nozzle is off – this means the pump will last longer.
Karcher have a great 'Rapid Exchange Program' – they will provide a free replacement for any pressure washer that requires repairs and is in warranty.
It is at the lower end of the price scale
A slight annoyance:
It is a bit of a pain that there is no trigger lock – you have to hold the trigger down whilst you are using it.
I also noticed that the water does leak slightly out of the hose connection and quick connect/disconnect. Only slightly though.
The bottom line is this:
It has enough power and cleans well – whether it be cleaning your car, garden furniture, patio, deck or walkways it does a good job.
If you value something that is easy to carry and doesn't take up much space and has enough power for light to medium duty household jobs AND is pretty cheap this is a great option!
---
MY RATING: 88%
---
---
In Summary
---
Best Pressure Washer For Decks
The Sun Joe SPX4000 has 3000PSI at 1.7GPM which means it easily can cut through grime on decking. What is more it is one of the best designed pressure washers out there and is really reasonably priced.
Best Pressure Washer For Cars
Compact and easy to transport, but slightly lighter duty in terms of the pressure the Karcher K2 Plus is ideal if you want to give your car a quick blast.
Best Pressure Washer For Concrete
With the highest GPM of any pressure washers on this list the PowRyte Elite, which has a turbo nozzle and a great built in soap container, is perfect cleaning those stubborn bits of dirt from concrete.
Best Budget Pressure Washer
It has to be the Realm BY01-HBE – budget in price but not in performance, you will get way more than you bargained for with this piece of kit.
Best Pressure Washer For The Money
Again it is the Realm BY01-HBE – well designed, well built, extraordinarily priced.
---
I hope you have found this rundown of some of the best electric pressure washers of use. If you are looking for a pressure washer for snow foaming there are some great options on the market.
If you do have any questions or are uncertain about anything please feel free to drop me an email and I will do my best to help you.
Don't forget you can also check out my Reviews Section for individual product reviews. Or you can visit my Site Index for everything on my site on one page.
Enjoy!