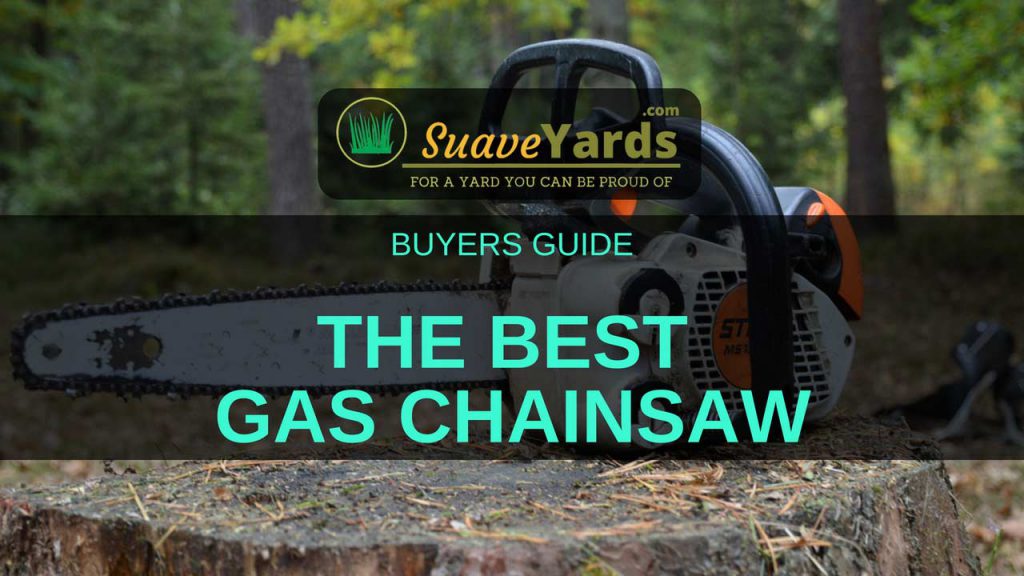 This is the complete guide to help you choose the best gas chainsaw of 2023.
Whether you want something for light, medium or heavy-duty jobs we have picked out 11 amazing gas chainsaws that won't let you down.
So lets dive in…
>>> Jump me straight to the reviews – I know all about gas chainsaws <<<
---
Best Gas Chainsaws Of 2023 – At A Glance List
---
Below is a quick view of my favorite gas chainsaws of 2023. To find out more about them click on the link to take you to the full review.
Best Small Gas Chainsaws
Best Medium Gas Chainsaws
Best Large Gas Chainsaws
---
The Benefits Of Gas Chainsaws
---
There are a number of reasons why you should buy a gas powered chainsaw, but the most obvious one is power.
Truth is:
If you are going to need to do big cutting jobs on a regular basis then there is no other option. An average gas powered chainsaw can deliver more power and torque than even the top range electric or battery powered models could dream of.
So if you live on a tree filled property, need a lot of firewood and are regularly tackling heavy duty tasks then go gas.
It is that simple.
Also you are not restricted by a power cord and the need to be near a power outlet. Simply top it up with gas and go wherever you want.
If you have a large yard a gas chainsaw offers you the ultimate in mobility – you can go wherever you want! Your runtime is also only limited by your gas supply.
One final thing:
There is a bigger selection of gas chainsaws than electric or battery powered chainsaws – making it easier for you to get the features (ie bar length, engine size, etc) that you want.
---
How To Choose A Gas Chainsaw
---
If you have decided gas is the way to go then there are a number of factors to consider, most notably:
Bar Length
The guide bar length is measured from the tip of the chain to where it enters the housing.
You know the old saying size matters?
Well it certainly does in the case of a chainsaw! A chainsaw with a guide bar of 18 inches can cut through almost twice its length in a single pass.
The guide bar should be around 2 inches longer than the wood you want to cute, so for instance if you have a 16 inch diameter tree to cut then an 18 inch guide bar is perfect.
Stick with me here because:
You can still cut larger trees with smaller chainsaws, but you will need to do it in two passes. So an 18 inch bar length can cut a 36 inch tree.
However you wouldn't want to make a habit of cutting larger trees with a smaller bar length – if it was going to be a regular thing then you would want a more heavy duty chainsaw.
Here is a rough guide to bar lengths:
Light cutting

– 14 inches and under

Medium duty cutting

– 16 inches to 20 inches

Heavy duty cutting

– 22 inches to 36 inches
Safety And Kickback
In my reviews you will hear me mention kickback quite a bit. This is when you are cutting something and the guide bar hits another object or when it gets pinched by the wood it is cutting through.
This can cause a reverse reaction that 'kicks back' the guide bar towards the operator, and the force of the kick back can vary.
And no matter what:
It is almost inevitable you will experience kickback at some time, even if you take the utmost care.
Where possible try and make sure you use an anti-kickback chain (these are standard in most consumer grade chainsaws nowadays). Look out for other safety features such as a chain brake, chain catchers and a safety throttle.
You also need to be proactive and equip yourself with safety gear such as:
Head protection

Eye protection

Gloves

Heavy duty safety boots

Ear protection

Safety pants or chaps
Ease of Starting
There is nothing more annoying than a gas chainsaw that takes countless pulls to get started.
Look out for spring assist starting – this reduces the pulling force you need to start a gas chainsaw, making it much easier to get going.
Anti-Vibration
As gas chainsaws are the most powerful type of chainsaw out there take a look at the anti-vibration systems they have in place.
These will reduce fatigue and make the chainsaw much more comfortable to use if you have a lot of cutting to do.
Other Features
There are a host of other features you may want to consider, including:
Automatic Chain Oiler – does what is suggests, it lubricates the chain automatically for safer and more efficient cutting
Tool-less Chain Adjustment – adjust the chain tension or change the bar/chain without needing the use of tools
Exhaust Air Cleaning System – cleans the air prior to it getting to the air filter to extend the air filter and engine life
Throttle Lock – stops you accidentally operating the throttle by making you operate the throttle lock before turn the chainsaw on
Stop Control – stop the chainsaw quickly with the push of a button
Air Filter and Spark Plug Access – quick and easy access to the air filter and spark plug
Also remember to keep an eye on how heavy the chainsaw is and how long you intend to use it for. 12 pounds for instance might seem light, but think how it might feel after 30 minutes use.
The video below gives a more detailed overview of what to look for if you are buying a gas chainsaw:
The Best Small Gas Chainsaws 2023
---
Small #1
Tanaka TCS33EDTP
---
BEST FOR…
Those wanting an unbeatable power to weight ratio.
---
If you are looking for a gas chainsaw with an unmatchable power to weight ratio then the Tanaka TCS33EDTP is undoubtedly what you want.
Jumping straight in:
This can be bought with a 12 inch or 14 inch sprocket nosed bar and gives you 1.6HP. It has a 9.9 fl oz fuel tank and a 6.0 fl oz oil tank.
It weighs 8.4lbs and comes with a two-year commercial warranty or a seven-year consumer warranty.
What is the bottom line?
It really is incredibly light – easy enough to handle with one hand without a problem – so when you are up a tree pruning you can easily hold the branch with one hand and cut it with the other.
Despite its small size it cut through tree trunks off up to 20 inches as if they weren't there – the power to weight ratio really is fantastic and I don't think can be bettered in this respect.
And what else?
The warranty – a seven-year consumer use warranty – easily the best in the business.
It is really well balanced – combined with the low weight – this means, as mentioned before, one handed use is easy.
The build quality is great – standard of the chain, scrench and bar cover are top notch and ergonomically it is comfortable.
The anti-vibration system really works – you can get a lot of cutting done and really not feel any kind of fatigue
It has a side action chain tensioner so you can quickly and easily adjust the chain.
But be warned:
It isn't without faults – the chain catcher under the side cover is poor, so if the chain comes off at speed it will likely damage (or even destroy the side cover!).
Also, as it is built to be small and light the gas tank is very small, which means you will be refilling it a lot.
In short:
This is the best small gas chainsaw out there – easy to handle, cuts well, amazing warranty and an unmatchable power to weight ratio – it is ideal for shaping, pruning and hobby work.
---
MY RATING: 92%
---
---
Small #2
Echo CS-400
---
BEST FOR…
Those looking for a top quality, easy to start chainsaw.
---
The Echo CS-400 is possibly the easiest to start gas chainsaw on the market – plus it is very well made indeed.
Digging a little deeper:
It has a 40cc engine and an 18 inch bar. The fuel capacity is 13.9 fl. Oz and it weighs 10.1 lbs. It comes with a five year warranty for consumer use.
The Echo trademarked i-30 Starting System certainly works. It puts some bigger and more expensive brand names to shame when it comes to starting – even when it is cold it starts on the second pull. It is so easy to start you would think it is a four stroke, but isn't.
It is sturdy and well built with a very strong plastic frame and a metal handle bar. Minor details such as the higher quality case and switch gear, the separate kill and choke switches and the generally lighter feel gives this the edge over most other gas chainsaws.
Ticking some more boxes:
The handle bar is coated in rubber and really reduces the amount of vibration you feel without causing a loss of control
It has a quality air filter that is easy to access and can be cleaned repeatedly without fear you might destroy it! This should prolong the engine life.
It is so simple to take apart. It comes with a scrunch, which is like a hybrid of a screwdriver and wrench, which allows you to do 95% of the maintenance required on this thing. This means you can easily clean it and maintain it.
This has great power! It has loads of torque and slices through pretty much anything.
For the power, design and ease of starting the price point is very reasonable indeed.
On the downside:
The bar is narrow, it takes a small chain and allows for no slack in it at all or it will come off.
Also the fuel cap is hard to open by hand and really could do with some improvement.
In a nutshell:
But these are minor complaints for a top quality gas chainsaw. It is powerful, easy to start, very well made and will cut through anything in a small to medium sized yard. It really is outstanding.
---
MY RATING: 91%
---
---
Small #3
Husqvarna 435E
---
BEST FOR…
Those looking for a chainsaw with a quality chain.
---
For an average homeowner the Husqvarna 435E might just be the perfect gas chainsaw.
Looking in a bit more detail:
It weighs 9.7lbs and has a 16 inch bar. It gives out 2.5HP and has a maximum power speed of 9000 RPM. It comes with a two year warranty.
The good news is:
This is another ultra lightweight chainsaw, so you can use it for a long periods of time without killing your arms. It is just over a pound more than the Tanaka, but still right at the bottom end of the scale – equivalent to about three packs of sugar!
This comes with Husqvarna's X-Cut chain and this 16 inch bar is certainly better than their standard H30 chain. The X-Cut chain is a low-vibration pixel saw – it cuts a narrow kerf and requires less power than a standard cutting system. It is really innovative and definitely works
There is more:
How easy it is to use. It is slimmer than previous Husqvarna chainsaws, and has a built-in fuel pump and also an auto-return stop switch. The starter cord works perfectly and the whole thing will fire up quickly.
The X-Torq engine is great. It is very economical when it comes to fuel consumption and also reduces exhaust emissions. Oh and it is powerful!
It has a centrifugal air cleaning system that removes larger dust and particles of debris before they reach the air filter – this should prolong the life of the engine.
It has a clear fuel tank – making it so easy to check fuel levels.
There are lots of lovely little features such as the flip up fuel tank, the quick release air filter and the snap lock cylinder cover which all add to the appeal of this chainsaw.
Be aware:
On the down side the choke/kill switch lever is very fragile and doesn't feel like it will last.
Also the screws you need to access to adjust the idle level of the saw are very hard to get to, and make changing this a real pain.
In all:
Combining light weight, quality build, a good amount of power and a top notch chain, all at a reasonable price the Husqvarna 435E is a truly reliable gas chainsaw and perfect for the average homeowner.
---
MY RATING: 90%
---
---
Small #4
Poulan Pro PP4218AVX
---
BEST FOR…
Those looking for easy chain adjustment.
The Poulan Pro PP4218AVX is a simple, easy to use gas chainsaw that is more than suitable for cutting up limbs, branches and small to medium trees.
So what is on offer?
Well it has an 18 inch bar it has a cutting diameter of up to 36 inches. It has a 42 cc engine with an 11.3oz fuel tank. It weighs 11.8lbs and comes with a two year warranty from the manufacturer.
The point is this:
This Poulan is a standard household chainsaw that is elevated above its competitors thanks to the reverse sprocket which offers excellent tool-less chain adjustment.
Simply turn the large dial to open the side cover and then turn the small dial to loosen or tighten the chain. You can keep the chain tensioned easily and without tools – it is a fantastic feature and will save you a lot of time!
The design of the anti-vibration handle is nifty too. It isolates the engine from the chassis, so you really do get much less vibration along with a much safer experience.
It doesn't stop there, I also like:
User safety is further enhanced by the inertia-activated chain break, this stops rotation of the chain if you get any kickback.
It uses felt filter blocks rather than traditional foam filters, this makes a great deal of difference when it comes to keeping debris and dust out of the carburetor and engine.
It comes with a really nicely designed and well made case, which is perfect for keeping things tidy and if you need to transport it in your car etc.
Because this is quite light but reasonably powerful it is pretty versatile, so you can use it for cross cutting, limbing, cleaning up after storms, chopping firewood and much more.
You get all of this at reasonable price when you compare it to similar sized gas chainsaws.
It isn't perfect:
It does have its deficiencies though. It seems to really eat through bar and chain oil.
Also you can't alter the carb settings – I mean you can adjust the idle setting, that is accessible, but you can't adjust the high setting which you might need to do.
So it all adds up to this:
These small gripes aside the simplicity and ease of use of this chainsaw are great, thanks in large part to the tool-less chain adjustment.
Combined with its size and versatility, it would be a great addition to your yard tool armoury.
---
MY RATING: 88%
---
---
The Best Medium Gas Chainsaw 2023
---
Medium #1
Husqvarna 455 Rancher
---
BEST FOR…
Those looking for lots of power!
---
The Husqvarna 455 Rancher is a really powerful, medium sized, gas chainsaw – great for cutting big trees.
So what else is there to know?
Its 55 CC Engine gives out 3.49HP of power. It has a 20 inch bar and a maximum power speed of 9000 rpm and weighs 13.2lbs. It comes with a two year warranty.
This will easily take down, and cut up, multiple trees in a short period of time – not just small trees but it can deal with up to 32 inch calipers without any issues. It has A LOT of power and does not seem to waver, spit or sputter.
The safety bar works perfectly and ensures you have minimum worries when using such a beast of a machine. Any sign of kickback and the bar kicks in and the chain brake is locked. It is very safe, meaning you have less to worry about.
And take a look at this:
This is one of the easiest starting 2-stroke starting chainsaws you will ever find – more often than not it starts on the first pull.
Husqvarna are very good at honoring warranties, their chainsaws rarely need work and when they do it is easy to find Husqvarna parts.
It has an easy manual chain adjust
The spring mounted motor/bar/chain means vibration is almost non-existent
From top to bottom this is a quality made machine
What don't I like?
My gripes are that the bottom of the saw is not flat, it is slightly rounded. This makes the saw rock when you are servicing it, which is annoying.
Also it is not that easy to take apart should you ever need to – this makes maintaining it unnecessarily finickety.
In truth:
Overall this should be your go to choice if you have a lot of big trees to cut back and strip. The power is incredible, it starts easily and runs like a dream.
---
MY RATING: 94%
---
---
Medium #2
Jonsered CS2245
---
BEST FOR…
Those looking for a chainsaw that will last.
---
At one time Jonsered gas chainsaws were talked of in the same breath as Husqvarna and Stihl chainsaws. Their popularity seems to have waned somewhat in the past few years but the Jonsered CS2245 is undoubtedly an excellent chainsaw for the price.

Taking a closer look:

The Jonsered CS2245 has an 18-inch bar and a 45cc, 2.8hp engine. It comes with a three year warranty and weighs 11.2lbs (excluding the cutting equipment).

All-in-all:

This is just all round a really nice chainsaw to use – smooth, dependable and easy to start.

It is the perfect saw for a homeowner with a regular need to cut firewood who is looking for a chainsaw that will require little maintenance and last a long time.

There are many other positive points:

Very well insulated handles. Jonsered use steel springs to reduce vibration dampening and increase comfort and it works – this is really comfortable!
The tool-free tensioner is very convenient and simple to use – it only has one nut holding the bar, but it works really well.
The cylinder cover literally pops open, by pushing back a tab, so you can get to the spark plug and the air filter really quickly with no fiddling with screws – making maintenance really simple.
Jonsered make a point of mentioning their 'turbo intake air cleaning technology' – in principal this may sound quite fancy, but quite simply it stops saw dust and air particles reaching the air filter to ensure performance doesn't falter – and it works!
This starts easily – the starter coil is easily to pull and starts first or second time without a huge amount of resistance.
But be warned:

The throttle is quite touchy at the high end – be careful not to over-rev which could over smoke the blade.

Finding chains for this is more tricky then for Huskys or Stihls. Oregon chains seems to be too short or too long – you will probably have to find a Jonsered one.

In summary:

Easy to start and with as much power as similarly size Husqvarnas and Stihls, this is a truly dependable 18-inch chainsaw.

Excellent quality and excellent cut.
---
MY RATING: 91%
---
---
Medium #3
Salem Master 6220H
---
BEST FOR…
Those wanting great value for money.
---
Salem Master certainly aren't a household name when it comes to power tools, however the Salem Master 6220H is a fantastic gas chainsaw offering lots of power at a great price.
Let's get things underway:
The 6220H has a 20-inch bar and a low kickback chain. The 62cc engine is 3.4hp and has a speed of up to 8500rpm.
Not only does it come with a two-year warranty you also get assembly tools, a carburetor adjustment tool, a chain bar cover and a sharpening file.
Here's the kicker:
This truly is fantastic value for money and way out performs its price tag. The fact is, even if you only use it a few times a year it will represent a good return on your investment.
It makes a great saw for smaller jobs and likewise a good second saw, that can act as a backup for a main saw you use for heavier jobs.
It doesn't feel cheap either. I think you will be pleasantly surprised when you unbox this.
What else:
Not only is it well priced, it is full of power, a lot more than the 62cc would suggest and it doesn't get bogged down, doing a good job of clearing heavy trees and brush.
The bar is surprisingly good for the price also, it stays sharp and seems durable, and you can't complain about a 20-inch bar either.
It has a nicely designed rubber handle, that has been well designed, so it is comfortable to hold, absorbs vibrations and is durable.
The choke is a nice throttle hold and this starts and runs well.
As mentioned this is really well made, the motor and clutch feel of a standard that you could add a 24 inch bar and deal with even meatier jobs.
But you should know:
The fuel tank isn't huge, you probably get about 15 minutes at full speed. However a larger fuel tank would mean more weight so there is a trade off.
Also the kill switch is easy to knock off if you are right handed. It isn't spring-loaded, it is either on or off, so you need to be aware of this.
In a nutshell:
Low kickback, plenty of power, good chain and well made, the Salem Master 6220H ticks all the main boxes you would want from a gas chainsaw, best of all it is extremely affordable. A great choice for a budget conscious homeowner.
---
MY RATING: 90%
---
---
Medium #4
Remington Outlaw
---
BEST FOR…
Those looking for something ultra maneuverable.
---
The Remington Outlaw is a well made, well designed gas chainsaw that really benefits from being extremely easy to maneuver.
The basics are:
It has a 18-inch bar and a 46cc engine that puts out 1.6HP. The fuel tank holds 520ml of fuel and the oil tank is 260ml in volume. It weighs 16.6lbs and comes with a two year warranty.
What is special about this?
The small frame of the Outlaw gives it a real advantage as it makes it easy to maneuver around trees and other places to till soil for gardening.
This also has a nicely cushioned wrap handle that makes this chainsaw balanced and comfortable to operate. Combine this with the small frame and maneuverability and you have a top notch chainsaw.
There is also:
The chassis – it is professional grade and die cast, you really feel it will stand the test of time and weather prolonged cutting tasks without a problem.
The 46cc engine which has a professional grade chrome bore cylinder that extends its life and increases output, giving you maximum power
The 20 inch bar and chain go through tough wood quickly and easily and are effective and powerful when you need to take down larger trees
You don't need any tools to access the filter and spark plug, so this is really easy to maintain.
You get some nice extras such as a heavy duty carry case, bar and chain oil
It isn't perfect:
It does lack a bit of torque however when you are using it at full throttle and also to adjust the carb you do need a specialized tool – a standard screwdriver won't do. Without this tool you might not be able to get it running at peak power.
To sum up:
All in all this is awesome! I love how you get a lot of power out of it, but it is so easy to maneuver and comfortable to use.
Because of this you can use it for big jobs over a long period of time and it definitely won't let you down!
---
MY RATING: 90%
---
---
Medium #5
Poulan Pro PR4218
---
BEST FOR…
Those looking for something very clean running.
---
When it comes to clean running 40cc chainsaws it is hard to better the Poulan Pro PR4218. If you are looking to escape exhaust fumes look no further.
So let's get busy.
This has a 42cc engine and an 18 inch bar. It weighs 13.2lbs and comes with a two year warranty. The chain pitch is 3/8ths of an inch.
Believe it or not…
This gives out no visible exhaust smoke and very little in the way of smell. The clean air technology that Poulan Pro have built into this definitely works and works well.
Thanks to this and an excellent air filter this should extend the life of the chainsaw, meaning you get great bang for your buck out of this Poulan Pro.
There is also:
It comes with an onboard scrench that is fantastic and makes adjusting the chain tensioner really easy. It stores away under the handle neatly and is simple to remove and replace.
It has several nice design features. All the covers can be taken off and put on easily, the screws in the top cover can't come out, so there is no chance of losing them. It has an inboard clutch that makes removing the chain easy and general the fit and finish seem really good.
This thing is pretty fuel efficient – Poulan claim their patented OxyPower technology reduces fuel consumption by 20% and it seems pretty accurate.
This doesn't use a standard recoil starting system, instead it uses a spring-assist pull cord and it works really well and is easy to start.
You get a spare chain with this and all in all it offers great value for its rather budget price tag.
But beware:
Whilst this comes with a spare chain, the chains are skip-link types with less teeth than standard chains. It is worth buying a separate chain for it.
The case that comes with this is soft plastic and feels pretty cheap – it could definitely be improved.
In a nutshell:
This will cut down trees up to 16 inches in diameter and is a really good option for tree felling, firewood cutting and general tasks around home. It is great for casual use.
Best of all – if you are environmentally conscious and don't want any noxious exhaust fumes you can't make a better choice than this.
---
MY RATING: 88%
---
The Best Large Gas Chainsaw 2023
---
Large #1
Husqvarna 460 Rancher
---
BEST FOR…
Those looking for power and quality.
---
This is the Rolls Royce of all the gas chainsaws on the list – the Husqvarna Rancher 460 has lots and lots of power and top notch build quality.
Lets learn a bit more:
It has a 24 inch bar and a 60cc, 3.62HP engine. It weighs 12.79lbs and comes with a two year warranty.
The long and short of it is:
This is a step above your standard consumer gas chainsaw and you can immediately tell this when you fire up the X-Torq engine.
It has all the power you need to cut even the hardest of hardwoods and will cut stuff even the best consumer chainsaws will struggle with. The 3.62HP engine is an absolute beast.
Also the build of this chainsaw just screams quality. Everything, from the housing to the gas cap to the chain tensioner and the bar itself is made of very high quality materials, with a lot of attention to detail. It will last you not just for years, but decades.
And there is more to like:
The ergonomics. Again lots of attention to detail has gone into the design. For instance the 7° degrees tilted upper handle makes the saw so much easier to hold. Everything has been designed with the user in mind and the saw is really easy to handle as a result.
It has an adjustable oil pump that allows you to control the oil flow depending upon the job you are doing and the weather
It starts really easily – mainly due to the combined choke and stop control, which has the added benefit of reducing the likelihood of the engine flooding.
It has a centrifugal air cleaning system that removes larger dust and debris particles – which prolongs the engine life.
The saw has been built using industry standard bar bolt positions, sizes, mounts and so on. This means you can use any third party accessory when you need to replace something rather than being limited solely to Husqvarna accessories.
Where could it be better:
It does feel slightly heavy however, although this is not surprising given the amount of power it puts out.
Also the kick back brake release spring is very tight and does keep the brake engaged even when the handle is pulled back – you might need to look at loosening this.
Let's recap:
This is one robust, powerful and truly well made chainsaw. If you have some demanding jobs to do and want something serious do not hesitate to go for this – just be prepared for A LOT of power!
---
MY RATING: 94%
---
---
Large #2
xtremepowerUS
---
BEST FOR…
Those looking for a bargain larger gas chainsaw.
---
The xtremepowerUS chainsaw might not be brand you are familiar with, but it seems to have covered the market in terms of budget priced larger gas chainsaws.
Let's get started:
The bar is 22 inches and it has a 45cc, 2.4HP engine with a 0.55l fuel tank and a 0.25l oil tank. It weighs 16 lbs and comes with a two year warranty.
First Off:
This is the cheapest gas chainsaw in its range and it is certainly hard to imagine there is a better price to power/effectiveness ratio when it comes to larger gas chainsaws. It is in the same price bracket as some electric chainsaws but you get so much more power.
It is also surprisingly well designed and doesn't feel its weight. The handle is sturdy and comfortable, and it is easy to pick up and move around and comes with several nice features.
What else is good?
The EcoBoost engine has a clean engine air-intake, which does a pretty good job of stopping dust getting in and can also be easily removed to be cleaned when needed.
It is also really efficient on fuel – so you can get through all your work without worrying about topping up the gas
The chain oiler works faultlessly. Unlike some more expensive saws that overheat under hard work, you don't feel like this ever will
The anti-kickback chain and anti-vibration design mean there is less fatigue for the operator and it can be used for longer
Everything that needs to be adjusted/accessed, ie the chain, carburetor, fuel and air filters can be done pretty simply.
Where could this be better?
It isn't a deal breaker, but the chain break is made from cheaper, thin plastic and isn't necessarily easy to grip.
Also the spark arrestor could be better as this does throw sparks and the muffler gets hot to the point it causes wood to smoulder – and can make direct contact with the log.
To sum up:
The price and performance are exceptional. If you look after it it should last you a long time, even though for this price you could easily replace it every few years before you will have spent anything like you would do on some of its competitors!
---
MY RATING: 91%
---
---
In Summary
---
Best Gas Chainsaw 2023
There are some real contenders here, but I am going to say the Husqvarna 455 Rancher. A good size, starts easily and lovely to use with minimal vibration. It is a winner all round.
Best Gas Chainsaw For The Money
There are a couple of strong options here, but I am going for the xtremepowerUS – the price to power range is almost unbeatable. It has a good engine, is very well designed and is easy to adjust. All at a cut price cost.
Best Gas Chainsaw Under $200
I've already expounded the virtues of the xtremepowerUS, but the Salem Master 6220H is a great low cost chainsaw too. With a good 20″ bar, a number of accessories and features, you can't go wrong.
Best Homeowner Gas Chainsaw
The Husqvarna 435E is the perfect chainsaw for the average homeowner. It is lightweight and well balanced but still gives you a lot of power. It is hard to beat in that respect.
Best 50cc Chainsaw
The Poulan Pro PP5020AV has much to like, the 50cc DuraLife engine being just one of them. It really is a steal at the price you will pay.
---
I hope you have found this rundown of some of the best gas chainsaws of use.
If you do have any questions or are uncertain about anything please feel free to drop me an email and I will do my best to help you.
Remember chainsaws are hugely powerful and you need to make sure you follow a number of guidelines to make sure you use them safely. Also the chain will need to be regularly sharpened to ensure you can cut efficiently.
And if you don't want a gas chainsaw there are some fantastic electric and cordless chainsaws out there as well.
If you are looking for something more compact but still gas powered you could maybe consider a 40cc chainsaw. Finally an 18-inch chainsaw is typically a great size for a homeowner and there are some top notch options on the market.
Enjoy!