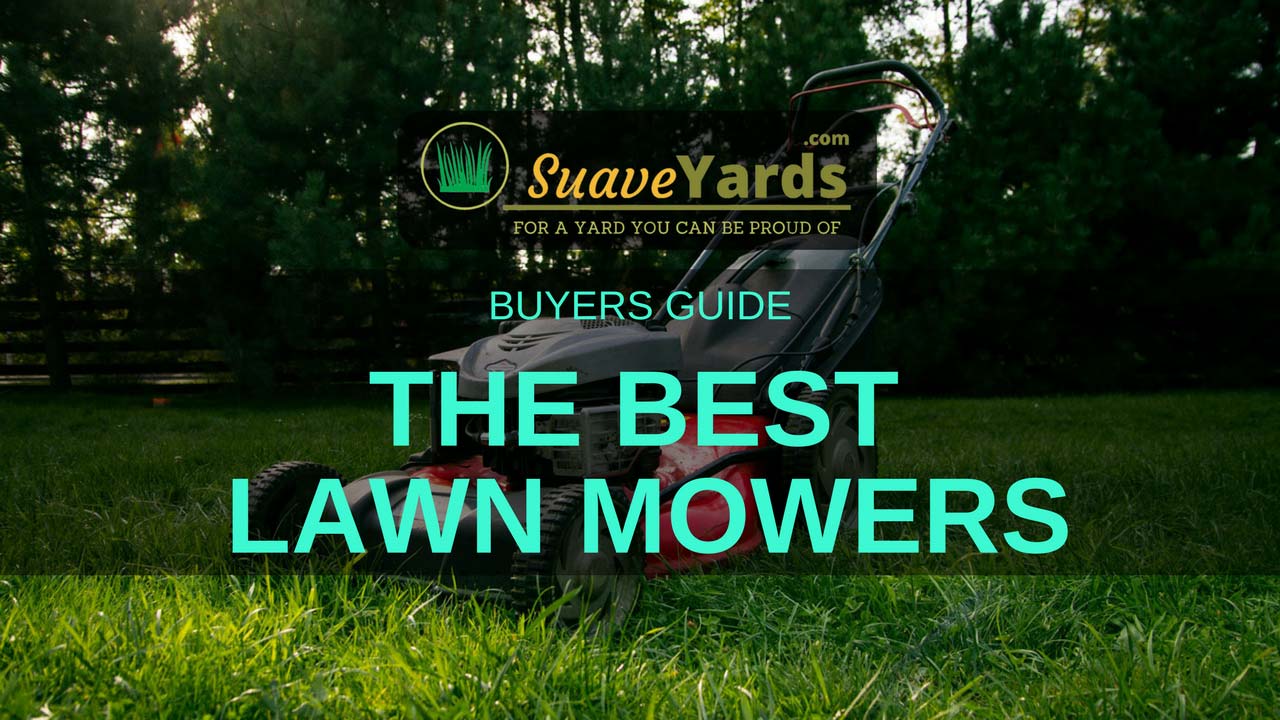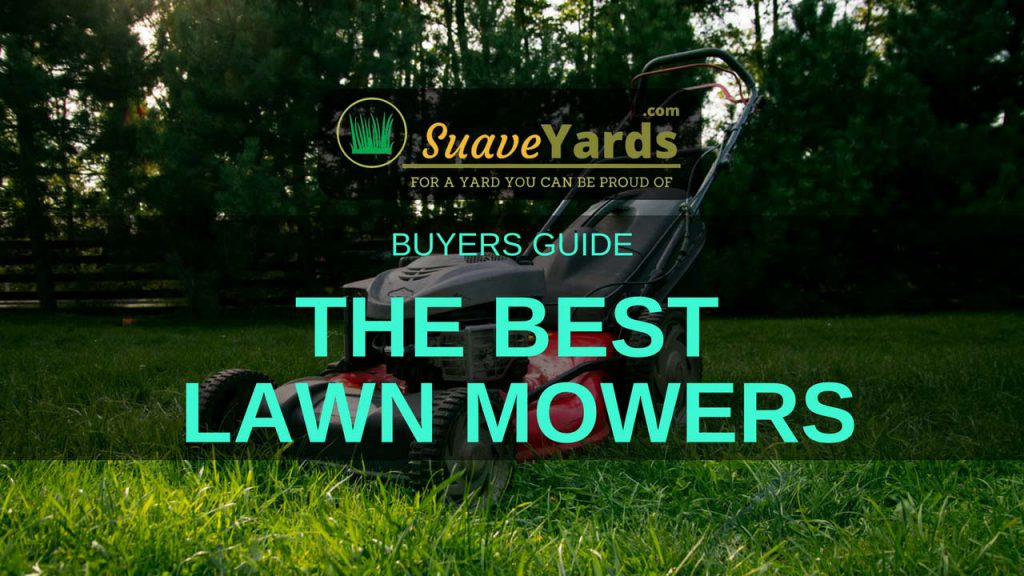 Choosing a new lawn mower can be a minefield – there are so many options to choose from!
Not only do you have to decide whether you want an electric, battery gas, push or even a robotic mower, you also have to consider many other factors such as cutting width, weight, build quality and much more..
So to help you on the way take a look at our guide to the best lawn mowers of 2023.
>>> I already know all about lawn mowers, jump me straight to the reviews <<<
---
Best Lawn Mowers Of 2023 – At A Glance List
---
Below is a quick view of my favorite lawn mowers of 2023. To find out more about them click on the link to take you to the full review.
Best Electric Lawn Mowers
Best Battery Powered Lawn Mowers
Best Gas Powered Lawn Mowers
Best Push Lawn Mowers
Best Ride On Lawn Mowers
Best Robotic Lawn Mower
---
The Details…
---
Lawn mowers are in essence wonderful tools and can turn your yard into a beautiful thing.
Choosing the right one can actually make mowing your lawn a fairly enjoyable experience, or at the very least it can make it bearable!
But…
Choosing the wrong one can lead to extra frustration and then extra expense to put your mistake right.
There are a number of things to consider when buying a lawn mower – but you don't need to complicate it, it can actually be a pretty simple job to get the mower you need.
---
How to Choose a Lawn Mower
---
So the first thing you will need to decide when you are thinking about buying a lawn mower is what power source you want.
You have a bigger choice of electric lawn mowers here as the majority are powered by electricity. They generally are reasonably priced, easy to use and powerful.
However:
You have to remember you are constrained by a cord, so if you have a large yard they might not be for you.
Battery powered or cordless lawn mowers are the easiest, most hassle free option.
Even better:
Generally the top battery powered mowers are as powerful as the top electric mowers and you don't need to worry about a cable so you can get to those awkward spots.
Then again:
They are more expensive and you have to remember you can only use them for a certain time before the battery run downs.
Gas powered mowers are inevitability the best choice for a large yard.
Why?
You don't have a cable to worry about, so you can maneuver around awkward objects and they are more powerful and faster at getting the job done.
But the fact is:
They are more expensive and often heavier and larger to store and there is more to maintain.
Push lawn mowers are the best bet for small lawns.
For one thing:
They are usually the cheapest option and you have no emissions or noise to worry about, or use of electricity. You also get a good workout at the same time!
In contrast:
However they are not the best choice if you have a sloping/undulating lawn or you are likely to struggle pushing the machinery around.
If you have a very large lawn then you might want to bite the bullet and go for a ride on mower.
Why do I say this?
Because they can cut your mowing time drastically and as long as you look after them they should last you for years and years. They are very powerful too.
You need to remember:
These are the most expensive of the lot and you have maintenance costs to factor in as well.
Robotic lawn mowers are a thing of the future right?
No! No! No!
Robotic lawn mowers are here now and are becoming more and more advance. They are the perfect option if the thought of mowing your lawn is something that fills you with dread!
They save you time and effort and with technology becoming better and better they can probably do the job as well, if not better, then you can!
But:
They are expensive and the process of setting them up takes time.
---
What Else Do You Need To Consider?
---
Other factors you might what to consider include:
Cutting Width – This refers to how wide a strip of grass the mower can cut.
In theory…
The wider the strip the less time it should take you to mow your lawn.
Just remember though if you have a smaller lawn or a number of objects on your lawn you might want to look at a smaller cutting width.
Cutting Heights – Most mowers these days allow you to adjust the height the lawn is cut at.
My point is this:
If you are very specific about how long you like your grass then it is always worth looking at the minimum and maximum cutting heights.
Self-Propelled – Some mowers, usually electric or gas powered, are self propelled.
The silver lining is:
You don't need to push them, you just follow them!
It makes mowing quicker and easier and many have adjustable speeds too.
Grass Collector – If you don't fancy raking your lawn after mowing it you might want to go for a mower with a grass collector to catch the clippings in.
The trick is:
To take note of the size of the grass collector as that will dictate how often you need to stop mowing to empty it.
Mulching – You can also get mowers that finely chop the grass clippings so they can be collected and spread back over your lawn as mulch. This benefits your lawn as the mulch contains nutrients.
Want to know a bit more?
The video below will give you a few more helpful tips on choosing a lawn mower.
The Best Electric Lawn Mowers 2023
---
Electric #1
American Lawn Mower Company 50514
---
BEST FOR…
Those with small lawns on a budget.
---
With its fantastic maneuverability and its exceptionally compact frame the American Lawn Mower Company 50514 is ideal for small yards.

So let's take a closer look:

This has a 14-inch cutting width and five cutting height levels that range from 1 inch to 2.5 inches.

The motor is 11 amps and it can mulch as well, it comes with a 16 gallon grass bag and has a two-year warranty.

So what's the secret to the success of this mower?

Quite simply it has a very small frame, so it is really easy to maneuver around obstacles, under bushes, around trees, by fences and generally in tight areas.

If you have a small yard that is an awkward shape or has plenty of obstacles then this is a really good choice.

And the good points don't stop there:

Being so small it is also very lightweight, so you can lift it without strain and easily carry it around one handed and store it away without a problem.

The cutting height is easy to adjust to any one of the five-positions and when it cuts it does it smoothly and evenly.

I like the handle, which is nicely cushioned and has multiple height positions, so it always feels comfortable to use. It also folds away so you can store it easily.

On top of that:

It mulches quite well and the included cutting bag is simple to install and remove, catches clippings and is easy to empty.

And it is really quiet and REALLY well priced!

Of course it does have its flaws:

Whilst the mulching bag is easy to install and remove it is also very small – so if your lawn is anything larger than small you will be emptying it often!

And this is light, but some might find it too light, it is easy for the front to lift up if you aren't careful, so it could perhaps do with a little more weight there to keep its nose down.

All-in-all though:

For the great price and extreme lightweight of this, it is a wonderful option if you have a small yard. You will get your job down quickly, easily and your lawn will always look great.
---
MY RATING: 94%
---
---
Electric #2
Greenworks 20-Inch 25022
---
BEST FOR…
Those who want a top quality, easy to maneuver mower at a good price.
---
Solid design – tick. Light and maneuverable – tick. Adjustable – tick. Good power – tick. Cuts well – tick. Good price – tick.
The good folk at Greenworks have done it again and come up with another top quality lawn mower in the Greenworks 25022.
So let's get started.
This has a 12 amp electric motor, a 20-inch steel cutting deck, 7 height settings from 1.5 inches to 3.75inches, the option to rear bag, side discharge or mulch your cuttings and weighs 56lbs.
The 12 amp motor has a surprising amount of power, it might slow down slightly on thicker patches of grass, but it can handle pretty much any standard lawn nicely, even chomping through the occasional wayward branch with ease.
What does this mean for you?
So as long as you take your time with thicker/higher grass and go slowly through it then you get a really nice quality of cut.
The mower is really sturdy, so for instance the deck is made of metal, not plastic.
Not only does this mean it is less likely to break, it actually makes it easier to get into those awkward spots that might be hard to reach.
Think about it:
Lots of electric mowers have bulky plastic covering the blade, as this has thin metal covering you have much more room to maneuver and get closer to things.
The height adjustment lever is also made from quality metal and it is simple to snap from one height to the next to suit your lawn.
What I particularly like are the larger rear wheels. At 10 inches they are possibly the largest in the industry, and make it far easier to maneuver the mower than smaller wheels.
It isn't perfect though:
It has its faults, as mentioned before it does bog down a little in thicker grass, so if you have a really thick lawn to mow it might not be for you.
Also the motor is not sealed, this means it does get very dirty during use and it might be worth opening it up regularly to give it a quick clean, the screws don't come out easily though and that makes doing this a little tricky.
In short:
But there is so much to like about this. Not only what is mentioned above but more!
It safe and simple to use – it activates with a 1-button safety bar, it is really light, it folds very easily so it takes up minimal storage space, it is easy to switch height and easy to switch functions and it mulches well. Also it is very reasonably priced indeed.
If you don't have a huge garden and don't mind having a cord (oh just to add the cord management feature is excellent too) – then I strongly recommend this mower.
---
MY RATING: 93%
---
---
Electric #3:
Sun Joe MJ403E Mow Joe 17-Inch
---
BEST FOR…
Those who want an incredibly lightweight mower that has power!
---
The Sun Joe MJ403E is incredibly light in weight, but heavy in power – the perfect combination!
The weight really is a huge selling point if you are older or have a condition/impairment that prevents you from handling heavier machinery – it weighs just 31.5lbs.
So let's begin:
It has a powerful 13 Amp motor and the cutting width is 17 inches. There are seven cutting levels ranging from 0.98 inches to 2.87 inches, and you can either bag or mulch your clippings.
It also has nice and sturdy 10 inch wheels at the rear and 6.6 inch wheels at the front.
Now get this:
The Sun Joe MJ403E is very, very light indeed. Without exaggerating a little child could easily push this around. As mentioned it is an ideal choice for someone with limited strength.
The weight and long handle means it is really easy to maneuver around your garden too. Someone said to me that the power cord weighs more than the mower and that isn't far from the truth!
This Sun Joe is mainly plastic, but durable plastic that seems solid and not cheap. It also has large back wheels, which I like as it makes it much more stable and adds to ease of moving it around the garden.
Don't be fooled:
Don't let the weight and the plastic cowling fool you though – the 13 amp motor kicks out some power and will deal with all but the very thickest of grass without a problem.
Adjusting the height it cuts at is simple – simple push the lever to adjust the height and it has a large 12 gallon grass bag to collect your clippings in.
As with most electric mowers, it is super easy to set up and quiet. The mulching function is also really good – it mulches the clippings into a fine dust that is great for your garden.
A word of caution:
One thing I don't like about this model is that the cowling that holds the mower blade in is made of plastic.
Whilst I don't mind the majority of the machine being plastic, I think it would have been a real benefit to have blade held in place by aluminium or steel – it would only be more marginally more expensive than plastic.
Personally I would like a little more in the upper range of the height adjustments as this only goes up to 2.87 inches, so if you like your grass taller it might not be for you.
In all:
If you have a small/medium sized yard and you want an incredibly lightweight mower, with a good amount of power, that is easy to maneuver and mulches well as a bonus – this should be at the very top of your list.
---
MY RATING: 92%
---
---
Electric #4:
Black & Decker MTE912
---
BEST FOR…
Those with smaller lawns looking for a bargain mower, trimmer and edger.
---
If you have a small lawn and are looking for the ultimate in lightweight and versatility and something that gives you tons more than the price suggests then the Black and Decker MTE912 is perfect for you.
In fact I am pretty certain it will quickly become your favourite garden tool ever!
Let's get this show on the road:
On the face of it this thing seems pretty unassuming.
Its cutting width is a mere 12 inches, the motor is 6.5amps and it has two cutting heights – 1.6inches and 2.4inches.
But what is fantastic about this (other than the price) is that you can easily convert it between a mower, a trimmer and an edger!
And that is where it shines:
The multi-functionality of this is great. You can easily and quickly mow your lawn, snap out the mower to edge the edge of yard and then switch to the trimmer to get rid of any weeds.
Swapping between each function is really quick and simple, meaning you can have a good looking garden in no time.
For what it is worth the trimmer mode especially is really good – it is a single feed trimmer and the cord lasts a long time.
And you know what?
This is a small device, as mentioned the cutting width is only 12 inches, but it actually is surprisingly powerful for its compact size, you get an even, low professional looking mow.
However as it is so light you don't get the heavy wheel marks a gas mower gives or the slightly uneven, choppy style cut of a push mower.
Even better:
As it is so small it can easily get to those awkward areas bigger mowers wouldn't be able to and it is light as a feather – it weighs a touch over 10lbs, so literally anyone will be able to use it.
You can easily wash the various parts when they are detached and then hang them up or prop them up to dry as they take up almost no space at all.
Then you have the price – it is an absolute bargain, three good, reliable tools for a fraction of the cost of a normal mower.
The downsides?
This is small. As mentioned the cutting width is just 12 inches so if you have a lawn more than an acre it is definitely not for you. So just remember it will take slightly longer to mow your lawn due to the size.
Also the mower deck could do with a pin to hold it on, a plastic tab and latch are used to secure it and are not really big enough so it does occasionally come off. It wouldn't be too hard to rig up something yourself to hold it on more firmly, but it is a bit of a pain.
It is simple:
Overall this is absolutely perfect for smaller yards.
If you don't have extensive needs and are just looking for a quality unit to mow your lawn and then tidy up with a trimmer and edger at a genuinely bargain price, then I cannot recommend this highly enough.
Well done Black and Decker.
---
MY RATING: 92%
---
The Best Battery Powered Lawn Mowers 2023
---
Battery #1:
EGO Power+ 20-Inch
---
BEST FOR…
Those who want the 'Tesla of mowers' that charges almost instantly!
---
The EGO Power+ is often described as the 'Tesla of mowers' and it is easy to see why.
This thing screams quality in every area and the build quality is first rate – sturdy, but still lighter than gas powered mowers thanks to its electric mower.
Let's jump right in:
It has a 20 inch deck, a 3-in-1 function which allows you to decide if you want to mulch, rear bag or side discharge the clippings, two adjustable handlebar positions and a variable cutting height from 1.2 inches to 3.5 inches. I mean hell, it even has LED headlights!
The Lithium Ion battery is amazing – it charges ridiculously fast, it will go from no charge to full charge in 30 minutes and you get a 45 minute run from the 4.0Ah battery, up to a 90 minute run from the 7.5Ah battery. It holds a charge right up to the end with no noticeable loss of performance.
It really is that good.
The cut quality is on a par if not better than that of a very good gas mower. It handles deep and/or wet grass with the minimal of fuss, leaving you with a bowling green style lawn.
As mentioned it is very lightweight – it doesn't have self propelled wheels, but as it is so light it doesn't need them.
Also it is so exceptionally quiet your neighbors will barely know you are mowing the lawn.
In fact I suspect that this might be why it also has headlights – you could cut your lawn in the middle of the night without upsetting anyone!
To top it all off:
It can be folded flat in seconds so you can easily store it and clean it, the function to adjust the height of the cutting blade is as easy as you can get – it is done almost in the same way you change gear in a car and takes a split second, saving you valuable time.
It mulches well, is so simple to set up, then you just press a button, grip the handle and you are good to go. It is also easy to clear any grass residue off.
Nevertheless:
A couple of tiny things that could be improved – the battery charger is quite loud!
It has a fan that turns on whilst the battery charges to prevent it from overheating that makes a fair bit of noise. But you can obviously always have this charging in the garage or somewhere else.
Also the cutting height range only goes up to 3.5inches so if you are someone who likes to let their grass grow high before cutting it this may not be your best option.
To cut a long story short:
This thing is awesome, as soon as you unbox it you can tell it is a quality mower – lightweight, powerful, quick to charge, well made, quiet – what more could you ask for? Not much is the answer.
---
MY RATING: 96%
===> READ MY FULL REVIEW <===
---
---
Battery #2:
Snapper XD SXDWM82K 21-Inch
---
BEST FOR…
Those looking for an excellent mower with amazing battery life.
---
Fancy a battery powered mower than you can use for 90 minutes without having to recharge?
Look no further than the Snapper XD SXDWM82K!
Let's get things underway:
The SXDWM82K comes with two 2 Ah batteries, each of which has a run time of 45 minutes on a full charge.
Seeing as you only need one battery to power the mower, this gives a total of an hour and half of mowing without the need to recharge – great as that should see even the biggest of gardens fully cut.
You know what is kind of cool?
The batteries themselves are somewhat futuristic! They give an LED display on the battery itself that shows you how much of the charge have been used.
The batteries also don't slowly lose power and then taper off – they basically go full strength until they stop. They can be fully charged in 30 minutes too.
But there is much more to like than just the batteries! This has seven adjustable cutting heights, from 3/8ths of an inch to 3 ¾ inches, the option to bag, mulch or discharge your cuttings and a lot of power thanks to the 82v batteries!
In fact:
Powerwise this is probably better than any comparable gas mower. Even long grass and damp conditions don't deter it – it doesn't bog down meaning you can cut your lawn in any conditions quickly and easily.
It even deals with weeds and stalks well, which lots of gas powered mowers struggle with.
It feels solid and well made – mainly metal, yet still light enough for even a child to push (supervised of course!) despite the fact it is not self propelled. In keeping with battery mowered mowers it is also very quiet.
Switching between mulching, bagging or side discharge is simple – the flick of a switch – and the mulching function is excellent too, producing lovely fine mulch that will benefit your garden.
Just be aware:
On the downside the batteries are expensive if you need to replace them, but you do get two batteries with the mower which should last you a long time.
Also it has a nifty power saving feature, so if the battery is not working too hard it will automatically power down temporarily until it detects that it needs more power.
In theory this is great, but sometimes it might for instance cycle down when you are turning the mower at the end of a thick patch of grass to start mowing another strip.
It then takes a second or two to kick back up so it would be good if this could be user selectable.
In truth:
Snapper have a good reputation, so I was expecting this to be a good mower, but I was wrong… It is an excellent battery powered mower that exceeds even Snapper's very own high standards.
---
MY RATING: 95%
---
---
Battery #3:
Makita XML03PT1 18V X2
---
BEST FOR…
Those wanting top design.
---
The Makita XML03PT1 is a new model and you can certainly tell a lot of thought has been put into the design and build of it – providing huge benefits to the user.

So let's get down to it:

This has an 18-inch cutting width and ten adjustable cutting heights from 0.8 inches to 3 inches in height.

It uses two 18V batteries and it will cut 7,300 square feet. You get around 60 minutes of runtime from the batteries, it weighs 60lbs and comes with a three-year warranty.

Here's the deal:

This has been exceptionally well made, and as a result is a dream to use.

It has a sturdy, heavy duty steel deck and a nice brushless motor that consistently delivers 2,500 to 3,000 RPM. The motor maintains the speed very well and as a result doesn't get bogged down, cutting even thick, taller grass relatively easily.

Whilst this is light, there are lighter cordless mowers around, yet it is very easy to push and very maneuverable. It isn't self-propelled, but it doesn't need to be so efficiently is this designed and built.

Beyond that:

You have ten cutting heights that can quickly and easily be changed by using the single lever on the right rear wheel and the handles fold in nicely for compact storage and easy transportation.

This is also exceptionally quiet – to the point you could use it late at night or early in the morning and not be worried about it disturbing your neighbours.

And the silver lining is…
The batteries are really good – you should get more than an hour out of them at a lower speed – and they charge within the hour too.

They are part of the Makita 18V Lithium-ion system so if you have any other Makita tools on the 18V system you can interchange them.

A word of caution:

You have to grip the the safety handle to keep the mower running, and when you release it the mower revs down. The tension on the handle is quite high and you might feel fatigued after a lot of mowing.

Also I think it is a shame the wheels are not metal – they are plastic (albeit with a nice thick tread), but metal wheels would be a nice upgrade.

In short:

This is lovely to use, feels light and maneuverable, has a lot of power but is still quiet and gives you a lovely cut.

---
MY RATING: 93%
---
---
Battery #4:
Greenworks PRO 21-Inch GLM801600
---
BEST FOR…
Those with smaller lawns who want an quality and easy to use mower.
---
The Greenworks PRO GLM801600 is an absolute delight to use – the kind of mower that actually makes you look forward to mowing your lawn!
So let's get to work:
It comes with two 2Ah batteries and a rapid charger, The 2 Ah battery charges in 30 minutes and offers 30 minutes of run time.
The cutting deck is 21 inches and it also has the 3-in-1 option to mulch, side discharge or rear bag your cuttings.
It has a single handle height adjustment that allows you to adjust the cutting height to one of seven heights, ranging from 3/8ths of an inch to 3 and 3/4ths of an inch. The mower handle can also be adjusted to one of three heights.
Allow me to explain:
Greenworks brand this as offering gas performance with a battery and that is certainly true. The 80v batteries give it excellent power, it glides through thick and damp grass easily.
If you have a small/medium garden it will cut back on your mowing time exponentially as there is no cord or gas to worry about, simply turn it on and go!
In addition to that:
The quality of the wheels, deck and handle are top notch – everything is solid and sturdy. The deck is steel and durable and there is a rubber skirt at the rear to protect you from any debris that might be projected from the mower.
Everything is a breeze to set up and when you are done the handlebar folds over at the base for compact storage, which saves you space.
The battery life is good and the rapid charger tops the batteries up again in no time. It is quiet and light, it pivots easily, is easy to maneuver and it is simple to adjust the height. It is just generally a really nice mower to use.
However:
The knobs that allow you to fold and unfold the handle can spin off all too easily, which is a real pain. Greenworks could improve this design.
The bag attachment is great and is nice and big. But sometimes this can make things difficult as when it gets full the weight shifts to the rear and the mower does become more difficult to move.
Of course this can be sorted by just emptying the bag.
Let's recap:
The Greenworks PRO GLM801600 is a fantastic battery powered mower that is perfect for smaller lawns.
The performance, design and function are all top drawer and it certainly lives up to their claim of producing gas powered performance with a battery powered mower.
---
MY RATING: 92%
---
---
The Best Gas Powered Lawn Mowers 2023
---
Gas #1:
Craftsman M105
---
BEST FOR…
Those who want well-manicured lawns
---
The Craftsman M105 is a perfect lawn mower for small yards. It's even better for maintaining lawns.
Here's the deal
This machine cuts grass really well. You will have a well-manicured lawn all throughout the summer.
It has a 21-inch cutting width, first of all.
That's quite great
It means that you don't have to pass through the entire yard multiple times.
You may also adjust the cutting height. There are six alternatives ranging from 1.25 to 3.75 inches.
Moreover
The lawn mower comes with a mulch kit.
This allows you to put nutrients back into the soil.
In essence
Not only are you trimming the lawn, you are also making sure that the grass will be healthy all year round.
That's why this is the mower to maintain a well-manicured lawn.
It's pretty convenient, too
The mower comes with a 3-in-1 convertible deck.
What are the three capabilities?
Side discharge
Rear discharge
Mulching
Still on convenience
This lawn mower is actually very easy to assemble. Minimal assembly is needed but it's not that bad at all.
You don't need mechanical experience to be able to complete the process.
Even better!
You can fold this thing for storage purposes.
Next
Let's talk about the wheels, which are important parts of the mower.
The Craftsman M105 has a pair of seven-inch tires in front and larger eight-inch tires at the back.
If that makes your life easier
This mower also has an adjustable loop handle.
This makes mowing more comfortable.
Of course
Nothing in this world is perfect.
A major disadvantage of this mower is the smaller wheels in front.
Why?
They are harder to use with wet grass.
On that note, you just need to make sure that it didn't rain earlier or the night before when you cut grass.
A bit annoying, right?
It's also quite annoying that you have to pull the cord at least more than two times to make it work.
All in all:
This mower is really excellent in cutting grass – just not all the time.
You could schedule mowing when you are sure that the grass won't be wet to accomplish the task with ease.
---
MY RATING: 95%
---
---
Gas #2:
PowerSmart 170cc
---
BEST FOR…
Those looking for power in a compact package
---
There is no doubt that at just 60 pounds, the PowerSmart gas mower is a real lightweight.
And that is unusual…
Lawn mowers are usually heavier than this.
Weight is definitely a plus in the PowerSmart lawn mower especially considering that it's a gas-powered one.
Look
If you are new to the task of mowing, this machine is the right fit for you.
Not only is it light, which means it's not intimidating at all, but it's also easy to assemble.
Don't let that fool you!
It may be a great tool for beginners but this is quite the powerful machine.
What you need to know about the engine:
170cc overhead valve
4-stroke
Single cylinder
You know what that means
It's a powerful machine that can cut the toughest grass.
You get five options in terms of cutting height from 1.2 to 3 inches.
Admittedly
That's not the best cutting height in the market.
The ability to go through the toughest grass will make up for that fact.
As for the cutting width, this machine can mow 21 inches of grass in every pass.
Moving on
This mower also has a 3-in-1 side discharge including the ability to spread grass clippings.
This is important because it's a means to add nutrients to the grass making it really healthy as well as thick.
Now:
The rear wheels are about eight inches for ease of movement.
This is also a self-propelled mower.
Supposedly
I say that because the self-propelled mechanism doesn't really work well.
It's almost like it's not a self-propelled lawn mower at all.
So
Just push it. It's not that difficult to maneuver anyway.
Plus
It's quite compact, so that makes things easier too.
Take a look at its dimensions: 33 x 23 x 18 inches.
Not only that
You can easily fold this thing for storage.
You don't need tools to do it too.
This way
You can also keep your storage space organized.
Finally
It has a three-year warranty.
Most lawn mowers will only give you two years of warranty. I think this means that PowerSmart is quite confident about its product.
To conclude
If you have tough grass to cut, the PowerSmart 170cc 21-inch Lawn Mower is just right for you.
It's powerful yet confined in a compact physique.
---
MY RATING: 94%
---
---
Gas #3:
Remington 22-Inch Trimmer Mower
---
BEST FOR…
Those with land that needs to be cleared of weeds, briars, high grass, etc, etc.
---
A quick heads up, the Remington 22-Inch Trimmer Lawn Mower isn't a conventional lawn mower as such.
That isn't to say it doesn't cut grass – it does, it just doesn't give such a fine cut as a conventional mower does.
However what it does do, almost perfectly, is cut weeds, overgrowth, dense vegetation, briars, woody plants and high grass. This is something nearly all lawn mowers struggle with – whereas this does it with absolute ease.
I am not exaggerating.
With the exception of rocks, this cuts through pretty much anything in its way, if your land is covered in weeds or tall grass they will be no match for the Remington!
It will be a huge time saver for you and is perfect to clear such land and then give it a quick mow over with a more conventional lawn mower.
It is simple to set up and start. Simply fill the engine with oil (which is included) and then lock the handle in, pump the primer button three times and it should start easily by pulling the starter rope.
First thing you will notice?
How smooth it is to use. It glides effortlessly over weeds, ruts, grass and so on when a standard lawn mower wouldn't be able to.
A lot of thought has been put into the design – the off-set trimmer head means it can get to those difficult to reach areas more easily.
One thing is for sure:
The trimmer head is made of steel so is very tough, stones and rocks just bounce off it. The hard rubber defector is well designed too.
The trimming lines this uses to slice effortlessly through weeds/grass/overgrowth etc are very durable, but if they do break, which happens occasionally, they are very easy to change or put back in.
But be aware:
Of course this isn't without a couple of minor issues – if you have land that is on a steep slope it is more difficult (though not impossible) to use.
What would also help would be to add a rubber grip to the handle, as it has a tendency to reverberate in the hands as you go over more uneven ground and can leave them sore or bruised.
To sum up:
If you have land that needs clearing regularly this will be a lifesaver and you will find it strangely satisfying as it rips through everything in its way!
It is head and shoulders above a normal 'weed whacker' and runs like a champion.
Put it this way, a landscaper might charge you a couple of thousand dollars to clear land full of weeds, long grass, briars, brush, etc, etc, for a mere fraction of the price you can do it as often as you want with this.
---
MY RATING: 93%
---
---
Gas #4:
Yard Machines 132cc
---
BEST FOR…
Those on a budget.
---
The Yard Machines 132cc is not the most powerful lawn mower in the market. But if you have a small area, then this is for you.
Here's an important matter:
This is quite an affordable lawn mower.
It's very light, too. And it looks light.
You see:
This lawn mower only weighs 47 pounds.
It's so light you almost doubt it is a gas-powered machine.
But it is
Yep, it's less than 50 pounds. You can carry it if you wish too.
But why should you?
The lawn mower has four seven-inch tires after all.
Light in the budget, too
That's right! This lawn mower is quite affordable.
That's a very important feature.
Although
You can't expect a lot of options with this mower.
There are only three cutting height positions to choose from over an inch to over three inches in height.
On the other hand
The cutting width is 20 inches, which isn't that bad considering the small size of this thing.
The dimensions of the Yard Machines mower are the following: 26 x 22 x 15.25 inches.
It's pretty reliable
With a 132cc engine, the mower is still capable of going through small yards.
It's also quite great with yard obstacles.
What does that mean?
If you have trees in the yard, mowing with the Yard Machines won't give you any trouble at all.
The same goes for uneven ground and other things.
Also
The mower comes with a sturdy and comfortable handle.
That comfort comes in the loop handle that makes operation easy.
On the negative side
This machine is on the slow side.
That's probably because of the 132cc engine, which is less than a lot of its gas-powered counterparts.
Oh, here's another one:
It's quite daunting to put together.
There are bolts and nuts that are just hard to fit properly. You're going to need tools and strength to really put this thing together.
It may be small but it's quite a pain.
Here's the deal
If you just have a small yard and a small budget, then this lawn mower is worth it.
Assembly just happens once anyway. Once you have this going then there's no need to work with those bolts and nuts again.
---
MY RATING: 89%
---
The Best Manual Lawn Mowers 2023
---
Manual #1:
Great States 415-16 16-Inch
---
BEST FOR…
Those looking for a quality lawn mower that cuts really well and is great on uneven and sloping ground.
---
The Great States 415-16 is my favourite manual mower.
Manual mowers can be much of a muchness, but where this stands out for me is its build quality and its cutting quality – two vital components of a push lawn mower!
So let's take a closer look:
It has a good cutting width of 16 inches, and sturdy 10 inch wheels. It weighs in at 25 pounds and you can adjust the cutting height from 0.5 inches to 2.5 inches.
It is made of mainly of solid steel and the build quality is evident from the get go. The wheels, bearings and other metal aspects of the mower are smooth and sturdy.
All you need to do to assemble it is put together the handle using three hand screw bolts and then two retainer clips to attach it to the deck.
So what does this mean for you?
Because so much time and effort has been put into making sure the build quality of this is high it should need next to no maintenance, aside from sharpening the blades every couple of years and a little bit of WD-40 every now and then.
If you aren't mechanically minded then this is great for you.
Most importantly…
The cut quality is first rate. The scissor cutting mechanism gives a sharp and uniform cut, and makes the lawn look cleaner and more natural than power mowers do.
It is also really good on sloped and bumpy ground which power motors often struggle on, so this is a big plus if you have a lawn like that.
In truth:
You might have to go over tall thick grass a couple of times, but it gets the job done really well and even rips through most weeds.
The Great States 415-16 is light and takes minimal effort to push – certainly no more than your average gas/electric mower, it is also easy to maneuver and turn and is incredibly slimline so takes up very little storage space.
You should know:
It does get stuck on smaller bulky stuff like twigs, pine cones and rocks – which unfortunately lock it up, so you might need to rake your lawn first or just be more aware of them.
Also the one bit that could be improved is the handle, which is essentially two pieces bolted together.
It rotates as you are turning the unit and I'd imagine might even break due to the stress on the middle of the two pieces as it twists and turns.
So what does this all mean?
Overall this is a classic push mower, that is ideal for anyone with a mid-sized or smaller yard, and it would be especially good if your lawn is bumpy or slightly sloped and if you aren't technically minded as you will probably never have to carry out any repairs!
---
MY RATING: 93%
---
---
Manual #2:
American Lawn Mower 1204-14 14-Inch
---
BEST FOR…
Those with small, flat lawns looking for the best bargain priced push mower.
---
I think the American Lawn Mower 1204-14 is the best budget push mower out there. In short – great performance, great price.
So let's begin:
It has a smaller cutting width than the Great States – 14 inches, and the cutting height can be adjusted from 0.5 inches to 1.75 inches. It has 8.5 inch wheels and weighs in at 23 pounds.
It is easy to assemble, with no screwdriver needed. Just attach two parts of the handle and the reel unit is itself ready to go.
Adjust the cutting height is nice and simple and because it is light you can carry it from place to place easily.
Pretty good right?
It is really easy to fold down and fit in the shed or the car trunk, etc, etc as well. It is far lighter and more nimble than a gas lawn mower.
If you keep your lawn relatively well maintained and it is on the smaller size and flat then this mower is perfect for you.
It runs on two wheels and two rollers – it feels a little like you are pushing a toy cart about – and cuts the grass effortlessly. If you use this once a week it will be the easiest mowing session ever!
In common with manual mowers it is really easy to maintain. Just keep it clean, sharpen the blades and spray down with lube occasionally and it should last you years.
Remember this though:
It does struggle with anything resembling a stick or twig and weeds which is a downside.
Also it doesn't deal well if your lawn is on a slope or uneven – it will take much more time to cut the grass and more effort to push up a slope.
But the bottom line is this:
If your lawn is relatively small and flat and you keep it well maintain, then this is great – it pushes easily, maneuvers well, gives a good cut and is a budget price, what more could you ask for?
---
MY RATING: 91%
---
---
Manual #3:
Earthwise 1715-16EW 16-Inch
---
BEST FOR…
Those with thick or tricky grass.
---
The seven blades of the Earthwise 1715-16EW give it an advantage over the other push mowers on my list – most notably it is perfect for cutting thick grass and Bermuda, St. Augustine, Zoysia and Centipede.

Let's get started:

As mentioned this is a seven blade push mower with a 16 inch cutting width and 10 inch composite wheels.

The cutting height can be adjusted to anything between 0.5 inches and 2.5 inches, it weighs 26 lbs and comes with a one-year warranty.

Fact is:

You really do feel the difference with the seven blades as opposed to the standard five. They slice through thicker and tougher grass effortlessly.

The blades are made of quality alloy steel and the reel turns at a really rapid rate, even at walking pace.

It really is a nice smooth push and mowing a single pass is much easier thanks to this and the aforementioned extra blades.

Pretty good right?

If you like a really low cut, then this goes down to 0.5 inches – lower than most five-blade reels and adjusting the cut height is pretty easy – there are rollers at the back of the wheels with support brackets that you use to adjust the cut height.

These rollers also keep the Earthwise level when you are mowing uneven areas.

It is lightweight and as with most reel mowers the cut quality is much better as the blades snip the grass in the same way a pair of scissors would rather than tearing at grass blades as power mowers do.

What could better:

The handle design could be better – they don't feel quite wide enough so you do have to apply a bit more force and it feels more uncomfortable.

Also if you let your grass grow too long then it is much more difficult to cut – anything over 2.5 inches it will take a few runs to get it cut as you want.

But in a nutshell:

This is ideal for small to medium size yards with more difficult or thicker grass – the seven blades make for a quicker, easier and lovely even cut.

Light, durable and sharp – this is a very solid mower.

---
MY RATING: 90%
---
---
Manual #4:
Fiskars 17 Inch Staysharp 6208
---
BEST FOR…
Those with more stubborn and difficult to deal with grass and weeds.
---
The Fiskars 17 Inch Staysharp Reel Mower is more expensive than my other two choices, but wow does it cut the grass well and it can deal with all grass types, including Bermuda grass which is notoriously difficult to deal with.
Let's get things underway:
It has a 17 inch cutting width, and the five blades can be adjusted to cut at a range of anything from 1.5 inches to 3.5 inches. It has big sturdy front wheels that are 10 inches in diameter and weighs in at 43.5lbs.
Assembling it is straightforward, although you will need an 11mm and 18mm wrench. Once you have put it together you will see this is a strong and sturdy mower.
And get this:
Fiskars claim it is 30% easier to push compared to its competitors and there is no reason to doubt this claim as it rather feels like you are gliding over your yard when you use it.
Fiskars also claim that the large-diameter InertiaDrive Reel and the thick blades give 50% more cutting energy and this I definitely can believe. As long as you don't let them get super high it cuts through any type of grass or weeds.
The cutting is sharp and clean and the blades don't seem to bog down at all.
Even better:
There are seven height settings and they are simple to adjust and the maximum length is 3.5 inches so if you like your grass a bit longer it is perfect. Oh and this is the quietest push mower I have ever used!
One unique feature of this mower is it actually throws the grass clippings forward – so it can then be cut and recut until it is in very fine pieces and actually falls below the level of the cut grass, so you get a really even and smart looking lawn.
There are a couple of downsides:
The pins that hold the handle to the mower are rather flimsy and seem to be made out of cheap metal which is quite out of keeping with the build quality of the remainder of the StaySharp.
It appears that they may break quite easily. Also despite the fact you are paying a fair bit more for this it doesn't come with a grass catcher – but you don't really need it as it throws the grass forward.
In a nutshell:
If you are looking for a push mower with a bit more power, to deal with a slightly more troublesome lawn I would strongly recommend paying the extra for this – it will be worth it.
---
MY RATING: 91%
---
The Best Ride On Lawn Mowers 2023
---
Ride On #1:
Troy-Bilt 382cc 30-Inch
---
BEST FOR…
Those who want to buy a light and powerful riding mower at a great price.
---
The Troy-Bilt 382cc Neighbourhood Riding Lawn Mower is one of the cheapest riding lawn mowers available, yet also one of the most highly rated and justifiably so.
Let's get things underway:
It has a 382cc, 10.5 HP engine, a 1.3 gallon fuel tank and six speed transmission.
It has an 18 inch turning radius, a 30 inch cutting deck with five height adjustments, a top speed of 4.25 mph and weighs in at 340lbs.
I love how maneuverable the Troy-Bilt is, which is great as it is so easy to work around flower beds and so on.
The 18 inch turning radius is not quite a 'zero turn', but you can't get much closer to it!
You know what you will love?
It is perfect for getting into those tight corners. It handles really well and I think you will enjoy riding on it.
This is a very light riding mower, but the build is spot on. The essentials that need to be made out of steel are – everything else is made of durable plastic.
But don't let the lightness fool you – the 10.5 HP engine gives you plenty of power. It handles long wet grass at a pinch – and doesn't get clogged up.
Here's the kicker:
It gives a nice even cut. The five cutting levels offer many choices, and it might take a bit of experimenting to find the right one, but once you do you can rest in the knowledge that you will get a smooth, professional looking cut.
In fact with five cutting levels and six speed choices you do have a lot of options open to you to make sure you get a nice looking lawn, and it will be almost impossible to not find the right balance to do so!
That isn't all:
There are a few other things I like about this Troy-Bilt. It is really easy to assemble and you get good instructions, which isn't always the case these days.
The seat is adjustable so no matter what your build or height you can get it to suit you, it is economical with gas and due to its low centre of gravity it is stable.
It isn't perfect though.
The biggest issue is it is difficult to shift from forward to reverse, there are a number of steps you need to go through due to the safety mechanism and you also have to stop the cutting blade. You do eventually get the hang of it but it is annoying.
Linked in with this the shift for forward, neutral and reverse is in the most awkward of position – under the seat and between the knees.
On such a well thought out machine I am not sure what possessed Troy Bilt to put it there, but you just have to make do with it!
Put simply:
You can't really lose with this riding lawn mower and perhaps this is something I haven't mentioned enough, but it is a tremendous price for what you get – the power and quality far outstrips the price tag making it a first class riding mower.
---
MY RATING: 94%
---
---
Ride On #2:
Ryobi 75
---
BEST FOR…
Those looking for reliability and battery life.
---
There are so many great things about this Ryobi ride-on lawn mower.
Where do I start?
How about the fact that this is a cordless electric lawn mower.
That means it is extremely convenient for mowers.
How so?
First off, it's battery operated so there is no need for gas or oil change.
Secondly, there is no cord. Can you imagine driving around your yard with a cord?
Thirdly, you can continuously work on mowing up to 2.25 acres of grass with just one battery charge.
I know, it's fantastic!
There's more!
Since it's electric, there is no need for spark plugs and belts.
It's pretty quiet, too.
Of course, it's also better for the environment.
Let's talk about the functionality
You can cut or trim 42 inches of grass in every pass. That means this is appropriate for large lawns or areas.
It's also a zero-turn mower, which means that you will be covering all bases when mowing.
Related to that
It runs at a speed of seven miles per hour. That's the maximum because you can choose from low to high speed.
The mower can can cut between 1.5 and 4.5 inches of grass.
You should know
If you have a large lawn, then that means you would be mowing for quite some time.
That's not a problem! Because this ride-on has a very comfortable seat.
Other important features:
LED headlamps
USB port
Compartments for storage
Here's another amazing benefit:
The product comes with a three-year warranty.
The battery also has a one-year warranty.
As I always say, when a company gives a warranty of three years or more, it means that it is confident about its product's durability.
But more importantly
It provides great cut or trim for the lawn.
This is a lawn mower after all so we really need efficiency in terms of the cut.
It's not all rosy
The Ryobi ride-on needs more torque. It just lacks the force to make this a really impressive lawn mower.
To conclude
If you try this ride-on mower, there is a great chance you won't want to get something else.
Of course, since this is an expensive machine, this might be more practical for large yards.
---
MY RATING: 94%
---
The Best Robotic Lawn Mowers 2023
---
Robotic #1:
WORX WR150 Landroid
---
BEST FOR…
Those after the best robotic mower.
---
The WORX WR150 takes their range of robotic lawn mowers up a notch further. Set up, control and the cut quality have all been improved notably.
I know your initial thought might be, how can a robot mow my lawn? And that was mine – but this thing does an amazing job!
But first…

This uses a 20V battery that takes 90 minutes to fully charge. It has five cutting heights from 1.6 inches to 3.9 inches. It has a 9-inch cutting width.

This weighs 23 lbs and comes with a battery, charge and the necessary wire and pegs to set it up. It also comes with a three-year warranty.

So let me explain…

WORX have simplified the setup process – lay the wire down and secure it below the grass using the staples provided. Connect the perimeter to the charging base and then use the Landroid app to measure your lawn.

Then your Landroid will automatically set itself up and work out how much grass it needs to cut each day.

Beautifully simple.

The Landroid app is great – you use it to set up and control the schedule of your Landroid and then it will monitor it whilst it is mowing. You can adjust cutting time, area and frequency.

Another addition is that this comes with a GPS tracker, so you know where it is at all times, handy if someone tries to swipe it from your yard!

Want to know the best part?

This cuts really well. It doesn't scalp your lawn, instead it gently trims it on a frequent schedule before returning to its charging base, so it ALWAYS looks good.

It is also intuitive enough to return to the base to charge when it needs to, pause during rain and navigate obstacles and uneven terrain.

The blade on the base of the Landroid is also offset – so that means it really cuts to the edge of your grass.

A couple of moans:

On flat and dry grass the wheels do slip a little – nothing major though and it doesn't seem to impact on the cut quality.

Also the grass seems to struggle to move forward in really thick grass – due to a comb style device that straightens incoming grass before cutting it.

Bottom line is:

The improvements WORX have made on this version of their Landroid making a very good robotic mower even better.

It is easy to set up, intelligent, cuts nicely and runs quietly – why cut your lawn when the Landroid WR150 will do it for you!

---
MY RATING: 93%
---
---
Robotic #2:
WORX WG794 Landroid
---
BEST FOR…
Those who have small yards and want something else to do the hard work for them!
---
The WORX WG794 Landroid is another wonderful robotic mower from WORX.
Let's take a closer look:
It has a 28v battery, the cutting height can be varied from one of five positions between 1.6 inches and 4 inches and the cutting width is 7 inches.
It weighs in at 20lbs and you also get a power adaptor, charging base and boundary wire, pegs and nails which helps you tell your WORX Landroid the parameters of where it should mow.
Now the installation and setup of the Landroid is a bit of a lengthy process. To cut a long story short you essentially use the wire and pegs provided to mark out the area you want it to cut in.
Then you are good to go!
Choose a cutting height and set the mower to mow a certain size lawn – for which the Landroid sets its own schedule which you can adjust if needed.
It then goes off to mow each day from the charging base, returning when its work is done. Ingenious.
It does a surprisingly good job of cutting! But because it only clips a bit of grass at a time and mows for a short time every day it essentially keeps on top of the process, leaving your lawn looking neatly trimmed all the time!
This is pretty incredible:
The mower has a rain sensor, and when it is raining it scuttles back to the charger to shelter so it can't get electrical damage from the rain.
If it gets into a tight corner it nearly always extricates itself and happily goes off mowing elsewhere. It is very very quiet – literally making no noise at all.
It is safe too. If it is picked up it stops immediately and if it taps into something it turns and goes a different way. It is great around children and pets! If it does go out of bounds it shuts itself down and stops.
A word of caution:
Robotic lawn mowers are still a relatively new concept, so there are teething problems and points that could be improved.
What would be really helpful would be if there was a phone or web app that would allow you to keep an eye on your Landroid remotely, just in case it does get stuck.
And it does take a while to get everything set up and working correctly, laying the boundary base takes some effort and then you might need to tweak it, but eventually you will get it right and then you can relax and let it cut.
In a nutshell:
If you have a small lawn – a quarter of an acre or less – this is absolutely perfect. It is reliable and consistent and leaves your lawn looking great.
I mean what could be better than sitting outside sipping a cool drink on a hot afternoon watching your Landroid cut the lawn for you whilst you neighbour sweats away with their gas/battery/electric/manual mower!
---
MY RATING: 91%
---
---
In Summary
---
Best Lawn Mower For The Money
It isn't dirt cheap but it certainly isn't expensive. One thing it is though is an amazingly good mower – the EGO Power+ – unbelievable quality.
Best Manual Push Mower
There are some contenders here, but you will see from my list above that the Great States 415-16 comes out just on top. It is easy to push and gives a lovely cut.
Best Riding Lawn Mower
Just nabbing the honors here is the Troy-Bilt 382cc. Great build quality, easy to maneuver and lots of power at a fantastic price.
Best Lawn Mower For Small Yards
The American Lawn Mower 1204-14 is perfect for small yards with its 14 inch cutting width, small footprint and ease of use.
Best Lawn Mower For Hills
With its front wheel drive the Troy-Bilt TB220 makes light work of hills. It is light and very easy to push with a powerful motor.
Best Lawn Mower For Wet Grass
It has to be the Troy-Bilt TB220 again! With a 10.5 engine this deals with long and wet grass so easily without clogging up
---
I hope you have found this rundown of some of the best lawn mowers of use.
If you do have any questions or are uncertain about anything please feel free to drop me an email and I will do my best to help you.
If you want to go for a tried and trusted push mower, I have rounded up my favorites. If you decide to go to the other extreme and have a large yard there are some great riding mowers on the market.
Don't forget it is important to ensure you maintain your mower and keep a nice healthy lawn.
Enjoy!