Black and Decker GH900 Trimmer Review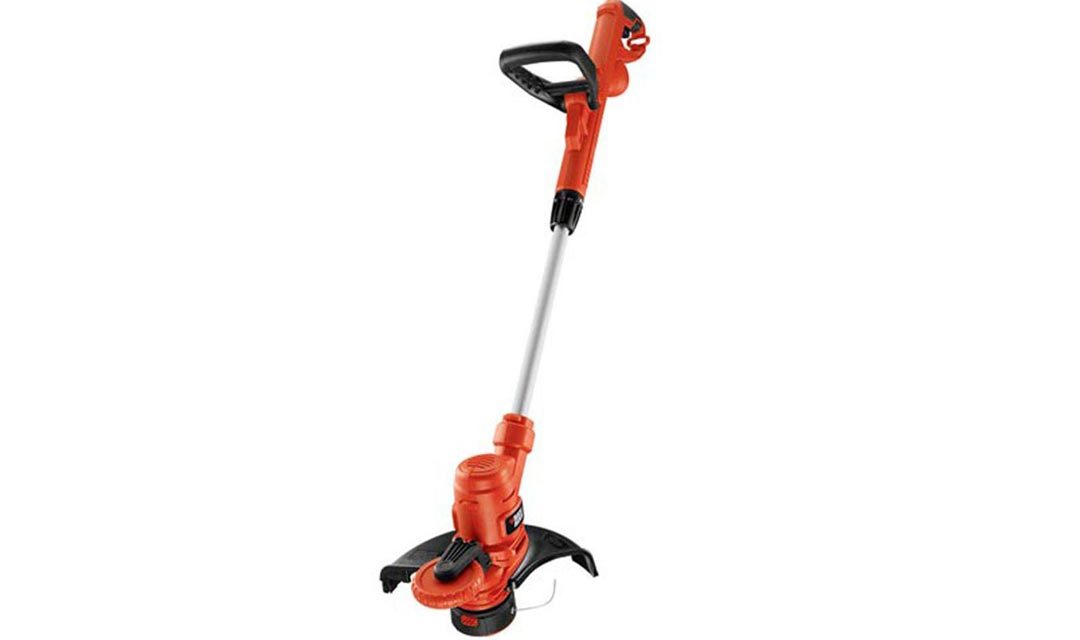 Score 92%
Score 92%
Black and Decker GH900 Trimmer Review
Review At A Glance
A great price tag and the power to slice through almost anything – you could ask for much more from the Black and Decker GH900.
Design

90%

90%

Performance

93%

93%

Price

93%

93%

Overall

92%

92%
To check the latest price for the Black & Decker GH900 click the image above.
Dimensions (w x h x d in inches) – 5 x 36.75 x 8.5
Cutting Width – 14 inches
Line Diameter – 0.065 inches
Min. Rated Ext Cord – 16 gauge
About The Black And Decker GH900 Trimmer
Bearing their trademarked POWERDRIVE transmission.  The Black and Decker GH900 is an electric weed eater that has a 6.5amp motor.
This high torque transmission essentially ensures top performance even when tackling the toughest weeds, grass and overgrowth.
Taking a closer look:
It converts from a trimmer to an edger by rotating the head, and the edger that has a wheeled guide to help you get more control and accuracy when you are edging and therefore (hopefully!) better results.
It has an auto feed single spool, this automatically feeds trimmer line when required and the trimmer line diameter is 0.065inches. It also has an adjustable height shaft and pivoting handle positions to help ensure you have the most comfortable trimming/edging experience.
Once you unbox it you literally need to snap two pieces on it and it is ready. Note that it only connects to a two prong extension cord, a three prong extension cord won't fit.
Once you have done that, you are good to go.
The Good
First things first the GH900 offers fantastic value for money. It is not the cheapest product on the market, but it is certainly at the lower end and what you get in comparison to what you pay (as I will expand on in this section) is quite astounding.
This might surprise you:
The most obvious illustration of its value for money is its performance as a weed eater – which is superb. It doesn't just take out shorter grass, but it will eat through weeds nearing six foot and up to 12 inches wide with no problem. Wiregrass, St. Augustine, trumpet vine and crabgrass are no match for the GH900.
And this has some power as well. More than you would expect for the price tag and the weight, and that is why it works so well as a weed whacker.
The truth is:
I'd say for most residential yards the power is spot on, enough to slice through most weeds but not so much that you are afraid to have it let it near your flower beds or fence for fear of damage.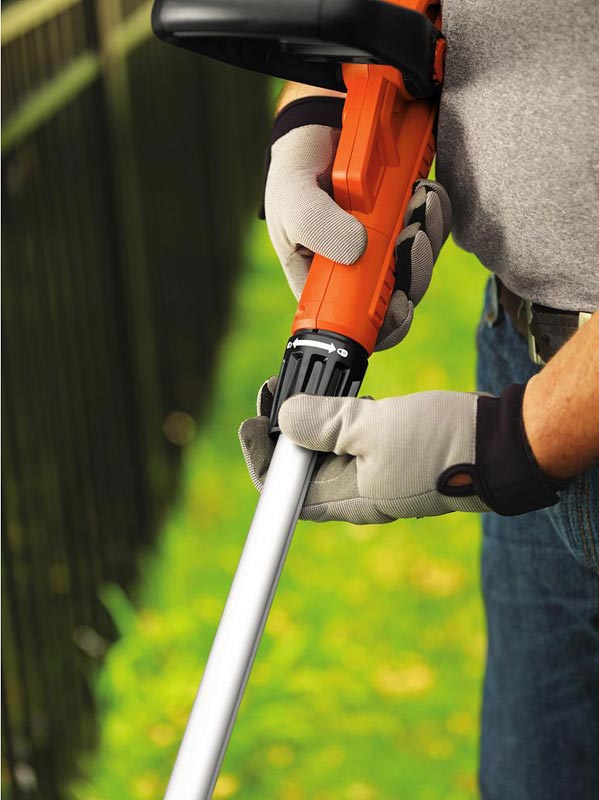 Above: The Black and Decker GH900 has an adjustable handle and an adjustable shaft, as shown above.
So you'd expect something with a considerable amount of power to be unwieldy right? Wrong, it is amazingly lightweight – weighing in at just 5.5lbs, which is roughly the same as two bags of sugar.
Yes, two bags of sugar!
That of course means that if you have limited physical strength this could be the perfect choice for you. It also means it is very easy to maneuver and manageable to operate, no struggling to move a dead weight around!
The adaptability of the shaft and the handle is great, making it easy to find a comfortable position when using it. The shaft can be lengthened or shortened, particularly useful if you have family members of varying heights using it.
What is so good about that you might ask?
The pivoting handle is great to help ensure the cut is level with the ground, so if you are going up a steep hill you can adjust the angle to get a closer cut of the weeds.
Whilst others may argue otherwise, I like the fact this has just the one trimmer line rather than a dual feed line. As it has such a high RPM I don't think a dual feed line is necessary.
Even better:
If you do get a jam in the trimmer head it is much quicker and easier to disassemble and re-feed it and have it ready to go again. You wouldn't have such a quick turnaround with a dual feed line.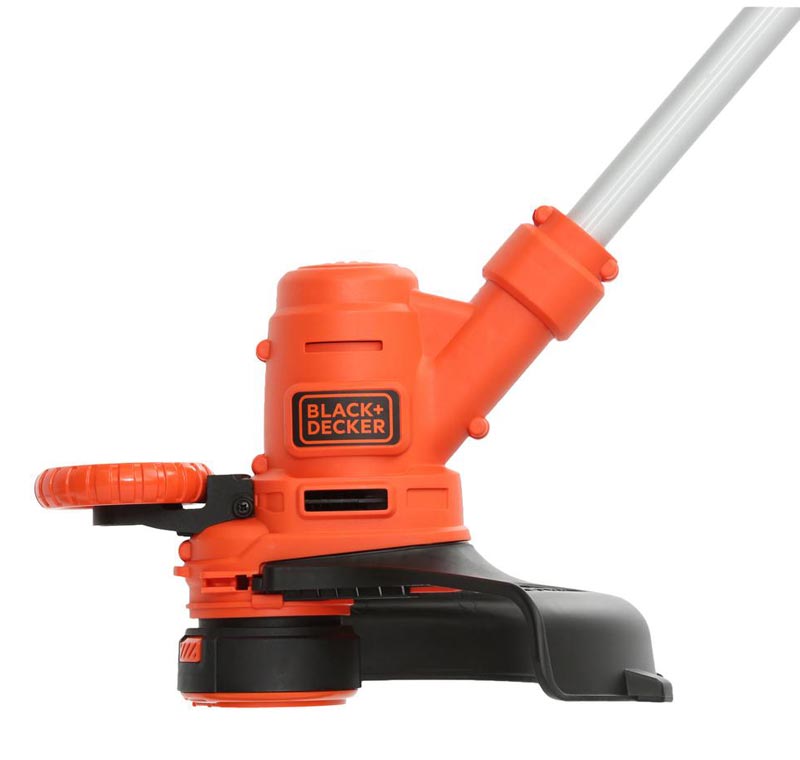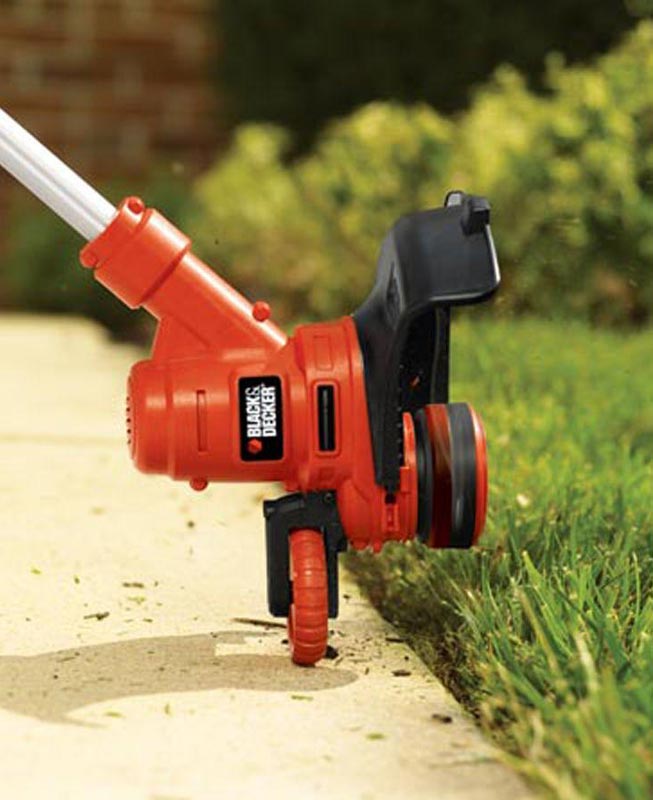 Above: The auto feed system works really well and the plastic guide wheel does a good job when using the GH900 as an edger.
Ok I can't stress this enough:
Many string trimmers seem to struggle when it comes to the feed system – not this one! The auto feed system works really well as long as the spool is wound correctly.
It feeds nice and smooth. Reloading the spool is easy and you can use any 0.065 inch line, which are easy to find.
As mentioned this is a trimmer and an edger. You switch between trimming and edging simply by rotating the head, it is so easy and could be done with one hand. When you have switched between modes it feels stable and secure.
That is all there is to it!
It works really well as an edger. The motor runs at about 60% of the speed and it has a plastic guide wheel that works really well. Simply plonk the wheel down and roll forward slowly to get a wonderfully straight, razor sharp edge.
Even if you aren't experienced in edging matters it will look like you are as this is so easy to use! It is easy to put together, is sturdy and is made of quality materials too.


The Not So Good
There are issues around the adjustable handle. The adjustability as I mentioned above is great, but it doesn't always stay locked in place and can snap loose.When this happens it is a bit of nuisance as the trimmer drops and may gauge a bit.
For  what it is worth:
I've mentioned the wheel which guides you when you are edging. I love it, but it does have a downside – as it protrudes from the device slightly it makes it more difficult to get into really tight spaces.
There is an issue here that the motor is at the bottom of this device, so if you are using it in damp conditions you end up with wet grass and mud clogging up the air intakes and getting inside the machine if you aren't careful.
You can't hose down this part, so your best bet to clean it is to open it up and get inside which isn't difficult.
But frankly it is a bit of a pain.
This does also get through quite a bit of string if you work it too hard. The way around this it to get something like the Cyclone 0.065inch six sided string, which, for whatever reason lasts much longer.
Also it is quite restrictive in terms of the extension cords that fit it – the female end of a 3-prong extension cord won't fit, you will need to make sure you get a two prong extension cord.
Above: The GH900 is an excellent trimmer at a great price.
Lightweight and easy to operate
Adjustable shaft and handle
Single feed spool which works well
Wheel makes it difficult to get into tight spaces
Only takes two prong extension cords
Is it each to change the line?
What gauge power cord do you need to use?
16 gauge is the recommended minimum.
Is it possible to remove the wheel?
The wheel is factory mounted, but it could be removed by taking out the two side screws and two top screws.
You Might Also Like…
There are a whole host of top quality weed eaters out there – this is one of them.
My favourite is the Ego Power String Trimmer – it is battery powered, but it is great! To the right are a list of general resources that maybe be of use.
You can also view my Site Index, which shows everything on my site on one page or you can check out my recommended links below.
My Verdict
92%
Summary Plenty of power, slices through most things you put in front of it and it is incredibly lightweight. Throw in a great price tag and there is very little reason not to like this.

If you have a medium sized or smaller yard and don't want a battery or gas powered trimmer this is my top choice. Likewise if you are limited in your physical strength this would be ideal for you as it is so light.

It edges well, is comfortable to use and the auto-feed system works as smoothly as any trimmer I have seen. If your yard isn't too large, get rid of the gardener and get the Black & Decker GH900!