January 29, 2020
Hitachi CG23ECPSL String Trimmer Review: Supreme Comfort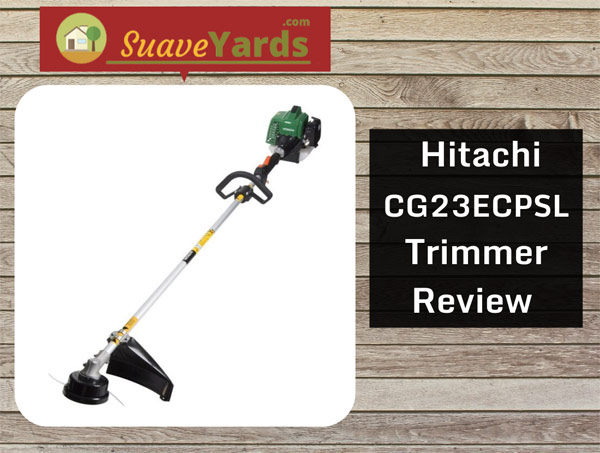 Review At A Glance


Loads of power and maybe the most comfortable weed eater around – I love the Hitachi CG23ECPSL!
MY RATING: 91%


---
Editor's Note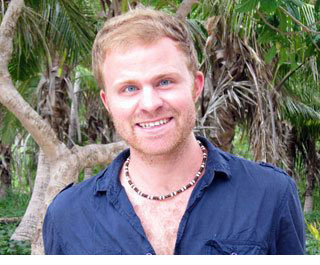 I hope you love the products that I recommend here! Just so you know, I work with Amazon and other affiliate partners and may be compensated from the links below.
---
---
Specifications
---
Power Source

– Gas

Size

(w x h x d in inches) – 8 x 70 x 8

Cutting Width

– 17 inches

Line Diameter

– 0.095 inches

Cutting Head

– 4 inch Nylon Tap & Go

Overall Shaft Length

– 69.6 inch
Model

– CG23ECPSL

Engine Type

– PureFire 2-Stroke

Displacement

– 22.5 cc

Fuel Tank Capacity

– 16.2 fl. oz

Weight

– 10.3 lbs
Seven Year Warranty
PRICE – $$$
---
About The Hitachi CG23ECPSL String Trimmer
---
Let's get down and dirty:
The Hitachi CG23ECPSL uses Hitachi's S-Start recoil system and is powered by a 22.5 cc PureFire engine.
It has a 4 inch nylon tap and go trimmer head with a 0.095inch trimmer line and a Walbro carburetor with a purge bulb to make starting easier.
It has a solid, straight steel, shaft that measures a whopping 69.6inches in length and an anti-vibration system. It weighs in at 10.3 lbs and has a seven year consumer warranty.
Amazing right?
In terms of fuel this works on a ratio of 50 parts gas to one part oil mix.
Also this device is designed to work with a number of Hitachi attachments – remove the trimmer head and you can replace it with an edger, hedge trimmer, pole saw or mini-cultivator tool, obviously these cost extra.
---
The Good
---
Hang onto your seat…
Lets start off with the last line of the paragraph two above – 'it has a seven year consumer warranty'. That in itself is quite remarkable and blows all of its competitors away with none coming close to seven year consumer warranty.
This is a mark of Hitachi's confidence in the product. It also comes with a two year commercial use warranty and a one year rental use warranty.
But it doesn't stop there…
Hitachi use an anti-vibration system for this machine and boy does it work. You feel next to no kickback or motion from it whilst you use it.
It is incredibly smooth and when you put it down it feels as though you haven't used it. No tingly hands, no feeling of fatigue, just the satisfaction of a lovely looking yard!
The secret could be:
The extra-long shaft – at almost 70 inches it is longer than all of its competitors. This of course again lessens fatigue as you won't have to stoop over when you use it, so as well as no tingly hands you have no achy back!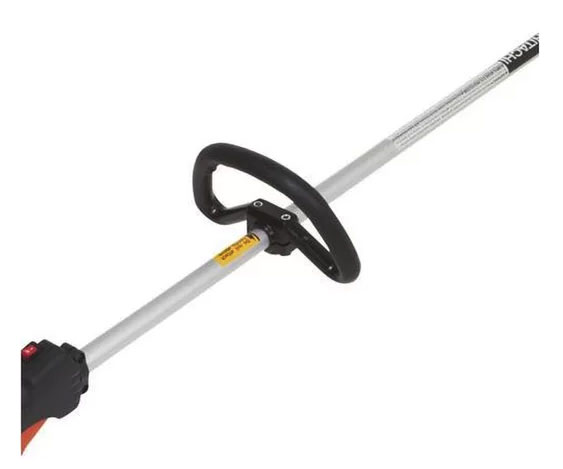 Above: The Hitachi CG23ECPSL has an extra-long shaft that makes it more comfortable to use
The shaft is made of solid steel – this is a hallmark of the quality with which Hitachi put their products together. This is well made, it is solid and feels sturdy. It is nicely balanced too and fairly easy to use with one hand.
And get this:
As well as the build the design is nice. In particular the throttle control is excellent, as it is so expansive.
You can easily control the power you use, so when you are edging you can have the throttle half open, but when you encounter tall grass or tough weeds you can open the throttle right up easily and maintain control over it easily.
But you are probably wondering, how does it start?
Well the S-Start system and Walbro carburetor and purge bulb do their job as after a few uses you will see that this generally starts first or second pull every time.
Above: The unit kicks out a lot of power
The 22.5 c PureFire engine delivers a performance reminiscent of a commercial weed eater. It kicks out a lot of power so cuts through pretty much anything with the minimal of fuss.
I am sure you will love that.
Also the fact it is a 2-cycle engine as opposed to a 4-stroke engine means the emissions levels are lower and there is less opportunity for something to go wrong as it has less parts.
I think the power to weight ratio on the Hitachi CG23ECPSL must be as good as you will get on any weed trimmer. Despite the powerful engine and long shaft it weighs a touch over 10 lbs – again this reduces fatigue and makes it easier to handle.
Finally:
In terms of gas weed eaters this comes in at a great price – it really is very good value for money.

---
The Not So Good
---
Most of my grumbles around this center around the line head. The tap and go head doesn't seem to work as it should all the time.
The thing is:
It isn't a quick line feed, so you often bump the head and then have to wait a while for the line to feed. It does also jam more often than it should.
A way around this is to replace the head with another brand (I've been told the Pivotrim Head is a good one).
And you know what else?
The string that comes with the trimmer isn't great quality either and doesn't feed particularly well. Again this is easily rectified by replacing it with another type of string – I'd recommend the Echo Black Diamond string which is thick and durable.
The head of this trimmer only holds 13 feet of string, which is less than most of its competitors and obviously means the string runs out more quickly.
Of course as this is a 2-stroke engine it means you have to mix fuel and gas to get it running properly. It is easy to make a mistake when doing this which can cause the engine to stop running.
The solution:
Mix 4.5oz of a good quality two cycle mix with one gallon of gas and you should be fine.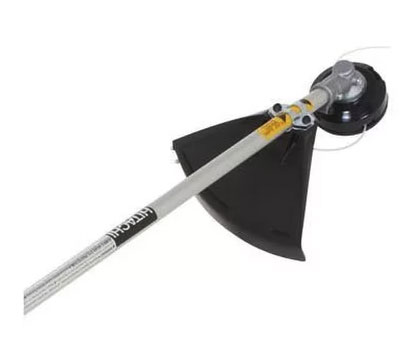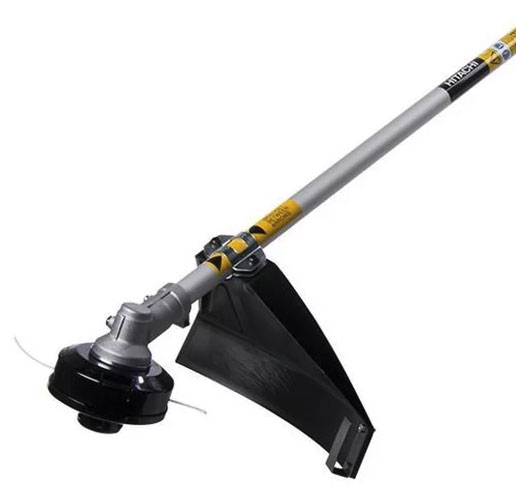 Above: There are some issues with the head of the Hitachi CG23ECPSL
---
At A Glance
---
✔ Pros
Amazing warranty
So smooth to use
Extra long shaft
Well made
Great throttle control
Starts easily
Commercial style engine
Light and easy to handle
Good price
✘ Cons
Tap and go feed system is hit and miss
Feed is not great quality
Doesn't hold that much line
Need to be careful when mixing gas and fuel for engine
---
Conclusion
---
My Verdict
Design - 89%
Performance - 91%
Price - 93%
91%
Ultimate comfort!
This is a really great weed eater. What I like most is the pure comfort of using it. The long shaft means you don't have to stoop over and the anti-vibration systems definitely works and it feels lovely and smooth. Combine this with the fact it is really light and it is a total delight to use.

Of course this would be worthless if it did not perform in the area it is designed to - weed eating and trimming - and that it certainly does. The engine has a lot of power and is really easy to control.

The seven year warranty shows how much Hitachi trust their product and you should do too. It is up there with the Husqvarna 128LD as the best gas powered weed eater on the market.

User Rating:

3.35 ( 3 votes)

---
FAQs
---
What kind of gas do I need to use?
It is explained in the user manual, but I'd recommend mixing 4.5oz of two cycle mix with one gallon of gas.

Can it be used as an edger?
Yes by turning it sideways you can. Or you can buy the separate edger attachment from Hitachi.
Does it come with a strap?
No it doesn't.
What attachments work with this?
You can remove the head and replace it with an edger, hedge trimmer, pole saw or mini-cultivator tool – these all cost extra.
---
You Might Also Like…
---
Check out my guide to the top weed eaters of the year (yes this one features in it!). Of course there are other ways to kill weeds.
My favourite overall is the Ego Power String Trimmer – it is battery powered and it is great! If you are looking for a gas powered trimmer then check out the Husqvarna 128LD – which is on a par with or even better than this one.
To the right are a list of general resources that maybe be of use. You can also view my Site Index, which shows everything on my site on one page or use my recommended links below.
Useful Resources
The Best Weed Eaters of 2018
Ten Ways to Outsmart Weeds
Weed Identification and Control Library
How To Use A Weed Whacker