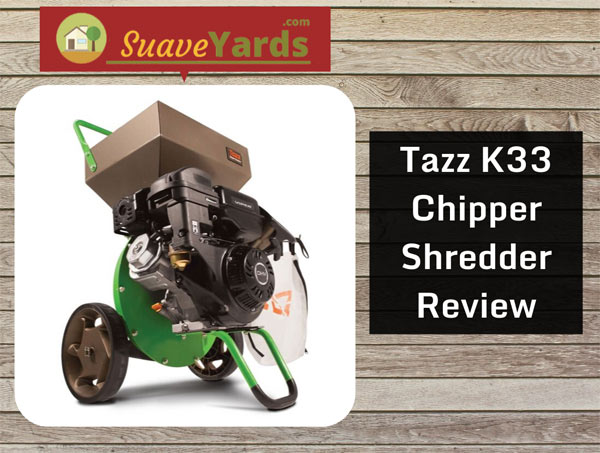 ---
Review At A Glance
---
The Tazz K33 Chipper Shredder is a fantastic choice if you want power on a budget. It won't let you down.
MY RATING: 93%

---
Editor's Note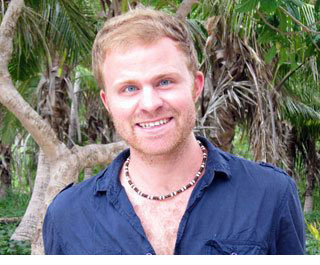 I hope you love the products that I recommend here! Just so you know, I work with Amazon and other affiliate partners and may be compensated from the links below.
---
---
Specifications
---
Power Type – Gas
Model – K33
Dimensions: Height – 29.9 inches. Width – 51.9 inches. Depth – 29.9 inches. Weight – 140 lbs
Engine: Type – 4 cycle, single cylinder. Brand – Viper. Size – 301cc
Tyre: Diameter – 11 inches. Width – 2 inches
Fuel Tank Capacity – 1.72 gallons
Hopper Dimensions – 16.75 inches x 13.25 inches
Bag Dimensions – 24 inches x 36 inches
RPM – 3600 rpm
Feed capacity – 3 inches
Waste reduction ratio – 20:1
5 Year Warranty
PRICE: $
---
About the Tazz K33
---
So let's take a closer look:
This Chipper Shredder is simple to put together – you just fit the individual parts together. All you need to do is make sure you have a screwdriver and wrench handy.
It has a pull start motor and once that is done you just drop leaves and smaller branches into the steel hopper.
Let me explain:
The chipping knives slice it, the j-hammers chop it and cut it and then the tri-hoppers pulverise it completely, down to 1/20th of its original size.
Large branches – up to 3 inches in diameter – can be placed into the separate limb shoot where they are chipped.
The Tazz K33 comes with a bag to collect all the debris.
The bag has a dock lock system so it connects to the output chute and everything that is chipped/mulched goes directly into the bag.
It is simple:
Just unzip the bag and empty the mulch wherever you want! Mulch is wonderful for your lawn and there are some great mulchers that will benefit your lawn.
It has 11 inch, airless wheels and comes with an optional vacuum kit for collecting and shredding leaves and grass and also an optional tow bar kit so you can attach it to a lawn tractor. Note that both of these cost extra.
A tip for you:
Before you used it, I would recommend you invest in a decent pair of gloves and ear and eye protection.
The manual also mentions you should stand to the side to feed it and I agree – sometimes bits and pieces do bounce out, usually oddly shaped chunks the blades can't bite into, so bear that in mind!
---
The Good
---
First things first, the Tazz K33 is a cinch to put together – it can literally be done in a matter of minutes.
I mean:
If I find this thing easy to set up, then it is! Then just add oil and gas, pull the start cord and you are good to go.
Despite the fact it can be put together so quickly it is a solid and sturdy machine, but one that can be easily stored due to its compact size and small footprint.
It is just over 25 inches wide and just under 30 inches long, so it will take up minimal room in your garage.
The great thing is:
It also has wheels so it can be easily transported and it is evident time and thought has been put into the design – for instance the hopper is perfectly position to drop yard waste in easily.
The compact design means no cut backs on the engine power though – this Tazz Chipper Shredder has a strong 301cc engine that will eat up even the hardest of wood without missing a beat – it cuts through harder wood like a knife through butter!
It is pretty remarkable.
What I especially liked was the engine showed no signs of flagging or slow down no matter how much I fed into it.
This strong engine combined with the fact the Tazz K33 has a separate branch intake for larger branches up to 3 inches in diameter means it can handle pretty much anything.
Still not convinced?
I was sceptical that it would handle the larger branches but I simply fed them down the chute and it chipped and shredded them without a problem!
This wood chipper shredder gets a bonus mark for the mulch bag that comes with it.
I can't stress this enough:
It easily connects to the output chute and automatically, and very efficiently, collects all the debris produced.
This really makes a huge difference and will save you time from having to collect mulch manually from the floor.
The bag has a bottom out zipper, so once it is full just unzip it and spread the mulch where you want.
It really is that simple.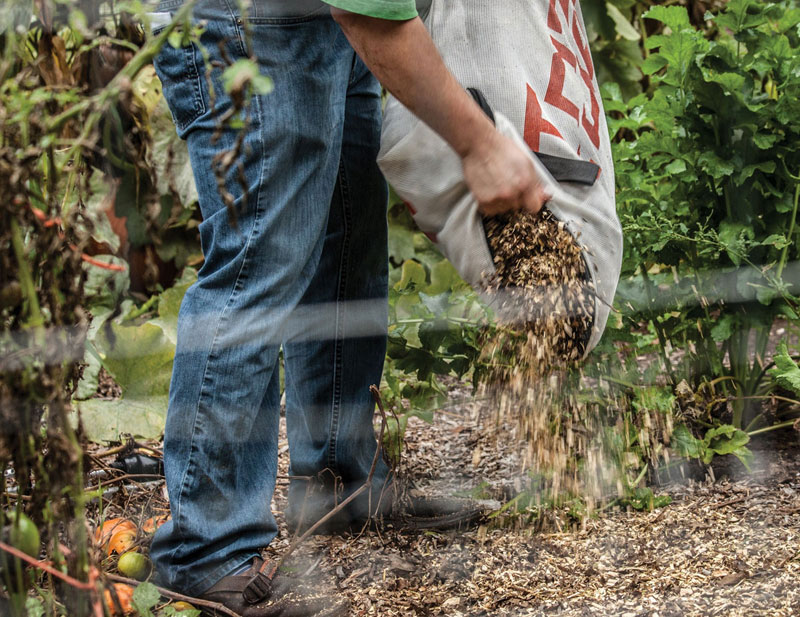 As always there is no value in all the above plus points if the mulch produced by the machine is not good, and I am happy to say the Tazz K33 produces quality mulch – very fine and perfect to spread around your garden.
Finally:
For a gas wood chipper – this is at the lower end of the price spectrum.

---
The Not So Good
---
Be warned:
As good as this chipper shredder is with larger branches it does have difficulty with leaves and smaller twigs. There is a safety guard over the hopper that can prevent leaves going through it.
Note:
Once you feel comfortable enough you can remove this safety guard and this shouldn't be a problem. Smaller twigs kind of go straight through the hopper, so I'd advise you to use the separate chipper chute for these as well.
And another thing:
Curved branches too require a little manipulation to feed through the machine, but this isn't a massive problem.
I noticed in the relatively short time I was testing this, that it did seems to clog fairly frequently.
As far as I could tell this was generally down to me putting in too many damp leaves or small twigs, or if I tried to feed too much in too quickly.
Stick with me here:
Try and remember this and try and pace yourself when you feed stuff in – I'd say it is better to put in a number of handfuls rather than try and feed in a bucketful at once.
Another small gripe – the oil supplied with this chipper shredder is enough for it to run, but only just!
You have 25oz of oil included and that is a problem:
It is enough just to reach the bottom of the dipstick, it doesn't fill the crankcase – I think more oil should be supplied.
When I was digging around doing a bit of research online I did come across a few people saying the oil is difficult to change as well, as the drainplug is difficult to access. I didn't try to change any oil, but this is worth bearing in mind.
I also noticed when I was doing some research that a few users thought the instructions weren't clear enough.
My point is:
I noticed this especially in relation to the issue with changing the oil – as some people said they couldn't tell from the manual where the drainplug was.
As it is so easy to put together I had no need to refer to the manual really, but again this is worth remembering.
---
At A Glance
---
✔ Pros
Easy to put together
Solid and sturdy
Compact size
Well designed
Strong engine
Can handle almost anything thrown at it
Mulch bag makes collecting and spreading mulch so easier
Produces some very nice mulch
Excellent price point
✘ Cons
Struggles with leaves and smaller twigs
Clogs up quite easily
More oil should be supplied
Oil not easy to change
Instructions could be clearer
---
Conclusion
---
My Verdict
Design - 90%
Performance - 92%
Price - 96%
The WORX WG430 13 Amp Electric Leaf Mulcher is a great value option for someone in a residential setting or with a moderate sized backyard. It is easy to put together and take apart and doesn't take up much storage space. What is more for the price it produces quality mulch.
Of course there are a couple of quibbles, mainly how it struggles with wet leaves and if you have a large garden with lots of trees you might want a large shredder, which will naturally be more expensive.
However these minor faults aside it does its job very well and it is easy to see why this is one of, if not the, most popular leaf mulchers on the market.

---
FAQs
---
What is the difference between this and the K32?
This has a bigger more powerful engine (301cc compared to 212cc for the K32).
Can I replace the trimmer line with something heavier?
The standard line that comes with this is (0.090 inch x 13 inch). You can replace it with a heavier gauge line which inevitably will last longer, but note it will void your warranty.
How often will I need to change the trimmer line?
Obviously this depends on use – each string seems to last roughly what is about four yard waste bags of leaves. Maybe as a very rough estimate I would say you might need to change the strings weekly.
How easy is it change the trimmer line?
It is very straight forward, will take a minute or two at the most.
Do I need ear plugs?
It is reasonably loud, and whilst they aren't essential, investing in a cheap pair of ear plugs maybe sensible.
Is it easy to clean?
Yes as it is easy to take apart, each piece can be washed separately. Just be sure not to wash the motor part though!
How loud is it?
I didn't measure this, but I researched it online and at 6 inches away the noise level is 92 decibels. At 40 inches away it is 75 decibels. As a comparison 92 decibels is just above the noise level of a loud restaurant or heavy traffic and 75 decibels is about the same level as an average vacuum cleaner.
---
You Might Also Like…
---
There are a host of fantastic Wood Chipper Shredders around that you might want to consider. To the right are a list of general resources that maybe be of use.
You can also view my Site Index to see everything on my website on one page or check out my recommended links below.
Useful Resources
What To Look For When Buying A Wood Chipper – Hobby Farms
How To Pick The Perfect Wood Chipper – Chippers Direct
5 Essential Wood Chipper Safety Tips – Do It Yourself