April 6, 2020
Cub Cadet Ultima ZT1 50-Inch Riding Mower Review: Power in Design and Engine -It's as Strong as it Looks!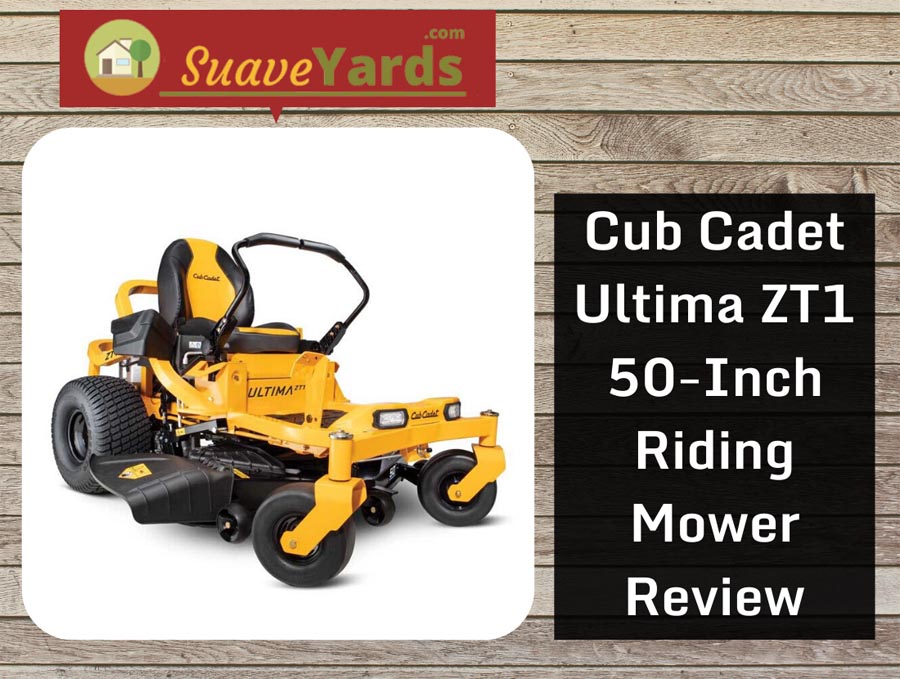 Review At A Glance

Durable frame plus a powerful engine! The Cub Cadet Ultima ZT1 50-Inch Riding Mower is easy to maneuver and has the capability to smoothly run through hilly yards and uneven ground.
MY RATING: 93%


---
Editor's Note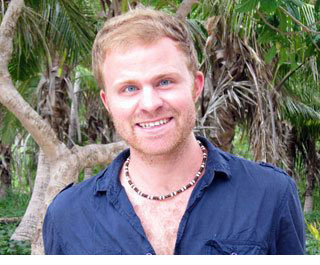 I hope you love the products that I recommend here! Just so you know, I work with Amazon and other affiliate partners and may be compensated from the links below.
---
---
Specifications
---
Model Number: 17AIEACZ010
Power Source: Gasoline
Cutting Width: 50 inches
Cutting Height: 4.5 inches
Fuel Tank Capacity: 3.5 gallons
Engine: 23 HP Kawasaki twin-cylinder engine
Transmission Type: Hydro-gear
Forward Speed: 7 miles per hour
Reverse Speed: 3.5 miles per hour
Front Tires: 11×6-5 inches
Rear Tires: 20×8-8 inches
Turning Radius: Zero
Warranty: Three years / Unlimited hours
PRICE – $$
---
About the Cub Cadet Ultima ZT1 50-Inch Riding Mower
---
When you look at the Cub Cadet Ultima ZT1 50-Inch Riding Mower, the first thing you will notice is the optimal design. It doesn't look bulky for a mower that mows 50 inches of grass in one go!
It looks rather compact while housing such large power within.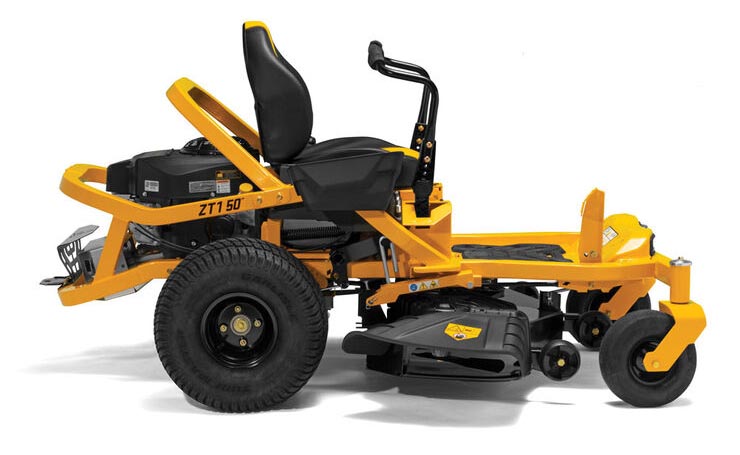 Let me elaborate:
The mower features a twin-cylinder Kawasaki engine at 23 HP. This kind of power allows easy mowing for yards between two and four acres.
If there are slight rolling hills and some bumps on the ground, this will endure.
In fact:
You can go on mowing for years with the Cub Cadet ZT1 50 and it will not look old. And if the time comes when the tubular frame and fabricated deck shell become badly damaged?
There is a limited lifetime warranty on those things!
But you know what?
Don't get fooled by this rugged exterior. This riding mower is actually quite comfortable.
So, let's get to know the ZT1 50 a little better, shall we?
---
The Good
---
How comfortable is this riding mower?
The seat is padded and fully adjustable. This way, you can settle into your most comfortable position.
The padded seat, which is a 20-inch high-back seat, is designed for optimized speed.
In connection to that
We can't talk about comfort in lawn mowers without delving deeper into the seat suspension. It is made of advanced polymer that optimizes comfort during operations while reducing operator's fatigue.
Similarly
Comfort continues while the riding mower is already on the go! This is due to the well-thought-out lap bars, which were ergonomically designed.
The lap bars can be adjusted three ways. The parking brake system is also integrated into the lap bars for easy access.
What does this mean?
This means that anybody can easily learn how to drive the mower. It is not difficult to learn at all!
Not only that, the lap bars are overmold with soft-touch ergonomic hand grips. This will prevent your hand from getting chafed no matter how hard your grip the handlebars.
Plus! Your hands won't slide off no matter how sweaty you are!
Let's take a closer look at the frames:
Just by looking at the ZT1 50, you already know that it's very easy to slide into it no matter how large your frame is. There is another reason for the open frame design.
This design allows you convenient access to the deck as well as the engine. This is important for maintenance purposes.
Speaking of the frame
You know just by looking at it that it is built with strength. It comes with a square tubular frame that screams durability and enhanced strength.
The tubular steel that makes up the frame is coated with Triple Guard Corrosion Defense System as protection against wear and tear. So, the mower will continue to look good even after a few years.
You want proof?
Cub Cadet is so confident that its tubular frame is so durable that it offers a limited lifetime warranty on the frame and fabricated deck shell.
Also, it is as strong as it looks!
Here's the most important part:
The mower features the Kawasaki twin-cylinder engine at 23 HP. The engine displacement is at 726cc.
That power can glide through two to four acres of lawn. Don't even worry about the bumpy and hilly parts. We've already covered the comfortable seats.
You may wonder about the speed
It's great! It moves forward at seven miles per hour.
That is not bad at all! The reverse speed is precisely half the forward speed.
Let's now move on to the most important thing:
THE CUT!
It's a lawn mower after all! The cutting width is at 50 inches.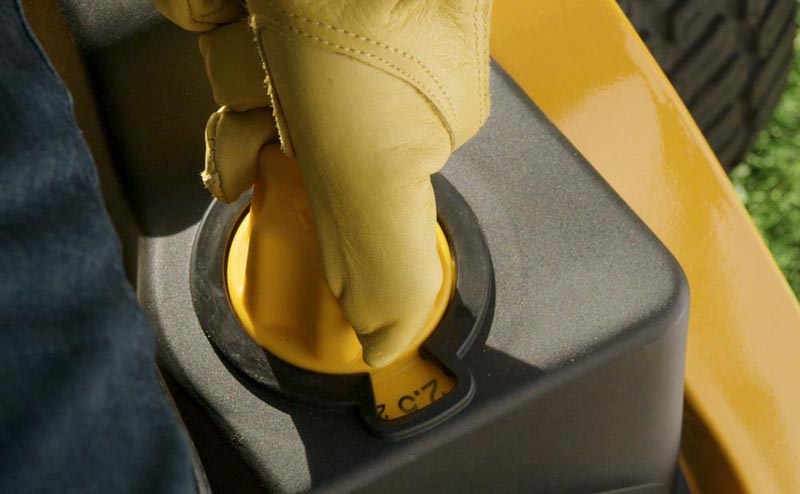 Just imagine:
You get to do a lot of work at a very short time because you get maximum output for every pass on the field.
You can also choose a cutting height from an inch to 4.5 inches.
How?
The adjustment is through the foot pedal with spring assist. There are 15 positions to choose from guaranteeing the perfect cut!
The perfect cut can be achieved by the triple blade deck blades.
As far as the deck material goes, you are guaranteed a sturdy component with the 11-gauge fabricated steel.
In relation to that
The mower also features a SmartJet deck wash system for easy cleaning.
Also
The riding mower has a zero turning radius. Again, this makes for a faster mowing output since you don't need to spend time in the turn.
The 11" x 6.5" front tires provide a smooth 180-degree pivot without turf damage.
The larger rear tires, which measure at 20" x 8.8", provide excellent traction and will give you a great ride even during speed bumps and while passing through uneven ground.
Finally
You ever feel like mowing in the dark? Fret not because the ZT1 50 features dual-LED headlights that shine brightly.

---
The Not So Good
---
There aren't a lot of bad things about this riding mower.
However…
I just think that when the weather is extremely hot, the lack of coverage is really going to hurt your skin. Better shower yourself in sunblock!
The worst part was that my bucket actually melted because of how hot it was. So, if you have to attach something at the back, make sure it is not plastic and that it is durable.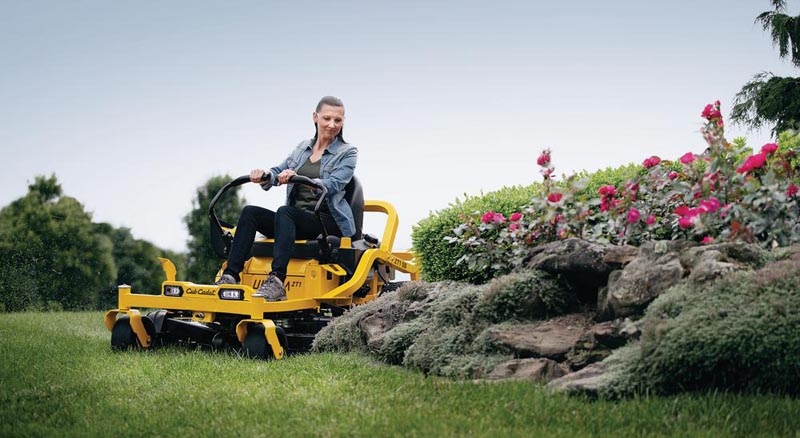 What's more?
Some areas of the mower are coated with very thin paint. In fact, there were parts of the underside with only the primer covering them.
It was probably my fault for not checking thoroughly before I had the product delivered. But who would have thought?
Cub Cadet is a trusted brand after all!
Don't worry
That's not really a deal-breaker. It's a small problem that you can do something about.
Another thing
Again, this is not exactly a deal-breaker, but the fuel tank only has a capacity of 3.5 gallons. I've never actually experienced running on empty in the middle of mowing.
However, with just 3.5 gallons, you can't keep thinking that it might just happen with you especially if you have a larger lawn.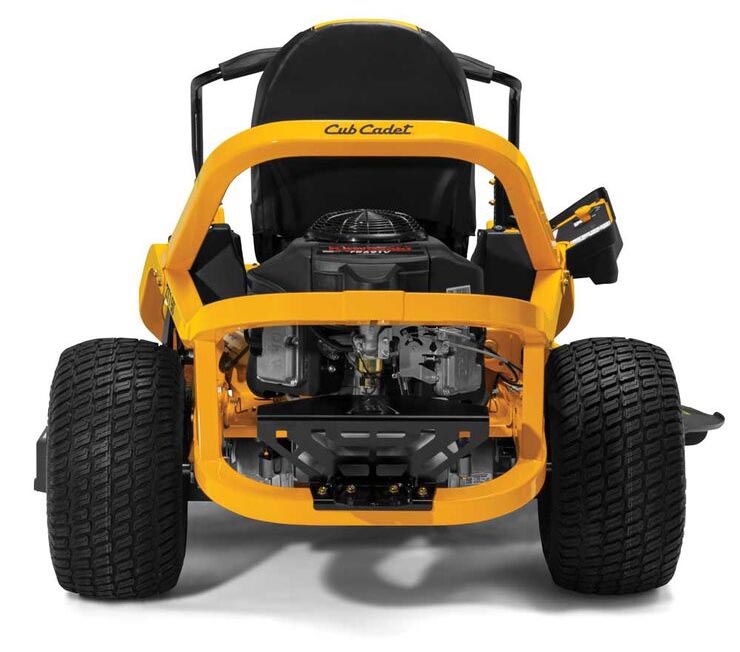 ---
At A Glance
---
✔ Pros
Comfortable seats
Great suspension
Durable frame
Easy to maneuver with lap bars
Parking system integrated into lap bars
Large cutting width (50")
Maximum cutting range of 4.5 inches
Great cut from triple blade deck blades
Zero-turn radius
✘ Cons
No coverage from the sun
Thin layer of paint in some areas
No armrests
Smaller fuel tank

Conclusion

My Verdict
Design - 93%
Performance - 93%
Price - 94%
93%
Power in the design and in the engine!
When you see the Cub Cadet Ultima ZT1 50-Inch Riding Mower, you will immediately notice how sturdy it is with its tubular steel frame. The design is actually meant for strength and durability.

What you don't see is the power within, too. The mower is packed with a 23 HP engine made by Kawasaki, a Japanese heavy industrial manufacturer.

The lap bars make it easy to maneuver, which means that anyone can drive this riding mower. The fact that the parking brake system is also integrated in the lap bars is icing on the cake!

User Rating:

2.83 ( 108 votes)


---
FAQs
---
What is so special with the Kawasaki engine?
Kawasaki Heavy Industries Ltd. is a Japanese corporation known for manufacturing heavy equipment, motorcycles and aerospace and defense equipment. It also makes industrial robots.
Kawasaki is one of the three major heavy industrial manufacturers in Japan. So, if an engine is made by Kawasaki, you know that it is of high quality.
Are lap bars better than the steering wheel?
The answer to which one is better is subjective. However, generally, lap bars are easier to maneuver. You can simply adjust the speed through the bars whether you push them forward or pull them back.
The same goes with changing directions. Even those who don't know how to drive can maneuver lap bars. However, seasoned drivers may think a steering wheel is better because they are used to it.
What's the deal with the zero-turn radius?
Zero-turn mowers have become a hot commodity in recent years. This is because the turn doesn't take time, which in turn, saves the person time and energy.
---
You Might Also Like…
---
Interested in another Cub Cadet riding mower? Check out this small but powerful machine: Cub Cadet 30-Inch Riding Mower.
But if you have a large lawn and you need an efficient mower to cut a lot of your mowing time, then you should check out the Toro TimeCutter 60-Inch Riding Mower.
For more options, check out this list of the Best Riding Lawn Mowers of the year.
Useful Resources