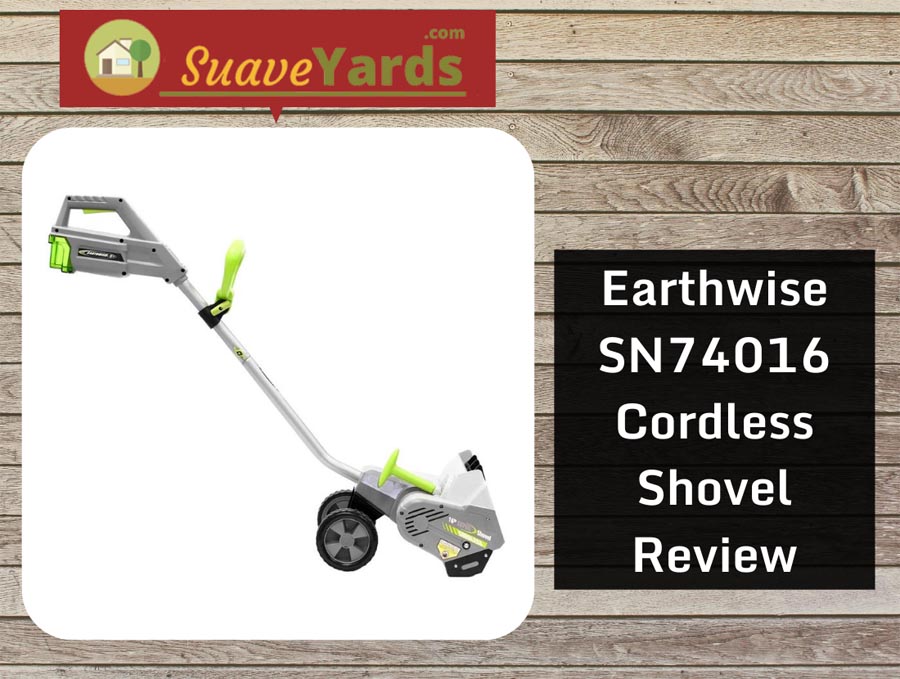 ---
Review At A Glance
---
When you have a small driveway, you don't need a powerful machine to remove snow. All you need is an electric shovel like the Earthwise SN74016. It's lightweight and powerful. You can easily use it to remove snow on your deck, sidewalk or pathway.
MY RATING: 90%

---
Editor's Note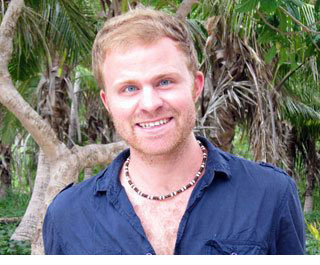 I hope you love the products that I recommend here! Just so you know, I work with Amazon and other affiliate partners and may be compensated from the links below.
---
---
Specifications
---
Model number: SN74016
Power source: Battery
Battery: 4 Ah Lithium-ion
Charging time: 2.5 hours
Speed: 2,000 rpm
Clearing width: 16"
Maximum clearing depth: 8"
Weight: 19.4 lbs
Warranty: 2 years (limited)
PRICE GUIDE: $$
---
About the Earthwise SN74016 Cordless Electric Snow Shovel
---
When you are in a hurry to get rid of snow because you need to be at work or at an appointment, you need something that can help you do quick work.
That's where the Earthwise SN74016 Cordless Electric Snow Shovel comes in.
Let me elaborate
The product is light. It only weighs 19.4 pounds.
This means you can get it out of your storage room in no time and do quick work in your driveway or pathway.
Besides, you don't really have to do some heavy lifting while shoveling.
Talking about quickness
Earthwise SN74016 runs at 2,000 revolutions per minute.
Even better, it can move 300 pounds of snow every minute.
Related to that:
It can clear snow at a width of 16 inches and a depth of eight inches.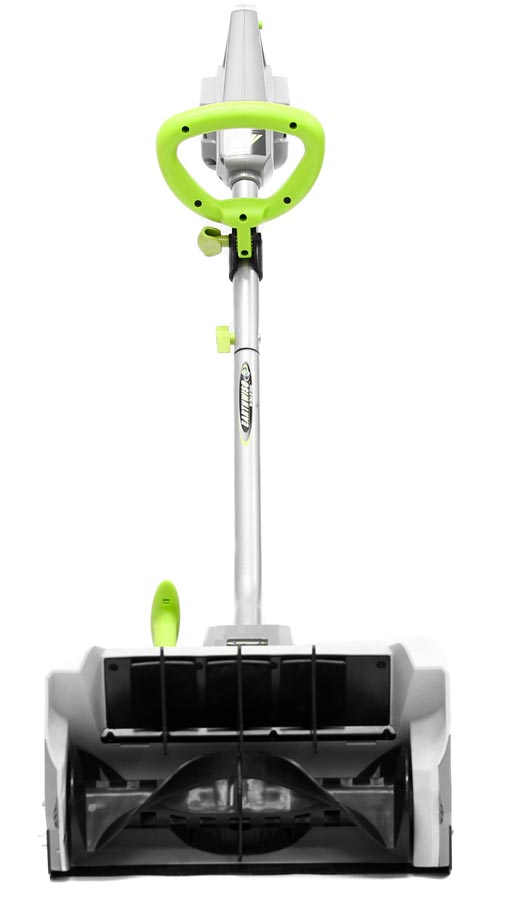 As for the battery
It runs on a 40-volt four-ampere hour Lithium-ion battery.
You charge the battery for 2.5 hours in order to work straight for 25 to 40 minutes.
That's not all!
The Earthwise SN74016 also has a throwing distance of about 32 inches.
---
The Good
---
Let me start off by saying this is an amazing tool for small areas.
You would think that a snow blower is what you need when you have to contend with inches of snow, but really, an electric shovel will do.
Let me tell you why
A snow blower is generally larger than the shovel. It is quite heavy too.
It would need major space to really move around. The shovel is generally lighter and is easy to take out of the storage for quick snow clearing.
Now let's talk about this
The Earthwise SN74016 is also quite light even for an electric snow shovel.
That's important because you don't want to break your back while clearing inches of snow.
A regular shovel could really suck all your energy because you have to dig into the snow and throw it away from you.
With the electric shovel
You just push it to the direction you want cleared and it will do everything else for you.
It will dig into the snow and throw it away for you.
It will throw snow 32 feet away from you and in the direction you prefer!
What does that mean?
You can choose from three directions from where you can dump your snow. Thirty-two feet is far enough where the snow won't come back to haunt you.
It's really a great machine for driveways and sidewalks.
Since it's light
It's also great to use in decks and patios.
At 2,000 revolutions per minute, you know this shovel can really work.
Plus
It can work on snow 300 pounds per minute.
That's a lot of snow, right?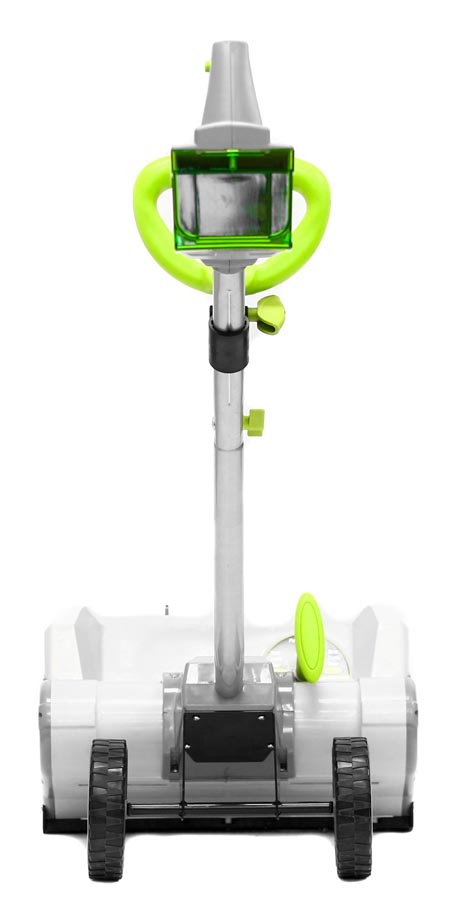 If you're worried about the battery run time…
Don't! You don't really need the shovel for an hour or so.
Run time of 25 to 40 minutes is enough to sweep the space you want cleared. But really, in actual use, the product could run for an hour.
I love that Earthwise is lowering expectations by saying the battery run time is less than an hour.
You know what else?
Earthwise SN74016 comes with a pair of six-inch wheels. This makes it truly easy to use.
You would also like to know:
This is a cordless product.
One of the many problems of various snow equipment is the cord as it gets in the way of snow blowing or throwing.
Also
This is a low maintenance tool. You don't need to change the oil or do any kind of tuneup.
It's also effective with ice.
Here's the feedback:
You know how at times you just don't have the time to clear fresh snow? The snow eventually gets harder and sometimes, it turns to ice.
Earthwise SN74016 is powerful enough to go through ice.
How about the brand?
Earthwise has been in existence since 1985. This means that it had a lot of time perfecting its outdoor power equipment.
The goal is also to lessen the carbon footprint, hence, the electric or battery-powered products.

---
The Not So Good
---
Let me start by saying that I don't really have a lot of bad things to say about the Earthwise SN74016.
Assembly, for example, was okay for me. You really just have to read the instructions and really understand it.
However
Some parts were labeled in metric sizes, which would be difficult for some to figure out.
The metric system used is not generic so some would understandably be confused.
Basically, the instructions are easier to understand for some people, but not all.
Moving on
While the wheels are convenient and they make the product easy to use, they are not reliable in wet snow. Maybe they could be bigger?
Warning
There is a tendency that the battery may not be locked in. I will not put that as a con because you really just need to push the battery in hard.
Listen for the click to ensure that the outdoor power equipment is locked in. If not, you could be stopping every now and then to put the battery in.
---
Conclusion
---
My Verdict
Design - 91%
Performance - 90%
Price - 89%
90
%
Lightweight powerhouse
The Earthwise SN74016 Cordless Electric Snow Shovel is lightweight. Yet, you don't have to worry about its power. As long as you don't have a large driveway or walkway, then you're good with this outdoor power equipment.
It can handle snow at 300 pounds per minute. That means you can clear your area in no time especially if you are running late for an appointment. The 16-inch clearing width is good enough for walking. It also easily goes through eight inches of snow.
Anyone can use this product. Women and the elderly can use the Earthwise SN74016 easily. It is so simple to maneuver.

---
At A Glance
---
✔ Pros
Lightweight
3 throwing directions
6-inch rear wheels make it easy to push
Cordless
Environment-friendly
✘ Cons
Instruction contains non-generic metric system, which could be confusing
Wheels are not ideal for wet snow
---
FAQs
---
Could the elderly use the Earthwise SN74016?
Definitely. This is a piece of very senior-citizen-friendly equipment. It's easy to maneuver and very powerful. More importantly, it's light.
Will this work on dirt or gravel driveway?
It's not recommended. For one, you might be throwing stones as well. Two, rocks could damage the auger. If you already have the tool, though, just make sure you push at an angle. But it would defeat the convenience of the Earthwise SN74016.
Is it adjustable to fit the height of the user?
You can't adjust the height of the product but the handle can be moved up and down for your preference.
---
You Might Also Like…
---
The electric snow shovel is great for small areas, but if you live in a place with a mid-size driveway or yard, then you will need an electric snow blower for convenience. Check out my review of the Snow Joe Ultra SJ620.
For a more expansive list, we reviewed the best snow blowers of the year that are fitting for women's stature.
What else do you think you need during the snow season? A pressure washer for snow foam perhaps?
Useful Resources
Snow Shovel Market Players are Adopting; – The Daily Chronicle
What You Need to Know Before Buying an Electric Snow Blower – Family Handyman
10 Helpful Products for Tackling Cold Weather Tasks – Today