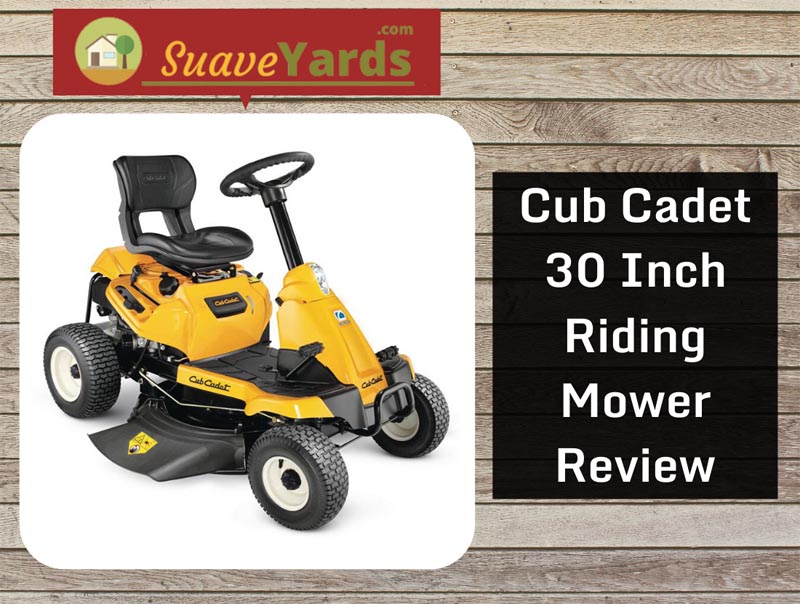 ---
Review At A Glance
---
The Cub Cadet 30-inch Riding Mower is small, compact and powerful. But is it enough to be labeled as one of the best riding mowers in the market? Let's find out….
MY RATING: 92%

---
Editor's Note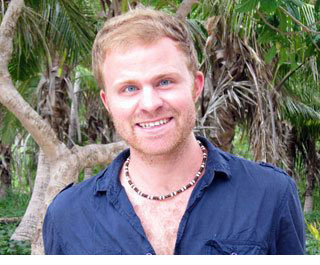 I hope you love the products that I recommend here! Just so you know, I work with Amazon and other affiliate partners and may be compensated from the links below.
---
---
Specifications
---
Model Number: CC30H
Power Source – Gas
Cutting Width – 30 in.
Fuel Tank Capacity – 1.3 gal.
Engine – 382CC Cub Cadet OHV
Deck Cutting Height – 1.5 to 4 in.
Turning Radius – 18 in
Forward speed – 1.5 to 4.25 mph
Reverse speed – 1.5 to 4.35 mph
Front Wheel Size – 13 in.
Rear Wheel Size – 16 in.
Product Weight – 360 lb.
Three-Year Warranty
PRICE GUIDE: $
---
About The Cub Cadet 30-Inch Riding Mower
---
Back in 1961 the first Cub Cadet mower hit the market and ever since then the American based company have been at the forefront of the riding lawn mower industry, constantly pushing the boundaries of design and production.
Stating the facts:
The CC30 Hydrostatic Riding Mower is equipped with a 382cc Cub Cadet OHV engine with Auto Choke. It's smaller and more compact than most lawn mowers but it doesn't sacrifice comfort nor performance thanks to its Hydrostatic transmission and ergonomic design.
It has a 30-inch cutting width and an 18 inch turning radius. You can set the cut height from 1.5 inches to 4 inches.
This has a forward speed of 1.5mph to 4.25mph and 13 inch front wheels and 16 inch rear wheels.
Setting up:
The CC30H comes with a manual on how to set it up but you can view it here for reference (you're welcome). Worth noting also are the accessories it comes with: a deck wash, mulch kit, and bagger attachment.
---
The Good
---
On to the good stuff about the CC30H!

It's small but capable:
Initially, I thought the size of the CC30H would be an issue. I was wrong — it's small but still a fully capable mower! What it lacks in power (compared to its big brothers like the XT1 GT54) it makes up in ease of use and maneuverability.
A great example is its 18 inch turning radius — it makes mowing around trees and single bushes a breeze!
Also, moving it around and finding space for it was no problem because of its weight and size: a modest 360 lbs and assembled width of 34 inches.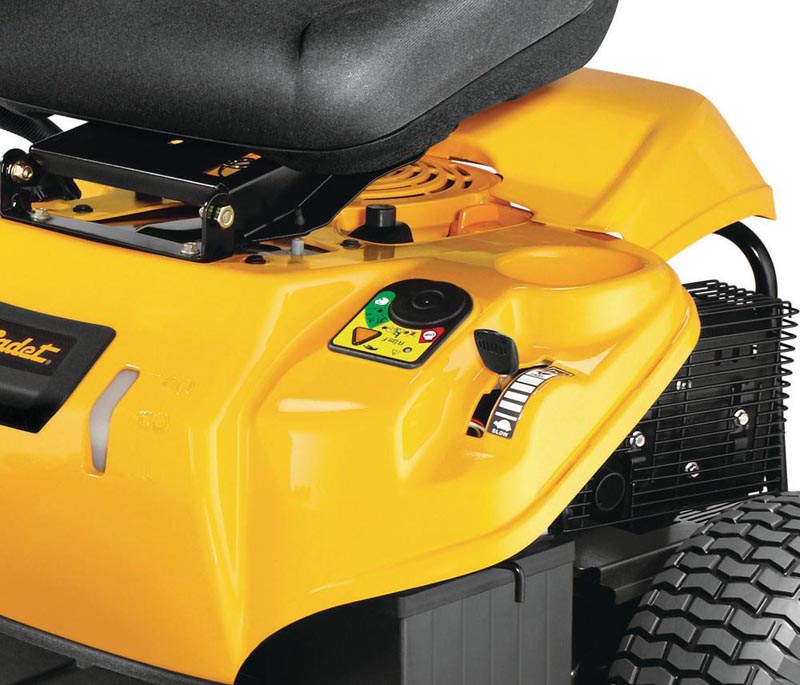 Comfort, design, and safety:
The ergonomic design of the CC30H is most clearly reflected on the driver's seat. I was snug and comfy while mowing and was able to adjust the seat to my liking.
I'm not the biggest guy so I had no issues getting snug and comfy but even larger people will find the CC30H's driver's seat to be a pleasure to be on. Oh, and I almost forget to mention — it has a cup holder for a cold one 🍺
Safety is another plus for the CC30H! If you're operating it and you get off your seat, the engine automatically turns off — a big plus for me since I'm a safety freak. I mean, who wants accidents right?
Now that we've covered the specs, design, and comfort of the CC30H, it's time to get down to business…
CC30H Performance: Handling
As I said, the CC30H is small compared to its bigger Cub Cadets brothers but that's exactly why its handling is excellent. Its compact size and 18 inch turning radius makes it so darn easy moving around tight areas like trees and single bushes!
Truly, the ease of use and smooth handling of the CC30H is one of its greatest strengths.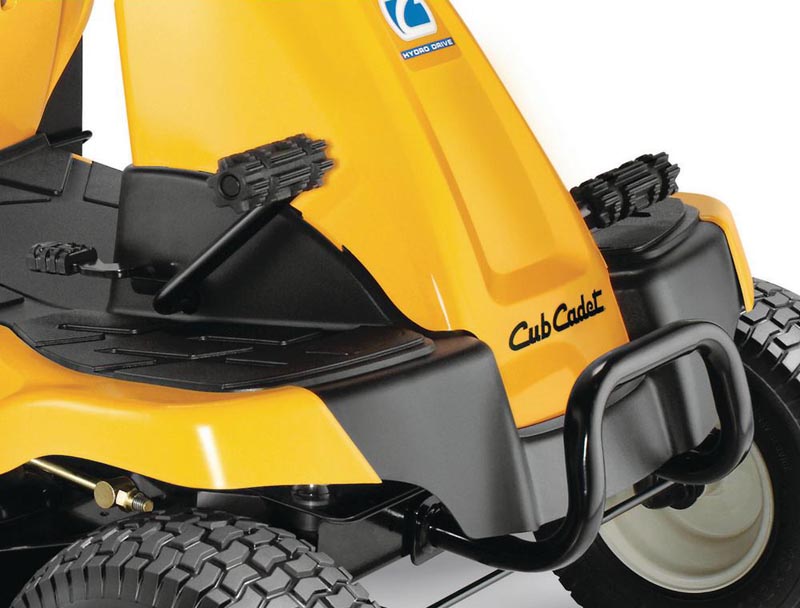 CC30H Performance: Mowing
The 30 inch single blade isn't the best especially if you're mowing more than three acres but my property is less than that so personally, the result was great!
The CC30H worked like a dream and gave me an excellent cut. For my purposes, I mowed at a cutting height of 3 inches but you can set it at 4 inches if the situation calls for it.
CC30H Performance: Fuel Tank
Some people have had complaints regarding the fuel tank although I've had no problems with it.
It holds 1.3 gallons of gas, which may not seem like a lot, but I cut my half acre property three times over and still had ⅓ of gas left. That's pretty good in my opinion!
Last but not least, a fan-favorite feature of the CC30H is its mow-in-reverse feature! While it's not the best way to mow, it can be a handy feature at times. But to be honest, I just find it really cool.

---
The Not So Good
---
Despite all the praise I've given the CC30H, it still has its own share of shortcomings which I'll be listing below.
Not ideal for hilly terrain:
If the ground you're mowing is not flat, you will most probably run into minor issues. It's important to note that the user manual states you shouldn't mow on a slope over 15 degrees so stay clear of hills and large mounds.
Some people have put this to the test and while it took a bit of more time to mow hilly terrain, the CC30H still got the job done — just be careful you don't tip over!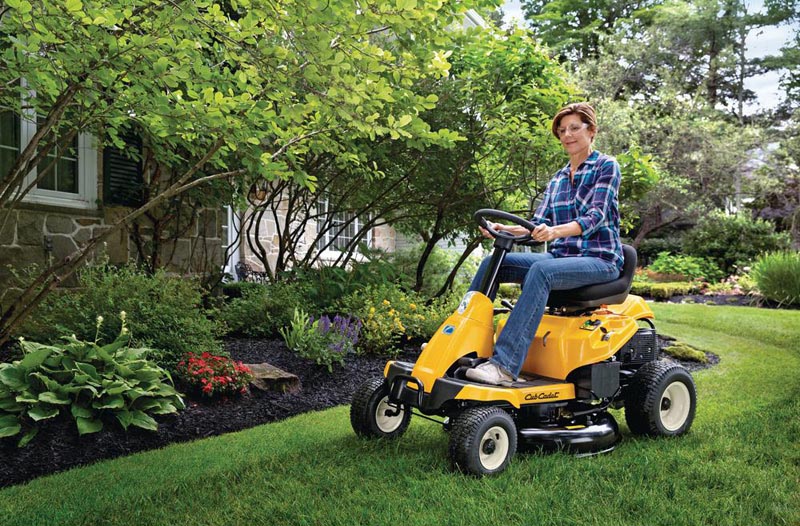 Not great for large acres:
The CC30H is great for mowing ½ acres to 3 acres (max) but anything more than that, you're better off with a bigger and more powerful mower (I recommend the XT1 GT54).
The CC30H excels at smaller gardens or yards but it can still do the job for bigger properties — it just won't be as efficient as bigger riding mowers.
Reported issues of oil spillage:

Other people who've used the CC30H have reported issues performing oil changes. If you're not careful, you could spill it all over the mower.
I personally haven't experienced this but it's a common reported issue so it's worth mentioning.
---
Conclusion
---
My Verdict
Design - 90%
Performance - 92%
Price - 94%
92
%
Small, compact and very very good!
The Cub Cadet 30 H Riding Mower is the best upgrade you can possibly make if you're still using a lawn mower. With its small and compact build, it's easy to move around but still packs a punch with its 382 CC OHV engine.
The ergonomic design and adjustable features make it a top-notch machine made to make your mowing life much easier. You're also guaranteed a smooth mowing experience thanks to its hydrostatic transmission.
Most of the problems of the CC30H are easily looked over because its limitations are clearly stated by the manufacturer in the user manual (e.g. mowing on hilly terrain).
So in conclusion, yes, the CC30H is one of the best riding mowers out in the market today!

---
At A Glance
---
✔ Pros
Small, compact, and powerful
Easy to maneuver
Hydrostatic transmission
Ergonomic driver's seat
Excellent and adjustable cut
Can cut in reverse
Economical with fuel
Excellent for smaller yards
Decent price for its quality
✘ Cons
Not great for uneven terrain
Not great for larger yards
Reports of oil spillage
---
FAQs
---
How do I mow in reverse?
Turn the key to the center and push the triangle button next to the key and push the pedal back for reverse.
Will I really run into issues if the ground is uneven?
As long as you're not mowing on a hill or mound that is more than 15 degrees, you should be fine.
Can the CC30H plow snow?
If you're considering using the CC30H as a snow plower, you'll have to buy a separate accessory but as of this writing, I can't find such an accessory by Cub Cadet.
I recommend buying a separate snow tractor and to use the CC30H strictly for mowing.
---
You Might Also Like…
---
There are some wonderful riding lawn mowers on the market – check out my best riding lawn mowers round up to see which I like (hint – this is on the list!).
If you decide you don't need a riding mower you can check out my list of the best lawn mowers of the year as well.
You can also view my Site Index, which shows everything on my site on one page or use my recommended links below.
Useful Resources
How to Drive a Riding Lawn Mower – Hunker
Simple Ideas for Taking Care of a Big Yard – Homeguides
15 Landscaping Ideas for Large Backyard and Yard Areas – Zacs Garden