---
Review At A Glance
---
My EGO Plus Mower Review in seven words – the best cordless mower on the market!
MY RATING: 96%

---
Editor's Note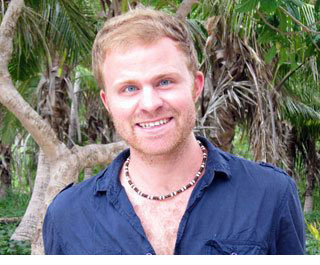 I hope you love the products that I recommend here! Just so you know, I work with Amazon and other affiliate partners and may be compensated from the links below.
---
---
Specifications
---
Power Type – Battery
Model – LM2000
Size (D x W x H in inches) – 21.6 x 16.1 x 37.4
Cutting Width – 20 inches
Front Wheel Size (in.) – 7
Rear Wheel Size (in.) – 10.25
Charge Time (mins) – 4.0Ah: 30, 5.0Ah: 37, 7.5Ah: 55
Run Time (mins) – 4.0Ah: 45, 5.0Ah: 55, 7.5Ah: 90
Maximum Cutting Height (in.) – 3.5
Minimum Cutting Height (in.) – 1.2
Warranty – 5 year on the mower, 3 year on the battery
PRICE GUIDE: $$
---
About the EGO Power Plus Mower LM2000
---
EGO Power Plus are part of the Chervon Group whose products retail in more than 30,000 stores in 65 countries across the globe.
The EGO brand was only introduced in 2013, but since then they have thrived and already sell more than 10 million units each year.
In line with environmental concerns and a cleaner greener world all EGO Power products use an Arc-Lithium Battery than can be interchanged between any EGO Power unit.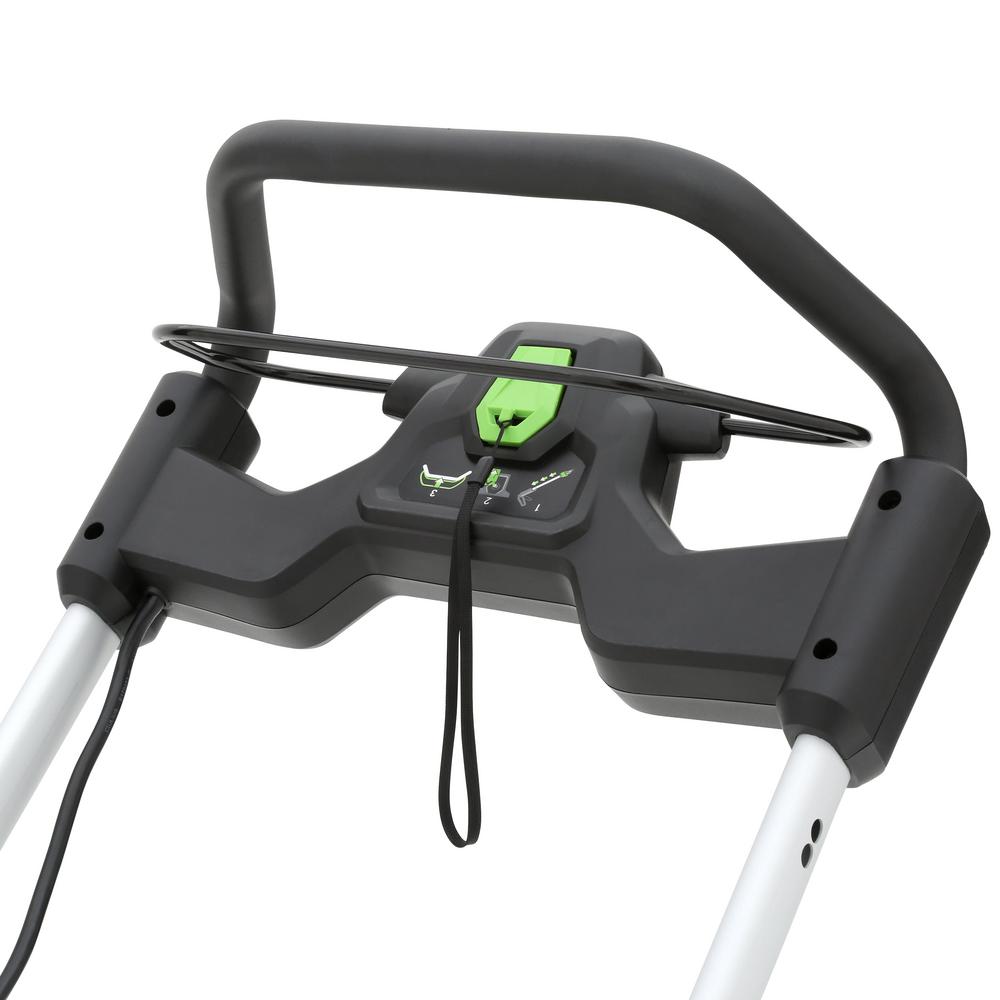 Above: The mower is part of a large range of EGO Power Plus battery powered products.
So let's dive in:
The EGO Power Plus LM2000 has a 20 inch cutting capacity and a 3-in-1 function that allows you to mulch, bag or side discharge your cuttings.
It folds flat for storage and has LED headlights. It weighs 52.8lbs and the cutting height can be adjusted from 1.2 inches up to 3.5 inches.
It is powered by 4.0Ah, 5.0Ah and 7.5Ah 56-Volt Lithium Ion batteries. With the 7.5Ah battery you get a 90 minute run time, with the 5.0Ah battery it is 55 minutes and with the 4.0Ah battery it is 45 minutes.
The 4.0Ah battery takes around 30 minutes to fully charge, the 5.0Ah battery, around 37 minutes and the 7.5Ah battery around 55 minutes.
---
The Good
---
Oh how I wish every cordless tool was like EGO Power's…
The battery is quite simply insanely good. The Arc Lithium technology EGO use is pretty much the best in the business. So let's tell you what you want to know.
In short:
These charge quickly and you get a really good run time. As mentioned charging time is as little as 30 minutes for the 4.0Ah battery and for that you get 45 minute run time.
The nice thing is the battery keeps running at full power until the charge goes – the power doesn't slowly dwindle.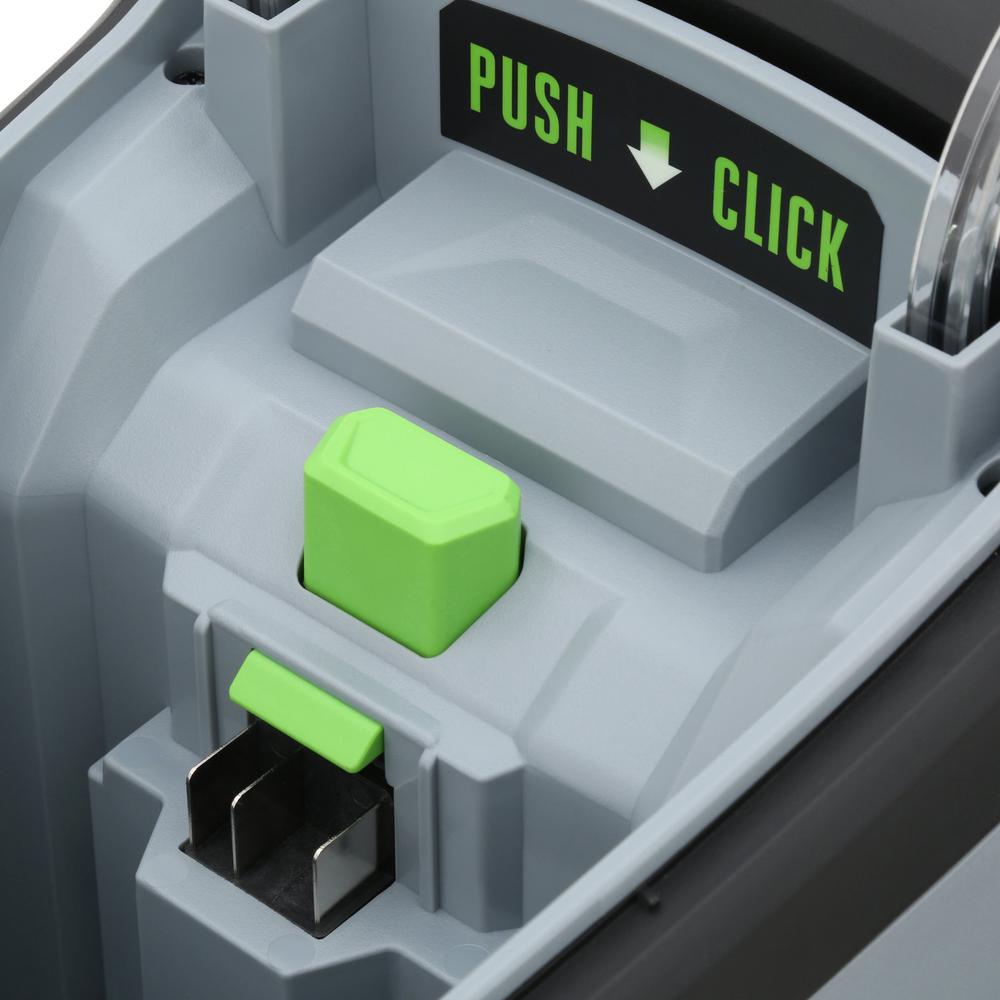 This is HUGE:
The design of the battery is innovative and a huge improvement on standard brick shaped batteries. The Arc shape means the cells aren't as closely packed together – this helps heat dissipate so the batteries don't overheat.
Another nice touch is the batteries fit on the outside of the mower not the inside so they stay cool that way as well. They are also have a resin coating to protect them from dust or rain, etc.
The batteries have a four stage LED indicator to show you how much charge is left, or how far they are in the recharging process.
On top of all this they are better for the environment and cheaper to run, as this interesting price comparison on the EGO Power website shows.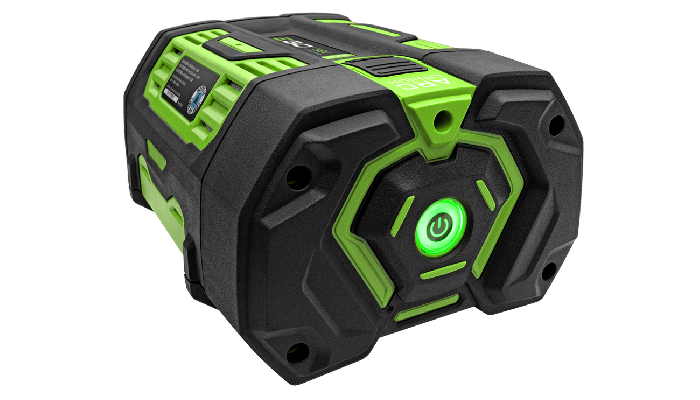 Above: The EGO Power Plus batteries are truly top class.
The icing on the cake?
You can swap the batteries between any EGO Product, such as the excellent weed eater and top quality chainsaw.
I really could go on about these batteries all day, so let's just leave it at the fact they are probably the best on the consumer market.
It really is that simple.
Aside from the thought put into the batteries the general build quality of this mower is sublime. I saw a few reviewers refer to it as the 'Tesla of mowers' and that description is pretty apt.
The engineering and design is really top notch and it feels like a top end mower (which it is). Despite it being so sturdy and evidently build with quality materials it is in no way heavy.
In fact:
It is actually really light (even if you compare it to some electric motors). Unless you have a particularly steep incline (I would say over 15 degrees), you won't miss the lack of self propelled wheels.
Actually the large back wheels and the fact you can raise the deck mean this is really easy to maneuver.
And this is where things get even better:
I've mentioned you can raise the deck and it is a delight how easy it is to do so – probably as easy as you will get on any mower.
In much the same way as the manual transmission on a car works, you just adjust the lever on the left hand side of the mower and raise or lower the deck accordingly.
Starting it is a breeze too. Push the button and grip the handle to start and you are ready to go. Couldn't be easier.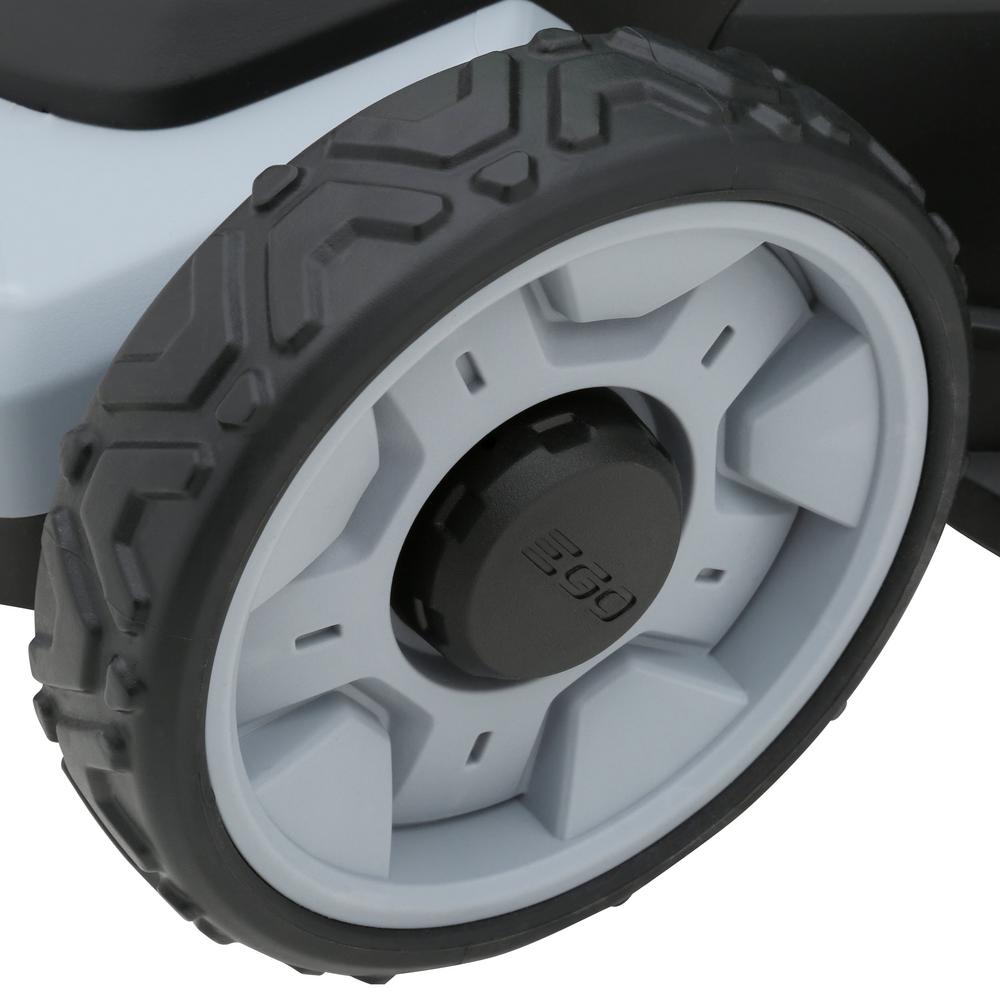 And guess what?
When you are done mowing your lawn this quickly and easily converts so you can fold it in half and store it upright.
When it is folded up the footprint is tiny – taking up next to no storage space.
Needless to say:
This is very powerful and should be able to deal with even the wildest and most overgrown lawn.
It slices through thick and tall grass with no fuss and delivers performance on par with a gas mower. Of course bear in mind that the thicker grass will use up more of the battery, but for normal grass you get a nice smooth cut.
The blade rotates very fast and as such the cut is much crisper and cleaner than many mowers.
To top it off:
The 3-in1 function allows you to mulch, side discharge or bag your cuttings. The mulcher is of a good standard, with nice fine cuts and no clumps of grass left behind. It struggles a little picking up dead leaves though.
Above: The EGO Power LM2000 folds up neatly for storage.
As a little note the mulcher attachment comes already packaged sitting inside the mower so make sure you remove it before you start cutting.
If you decide to use the rear bagger it is easy to put on and take off and holds a lot of cuttings. There are a couple of issues with the side discharge clogging though and I go into those a bit further below.
Lastly:
There are several other little bonuses you get with this mower. It has nice LED headlights, most battery powered yard care tools are quiet and this one is especially so and you get an exceptional warranty. Five years on the mower and three years on the battery.

---
The Not So Good
---
Now of course this isn't perfect.
I alluded to it above but there is an issue with the discharge chute clogging a little.
If you have thick grass or cut grass when it is damp you might find yourself have to semi regularly turn off the mower and fish out the clippings that get around the base and affect the blade.
This probably won't be a problem if you live in drier or warmer climates.
And:
The cutting height range might be an issue for some too. It is really more for those who like having low to medium height grass as the maximum cutting height is 3.5 inches.
If you like your grass a bit taller it might not be for you.
This could be a problem:
Also this has a big edge clearance – the design of the front of the mower means you will struggle to get within 3 inches of items directly in front of it. You might need to have a string trimmer as well if your yard has a few obstacles.
Personally I find the handle a little uncomfortable. It has two height settings and even when it is at its lowest setting it is a bit too high and slightly harsh on the hands and wrists as you have to squeeze it to keep the power going.
I would prefer multiple height adjustments.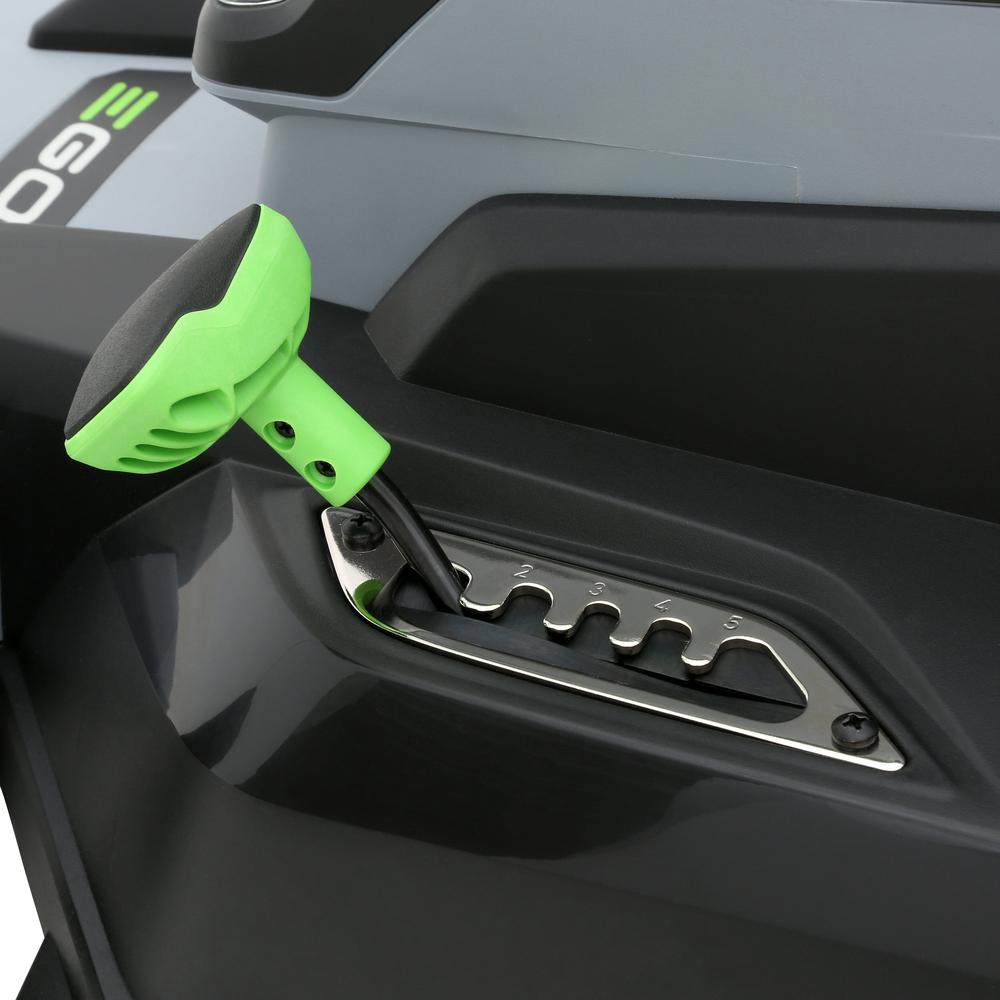 Above: The charger is quite noisy and the cutting height limit is 3.5 inches.
Finally:
Everything about the battery is great but the charger has a fan on it that prevents the battery from overheating. It is loud and if you have the charger indoors you will definitely hear it.
Finally I never had to deal with this, but I've read a few reports of customers saying Customer Service was not as responsive as they would like. I cannot verify this though.
---
At A Glance
---
✔ Pros
Battery charges quickly

Battery has a good run time

Innovative battery design

Can interchange battery between EGO Power Products

Wonderful build quality

Light and easy to maneuver

Easy to change cutting height

Easy to start

Folds up to very compact size

Good amount of power

Crisp cut

Mulches well

Nice headlights

Quiet

Great warranty
✘ Cons
Does clog too easily

Restrictive cutting height range

Sizeable edge clearance

Handles is a bit uncomfortable

Noisy battery charger

Customer service could be better
---
Conclusion
---
My Verdict
Design - 97%
Performance - 97%
Price - 94%
96
%
Best battery mower around
There is a reason I picked this as my favorite cordless mower in my look at the best lawn mowers of the year.
When you are considering a cordless mower then you want the battery system to be top quality right? This smashes it in that respect.
You want a decent amount of power too correct? Again this gets a big tick.
You want it to cut nicely and be easy to use? Yep you are right this scores well in that respect too.
It is a wonderfully designed and engineered battery powered mower.
This EGO Power Plus mower will shatter you preconceptions about cordless mowers, it really is that good.

---
FAQs
---
Can I leave the batteries charging when it is not in use?
Yes – the batteries cannot be overcharged, so you don't have to worry about that.
Does this require assembly?
No it is pretty much ready straight from the box.
What is the life expectancy of the batteries?
This all depends on the number of times you recharge it so it is difficult to say. However note the battery does have a three year warranty.
Does this have a brushless motor?
No (although it seems like it!). It has long wearing brushes that require next to no maintenance.
---
You Might Also Like
---
Almost as good is the Snapper XD 82V, which gave this EGO Power Plus Mower a real run for its money in my roundup of the best lawn mowers of the year.
If you want a good gas powered mower then check out the Honda HRX2178K5VKA, which is as good a gas mower as this is a cordless mower. For a nice electric mower the Greenworks 25022 is definitely worth considering and if you want to go old school the Great States 415-16 is a lovely push mower!
I have rounded up a whole host of lawn mower such as the best push lawn mowers, the best riding lawn mowers and the best lawn mowers for hills.
Remember there are a whole number of factors to consider when buying a lawn mower and some natural ways you can improve your garden soil.
If you want to see a summary of what is on my site all on one page just jump over to my Site Index.
Useful Resources
Cordless Lawn Mowers Have Many Advantages – LA Times
Battery Powered vs Gas Lawn Mowers – The Spruce
How to Mow a Lawn the Right Way – Dummies