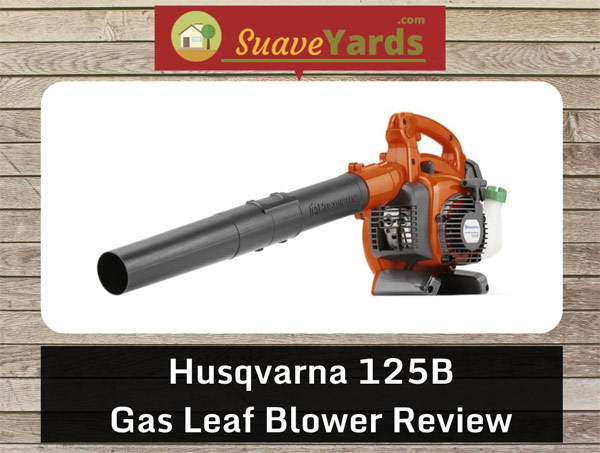 ---
Review At A Glance
---
The Husqvarna 125B Leaf Blower is compact and powerful. Easy to carry and reliable, you won't be disappointed by it.
MY RATING: 88%

---
Editor's Note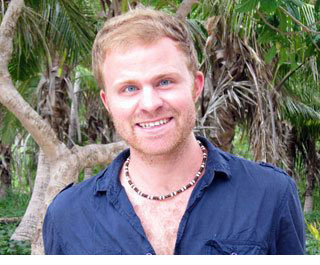 I hope you love the products that I recommend here! Just so you know, I work with Amazon and other affiliate partners and may be compensated from the links below.
---
---
Specifications
---
Power Type – Gas
Model – 125B
Dimensions (inches). Height – 13.4. Width – 8.1. Length – 14.9.
Weight – 9.4lbs.
Engine Type – 2 cycle.
Engine Size – 28 cc.
Power – 1.1hp
Displacement – 28cm³
Air Flow – 425 cubic feet per minute
Air Speed – 170mph with flat nozzle. 130 mph with round nozzle
2 Year Warranty
PRICE: $$
---
About the Husqvarna 125B
---
When you get the Husqvarna 125B all you need to do is fit the blower tube. Aside from that it is ready to go.
Jumping right in:
There are two nozzles, the flat nozzle is faster and more powerful, I found it more useful for flat surfaces whilst the circular nozzle is not as powerful and is more appropriate for general yard work.
Slide it on and give it a slight twist and the nozzle is locked into place. There are two notches to adjust the length of the tube (dependent upon how tall you are/how long your arms are!). Add the oil that is provided and you are good to go.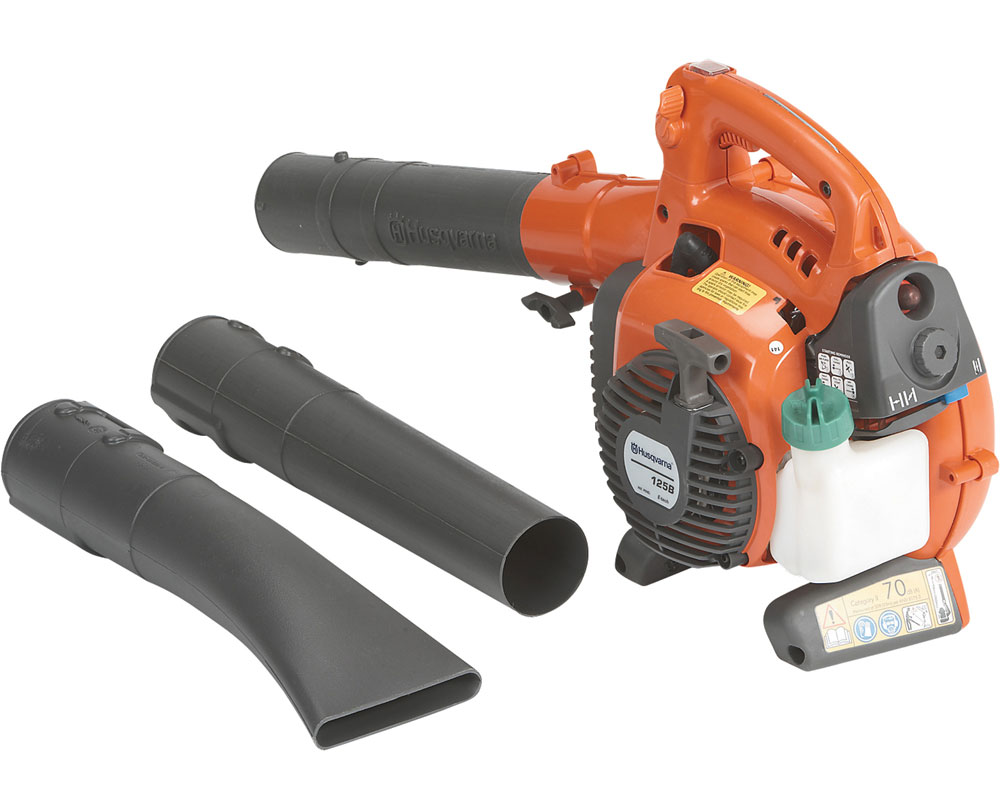 To start for the first time you need to press the primer bulb, located on the back of the unit, ten times – this is to push air bubbles out of the fuel line for an easier start.
Next:
Move the choke lever to the full choke position, grip the rope starter handle and slowly pull it out (making sure you don't squeeze the throttle trigger) until you feel some resistance, then quickly and powerfully pull the cord.
Pull the starter handle no more than three times, then move the choke to the ½ position and pull the cord until the engine starts and runs. Once the engine has warmed up for around ten seconds move the choke to the off position.
Good news:
Starting a warm engine is slightly easier. Squeeze and hold the throttle trigger, move the choke to ½ position and pull the starter cord sharply while squeezing the throttle trigger until the engine runs. Then move the choke to the off position.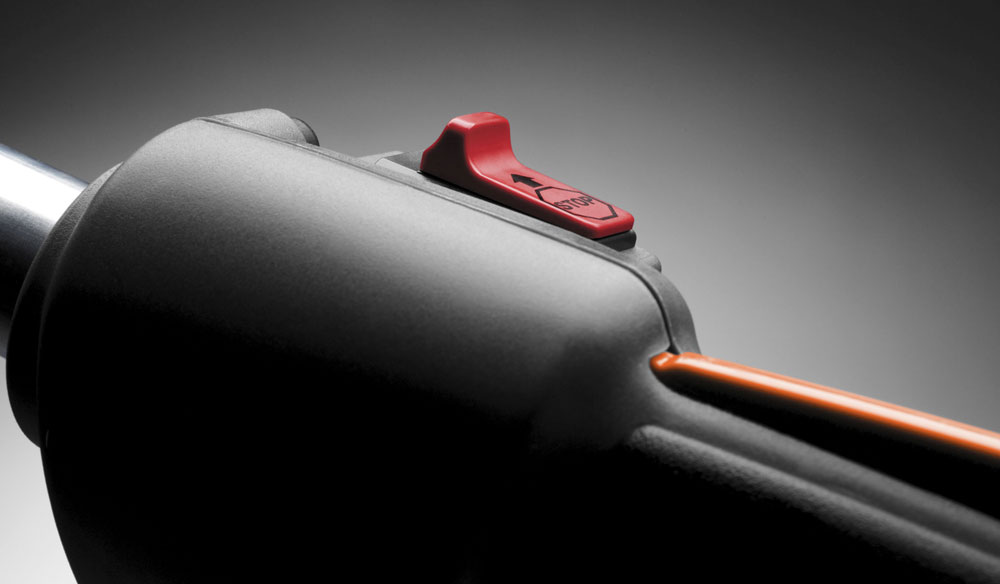 There is a variable speed control, high and low – it is advised you keep it on low over long use, I generally did although switched it to high when dealing with wet leaves and cut grass.
And:
The throttle is under the handle and it has a cruise control option which holds the throttle in saving you having to do so. The choke is located below the air filter cover.
The gas tank is on the left hand side of the leaf blower and the fan on the right hand side.
---
The Good
---
The first thing you will notice about this Husqvarna is it is really easy to assemble, just slip on the relevant nozzle and lock it into place and then add the gas. This means you can be ready to go within five minutes of it being delivered!
I can't stress this enough:
I found it started really easily first time from a cold start. Everytime I tried to start it it was going within 3 or 4 pulls of the start cord – a nice surprise compared to some gas leaf blowers.
It has a three setting choke – the first is to get the engine cranking over, the second is to warm it up and the third is to get it running.
Bonus point:
As far as gas powered blowers go this is lighter and thinner than most of its competitors, weighing in at under 10lbs.
It has a slim design and is light enough to manipulate with one hand without any problems, and comfortable to hold.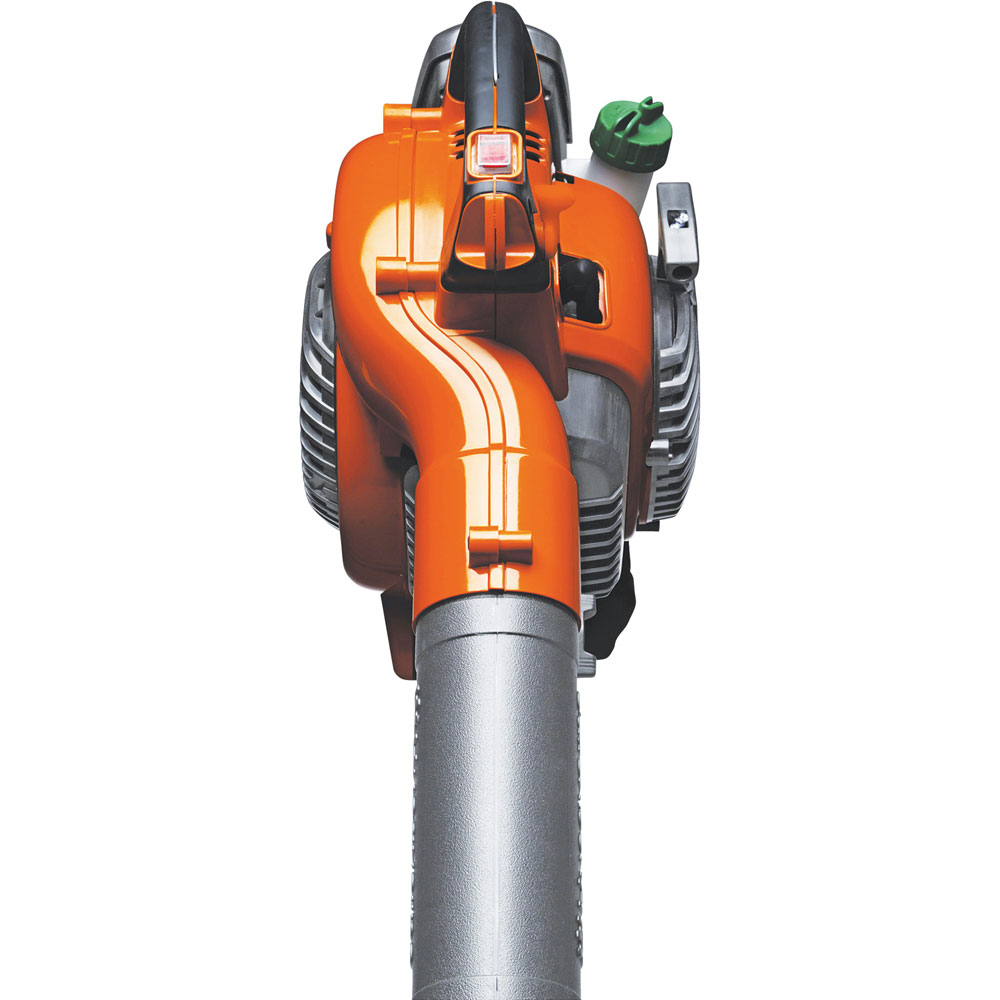 Despite the compact design and the relatively light weight this packs a punch and has all the power you need to get the job done.
The flatter of the two nozzle operates at 170mph, so you won't have any problem clearing your driveway or yard.
Want to know a dirty little secret?
Something I liked about the Husqvarna 125B is that the air intake/fan is on the right hand side.
Most handheld blowers have the air intake on the left, so if you are right handed as the majority of the population are, you have an issue with the air intaking sucking into your pant leg! Switching it to the right means this doesn't happen (unless you are left handed, in which case beware!).
The cruise control button is a nice feature and handy if you have a long driveway or yard.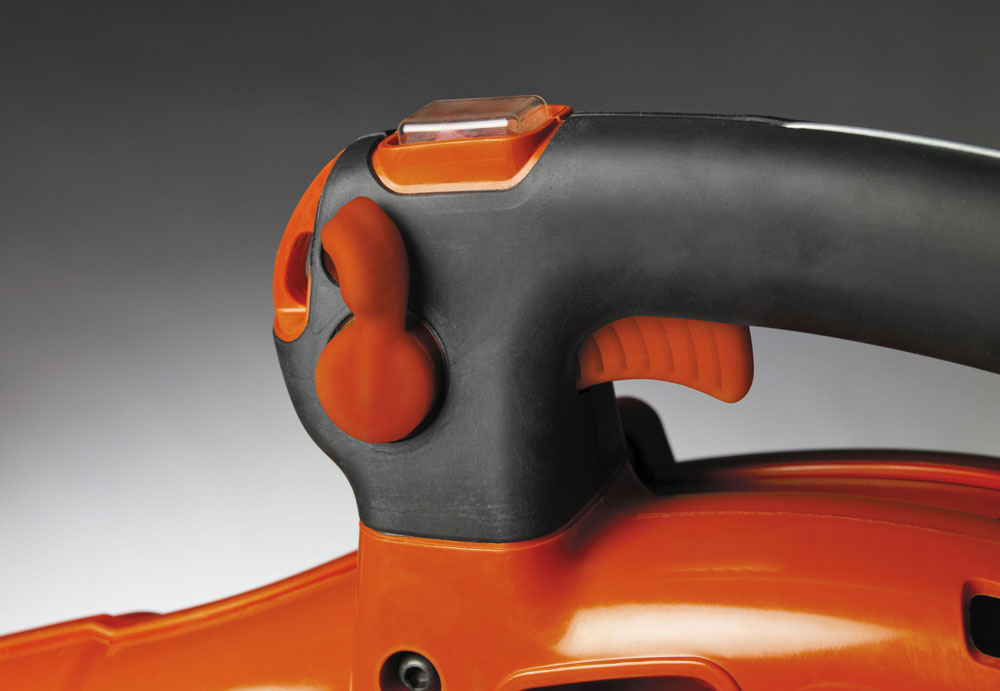 Finally:
Husqvarna are a very trusted brand name – who have the reputation of producing high quality products, which should give you peace of mind if you invest in this.

---
The Not So Good
---
Ok I am going to be 100% honest now:
My bug bear with this is the extension nozzle comes off occasionally. It happened a couple of times for me, even after re-tightening the screw and nut it seemed to vibrate its way free again later.
It doesn't take long to put it back on, and to be honest it could just be my poor efforts at attaching it, but it was annoying.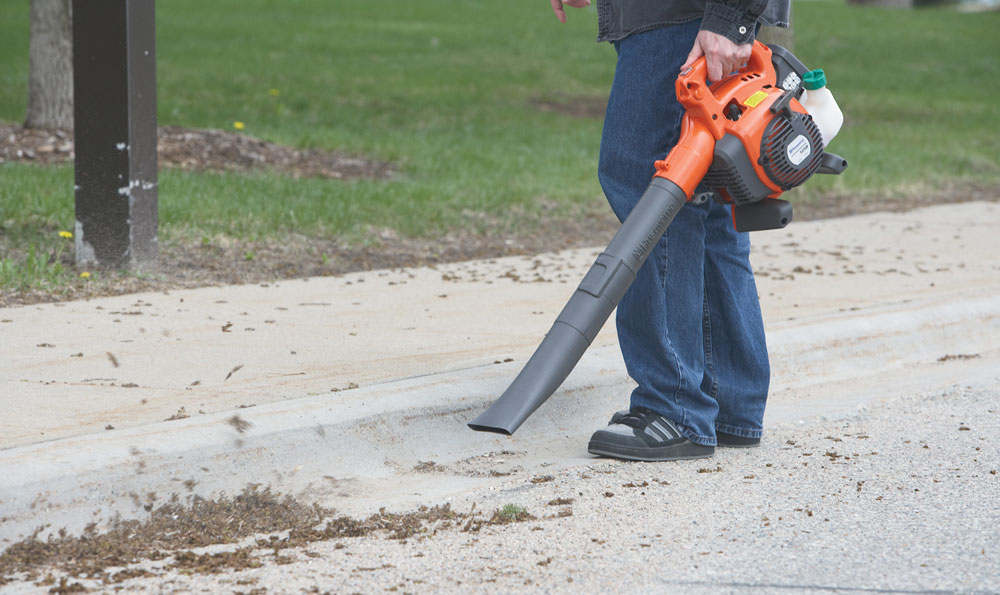 You might need to do some fine tuning to get the blower running properly, and if this is the case you need to get a special tool to adjust the carburettor.
Then it is case of adjusting one of two screws slightly (maybe half a turn) to get it firing on all cylinders.
It is fairly simple, but annoying.
Obviously it would be better if you didn't have to adjust a new piece of equipment (and you might not have to), but when it is done the blower runs great.
The exhaust position might be a problem. It is located on the front under the blowing tube.
Ouch!
I accidentally burnt my hand once as I inadvertently put it there – however as the old saying goes, 'once seen never forgotten'! I didn't make the same mistake again.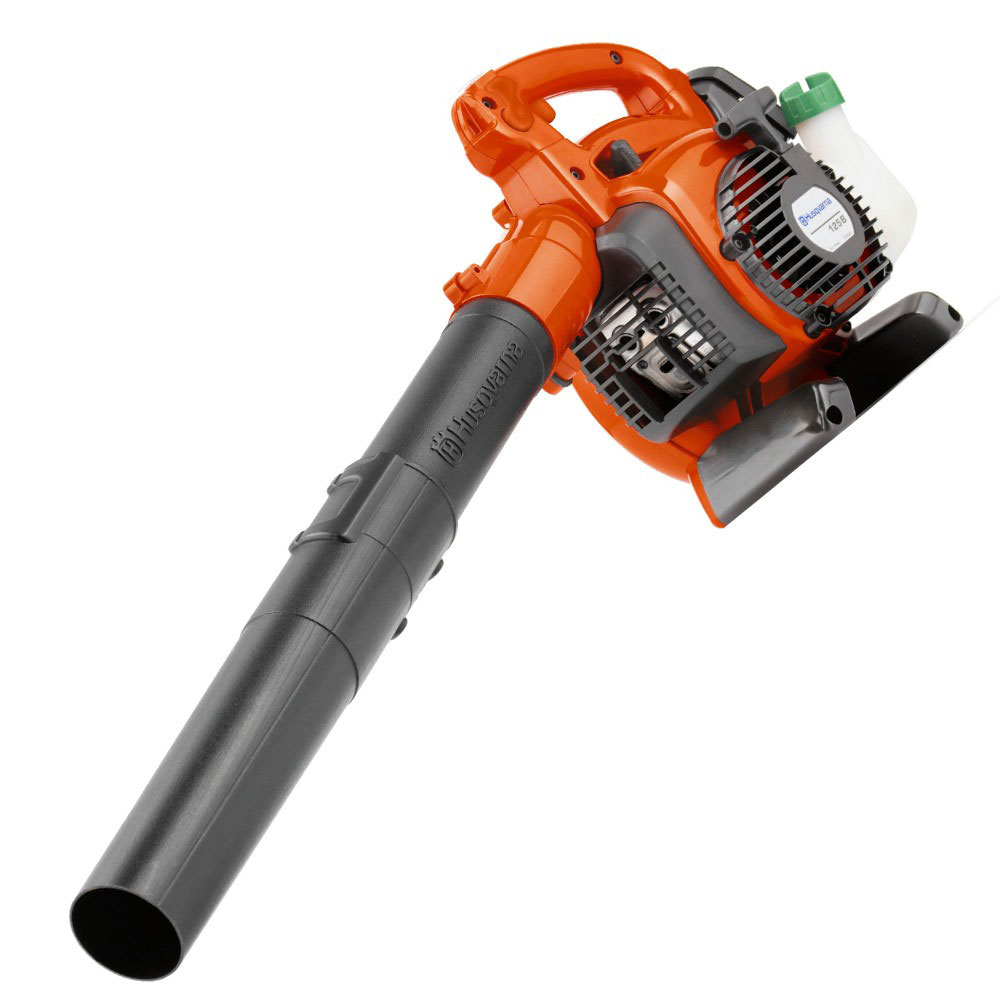 Finally it is vital you remember to use gasoline/2 stroke oil with this, DO NOT USE ETHANOL has as it will cause issues and, according to some research I did, it will break it!
This is HUGE:
It also voids the warranty. I don't think this is made clear enough on the packaging or instructions – so try and remember it.
---
At A Glance
---
✔ Pros
Easy to put together
Easy to start
Slim design and light
Powerful
Air intake on the right makes it easier to use
Cruise control a nice feature
Husqvarna are a trusted brand
✘ Cons
Extension nozzle can come off
Carburettor may need adjusting to get it running properly
Exhaust could be in a better position
Using the wrong gasoline could break it!
---
Conclusion
---
My Verdict
Design - 90%
Performance - 88%
Price - 88%
89
%
Great for average size yards
This is a very powerful and well designed leaf blower. Light enough to easily carry around your yard, but certainly powerful enough to do the job well. As with most Husqvarna products it is well made and reliable too.
If you have a larger garden then you might want a backpack style leaf blower, but if you don't have a convenient plug and want something that will quickly and efficiently clear a small to moderate sized backyard this is ideal.

---
FAQs
---
Does this have a vacuum function?
No it is just a blower and it is not vacuum capable either
Can this be used as a mulcher?
No it is just a leaf blower.
Does it require assembly?
No simply slide the relevant blower tube on and lock into place.
Does it come with a shoulder strap?
No, no strap is include – it would need to be bought separately.
How long will the engine run on a full tank of gas?
At a guess, based upon my own usage – maybe around an hour and a half of constant usage.
---
You Might Also Like…
---
Check out my look at the Best Leaf Blowers of the year to see if there are any other Leaf Blowers you might want to consider. To the right are a list of general resources that maybe be of use.
You can also view my Site Index, which shows everything on my site on one page, or check out my recommended links below.
Useful Resources