February 5, 2020
Makita XBU02PT1 Cordless Leaf Blower Review: Can This Outstrip Gas Blowers?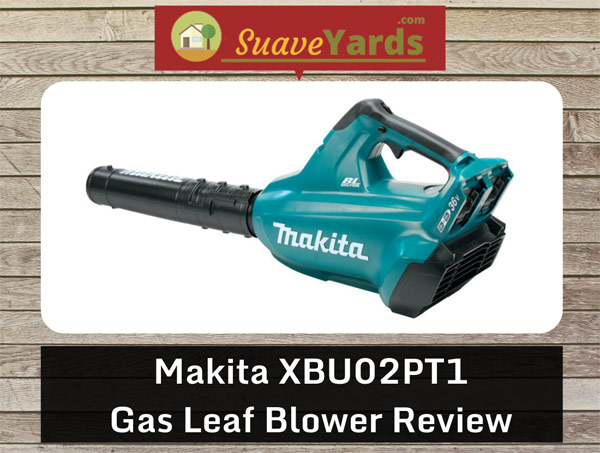 ---
Review At A Glance
---
The Makita XBU02PT1 is a cordless leaf blower with hurricane like power and ultra definable speed control – one of the best on the market..
MY RATING: 94%


---
Editor's Note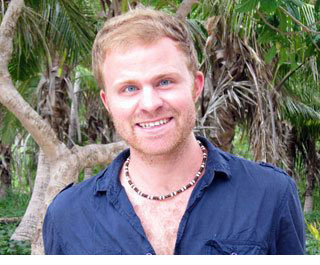 I hope you love the products that I recommend here! Just so you know, I work with Amazon and other affiliate partners and may be compensated from the links below.
---
---
Specifications
---
Power Type – Battery
Model – XBU02PT1
Max Voltage – 36v – 2x 18V LXT battery
Charge Time – 2Ah 25 mins, 3Ah 30 mins, 4Ah – 40 mins, 5Ah – 45 mins
Run Time – 5Ah – 28 minutes
Air Speed – 120mph
Air Volume – 473CFM
Speed Control – Six
Weight – 9.9lbs
Three Year Warranty
PRICE: $$$

---
About the Makita XBU02PT1 Leaf Blower
---
Makita has been in business for just over 100 years now, having been founded in 1915.
Distributing in over 40 countries they are notable for making the first ever rechargeable power tool way back in 1969 when they made a battery powered drill. This came just nine years after the release of their first power tool – an electric planer.
They now employ almost 15,00 people and in 2015 reached 100 power tools sold under their brand.
So let's get started.
The Makita XBU02PT1 is a battery powered leaf blower. It is powered by two 18V Lithium Ion batteries which give you 28 minutes run time (based on using two 5Ah batteries at the mid-speed setting).
Above: The Makita XBU02PT1 comes with a charger for two batteries.
Talking of speed this has an air velocity dial that can be adjusted to any one of six speeds plus it has a variable control trigger.
Switching back to the batteries for a second the charge times are as below:
5.0Ah – 45 mins

4.0Ah – 40 mins

3.0Ah – 30 mins

2.0Ah – 25 mins
The 18V batteries can be switched between any Makita product that uses the 18V power system.
Digging a little deeper:
This delivers up to 120MPH of air velocity and 473CFM of air volume. It has a telescopic nozzle that reaches up to just under 27 inches long and it weighs 9lbs.
It comes with a three year warranty.
---
The Good
---
Truth is:
Not all leaf blowers are made even, where the Makita XBU02PT1 really excels is in its speed control.
Makita have obviously put a lot of thought into the controls and it shows. The speed control is set via a dial that has six speed settings, which will come in handy depending upon the size of the job you need doing.
Settings 1 and 2 are for light duty jobs, blowing away dust for instance, without disturbing other materials nearby. Settings 3 and 4 are probably what you will use most often for general cleanups and Settings 5 and 6 are for those heavy duty jobs where you need a lot of power.
But remember:
The higher the setting the more battery power you are using up.
What makes it even better is that it has a variable speed control trigger, so even when you have decided on your speed setting you can further control it via the trigger.
In short it gives you TOTAL control.
Above: The Makita has a great battery
So the BIG question.
What is the power like?
The answer?
Very good – very good indeed. Cast away any misconceptions that battery powered blowers can't be powerful.
It probably does fall just short of the top gas powered blowers, but it outstrips nearly all battery powered blowers and electric blowers.
Don't believe me?
Turn this thing up to its top power setting and feel the backdraft as your arm is thrust back! The 473CFM is immense and you can clear huge piles of wet, heavy leaves in no time at all.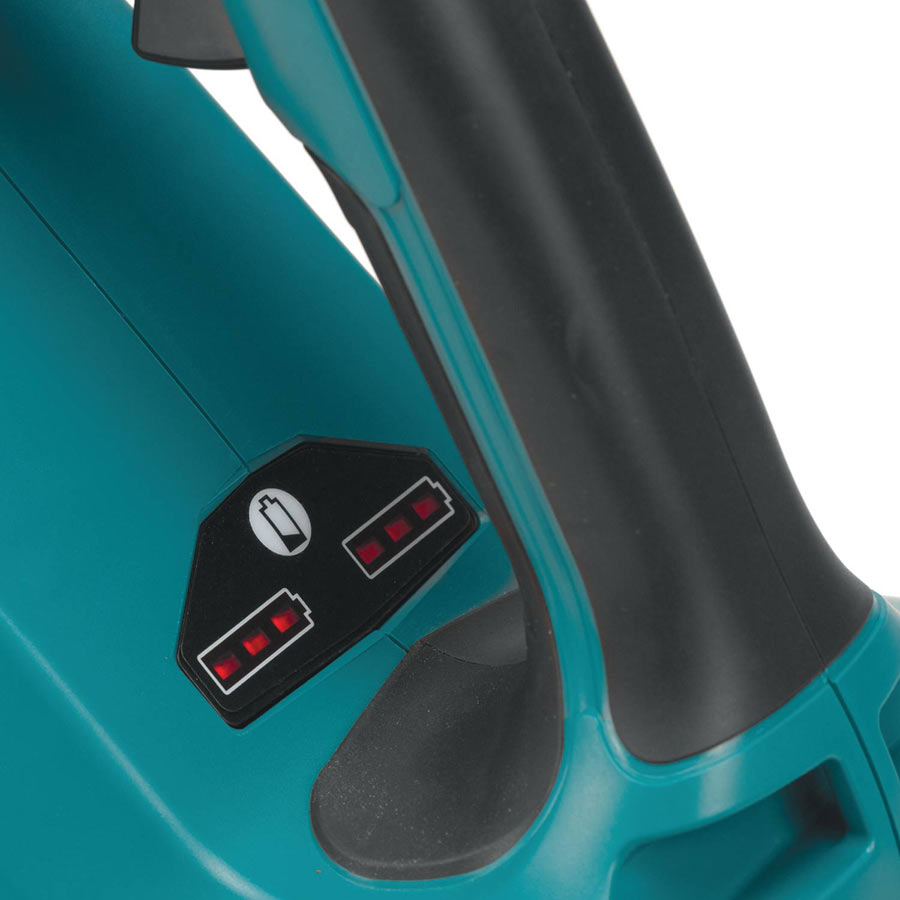 Above: The unit has a nice comfortable feel and clear controls
What is even better is that it is very quiet for the power it generates – far quieter than gas powered blowers, so you don't need ear defenders.
If you want to be specific the sound pressure rating is 61 dB(A).
The thing is:
For the power you get you would think the batteries would quickly be running out, but they aren't.
Ok used continuously on the high setting you might only get 15 minutes run time, but on the lower settings you can get 45 minutes run time from them.
A full charge of a battery will take from 25 to 45 minutes depending upon the battery capacity,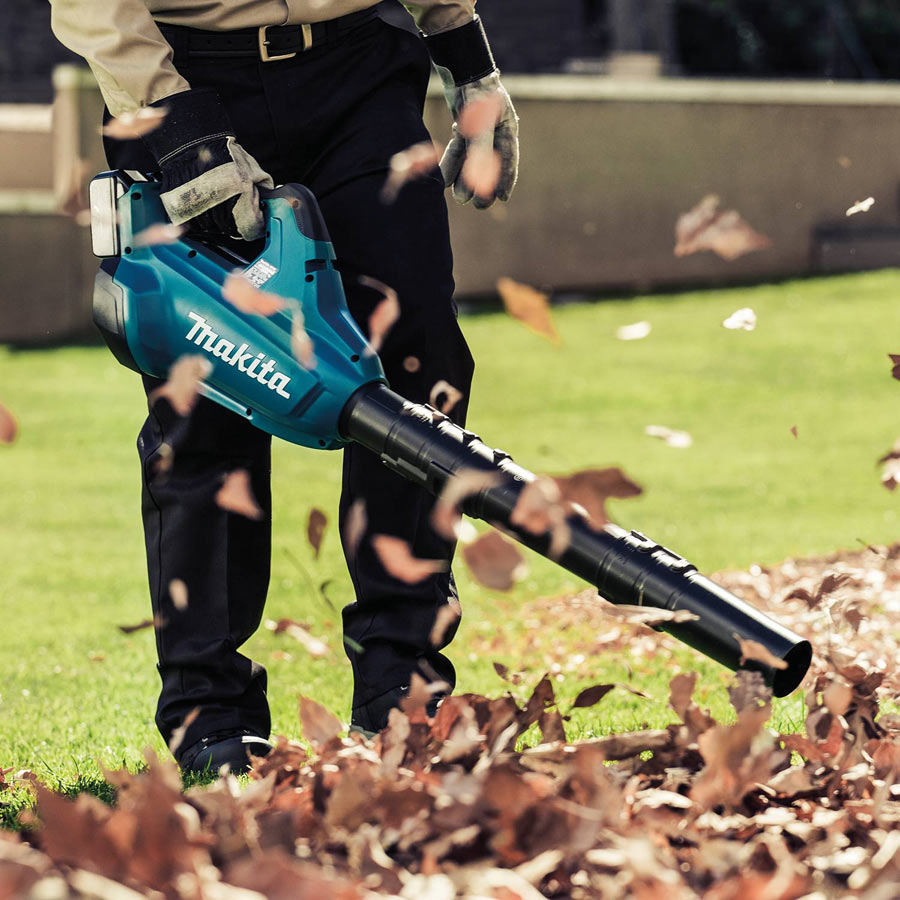 Above: You do get a lot of power with this leaf blower!
Beyond that :
There are lots of other things to like about the batteries.
The catchily named Makita Star Protection Computer Controls monitor the battery when it is in use and basically prevent overloading and overheating and the Phase-Change cell wraps keep the battery cool when in use or charging.
The batteries handily display the charge level so you can see how much use they have left.
But the kicker is:
You can interchange the batteries between any Makita 36v and 18v tool. Seeing as, in 2015, Makita released their 100th 18v tool you can see the range of equipment you can use these batteries with is massive.
The brushless motor plays a part in optimizing the battery usage and as it has no brushes it runs cooler and more efficiently.
In fact the motor as a whole seems quite impressive, as mentioned the sound is minimal and it feels smooth and produces next to no vibrations.
This also has a wonderfully quiet vortex fan that helps the control of the air flow.
Above: All in all the Makita XBU02PT1 is a great leaf blower
All in all it is pretty impressive.
Neat little touches like the buttons on the side of the handle that lock in the trigger to give you cruise control, elevate this above other cordless leaf blowers.
One button locks the speed at 100% of the throttle whilst the other locks it in at 50%.
It also comes with a long tube and a short tube and both of them can be adjusted and used individually or together – the result is you can adjust your output tube to pretty much any length you want.
Beyond all of that.
This is a really good deal. Although the price may seem high at first you must remember you get the blower and four batteries (and a charger) – the batteries on their own would cost close to $300.
I've always like Makita tools – the nearly always are durable, work well and are well engineered and this cordless leaf blower is no different.

---
The Not So Good
---
The main issue with the Makita XBU02PT1 is that with prolonged use it will fatigue you after a while as, whilst it isn't really heavy, it is also not lightweight.
It is designed for one handed use, when probably it needs to be used two handed for longer jobs.
Because of the power it means you get most jobs done quickly, so it shouldn't be too much of an issue, but it is worth remembering.
Aside from that:
My complaints are fairly minimal. One of them is the position of the air intake – it is on the back of the blower.
That means, if you are wearing loose clothing, and pass it in front of yourself you find the clothing being sucked into the air intake.
Nothing major, just a bit annoying.
Aside from that the plastic extension tube feels rather flimsy and whilst the speed settings are great if you need to change from low to high speed quickly you do need to cycle through all the other speeds first.
Finally it is pricey, but as I said you do get a lot for your money.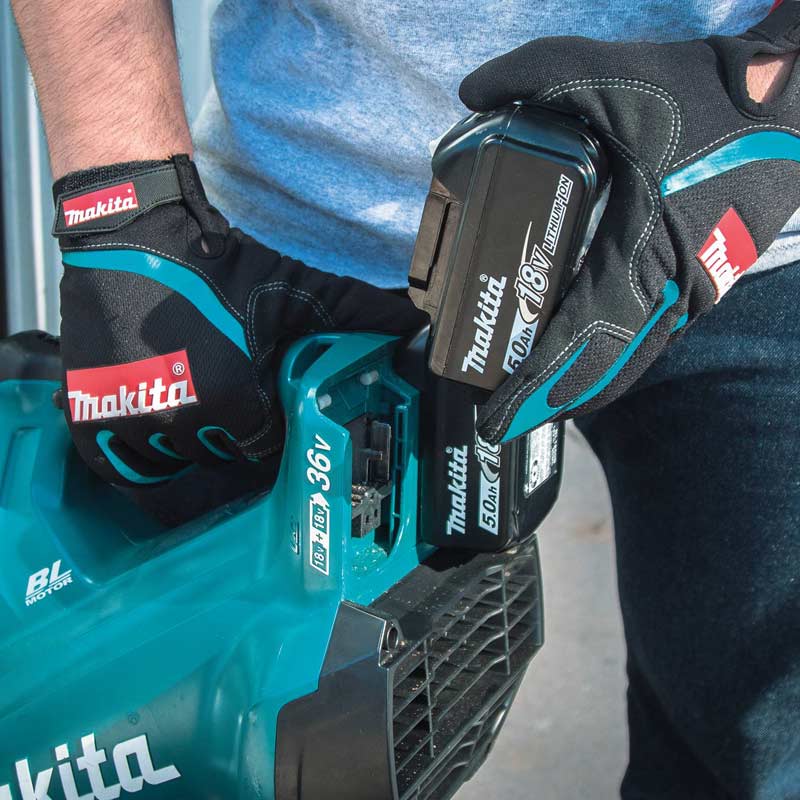 Above: The air intake could be better positioned
---
At A Glance
---
✔ Pros
Great speed control
Variable control trigger
Lots of power
Quiet
Good battery life
Batteries are quick to charge
Can use batteries in around 100 Makita tools
Nice brushless motor
Smooth to use
Cruise control
Fully adjustable nozzle
Good package deal
Trusted Makita brand
✘ Cons
Will feel fatigued after long use
Only designed for one handed use
Air intake could be better positioned
Plastic extension tube is slightly flimsy
Switching from low to high speed isn't instant
---
Conclusion
---
My Verdict
Design - 94%
Performance - 96%
Price - 92%
With fantastic and ultra defined blowing control the Makita XPU02PT1 should be right at the top of your list if you are looking for a battery powered leaf blower.
The cherry on the cake is this comes with four batteries, and you can interchange them between more than 100 Makita products.
So if you already own any Makita 18v or 36v tools it is a no brainer - get this!
To be blunt this is one of the best cordless blowers you will get and it even outstrips many gas powered blowers.
Will be a great opton for 90% of all yards - the only exceptions will be the 10% who have a huge yard!
Otherwise, it is a top choice.

---
FAQs
---
How long will this run on the highest setting?
About 15 minutes on 5.0Ah batteries.
Does this work with one battery?
No it needs two batteries installed to work.
Does this clear snow?
It will clear light, dry snow.
Will the charger charge two batteries at once? Or only one?
The charger can charge one or two batteries at once.
---
You Might Also Like
---
This vies with the Snapper SXDBL82 for the title of the best cordless leaf blower.
For alternative options the WORX WG520 is a top class electric leaf blower and the Husqvarna 580BTS is the almost perfect gas leaf blower. Get one of these three and you can't go wrong.
If you are buying a leaf blower there are a number of factors you need to think about to ensure you get the best blower for your needs.
Don't forget there are also some great leaf blower mulchers if you are looking for some good mulch to improve your lawn.
Finally to see everything on one page check out my Site Index.
Useful Resources