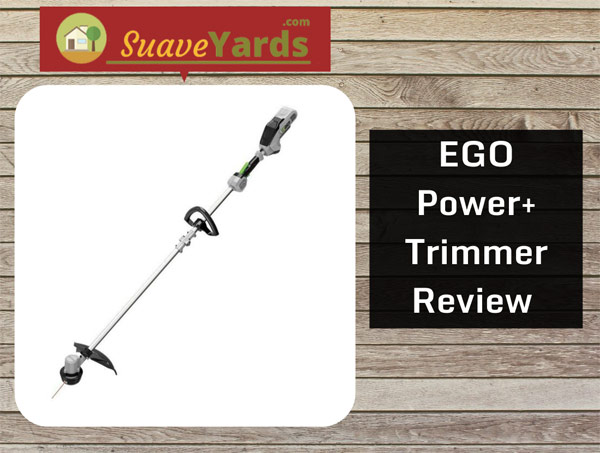 ---
Review At A Glance
---
MY RATING: 95%

---
Editor's Note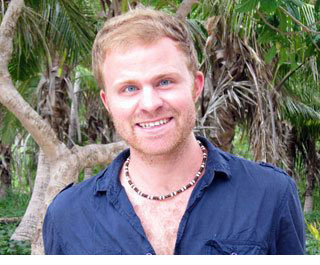 I hope you love the products that I recommend here! Just so you know, I work with Amazon and other affiliate partners and may be compensated from the links below.
---
---
Specifications
---
Power Source – Battery
Model Number – ST1500
Size (w x h x d inches) – 11.22 x 59.6 x 6.3
Line Diameter – 0.095 inches
Cutting Path Diameter – 15 inches
Number of Trim Lines – 2
Shaft Length – 49 inches
Battery Type – Lithium Ion
Battery Run Time (2Ah) – upto 45 minutes
Battery Recharge Time (2Ah) – 40 minutes
Weight (inc. battery) – 9.7lb
Voltage – 56v
5 Year Residential Warranty
PRICE: $$$
---
About the EGO Power String Trimmer
---
To cut to the chase:
With a 56-volt Lithium-Ion battery and a high-efficiency brushless motor the EGO Power String Trimmer is one of the most powerful battery powered weed eaters out there. The motor is variable speed and produces 5500 rpm of cutting power.
The 56v battery gives up to 45 minutes of run time and fully recharges in 40 minutes. It has a dual twist 0.095inch string line and a bump head feed line with a 15 inch cutting swath.
Even better:
The battery is full switchable between any EGO Power tool you may have and it has a 49 inch extendable aluminium shaft. It weighs in at 9.7lbs with a battery.
It is really easy to load the line and get started and 16 feet of professional grade, dual-feed, line is included. This thing is pretty powerful so I'd advise you wear a reasonable amount of clothing (ie long trousers!) and maybe some kind of eye protection.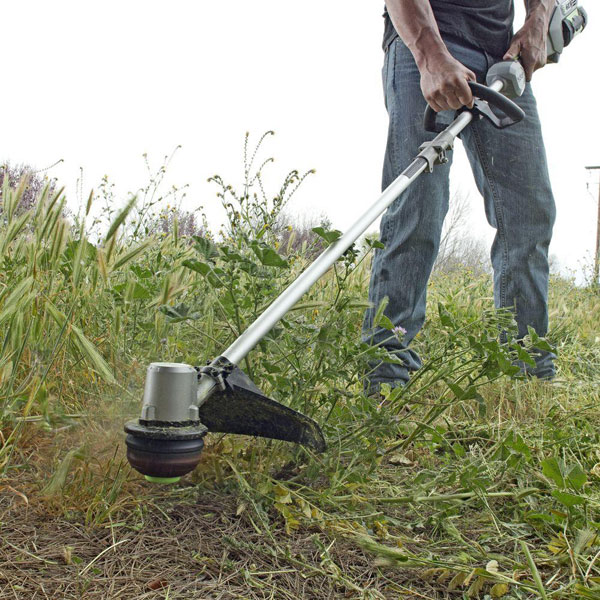 ---
The Good
---
If you have read any of my Buyers Guides you will see that I hold EGO Power in very high regard.
They continually produce battery powered products of a very high standard (ie the EGO Power + Leaf Blower) and this is no different – there is a lot to like about this weed eater.
So let's get cracking:
Seeing as this is a battery powered weed eater I think it is most appropriate to start with the battery, which is possibly the best rechargeable battery on the market and certainly it is the first 56-volt Lithium-Ion battery used in a device like this.
The 2Ah battery reputedly takes 40 minutes to full charge, but I actually think it might even be less than that – closer even to 25 minutes. This gives it a massive advantage over other products whose batteries take much longer to charge.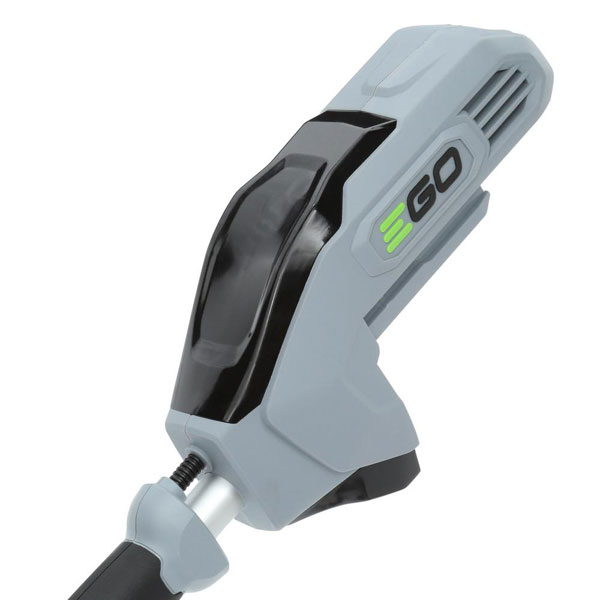 Above: The EGO Power String Trimmer has a fantastic battery. It slots in the space underneath the handle (above left)
Depending on the power level you use this battery at (this device has variable speed levels), you can get somewhere between 30 and 45 minutes use out of it, which again is a fantastic return and far better than pretty much all of its competitors.
It really is that good.
In addition the battery is small, compact and light, it shows red when it needs charging and the charger has a cooling fan to prevent overheating.
All in all the battery is top notch in every aspect and you can immediately tell this is a quality string trimmer.
This battery, along with a brushless motor that reaches a cutting speed of up to 5500rpm, means the Ego Power has a whole lot of power.
Think I am exaggerating?
When you open it up and have it at full throttle it literally slices through heavy weeds and tall grass effortlessly, then you can ease the throttle off and it will deal perfectly with lighter grass. The power and performance is on a par with a 28cc gas trimmer.
For the amount of power this puts out it is incredibly smooth, with next to no vibration. This due largely to the fact that the motor is on the head, unlike many trimmers that have a shaft running from one end to the other.
Fact is:
You will not feel fatigued after using this despite the fact it is a little heavier.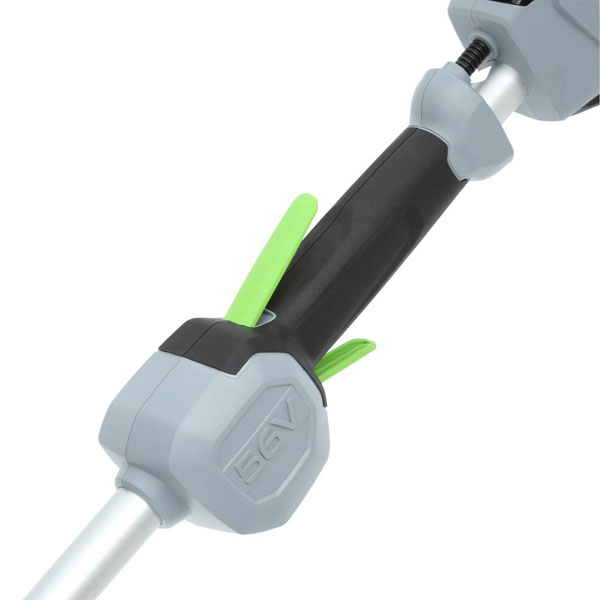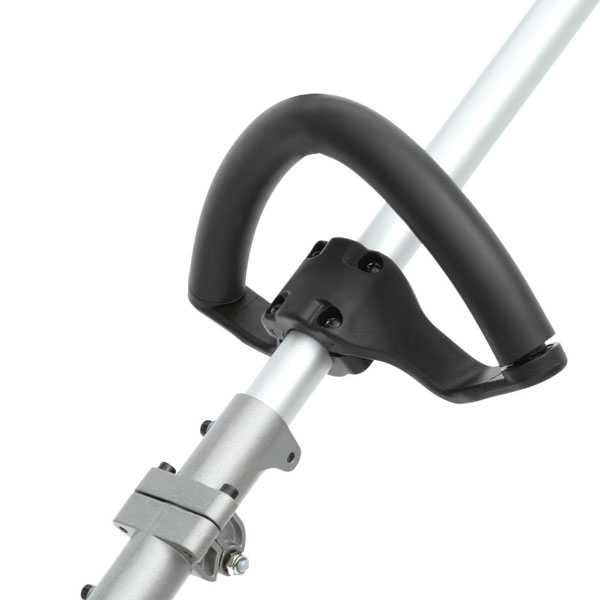 Above: The throttle function (above left) is great and the handle (above right) is well designed.
With the straight shaft design and the motor at one end and the battery at the other this is really well balanced.
What does this mean for you?
It means it handles better and, despite the fact it is a little heavier than its competitors, it is so easy to use and you won't feel fatigued at all when you are done trimming.
The 0.095 inch line is durable and can deal with a lot of hard work without wearing too quickly. I like the fact it is double line and the bump head feed works nicely.
What is the magic formula?
Not many string trimmers have a variable speed feature like this one does, which surprises me a little bit. Squeezing the trigger let you choose the right speed for the job, I mean why have it at full power when you are only trimming the grass. I love this feature and it saves you a lot of power and prolongs the life of the battery.
The cherry on the cake is the handle, which has been thoughtfully designed. There is padding which absorbs the minimal vibration and makes it comfortable to use.
To top it all off:
The straight neck is great for edging and the height of the handle can be adjusted for people of all heights. Removing the battery from the shaft is as easy as can be as well, just flip a lever and you can remove it.

---
The Not So Good
---
There really aren't many issues with this. It does take a little longer to get going than a gas trimmer, but only a second or two. And then you have to take into account the fact it doesn't have to be primed or warmed up.
Also:
When you have the throttle at its lowest speed it does occasionally cut off, again this isn't a major issue and you soon learn the minimum speed you need to keep this at to stop it from cutting out.
One thing I do have a bigger problem with is the guard which is designed to protect you from the debris. It doesn't fully enclose the cutting area and you are likely to get sprayed with some debris. This is something that could definitely be better.
And one last warning:
A fairly standard feature that is missing is an edger guide to help to edge straight edges. Even budget trimmers tend to have a fold out guide to help you get those perfect razor line edges, but this doesn't which is a bit of a shame.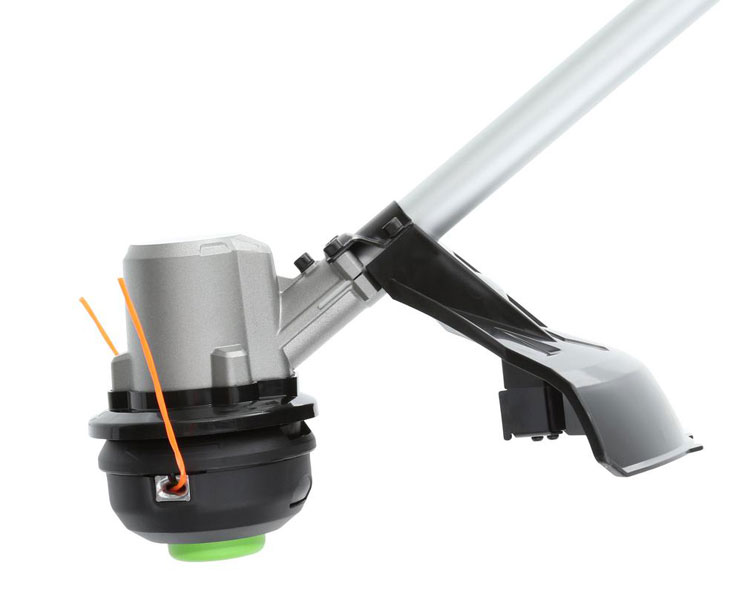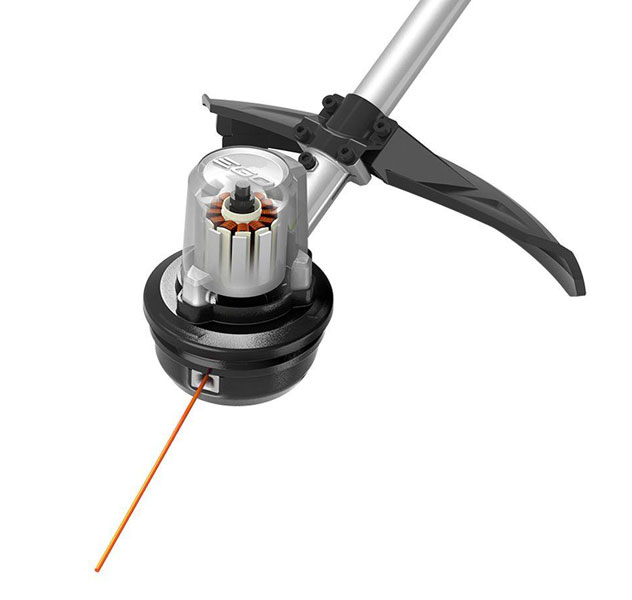 Above: The EGO Power has a bump head feed and a 0.095 inch line.
---
At A Glance
---
✔ Pros
Battery has a great run time

Battery recharges quickly

Lots of power

Next to no vibration

Well balanced

Lovely to use

Durable line

Variable speeds

Thoughtful handle design
✘ Cons
Takes a little longer to get fully going

Occasionally cuts off at low speed

Guard isn't great

No edger guide
---
Conclusion
---
My Verdict
Design - 96%
Performance - 97%
Price - 93%
95%
My favorite weed eater
For me this is head and shoulders above everything else in the battery powered weed eater/string trimmer category. It has lots of power, it is really easy to handle and most important the battery and the battery charger just blow anything else away! You get a good run time out of it and it charges like lightning.

If you have a normal sized yard and don't want the hassle of gas or a cord then I strongly advise you get this. It is a real delight to use, it is so smooth and I love the variable power throttle as that means you can take the speed down a notch when you want to trim around more delicate areas such as your flower beds, etc.

The string is thick and durable and, if you have any other Ego Power products, which I would recommend as they are pretty fantastic (check out their chainsaw and their lawn mower!) you can switch your batteries between them.

In fact if you look at my Weed Eaters Buyers Guide and you will see that I don't just think this is the best battery powered weed eater, this is the best weed eater full stop, it really is that good.

User Rating:

4.5 ( 1 votes)

---
FAQs
---
Can it be used as an edger as well?
Yes, simply turn it on its side to use it as an edger.
I have another Ego Power tool, can I use the battery with that in this?
Yes all Ego Power batteries and chargers are interchangeable.
Can you use other attachments on this?
No unfortunately you can't.
Does the power stay strong on the battery right up until the last minute?
Yes it does. It doesn't fade, it just cuts out.
Does it come with string?
Yes it is loaded with string in the head.

---
You Might Also Like…
---
Check out my look at some of the best weed eaters on the market for my favourite weed eaters/string trimmers of the year (yes this one features in it!). To the right are a list of general resources that maybe be of use.
You can also view my Site Index, which shows everything on my site on one page, or check out my recommended links below.
Useful Resources