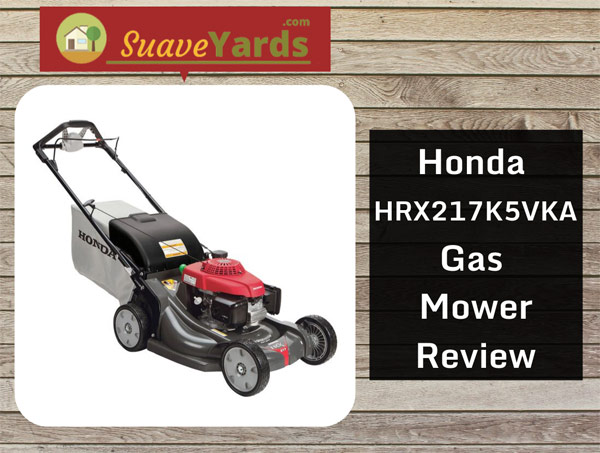 Review At A Glance
Is the Honda HRX217K5VKA an excellent mower? Definitely. Is it the best gas powered mower ever? Possibly…
MY RATING: 97%

---
Editor's Note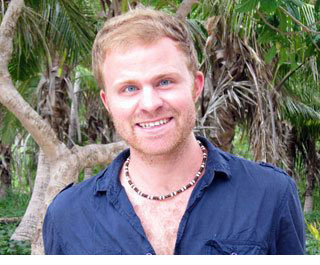 I hope you love the products that I recommend here! Just so you know, I work with Amazon and other affiliate partners and may be compensated from the links below.
---
---
Specifications
---
Power Source – Gas
Model – HRX217K5VKA
Engine – Honda GCV190
Cutting Width – 21 inches
Mowing height range – 0.75 inches to 4 inches
Mowing height adjustments – 7
Ground speed – Variable from 0 to 4 mph
Blade(s) – Twin blades with four cutting surfaces
Handle Height Positions – 3
Wheels – 9 inch Plastic
4-in-1 option to mulch, bag, leaf shred or discharge
Bag capacity (bushels) – 2.5
Residential warranty – 5 years. Deck warranty – Lifetime
PRICE: $$$
---
About the Honda HRX217K5VKA
---
So let's get down to business:
The HRX217K5VKA is powered by a 190CC Honda Engine and self-propelled. The cutting deck is made out of NeXite – a high impact and resistant material – and is 21 inches wide.
You can vary the cutting height using seven adjustable settings, the shortest height being 0.75inches and the longest being 4 inches.
Now:
You have four options when it comes to disposing of your clippings – you can mulch them, bag them, discharge them from the rear and shred leaves, or do a combination of them all.
The handle can be adjusted to one of three positions depending on your comfort and also folded over completely for more compact storage.
What's more:
You can also adjust the speed setting from 0 to 4 mph by turning a dial and then squeezing the handlebar to speed up even more.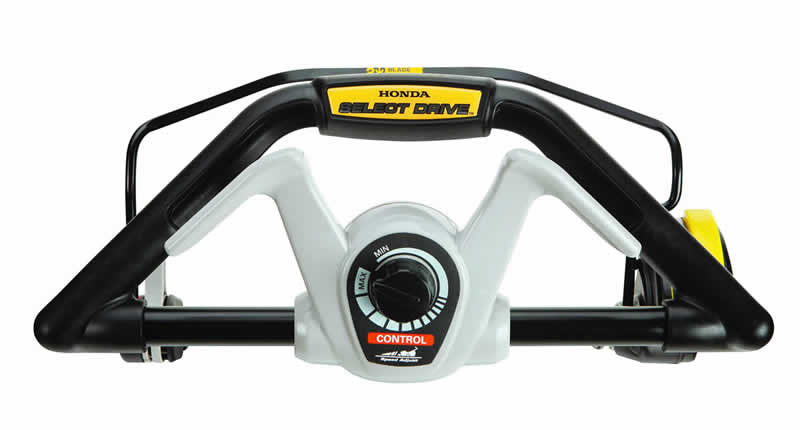 Above: The speed control is fully adjustable
Finally:
Setting up for this lawn mower for the first time is a pretty painless task. Simply attached the handlebar and adjust it to the height you want.
Add the oil (which is included) and assemble and clip on the grass bag. The instructions are pretty good and visual and you should have it ready to go in a few minutes.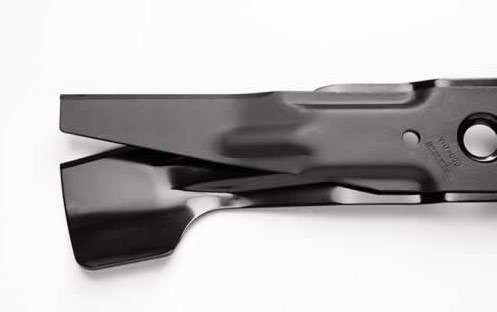 Above: The twin blades with four cutting edges pulverise grass!
---
The Good
---
First of all:
I am going to preface this section by saying it might last a while as I LOVE this mower and there is a lot that is good about it!
If you have read my guide looking at the top lawn mowers – you will probably already know this.
As soon as you have put this together you can tell it is top quality.
It is that simple.
It feels solid and is made of a composite material that won't rust, you can tell no expense has been spared when this has been built.
It is really easy to maneuver around your lawn and there are a couple of factors that contribute to that.
So what is the magic formula?
Well, it has rear-wheel drive which is great as it means when the clipping bag starts to get full and heavier the mower doesn't lose any traction, making it much easier to push through turns.
Above: The mowing deck is pretty much indestructible!
Also clippings are discharged from the bottom rear of the mower and this makes the HRX more balanced and easier to steer.
It has a wonderfully powerful 190CC Honda engine. The engine is a step up from the previous iteration of this model and it shows.
Keep reading and you'll find out what a difference it makes
No matter how high or thick your grass is, whether it is wet or dry and what height you have the deck set to cut at it doesn't bog down and the blades just chop through whatever is in front of them.
It is a really reliable starter – nearly always starting on the first pull and if it doesn't it will certainly start on the second pull.
That makes a big difference.
Also Honda cars are known for being economical on fuel, well that also applies to their mowers it seems as this thing is incredibly thrifty on gas – I can't say for certain but it seems a tank of gas will last you around 10000 square feet of gas.
And the real test?
Regardless of everything else you buy a mower for one main reason and this does a flawless job cutting your lawn.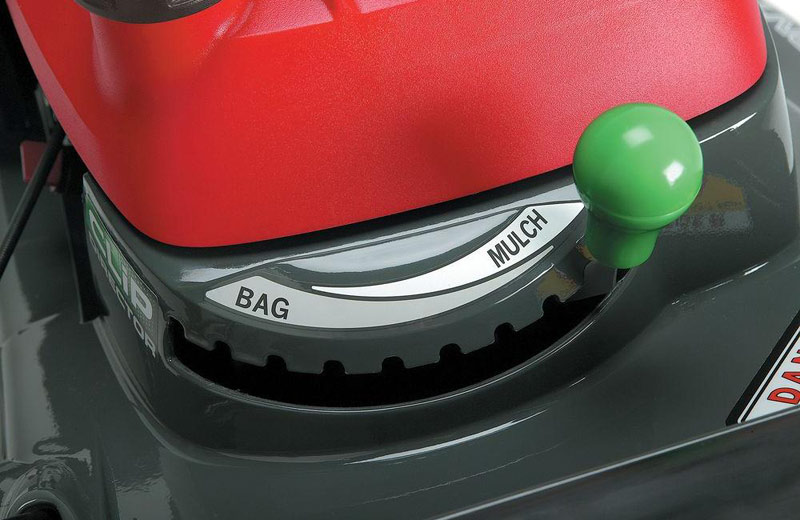 Above: The fantastic 4-in-1 Versamow System
It has two blades which use four cutting surfaces and this, combined with the powerful engine mentioned above, will leave your grass looking like the David Beckham of yards (feel free to substitute for any other generically good looking person).
I read a comment from someone who said it looked like their lawn had been cut by a laser after using this and it is hard to disagree.
Even on its longest setting it returns an immaculate cut and it is always more difficult to get a good looking cut on longer grass
It really is that good.
The centerpiece of the HRX217K5VKA is the NeXite mowing deck. NeXite is the composite material use to make the deck – it is polymer based and won't dent, rust or corrode, so it doesn't matter if rocks or stones bounce off it.
Think I am exaggerating? I promise you I am not.
Also grass doesn't stick to it, so if you are cutting wet grass, it can literally be wiped off making it quick and easy to clean. What is more this part of the mower has a lifetime warranty.
Actually you know what?
I think maybe I lied, maybe the mowing deck isn't the centerpiece – maybe it is the 4-in-1 Versamow System!
This basically allows you to choose whether you mulch, bag, shred or discharge your clippings all by adjusting a single handle at the back of the mower.
The handle has ten different positions so you can even go for a combination of mulching and bagging.
Now consider it this way:
It gives you complete freedom to decide what you do with your grass clippings and is a wonderful and easy to use feature.
Above: There are seven cutting height adjustment levels
Talking of mulching, the mulching functionality is unbelievable. The twin blades pulverise any grass to the extent that there are no clumps of grass whatsoever, just the finest, smallest mulch possible!
The silver lining is:
The bag that comes with it is also very large – 2.5bushels – so the combination of the miniscule clippings and the large bag means you can cut much more before you need to empty it.
To top it all off:
The HRX has so many adjustable features too.
There are seven cutting heights from 0.75inches to 4 inches, the mower is self-propelled and the speed can be adjusted, by turning a dial, from 0 to 4 mph – particularly useful for going up steep inclines.
The handle has three positions it can be set at and as mentioned you can adjust the mulching/bagging ratio.
And the icing on the cake?
On top of everything else you get a fantastic five year residential warranty as well as the lifetime deck warranty.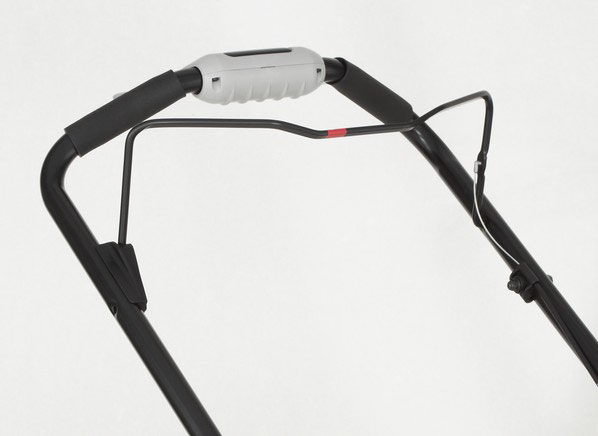 Above: The handle can be adjusted to one of three settings

---
The Not So Good
---
Note:
It is very difficult to pick holes in such a fantastic piece of machinery, but there are a couple of minor glitches that could be improved on.
Adding and removing the bag takes three steps. You have to lift the plastic cover, lift the bag off and then pass it back to your other hand under the bars.
In other words:
If the lift handle was further back this could be done it two steps as it would not require being passed back under the bars.
Above: The engine is VERY powerful!
Whilst the option to manually adjust the speed is great the higher speeds might actually be a bit too much for you, especially if you are older.
In short:
When you cut at the top speed you are practically jogging!
As a final point the air filter has a tendency to pop off quite easily, but that is really me nitpicking.
---
At A Glance
---
✔ Pros
Top quality build
Easy to maneuver
Powerful engine cuts through everything
Reliable starter
Thrifty on gas
Amazing cutting performance
Fantastic mowing deck
Bag, mulch, discharge or leaf shred your clippings
Amazing mulcher
Lots of adjustable features
Five year warranty
✘ Cons
Removing bag could be made easier
At high speeds it is too fast maybe!
Air filter comes off too easily
---
Conclusion
---
My Verdict
Design - 98%
Performance - 98%
Price - 94%
97
%
Best lawn mower ever?
I honestly think this might be one of the best lawn mowers ever made. It is certainly one of the best gas lawn mowers ever made if not the best. It is slightly pricey but it is still the cheapest of Honda's top line mowers.
There is so much to recommend about this mower - it is very well made, it mulches better than any other mower, the engine is really powerful and doesn't bog down, you can adjust so many features so it suits you but most importantly the quality of the cut is absolutely top class.
If you are thinking about saving a little and going for a cheaper brand I would advise you to think twice, and if you can afford to spend a little bit more get the HRX217K5VKA - I promise you won't regret it!

---
FAQs
---
What do I need to buy if I need to replace the blades?
You want to look for the following parts numbers: Upper Blade – 72531-VH7-000. Lower Blade – 72511-VH7-000

What type of oil should I buy for this?
Ideally Honda 30w. Ethanol free gas would be better, but normal gas works just fine.
Does this have auto choke?
It does yes, but it nearly always starts on the first pull

---
You Might Also Like…
---
Check out my favourite lawn mowers of the year (yes this one features in it!). And remember there are a whole host of factors to consider if you are buying a mower.
To the right are a list of general resources that maybe be of use. If your yard is smaller you might also want to consider buying a push lawn mower.
You can also view my Site Index, which shows everything on my site on one page or you can check out my recommended links below:
Useful Resources