Review At A Glance
The Green Mountain Grills Davy Crockett Pellet Grill and your phone are the perfect combo to make a perfect barbecue for your extended family. This high-tech device allows you to monitor your food from afar so that you don't waste precious minutes just waiting for your meal to be done.
MY RATING: 88%

---
Editor's Note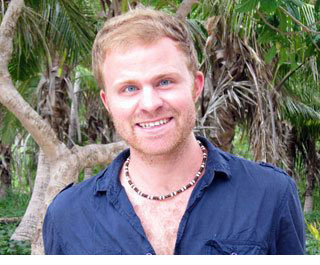 I hope you love the products that I recommend here! Just so you know, I work with Amazon and other affiliate partners and may be compensated from the links below.
---
---
Specification
---
Size: 31.75" x 34" x 23"
Hopper capacity: 9 pounds
Cooking space: 219 square inches
Weight: 57 pounds
Cooking temperature: 150 to 550 degrees Fahrenheit
Limited Warranty: 3 years
PRICE – $
---
About the Green Mountain Grills Davy Crockett Pellet Grill
---
Time is precious right? I really hate that sometimes I have to stay by the grill while my food is cooking just to ensure that I get it just right.
If I just pop in to do something inside the house, I could get in the zone and forget about the food in the fire. I've overcooked and burned so many steaks this way.
But you will never have this problem with the Green Mountain Grills Davy Crockett Pellet Grill.
I'll tell you why…
The product has a WiFi Smart Control system that allows you to control and monitor the grill from afar using an app.
Isn't that exciting?
You can do your chore while checking your phone every now and then for the progress of your food. Or you can simply continue your Netflix and chill on the couch while your barbecue continues to cook.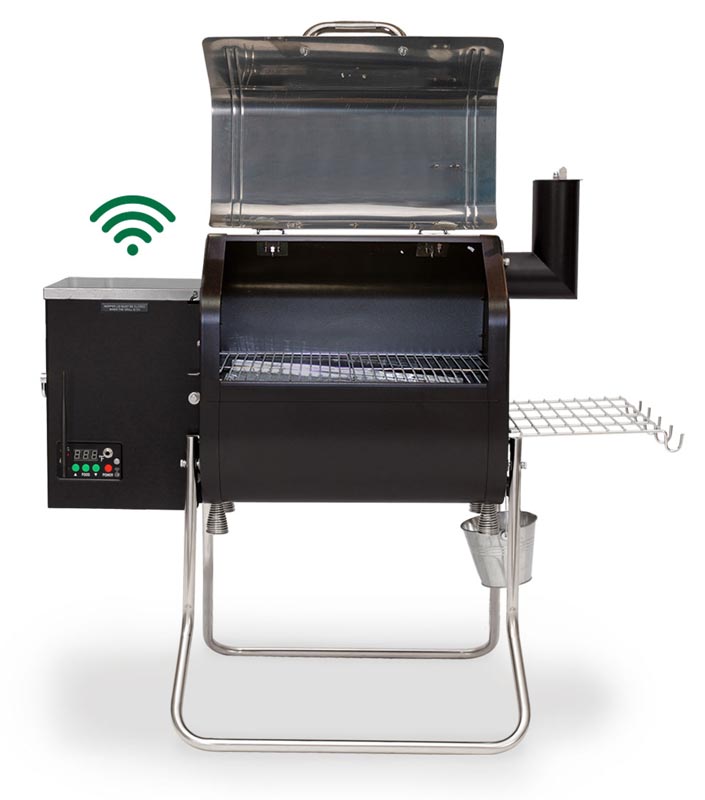 Boom!
Now on to technical matters: The grill is quite compact with a height of 31.75 inches, and a width of 34 inches. The surface cooking area is just 219 square inches.
The hopper capacity is also only nine pounds.
It is by no means enough to feed a large party, but it is enough for a family and some friends.
News flash!
Green Mountain Grills is a company that really cares about giving people the chance to have great grilling experiences. It doesn't just sell affordable pellet grills but accessories as well.
There are also dry rubs, sauces and a wide variety of pellets that can only make grilling a wonderful experience for the family and guests!
As the company loves to say: Grill smarter, eat better!
---
The Good
---
Isn't the company's motto truly fitting? If you grill right and well, you will have the most amazing food and so you will eat better.
Let's jump right in!
Grilling is not just about the right ingredients, it is also about the proper way of cooking and the best device. With the Davy Crockett pellet grill, you get the help you need to prepare an amazing barbecue meal.
Meal–that's the operative word. It means that you don't just get one dish, you get an entire meal complete with meat, vegetables, seafood, and whatever food you prefer on the grill.
You bet!
Don't expect to be able to cook so much at the same time because that is not its strength. One of the many strongpoints of the Davy Crockett is its mobility.
It is quite small with a surface cooking area of just 219 square inches. It also weighs 57 pounds.
Not bad, right?
It is also worth noting that this grill has foldable legs. Its operational dimensions are 31.75 inches in height, 34 inches in width, and 23 inches in diameter.
But with legs folded, the dimensions are down to 20.5 inches by 27.75 inches by 17.5 inches.
What does this mean?
It means that you can easily take this grill with you wherever you go. Say you want to go camping–there is no need to roast food directly over a flaming fire.
Or maybe you are self-isolating in the woods. You should at least have a decent meal even if you are far from civilization.
More importantly
This grill is perfect for working moms like me–or busy dads. It's even better for people who are not busy at all!
Let me explain!
The grill has a WiFi Smart Control system. This way, you can monitor the degree of the temperature through the GMG App.
This means that you can work in your home office while the device continues to grill. Or you can do your household chores.
Or if you are not busy at all, you can just continue binge-watching the latest series on your streaming service.
So
You can set the timer through the app. When time is up, you will receive notification so that you can head on to your grill and take out the food.
It's very helpful if you want to manage your time well.
Also
The GMG App offers a selection of recipes that can help you prepare the most amazing dishes.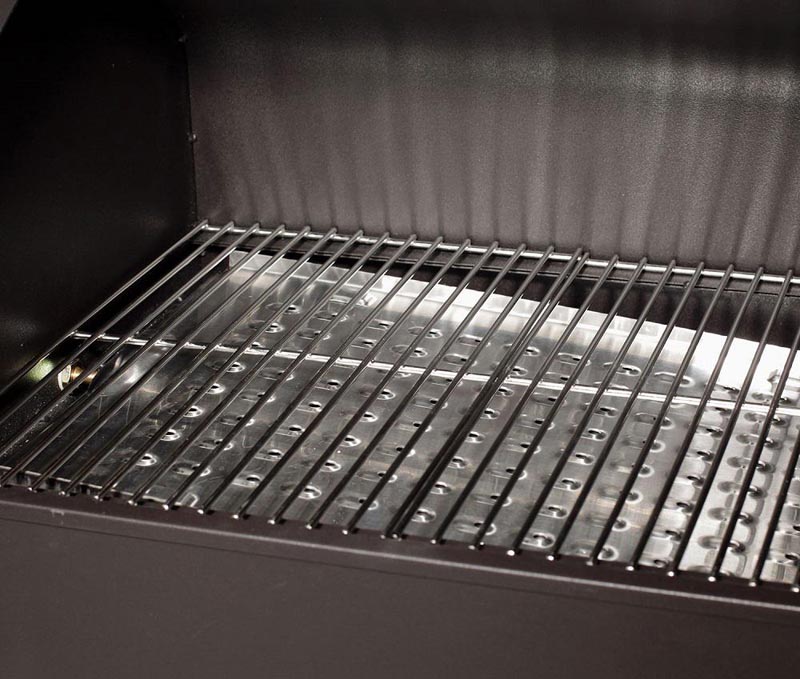 Temperature control
The grill features a digital controller that can help you determine the precise cooking temperature from 150° to 550° Fahrenheit. A lot of grills don't even go as high as 500℉.
This means that this grill is also a good smoker. That adds another option in cooking your food.
Want to know more?
This may be too technical but some may find this information very useful. The auger motor operates with an RPM of 4.7∼5.2.
This increased RPM helps in allowing a precise ratio of oxygen and pellets fed into the firebox.
Speaking of
The firebox follows the Venturi design for maximum heat distribution. There is complete combustion of the pellet to keep waste at a minimum.
More technical information:
The grill operates on 12 volts and 60 watts. The grease tray function is open flame technology.
You know what else?
In light of the COVID-19 pandemic, Green Mountain Grills offers free no-contact delivery. This way, you can have a new grill without fear of getting a virus during the purchasing process.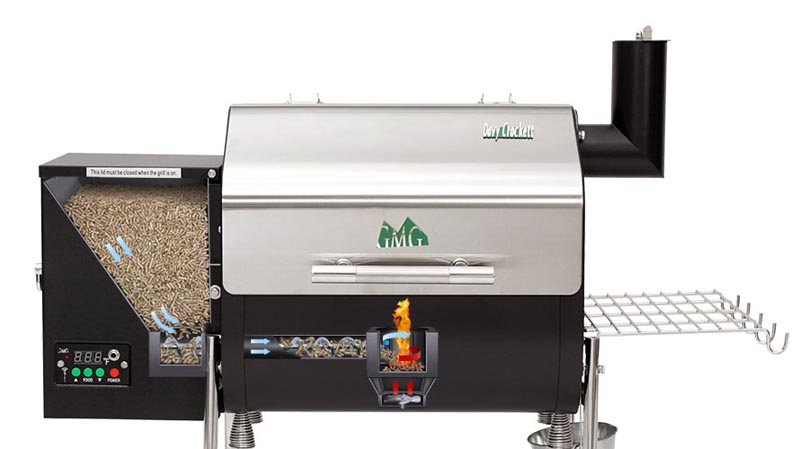 Isn't it amazing?
Especially since this is the perfect time to be barbecuing at home. With a lot of us choosing to stay at home to self-quarantine amid the pandemic, we can't just live on canned goods and microwaved food.
We need to still be able to eat amazing, restaurant-quality food even if we are just at home! You can absolutely have that experience with the Davy Crockett.

---
The Not So Good
---
The grill is quite small, which is both an advantage and a disadvantage. On the downside, you can't grill a lot of food at the same time.
This is definitely not a grill for large parties.
Although
That doesn't really sound much of a negative point especially when you consider that people really buy this product because of its portability.
Incidentally
That portability may also be the reason why its legs are not that great. They could somewhat tip around.
To solve that, you could put rubbers at the bottom so the legs would stick to the ground.
Another thing
I had a bit of issue with the probe thermometer. However, I always use a wireless thermometer when cooking so it wasn't a big deal.
---
At A Glance
---
✔ Pros
Affordable
Compact
Foldable legs for easy transport
Features WiFi Smart Control system
Can be controlled using an app
No-contact delivery
✘ Cons
Quite small for large gatherings
Thermometer issue
Conclusion
My Verdict
Design - 88%
Performance - 87%
Price - 90%
88%
Portable and modern
Before the Green Mountain Grills Davy Crockett Pellet Grill, I never thought I needed a device with WiFi. But now, I can't imagine a grill without WiFi connectivity. It's just so convenient!

You could do your chores while your food is on the grill. Even better, you could easily take the grill with you on vacations or camping trips.

The best part is definitely the price. It's a great value-for-money grill considering the convenience it serves.

User Rating:

4.2 ( 4 votes)

---
FAQs
---
How does a pellet grill work?
The pellets are poured into a container called a hopper. These are then fed onto the cooking chamber through an auger. The pellets then catch fire and heat up the grill. Through a fan system, the heat and smoke are distributed to the cooking space.
How are pellets made?
Pellets are made from hardwood. The wood is dried and ground to become sawdust, which is then pressurized with heat and compacted into pellets. Each pellet is held together by natural lignin.
Are food cooked from pellet grills healthier?
There is no evidence to back such claims from manufacturers. However, manufacturers believe that cooking through pellet grills means fewer carcinogens are released in the process.
---
You Might Also Like…
---
The Green Mountain Grills Davy Crockett Pellet Grill is included in our list of the best small pellet grills of the year.
Speaking of small grills, here are some of the best gas grills that don't take up a lot of space, and we also have a list of the best 2 burner gas grills around.
If you want a much larger pellet grill, check out my review of the Pit Boss 700FB Pellet Grill, which sears meat perfectly!
Useful Resources
Oklahoma Joe's Pellet Grill Delivers Scorching Hot Experience – Forbes
Traeger App Update Makes it a Must-Have Grilling Companion – AppleInsider
Best Infrared Grills – 2020 Reviews – NewsLagoon