Review At A Glance
The Z Grills ZPG-7002B Pellet Grill helps you feel like a real chef with the ultimate eight-in-one cooking capability within a 700-square-inch of space. You can cook any kind of food however you want it with ease.
MY RATING: 90%

---
Editor's Note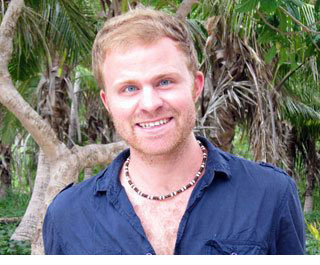 I hope you love the products that I recommend here! Just so you know, I work with Amazon and other affiliate partners and may be compensated from the links below.
---
---
Specification
---
Size: 48 x 22 x 51 inches
Hopper capacity: 20 pounds
Cooking space: 700 square inches
Weight: 112 pounds
Cooking temperature: 180 to 450 degrees Fahrenheit
Warranty: 3 years
PRICE – $$
---
About the Z Grills ZPG-7002B Pellet Grill
---
Have you ever been confused on what to serve guests in a party? With the Z Grills ZPG-7002B Pellet Grill, your confusion has a great solution!
You can cook different kinds of food in various ways with this grill's ultimate eight-in-one feature. Feel like a chef when you barbecue your way to your guests' heart.
Or
You can grill (or char-grill) different kinds of meat, seafood and vegetables. If it's smoked meat or seafood you want, this pellet grill can give you the appropriate cook.
We're not done yet!
You may also roast, braise or sear different kinds of meat if you want.
You want to be surprised?
This pellet grill allows you to bake as well. This grill is just what you need for a party.
Look:
Z Grills has been around for over three decades. This means it had enough time to improve and innovate on their original products.
Forbes noted that Z Grills is among the top manufacturers of best value-for-money grills. Imagine having a variety of dishes in just one purchase.
Boom!
As a family corporation, Z Grills definitely cares about kinship. And grilling is one of the best ways to foster a bond among family and relatives.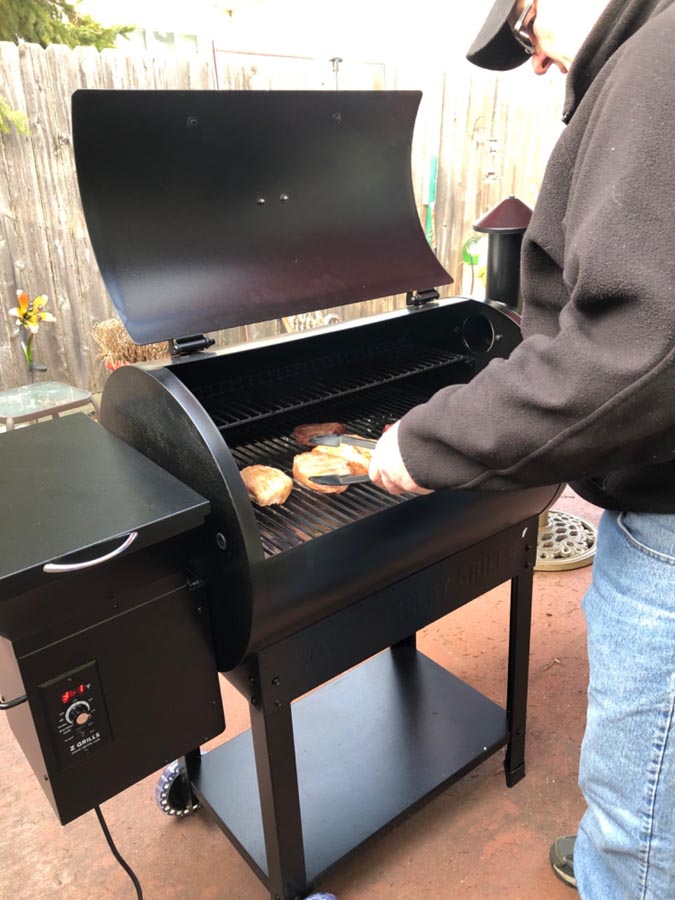 ---
The Good
---
There is actually no need to call a caterer when you have the Z Grills ZPG-7002B Pellet Grill. It is very convenient to cook your food in eight different ways in just one device.
Let me tell you
I love smoking meat on this grill. I usually set it at the lowest temperature of 180°F and leave it there for an hour or two.
Yes! You can leave it smoking with its auto temperature control system.
What is the significance of this?
You no longer need to babysit (meat-sit?) your meat. You just set your temperature and timer and you can do your chore or browse social media or do whatever it is you need to do.
Your meat will be smoked to perfection soon enough.
Next
Barbecue, grill and char-grill are the most common cooking options in a party. These are the easiest to accomplish that don't need a lot of time.
So let's get down to it
You have 700 square inches of space to do your grilling, etc. With a total cooking area of 694 square inches, you can finish several pieces of meat, seafood and vegetables in every cooking batch.
The main cooking area is 504 square inches.
And just think!
You can bake! This device is really magical.
Other cooking options in the ZPG-7002B are roasting, braising and searing. Searing on this pellet grill is my least favorite option.
Beyond that
The pellet grill, they say, is a healthier way to cook the meat. The flavor you get from it is even more amazing!
There is no actual evidence that points to pellet grills being a healthier option. But manufacturers say that because of the indirect cooking process, there are fewer carcinogenic chemicals formed.
Let's talk about the taste
I find the pellet grill to be an amazing invention because of the added flavor you get from grilling on it.
How?
A lot of the pellets sold in the market are infused with flavors. Among the more popular flavors are hickory, cherry, apple and mesquite, among others.
The cool thing is
You don't even need to be an expert in grills to start using this thing. It has a great auto ignition technology.
This way, you can automatically ignite the pellets. As earlier mentioned, you don't need to babysit this grill if it's working.
More?
It has a LED display so you can accurately input the temperature.
The grill also has wheels for mobility. You can take it with you if you want to grill on the patio or the backyard or in the pool area without any hassle.
Let's do the math
According to experts, you can grill 20 hours on this grill with 20 pounds of wood pellets. That's not too bad.
It's easy to remember, too.
Finally
If you have any quality issue, Z Grills will take back the product and give you your money back within 30 days. The brand is that confident with the ZPG-7002B.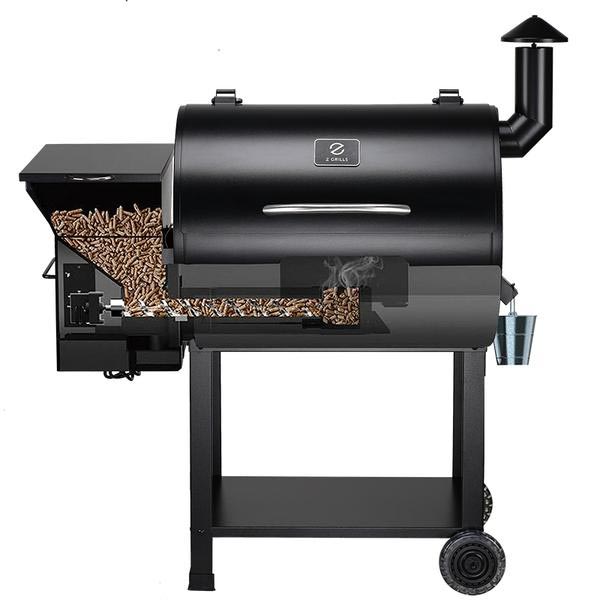 ---
The Not So Good
---
I have to be honest with you, though. I am not in love with the searing option of this grill.
It's probably because the highest temperature is only 450°F. Searing is always better at a higher temp like 500°F.
But
In general, most pellet grills have never been known for their searing action.
Then there's this:
I had a hard time putting things together. It took me around an hour to follow the instructions and assemble the grill.
Plus, I had to spend around 15 minutes cleaning up the mess I made.
Also
There is no storage cabinet on this thing. But that's not really a deal breaker.
However, it's a bit of a hassle when you don't have an area to store your food and utensils for cooking.
Although
Accessories can be bought. This is why I don't think it's a deal breaker.
You can buy a shelf you can attach to the grill. I just didn't want to pay extra for it.
---
At A Glance
---
✔ Pros
700 square inches of cooking space.
8-in-1 cooking capability.
Digital temperature control.
Great value for money.
All-terrain wheels for mobility.
Rust-proof cover.
Easy to use.
✘ Cons
Not so great at searing because it only goes as high as 450°F.
Not very easy to assemble.
No storage cabinet.
Conclusion
My Verdict
Design - 89%
Performance - 90%
Price - 91%
90%
The pellet grill that makes you cook like a pro!
There are eight ways to cook varieties of meat, seafood and vegetables in the Z Grills ZPG-7002B. You don't need to hire a caterer or a chef for parties because you only need to arm yourself with your grill and you are set to serve different dishes.

With its 8-in-1 capability, you can definitely cook like a pro! You can grill, char-grill, sear, roast, barbecue, braise, smoke and even bake!

With 700 square inches of grilling area, you can cook a lot in every batch. What makes this pellet grill even more special is that it won't break the bank.

User Rating:

3.89 ( 5 votes)

---
FAQs
---
How can you bake on a pellet grill?
You can definitely bake on a pellet grill. However, anything complex like a cake from scratch is still better off baked in an oven. But simple desserts like cookies or ready-mix cake are doable.
Since one of the strengths of the pellet grill is in the flavor, the baking option is better suited for baked chicken or steak or anything else that needs flavor.
What are the best wood pellet flavors?
Sometimes, different flavors work on different food items. However, in general, the most popular flavors are hickory and apple.
These two flavors work on almost anything. But if you want the best effect, use hickory for meat and apple for seafood and vegetables.
Other popular flavors include mesquite, cherry, oak, pecan and maple.
How often should the pellet grill be cleaned?
It is always best to clean the most used part of the grill every after use. So that would include the rack, the lid, and everything else directly exposed to the cooking. You can simply clean these areas with soap and water.
As for major cleaning wherein you take apart most of the pieces to be thorough, the 20-20 is a good rule of thumb. You clean after 20 hours of pellet grill use or after 20 pounds of wood pellet used.
---
You Might Also Like…
---
Are you looking for a pellet grill that gives the most amazing sear? Check out my review of the Pit Boss 700FB Pellet Grill.
If you want a more extensive list of pellet grills, here is a list of the Best Pellet Grills.
If you have a limited outdoor space, though, you might want to check out our list of the best 2 burner gas grills.
Useful Resources