---
Review At A Glance
---
The Hitachi RB24EAP is a truly fantastic gas powered leaf blower, with an amazing warranty and an equally amazing price tag.
MY RATING: 93%

---
Editor's Note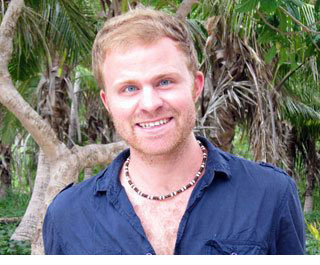 I hope you love the products that I recommend here! Just so you know, I work with Amazon and other affiliate partners and may be compensated from the links below.
---
---
Specifications
---
Power Type – Gas
Model – RB24EAP
Dimensions (w x h x d in inches) – 17.3 x 10.5 x 15
Weight – 8.6lbs
Engine Displacement – 23.9cc
Fuel Tank Volume – 17.6 fl oz
Air Speed – 170mph
Air Volume – 441CFM
Speed Control – trigger operated
Warranty – Two year commercial. Seven year consumer
PRICE GUIDE: $
---
About the Hitachi RB24EAP Leaf Blower
---
The history of Hitachi goes way back to 1910 when it was founded by an electrical engineer in Japan. Hitachi America was established in 1959.
The company now employs over 300,000 people and had an operating income of $516billion in 2019.
But enough about that…
The Hitachi RB24EAP is a gas powered leaf blower with a 23.9 cc, two stroke engine.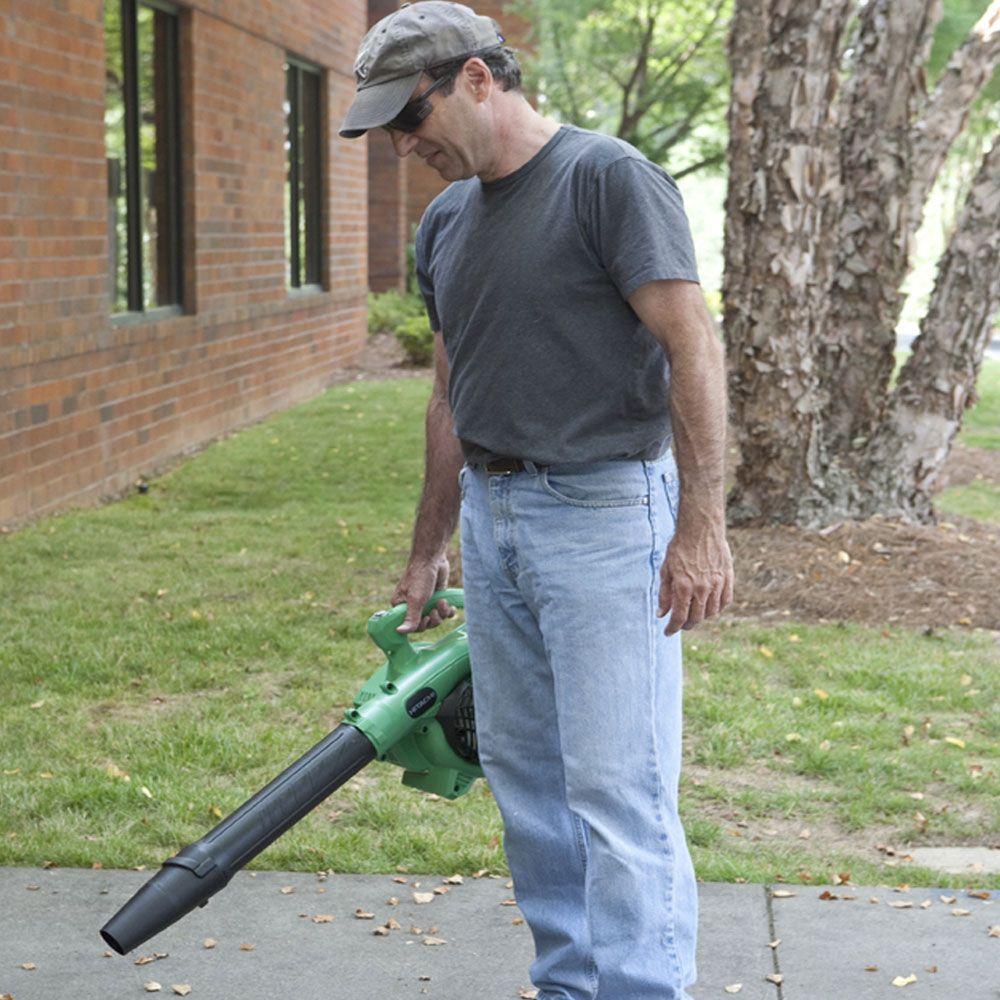 Above: The Hitachi RB24EAP has an air volume of 441CFM.
It kicks out an air volume of 441 CFM and has an air speed of up to 170 MPH. It has a purge primer and a two finger throttle.
It weighs 8.6 lbs and comes with a seven year consumer warranty.
A tip:
I can't see that the manual excludes ethanol laced fuel, but I would advise you avoid it and go for ethanol free gas. I'd go for a good can of premixed 2-cycle fuel.
---
The Good
---
So let's start from the beginning.
There is lots to like about this, but there are two things that really stand out.
The price

The warranty
There is no doubt about it you get fantastic bang for the buck with the Hitachi RB24EAP – it offers amazing value for money when you consider what you get for the price (which I will elaborate on in my review).
Then on top of that:
This has a seven year warranty, which is hard to beat when it comes to consumer power tools and almost unheard of these days.
Note though that if anything does go wrong then repairs need to be carried out by a registered repair centre (which can be found on the Hitachi website).
The length of the warranty really demonstrates the confidence Hitachi have in their product.
Let's dig a little deeper:
A major consideration when buying any leaf blower is power right?
Right!
Then you will be pleased to know that despite its relatively diminutive size and modest price tag the Hitachi RB24EAP is certainly not lacking in that respect.
Above: The Hitachi RB24EAP kicks out a lot of power for a small leaf blower.
As I explained when I reviewed the best leaf blowers of the year the best way to measure a leaf blowers power is via its CFM, or Cubic Feet Per Minutes, output.
At 441 CFM you won't get a better air output for the price. It doesn't give you as much power as something like the Husqvarna 580BTS, which costs considerably more and has a much bigger engine.
However it is more than a match for a 30cc or even 40cc leaf blower.
Even better:
This comes with a nozzle tip that gives you up to 170MPH air speed. This allows you to really concentrate the flow of the air and gives you much more control over the leaves you are trying to shift.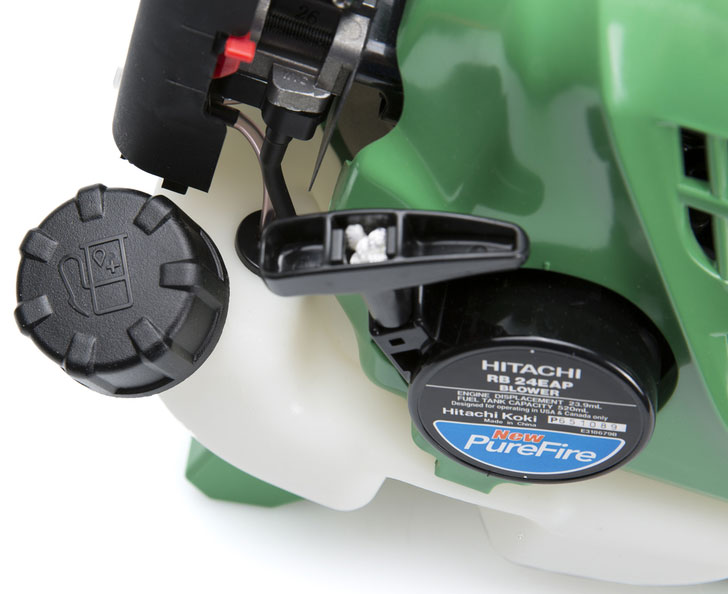 You get extra control over the speed thanks to the great throttle Hitachi have designed.
It is nice and large so easy to operate and the blower speed is controlled fully by the trigger pressure, so you can adjust it to any speed, rather than there being two or three preset speeds for example.
So what is the secret?
Well the center of any good gas powered leaf blower is the engine and Hitachi always seem to produce a solid engine.
The 23.9cc engine produces a lot of power (as we have already discussed) and should have a long life.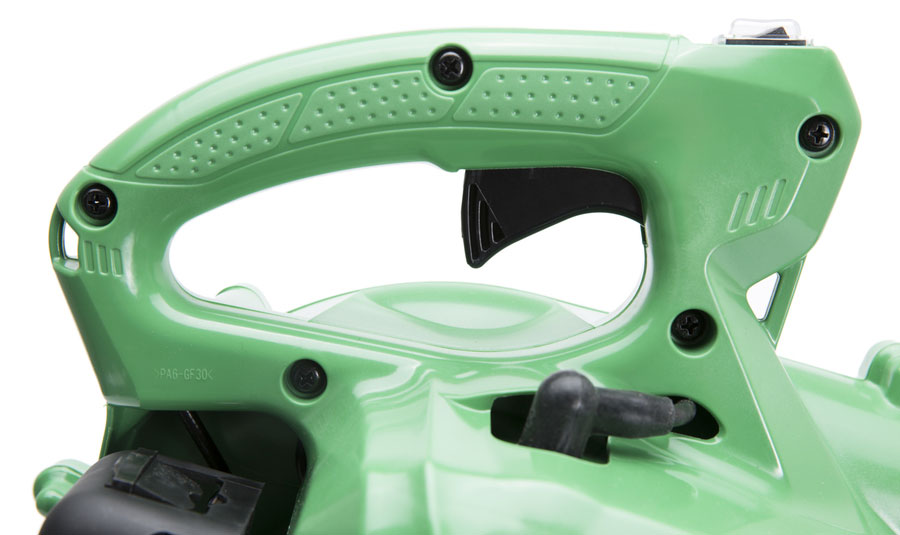 Above: The Hitachi RB24EAP has a great throttle with fully adjustable power.
And the big thing is…
It starts easily and consistently on the first or second pull. The exhaust seems to be less offensive than other gas powered engines I have tried and it idles smoothly and also revs up really well.
It is a rare thing – a two stroke engine that runs consistently, you shouldn't need a screwdriver handy to constantly tweak the carburetor.
Beyond that:
At 8.6lbs these feels really light and can be used for a prolonged period without you feeling fatigued and for its weight it is relatively easy to handle, with a couple of minor kinks outlined below.
The engine is quiet and relatively clean for a gas powered unit, I have had no problems with it leaking gas and it is simply built but durable and well made.
And with that seven year warranty, even if something does go wrong you don't need to worry about it!

---
The Not So Good
---
Now of course this isn't perfect.
I already alluded to an issue above regarding the easy of handling.
Because this is so lightweight but so powerful, when you have this at full throttle the air velocity is such that it can be difficult to control.
It has a tendency to pull to the left and at full speed it is difficult to control. It would benefit from a second handle at the back in my opinion.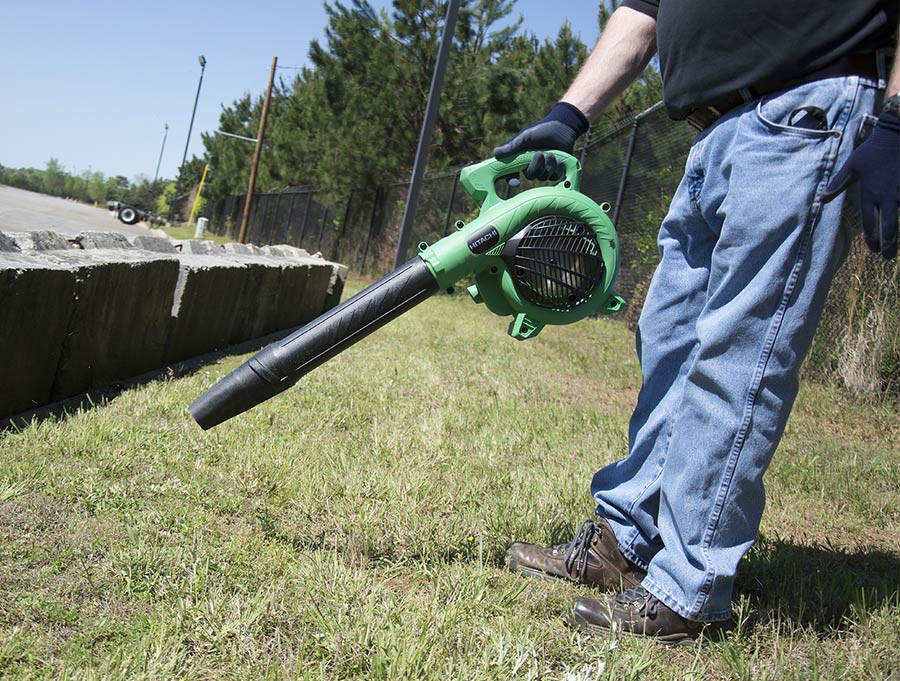 Above: The blower could do with a second handle at the back to stabilise it more.
Secondly…
This vibrates – reasonably hard – when you used it at, or near, full power.
That means prolonged use at top speed might leave your hand tingling a little. However this will often be the case with more powerful blowers.
In addition:
The air intake is on the left hand side and the positioning of it means there is a tendency for it to suck your shorts or trousers into the fan.
When it is being used properly the blower should be in front of you so you can sweep back and forth with the air – so it shouldn't be a problem but it is probably something that will happen every now and then.
Beyond that:
I had issues with a plastic fan nut that continually came lose no matter how securely I tightened it. A nylon nut would correct this issue.
And the fuel lines this comes with could be better – they might need replacing if you are serious about using this on a regular basis.
Finally:
There is no cruise control on the throttle so you have to hold it in. A throttle lock would be a nice addition.
---
At A Glance
---
✔ Pros
Great price
Seven year warranty
Great CFM
Nice directional air control
Well designed fully adjustable throttle
Solid Hitachi engine
Engine is clean and quiet
Starts easily
Runs smoothly with minimal adjustment
Light
Well made
✘ Cons
Needs a second handle
Vibrates a little at top speed
Air intake position could be better
Plastic fan nuts are cheap
Fuel lines could be better
No cruise control
---
Conclusion
---
My Verdict
Design - 90%
Performance - 93%
Price - 96%
The bottom line is if you are on a budget and want a quality leaf blower then this can't be beaten - it is the best in its price range.
It doesn't compare to a $400 commercial blower, but of course you are paying a fraction of the cost and what you get is truly remarkable.
You get a really well made, powerful blower that starts really easily, is light, quiet and clean for a gas powered leaf blower.
Hitachi have a reputation for making quality products and their confidence in the Hitachi RB24EAP Leaf Blower is shown by the fantastic seven year warranty.
In short - fantastic for the price.

---
FAQs
---
What gas mixture suits the Hitachi RB24EAP Carburetor best?
The manual recommends 50:1 fuel ratio – the carburetors are set and sealed at the factory to run at 50:1.
What spark plug does the Hitachi RB24EAP take?
The Champion CJ6.
Where can I order parts for the Hitachi RB24EAP?
Somewhere like E Replacement Parts provides parts for most power tools – or you can order the parts directly from Hitachi.
Do I need to use non-ethanol gasoline?
Generally I'd recommend you use non-ethanol gas as ethanol tends to damage parts in a two-cycle engine.
---
You Might Also Like
---
This is an excellent choice if you are looking for one of the best gas leaf blowers around, however if you are prepared to spend a little more money then the Husqvarna 580BTS is hard to fault.
If you want to go for something that is still cordless, but not gas powered then the Snapper XD SXDBL82 is pure quality as is the Makita XBU02PT1.
I have also put together a short guide to buying a leaf blower which covers all the factors you need to consider. Finally there are also some great blower mulchers on the market as well, that will also provide delicious mulch for your yard.
Don't forget to check out my other reviews or Buyers' Guides or you can check out my Site Index for everything on this site on one page.
Useful Resources
Battery vs Gas: Looking to the Future of Outdoor Power Equipment – Husqvarna
How to Use a Leaf Blower Effectively and Safely in Your Yard – MGLA
10 Ways to Help Maintain Your Beautiful Garden – House Beautiful